Flaky and tender Baked Tilapia fish fillets are an easy, delicious, and healthy option for lunch or dinner. Ready in less than 30 minutes, this crispy oven-baked tilapia is one of the best fish recipes out there! If you're looking for new easy, weeknight dinner ideas, then you should try this fish recipe made with fresh lemon, garlic, roasted cherry tomatoes, tender broccolini, olive oil, and more aromatic ingredients!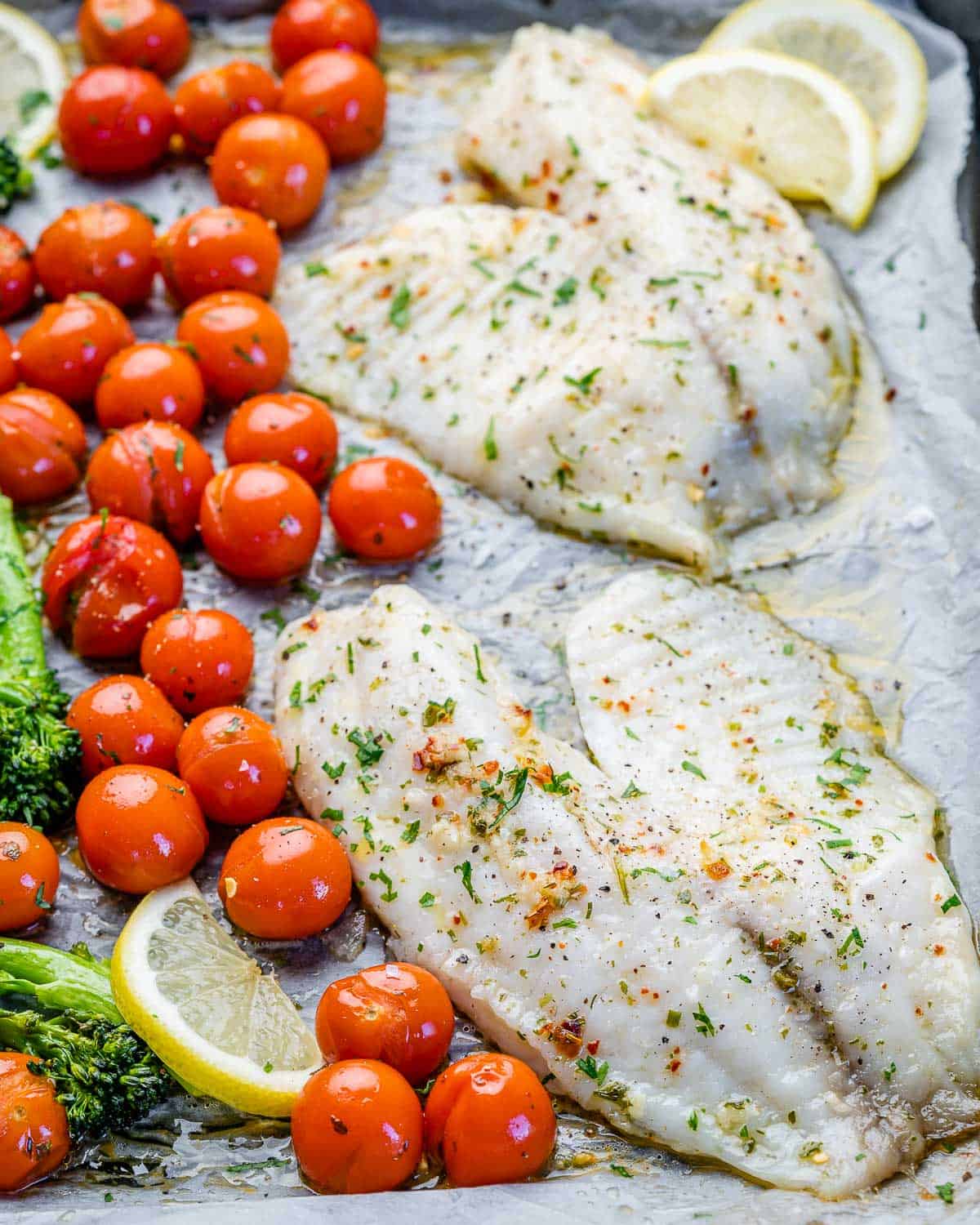 Healthy baked tilapia recipes in the oven are our favorite–especially easy-baked tilapia because it is a healthy, low-carb dinner option with lean protein and plenty of fresh tasty flavors. Garlic lemon tilapia is a sheet-pan meal that allows you to not only have healthy protein but fresh and colorful vegetables, too.
The cherry tomatoes are roasted until juicy and soft with fresh broccolini that is baked until tender with a little bit of crunch. Italian seasoning, garlic, and aromatic olive oil are coated over the tilapia fillets just before cooking in the oven and finished off with fresh lemon juice.
Gluten-free, dairy-free, filling, easy, and perfect for easy weeknight dinners at home by yourself or with friends and family, this tilapia recipe is a creative way to prepare sheet pan oven-baked fish that is perfectly flaky, tender, and bold with flavor.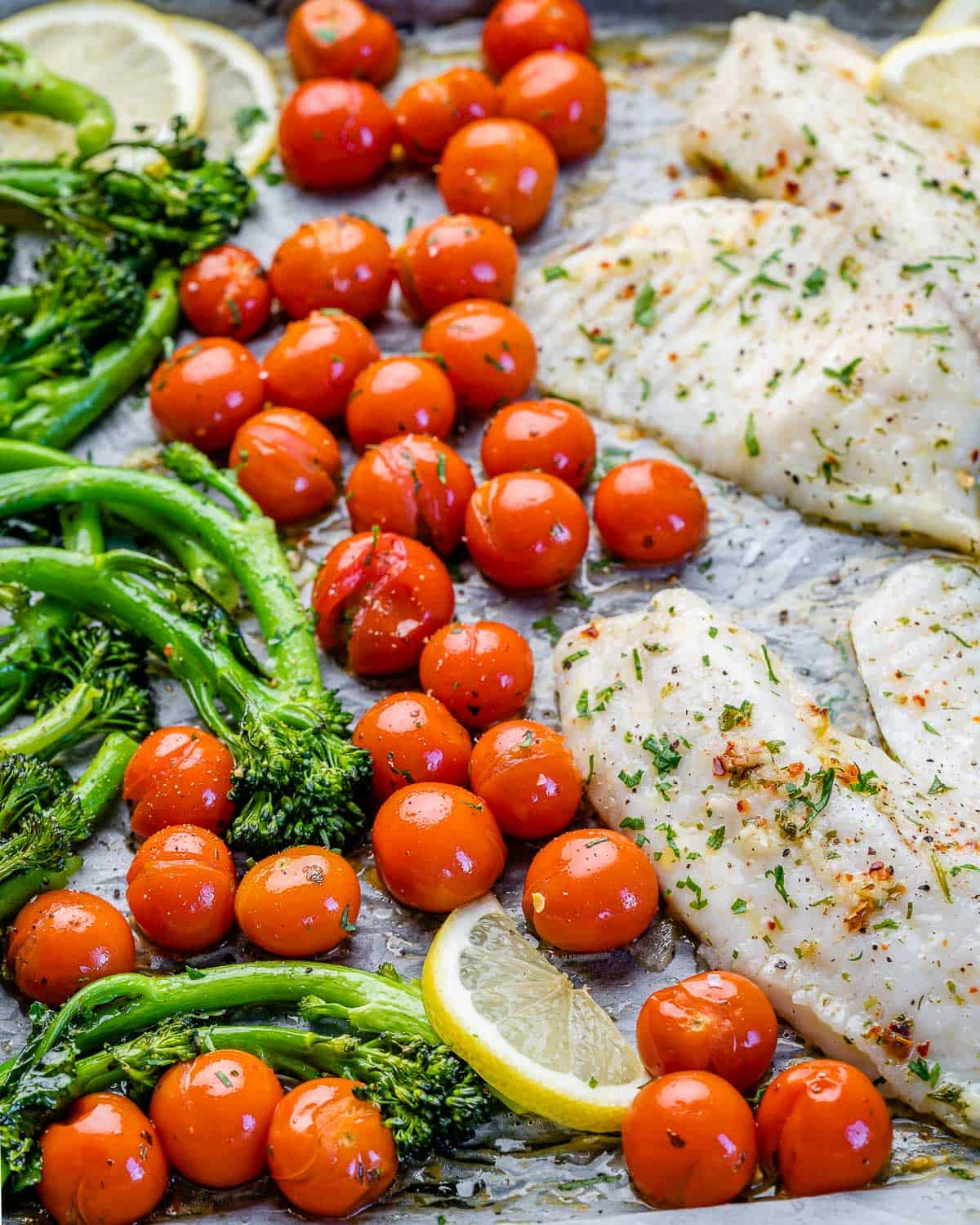 WHY THIS sheet pan OVEN-BAKED TILAPIA RECIPE IS THE BEST
Quick and Simple: This roasted sheet pan tilapia is the best baked tilapia recipe because it is ready in no more than 20 minutes with very easy steps and made with one sheet-pan. All you do is place the fish on a baking sheet, prepare the herbal oil mixture, and bake until done! Enjoy this easy weeknight dinner whenever you are short on time or just not in the mood to prepare a recipe with a bunch of different steps and dishes.
Healthy and Filling: Fish is a healthy source of protein with omega-3s. Baked tilapia will keep you full especially when you eat it with the tomatoes and broccolini. Perfect for those who do not eat a lot of heavy meat dishes!
Perfect for Meal Prep: The next time you meal prep for the week, prepare this tilapia recipe because it is easy to pair with other types of vegetables and carbs. Just store the fish in airtight containers in the refrigerator and reheat whenever you're ready to eat a delicious and quick lunch or dinner.
Filled with Bright Flavors: Fresh lemon and garlic create the best flavors combined with Italinan seasoning. Roasted tomatoes and broccolini are savory and pair well with the easy tilapia.
INGREDIENTS FOR GARLIC LEMON TILAPIA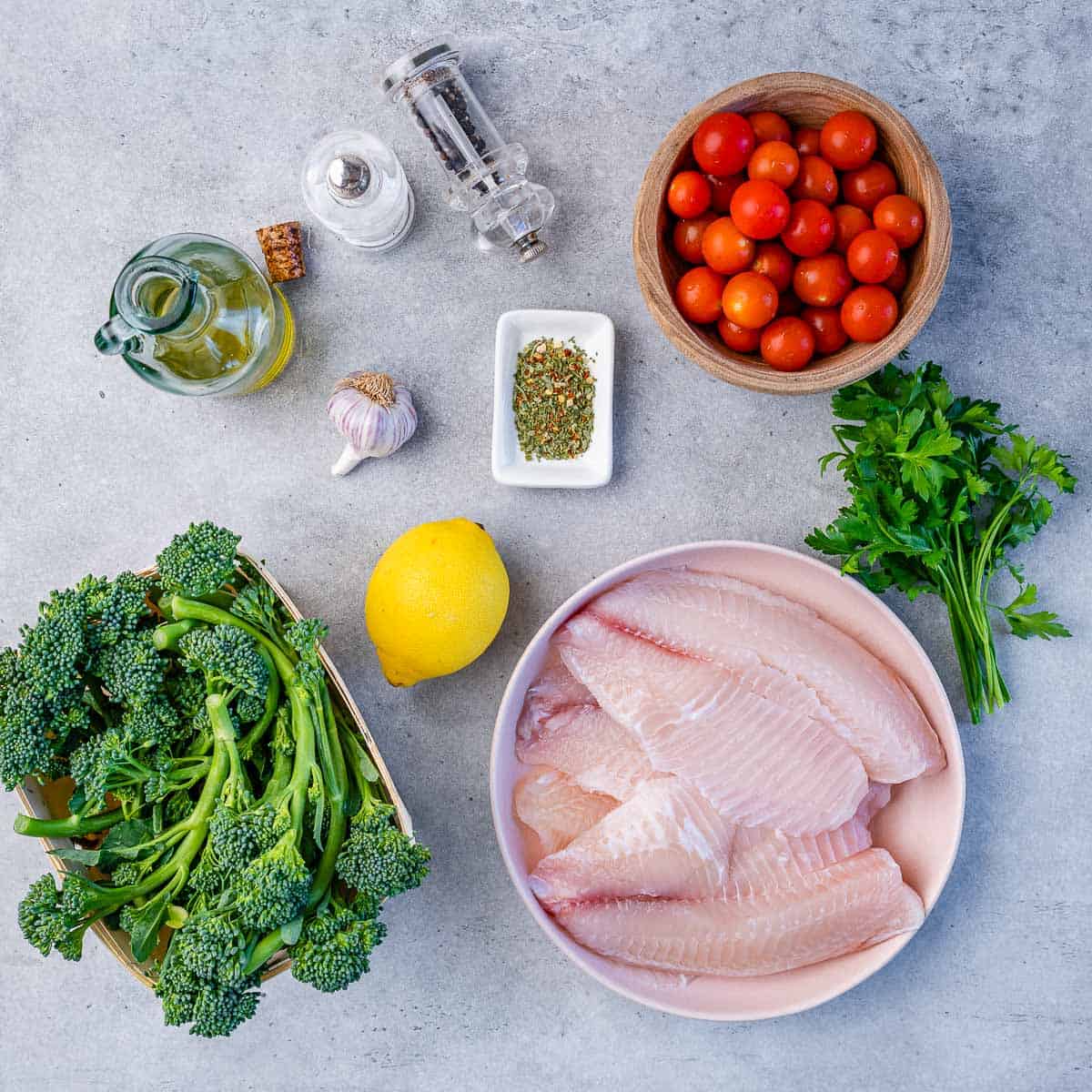 Olive Oil: A good quality olive oil is great for this easy-baked tilapia because it gives the fish extra aromatic flavors with the Italian seasoning. We like to splurge a little more on organic olive oil that is better than regular oil because you can really tell a difference with the flavors.
Garlic: Used for the oil blend, you will definietly want fresh garlic.
Italian Seasoning: You can make your own seasoning by mixing a blend of dried oregano, rosemary, thyme, marjoram, and basil. The best part about making your own seasoning is that you can keep it in a glass jar in the pantry to use for all different kinds of recipes.
Tilapia Fillets: If you are using frozen tilapia fish fillets, then be sure to allow it to fully thaw in ice cold water just before cooking or defrost it in the refrigerator overnight.
Cherry Tomatoes: Once roasted, the robust cherry tomatoes become extra flavorful and juicy. The olive oil coats the tomatoes and gives them even more delicious flavors that fit with the tilapia.
Broccolini: We like to use broccolini because it is so easy to roast in the oven with this recipe. Feel free to use regular broccoli florets.
Kosher Salt and Pepper: Kosher sea salt and freshly cracked black pepper provide enough flavor for this baked lemon fish. Of course, you can adjust the seasoning levels as needed!
Lemon: Juicy citrus from lemon is the perfect addition to this garlic tilapia.
Fresh Parsley: Leafy green parsley is a great fresh herb for serving with this fish. Fresh parsley is perfect for so many things and is a great way to spruce up a recipe with extra fresh and clean flavors.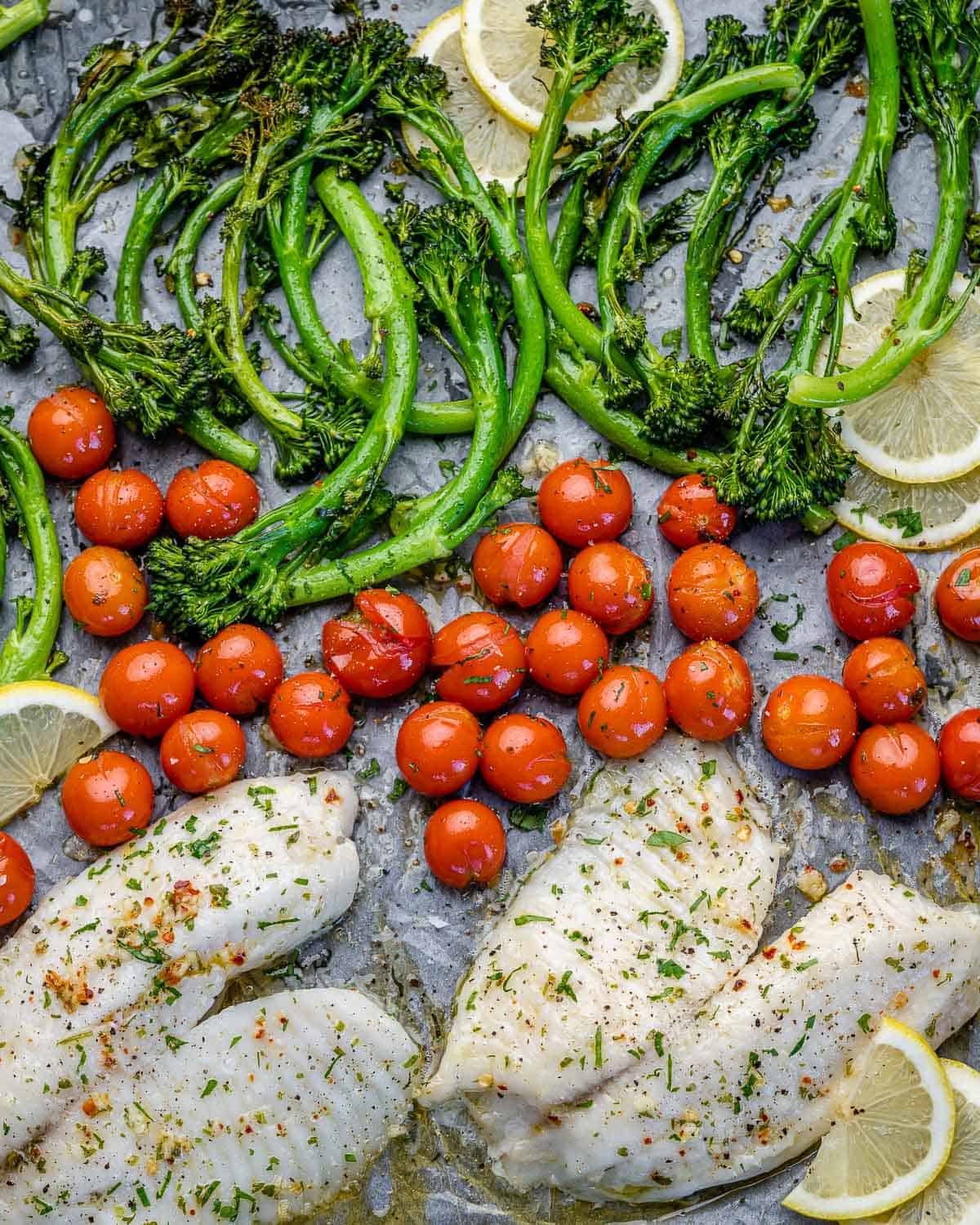 HOW TO MAKE This sheet pan BAKED LEMON tilapia FISH Recipe
Preheat oven: First, get a headstart on things by preparing all of your ingredients ahead of time. Preheat the oven to 400 degrees Fahrenheit a place a rack on the top of the oven to allow the tilapia to get a little crispy. Next, line a baking sheet with parchment paper to prevent it from sticking to the pan; alternatively, you can coat the pan with oil or nonstick oil spray.
Prepare the oil: Next, in a small bowl, combine the olive oil with the Italian seasoning until mixed. This oil is super important for this recipe.
Cover the fish and vegetables: Evenly baste thet tilapia and vegetables with the Italian oil blend with a basting brush. Coating the tilapia and veggies with the oil allows them to stay moist and full of flavor. Make sure you do this step after you have placed the veggies in a single layer on the baking sheet.
Bake: Next, season everything with salt and pepper until you think it has enough flavor. Bake the tilapia and vegetables in the preheated oven for fifteen minutes until the fish easily flakes with a fork. You can also see if the tilapia changed to an opaque color.
Serve: Serve the baked tilapia with fresh lemon wedges, parsley, and your favorite extra sides!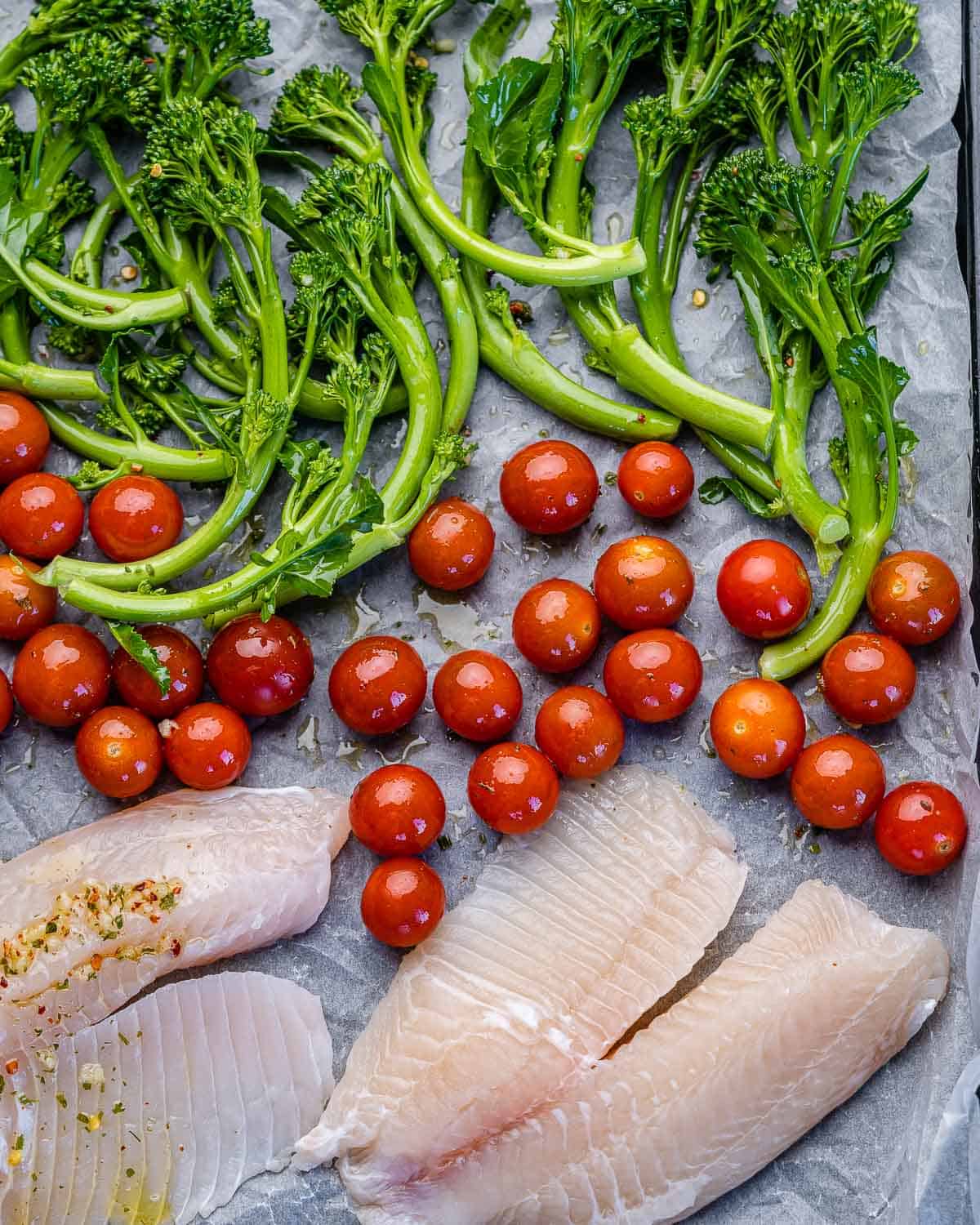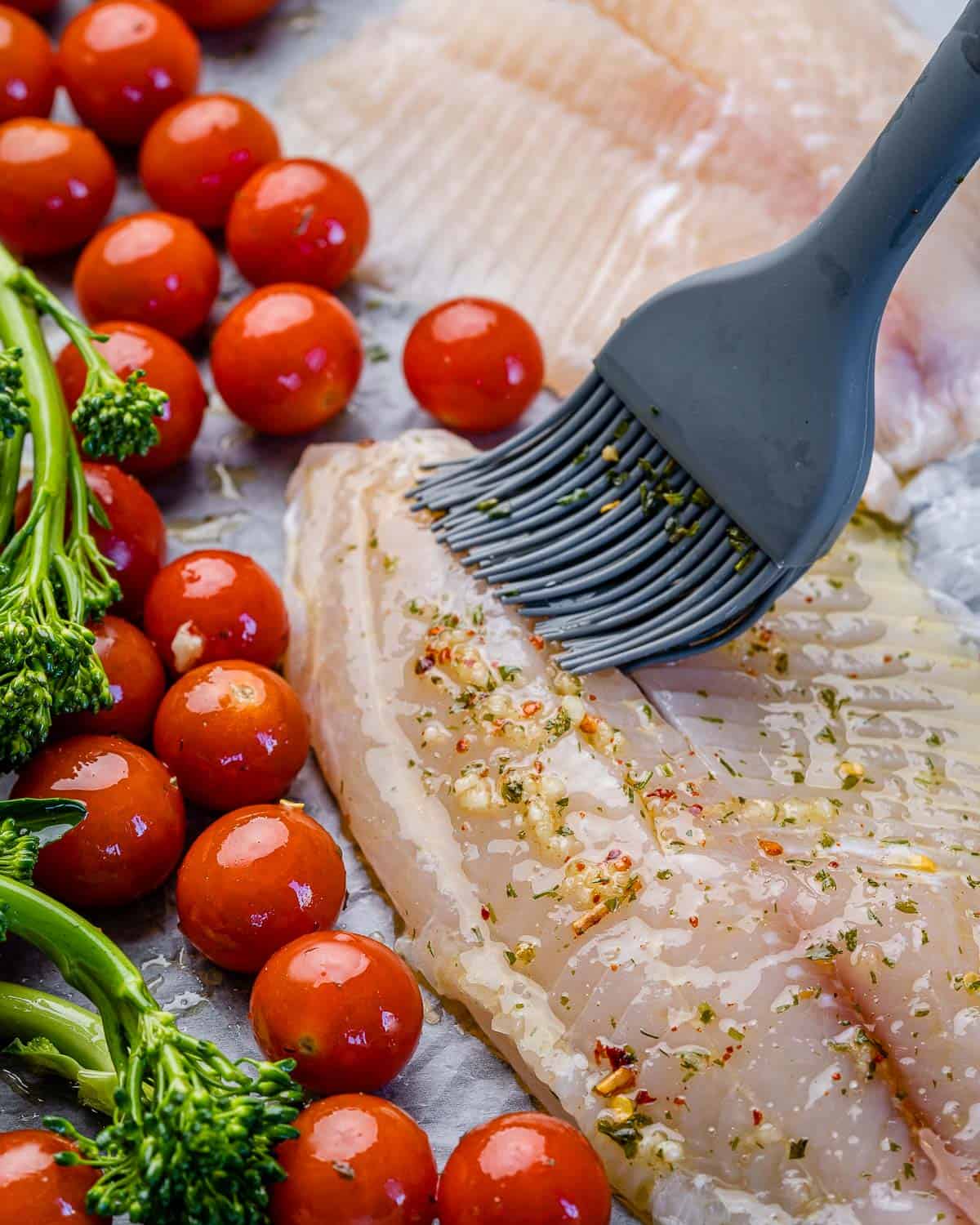 Frequently Asked Questions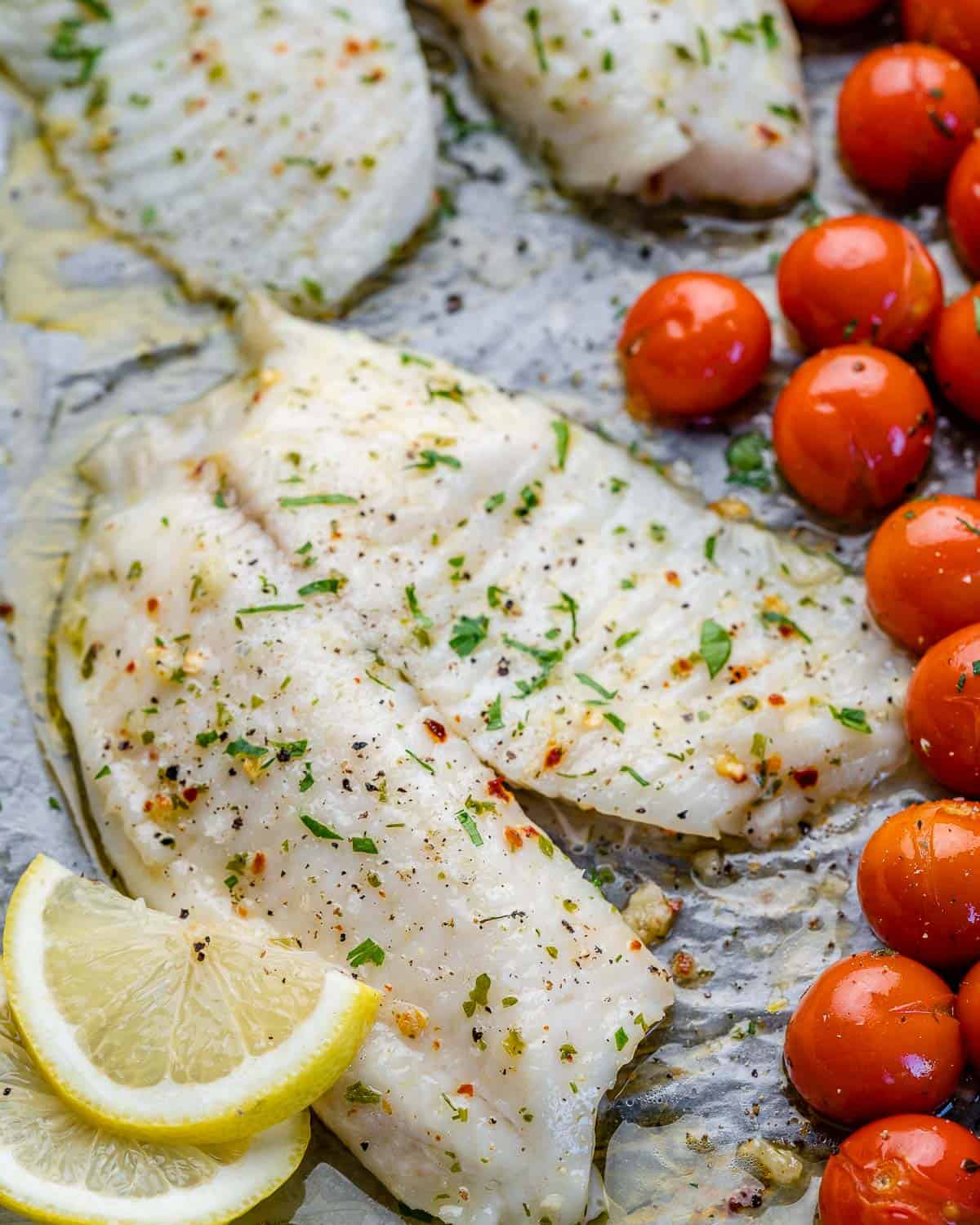 RECIPE NOTES, TIPS, AND SUBSTITUTIONS
Instead of tilapia, use other fish or seafood like salmon, catfish, cod, or shrimp. You can use chicken for this recipe, too, since lemon and garlic are perfect with it.
Replace the lemon with a lime for different fresh citrus flavors.
Use any kind of vegetables for the sheetpan dinner. Options for veggies include root vegetables, cauliflower, squash, mushrooms, asparagus, and more.
Store the leftovers in an airtight container in the refrigerator for four days. Reheat the fish in the microwave, on the stovetop, or air fryer.
Add some heat to this easy baked tilapia recipe by sprinkling different spices such as paprika, cayenne, garlic powder, onion powder, and other types on the fish.
Serve oven-baked tilapia with a fresh salsa like avocado salsa, mango salsa, pineappe salsa, and more.
Make baked tilapia tacos by serving the baked tilapia in tortillas with fresh ingredients like cilantro, corn, avocado, jalapeño, tomatoes, etc.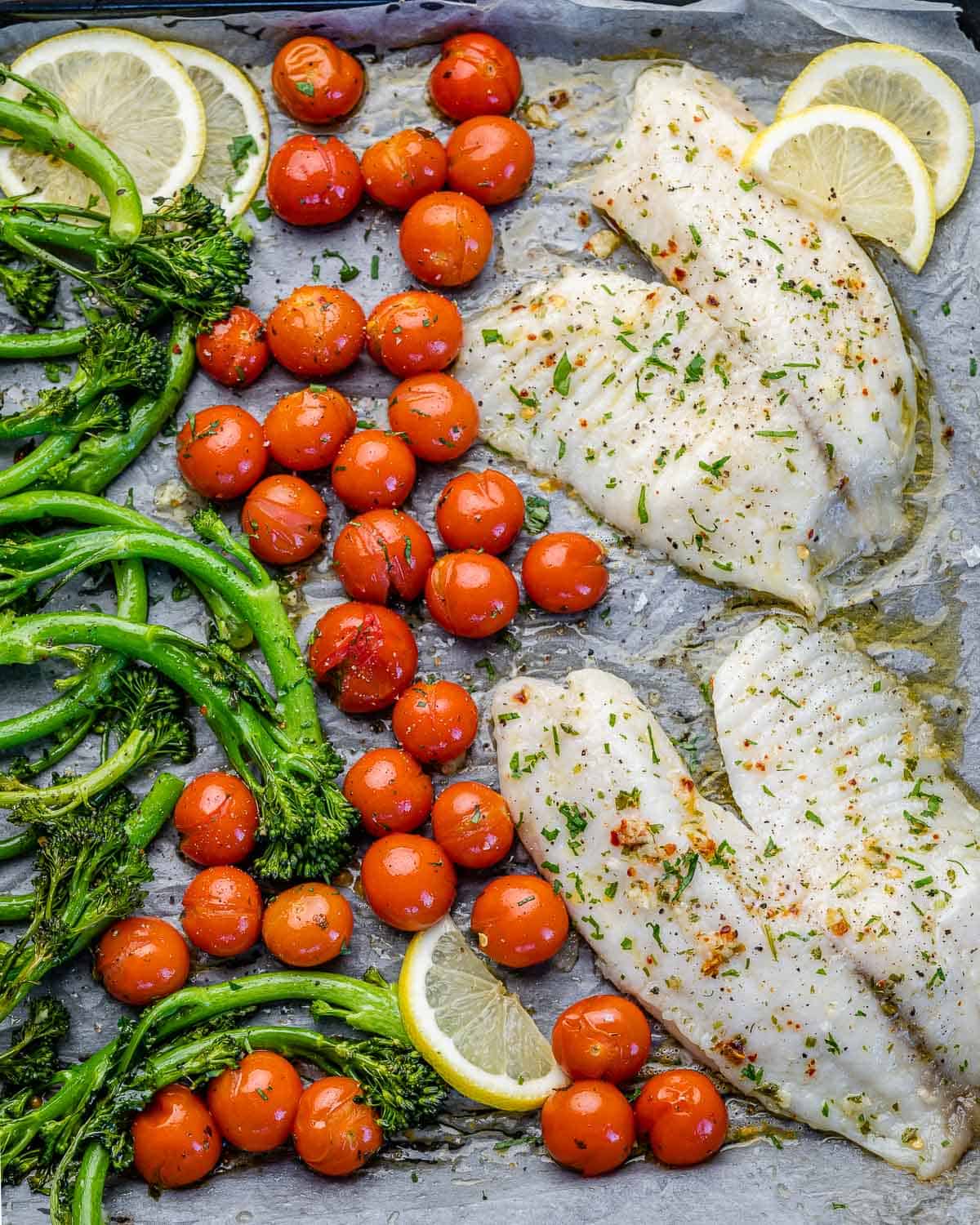 WHAT TO SERVE WITH THIS SHEET PAN TILAPIA RECIPE
There are a variety of easy side dishes and food options you can include with this baked tilapia. Serve the tilapia and veggies all by themselves or create a whole meal out of this sheet pan dinner with different sides!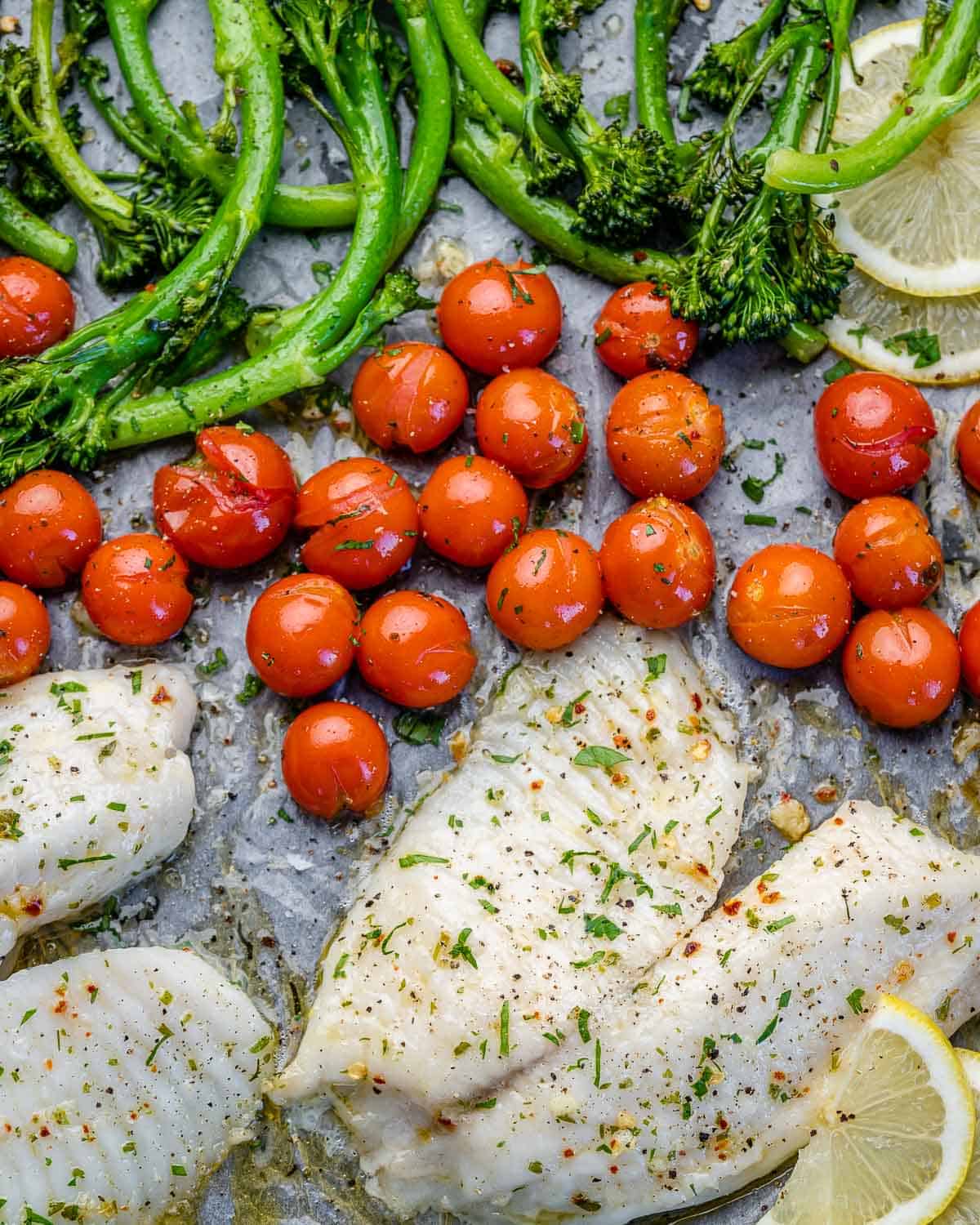 OTHER EASY FISH RECIPES YOU WILL LOVE
Finally, please use our hashtag #healthyfitnessmeals on INSTAGRAM! Follow on FACEBOOK | INSTAGRAM | PINTEREST | TWITTER for all of our latest blog posts and recipes.