Made in the oven, this Easy oven-Baked Salmon Meal Prep recipe is tender, flaky, nutritious, and the perfect option for a healthy dinner or lunch routine. Tossed in a sticky, savory, and sweet citrus-filled sauce, this baked salmon recipe is loaded with delicious flavors you will love.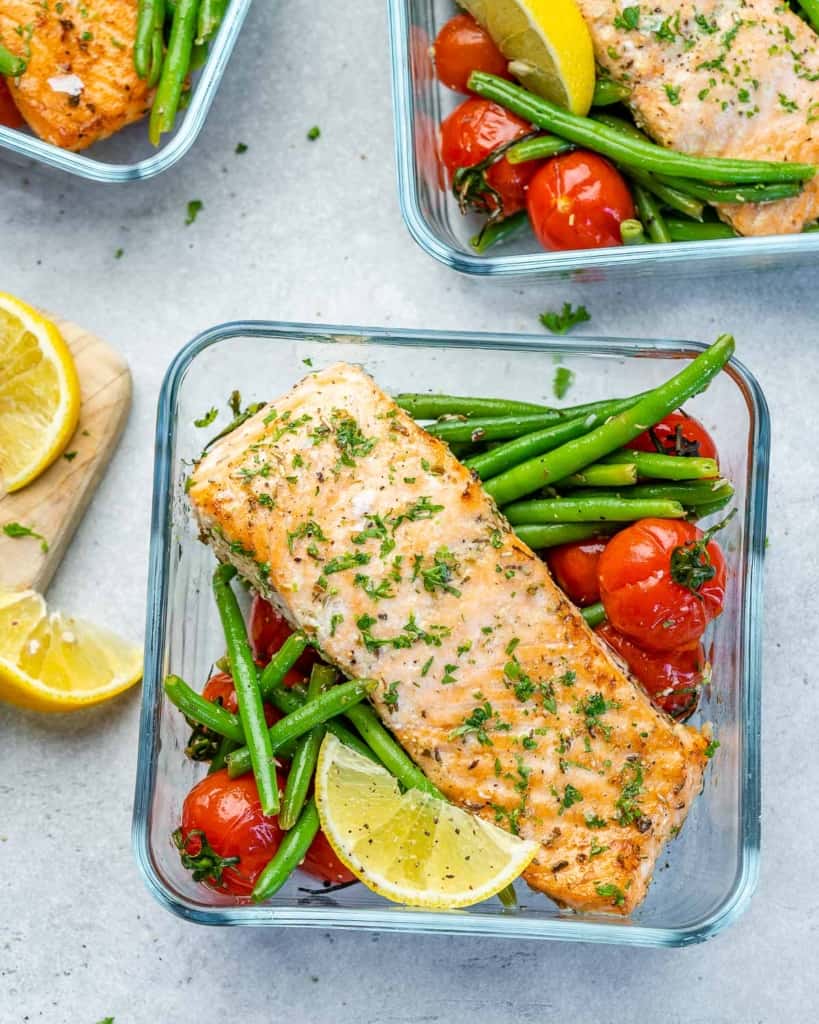 Savory with slightly sweet flavors, this easy baked salmon for meal prep is going to become your next favorite option for lunch or dinner. Quick and easy to prepare in about 30 minutes, this recipe is perfect for busy weeknights!
You can make this salmon recipe with fresh or frozen green beans– both are delicious. This recipe is suitable for low-carb, paleo, dairy-free, and gluten-free diets and made with real ingredients only!
why you will love this baked salmon recipe
Great for busy lifestyles: Meal prep is a great thing to do if you're looking to eat healthy at home. With just a portion of your time, you can prep your meals for the week and bask in the joy of not having to do much for your lunch or dinner.
Well-balanced and healthy: This healthy recipe is filled with fresh produce that is filled with nutrients. Healthy and full of protein, this salmon is perfect for those who follow clean diets!
Easy to assemble: This meal prep recipe is not difficult at all. With just a handful of simple steps, you will have a yummy lunch or dinner ready in minutes.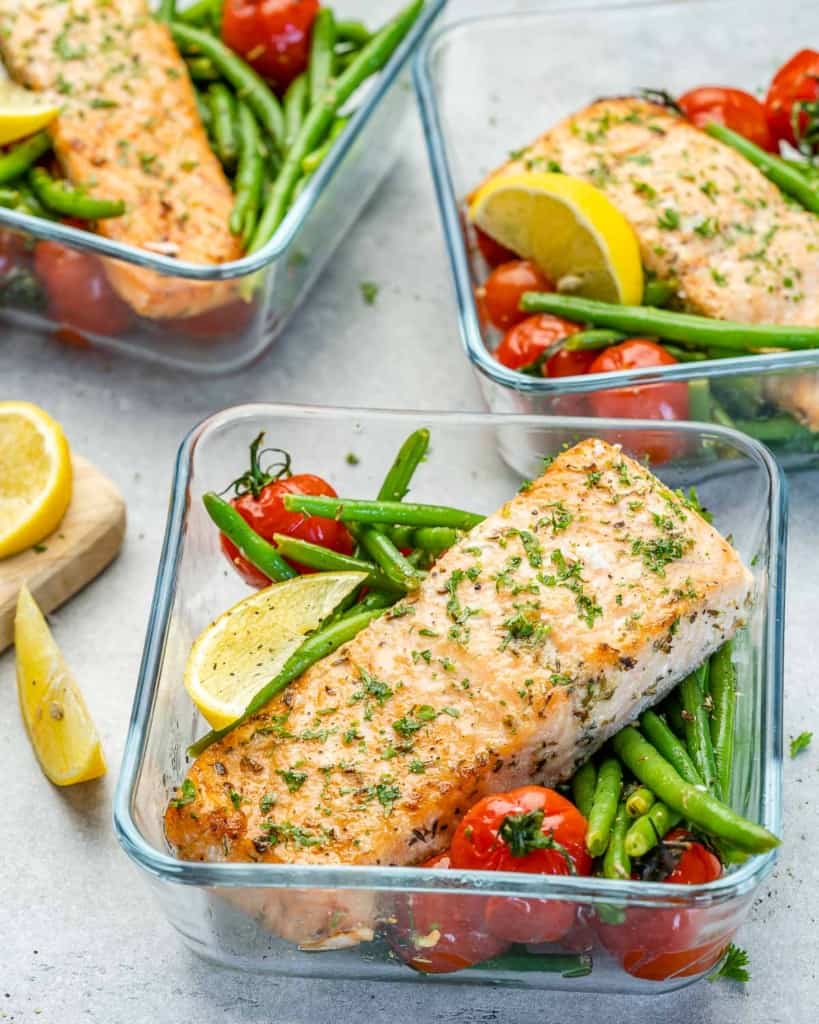 Ingredients Needed to Make This Simple Salmon
This is just a list of ingredients you will need to make this oven-baked salmon meal prep. The full measurements of this recipe are down below.
green beans, fresh or frozen
coconut oil
coconut sugar
lemon juice, freshly squeezed
garlic cloves, minced
oregano, ground
thyme, ground
rosemary, ground
salmon, four fillets
tomatoes, cherry tomatoes
parsley, fresh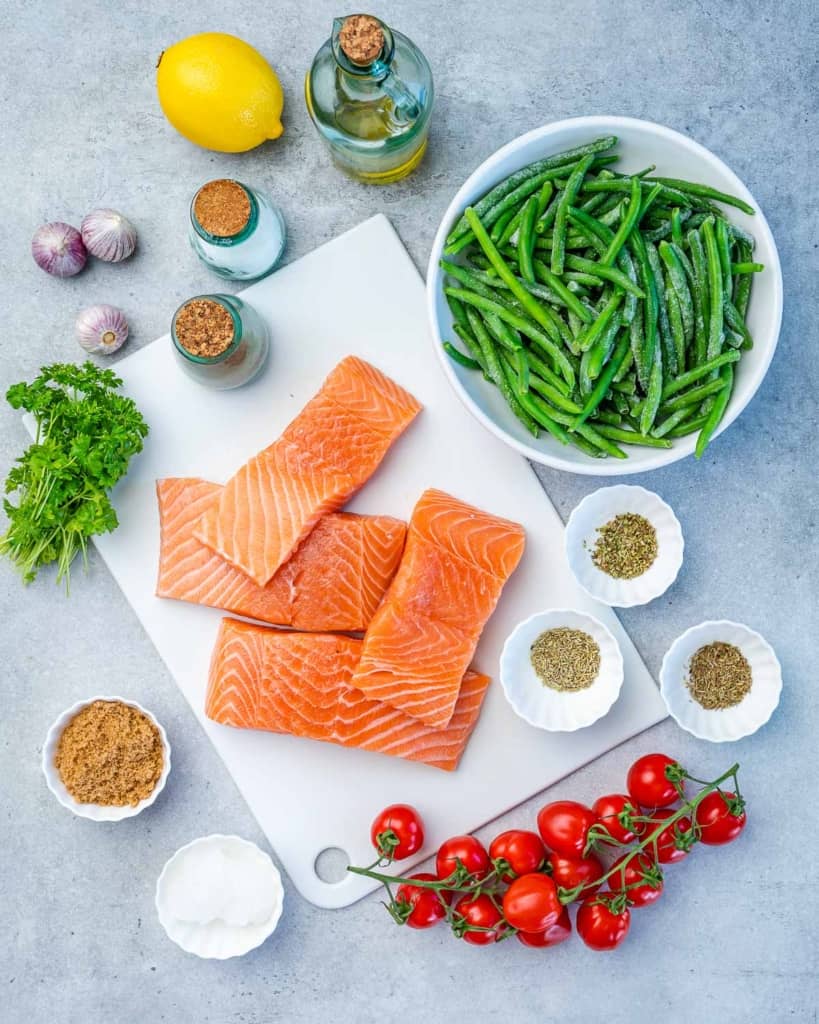 How to Make this Easy Baked Salmon
Cook the green beans: First, cook the green beans. Prepare the water if you are boiling the green beans. If using frozen green beans, prepare in a large non-stick pan and cook for 10-12 minutes.
Make the sauce: Next, preheat the oven to 425 degrees Fahrenheit and line a baking sheet with parchment paper. Next, melt the coconut oil in a saucepan and add coconut sugar, lemon juice, garlic, oregano, thyme, rosemary, salt, and pepper and simmer for a minute.
Toss the green beans: Next, drizzle half the sauce over the green beans.
Bake the salmon: Next, place the salmon and tomatoes in the prepared pan and coat with sauce. Bake for 12-15 minutes.
Transfer to meal prep containers: Next, allow the salmon to cool. Place in the meal prep containers and store in the refrigerator for up to three days.
Serve: Reheat and enjoy!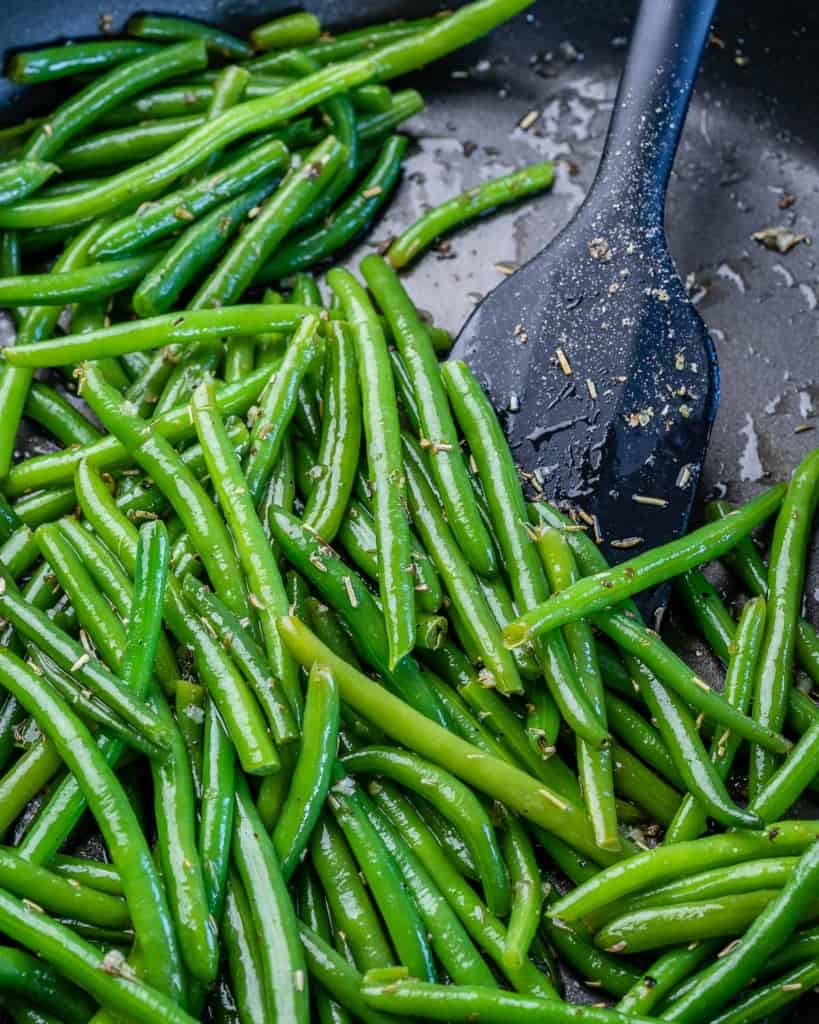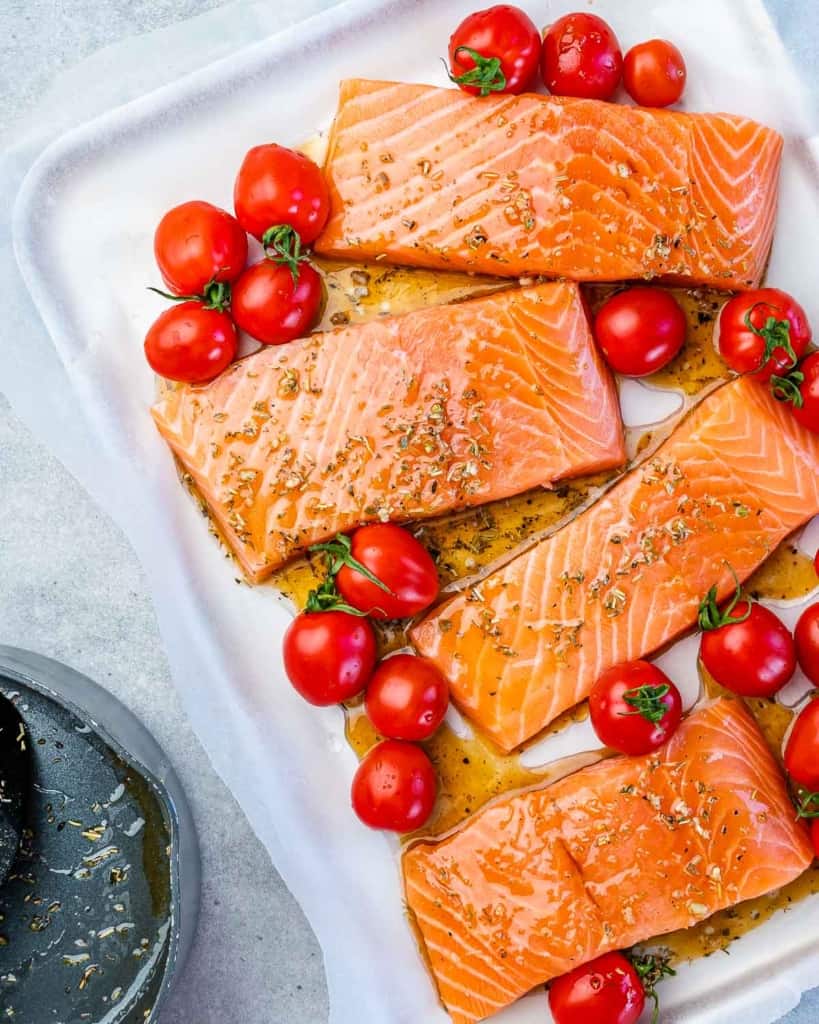 Recipe Notes and Tips
Store the leftovers in the refrigerator for up to three days.
See the recipe card for different cooking methods for green beans.
Substitute the coconut sugar for MonkFruit sweetener, Swerve, maple syrup, or honey.
Don't like green beans, swap it with any other veggie of choice.
If you want to swap the salmon for another type of fish like Cod, or even swap it for chicken if you don't like seafood.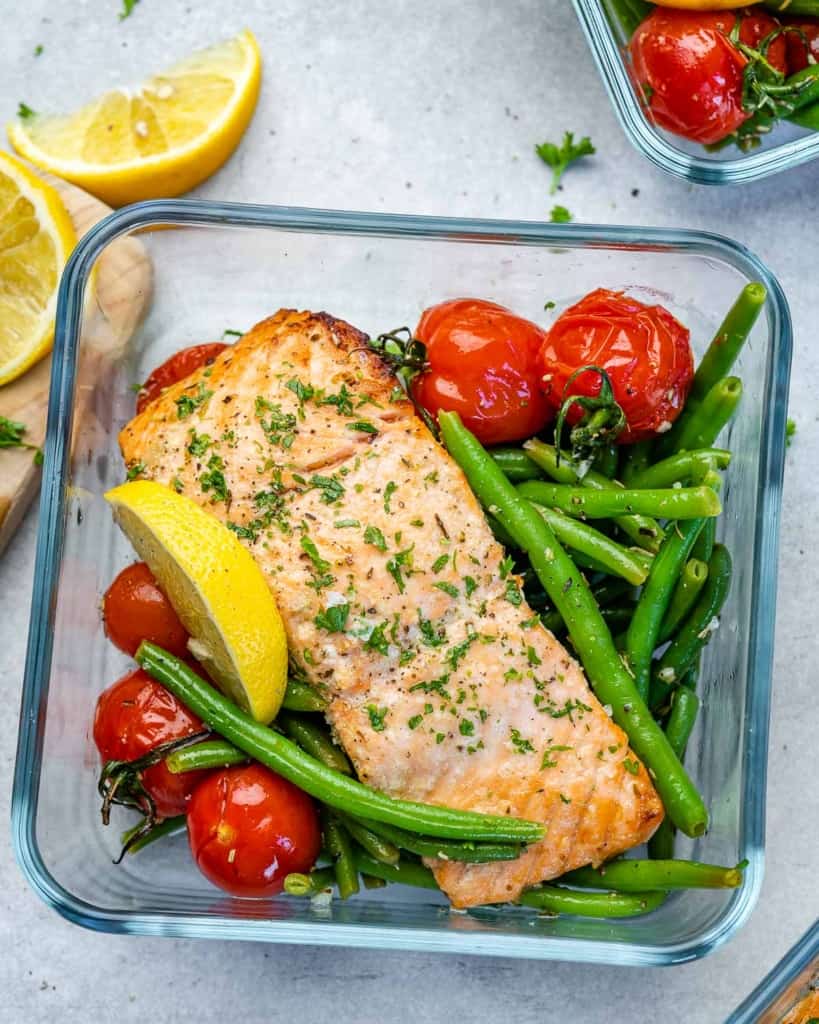 Frequently Asked Questions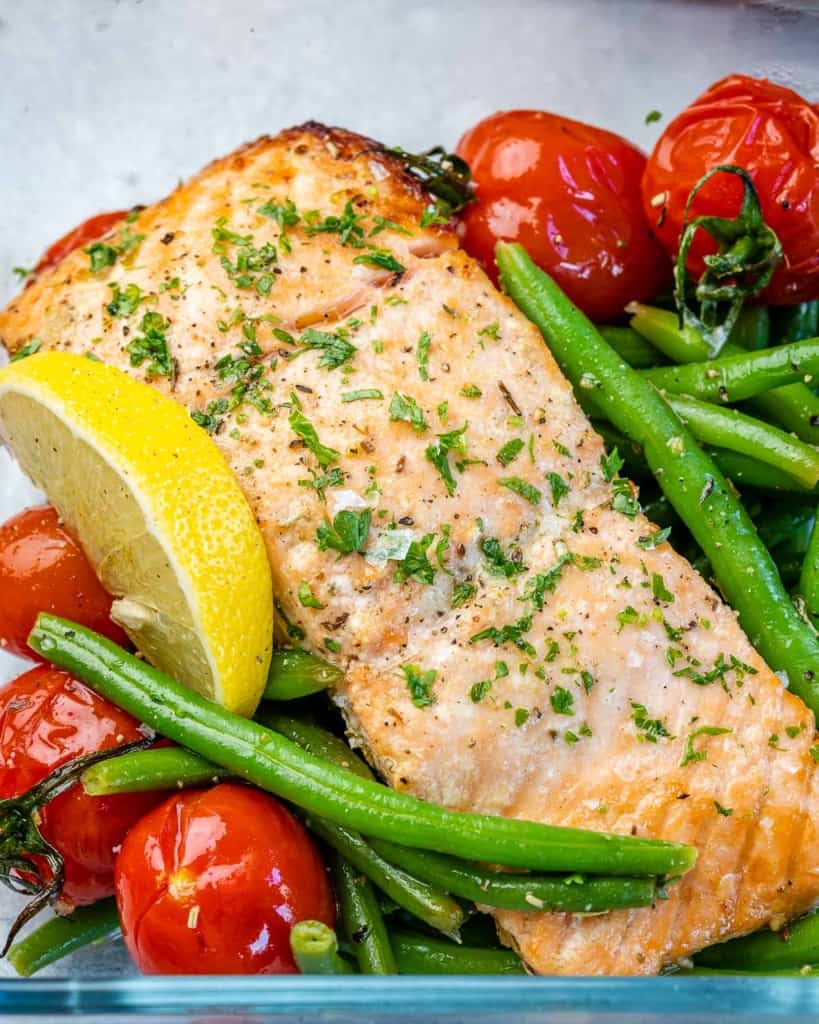 Other salmon Recipes You'll Enjoy
Chili Salmon Recipe with Zoodles
If you try a recipe and you like it, leave us some feedback in the comment section below, and don't forget to rate it! We would love it if you shared it with friends and family.
For a chance to be featured, please use the hashtag #healthyfitnessmeals on INSTAGRAM! FOLLOW Healthy Fitness Meals on FACEBOOK | INSTAGRAM | PINTEREST | TWITTER for all of our latest blog posts and recipes.