This cheesy Cauliflower casserole Bake is a cheesy delicious vegetarian side dish recipe that's will impress your family and friends. Loaded with flavor, and a low carb alternative to the classic cheesy potato bake. Easy to make, and the perfect side dish to serve for a crowd.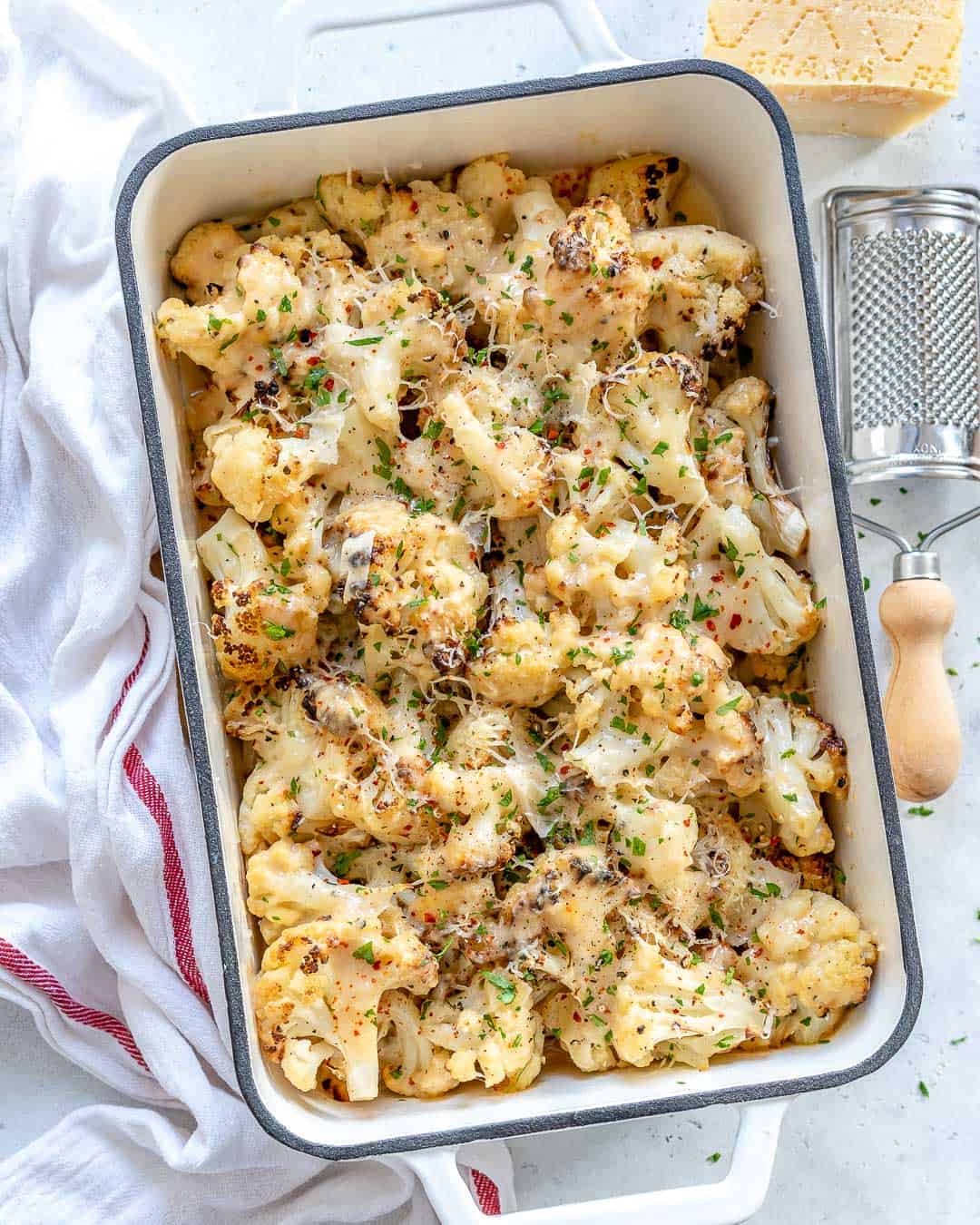 Our cheesy cauliflower bake recipe will be sure to wow your guests and family. Everyone is going to want to go for seconds and a great way to have your kids eating more vegetables. Made with cauliflower florets, cheddar, and Parmesan Cheese, Garlic, milk, herbs, and olive oil. This is a low-carb oven-baked cauliflower side dish recipe and to make it keto-friendly, you may skip the flour and use unsweetened almond or coconut milk. Loaded with flavor, this crispy and healthy cauliflower bake will be one of your all-time favorite side dish recipes.
Why you will love this cauliflower side dish recipe
Loaded with fiber: A great way to have more veggies and load up on the fiber.
Keto-friendly: This cheesy cauliflower bake low in carbs and great if you are on the keto diet.
So Tasty: Once you make this cauliflower recipe, you will see how delicious it is. No doubt, it will become a family favorite.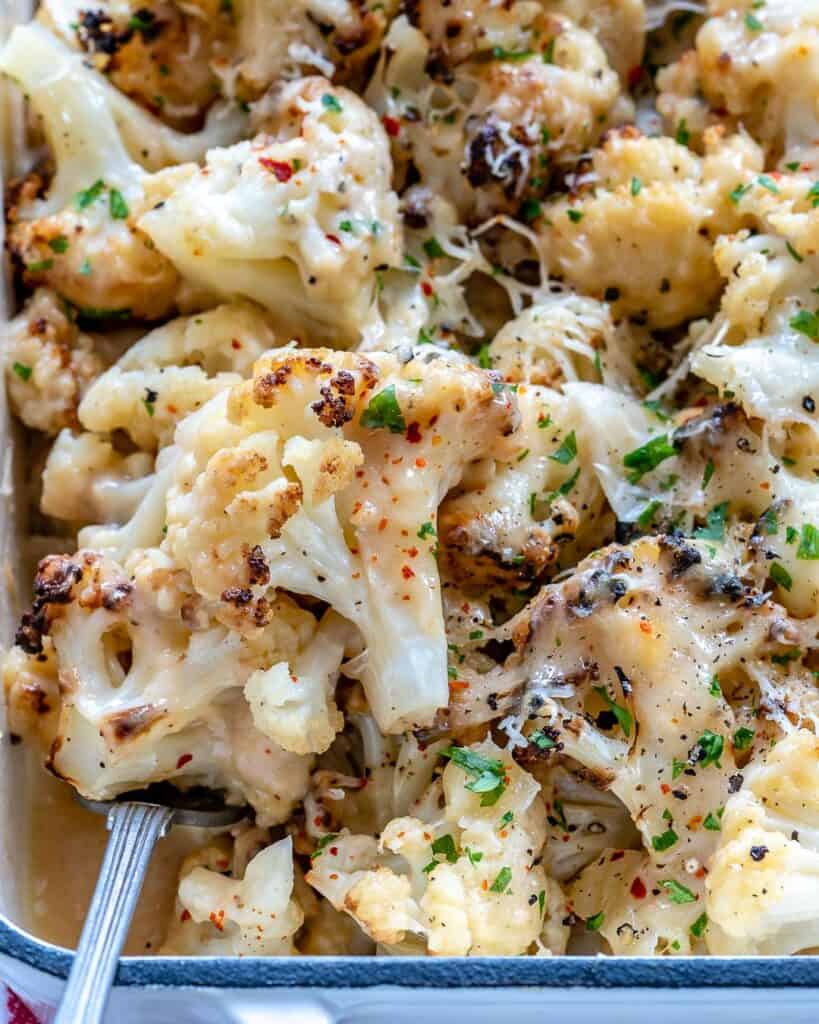 Ingredients you will need to make this cheesy baked cauliflower casserole
2 medium Heads Cauliflower (about 3 pounds total)
1½ Cups Grated White Cheddar or yellow cheddar cheese (light or fat-free)
½ Cup Grated Parmesan Cheese
1½ Cup Milk (dairy or non-dairy)
2 Garlic Cloves minced
½ Tsp Freshly Grated Nutmeg or ground nutmeg
2 Tbsp Gluten-Free Flour
1 Tbsp Olive Oil
½ Tsp Kosher Salt
Half Tsp Freshly ground black pepper divided
½ Tsp Chili Flakes optional
1-2 Tbsp Freshly Chopped Parsley
Cooking Oil Spray
How to make This baked cheesy cauliflower casserole
Preheat the oven on medium broil and line a large baking tray with parchment paper.
Grease a 9×13-inch or other 3-quart baking dish with some oil and set aside.
Thoroughly wash the cauliflower and pat the excess moisture with a paper towel. Trim the stem off the cauliflower and cut into florets.
Arrange the cauliflower florets in the prepared baking tray, spray with cooking oil and season with some salt and pepper, toss to coat well. Broil for 10-12 minutes, or until charred and tender-crisp.
While the cauliflower cooks, prepare the cheesy sauce. In a heavy skillet, heat the oil on medium heat.
Add garlic and cook for 1 minute, until fragrant. Add flour and whisk quickly until a white froth begins to appear on the top.
Carefully and slowly pour the milk; continue whisking until the mixture starts to bubbles.
Reduce the heat to low and let it simmer until the sauce thickens. Once the sauce is thick and creamy remove from the heat, stir in the cheddar cheese, grated nutmeg and mix thoroughly, until cheese is completely melted. Adjust the seasoning to your taste.
Remove the cauliflower from the oven and carefully transfer it into the prepared baking dish. Pour the hot bubbling sauce on top; mix until well combined. Top with parmesan cheese.
Change the oven settings for 375°F fan-assisted. Bake for 10-12 minutes until hot and bubbly.
 Remove from the oven and let cool at room temperature for about 5 minutes. Garnish with parsley and chili flakes if desired. Serve hot and enjoy!
Frequently asked questions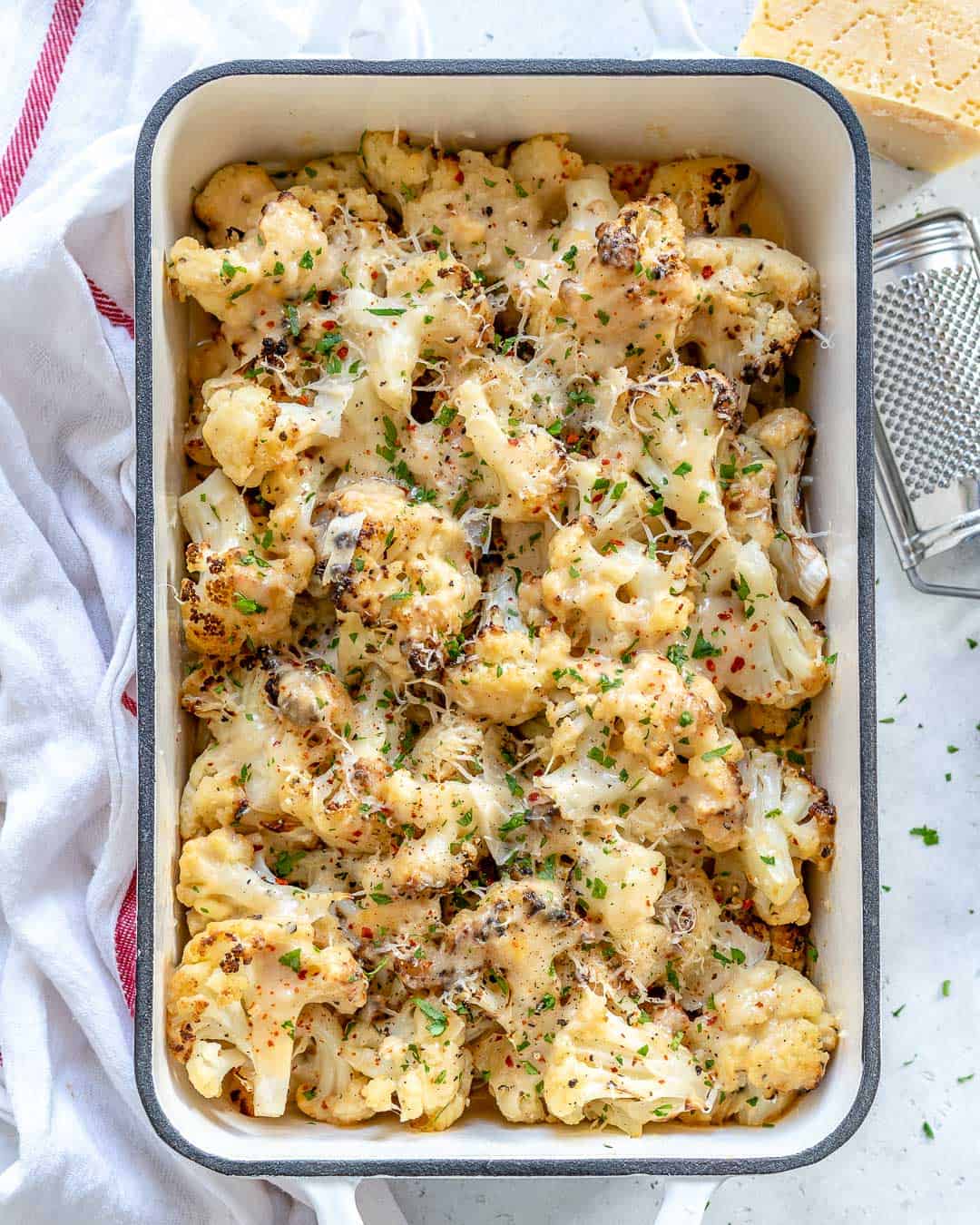 More delicious Cauliflower recipes:
Remember to subscribe to my NEWSLETTER for free and receive recipes like this Cheesy Baked Cauliflower Recipe delivered right to your inbox!
If you try a recipe and you like it, please use our hashtag #healthyfitnessmeals on INSTAGRAM for a chance to be featured! FOLLOW Healthy Fitness Meals on FACEBOOK | INSTAGRAM | PINTEREST | TWITTER for all of our latest blog posts and recipes.