Looking for a healthier way to serve fish and chips? This Air Fryer Fish and Chips recipe is just the thing! The air fryer makes perfectly crispy, flaky fish and golden, crispy potatoes without the added fat and calories from deep frying. It's a fast and easy weeknight dinner the whole family will love.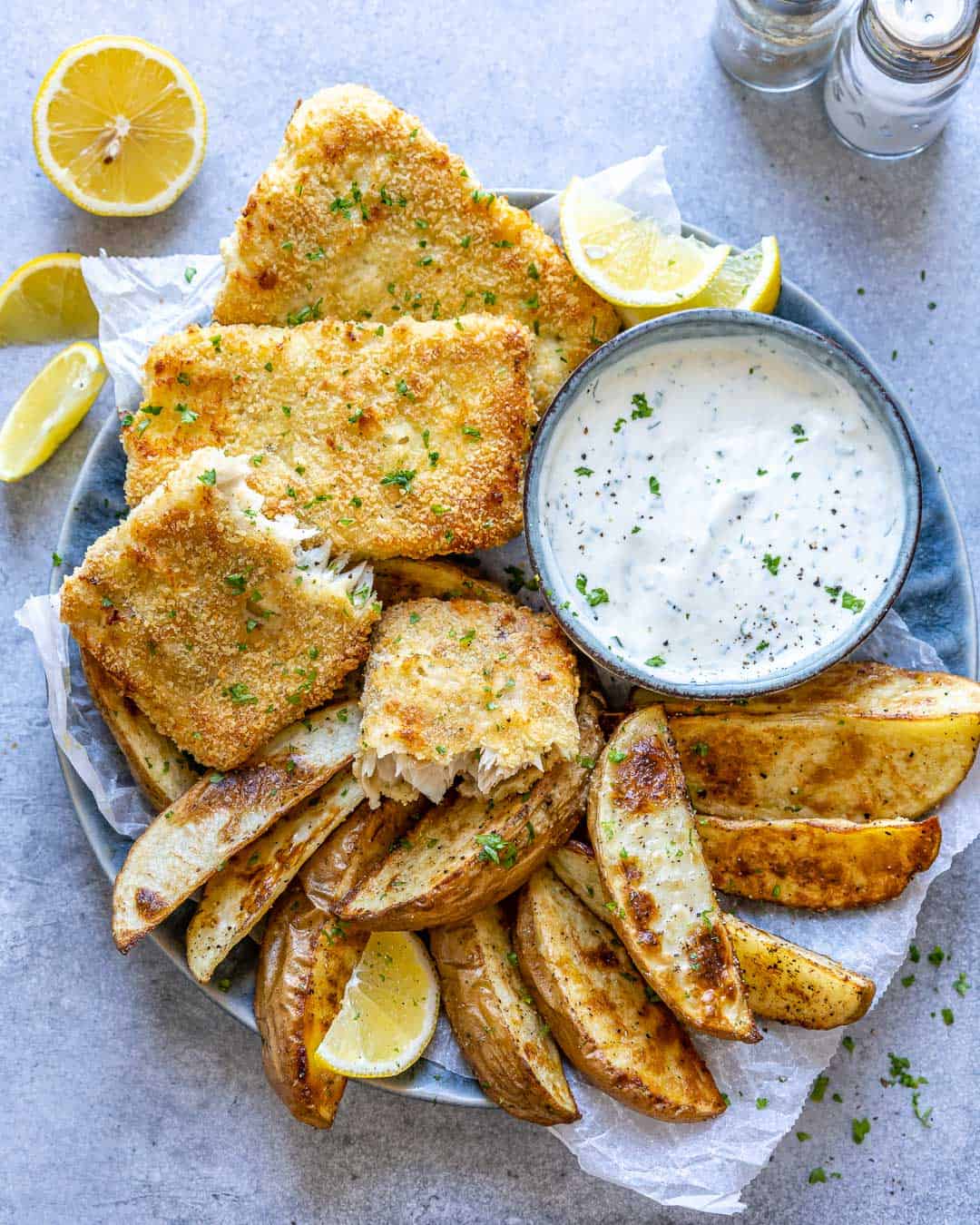 If you are a fish and chips lover, this recipe is for you! We use fresh fish and whole potatoes to make a traditional, yet more nutritious, version of the English classic. Air Fryer Fish and Chips only takes about 20 minutes of hands-on time to make, which makes it a great meal for weeknights. We also love that the meal is family-friendly and kids love it.
If you're looking for more air fryer recipes, try our Air Fryer Honey Glazed Salmon or our yummy Air Fryer Chicken Parmesan.
Why You'll love this recipe
Healthier than traditional. Using the air fryer eliminates the extra fat and calories from deep frying. Plus, fish is full of healthy fats, nutrients, and protein.
So fast and easy. It only takes 20 minutes of hands-on time to make this recipe. The rest is just cooking time. Plus, while the potatoes are cooking you can simultaneously prep the fish.
Everyone loves it. Whether you're serving kids or adults, this recipe goes over well with everyone. It can be served for dinner on a weeknight or as a special treat on the weekend.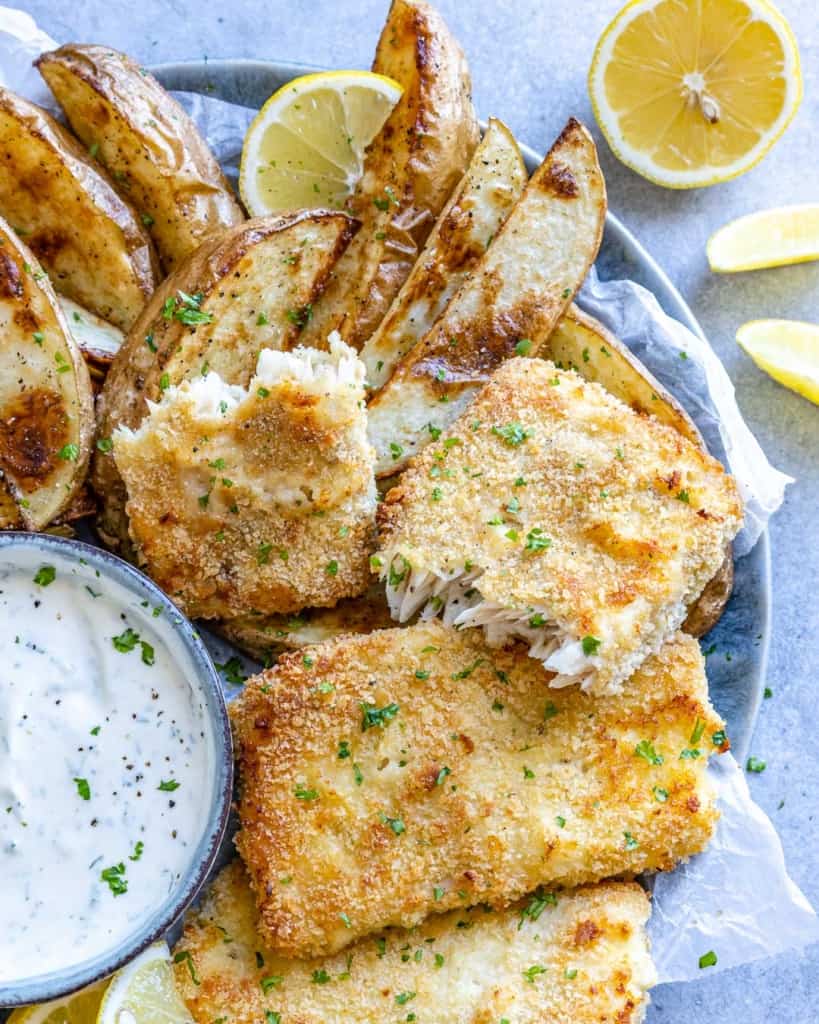 ingredients you'll need
White fish fillet (like cod, tilapia, or seabass)
Panko breadcrumbs
Egg
Gluten-free flour
Kosher salt
Ground pepper
Olive oil
Russet potatoes
Fresh parsley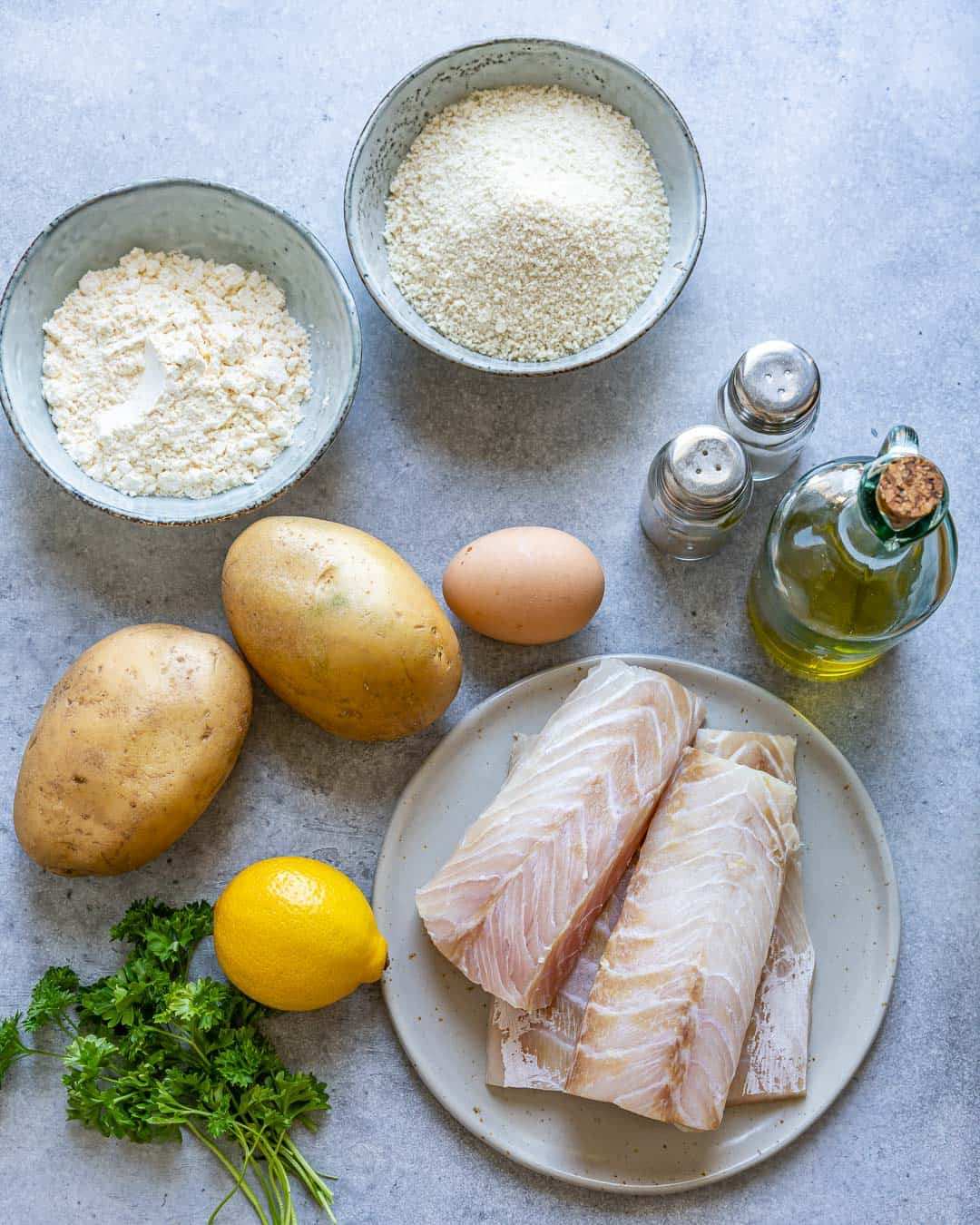 how to make air fryer fish and chips – STep by Step
Preheat the air fryer to 375F.
Wash and cut the potatoes. Rinse and scrub the potatoes thoroughly to remove any dirt. Pat the excess moisture with a paper towel, then cut the potatoes into wedges and place them into a large bowl.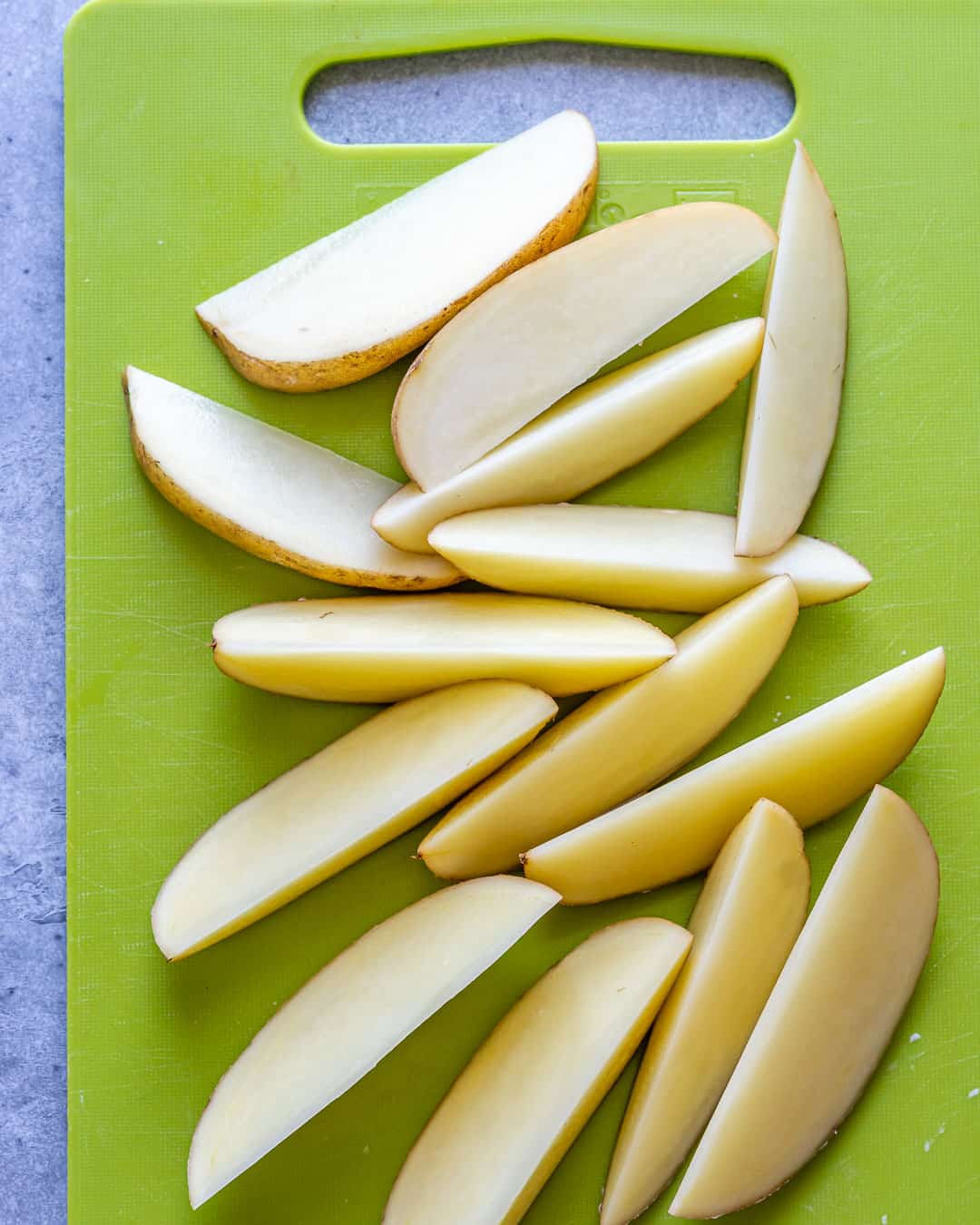 Season the potatoes. Drizzle the potatoes with olive oil and then season with salt and pepper. Toss well to evenly coat all pieces.
Cook the potatoes. Place the fries in a single layer into the bottom of your air fryer basket. Try not to stack them on top of each other, because the more separated the fries, the crispier they will be. Cook the fries at 400F for 20 minutes, tossing after 10 minutes to make sure they crisp up evenly. Once done, transfer the wedges to a platter and cover to keep warm.
Prepare fish and dipping stations. While potatoes are cooking, set up three stations, First, in a shallow bowl beat eggs until frothy. Then place the flour into a shallow dish and panko breadcrumbs on a large plate.
Bread the fish. First, dredge the fish fillets in the flour, shaking off any excess. Then dip the fillets into the beaten egg; allowing excess to drip off. Last, coat each fish fillet in bread crumbs, patting to help the coating adhere.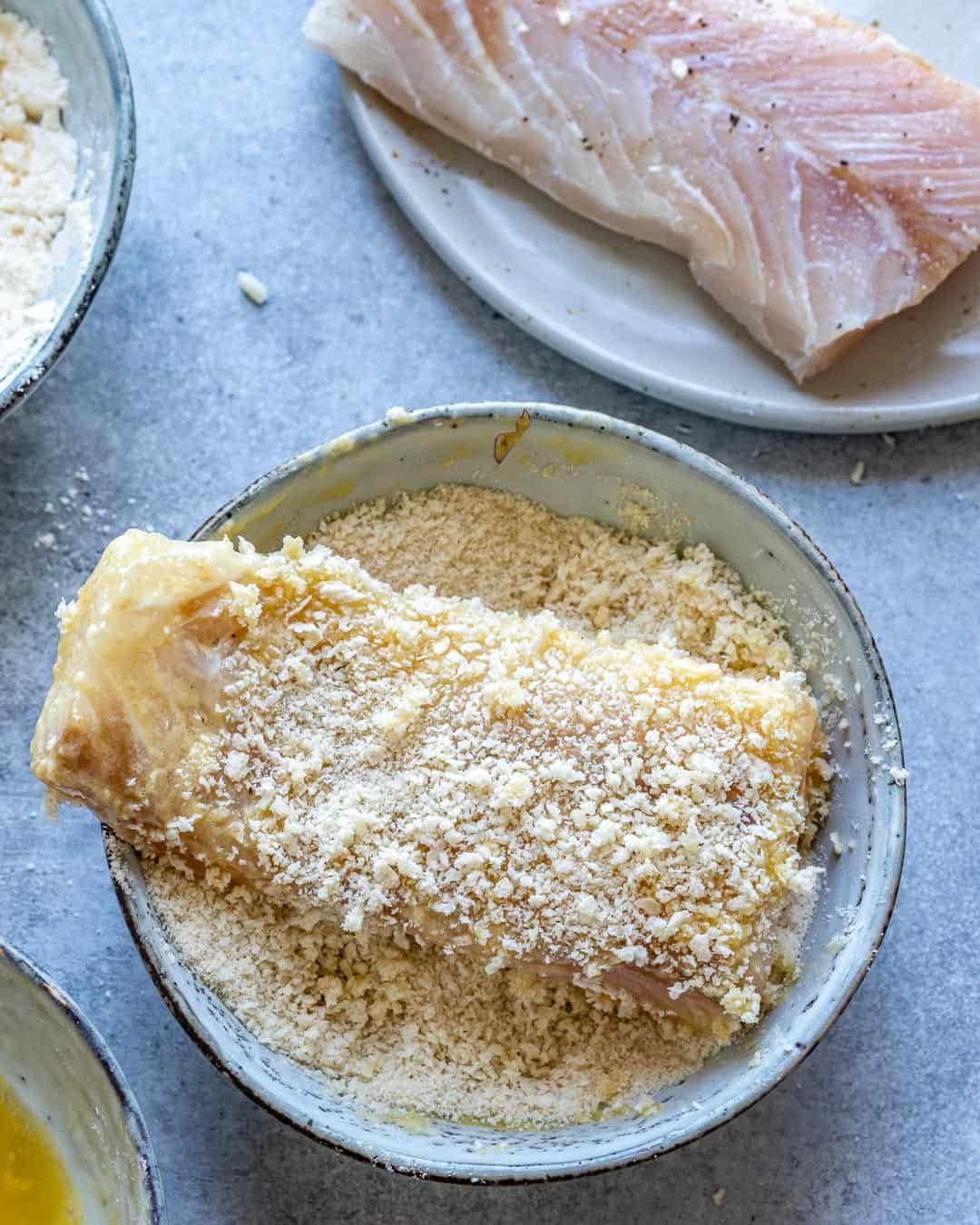 Cook the fish. Transfer the fillets to the air fryer basket and cook at 330F for 15 minutes, turning halfway through with tongs to ensure even browning.
Serve. Once done, transfer fish to the platter with the wedges. Garnish with freshly chopped parsley and serve with dips of choice.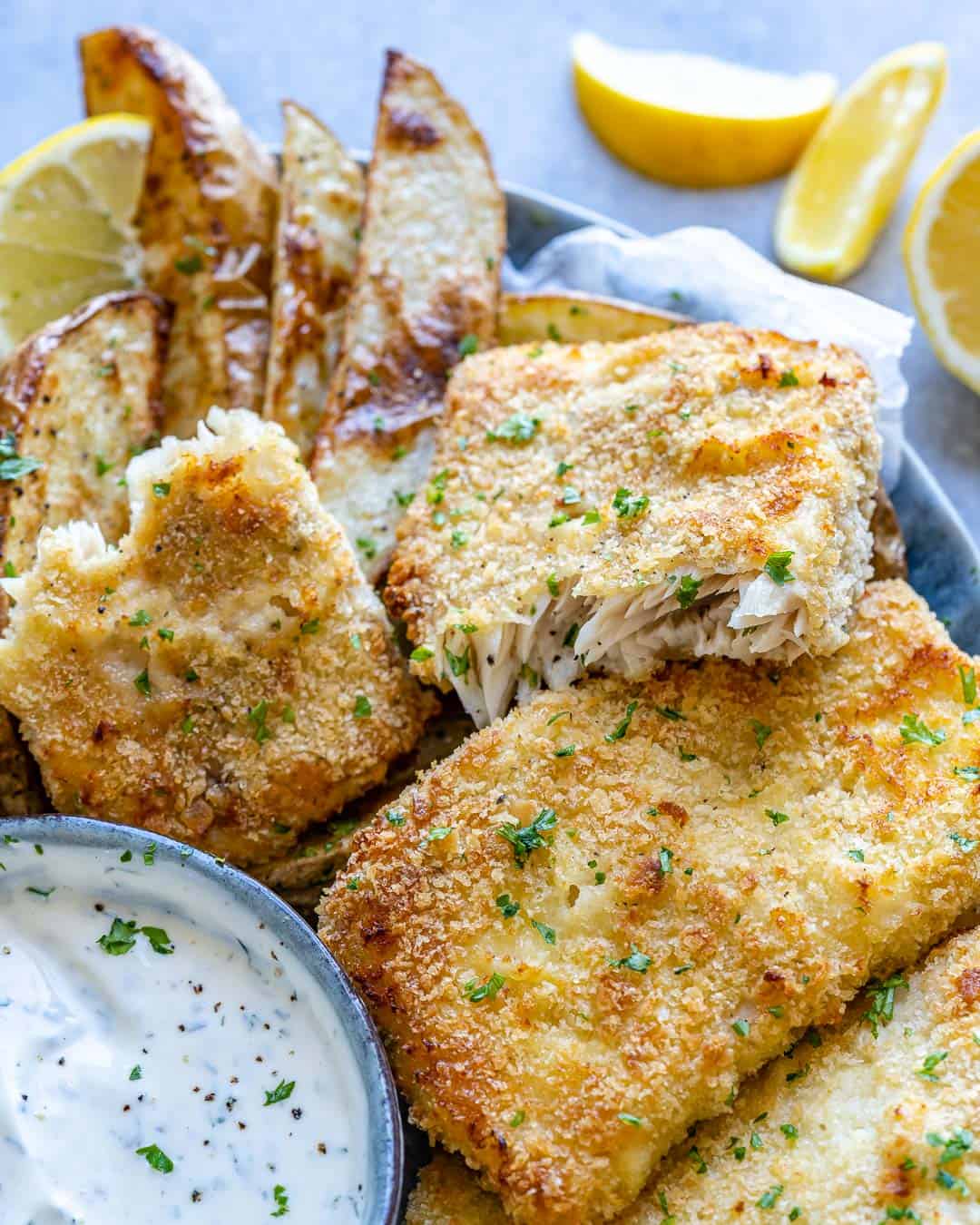 Tips and Substitutes
Fish fillet: You can use any white fish fillet. Popular choices are cod, tilapia, seabass, haddock, halibut, or bass.
Panko breadcrumbs: These are a Japanese-style breadcrumb that gets really crispy. You can also use gluten-free panko breadcrumbs.
Gluten-free flour: You can also use regular flour if preferred.
Russet potatoes: It's important to use a starchy potato for the right texture. Russets are starchy and affordable.
Cook the potatoes in two batches if needed. Avoid stacking them or crowding them into the basket – they get crispiest when none of them are touching.
Shake off excess flour thoroughly, and then excess egg thoroughly. Too much flour or egg makes them gummy instead of crispy.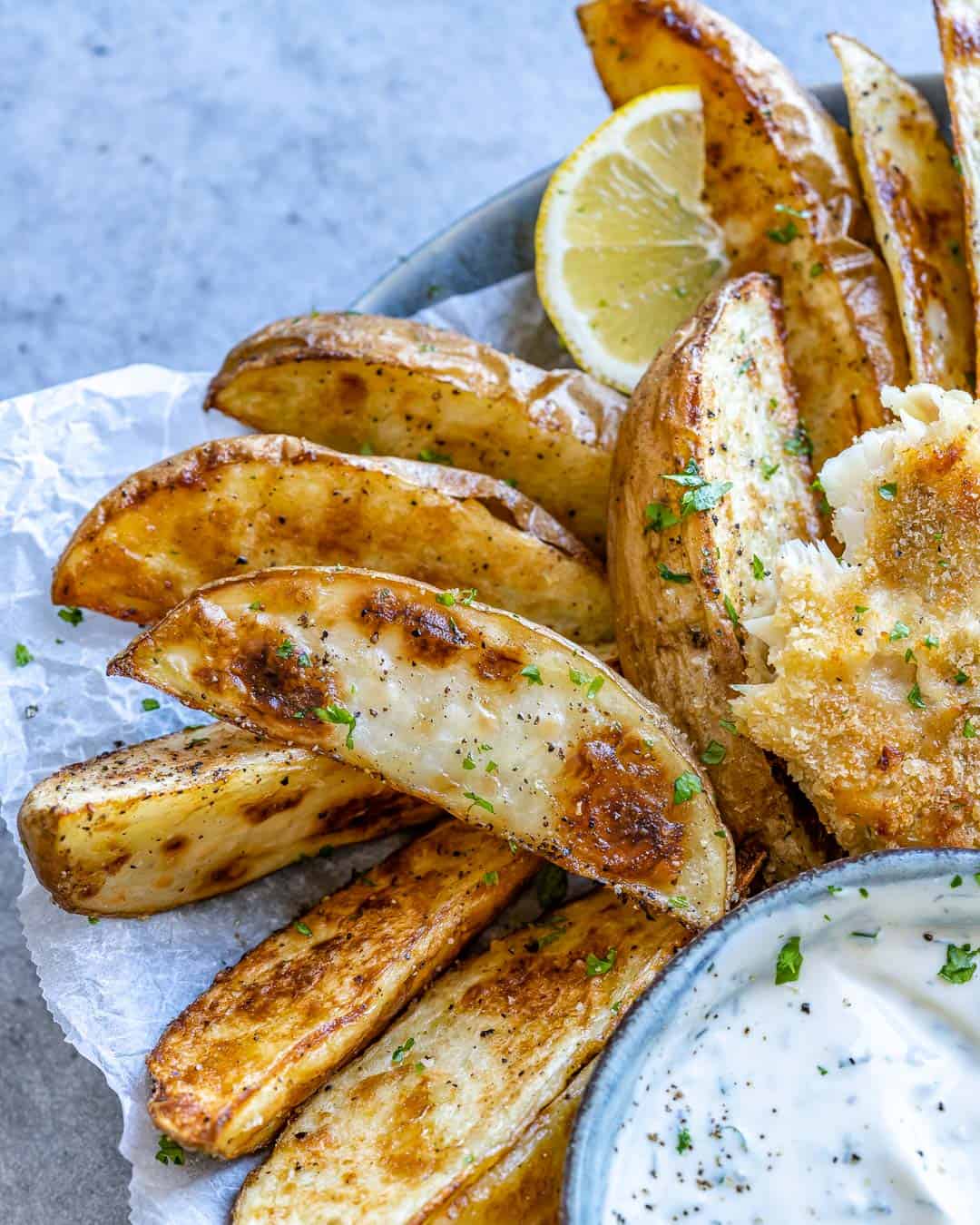 FAQ's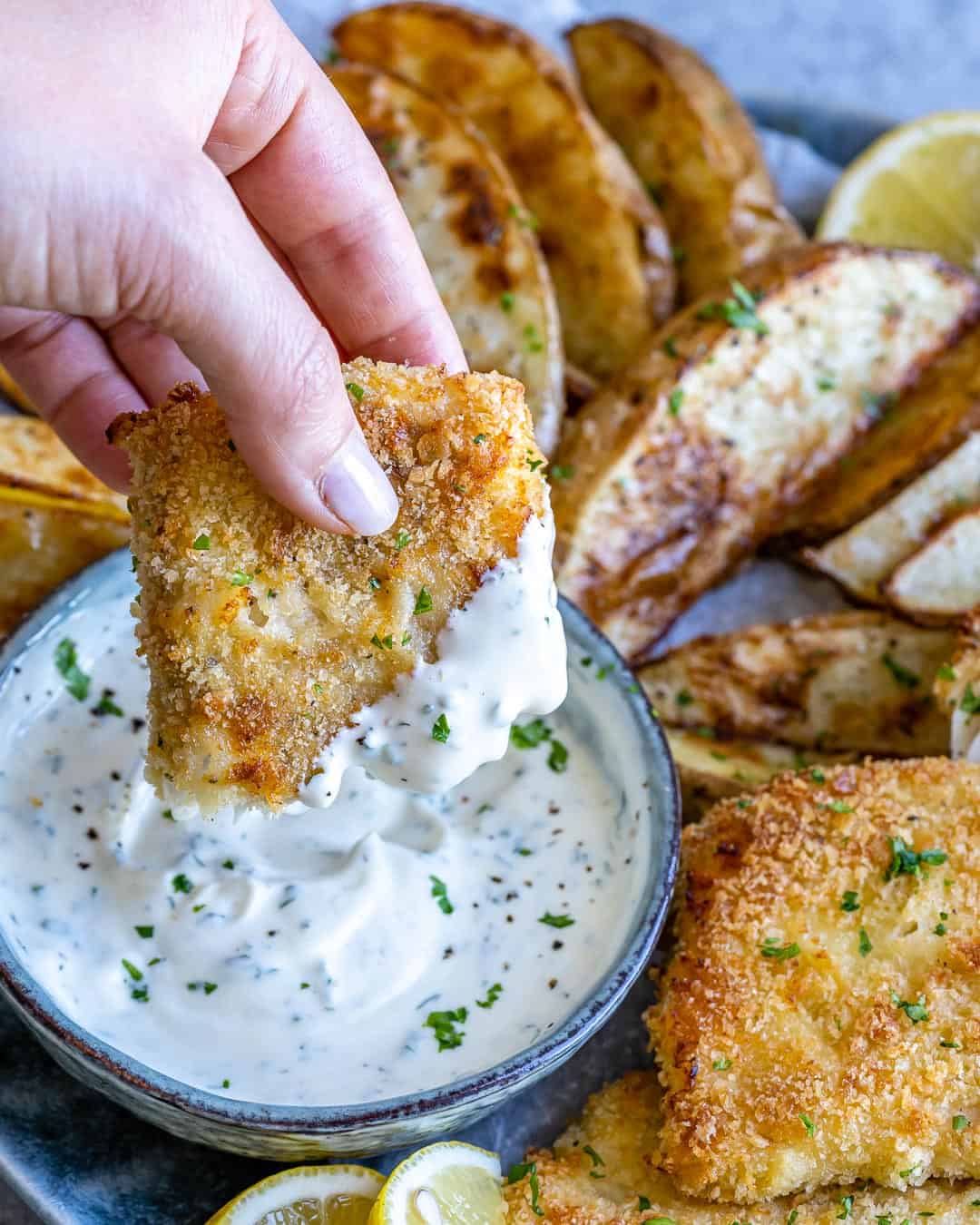 Other recipes you might like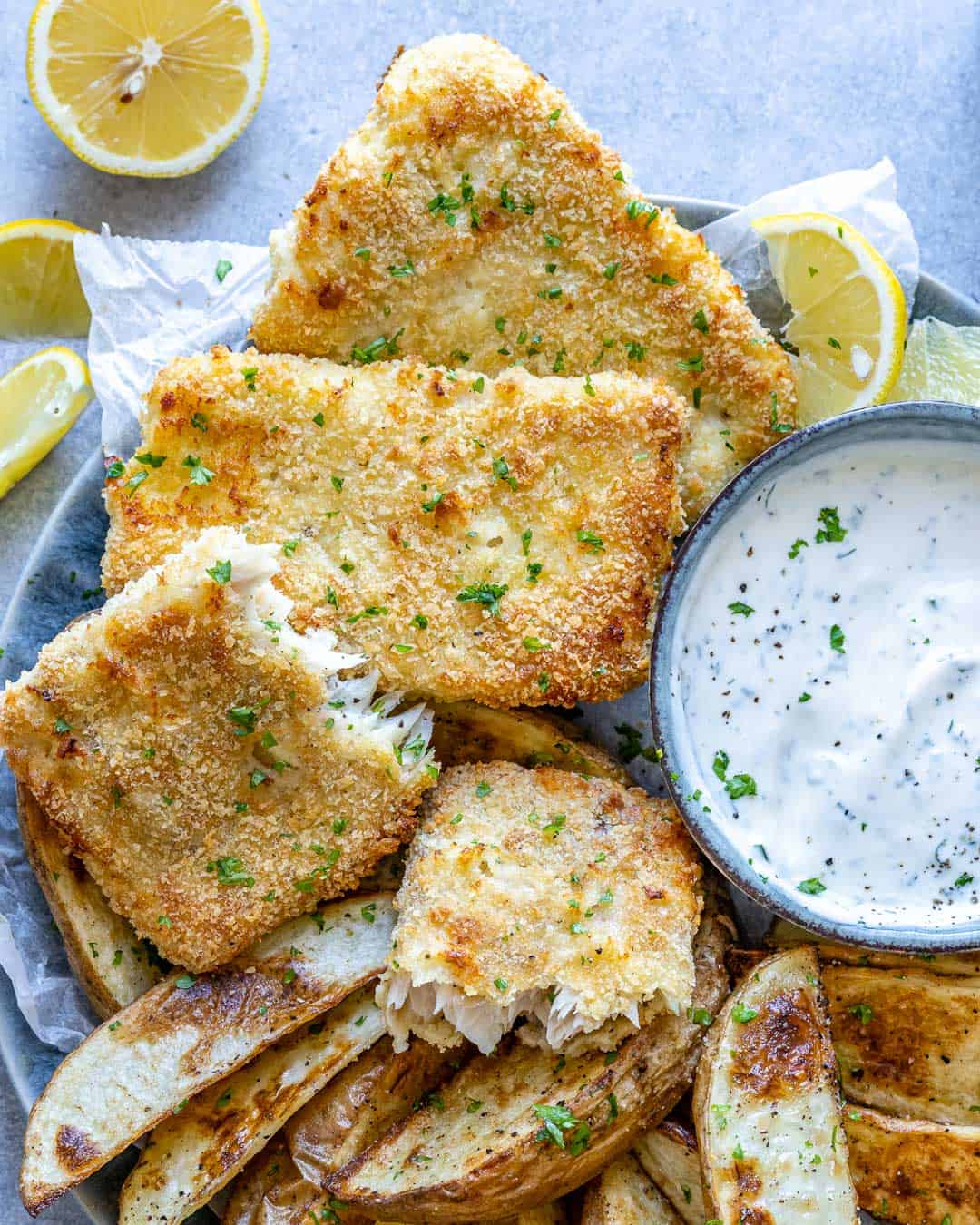 If you try a recipe and you like it, leave us some feedback in the comment section below, and don't forget to rate it! We would love it if you shared it with friends and family.
Finally, please use our hashtag #healthyfitnessmeals on INSTAGRAM for a chance to be featured! FOLLOW Healthy Fitness Meals on FACEBOOK | INSTAGRAM | PINTEREST | TWITTER for all of our latest blog posts and recipes.