This Persian Shirazi Salad is a simple and authentic salad recipe that requires only 5 ingredients to make. Pairs well with main dishes and is the perfect side dish addition to your dinner table or cookout.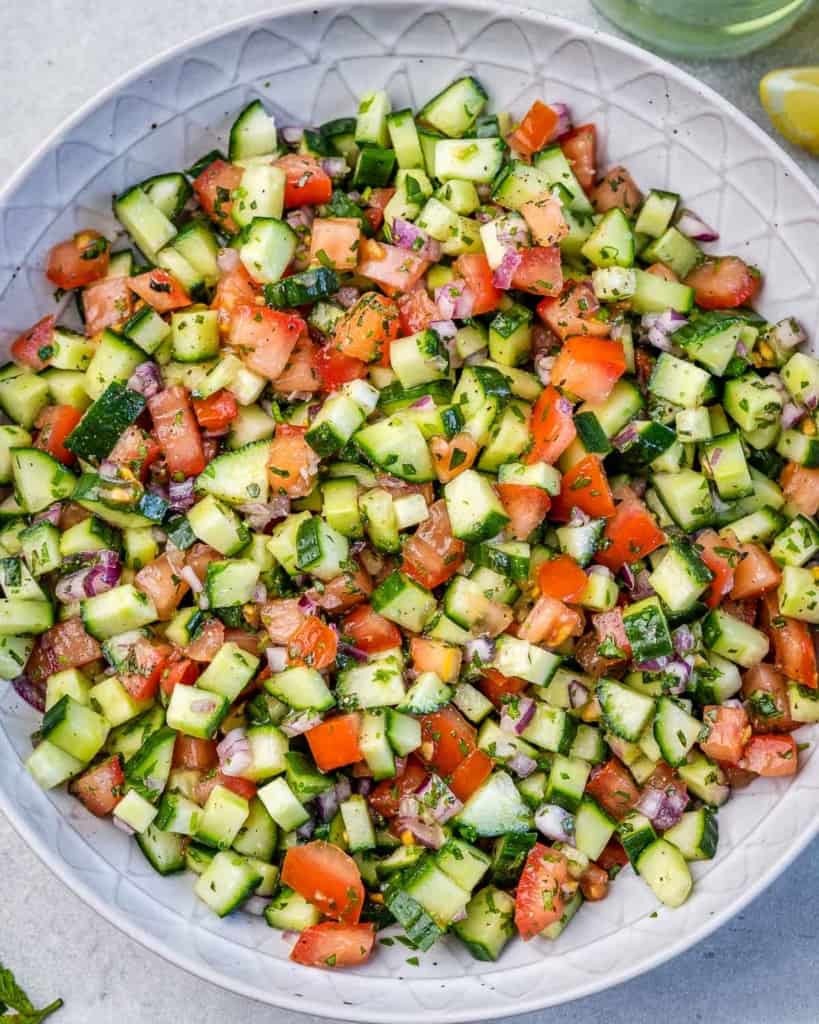 Shirazi salad, also known as Salad-e Shirazi is a refreshing and vibrant Persian dish that is perfect for hot summer days and great to pair with your grilling cookouts. This salad is traditionally made with diced cucumbers, tomatoes, and onions, and then combined with fresh herbs like mint and parsley. The dressing is just as simple to make which is made of lemon juice and olive oil. This Shirazi salad is not only delicious but also incredibly healthy, as it is packed with vitamins, antioxidants, and fiber, making it a fantastic choice for a light and nutritious meal or a refreshing side dish.
Why you should make this salad
Refreshing and Light: Shirazi salad is an incredibly refreshing dish made with fresh ingredients like cucumbers, tomatoes, and herbs. This salad is light and low in calories, making it a perfect choice for those looking for a healthy and satisfying side dish to add to your dinner table
Nutritious and Healthy: Packed with nutrients and offers a range of health benefits. Cucumbers and tomatoes are rich in vitamins, minerals, and antioxidants, which support overall well-being.
Quick and Easy to Prepare: Making Shirazi salad is quick and simple. It requires minimal preparation and no cooking time, as most of the ingredients are raw and only need to be chopped. Ready in just a few minutes, it is a convenient option for busy weeknight dinner preparations.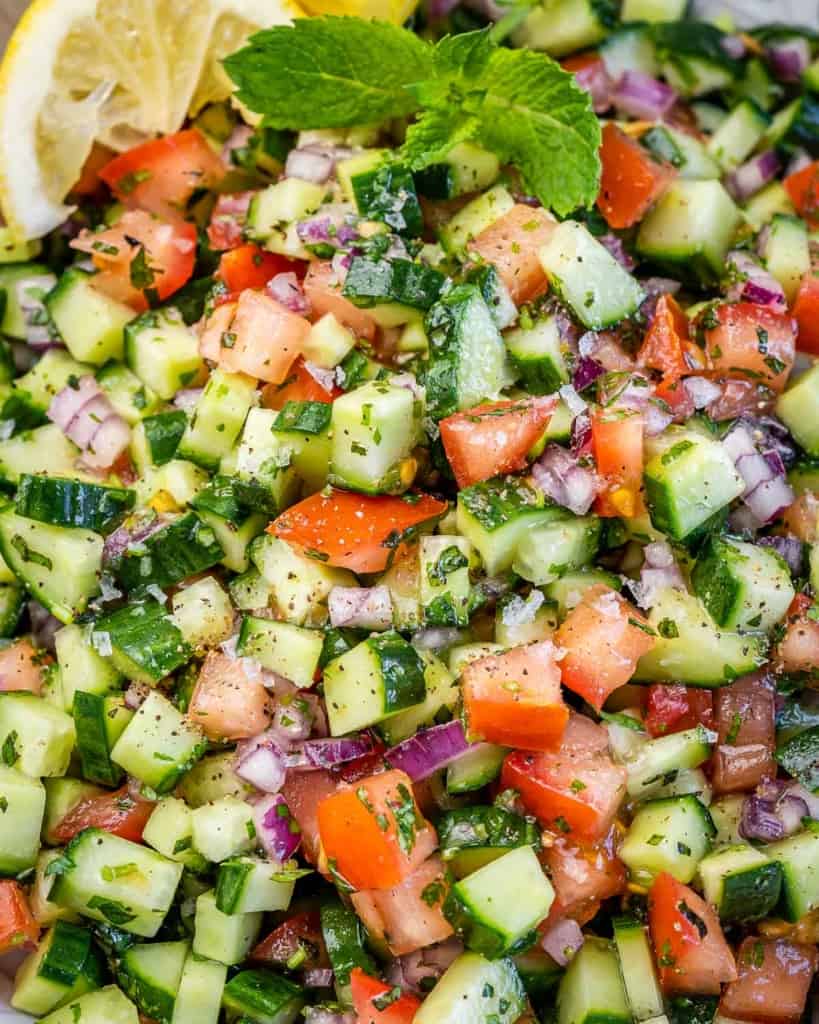 Ingredients you will need
English cucumbers: choose firm cucumbers. They tend to be fresh. Instead of English cucumbers, you can also use Persian cucumbers.
Roma tomatoes: Vine-ripe also works. You may also use cherry tomatoes if that's what you have on hand.
Small red onion: red onions taste best. if you have white sweet onions you may use that.
Fresh parsley, finely chopped
Finely chopped fresh mint, or 1 tsp dried mint
Extra virgin olive oil- use olive oil and do not substitute
Medium lemon: do not use bottled lemon juice.
Kosher salt and ground black pepper, to taste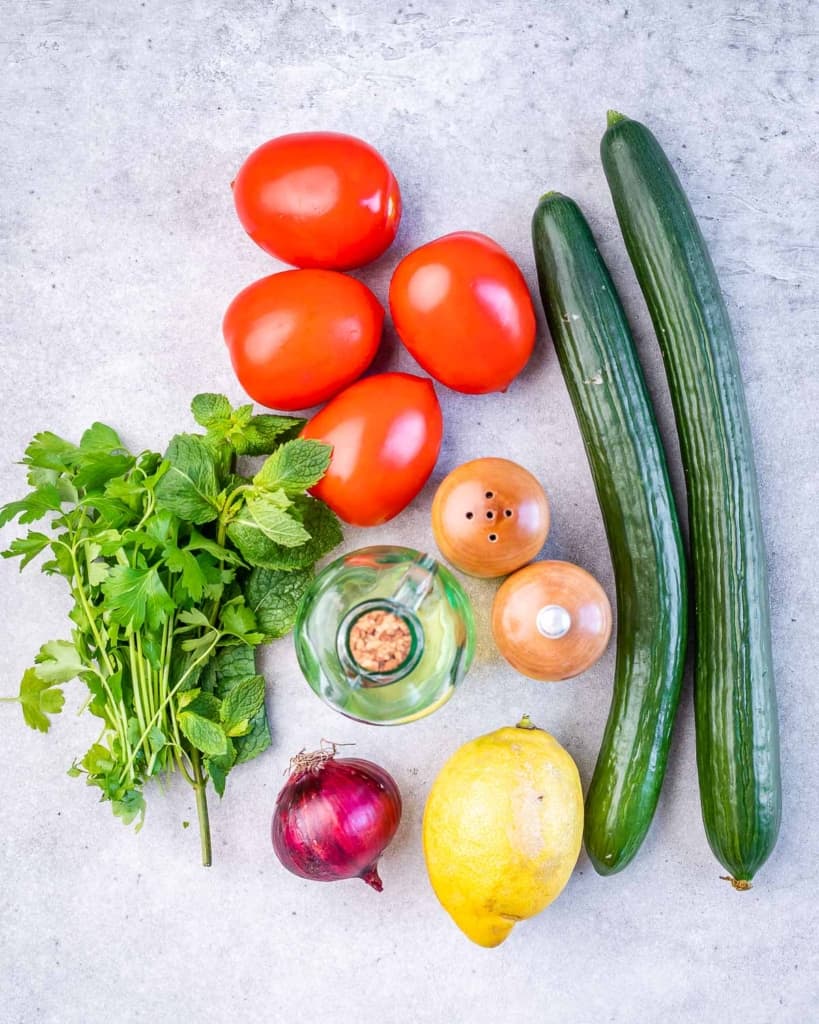 How to make this Shirazi salad
Add all the prepped veggies and herbs to a mixing bowl.
Drizzle with the oil, freshly squeezed lemon juice and toss to combine.
Season with salt and pepper to your taste.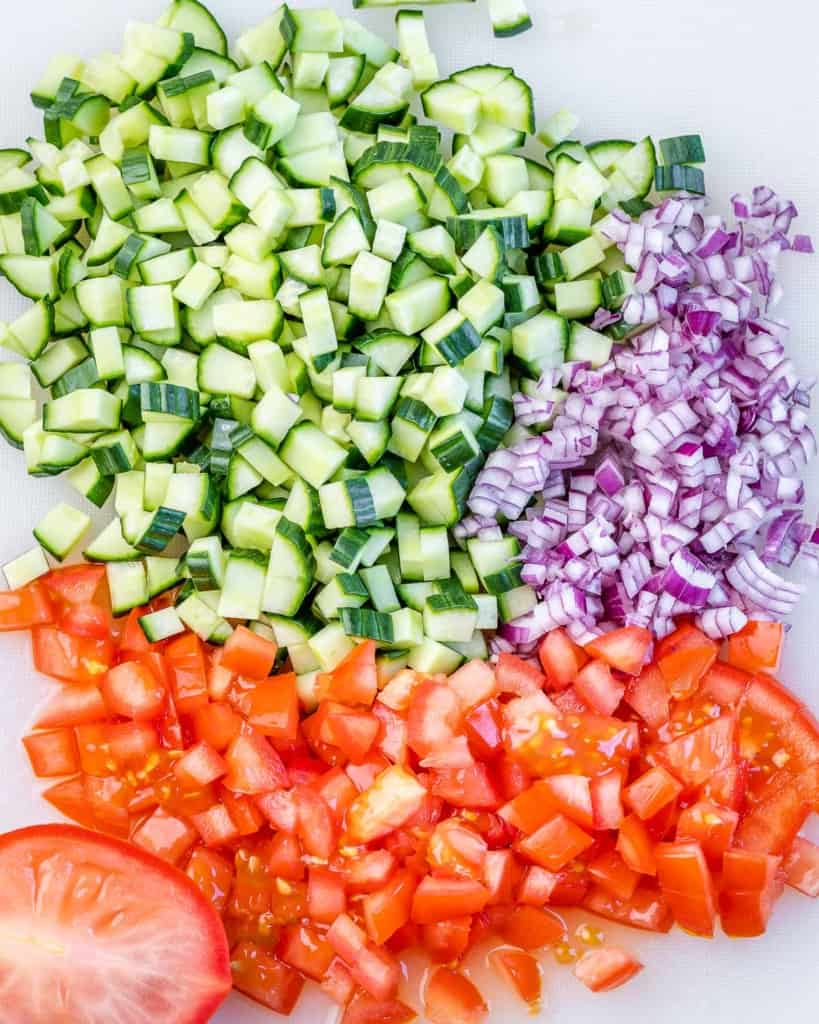 Recipe tips
Use firm cucumbers and not soft to the touch. You do not have to peel the cucumbers. Just make sure you wash them thoroughly. Only English or Persian cucumbers are recommended. Do not use slicing cucumbers.
We used Roma tomatoes, but there are other types of tomatoes that work well for this recipe. Consider using vine-rip or any of your favorite kinds. The tomatoes should be firm to the touch and not too ripe and juicy. If you happen to use tomatoes that are too ripe and juicy, once they are chopped, add them to a colander and wait for the extra juice to drain from the tomatoes.
Use purple onion and not cooking onion. Cooking onion is much stronger and will alter the taste of the salad. Chop the onions really small. You may also use shallots if desired.
Only Use fresh ingredients. Even for the parsley, lemon, and mint for the best flavor. Traditionally dried mint is used to make Shirazi salad. But we honestly love the taste of fresh mint.
This salad does not store too well because a lot of water will come out of the tomato and cucumbers and thus you will have a lot more juice in the salad. That being said it will still be edible and can be stored for up to 2-3 days.
Like all Mediterranean salads, the dressing is a simple citrus dressing that consists of mostly lemon juice and olive oil. Try to not alter the dressing much. If you want to add a touch of zest to this salad, consider adding a little bit of sumac.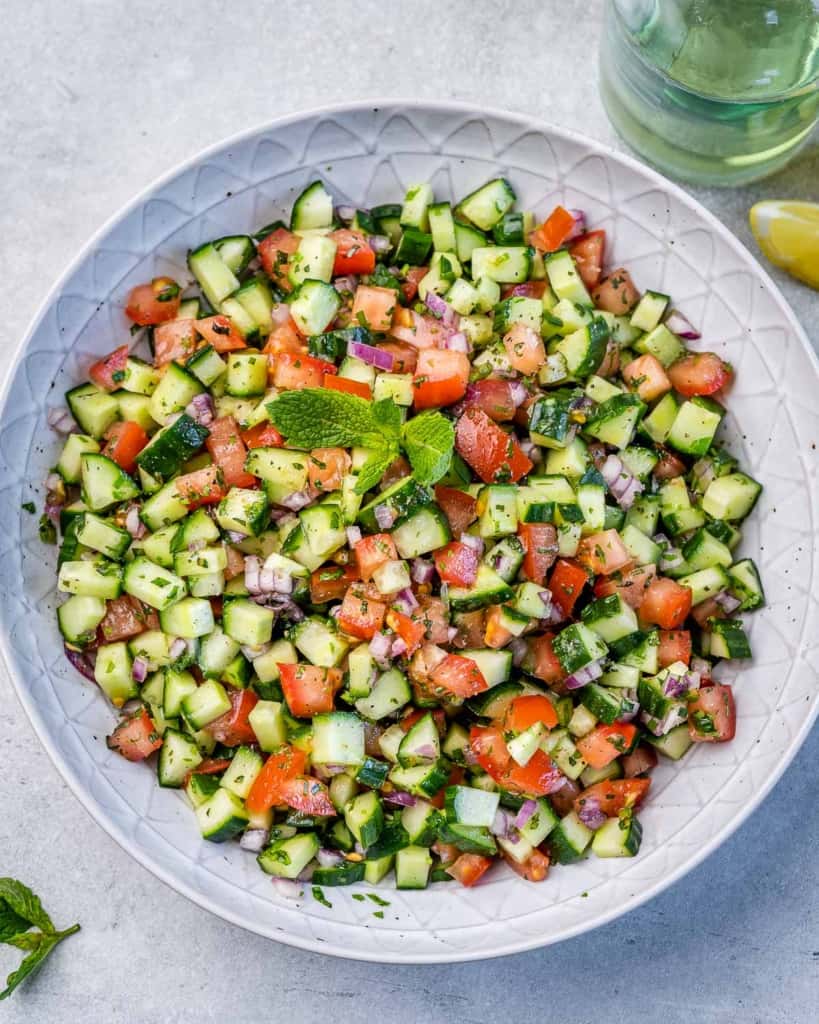 frequently asked questions
Do you peel Persian cucumbers?
Persian Cucumbers are similar to English cucumbers and they do not need to be peeled before eating or adding to salad. Their skin is thin and edible. Persian cucumbers are also seedless.
How do you make cucumbers last longer?
In order for cucumbers to last longer, you will need to store them properly and make sure they are dry without any moisture. Place cucumbers in the refrigerator, preferably in the vegetable drawer or crisper. Before storing, make sure to dry the cucumbers thoroughly to prevent excess moisture. You can pat them dry with a paper towel or cloth. Consider storing them in a paper bag instead of a plastic bag.

How long do Persian cucumbers stay fresh?
If stored properly, English or Persian cucumbers will stay fresh for up to 2 weeks. Make sure they are completely dry and wrapped with a paper towel to retain any moisture which will prolong their shelf life.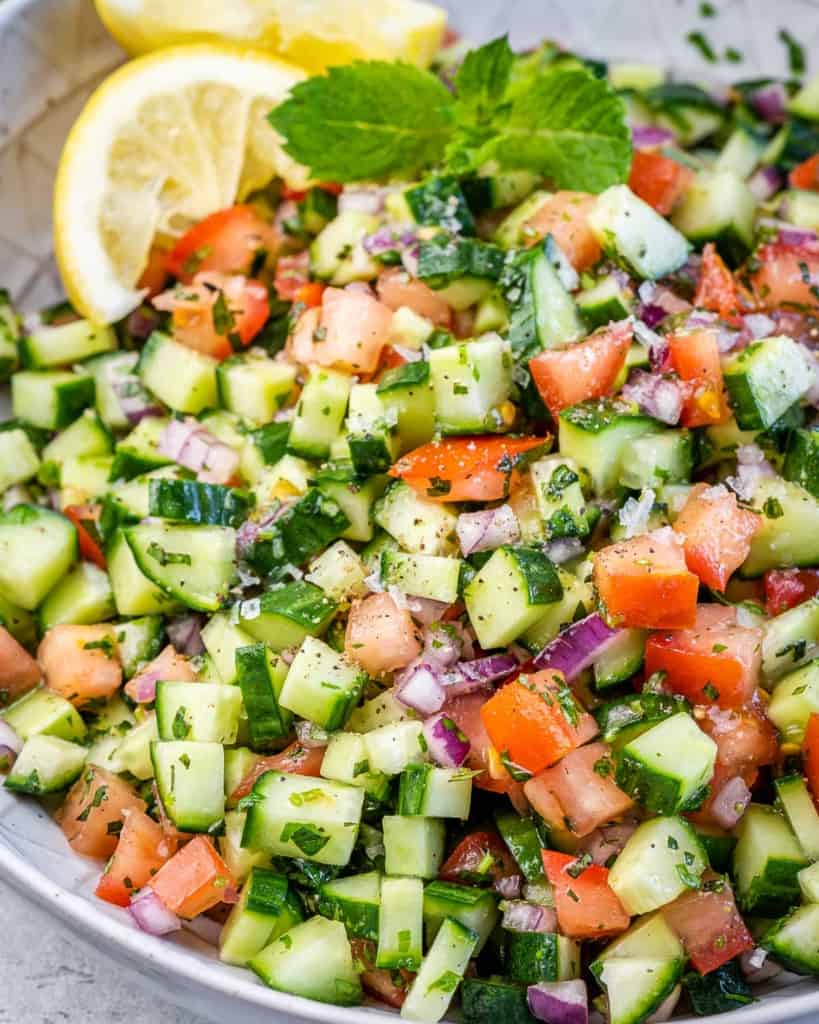 What to serve with this salad
Looking for more salad recipes?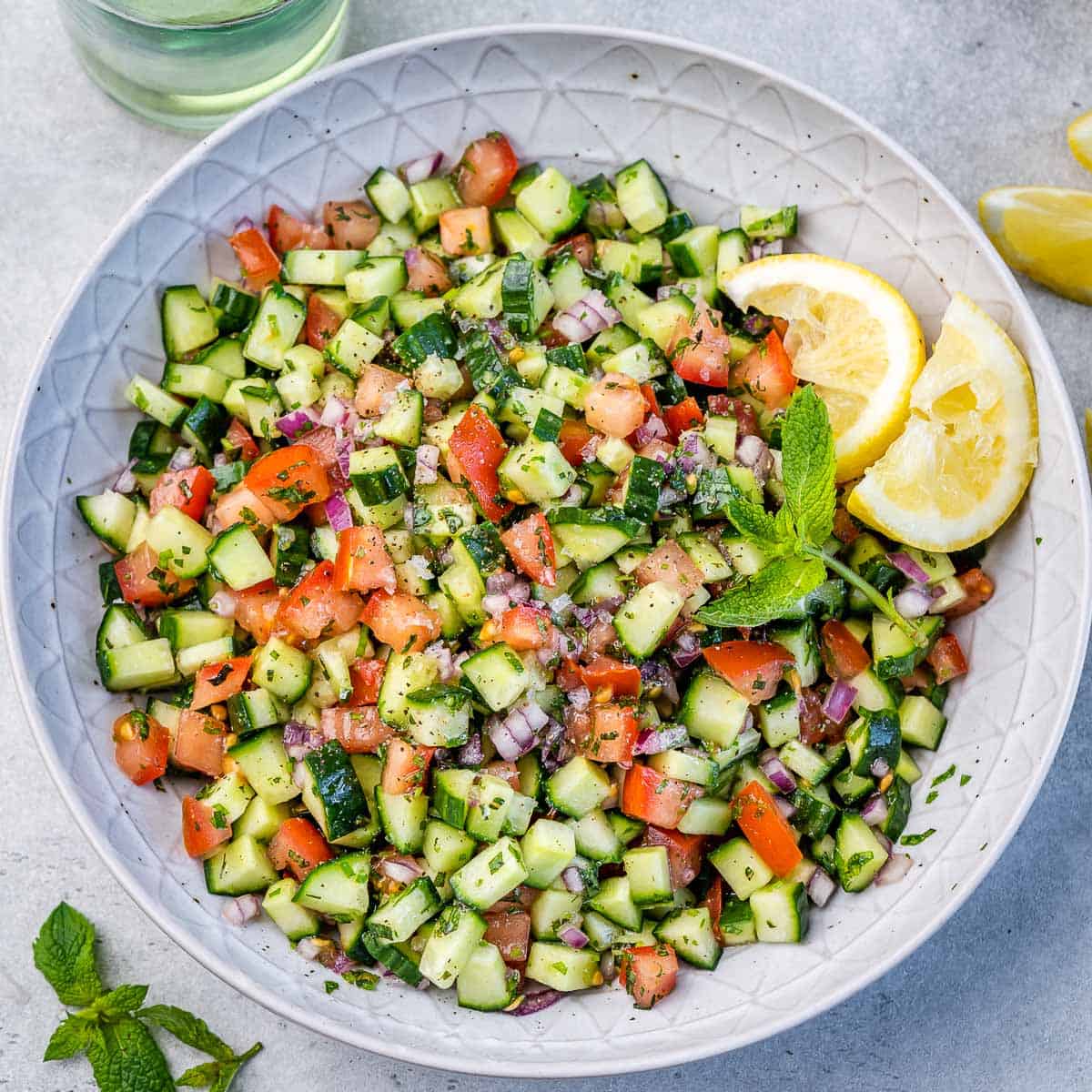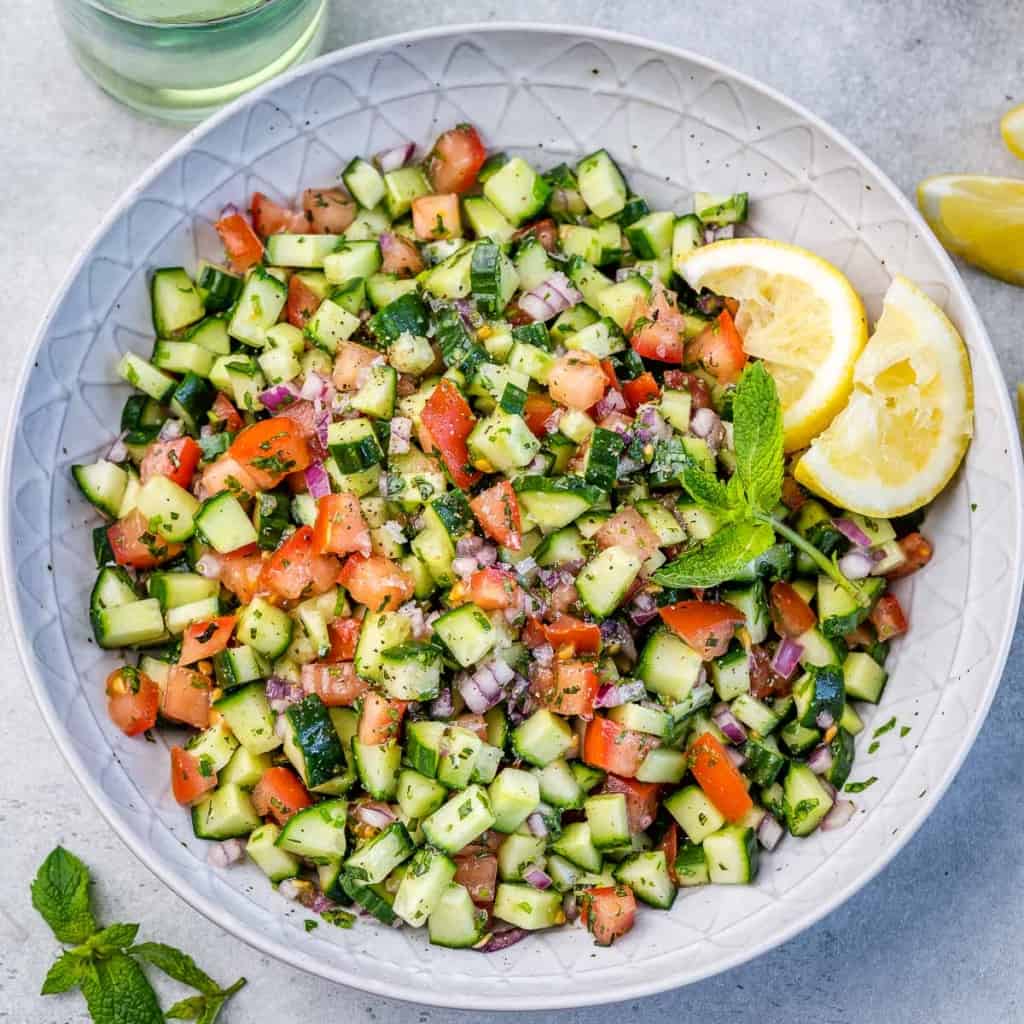 If you try a recipe and you like it, leave us some feedback in the comment section below, and don't forget to rate it! We would love it if you shared it with friends and family.
Finally, please use our hashtag #healthyfitnessmeals on INSTAGRAM for a chance to be featured! FOLLOW Healthy Fitness Meals on FACEBOOK | INSTAGRAM | PINTEREST | TWITTER for all of our latest blog posts and recipes.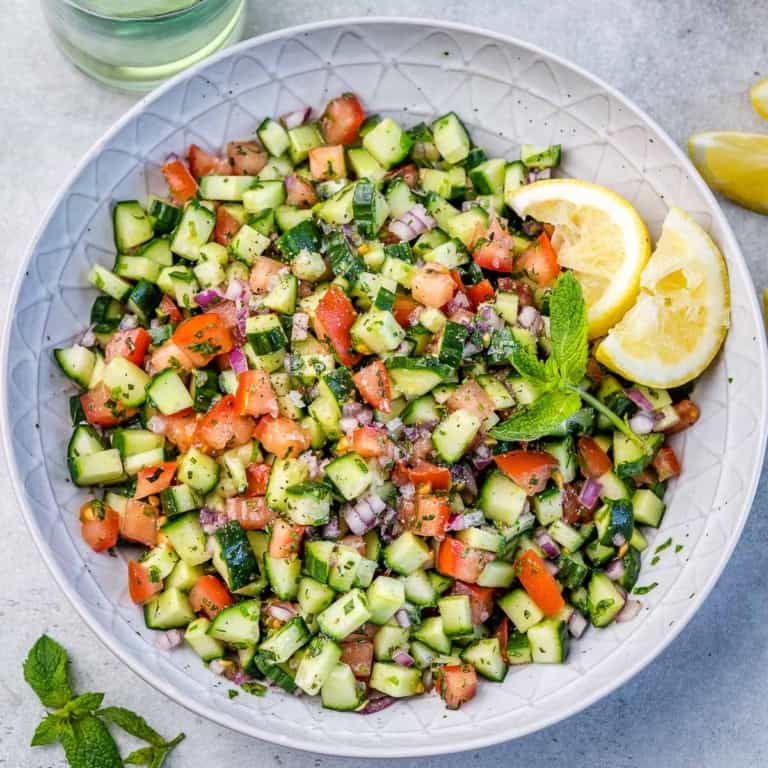 Persian Shirazi Salad
Simple and authentic Persian salad recipe made with tomatoes, cucumbers, onion, parsley, and mint. Tossed in with a citrus dressing.
Print
Pin
Rate
Ingredients
2

medium

English cucumbers

or persian cucumbers, finely diced

4

Roma tomatoes

small diced

1

small

red onion

finely chopped

1/4

cup

parsley

finely chopped

2

tbsp

finely chopped fresh mint

or 1 tsp dried mint

2

tbsp

extra virgin olive oil

1

medium lemon juice

Kosher salt and ground black pepper, to taste
Instructions
Add all the prepped veggies and herbs to a mixing bowl.

Drizzle with the oil, freshly squeezed lemon juice and toss to combine.

Season with salt and pepper to your taste.
Notes
use fresh ingredients if possible for the best results
chop the tomatoes and cucumber as fine as you can.
do use extra virgin olive oil.
Nutrition
Calories:
78
kcal
|
Carbohydrates:
9
g
|
Protein:
2
g
|
Fat:
5
g
|
Saturated Fat:
1
g
|
Polyunsaturated Fat:
1
g
|
Monounsaturated Fat:
3
g
|
Sodium:
7
mg
|
Potassium:
320
mg
|
Fiber:
2
g
|
Sugar:
4
g
|
Vitamin A:
735
IU
|
Vitamin C:
23
mg
|
Calcium:
37
mg
|
Iron:
1
mg