No need for Starbucks when you can make a Caprese Grilled Chicken Sandwich at home! Loaded with pesto, creamy mozzarella, sliced tomatoes, and grilled chicken, this easy healthy sandwich recipe is perfect for lunch or dinner!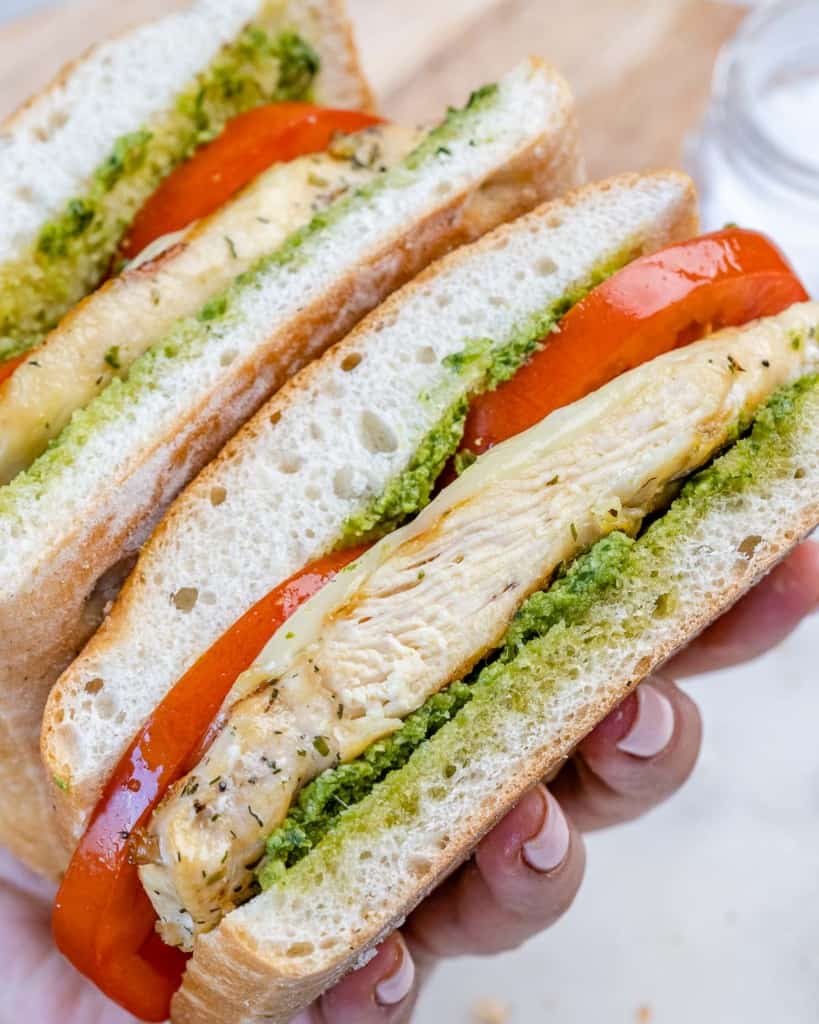 I absolutely adore Caprese salads. Pesto is one of my favorite flavors, and when it's accompanied by creamy mozzarella and sweet, tangy tomatoes, it is heaven!
This Copycat Starbucks Chicken Caprese Sandwich takes the salad to a whole new level. With added chicken for protein and everything placed between sliced focaccia, it's filling and perfect for lunch or dinner. This sandwich bursts with flavor in every single bite. You'll be making it again and again because it is so simple to throw together, and the entire family will love it.
Why You Will Love This chicken sandwich Recipe
Easy: This Grilled Chicken Sandwich takes just minutes to throw together and there aren't many steps. The hardest part is grilling the chicken, but it's really easy!
Healthy: With a great source of protein, carbs, vegetables, healthy fats, and dairy, this is a well-rounded recipe, and great to fit into a healthy diet.
Tastes amazing: Herby pesto, fresh tomatoes, grilled chicken, creamy cheese, and focaccia bread are simple ingredients, but together they are so powerful! This is definitely one of my favorite sandwich recipes.
Kid-friendly: My kids love this sandwich almost as much as I do. It's a great way to make sure they're getting enough filling protein for muscles and calcium for strong bones. Add a side of Baked Zucchini Fries to make this a healthy family meal!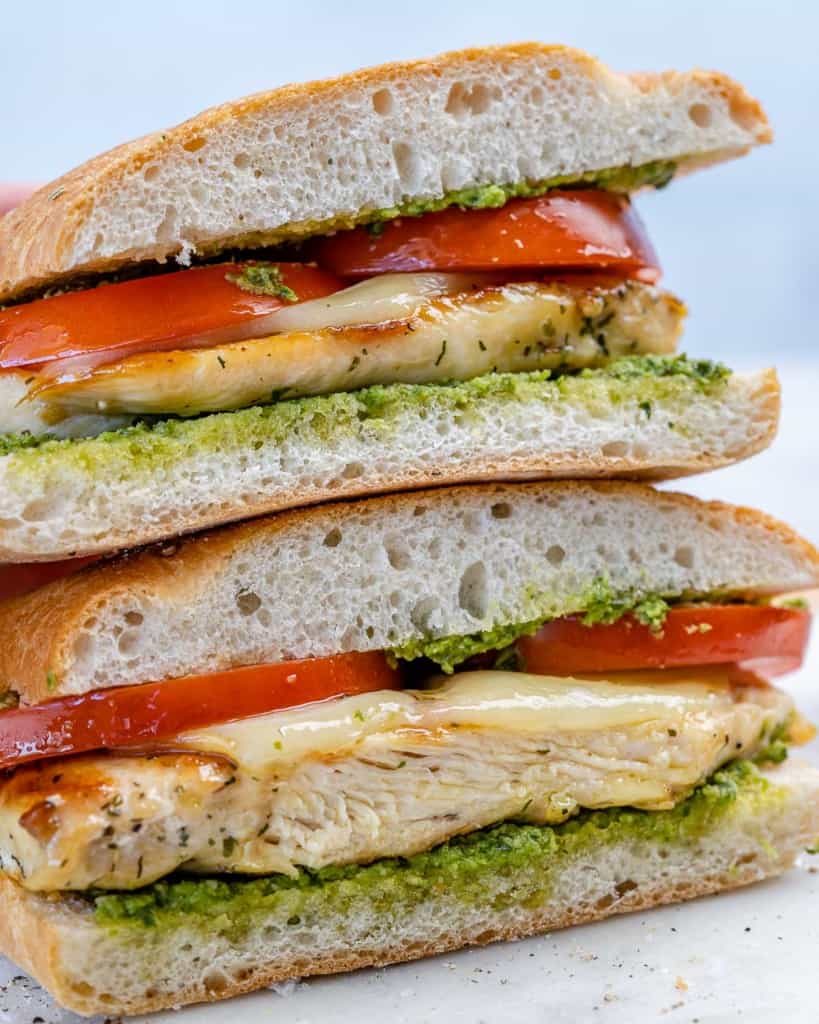 What you'll need to make the best Grilled Chicken Sandwich
Chicken breasts: I cut the chicken breasts in half lengthwise so that they would cook quicker and more evenly. You could also pound the chicken until it's thin. Turkey breast is a great alternative to chicken.
Seasoning: I seasoned the chicken with Italian seasoning, salt, and pepper, to make the chicken taste its best. If you like a little spice, sprinkle some chili pepper flakes in there too!
Olive oil: Olive oil keeps the chicken from sticking. You can use any healthy oil you have on hand.
Cheese: Mozzarella melts perfectly over the chicken and is a key ingredient in this Grilled Chicken Caprese sandwich. I used mozzarella slices, however, sliced buffalo mozzarella would taste delicious too. You could substitute provolone or gruyere in a pinch.
Pesto sauce: I always make my own Homemade Pesto to add to sandwiches, roasted vegetables, or meats. It is delicious!
Bread: Soft focaccia loaf halved lengthwise
Tomatoes: Beef tomatoes are sliced and added to this sandwich. They are perfect for sandwiches or burgers because they stay on the bread easily, however, any variety of tomatoes will be great in this grilled chicken sandwich.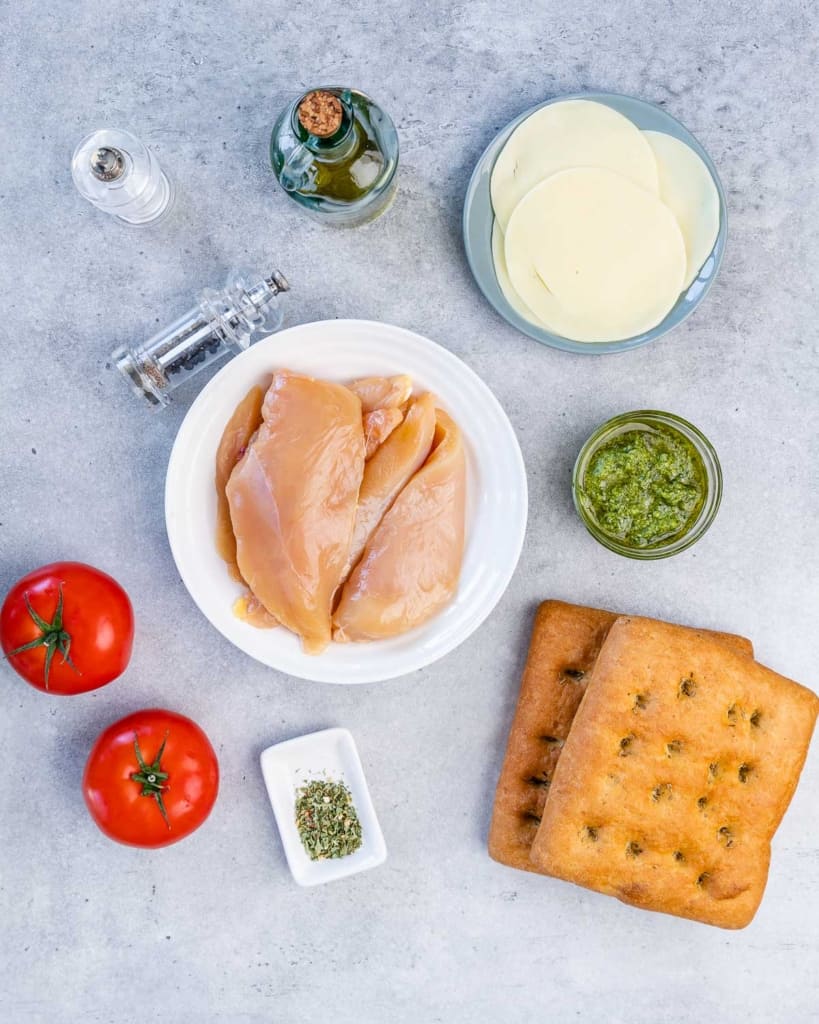 How do you make healthy grilled chicken sandwiches?
1. Prep the chicken: Rub the chicken with salt, pepper, Italian seasoning, and oil.
2. Heat the grill or pan: Preheat an outdoor grill or a grill pan over medium-high heat.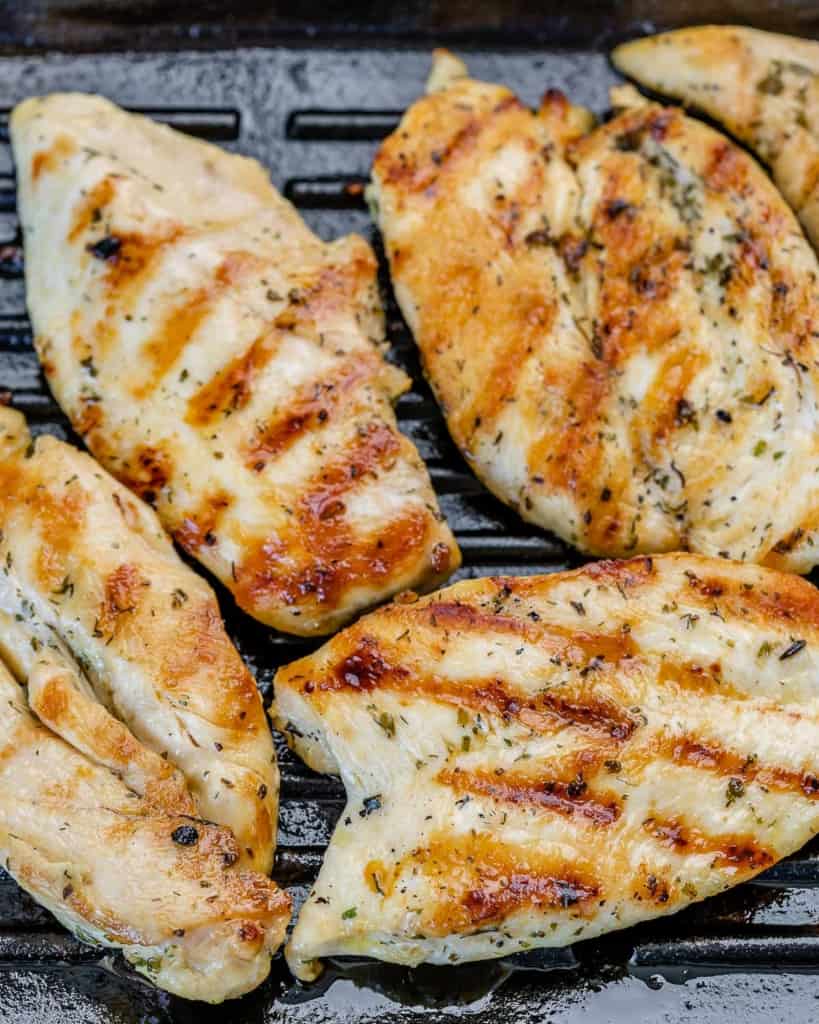 3. Grill the chicken: Grill the chicken cutlets for 3 minutes per side, or until nicely charred and no longer pink on the inside. To check if they're cooked all the way through, use a meat thermometer and make sure it reaches 165°F. If you don't have a meat thermometer, slice the chicken at the thickest part. If it's pink and the juices aren't running clear, cook it for a little longer. The meat will be white when it's ready.
4. Top with cheese: Remove the chicken from the heat and immediately top with mozzarella.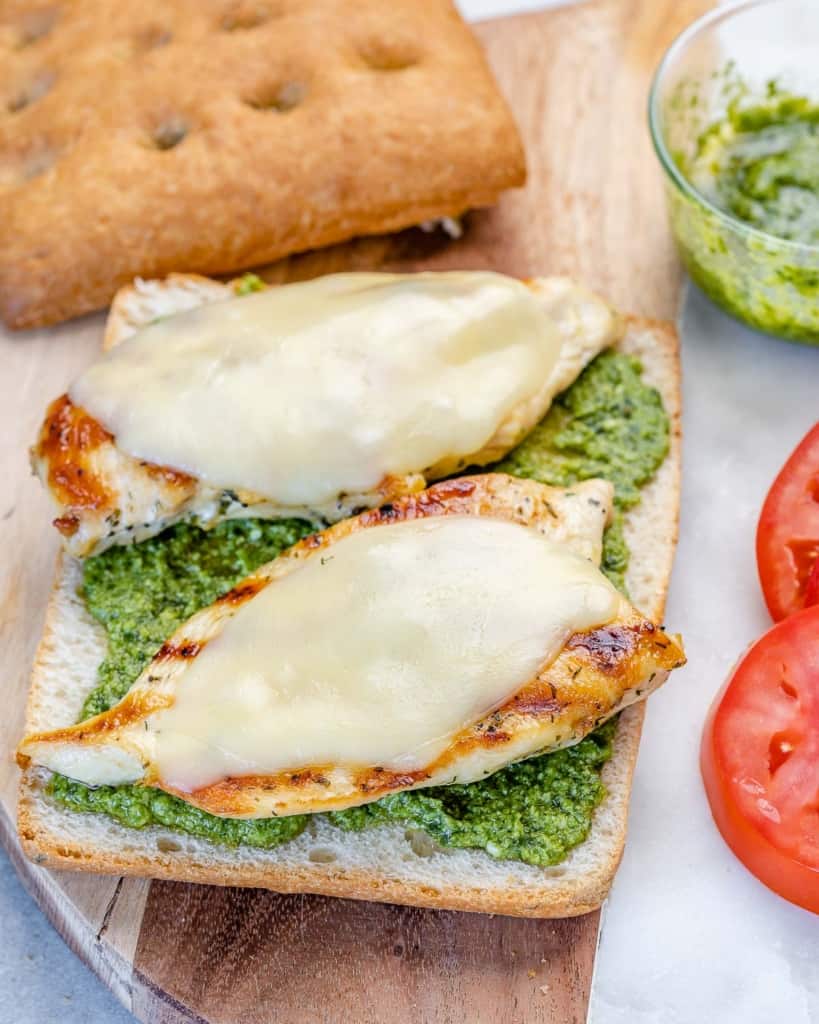 5. Prepare the sandwich: Spread your pesto sauce over the bottom focaccia slice, top with grilled chicken, and tomato slices, and finish off with the top focaccia slice. Check my list below for Grilled Chicken Sandwich side dishes!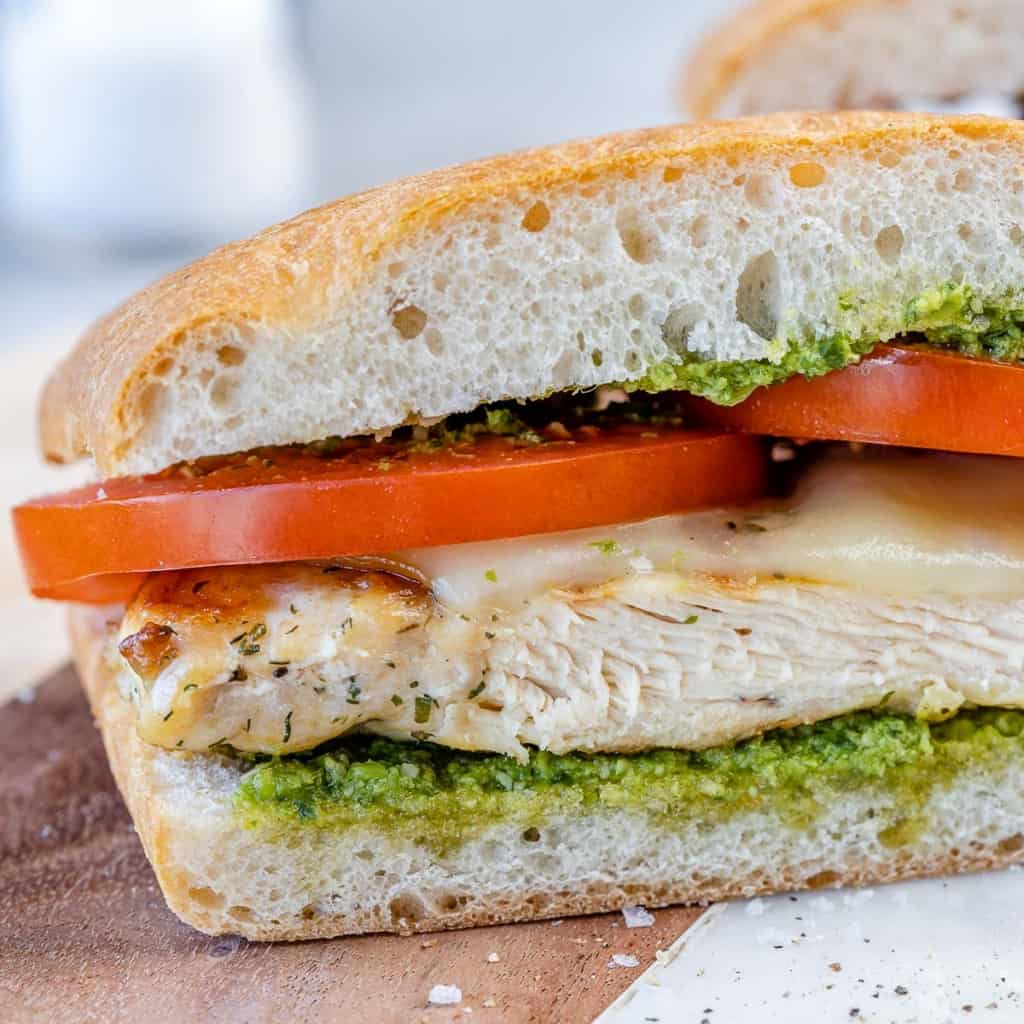 Tips For Success
Switch up the meat: Grilled turkey breast also tastes wonderful in this Caprese sandwich recipe.
Make it vegetarian: Skip the meat and turn this into a vegetarian grilled cheese! Place a slice of focaccia bread on the grill with a slice of cheese on top until it melts and then add the tomatoes and pesto on top before serving.
Use different tomatoes: Beef tomatoes, salad tomatoes, or cherry tomatoes are delicious in a grilled chicken sandwich! Cherry tomatoes are my favorite for flavor, however, they tend to fall out easier than larger tomatoes.
Opt for gluten-free bread to easily turn this into a gluten-free chicken sandwich.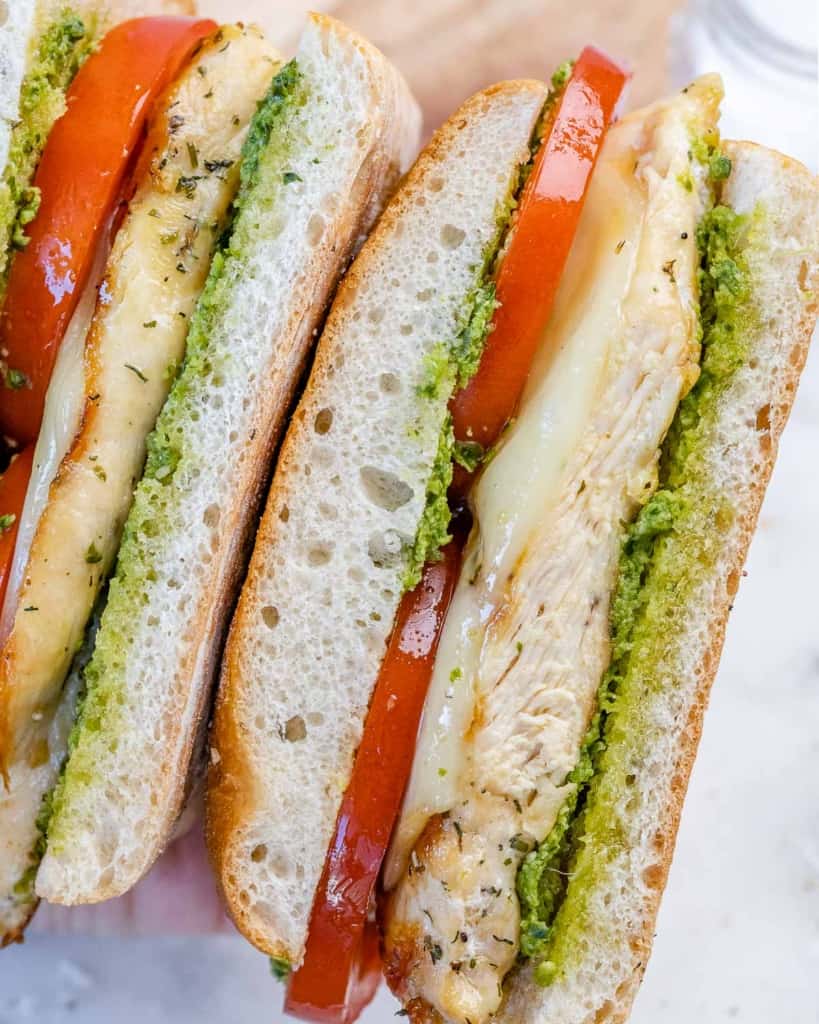 Frequently asked questions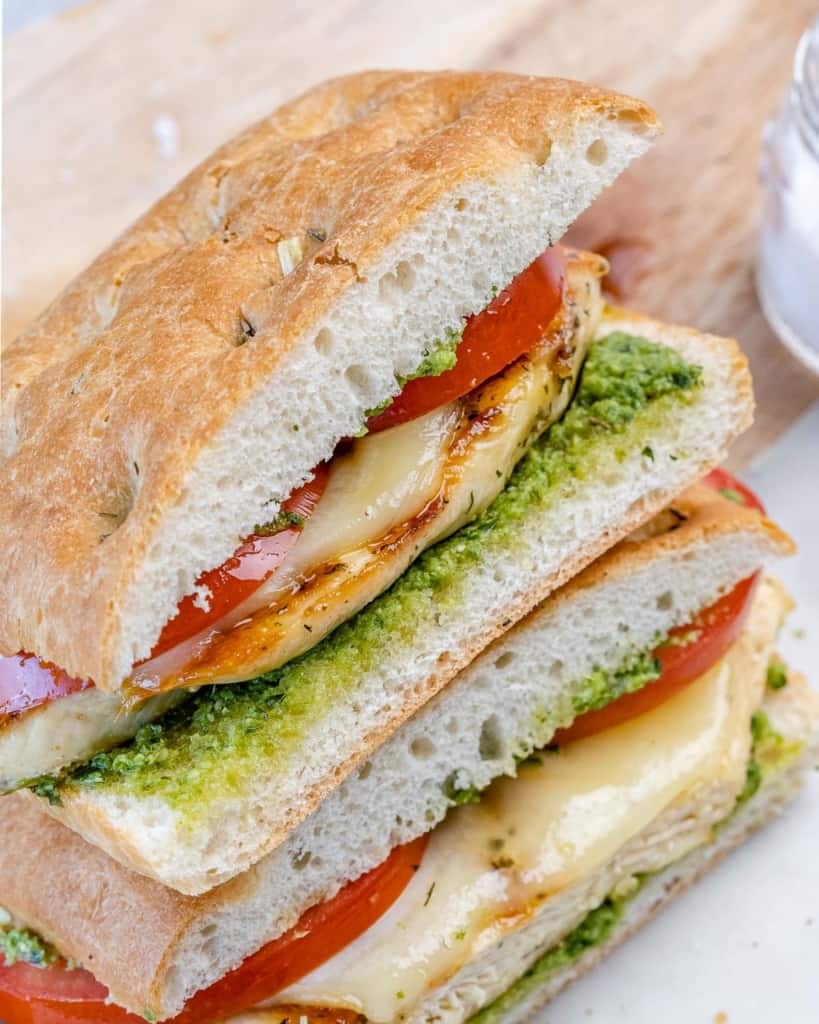 What can I serve with a chicken Caprese sandwich?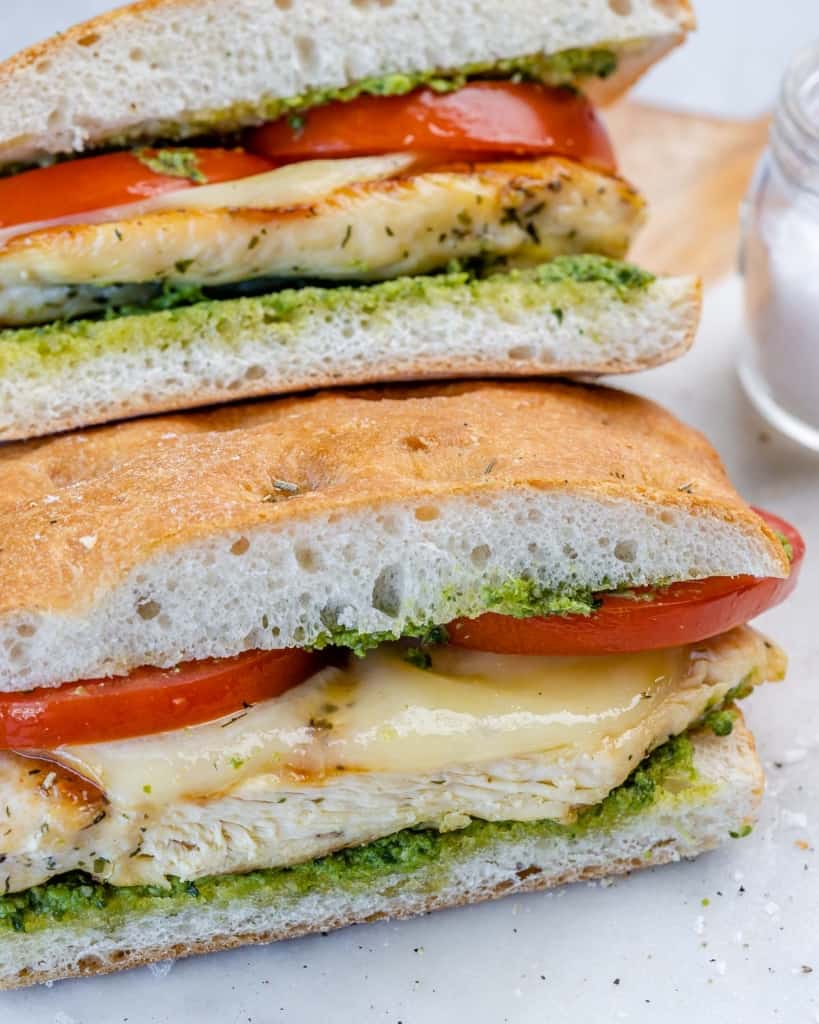 More delicious sandwiches to try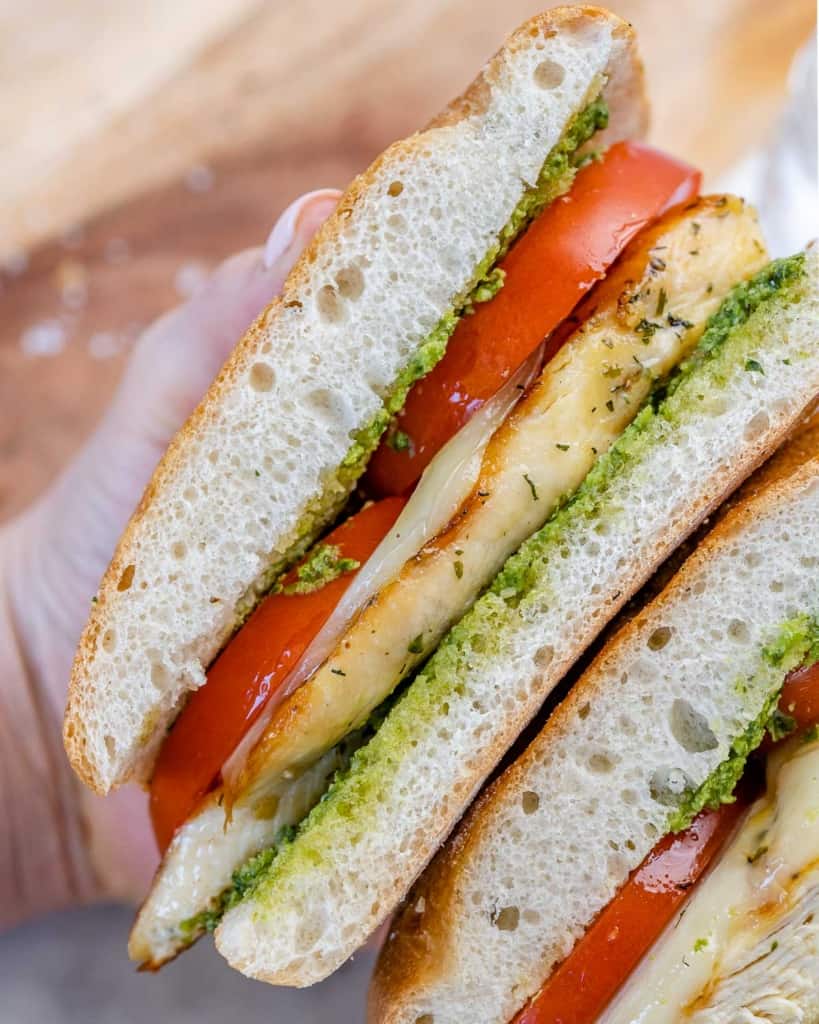 Also, if you try a recipe and you like it, leave us some feedback in the comment section below. Don't forget to rate the recipe, too! We would love it if you shared it with friends and family.
Finally, please use our hashtag #healthyfitnessmeals on INSTAGRAM for a chance to be featured, too! FOLLOW Healthy Fitness Meals on FACEBOOK | INSTAGRAM | PINTEREST | TWITTER for all of our latest blog posts and recipes.