If you are a zucchini fan you will love this Air fryer zucchini chips recipe. The perfect healthy snack that's not only super easy to make but nutritious and good for you. Made with 4 simple ingredients, low-carb, gluten-free, and hassle-free!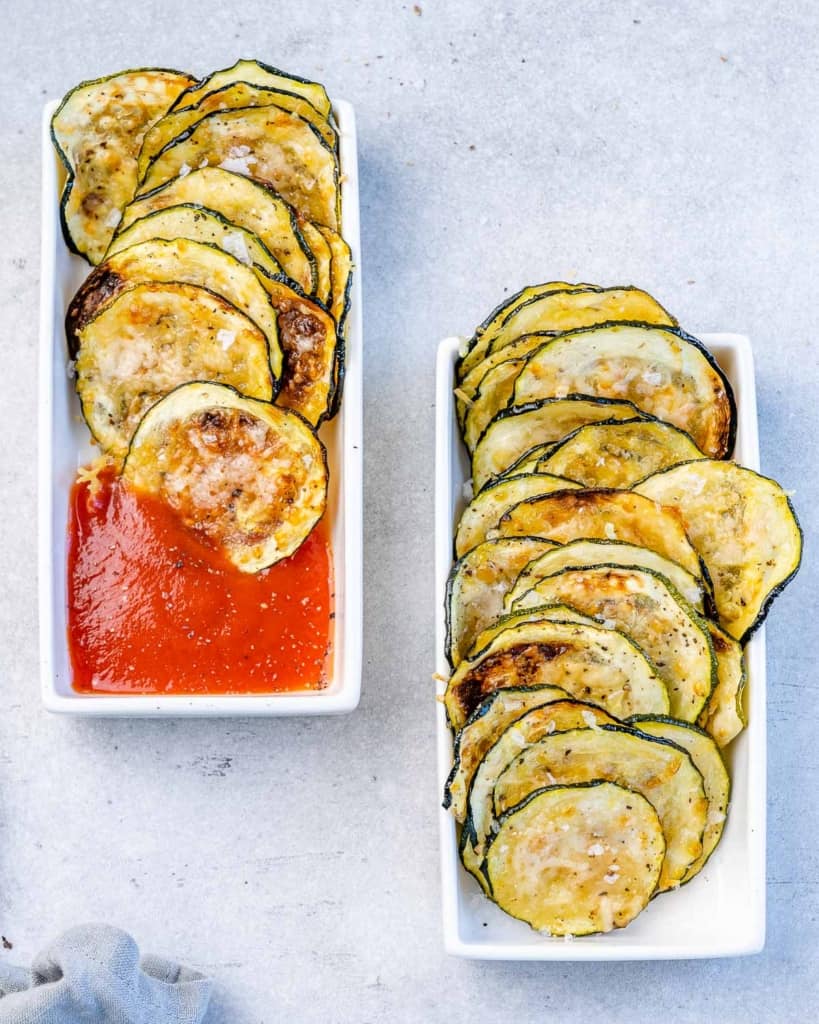 Who doesn't love chips? They are just so comforting in every aspect. The go-to is to make potato chips, which aren't too bad for you don't mind us but what a perfect way to include some veggies into your diet by making this easy and simple zucchini chips recipe. You will need 4 simple ingredients to enjoy these delicious crispy low-carb air-fried zucchini chips. Zucchinis are thinly sliced, topped with freshly grated parmesan cheese, salt, and pepper, and then fried in the air-fryer until crispy and ready to your liking. Your kids may not like veggies but they will love it!
why everyone will love these zucchini chips
Tasty and comforting: Chips are so comforting and good for the soul. These air fryer zucchini chips are so good and quite addicting.
Nutritious: Ditch the bad habits of buying any sorts of chips from the stores and make your own at home. They are nutritious, full of nutrtients and good for you. They are low in carbs and great for those who are on the keto-diet.
Easy to make: All you need to 5 minutes and 4 simple ingredients to make these parmesan zucchini chips.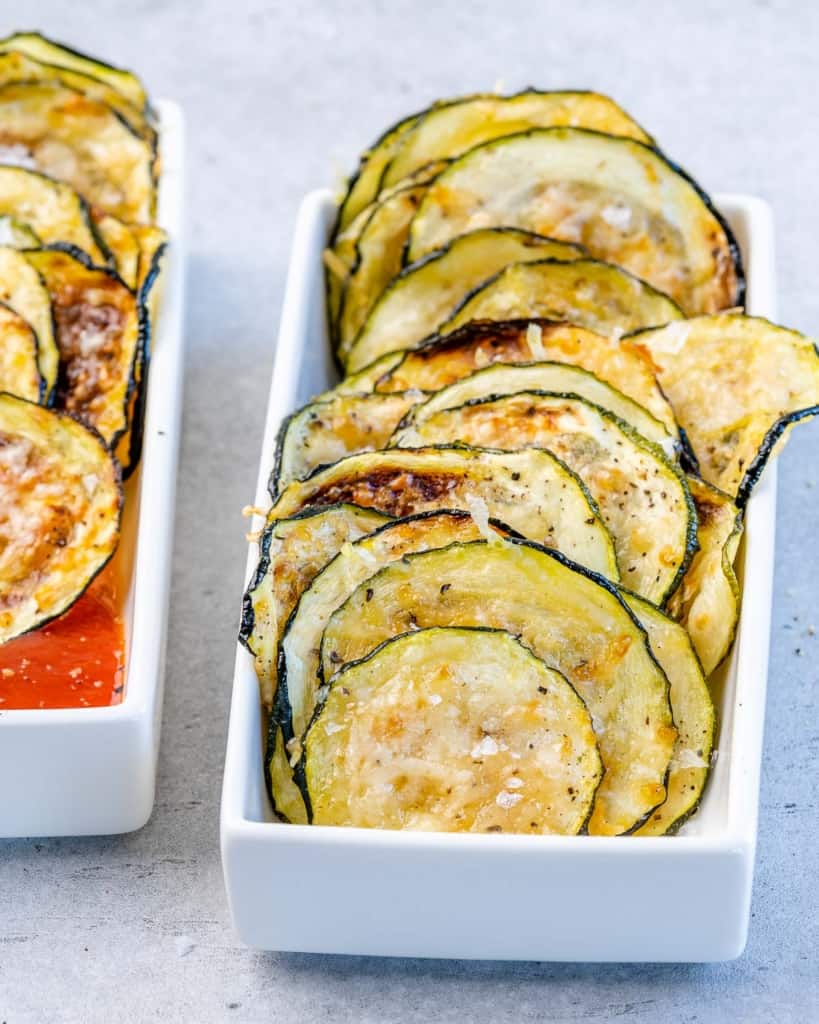 Ingredients you will need to make these parmesan zucchini chips
You won't be needing much at all to make these air fryer zucchini chips. You will need 4 simple ingredients which we are listing below. Detailed measurements will be listed further down below.
Cooking spray: you may use any cooking spary you have at home.
Zucchini: green or yellow zucchini will work just fine. But try to use green if possible.
Parmesan Cheese: It is best to grate your own parmesan at home. Buy them in blocks. If you wnat to use what you have at home thats already grated thats fine too.
Salt and pepper: You will need a small amount of salt and some freshly ground black pepper.
Parsley shown in the below image is optional for ganishing.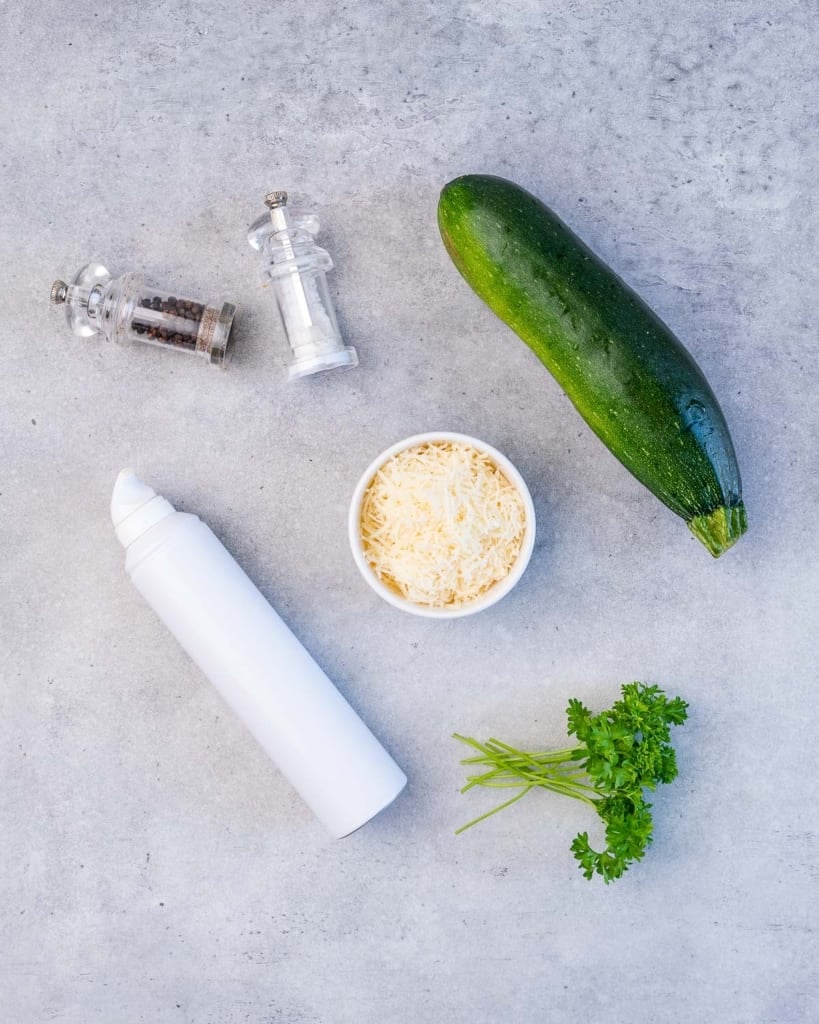 How to make these air-fryer zucchini chips
Prepare the zucchini: Cut the zucchini into very thin slices using a mandolin.
Absorb excess water from zucchini: First, line up the zucchini slices, sprinkle some salt over them. Let it stand for 2-3 minutes. Absorb the excess water with paper towels, then season with ground pepper.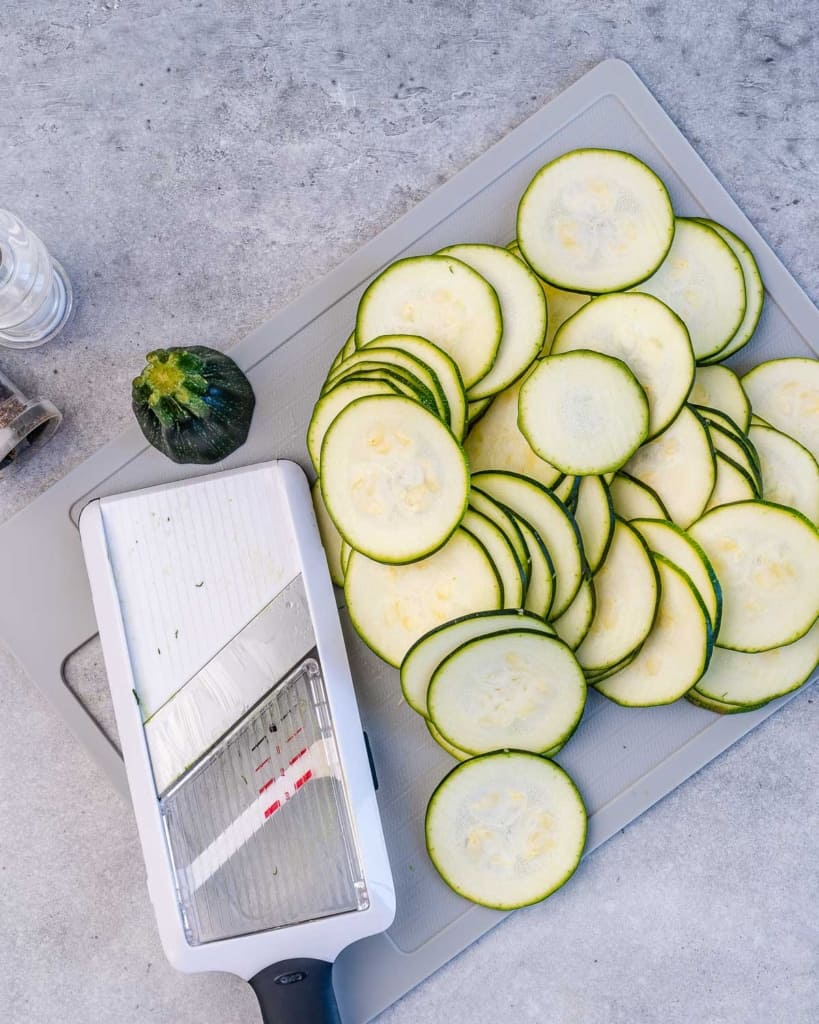 Spray the zucchini: Lightly spray the inside tray of the air fryer with avocado oil cooking spray.
Add the parmesan cheese: Lay the zucchini slices, then sprinkle the Parmesan cheese over.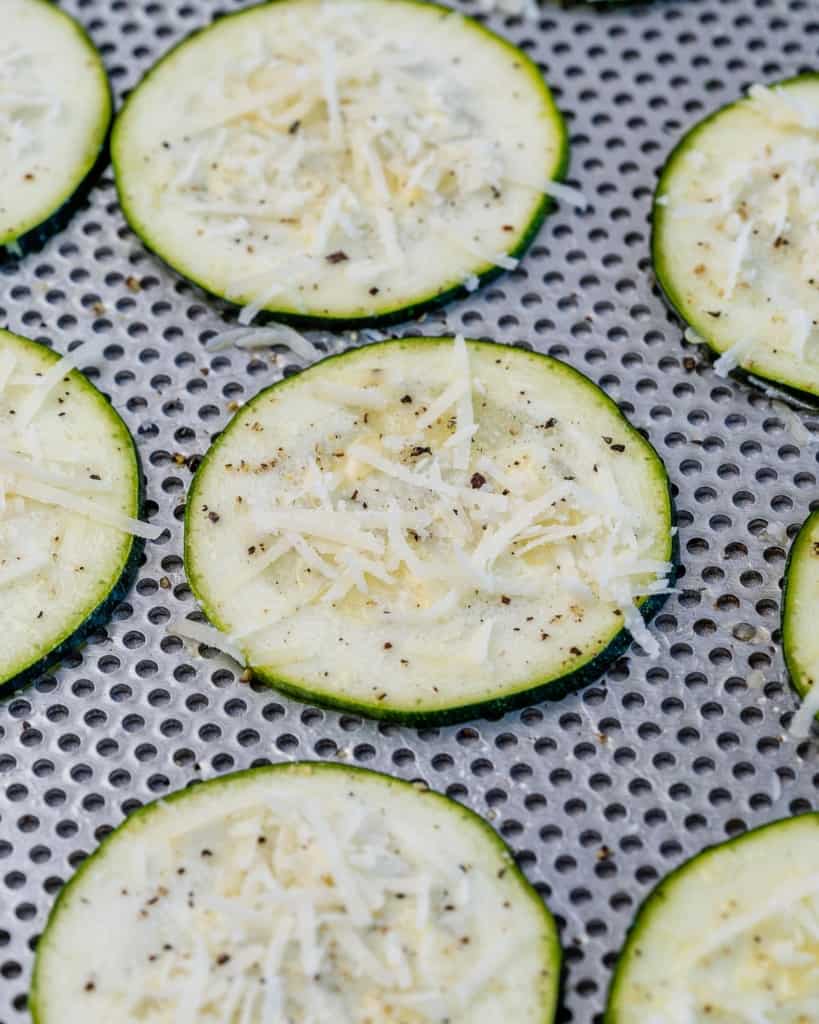 Air fry them: Set the air fryer to 370°F. Cook in batches, for 8-10 minutes, or until the cheese is golden brown.
Allow to cool and then serve: Let it cool for 2-3 minutes into the tray, to crisp up even more.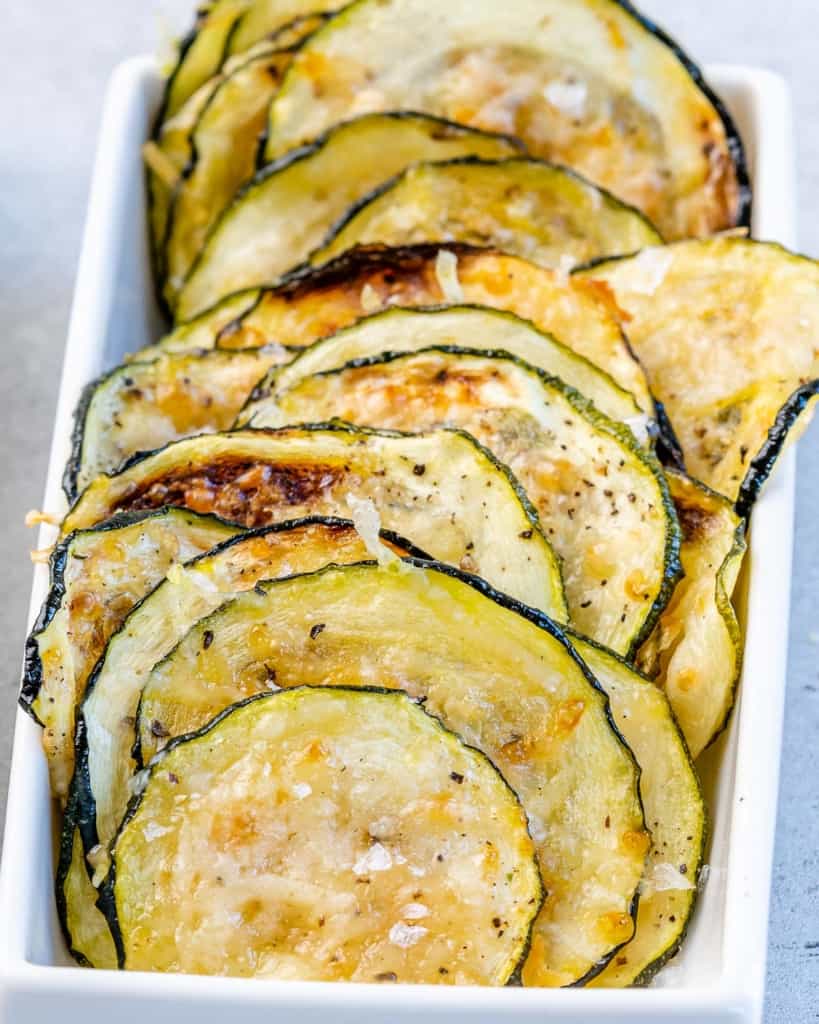 Recipe notes and tips
Be sure to remove the excess water from the zucchini using a paper towel
Add in different flavors if you like onion powder, garlic powder, italian seasoning, paprika, and so on.
When you place the zucchini in the air fryer avoid placing them to close to each other.
You can work in batches
If you dont have an air-frier you can bake these in the oven. To bake them in the oven, preheat the oven to 425 degrees Farenheight. Bake for 15 minutes. then flip to the other side and bake again for another 10-15 minutes until golden brown. Be careful not to over bake
The thinner you slice the zucchini the crispier they get.
Serve with marinara sauce, ketchup, ranch, or your favorite dip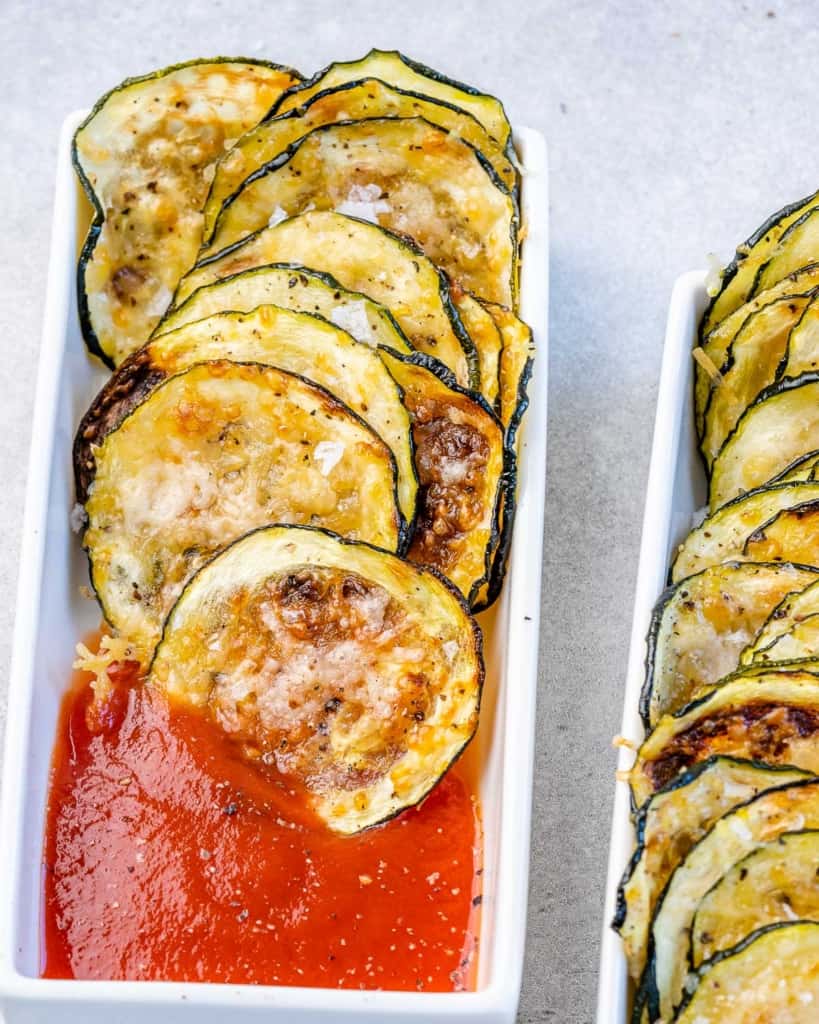 Frequently asked questions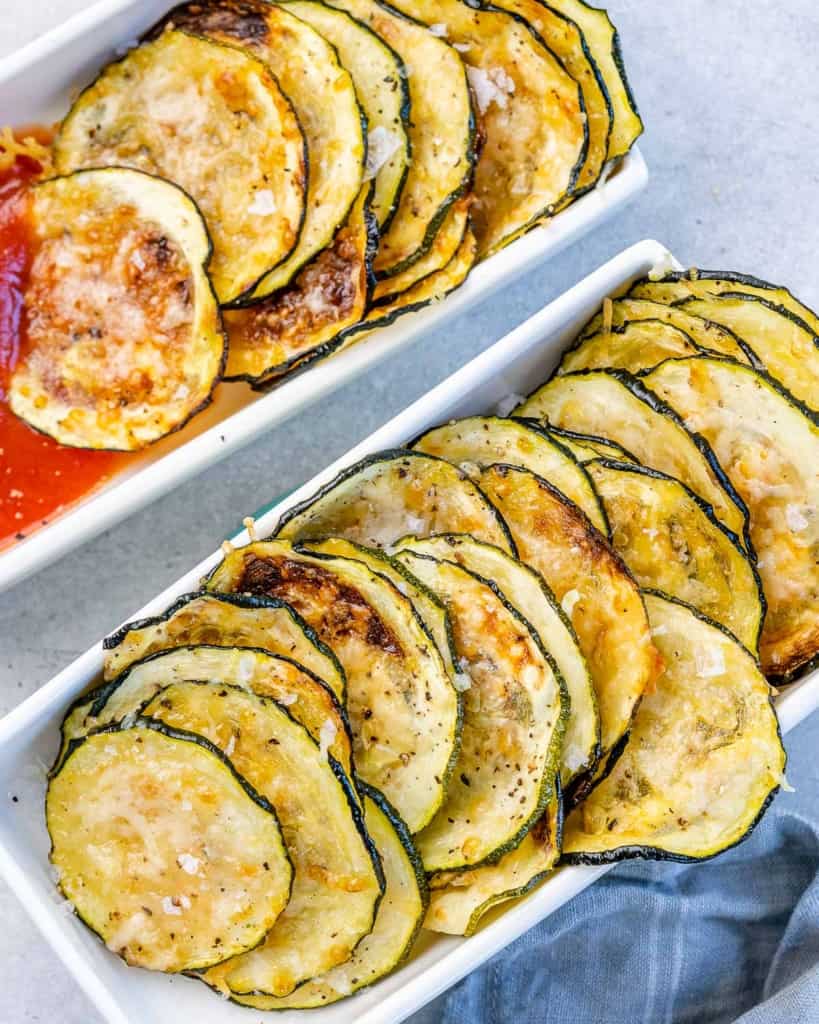 More healthy Zucchini recipes you may like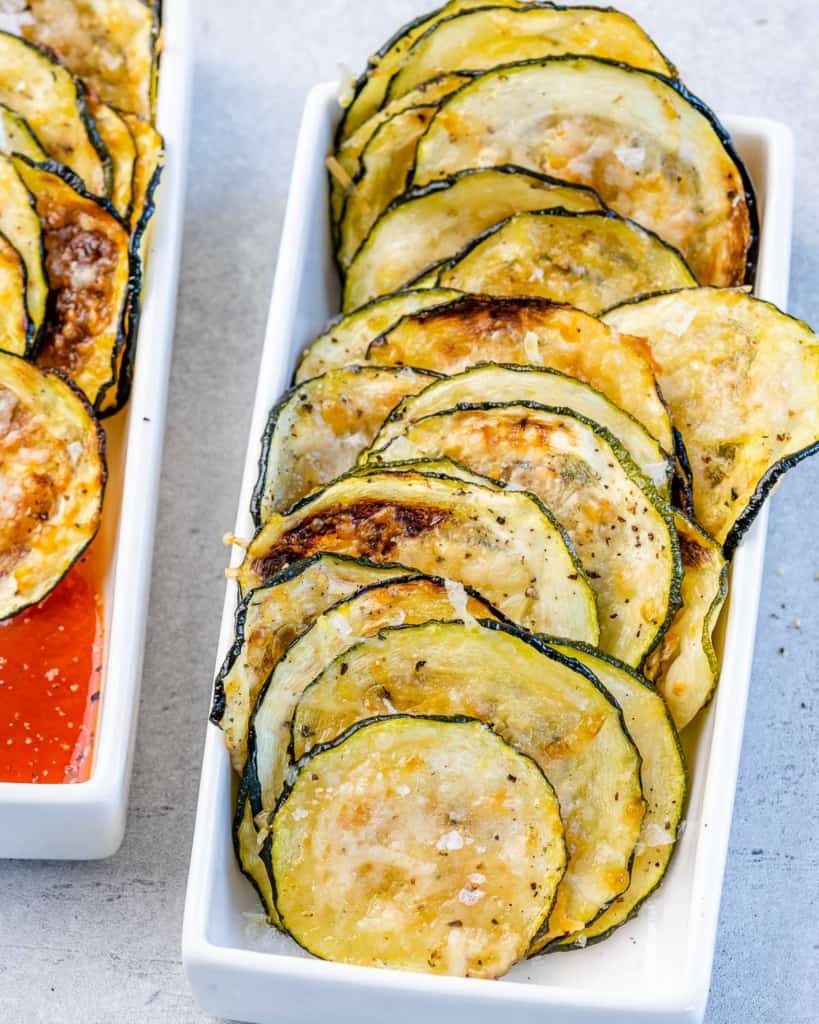 If you try a recipe and you like it, leave us some feedback in the comment section below, and don't forget to rate it! We would love it if you shared it with friends and family.
Finally, please use our hashtag #healthyfitnessmeals on INSTAGRAM for a chance to be featured! FOLLOW Healthy Fitness Meals on FACEBOOK | INSTAGRAM | PINTEREST | TWITTER for all of our latest blog posts and recipes.