This Homemade Pesto Sauce is the perfect recipe to replace your store-bought pesto sauce. It is easy to make and so delicious you won't want to go back to any premade pesto sauce.

Homemade Pesto Sauce
It takes only a handful of main ingredients to make this homemade pesto sauce. There are many different varieties of pesto recipes to make. You can certainly swap the pine nuts with either walnut, almonds, pecans, etc. I love the taste of pine nuts, especially when it's lightly toasted. It gives it that strong and unique flavor!
I absolutely love fresh basil. My garden is full of basil plants and I always feel like I never have enough. I prefer using fresh basil for a homemade pesto sauce because of the intense flavor it gives it but you can replace it with other greens like cilantro, kale, arugula, spinach, etc. but honestly nothing beats the taste of classic basil pesto!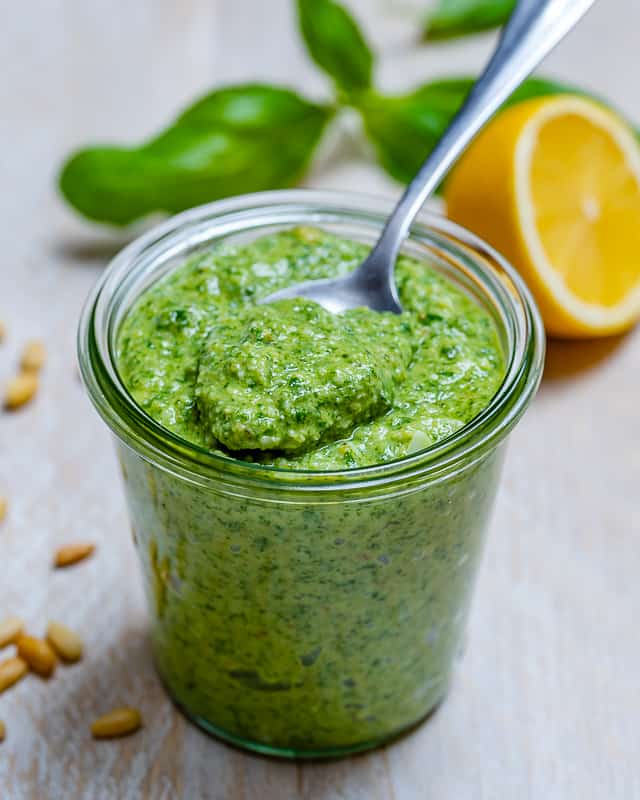 Some frequently asked questions:
There are so many different ways to make pesto and you may have a few questions that I will try to answer below. If you still have any other questions feel free to ask me in the comment section below.
What can I use instead of pinenuts in Pesto?
Pinenuts can be very expensive or you may not be able to find some pine nuts in your local stores. There are a few alternatives to using pinenuts:
Almonds – Almonds are a great substitute for pinenuts while maintaining taste.
Walnuts –  Another great substitute without affecting the creamy texture and taste
Pistachios – These are also a very good alternative to pinenuts and give it that vibrant green color. Some may even say it is the best substitute.
Hazelnut – This is also an option but not the best choice since the taste will be altered a bit.
Macadamia nuts – Ok to use but not the best option compared to the others above.
How long does homemade pesto last?
Homemade pesto is made of fresh ingredients without any preservatives to help keep them fresh for a very long time. Therefore they will be good in a closed jar in the fridge for 7 days. You can freeze your homemade presto into cubes and stored for up to 6 months.
Should you toast pinenuts for pesto?
The right answer would be NO. You don't have to toast the pinenuts for your pesto recipe. Toasting it does add a nice taste to the homemade pesto but it is definitely an option. You dont even have to use pinenuts and can sub pinenuts with other nuts like walnuts and pistachios.
How to store homemade pesto?
The amazing thing about homemade pesto sauce is how easy it is to make and how easy it is to store and reuse. Store it in an airtight container for about 7 days in the fridge or freeze them in ice cube trays. Very Versatile. You can serve pesto with anything!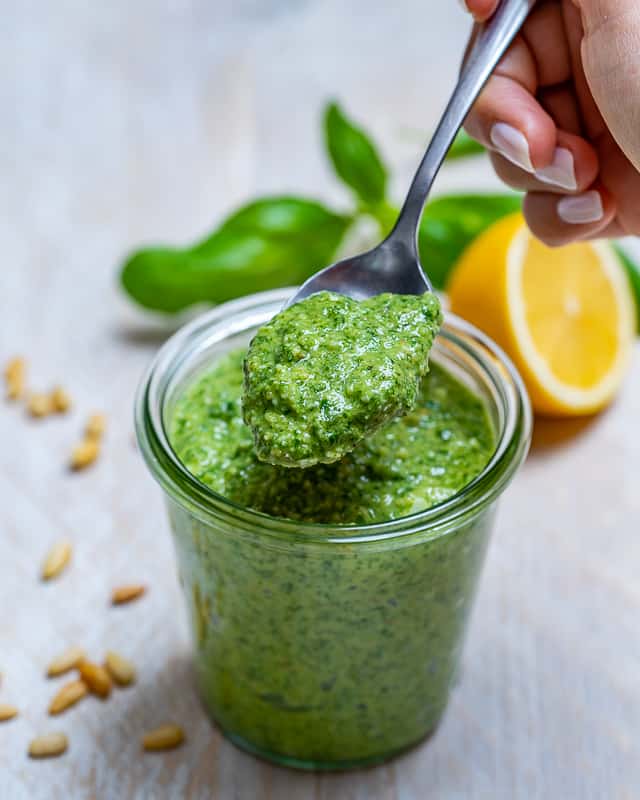 Ways to use Pesto Sauce
There are so many ways to eat or use your homemade pesto sauce with. Options are endless but here are a few great ideas to consider.
Use in pasta – Any kind of pasta works. They work perfectly well together.
Salad Dressings – Mix some pesto in with your salad dressings for some flavor boost.
Add over Bruchettas – swap the cheese with some pesto and top with roasted tomatoes
Dips – Mix it in with some dips
Pizza sauce– Swap your pizzs sauce with pesto sauce! so yummy.
Top over veggies – try adding or tossing some pesto sauce over roasted veggies.
Use in breakfast – Add over eggs or on a sandwich.
Add to your Caprese salad – Pesto adds a huge flavor boost with your caprese salad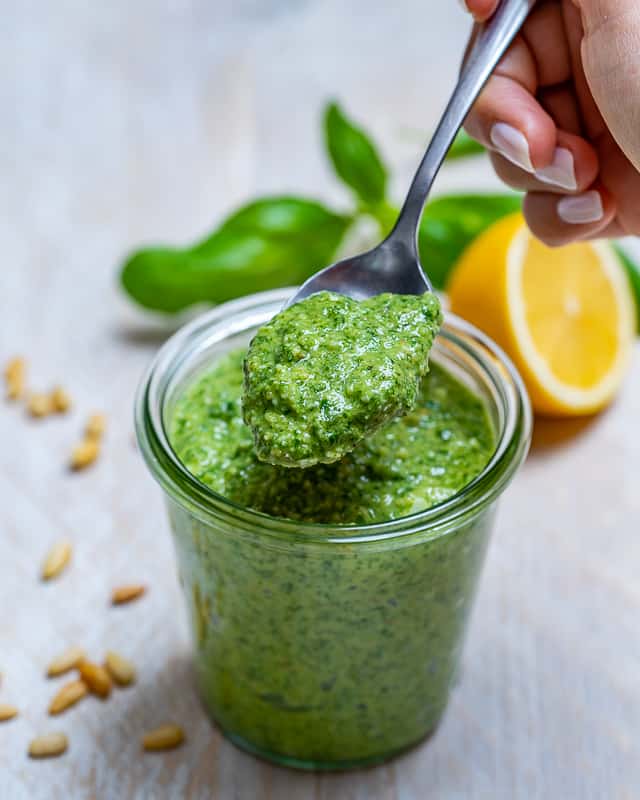 Making this Homemade Pesto sauce recipe?
I hope you like this Homemade Pesto Sauce Recipe. If you like it as much as I do, then please share it with your friends and family and also leave me a comment below.
I've got some more amazing recipes for you to try out. Check them out below:
Also, remember to subscribe to my NEWSLETTER for free and receive all my new recipes delivered right to your inbox!
Finally, if you try a recipe and you like it, please use my hashtag #healthyfitnessmeals on INSTAGRAM for a chance to be featured! FOLLOW Healthy Fitness Meals on FACEBOOK | INSTAGRAM | PINTEREST | TWITTER for all of my latest blog posts and recipes.
Recipe for this Homemade Pesto Sauce below: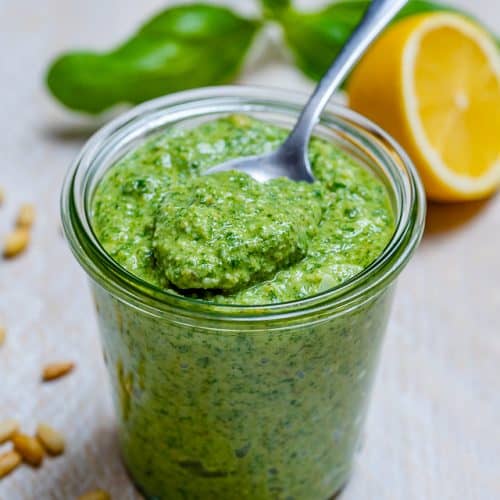 Homemade Pesto Sauce
Easy to make Homemade pesto sauce in just under 10 minutes
Print
Pin
Rate
Ingredients
2

Cups

Fresh basil leaves

packed

1/2

Cup

Freshly grated Parmesan Cheese

1/2

Cup

Extra virgin olive oil

1/2

Lemon

Juiced

1/3

Cup

Pine nuts

2

Garlic cloves

peeled

1/2

Tsp

Sea salt, or to your taste

1/4

Tsp

Freshly ground black pepper, or to your taste
Instructions
Heat a small frying pan on low heat.

Add in the pine nuts and cook until golden for about 3-4 minutes. Keep shaking the frying pan every couple of seconds to prevent the nuts from over-coloring and burning.

Place all ingredients except olive oil into the bowl of a food processor. Pulse until chopped.

Continue processing while gradually adding oil in a steady stream, stopping occasionally to scrape down the sides of the food processor.

Transfer to a 10 oz jar and keep refrigerated for up to 7 days or freeze for up to 3 months.
Notes
TIP: To freeze, pour into an ice cube tray and place in the freezer for 2 hours. Remove the frozen pesto cubes and store in a resealable plastic bag until future use. Note: the nutrition fact is for about 2 tabelspoons. The entire cup is 1509 calories.
Nutrition
Calories:
126
kcal
|
Carbohydrates:
1
g
|
Protein:
2
g
|
Fat:
13
g
|
Saturated Fat:
2
g
|
Cholesterol:
4
mg
|
Sodium:
161
mg
|
Potassium:
46
mg
|
Fiber:
1
g
|
Sugar:
1
g
|
Vitamin A:
247
IU
|
Vitamin C:
3
mg
|
Calcium:
55
mg
|
Iron:
1
mg