This easy-to-make Keto shrimp Recipe is made with a creamy parmesan and spinach sauce. A low-carb shrimp recipe that's suitable for those on the keto diet and takes just 20 minutes to make.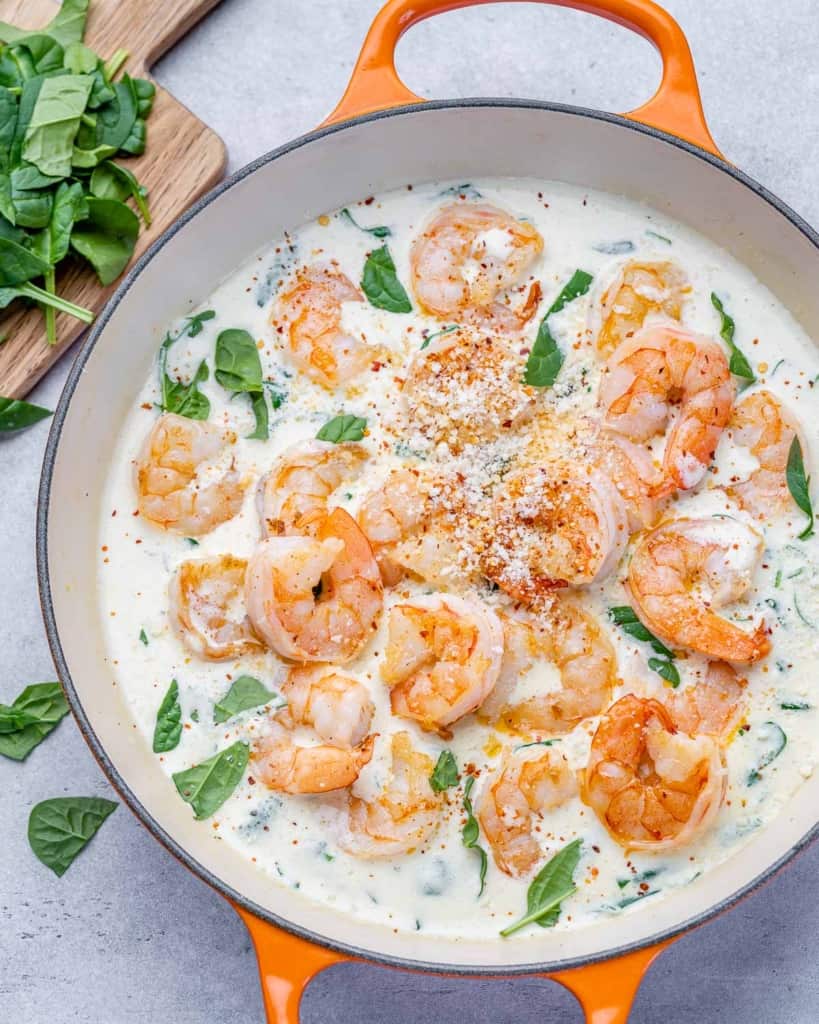 Make this creamy, parmesan, and easy keto shrimp recipe in less than 30 minutes from start to finish. Sauteed shrimp are nestled in a delicious creamy parmesan and spinach sauce. This creamy sauteed shrimp recipe is intended for those who are on the keto diet since it is high in fat and low in carbs. The sauce is made with heavy cream, which can easily be swapped with lite coconut milk if preferred. Make this easy keto shrimp any day of the week and have dinner ready in less than 30 minutes. So simple, so easy, and perfectly delicious.
Why you should make this creamy sauteed shrimp recipe
Family friendly: This creamy shrimp recipe is perfect for everyone. Serve the kiddos with some spaghetti, and keep yours low carb by serving it with some zucchini noodles.
Easy and simple: Have this sauteed shrimp recipe ready in less than 30 minutes tops. Made with a handful of simple ingredients. No hassle what so ever.
Low carb and keto-friendly: If you are looking for a low carb meal, then this creamy good keto shrimp recipe is perfect for you. Look no further.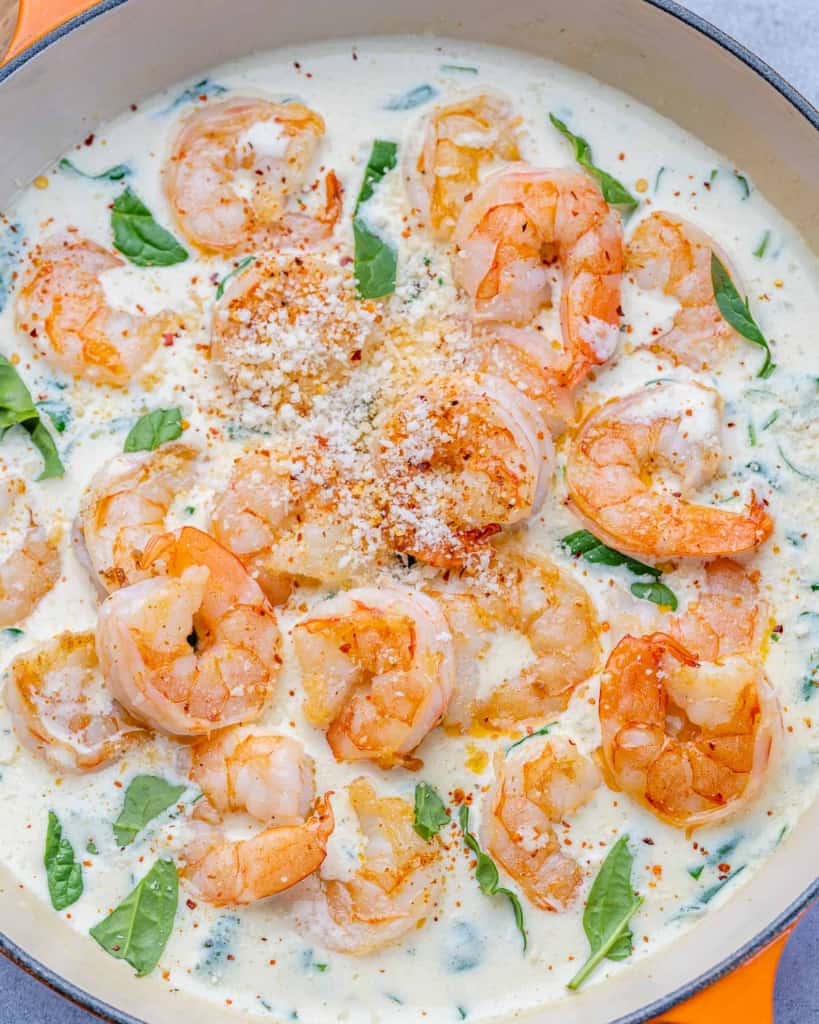 Ingredients to make this creamy keto shrimp meal
Oil: use eany oil you have on hand. We used olive oil, but avocado oil would work.
Shrimp: do not usee pre-cooked shrimp. Use raw, peeled, and deveined shrimp
Garlic: go with fresh garlic cloves instead of garlic powder
Stock: if you can find fish stock, then use that. Otherwise, use vegetable stock.
Heavy cream: great for those on keto due to its high fat content. You may swap this for lite-coconut milk instead. Not the kind you drink, but teh canned ones.
Baby spincah: we recommend you use fresh spinach and not frozen, Frozen will work as well, thaw and drain first.
Parmesan cheese: use freshly grated parmesan cheese. Store-bought will also work.
Chili flakes: optional, add more or omit
Salt and pepper to taste.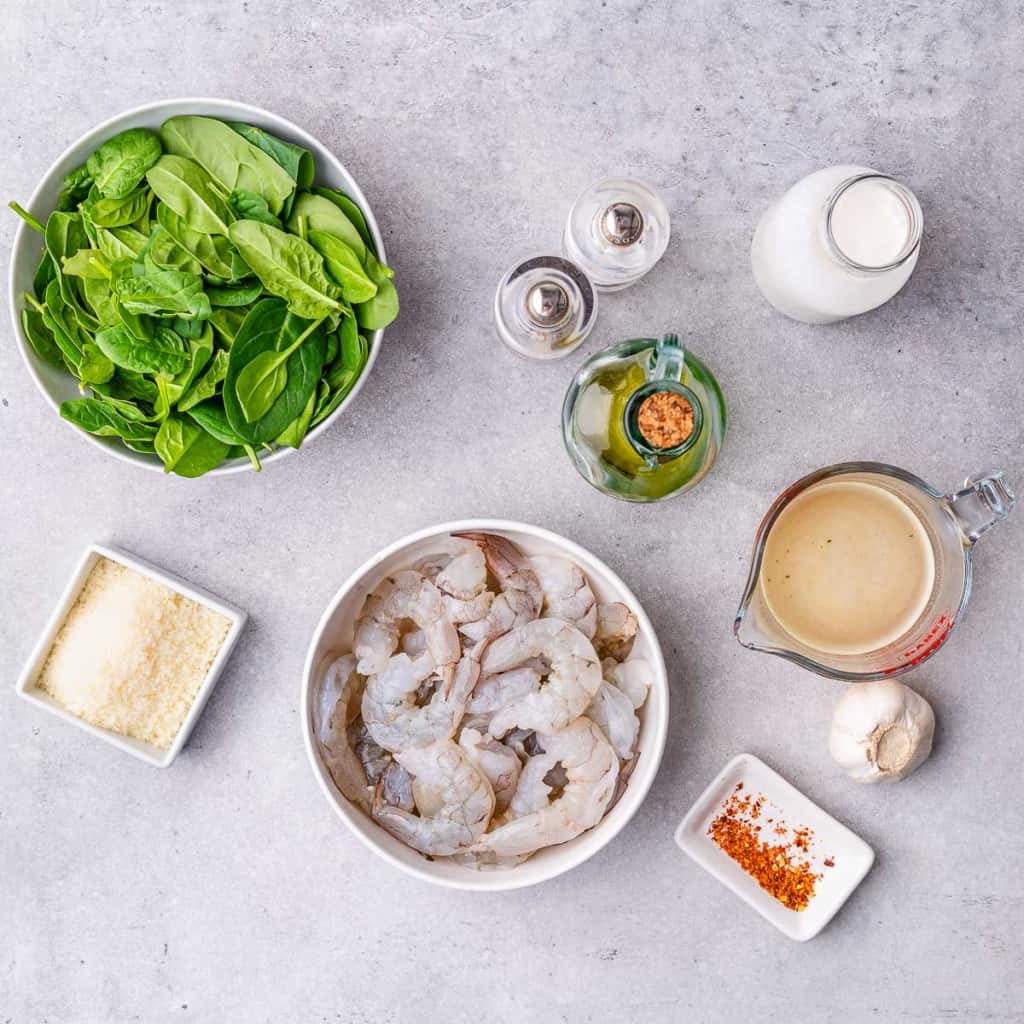 How to make this easy keto shrimp recipe in less than 30 minutes
Heat 1 tablespoon of the oil in a large pan over medium heat. Sauté the shrimp for about 4 minutes, flipping halfway. We want it a bit undercooked at this point as it will continue to cook into the sauce. Set aside and cover to keep warm.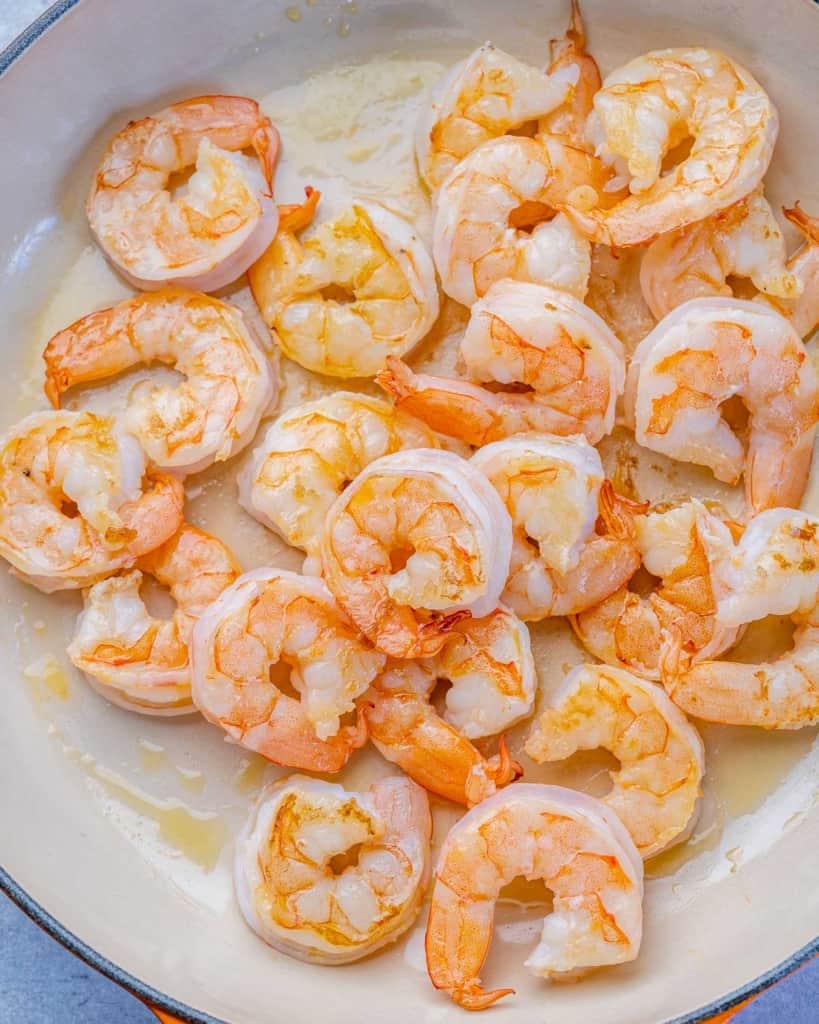 To the same pan, heat the remaining oil and saute the garlic for 30 seconds.
Add in the stock and allow it to bubble until reduced by half.
Pour the cream, and once bubbling, stir in the spinach. Cook, stirring frequently until the spinach is wilted, around 2 minutes.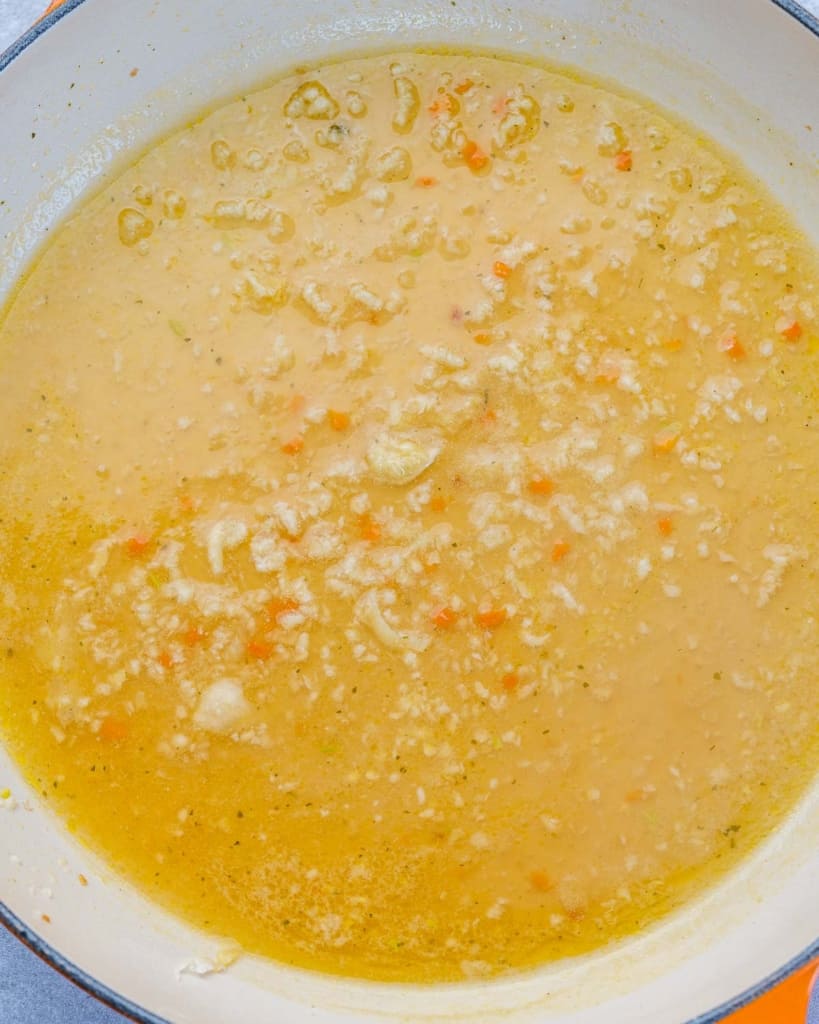 While the pan is still on the heat, stir in the parmesan, and return the shrimp back to the pan.
Continue to cook for a couple of minutes, until shrimp is fully pink and opaque and the sauce is creamy and rich. Season to taste, if needed.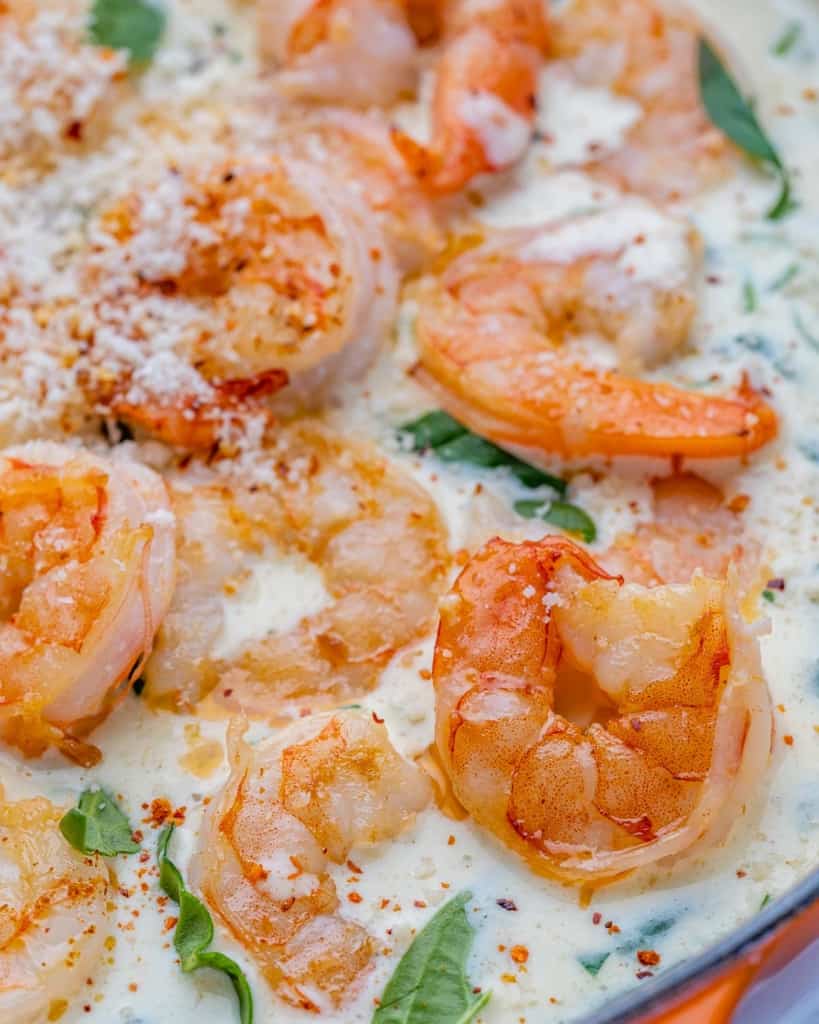 Recipe notes and tips
Serving size: one cup or 1/4th of the amount 
Use raw shrimp and not pre-cooked 
Heavy cream: this recipe was intended to be high in fat and for those who are on keto. To reduce the fat content and make it a bit healthier, swap the heavy cream with lite coconut milk (in cans)
Use freshly grated parmesan or use store-bought.
Any oil of choice works.
Serve with zucchini noodles to keep it a low carb meal or some cauliflower rice.
Spinach: we prefer that you use fresh spinach. If you must, use frozen but thaw ahead and drain. 
Be careful not to overcook the shrimp. You will end up with tough rubbery shrimp.
Store leftovers in a container in the fridge for up to 3 days.
Add in more veggies if you prefer. Like zucchini, asaparagus, or broccoli.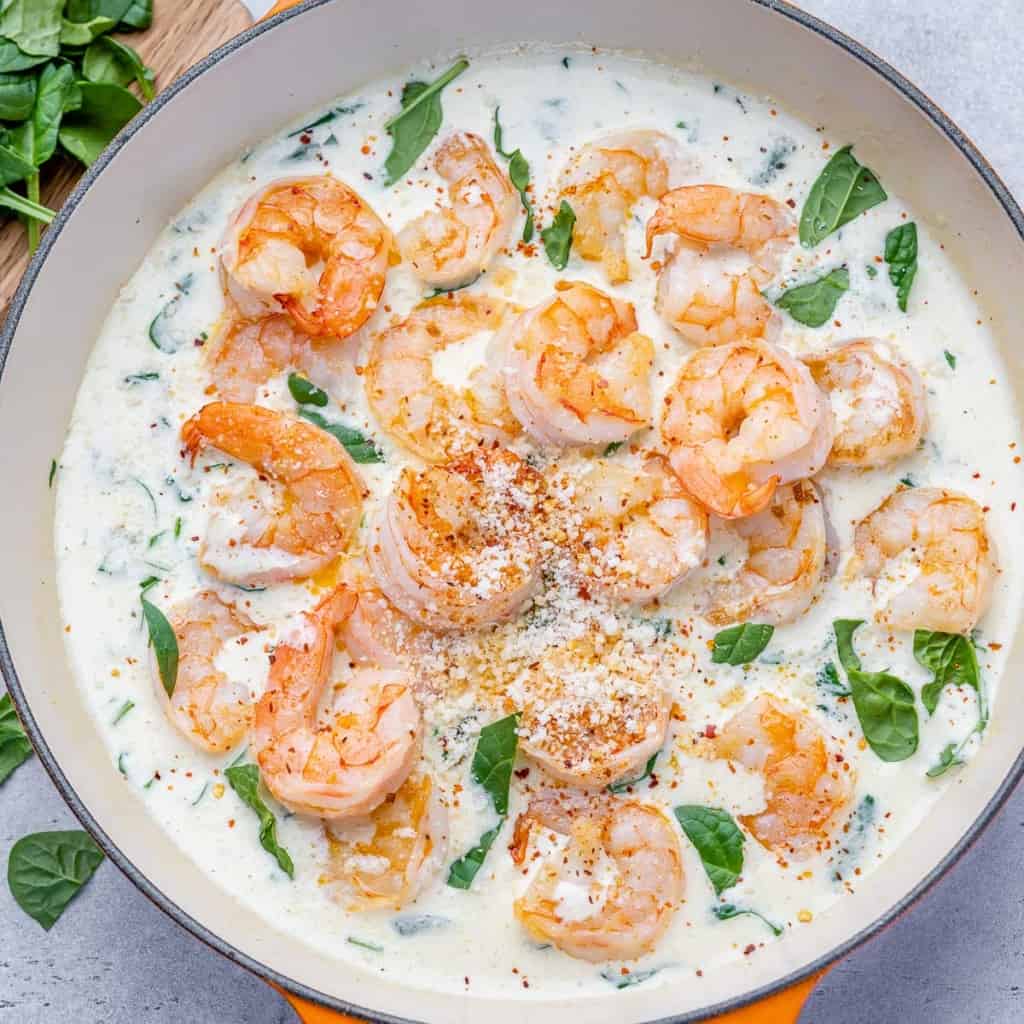 Frequently asked questions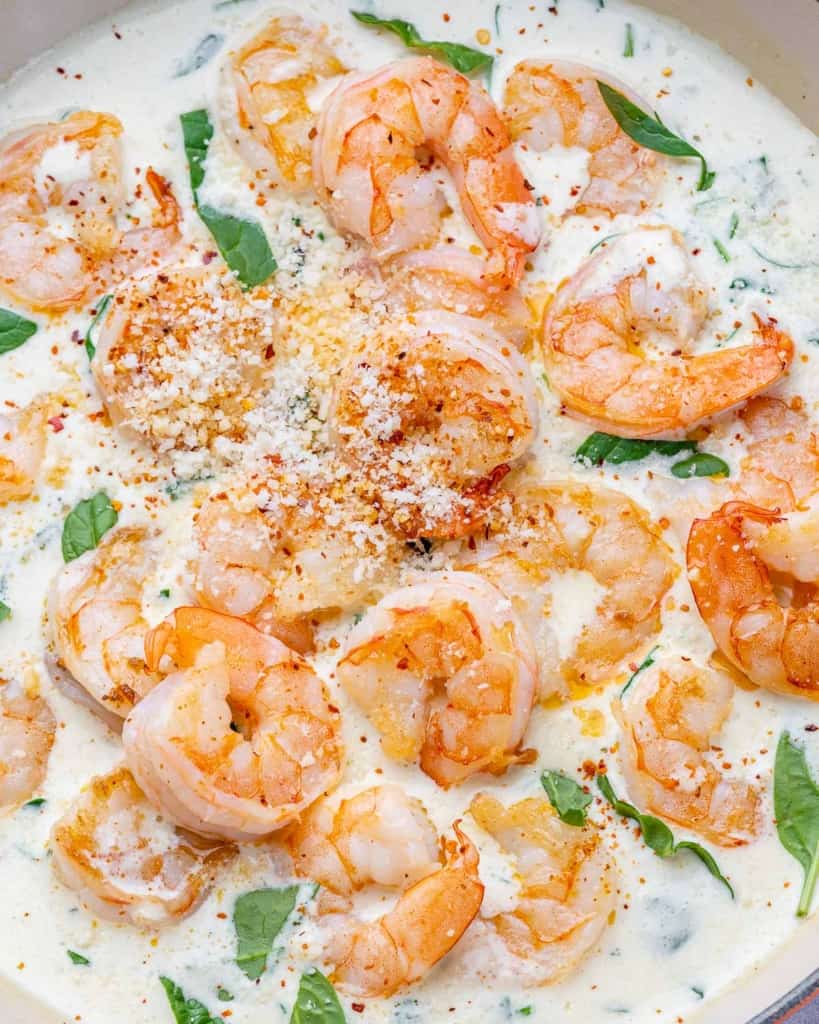 What to serve with this creamy sauteed keto shrimp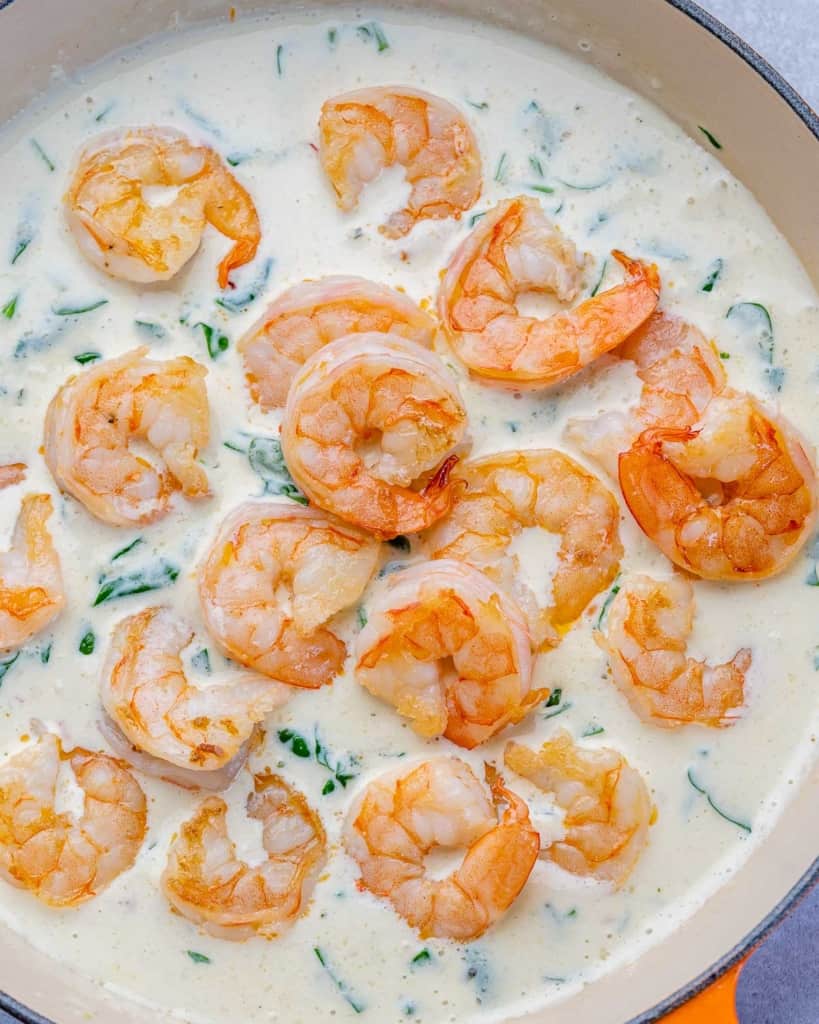 More delicious shrimp recipes you may like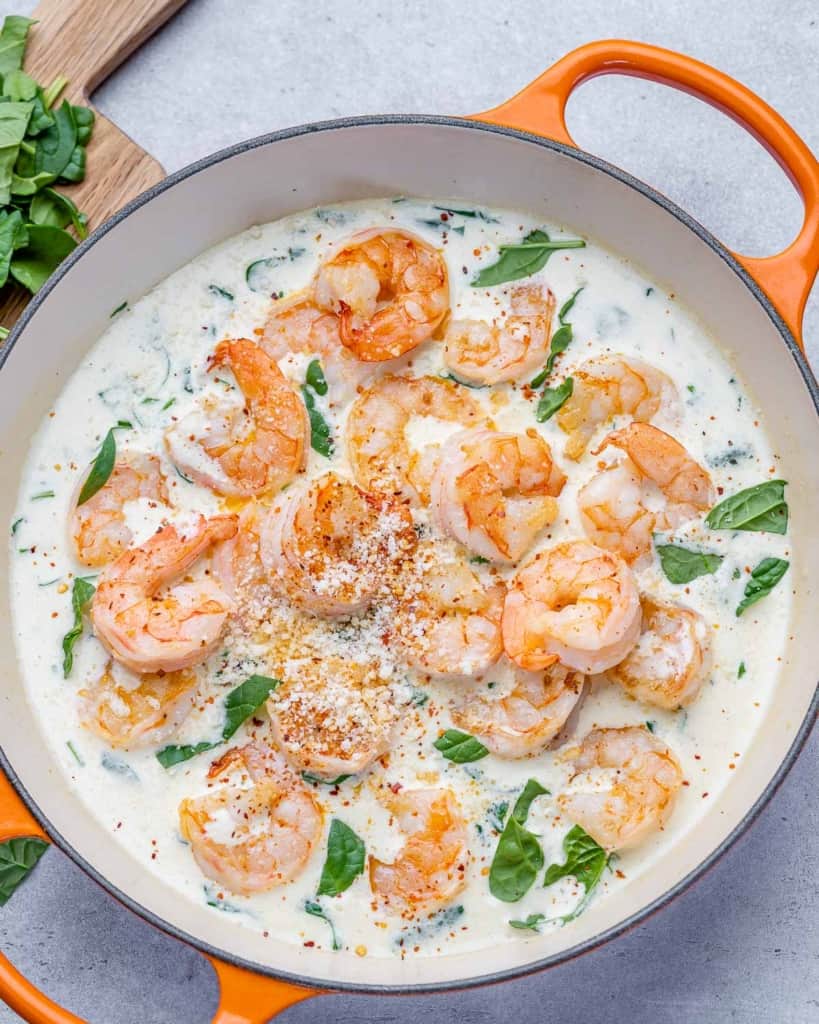 If you try a recipe and you like it, leave us some feedback in the comment section below, and don't forget to rate it! We would love it if you shared it with friends and family.
Finally, please use our hashtag #healthyfitnessmeals on INSTAGRAM for a chance to be featured! FOLLOW Healthy Fitness Meals on FACEBOOK | INSTAGRAM | PINTEREST | TWITTER for all of our latest blog posts and recipes.