This easy Shrimp Green Curry allows you to have restaurant-quality curry on your table in 30 minutes! A healthy and delicious shrimp recipe that is made 100% from scratch- including the curry paste!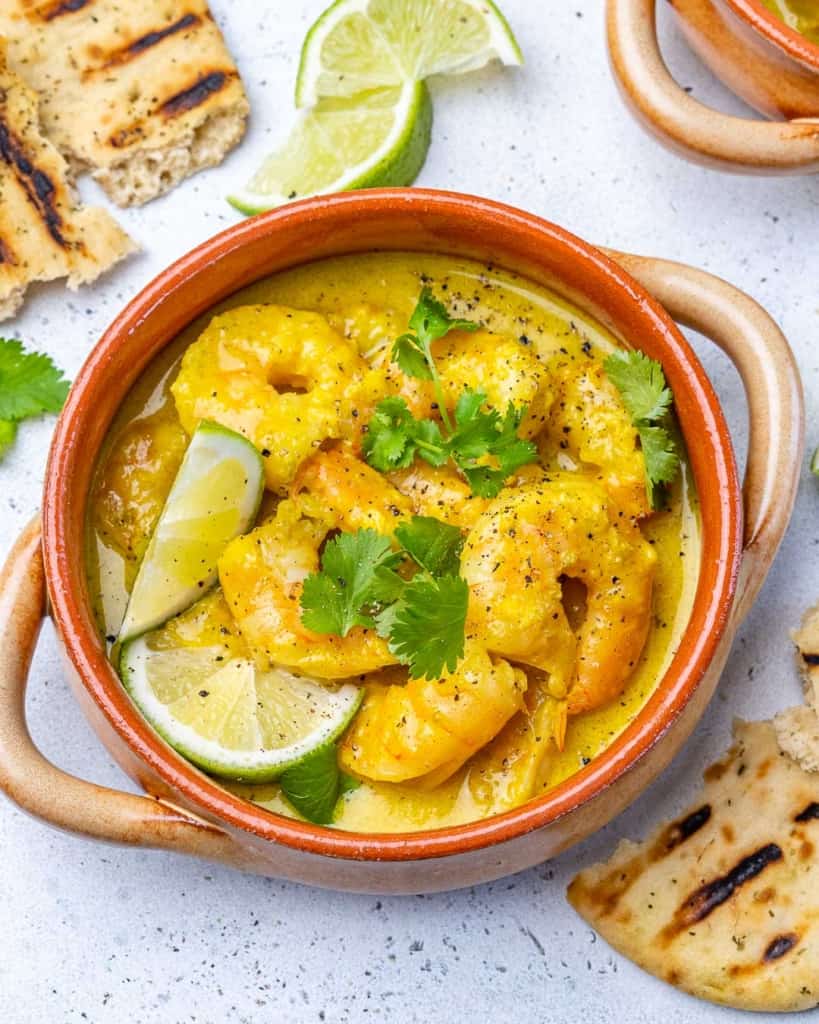 Shrimp Green Curry is one of our go-to Thai takeout orders. We love the bold flavors of curry and the fact that it's not as spicy as other curries. The coconut and lime flavor combination is one of our favorites. Making this shrimp curry recipe is so easy and it's done from scratch and ready on your dinner table in 30 minutes and best of all they are low in carbs.
Many coconut curry shrimp recipes use a store-bought green curry paste, which definitely works in a pinch, but we decided to make our own from scratch. Homemade green curry paste, as you'll see below, is super easy to make. Just toss the ingredients in a blender and you're good to go.
This is a spin-off from our Easy and Tasty Shrimp Curry Recipe, so check that out if you're looking for a red shrimp curry!
Why You'll Love This Shrimp Curry
Just a few simple steps. Making curry has never been so easy! There are literally just 4 steps to follow! Really easy to make.
Fragrant and delicious. Your house will smell INCREDIBLE while this is cooking.
A healthy and balanced meal. This shrimp curry dish is packed with flavor and high-nutrient ingredients, as well as lots of protein from the shrimp!
Dinner in 30 Minutes. Yes, really – you can make this healthy homemade Shrimp Curry in under 30 minutes!
Homemade Curry Paste. We make EVERYTHING from fresh ingredients.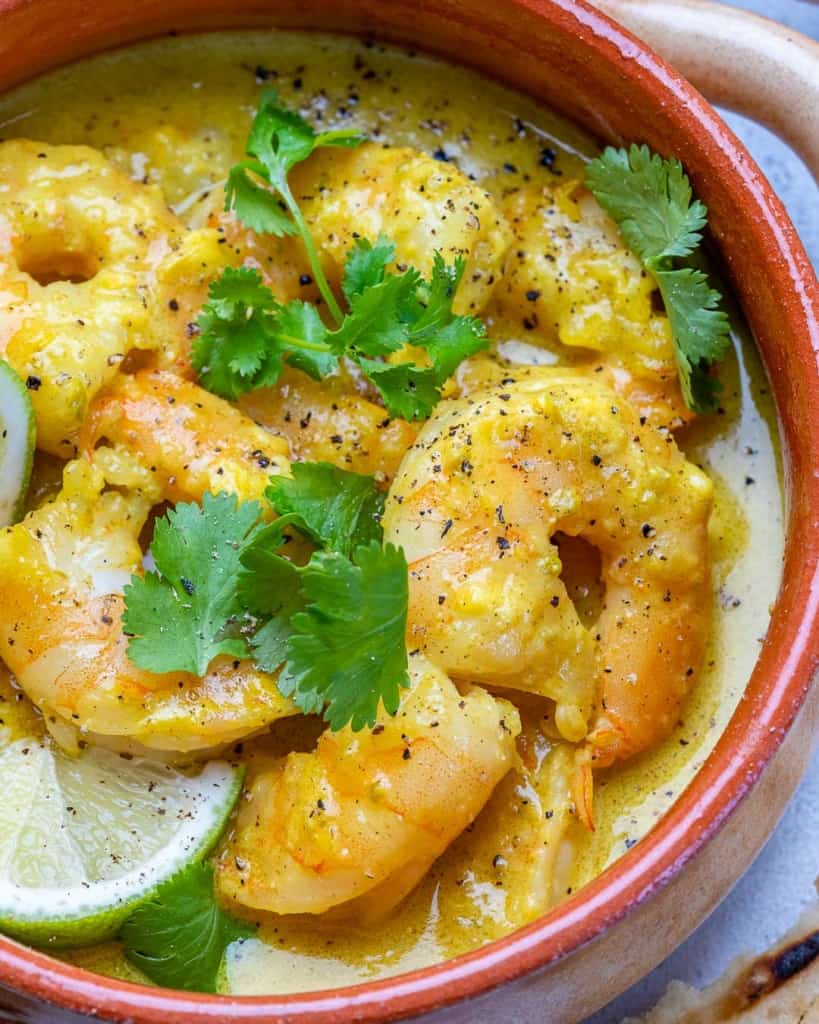 Ingredients You Will Need
These are just a list of ingredients you will need to make this easy homemade shrimp curry recipe. Full measurements are listed further down below.
Base:
Green chilies – seeded and roughly chopped
Onion – chopped
Garlic – roughly chopped
Lime – juice, and zest
Ginger – roughly chopped
Ground cumin seed
Ground turmeric
Curry
Olive oil
Coconut milk
Raw shelled king brawns
Cilantro
Lime – cut into wedges
Optional
basmati rice – cooked, to serve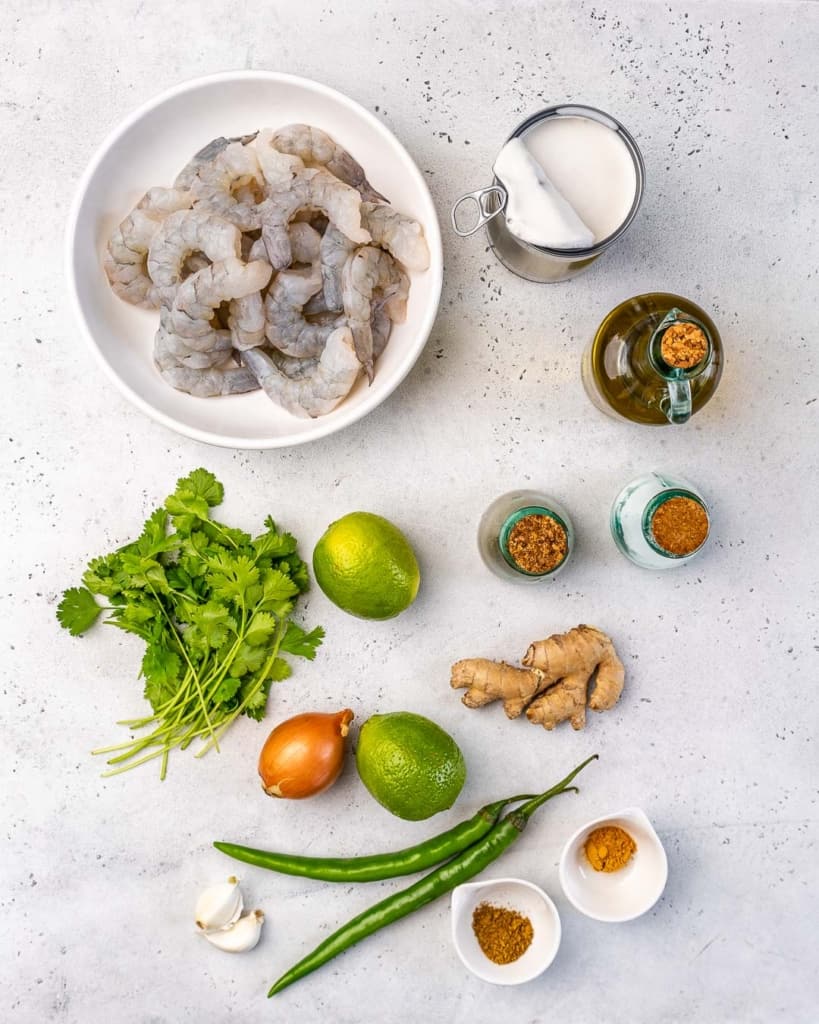 How to Make Shrimp Curry from scratch
To make the base:
First, place all the ingredients for the base to a small food processor. Add a splash of water if needed, then pulse until pureed.
Curry:
Next, heat the oil in a rimmed pan or skillet over medium heat. Add the base purée, and cook for a couple of minutes, stirring constantly.
Stir in the coconut milk and bring to a boil. Reduce the heat to medium-low and simmer for about 20 minutes, or until reduced by half and thickened.
Add in the shrimp. Continue to simmer for 3-4 minutes, or until shrimp is cooked through.
Finally, serve over cooked basmati rice if desired and garnish with freshly chopped cilantro and lime wedges.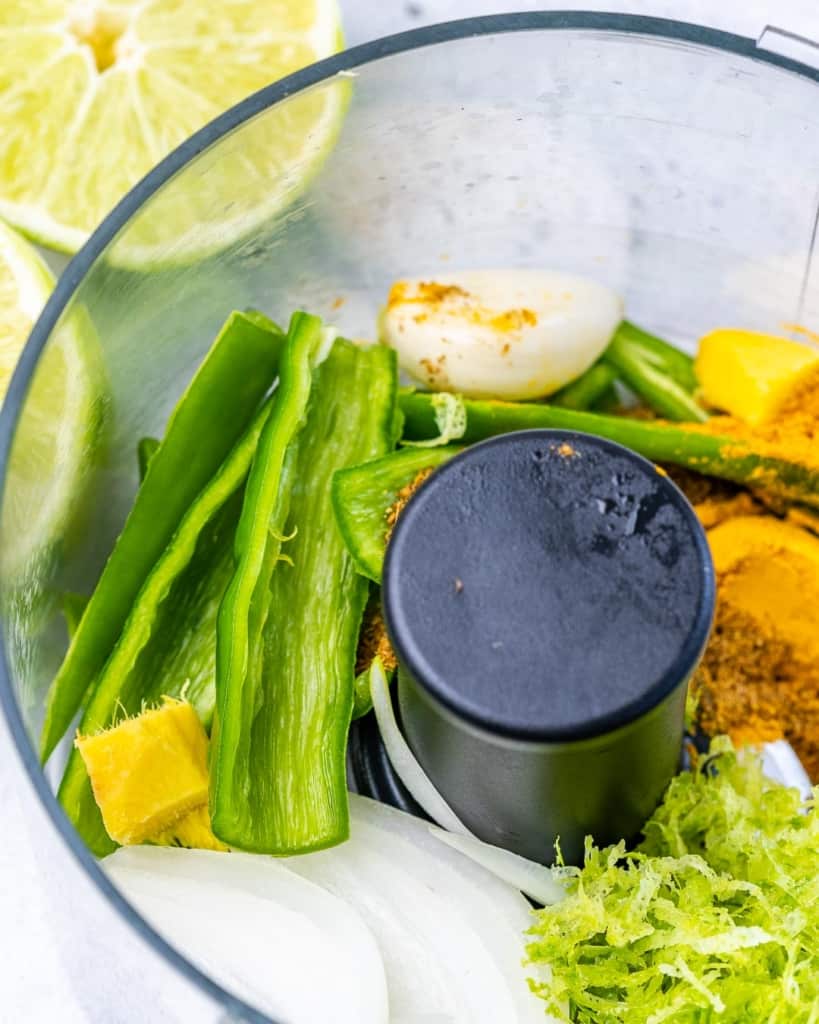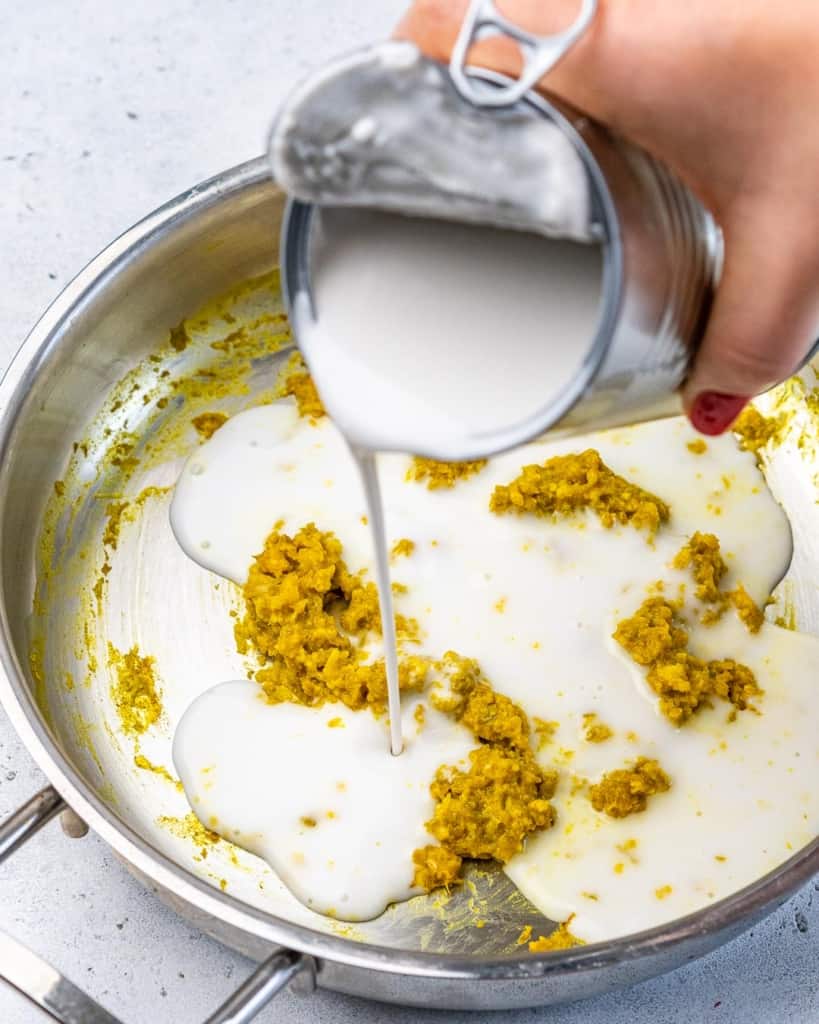 Recipes Notes & Tips
You can store leftovers in the fridge in an airtight for up to 3 days but be aware the texture of shrimp changes.
As soon as the shrimp turns pink and curls, it is done. It cooks very quickly so take care to not overcook. If shrimp are overcooked, they tend to get chewy and rubbery. Do not overcook the shrimp.
You may use store-bought curry paste if you do not feel like making your own.
We do recommend that you use coconut milk for a more authentic flavor, but you may replace the coconut milk with heavy cream.
If you're not a fan of shrimp, you can easily substitute chicken in this recipe.
You may freeze leftovers in a container for up to 3 months.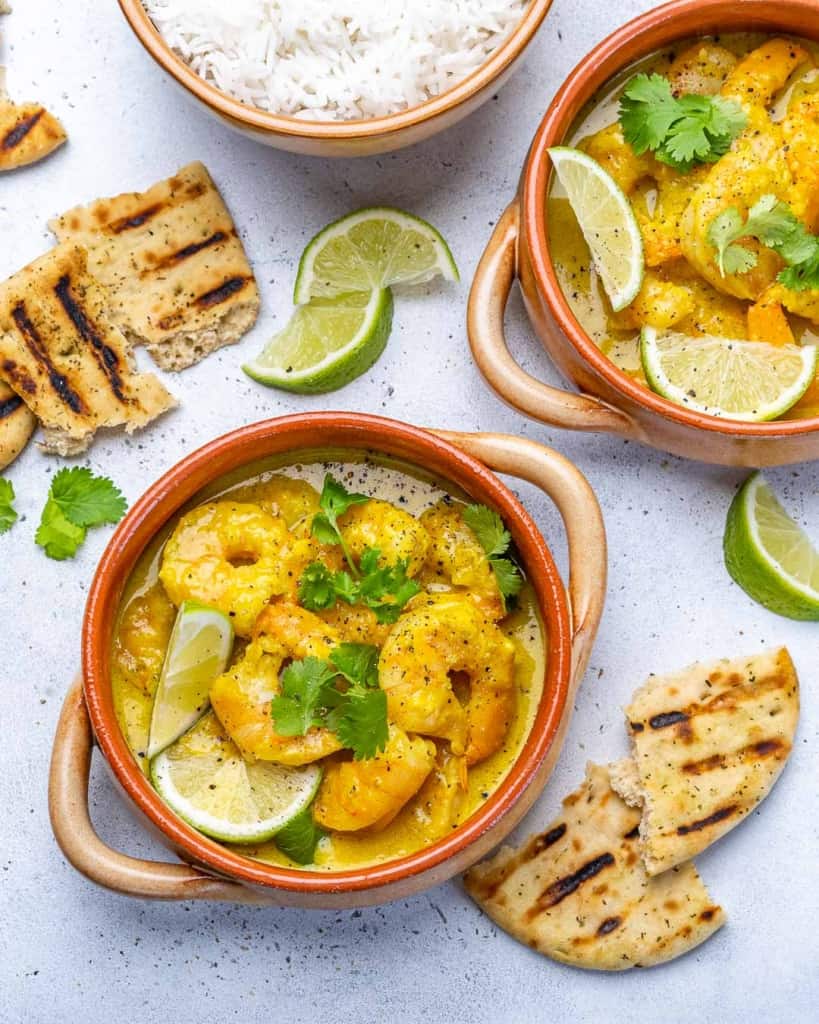 Frequently Asked Questions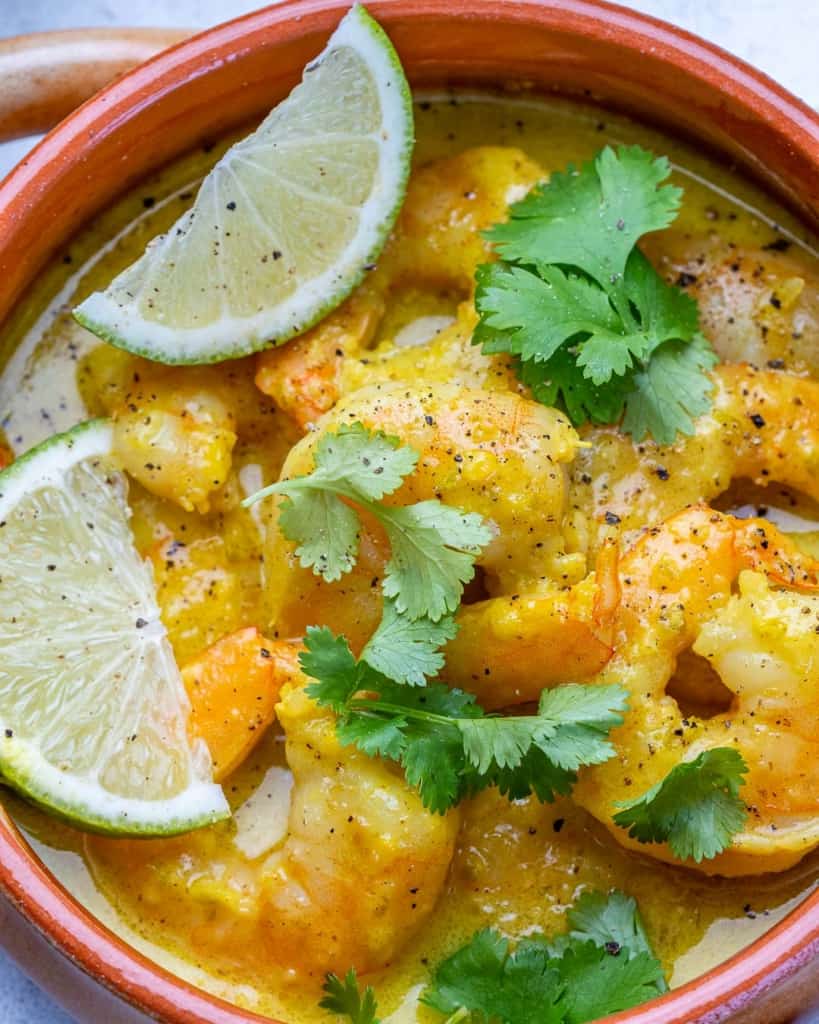 More Easy Shrimp Recipes: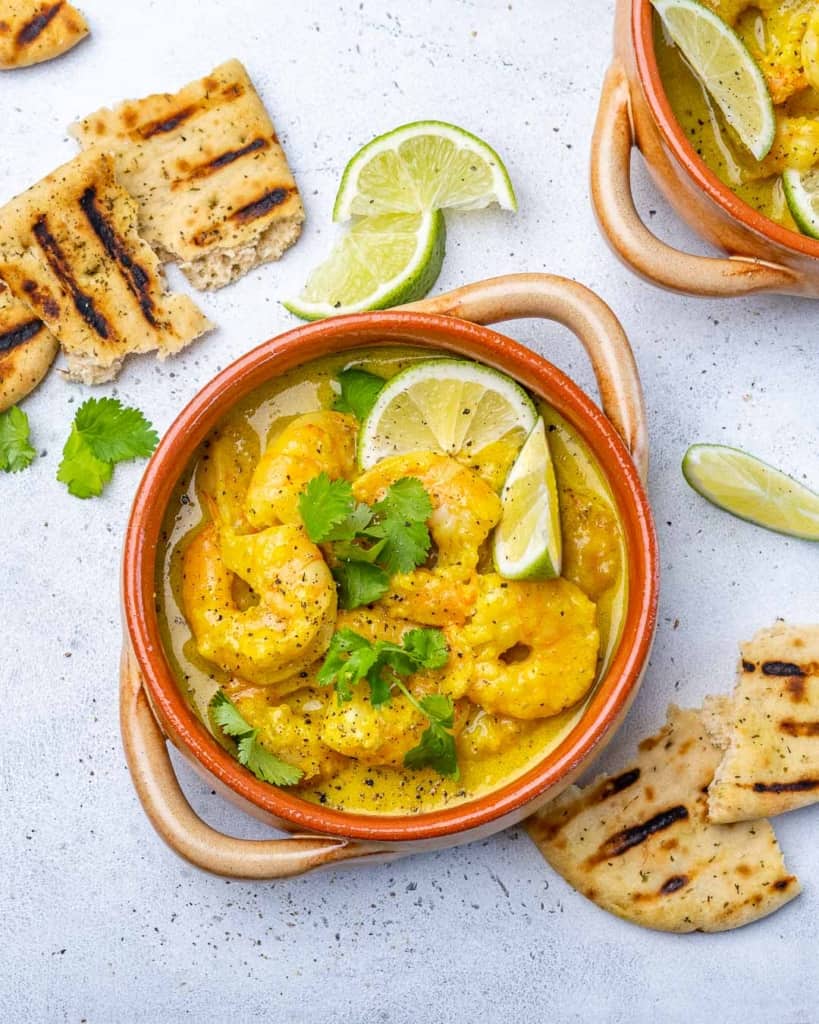 If you try a recipe and you like it, leave us some feedback in the comment section below, and don't forget to rate it! We would love it if you shared it with friends and family.
Finally, please use our hashtag #healthyfitnessmeals on INSTAGRAM for a chance to be featured! FOLLOW Healthy Fitness Meals on FACEBOOK | INSTAGRAM | PINTEREST | TWITTER for all of our latest blog posts and recipes.