If you are looking for an easy sauteed shrimp recipe then this Easy Pesto Shrimp recipe is the recipe you have been looking for. Made with a handful of ingredients and ready in 20 minutes.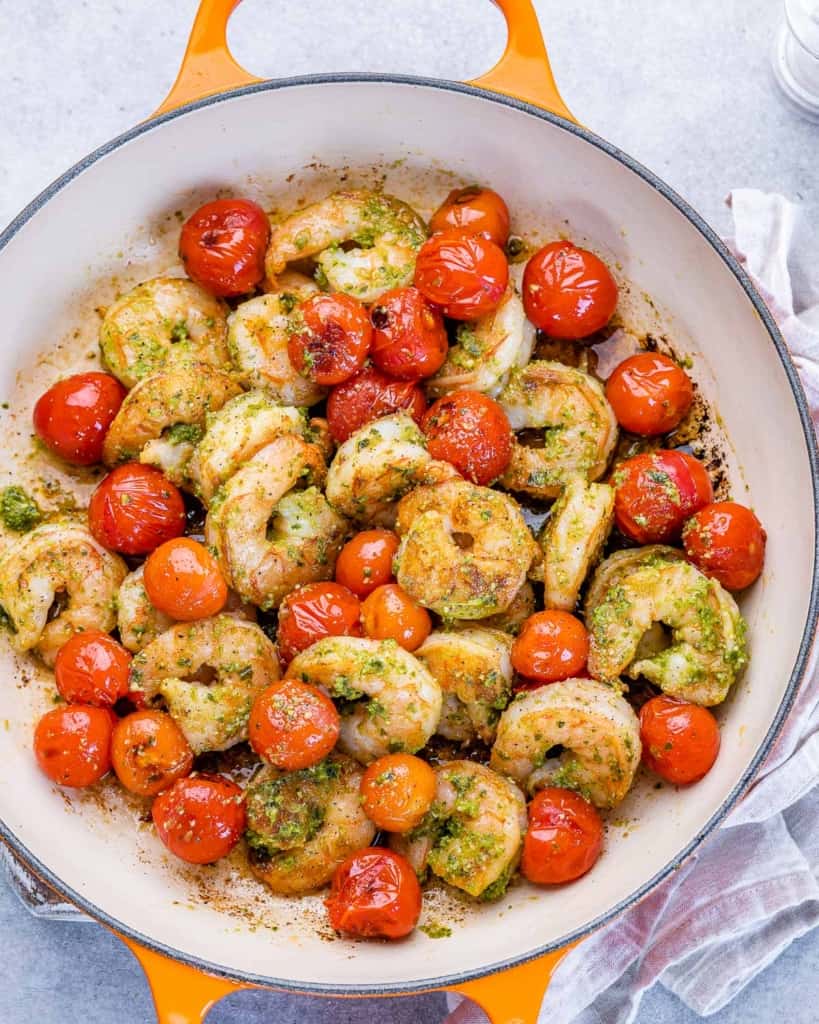 Sauteed shrimp is one of the easiest recipes out there to make when you only have 30 minutes on hand to whip something up for the family. This simple and easy pesto shrimp recipe will become a favorite because of how quick and easy it is to make. Enjoy delicious and tender shrimp with each bite prepared with homemade pesto sauce and burst cherry tomatoes. This sauteed shrimp recipe is low in carbs and perfect for those on a low carb and keto diet. Shrimp is one of our favorite proteins because it is low in calories and fat and high in protein. Enjoy it with pasta, white rice, or more veggies.
Why you will love this sauteed shrimp recipe with homemade pesto
Easy to make: Yes! We are all for easy and simple recipes. This pesto shrimp recipe is so easy to make, it takes just about 20 minutes.
Healthy: All ingredients used are perfectly healthy. It just can't get any healthier. This recipe is low in carbs and great for meal prepping too!
Flavorful: If you love anything pesto, you will love this pesto shrimp. Serve it up with some past or rice. So good!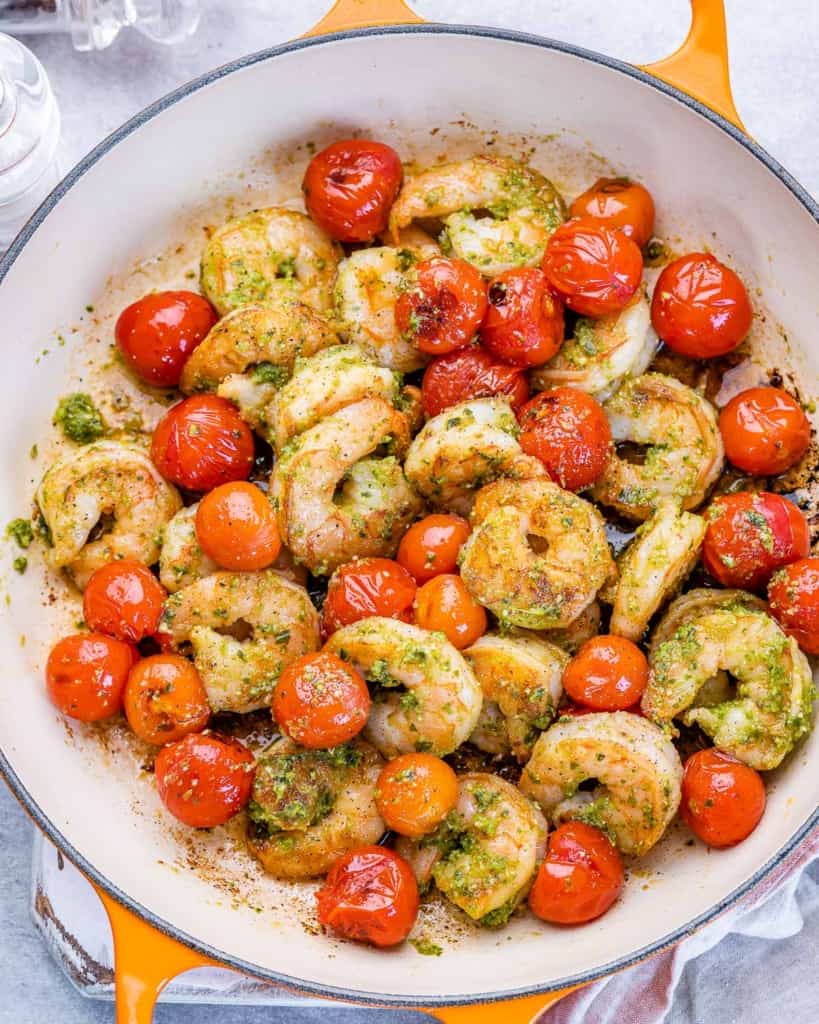 Ingredients you will need and substitutes
Olive oil: olive oil is our first choice, but if you don't have any, use any oil you have on hand like avocado oil.
Shrimp: we prefer that you use raw shrimp instead of pre-cooked shrimp.
Tomatoes: go with cherry or grape tomatoes, they are tangy, sweet and perfect for this recipe.
Salt and Pepper: adjust these ingredients to taste
Pesto sauce: We do have a homemade pesto sauce you can use. Otherwise, use store-bought. Costco has an amazing homemade pesto as well.
Lemon wedges: used to garnish at the end and optional.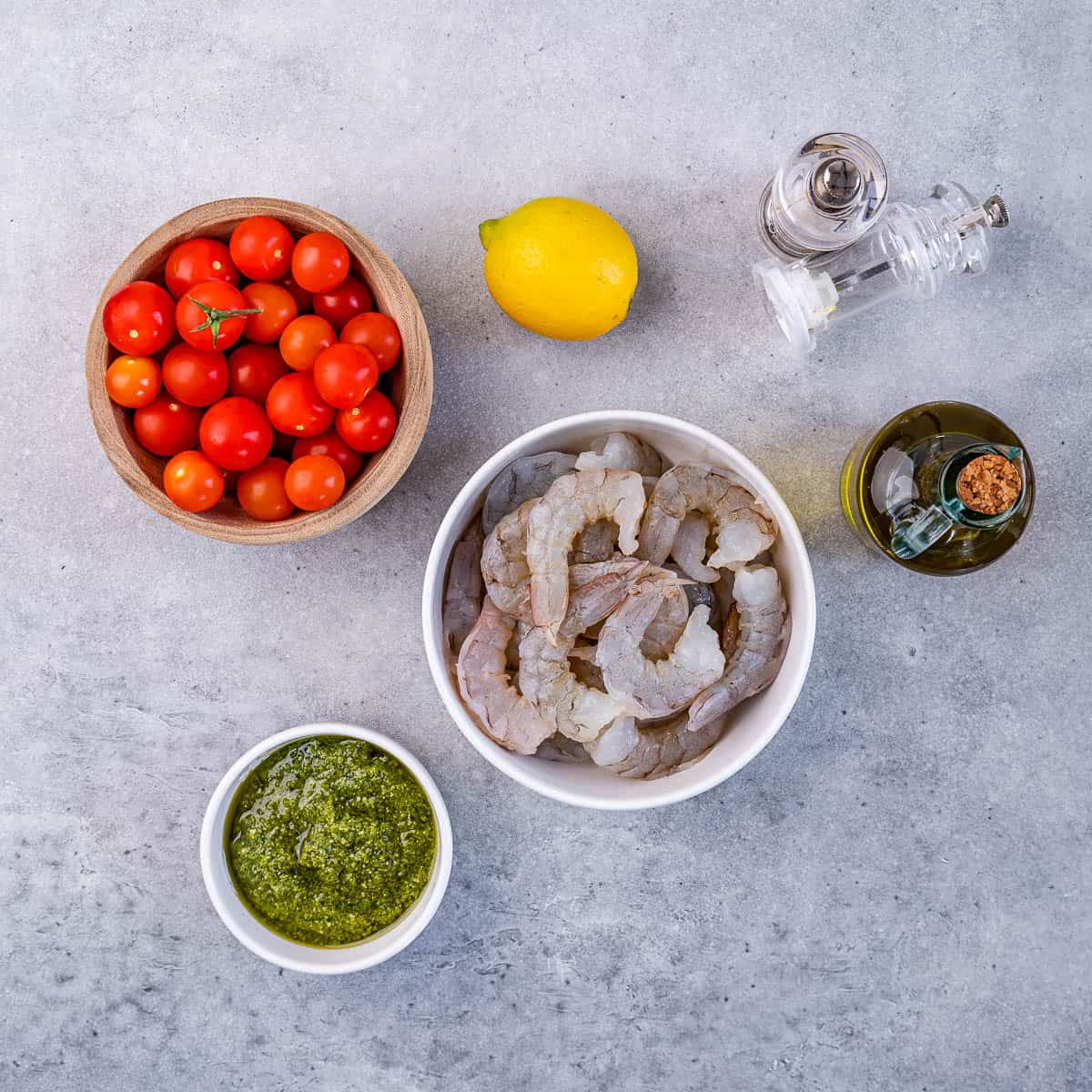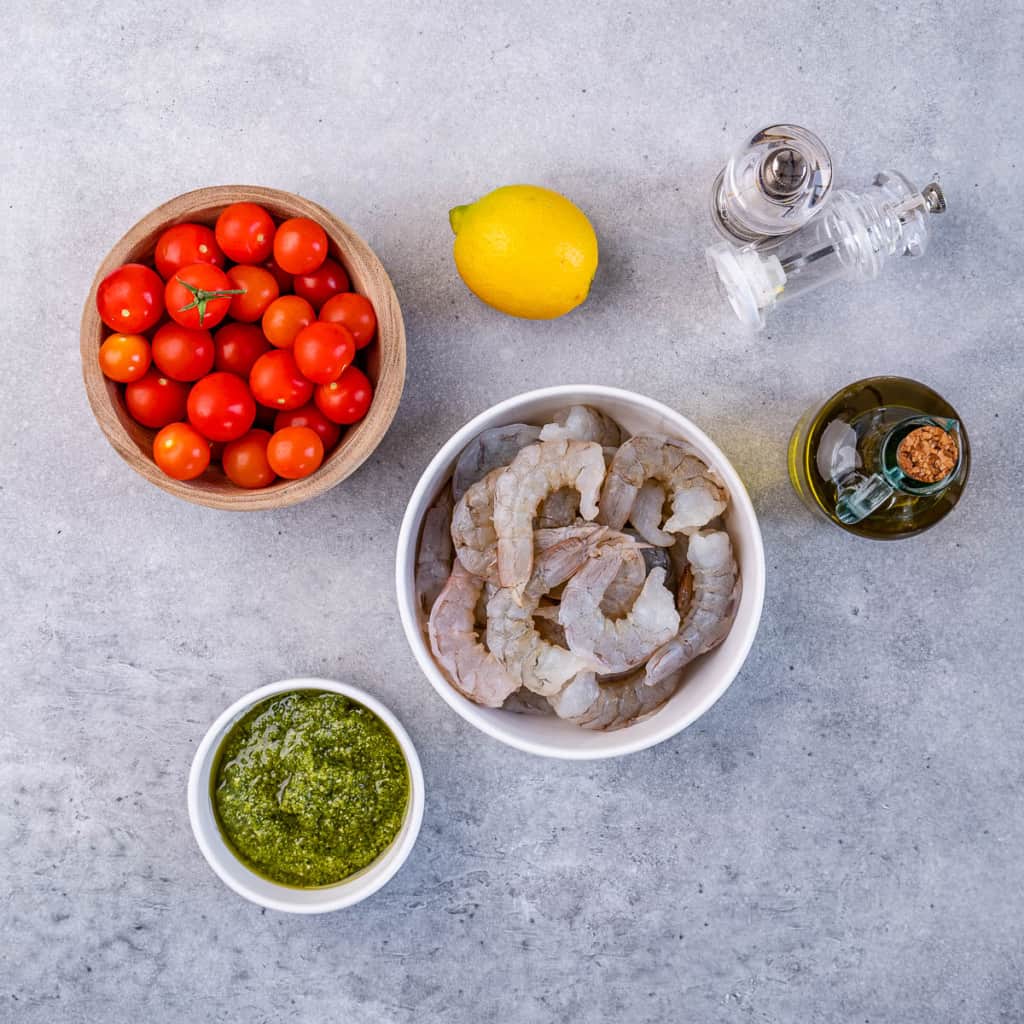 How to make this easy pesto shrimp skillet recipe
Heat half of the oil in a large skillet over medium-high heat.
Add the tomatoes and cook for 3-4 minutes, shaking the pan occasionally, until busted. Set aside.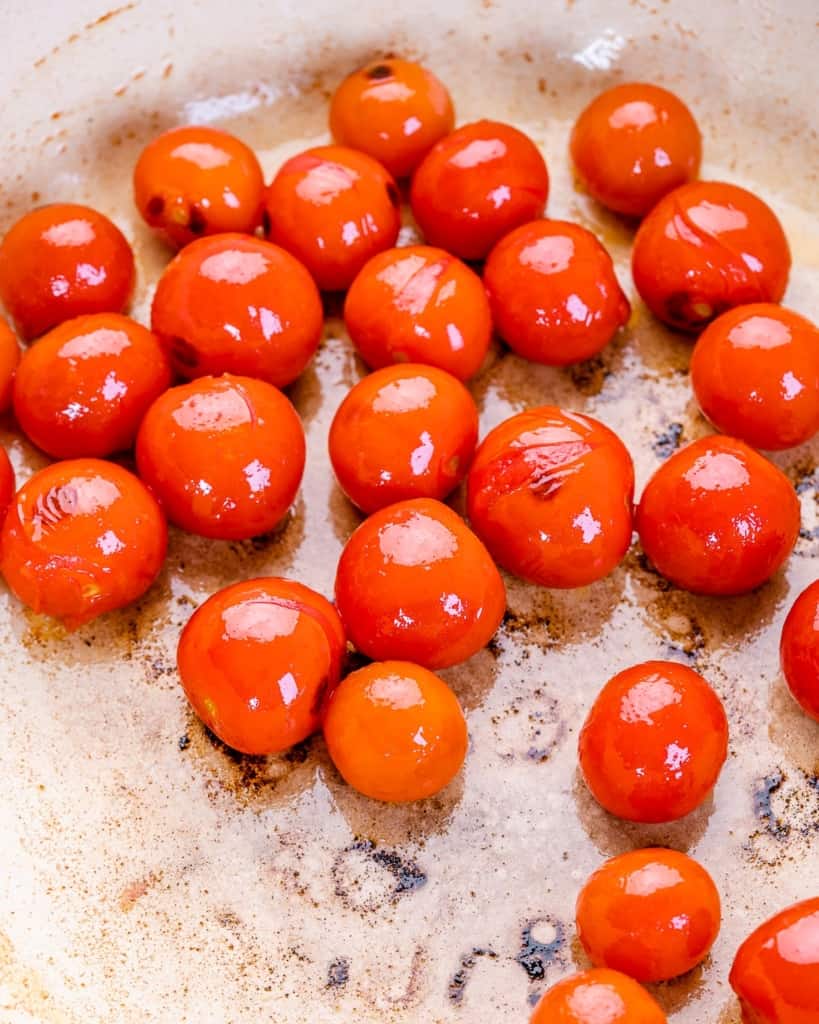 To the same pan add the remaining oil. Sauté the shrimp until almost opaque, around 3-4 minutes. Season with a pinch of salt and pepper, then stir in the pesto sauce and busted cherry tomatoes.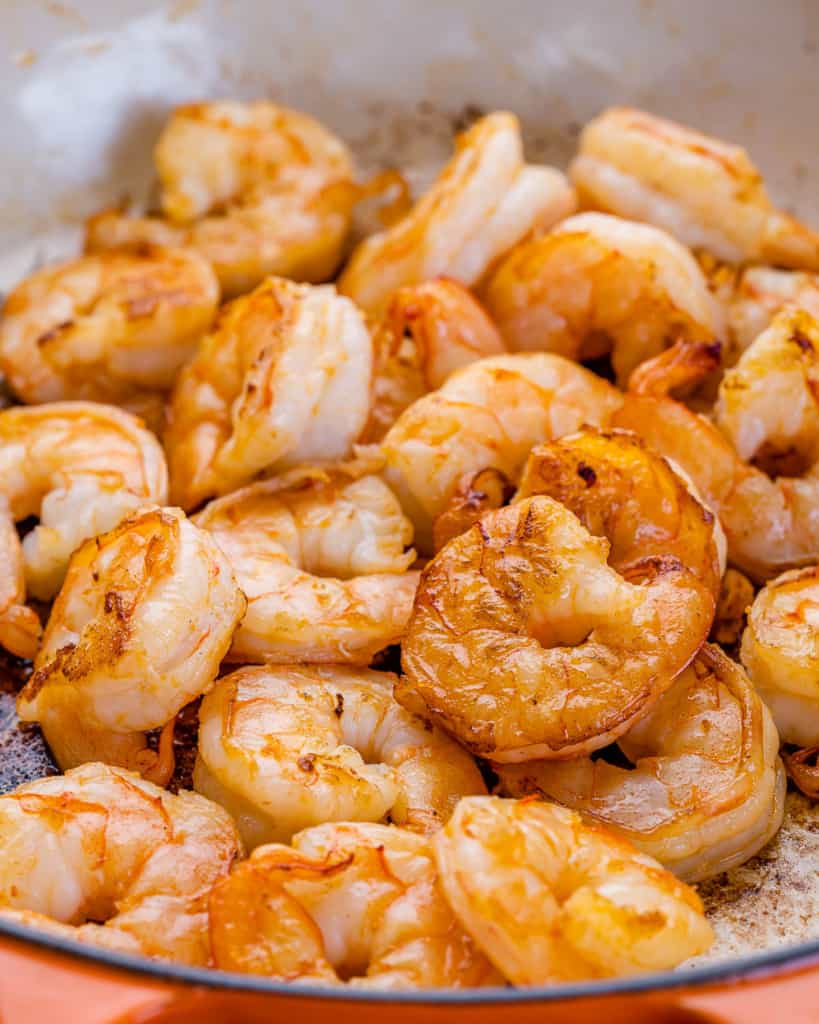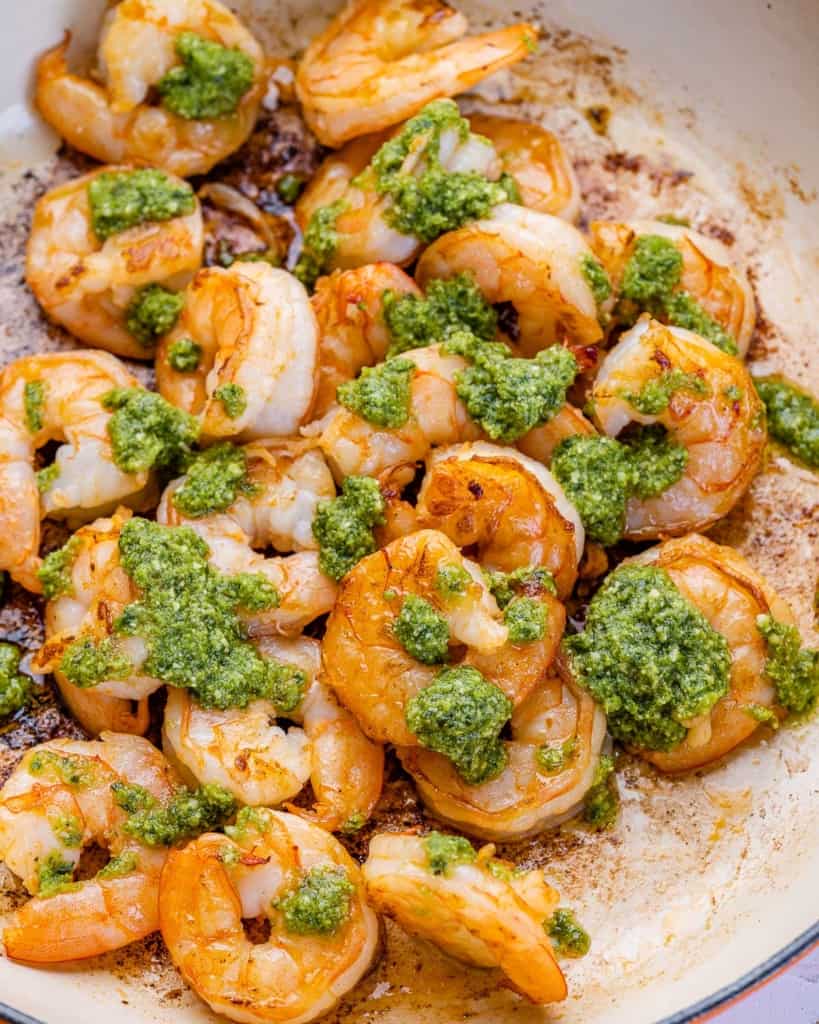 While the pan is still on the heat, cook for 1-2 minutes more, or until the shrimp is pink and curled.
Serve immediately and enjoy!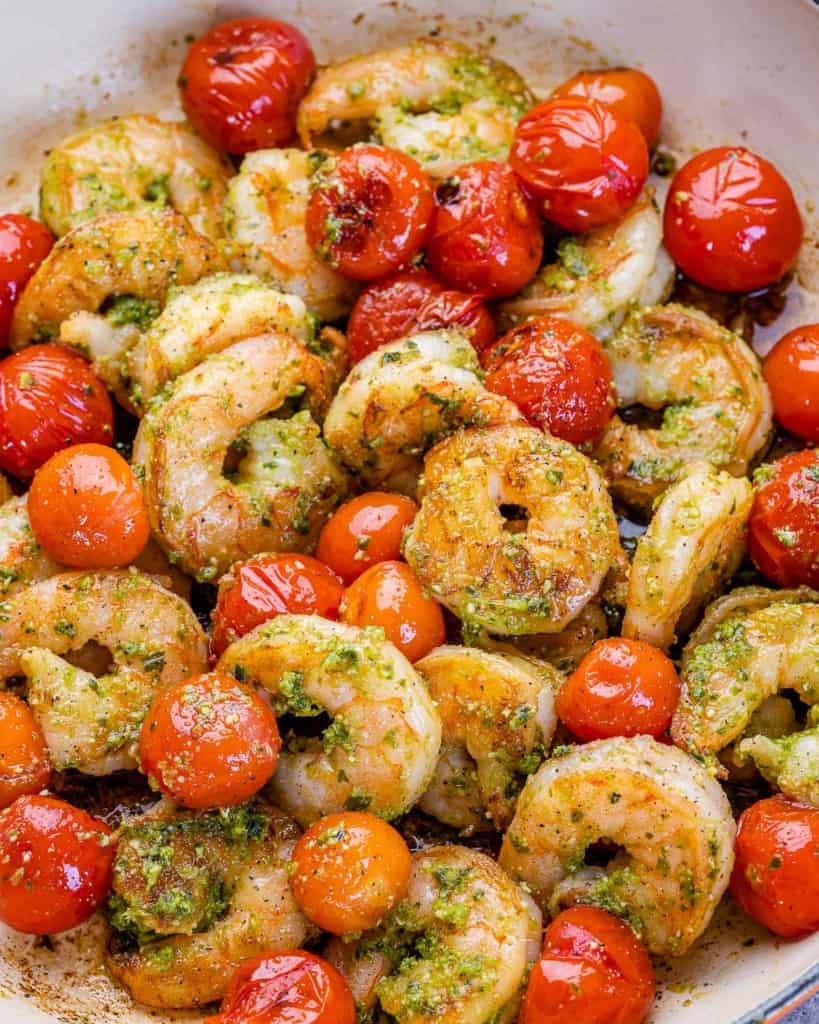 Recipe notes and tips
Add in your favorite veggies with the tomatoes. Consider adding some zucchini or any other veggie of choice.
Like spicy food? Add in some cayenne pepper or sriracha.
Serve this pesto shrimp any sides like rice, potatoes, or roasted veggies.
Use raw shrimp and not pre-cooked shrimp.If you are using raw shrimp, thaw out first and drain. Remove skin and make sure shrimp is deveined.
If you can make homemade Pesto go right ahead. Otherwise you can use store-bought. If you prefer homemade, then checkout my homemade pesto recipe.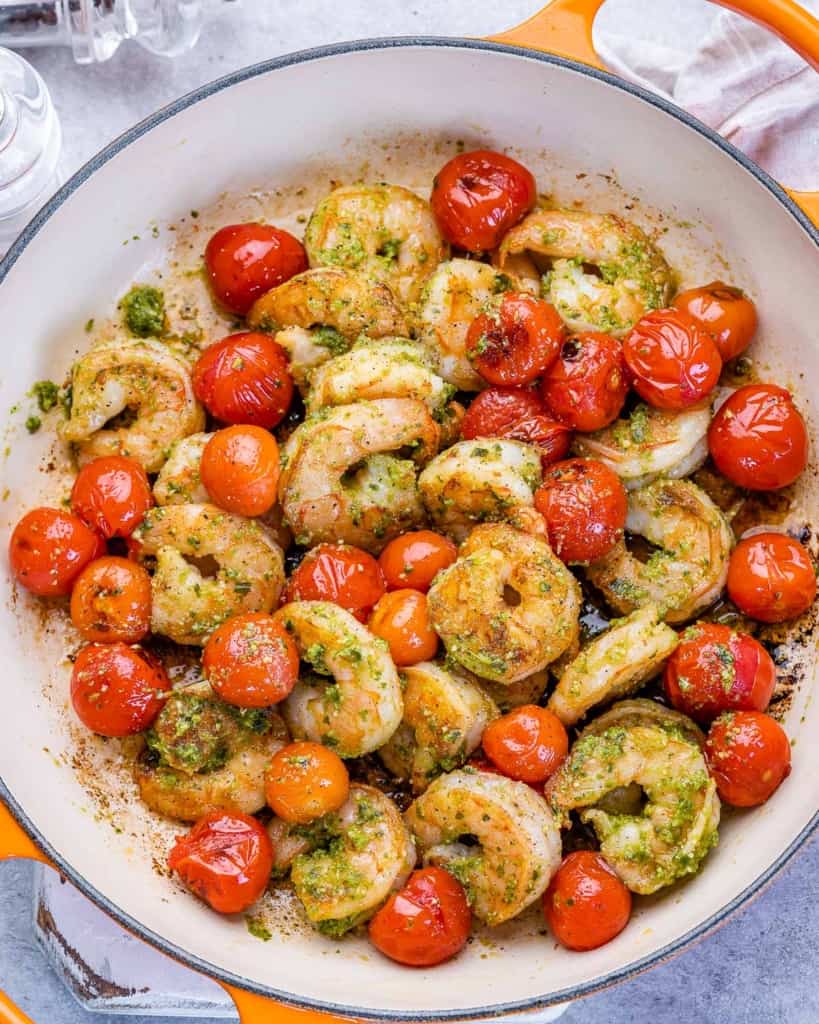 Frequently asked questions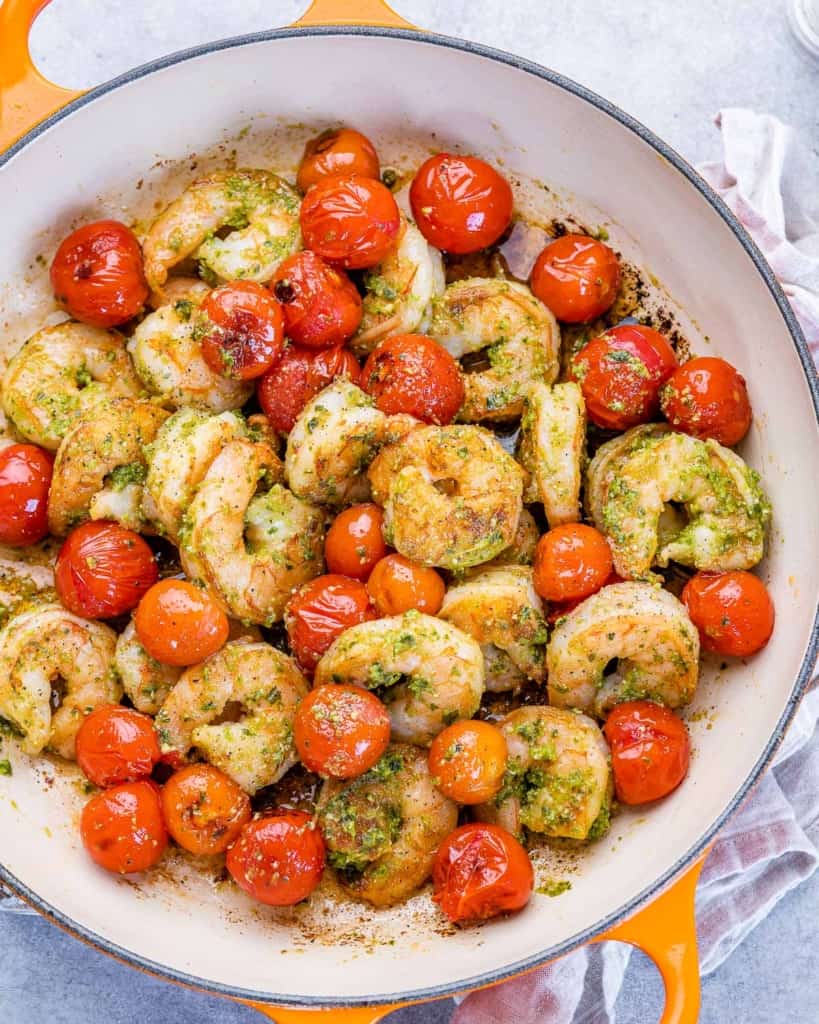 Other healthy and easy recipe you may like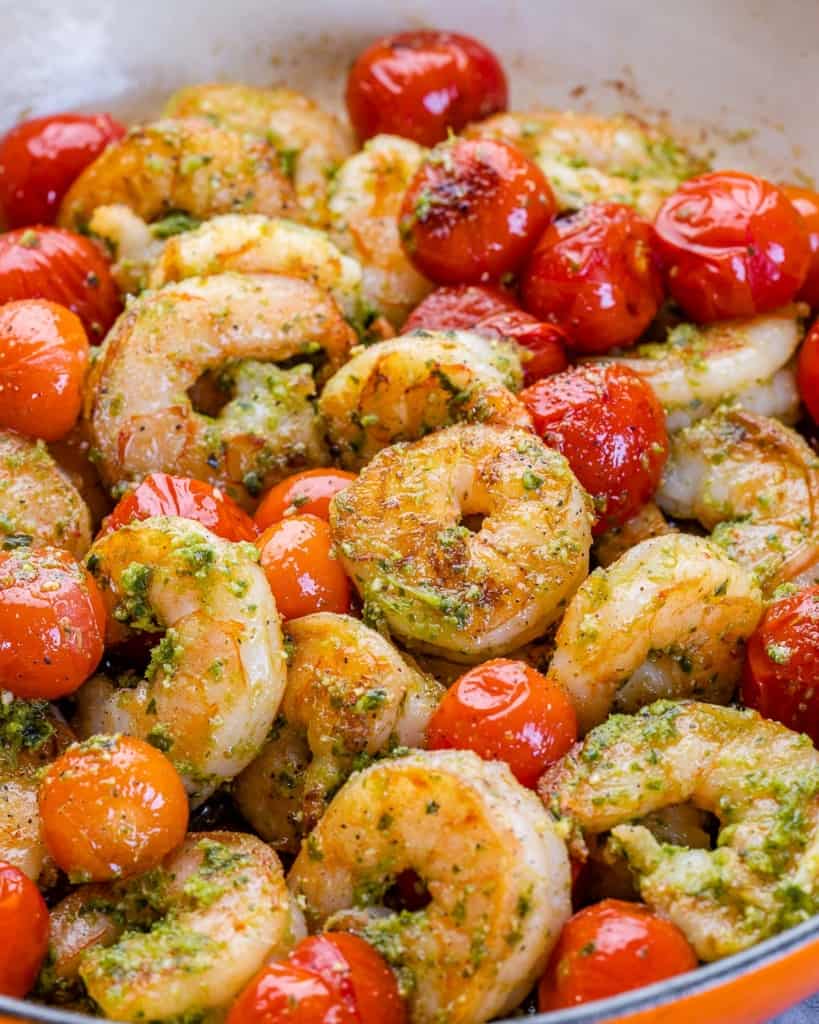 If you try a recipe and you like it, leave us some feedback in the comment section below, and don't forget to rate it! We would love it if you shared it with friends and family.
Finally, please use our hashtag #healthyfitnessmeals on INSTAGRAM for a chance to be featured! FOLLOW Healthy Fitness Meals on FACEBOOK | INSTAGRAM | PINTEREST | TWITTER for all of our latest blog posts and recipes.