This cheesy, Chicken Parmesan Meatballs Recipe is a healthy, delicious, juicy, and tasty chicken meatball recipe that's served over a chunky, Garlic Tomato Sauce. This whole recipe will be ready on your dinner table in just about 30 minutes and is really simple!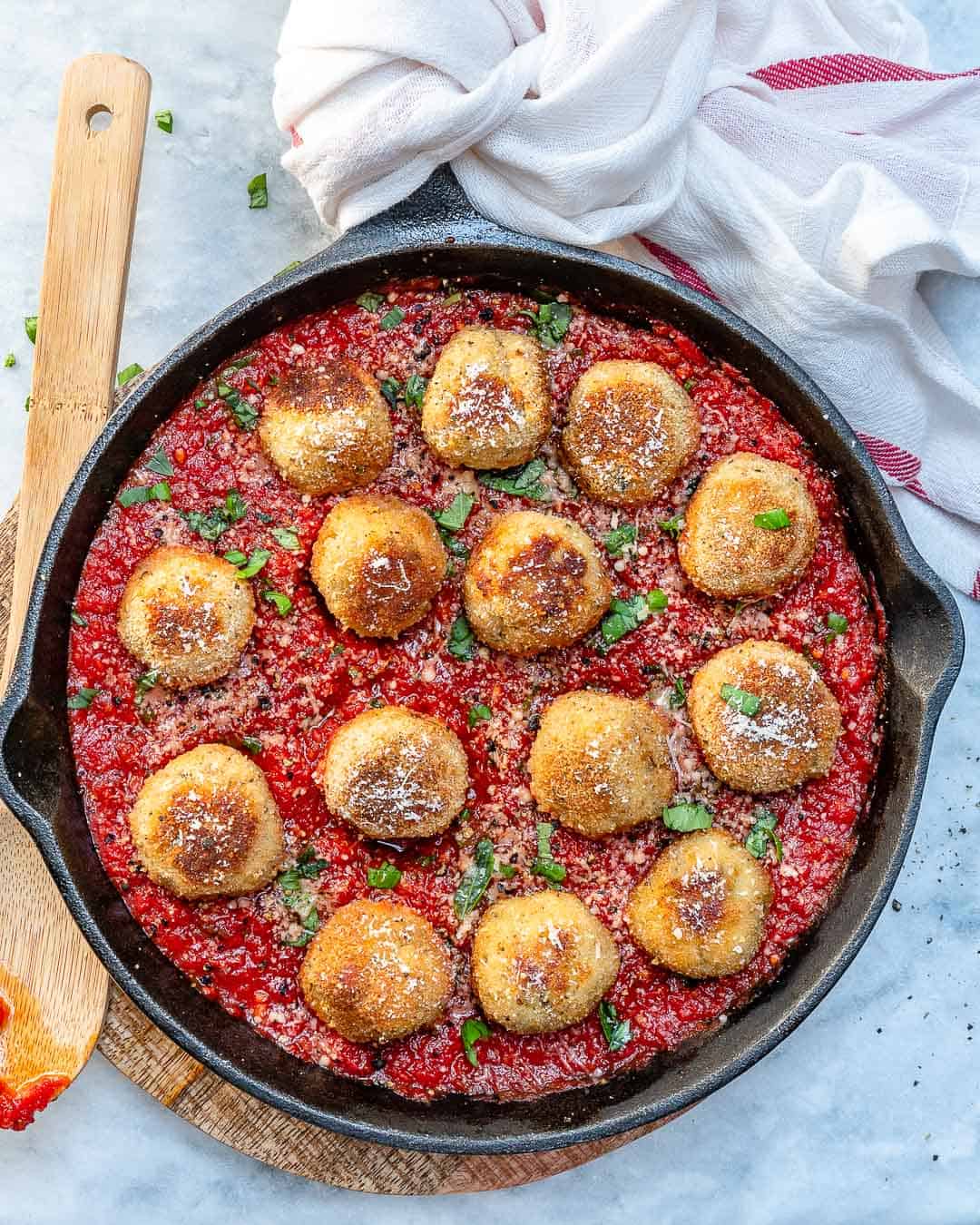 I could go on for days about these cheesy Chicken Meatballs. To make it short, they are simply delicious. If I were to go ahead and brag a bit more, this parmesan meatball recipe is not only healthy, but it is crispy, juicy, and so flavorful, too. Easy to make and ready in about 35 minutes tops. Serve over some whole wheat pasta or some zucchini noodles to keep it more on the low-carb option. Try this chicken meatball recipe for dinner sometime.
The garlic tomato sauce is simmered to perfection and filled with fragrant notes of chunky tomatoes, Italian seasoning, and fresh basil. Make a batch of this chunky, low-carb tomato sauce to use for other meals in the future, too, like spaghetti and meatballs, Italian Spaghetti Squash Boats, casseroles, One-Pot Lasagna Soup, Zucchini Lasagna, and so much more.
Chicken parm meatballs are easy to make in the skillet on weeknights whenever you want something hearty, warm, cheesy, and easy. With only a few simple steps, you will be able to make the best, crispy, chicken meatballs you've ever eaten!
WHY THESE CHICKEN MEATBALLS IN SAUCE ARE THE BEST
Great for weeknights: These cheesy chicken meatballs with chunky tomato sauce are perfect for weeknights or family dinners at home whenever you don't have a lot of extra time on your hands to prepare a meal. This Italian-style chicken meatball recipe is filled very easy steps and ready in less than an hour to create the best weeknight meal!
Filled with Italian flavors: Flavors of thyme, basil, garlic, parmesan and rosemary give this easy skillet recipe bold aromatic flavors and notes that are so satisfying and delicious. Garlic and parmesan create the best flavors.
Healthy with a Keto option: The tomato sauce is natuarally keto and gluten-free, but with a couple simpe swaps, you can easily make these chicken parmesan meatballs keto-friendly. You can use pork rind breadcrumbs or almond meal in place of the breadcrumbs to make this recipe keto and gluten-free.
Versatile: Serve these healthy chicken meatballs with a variety of pasta dishes and savory recipes. You can also make these meatballs with ground turkey.
Kid-Friendly: The kids will love these cheesy and crispy meatballs soaked in the tomato basil sauce. Dip your favorite garlic bread, rolls, or garlic knots into the robust chunky tomato sauce for family-friendly flavors and approval.
WHY THIS MEATBALL IN TOMATO BASIL SAUCE RECIPE WORKS
This recipe is great for meal prep and freezing. If you happen to have a large batch leftover or want to make some extra servings, divide the recipe up into the containers and store appropriately!
Easily make this a vegan meatball recipe by using vegan meatballs or meatless ground mixture and swapping the eggs for flax eggs. Use vegan parmesan.
The garlic and basil sauce works as just a simple pasta sauce whenever you need it to!
Crispy and perfectly moist meatballs cooked with savory parmesan cheese are super comforting and hearty–the best flavors.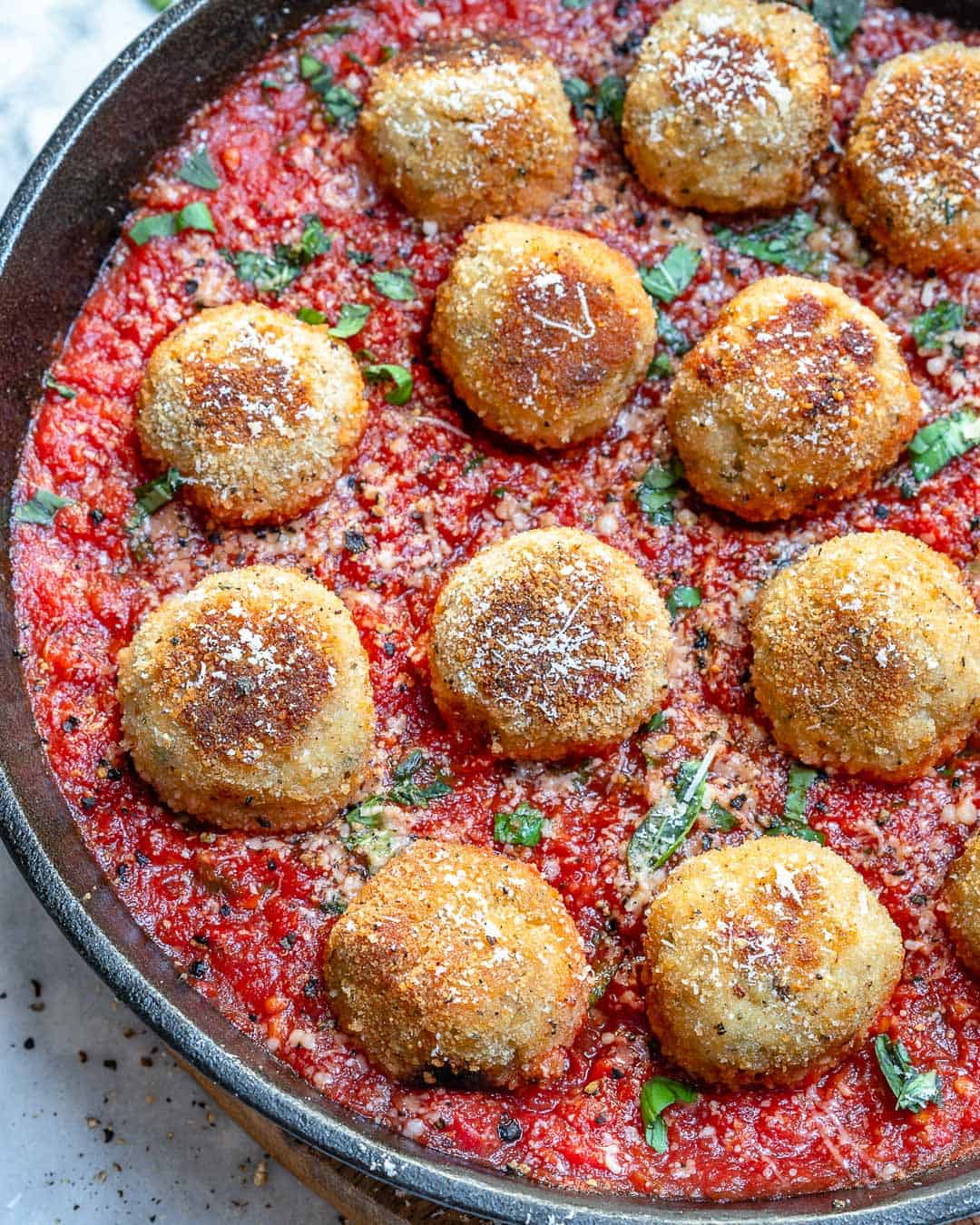 INGREDIENTS FOR THIS TASTY RECIPE, notes, and tips
This is a list that features the simple ingredients that are in this easy, chicken parmesan meatballs recipe. For a list of the full measurements, be sure to scroll down to the recipe card.
Ground Chicken– Tender ground chicken is a lean option for protein in this healthy meatballs recipe. Ground chicken allows the meatballs to stay moist and tender on the outside while they get crispy on the outside.
Breadcrumbs–Use whichever kind of breadcrumbs you would like for these meatballs. Panko breadcrumbs will work for a gluten-free meatball option.
Parmesan– Freshly grated parmesan is the best because of the flavors it gives these meatballs. So savory and cheesy.
Eggs– Eggs allow the meatballs to stick together and form into meatballs.
Seasoning– A blend of Italian seasoning, salt, and pepper is used to make sure this chicken meatballs recipe tastes the best.
Oil– We like to use a high-quality olive oil because it is flavorful and rich. A good olive oil is key to yummy cooking.
Garlic– Fresh garlic provides enough savoriness to the basil tomato sauce to make sure it is perfect.
Crushed Tomatoes– Canned crushed tomatoes are easy to use for the tomato sauce, but feel free to use homemade crushed tomatoes, too.
Fresh Basil– You will want to make sure you have the fresh basil because it really allows the sauce to taste even better.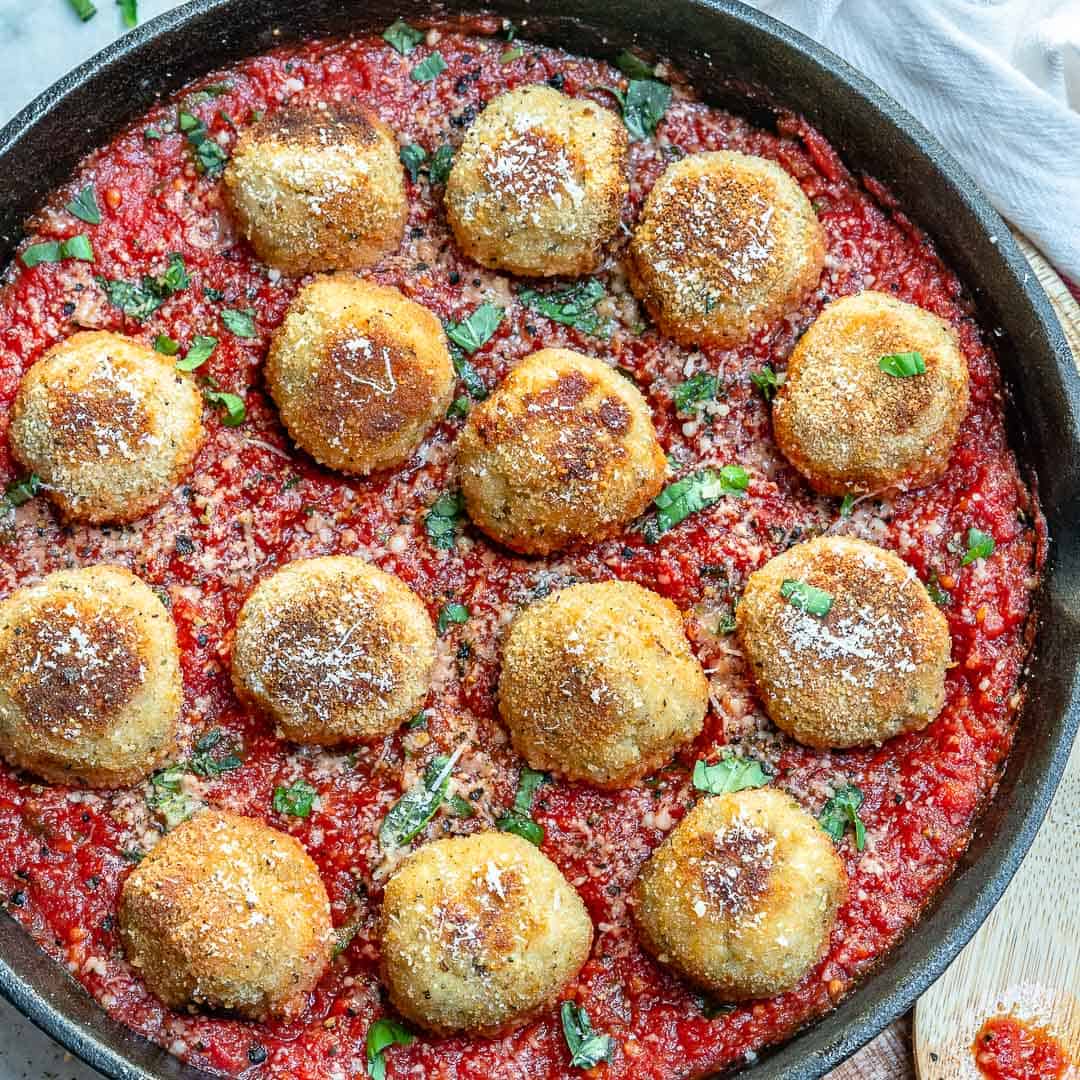 What to serve with chicken meatballs
Meatballs are quite versatile whether you make them with chicken or not. If they are made with a tomato sauce base, it would taste great with some whole grain spaghetti or some zucchini noodles, also referred to as zoodles. You can also serve them over spaghetti squash. They will also taste great with a bunch of grilled veggies or on bread sliders.
We like to serve these chicken meatballs with veggies like Garlic Roasted Broccolini, Oven-Roasted Parmesan Green Beans, fresh Caprese Salad, Caesar salad, and more.
HOW TO MAKE HEALTHY CHICKEN MEATBALLS
Prepare and stir ingredients: First, prep all of the ingredients by measuring everything out and chopping anything that needs to be diced or minced as this will save you a ton of time. Place the ground chicken, breadcrumbs, grated parmesan, eggs, seasoning, salt, and pepper in a medium to large bowl and mix with your hands until combined being careful not to overmix.
Form the meatballs: Next, with a tablespoon, scoop out the meatball mixture and roll it between your palms until a nice round ball is formed. We like to grease our hands with oil a bit so the meatball mixture doesn't stick to our hands.
Repeat: Repeat with the remainder of the mixture until all of the meatballs are formed. Next, evenly roll each meatball into the breadcrumbs making sure to coat the entire surface to make sure they get nice and crispy golden.
Cook the meatballs: In a large skillet, heat oil until warm. Next, add the meatballs and sauté on each side until golden brown in color on the outside but still uncooked in the center. This allows the meatballs to be perfecty tender in the end.
Simmer the sauce: With the same pan, add the minced garlic to some oil and cook until fragrant but not burnt. You want just enough flavor in the recipe. Add the crushed tomatoes, Italian seasoning, and season with salt and pepper–do not be shy with the seasoning!
Return to skillet: Allow the tomato sauce to simmer until a low boil forms, then transfer the meatballs back to the skillet into the sauce. Cook the meatballs in the sauce for about ten minutes to make sure they are able to absorb all of the Italian flavors.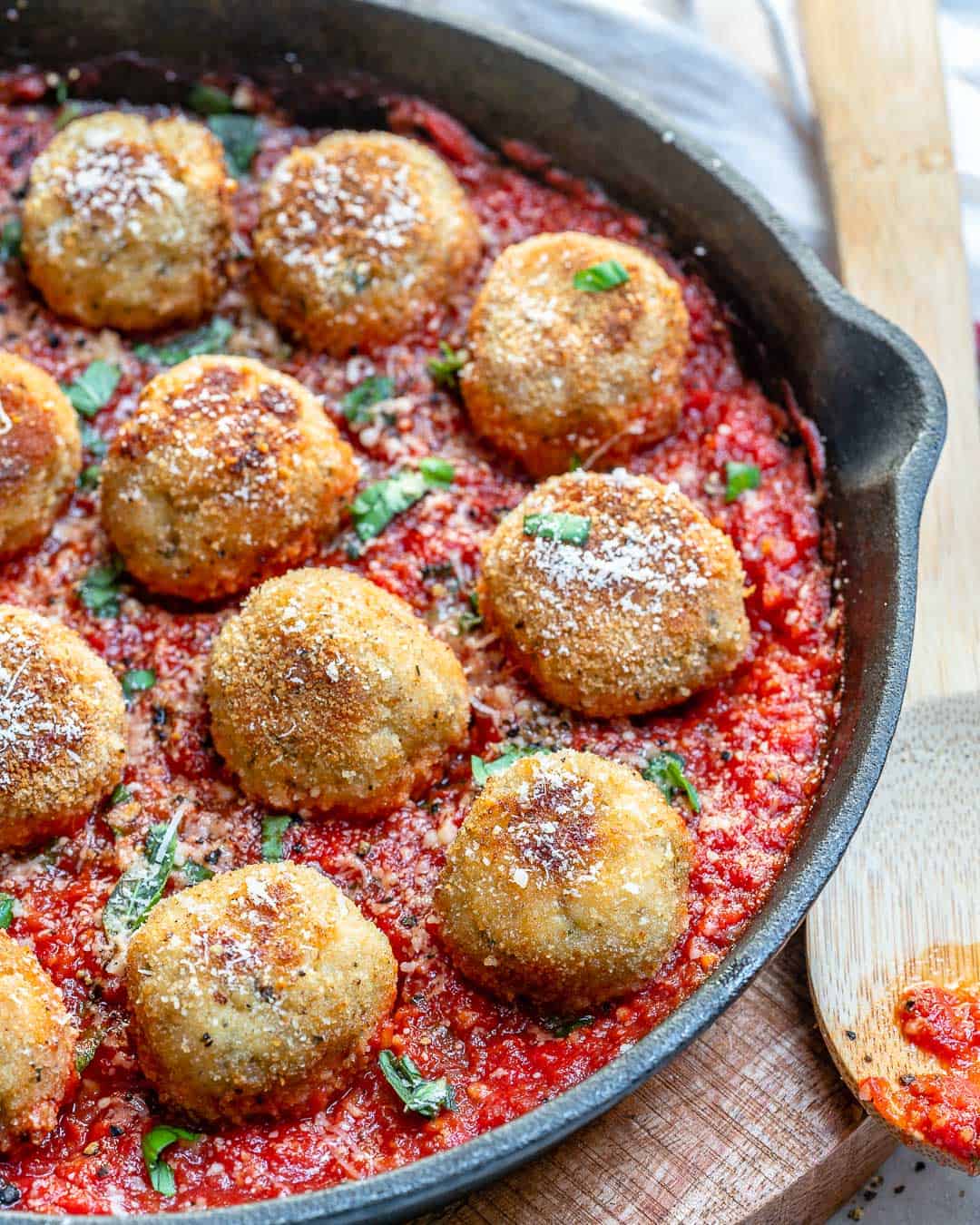 Enjoy with fresh basil and extra parmesan for serving.
FREQUENTLY ASKED QUESTIONS
What happens if you don't use breadcrumbs in meatballs?
If you do not use breadcrumbs in meatballs, your meatballs will probably still turn out fine! Most of the time, meatballs are able to stick together and cook fine without the breadcrumbs.
Is it better to cook meatballs in sauce or in the oven?
We like to cook meatballs in the sauce because the meatballs absorb all of the rich tomato flavors.
Can you overcook meatballs in sauce?
Yes, if you overcook meatballs in sauce, then they will turn out to be chewy and soggy. Remove the meatballs from the heat as soon as they reach 164 degrees Fahrenheit internally.
Why are my meatballs tough?
Meat typically shrinks when it is cooked. For meatballs, it is important to add binders like eggs and breadcrumbs to keep the meatballs tender and juicy. Try not to skip on these two ingredients otherwise, you will end up with tough meatballs. My chicken meatball recipe does call for breadcrumbs and eggs so add them in!
Can I bake the Chicken Meatballs?
If you prefer to bake these chicken meatballs rather than pan-sear them, you can definitely do so. Skip the part to recoat the meatball after you roll into a ball. Place on a pan lined with aluminum foil and place in the oven. Bake for about 15-20 minutes until they are browned.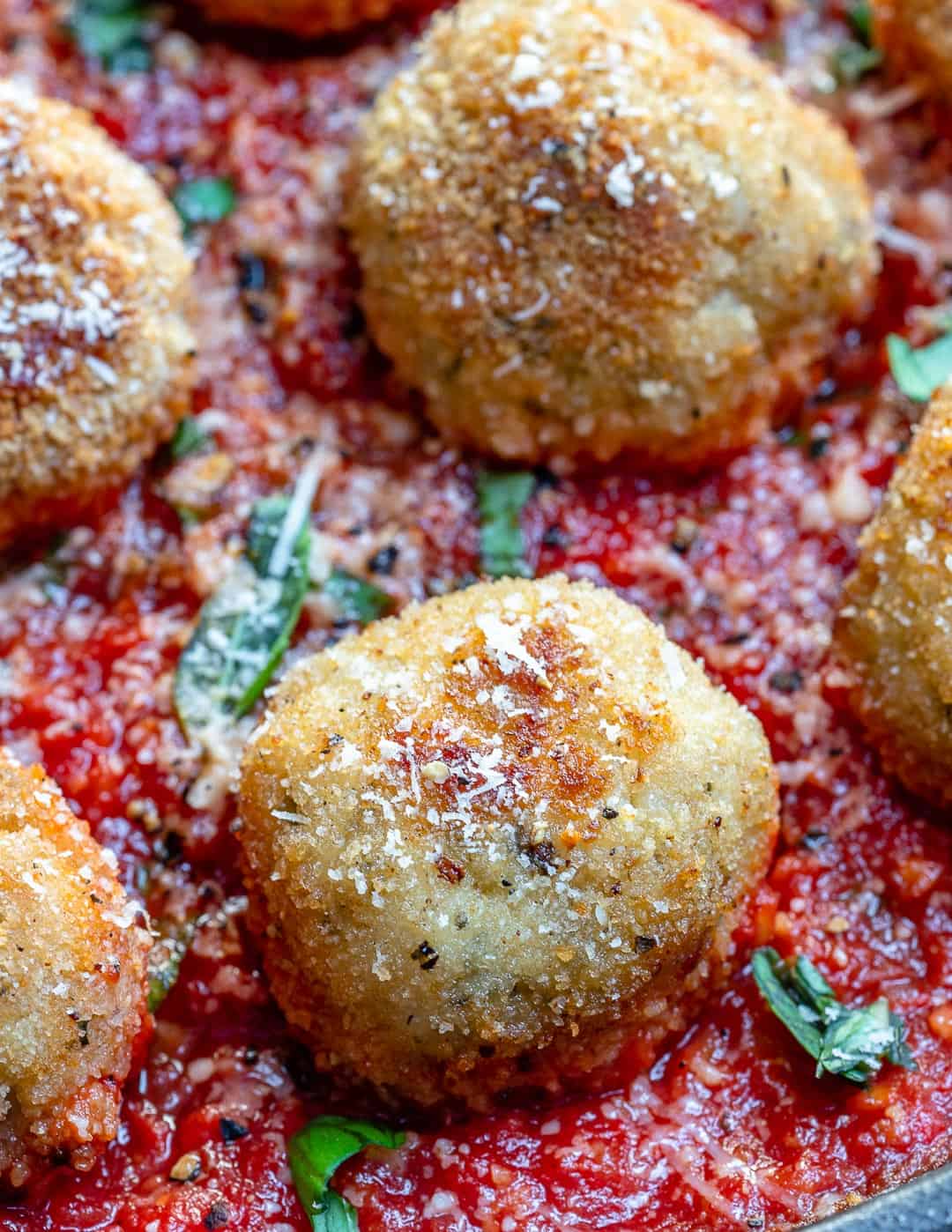 More meatballs recipes
MORE RECIPES YOU WILL LOVE
Lemon and Parmesan Chicken Orzo Soup
Remember to subscribe to my NEWSLETTER for free and receive recipes like this Chicken Meatball Recipe delivered right to your inbox!
If you try a recipe and you like it, please use my hashtag #healthyfitnessmeals on INSTAGRAM for a chance to be featured! FOLLOW Healthy Fitness Meals on FACEBOOK | INSTAGRAM | PINTEREST | TWITTER for all of my latest blog posts and recipes.
Chicken Parmesan Meatballs In Tomato Sauce
This cheesy, Chicken Parmesan Meatballs Recipe is a healthy, delicious, juicy, and tasty chicken meatball recipe that's served over a chunky, garlic Tomato Sauce. This whole recipe will be ready on your dinner table in just about 30 minutes and is really simple!
Print
Pin
Rate
Ingredients
1

pound

Ground Chicken

½

Cup

Breadcrumbs

+ 2 Tbsp more to coat

½

Cup

Grated Parmesan Cheese

2

Medium

Eggs

½

Tablespoon

Italian Seasoning

1

Can

Crushed Tomatoes

28 ounces

1

teaspoon

Italian Seasoning

2

Garlic Cloves

minced

Sea salt and fresh ground black pepper, to taste

Fresh Basil
Instructions
In a large bowl, combine the ground chicken, breadcrumbs, parmesan, eggs, seasoning, salt, and pepper. Mix well until combined.

Scoop about 1 Tbsp of mixture and roll it between your palms to form a meatball. Repeat with the remaining mixture, then dredge each meatball into breadcrumbs. Set aside on a plate.

Heat 2 Tbsp oil in a large skillet over medium heat. Add meatballs and sauté for 3-4 minutes, turning occasionally until browned but not cooked through. Set aside on a plate.

In the same skillet add garlic and cook until fragrant, for 1 minute. Add crushed tomatoes, Italian seasoning and season with salt and pepper to your taste.

Simmer for about 5 minutes, then return the meatballs into the skillet nestling them into the sauce.

Cook for an additional 10 minutes, or until meatballs are cooked through.

Season with fresh basil and ground pepper and enjoy!
Notes
Nutritional facts:
Please keep in mind that the nutritional information is calculated using a nutrition facts calculator. It is a rough estimate and can vary greatly based on the products used.
Tips:
You may use fresh tomatoes instead of canned if preferred.
If you don't want to use chicken, you may use ground turkey
Grate your own parmesan cheese if possible.
Nutrition
Calories:
343
kcal
|
Carbohydrates:
19
g
|
Protein:
31
g
|
Fat:
16
g
|
Saturated Fat:
6
g
|
Cholesterol:
201
mg
|
Sodium:
529
mg
|
Potassium:
969
mg
|
Fiber:
3
g
|
Sugar:
6
g
|
Vitamin A:
465
IU
|
Vitamin C:
9.9
mg
|
Calcium:
239
mg
|
Iron:
3.9
mg