We love Pasta salads any day of the week and all day long. One of our favorite side-dish recipes that we keep on a weekly rotation. This simple and easy homemade Italian Pasta Salad is perfect for all ages and it's so comforting and tasty. Ready in just 30 minutes.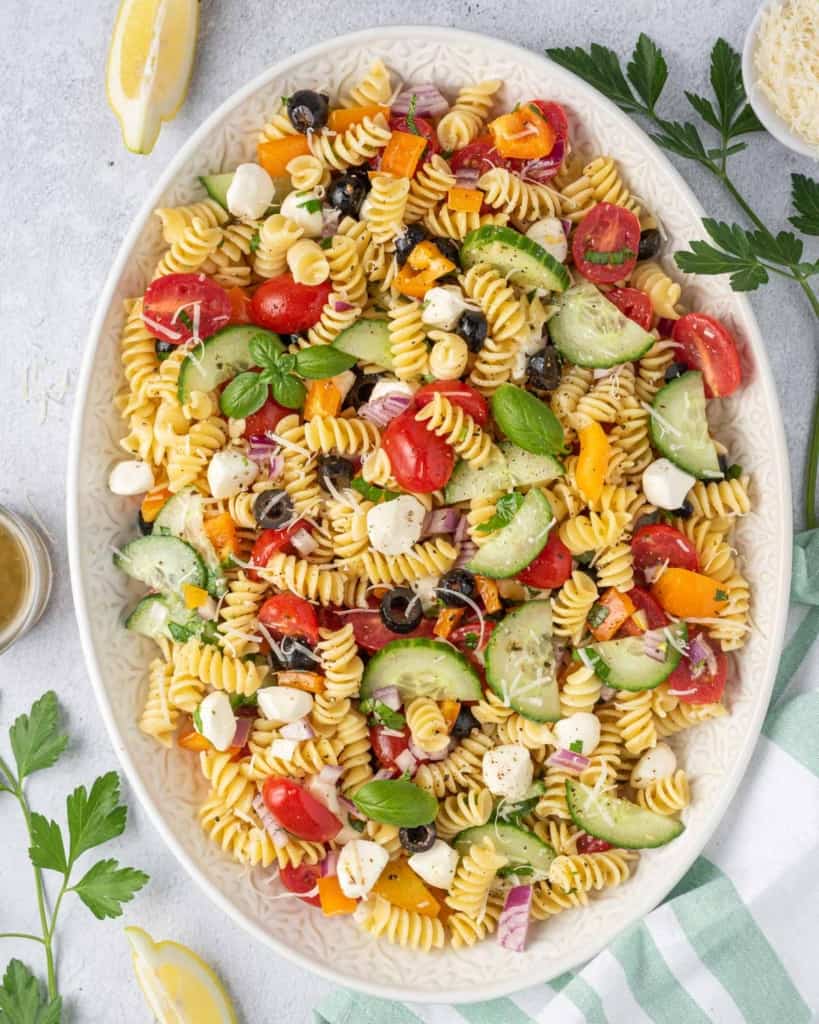 We love pasta if you haven't figured that one yet. We realize that it may not be a "healthy" dish for everyone but it certainly can be enjoyed in moderation or when you just need to serve it to the family or your guests as an appetizer. Plus you can still make this pasta salad healthy by using a healthier pasta of your choice. This Italian Pasta Salad is packed with flavor and filling and is very easy to make with a homemade Italian Dressing. For some added protein we added some mozzarella balls, but if you like you can add some chopped-up chicken breast into it. The more the merrier. Serve this vegetarian Pasta Salad as a meal or as an appetizer. Quick, simple, easy, and ready in 30 minutes.
Why this pasta salad will become your favorite
Packed with flavor: This Italian Pasta Salad is loaded with bold flavors and it's so delicious. You will love it. We promise.
Easy and quick: Simple, easy, and quick recipe to put together that can be ready in just 30 minutes. You can even have it ready in 20 minutes as you boil your pasta. Easy Peasy.
Kid-approved and Family-friendly: The kids and your guests will love this Cold Italian Pasta salad recipe. They are perfect to serve guests or take to potlucks.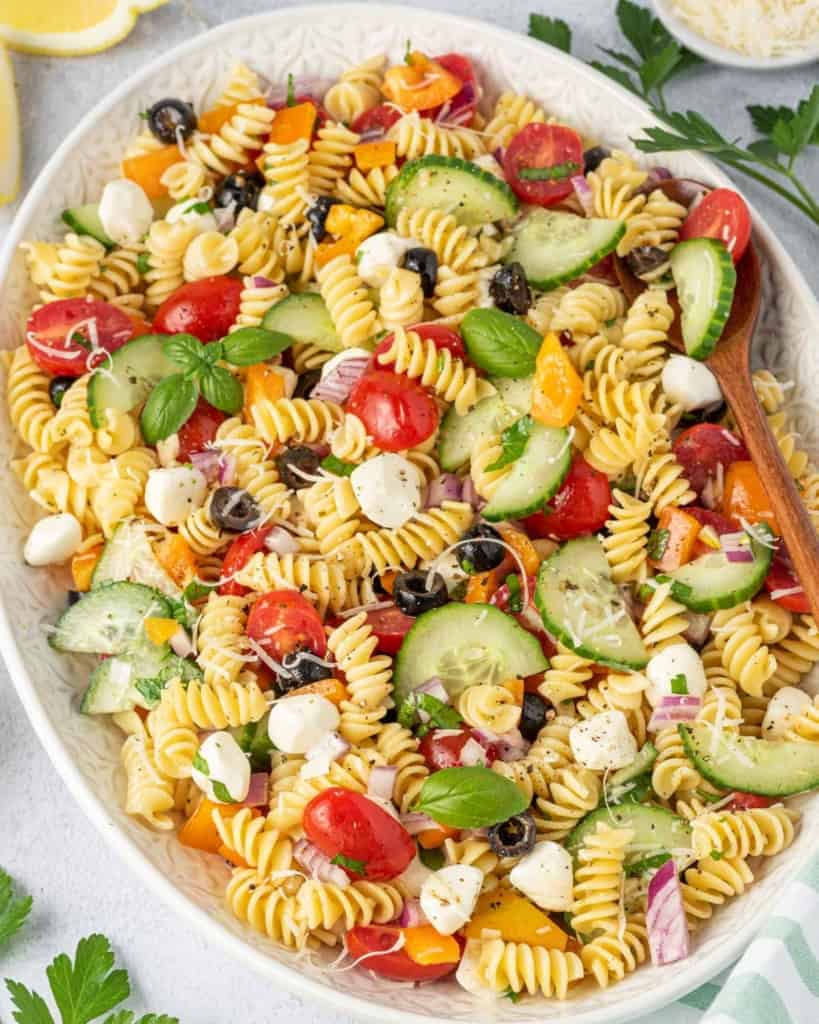 Ingredients you will need for this cold pasta salad
For the dressing
Olive oil: or you may use avocado oil.
Fresh lemon juice: we do recommend that you use fresh lemon juice and not the bottled version.
Honey: This balances out the acidity and adds a nice touch.
Dijon Mustard: you may use honey dijon if you have that instead.
Minced garlic: Use fresh garlic instead of garlic powder.
Seasonings: Italian seasonings, dried oregano, salt, and black pepper
For the salad
Dry rotini pasta: or any pasta of your choice. if you need to use gluten-free you can do that.
Grape tomatoes: the smaller grape or cherry tomatoes work best for this pasta salad, Do not try to use the larger tomatoes unless you really have to.
Mozzarella pearls: this adds in a bit of protein and pairs well with the salad, but it can be optional.
Bell peppers: we used orange, but any other color will do just fine.
Cucumber: use whatever you have on hand. we used English cucumbers.
Red onions: these are perfect for salads, but if you have sweet white onions instead you can definitely improvise.
Black Olives: we used canned, but do use what you have on hand or your favorite kind.
Grated parmesan cheese: grate your own, or use store-bought. For a vegan option, use dairy-free parmesan cheese that is vegan-friendly.
Fresh Parsley and Basil.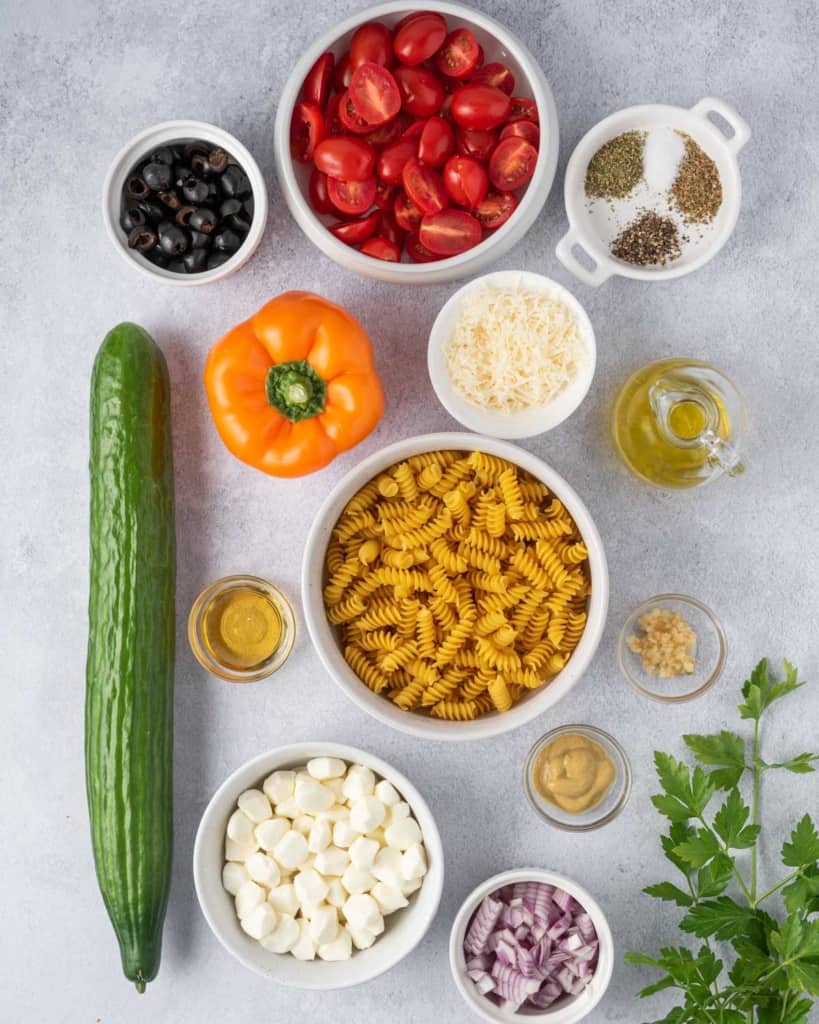 How to make this Italian Pasta Salad From scratch
In a small bowl combine the ingredients for the dressing; olive oil, lemon juice, honey, Dijon mustard, garlic, Italian seasonings, oregano, salt, and pepper. Mix it with a fork until well incorporated and set aside.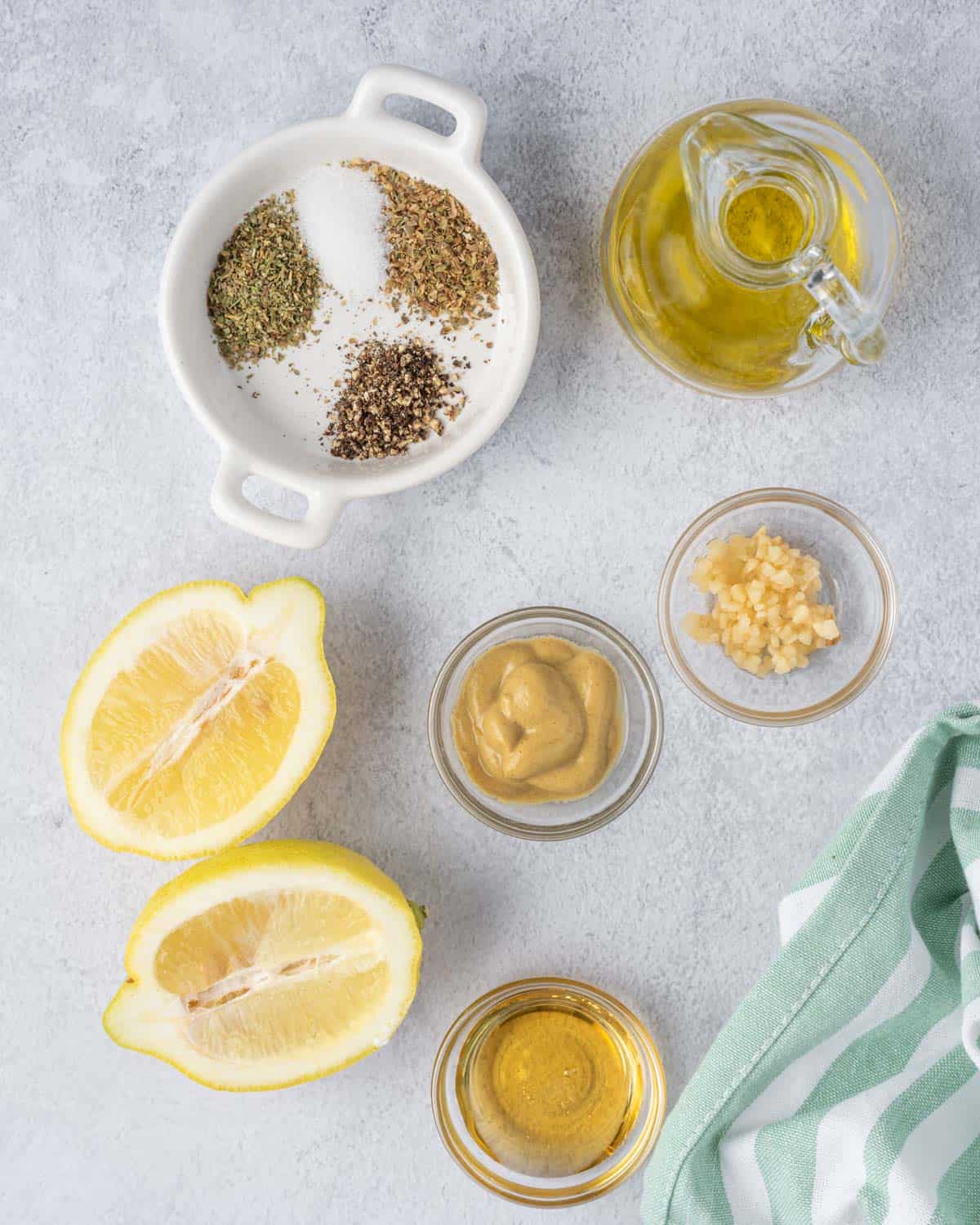 Cook the rotini pasta according to package instructions minus 1 minute. Drain the pasta water and set it aside.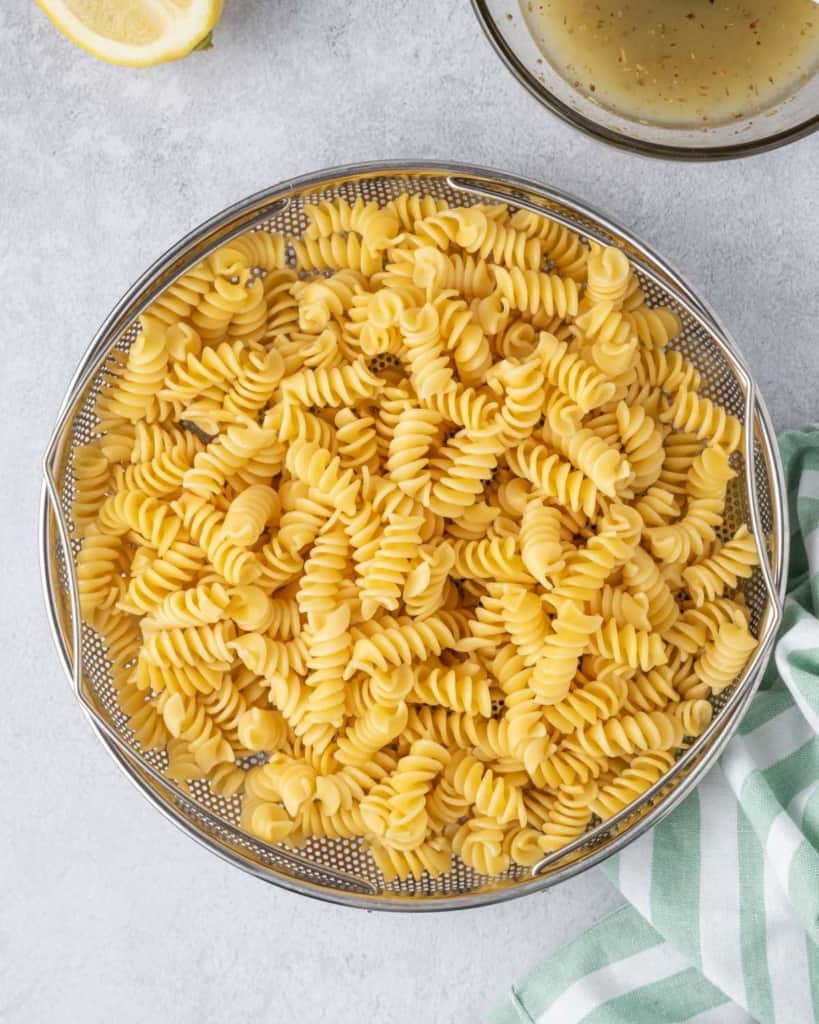 In a large bowl combine the ingredients for the salad; cooked pasta, tomatoes, mozzarella pearls, bell peppers, cucumber, onion, olives, parmesan cheese, and parsley.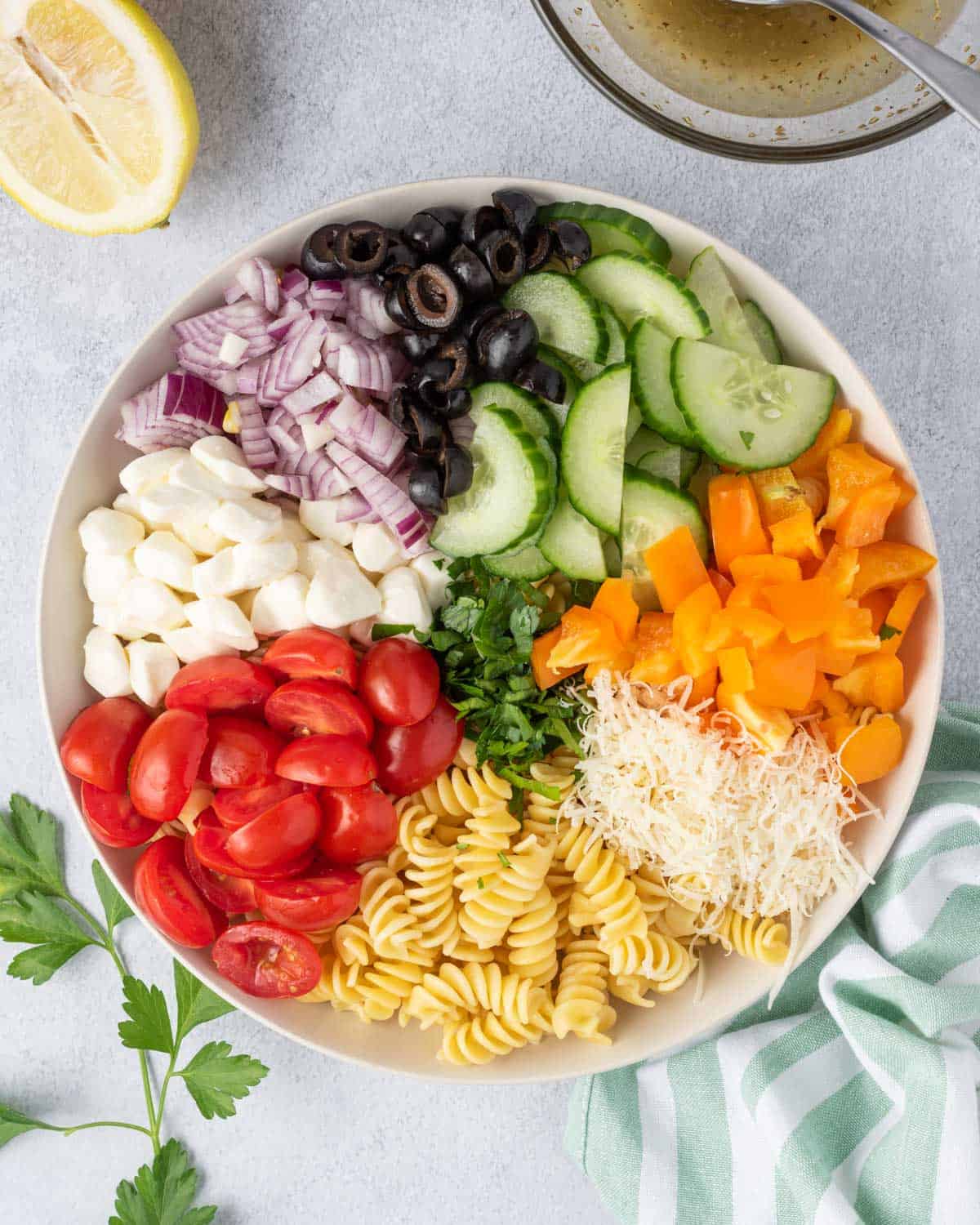 Pour the dressing over the salad and toss them until well coated.
Garnish the salad with basil and transfer the salad to a bowl to serve.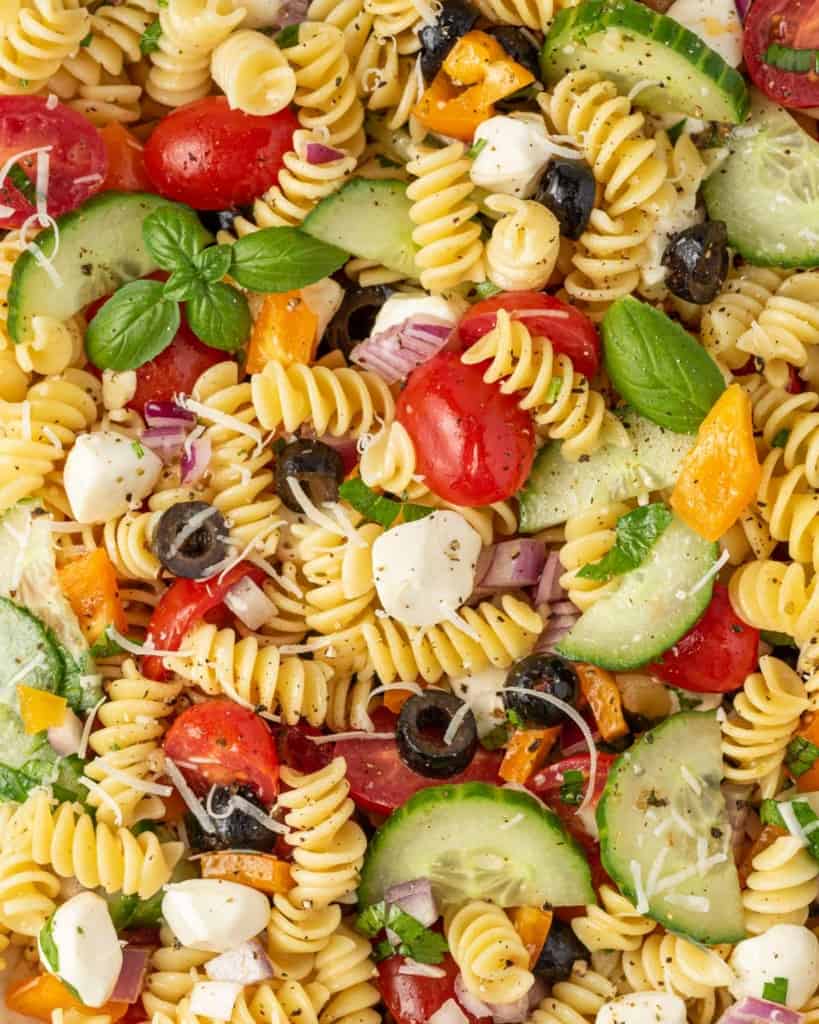 frequently asked questions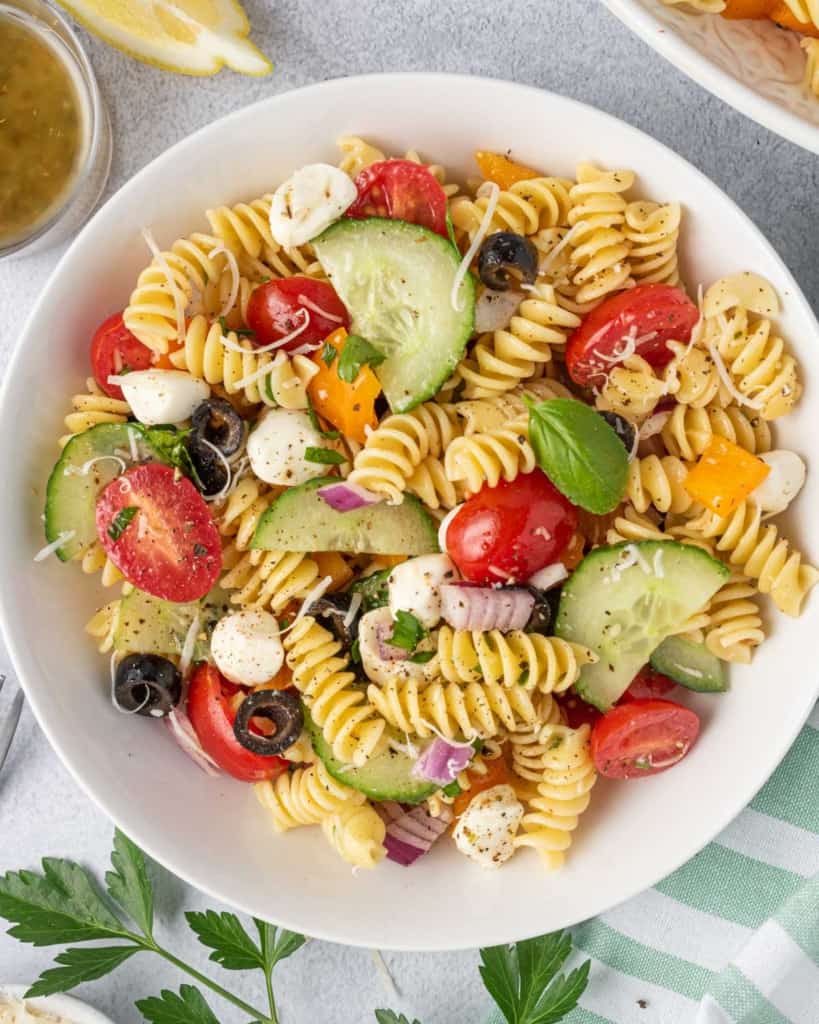 More pasta salad recipes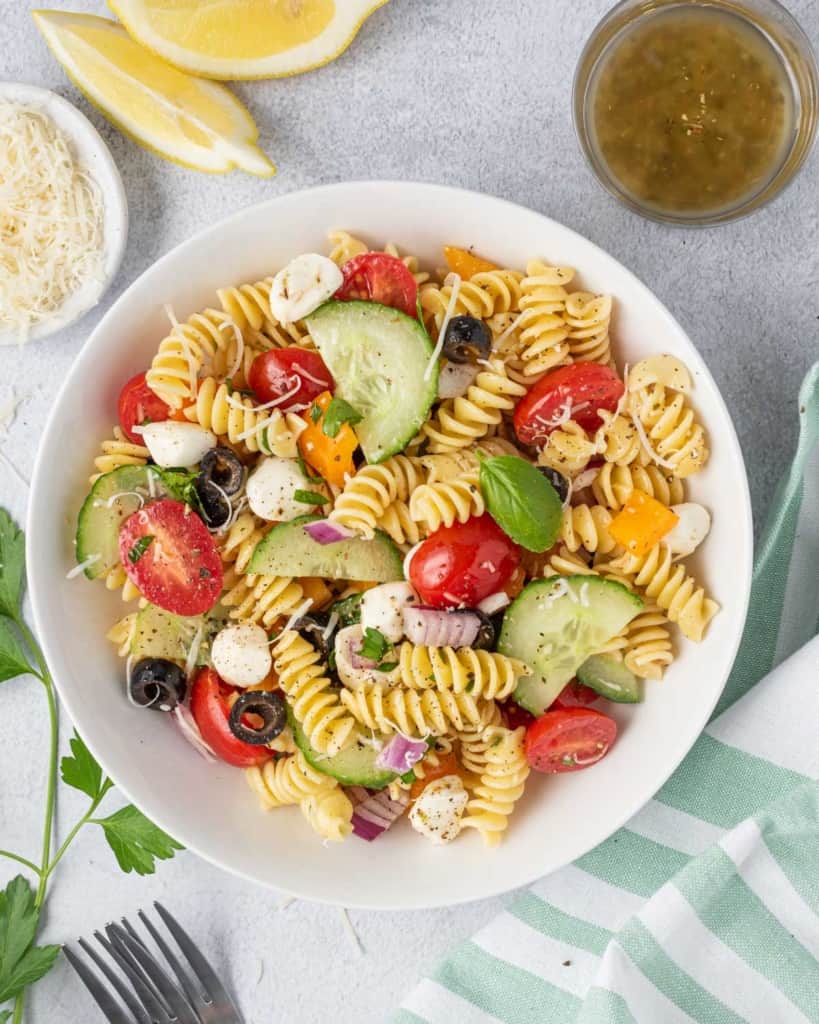 If you try a recipe and you like it, leave us some feedback in the comment section below, and don't forget to rate it! We would love it if you shared it with friends and family.
Finally, please use our hashtag #healthyfitnessmeals on INSTAGRAM for a chance to be featured! FOLLOW Healthy Fitness Meals on FACEBOOK | INSTAGRAM | PINTEREST | TWITTER for all of our latest blog posts and recipes.