This Huli Huli Chicken is incredibly tender, charred to perfection, and coated with a sweet and tangy soy sauce made of sweet pineapple, honey, fresh ginger, garlic, and some more flavorful ingredients that create the perfect symphony of flavors. Ready in less than an hour!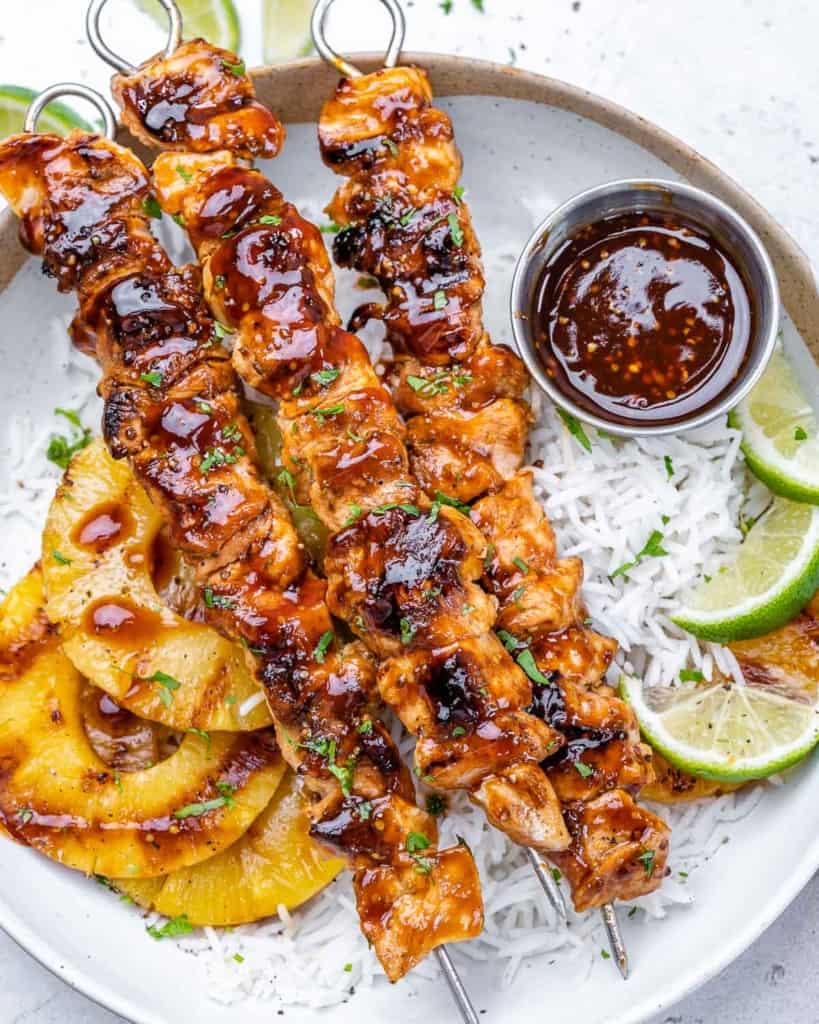 This Hawaiian-inspired Huli Huli chicken is sticky sweet, flavorful, and the perfect option for a flavorful dinner especially when the temperatures are warmer. Perfect for BBQs, parties, cookouts, and any other occasion, this wholesome grilled chicken recipe is an easy recipe that will certainly be a crowd-pleaser.
Serve this recipe over a bed of rice and grilled pineapple wheels for an extra level of bold flavors. Also, this grilled Huli Huli chicken recipe is a great option for a dinner or lunch that is dairy-free and filled with wholesome ingredients that are easy to find.
Why You Will Love This Chicken breast Recipe
Easy to make: This simple grilled chicken skewers recipe is exactly what you need if you're looking for something effortless and easy.
Rich in flavor: All thanks to the Dijon mustard, vinegar, honey, pineapple, and other bold ingredients, this marinated chicken recipe is rich in flavor and filled with vivid qualities.
Great for crowds: If you're looking to serve a crowd, then this Huli Huli chicken is definitely a crowd-pleaser that will please almost anyone!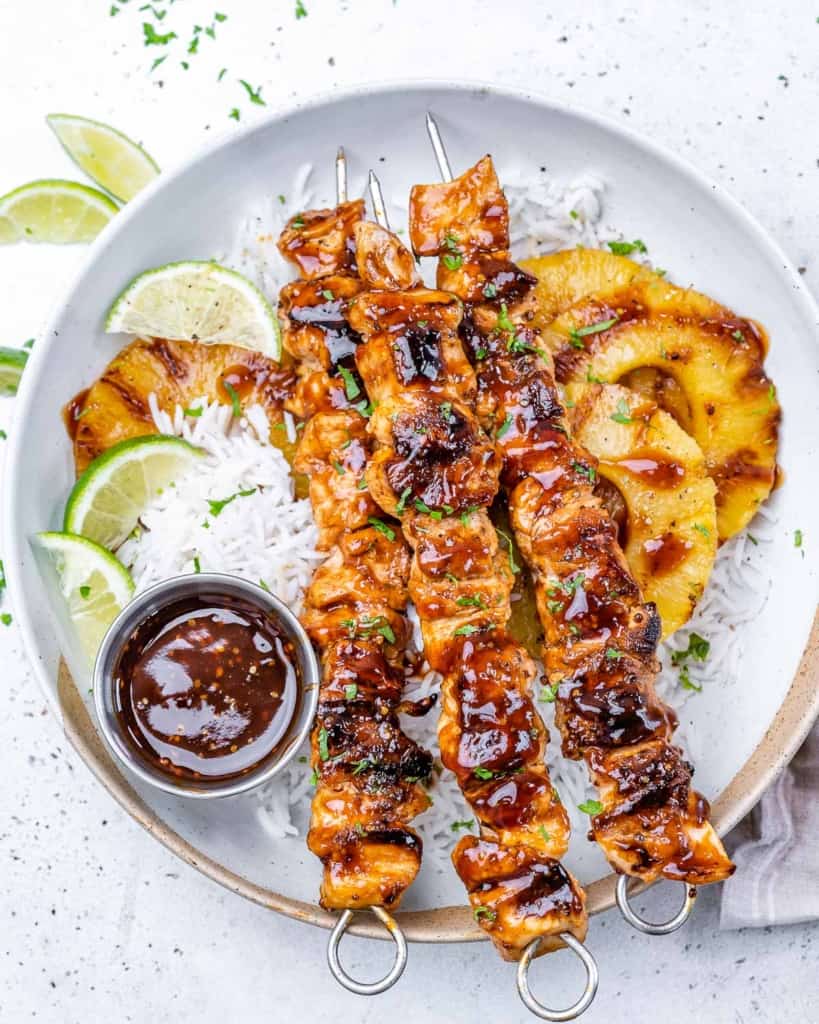 Ingredients Needed to Make This Healthy Chicken skewers
This is just a list of ingredients you will need to make this Huli Huli chicken. The full measurements are listed below.
pineapple, one can with the fruit
soy sauce, or coconut aminos
ketchup, organic or homemade
honey
ginger, freshly grated on the Microplane
garlic, freshly grated on the Microplane
Sriracha
sesame oil
mustard, whole-grain Dijon mustard
vinegar, Sherry, or balsamic
chicken, boneless and skinless, cubed
parsley, fresh
optional: rice.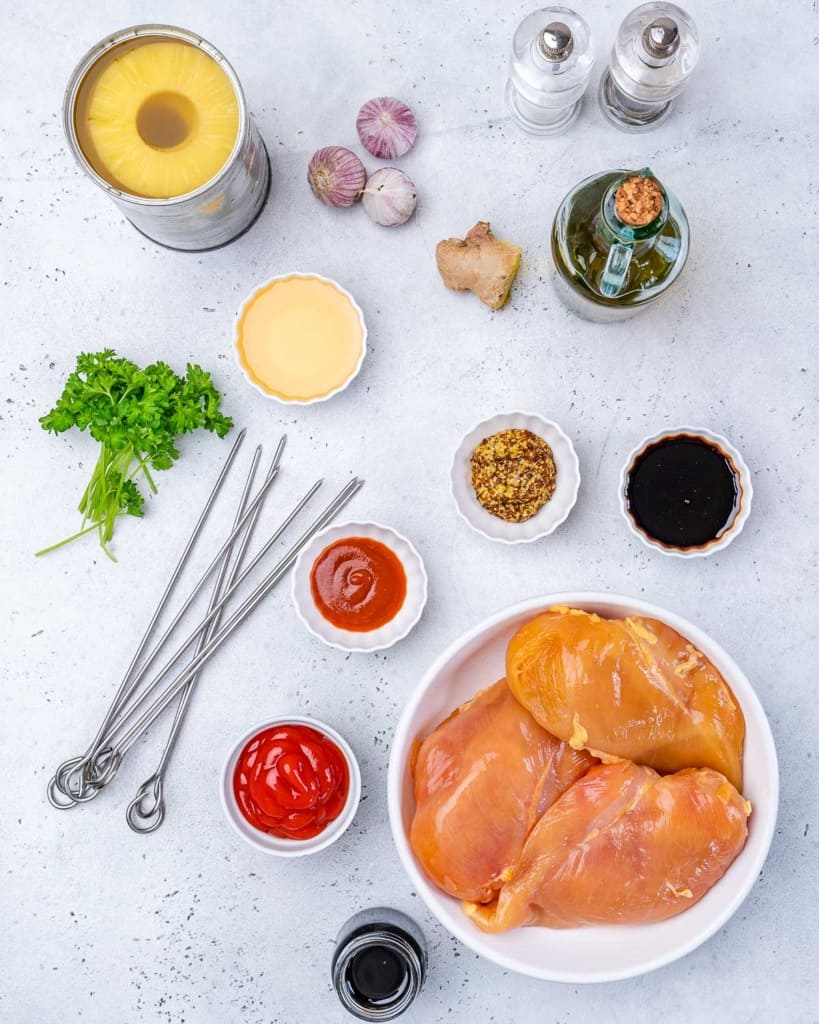 How to Make This Huli Huli Chicken
Make the sauce: First, in a mixing bowl, add the pineapple juice with the soy sauce, ketchup, honey, ginger, garlic, Sriracha, sesame oil, mustard, vinegar, salt, and pepper.
Marinate the chicken: Next, add the chicken to a bag and pour some of the marinades over the chicken. Allow the chicken to marinate for 30 minutes in the refrigerator. Also, reserve the rest of the sauce. Do not toss! You can place the rest of the marinade in the fridge.
Preheat oven or grill: Preheat the grill or oven to medium heat. Thread the skewers through the marinated chicken.
Cook the chicken: Next, cook the chicken four to five minutes on each side. Remove from heat.
Grill the pineapple and serve: Then, add the pineapples to the grill and cook until charred on both sides. Finally, serve the chicken and pineapple over red and fresh parsley. Enjoy!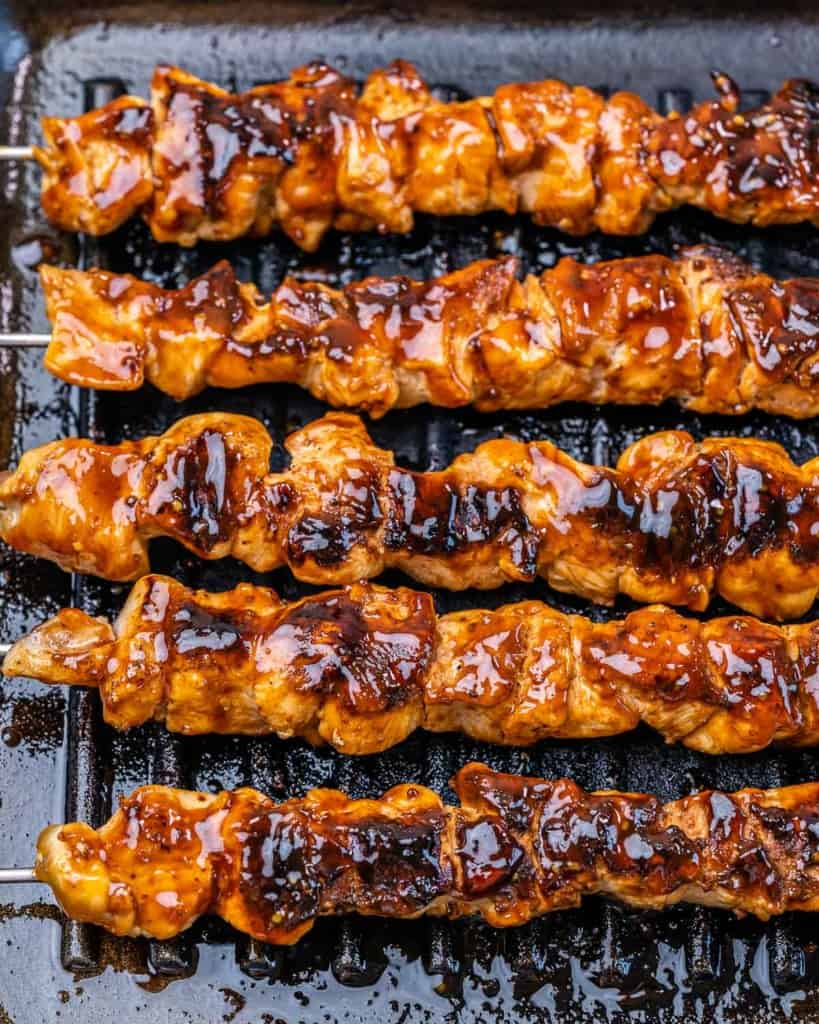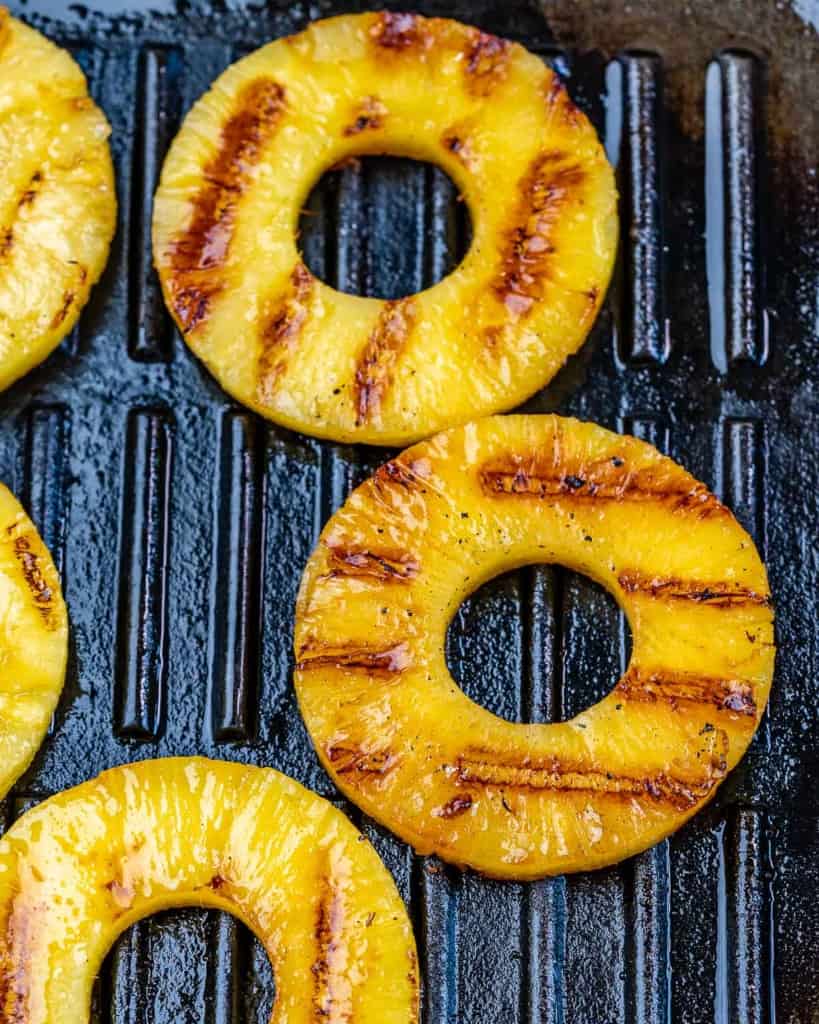 Recipe Notes and Tips
Don't let the remainder of the marinade touch the raw chicken. Keep it separated.
Be sure to cook the chicken to at least 165 degrees Fahrenheit.
Store the leftovers in an airtight container in the refrigerator for up to four days.
For a gluten-free version, serve with gluten-free soy sauce.
Use fresh ginger and garlic if possible. This brings out the flavor.
For a healthier version, substitute the cooked rice for cauliflower rice. We have a great recipe for Cilantro lime rice you can check out.
You may use maple syrup or brown sugar instead of honey.
Swap the chicken breast with boneless chicken thighs. If you prefer not to cook the Huli Huli chicken on skewers, you may cook the chicken breasts as is. Just make sure they are cooked at medium heat until they reach an internal temperature of 165 F.
If using bamboo skewers, then be sure to soak them in water prior to use.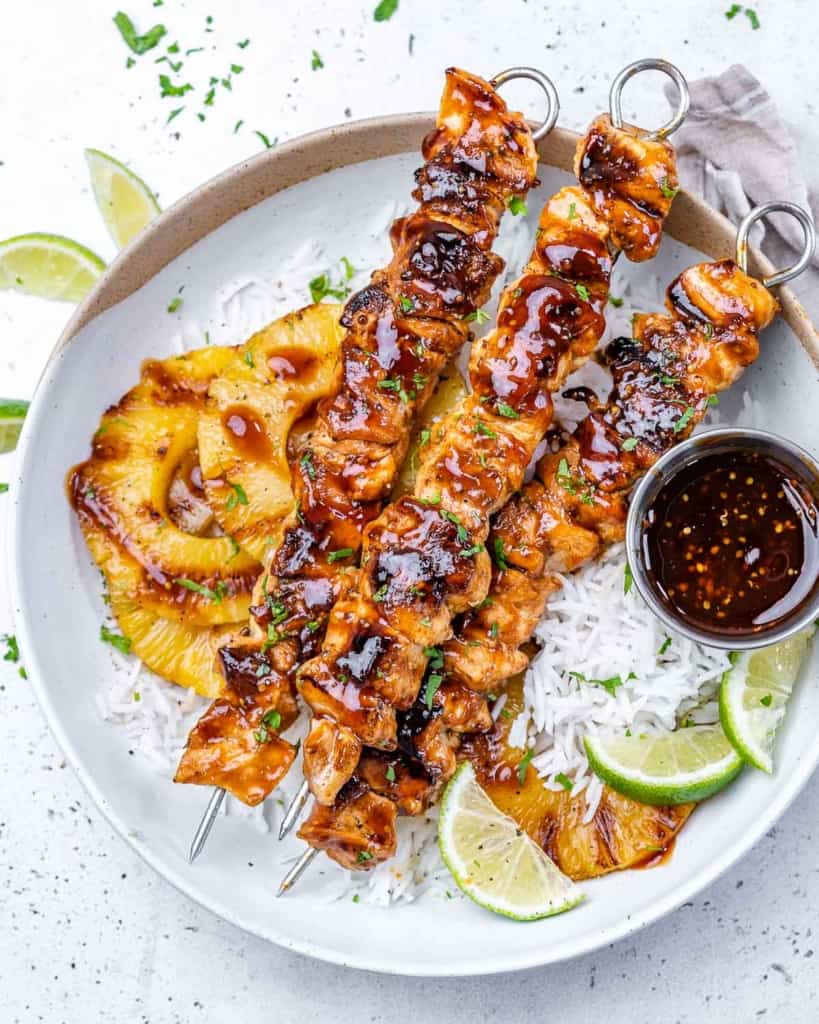 Frequently Asked Questions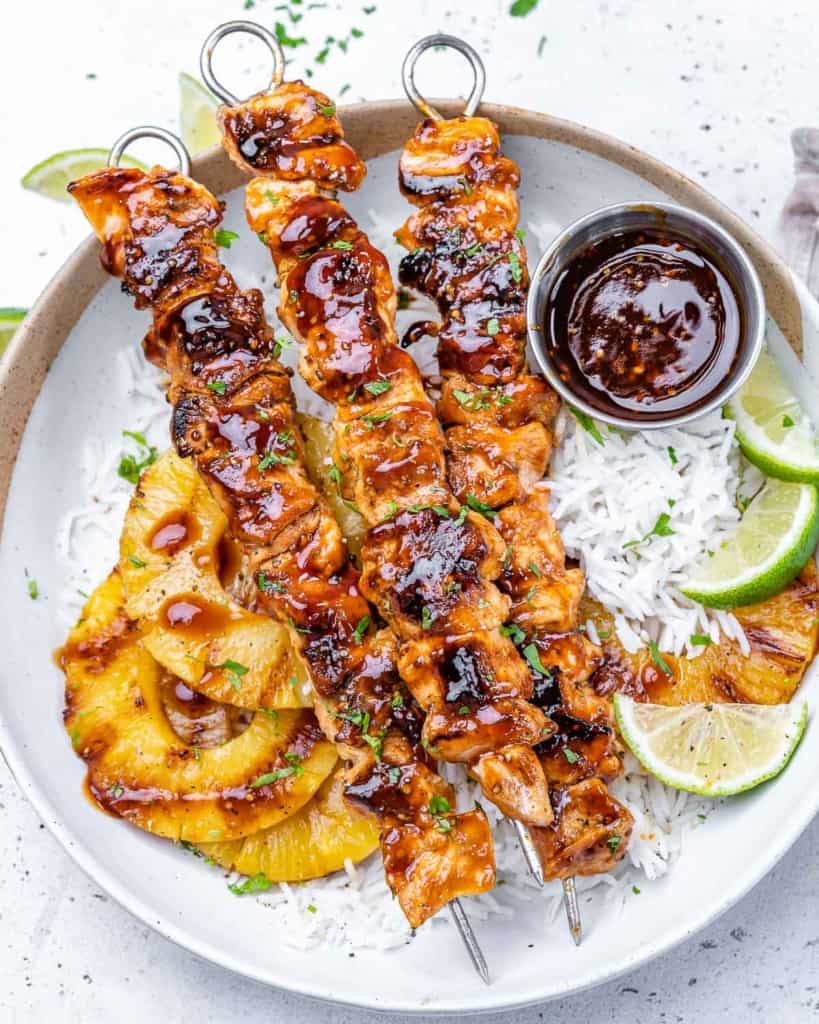 Other Recipes You'll Enjoy
Grilled Chicken and Mango Salad
Grilled Pineapple Shrimp Skewers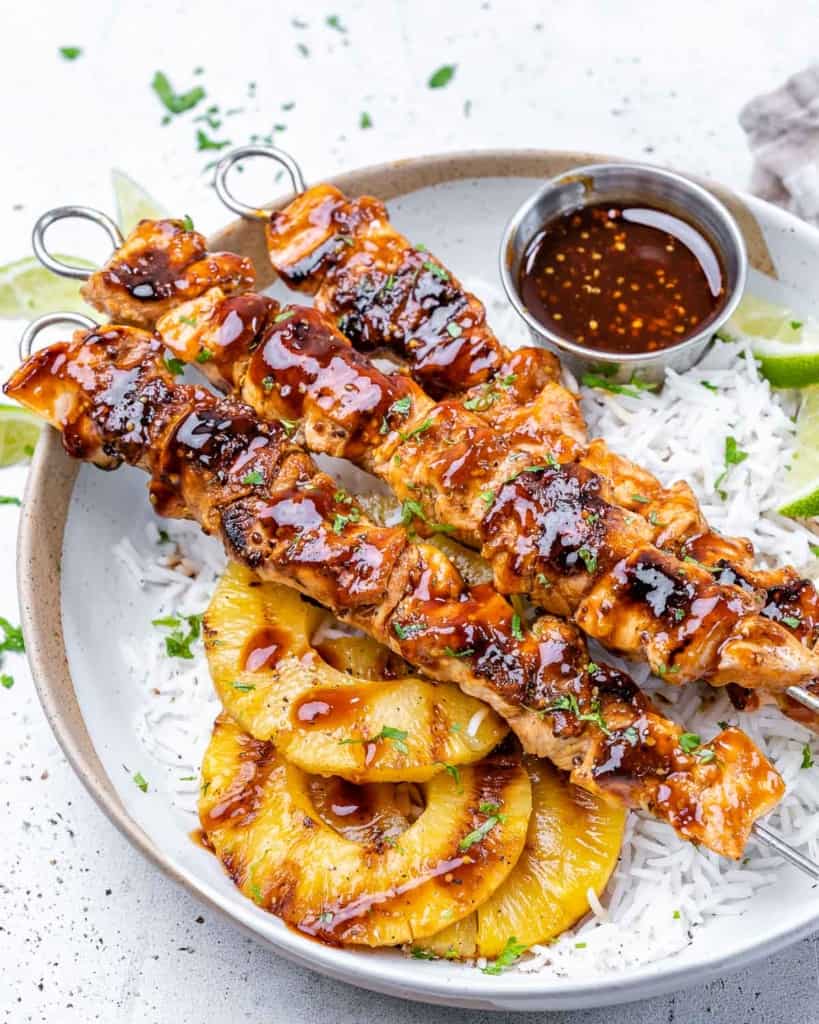 If you try a recipe and you like it, then leave us some feedback in the comment section below, then don't forget to rate it! We would love it if you shared it with friends and family.
Finally, please use our hashtag #healthyfitnessmeals on INSTAGRAM for a chance to be featured! Then, FOLLOW Healthy Fitness Meals on FACEBOOK | INSTAGRAM | PINTEREST | TWITTER for all of our latest blog posts and recipes.