Make this Green beans and tomato salad recipe any time of the year and no one will complain. Easy to make, fresh, and delicious salad that pairs well as a side dish with anything you plan on making.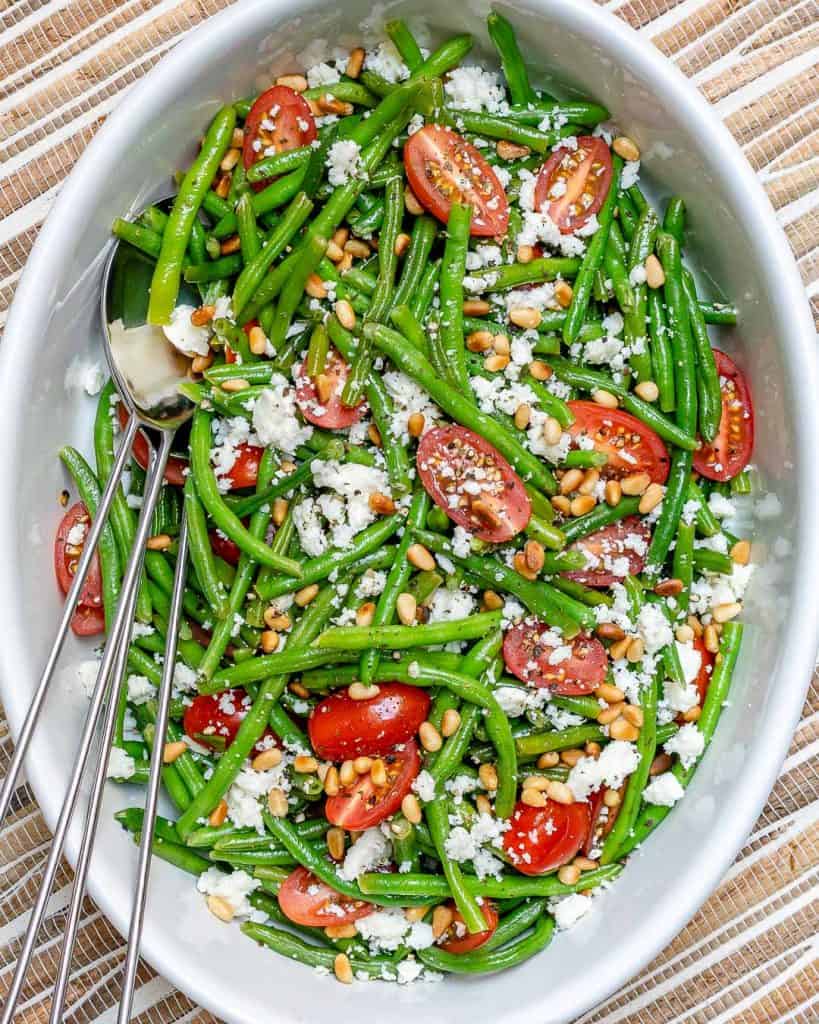 Adding cheese and tomatoes to this Green Beans Salad makes it all the more appealing for kids to eat green beans. This easy beans and tomato salad is easy to make, so tasty, and a fun way to serve green beans as a healthy side dish. It pairs so well with almost any main dish like some grilled chicken breast or baked salmon. This Green beans salad is a perfect way to wow your guest with a nutritious and tasty vegetarian side.
Why you will love this vegetarian green beans recipe
Simple and easy to make: Making the green beans side dish recipe is so easy to put together and ready in less than 30 minutes.
Healthy and tasty: This green bean recipe is packed with flavor and texture. It will be a winner we promise.
Pairs well with many main dishes: There are so many options to share this green bean salad with. It just works so well as a side dish no matter what you are having for dinner.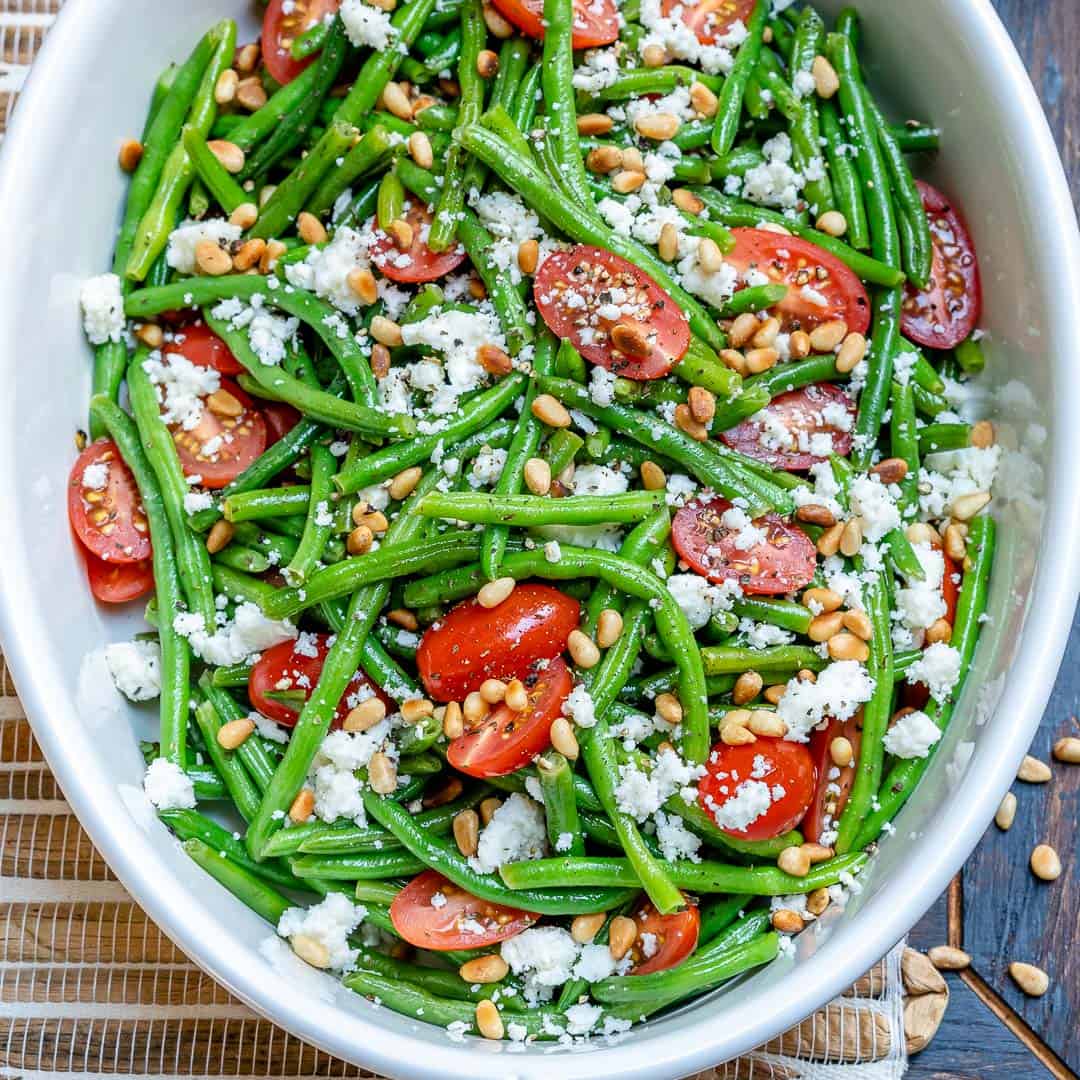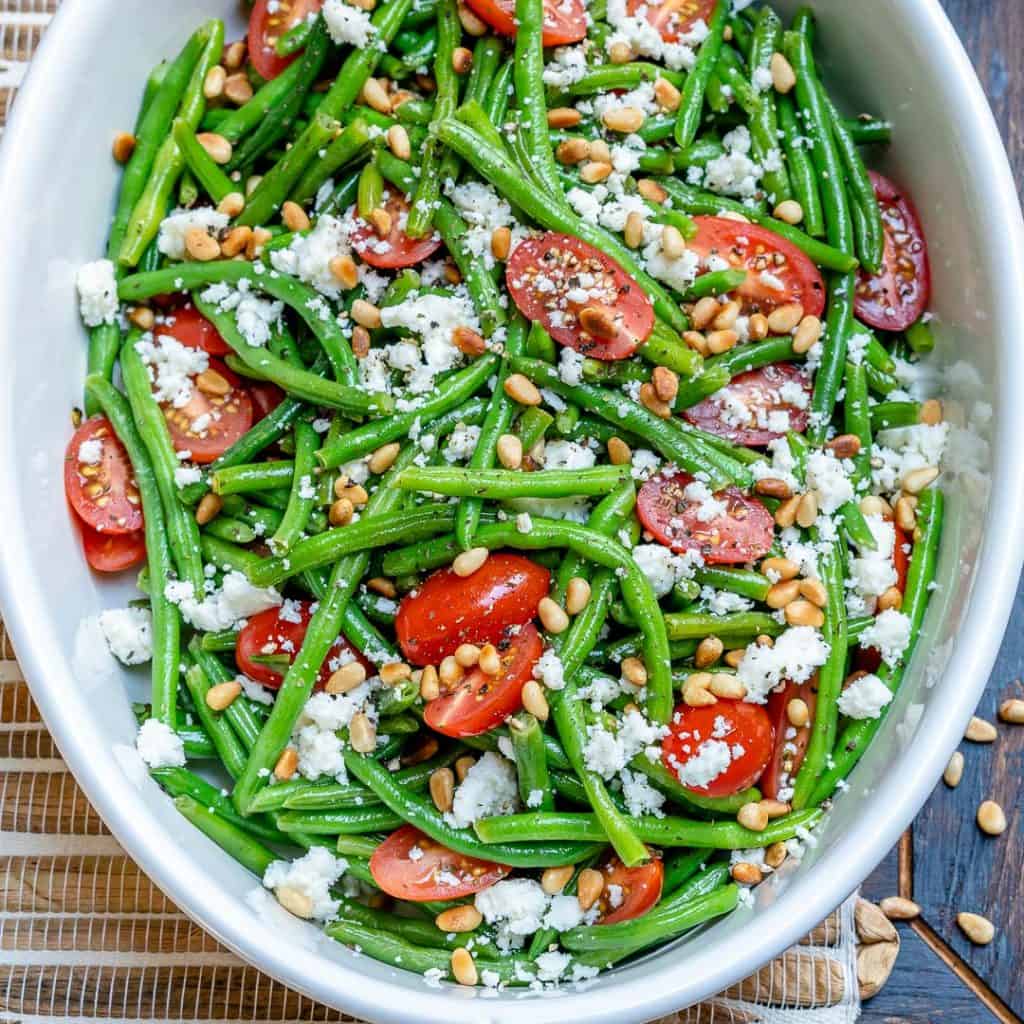 Ingredients you will need
Fresh Green Beans: do not use frozen on canned beans. You will need the ends trimmed
Cherry or Grape Tomatoes: We prefer that you use grape or cherry tomatoes for the best flavor.
Raw Pine Nuts: don't have pine nuts? use raw almonds or walnuts.
Garlic Cloves: use fresh garlic to give it a nice taste.
Lemon: juiced, or use lime if that's what you have.
Apple Cider Vinegar: or grape seed vinegar
Olive Oil: avocado oil will also work
Dried Oregano
Crumbled Feta Cheese: or any other crumbled cheese
Salt and Pepper to taste.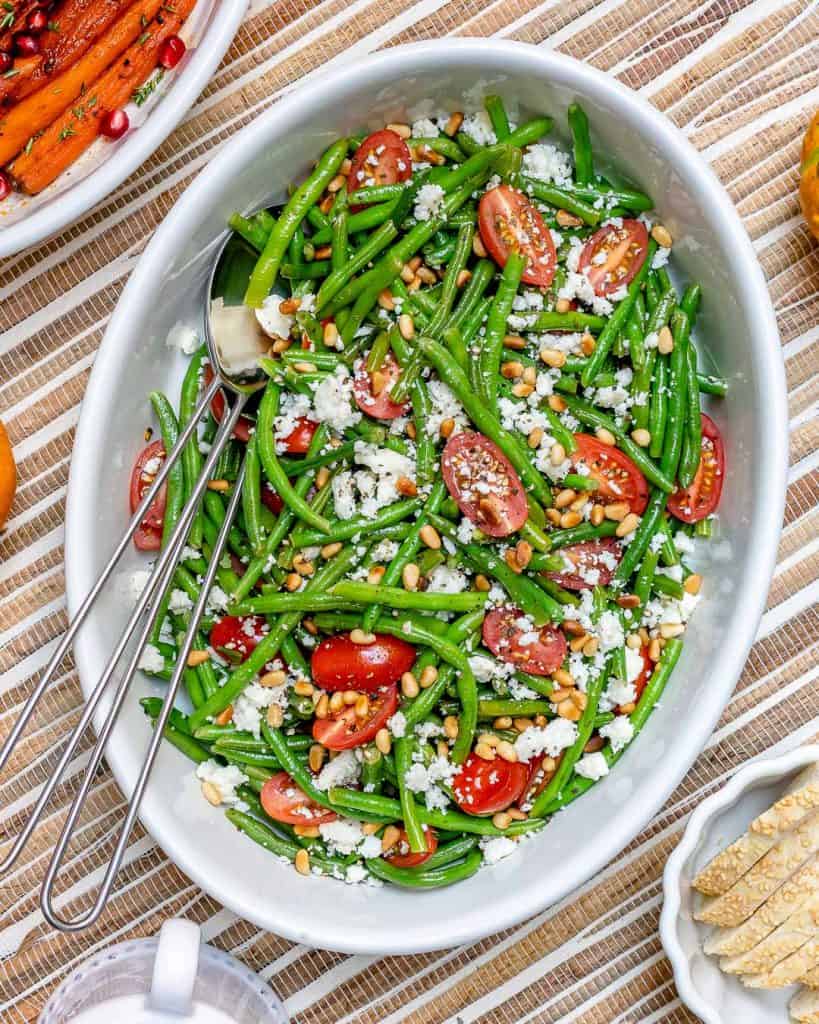 How to make this green bean salad with tomatoes and feta cheese
Bring a large pot of salted water to a boil. Cook green beans until tender-crisp, about 4-6 minutes. While they cook, prepare a large bowl with an ice water bath.
Once the beans are cooked, immediately drain and place them into the ice bath for a few minutes to stop the cooking.
Drain again and place them in a large bowl together with the cherry tomatoes.
Preheat a skillet over medium heat and toast pine nuts stirring constantly, until slightly brown, about 2 minutes. Set aside.
In a small bowl, whisk together the olive oil, garlic, lemon juice, oregano, vinegar, salt, and pepper. Pour the mixture over the green beans and toss to coat.
Stir in the feta cheese and toasted pine nuts. Enjoy!
What to serve with this green bean salad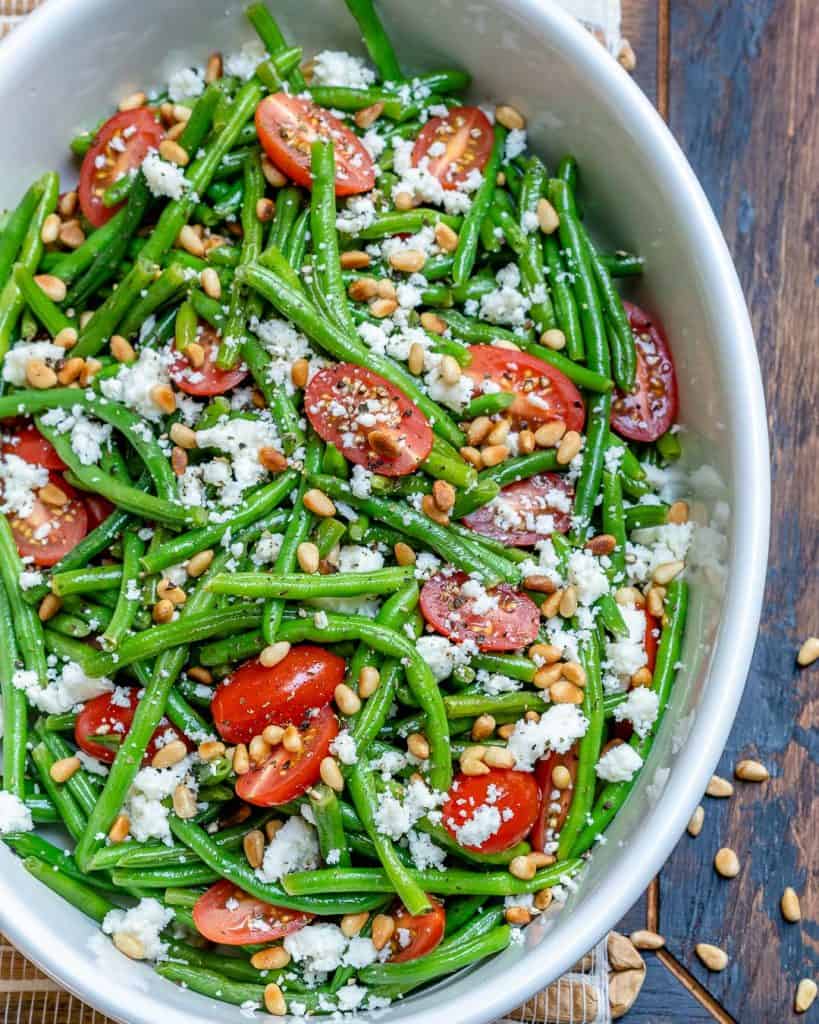 Nuts Substitutions
If you are allergic to nuts you can skip it! If you don't have any pine nuts handy you can use any other nuts you have. This Green Beans and Tomato Salad recipe will work well with some slivered almonds, walnuts, or even pecans. Pine nuts can be expensive so feel free to use some toasted almonds.
Frequently asked questions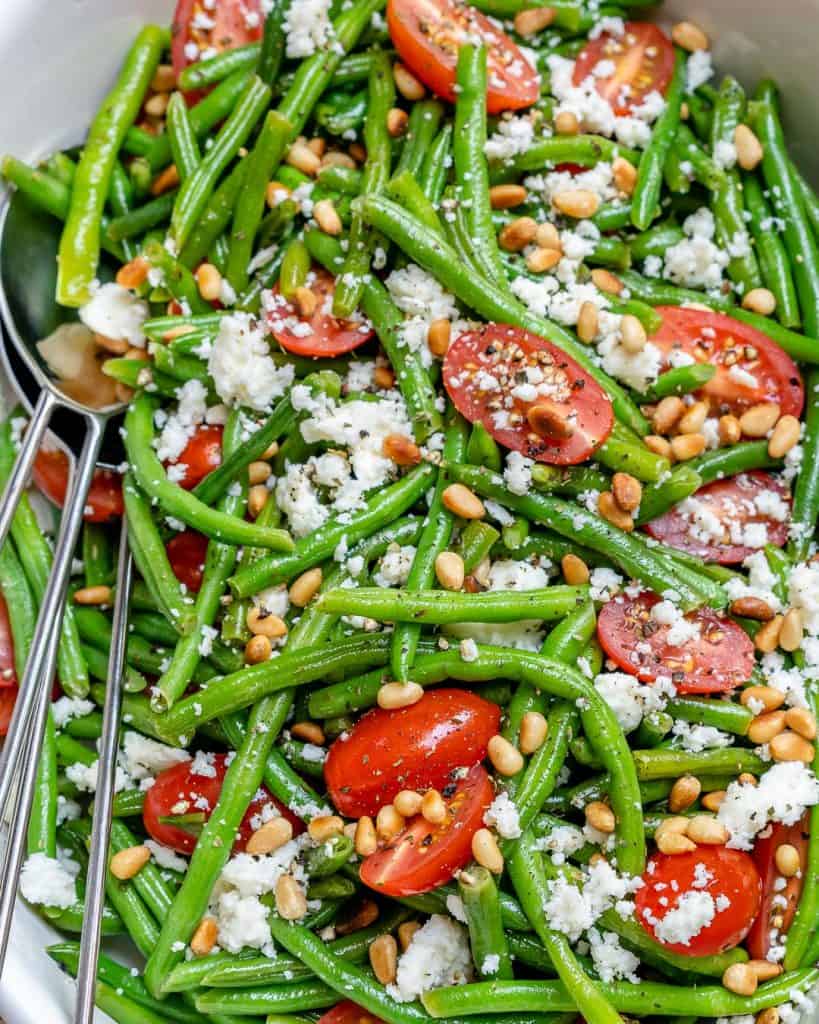 other side dish recipes you may like
Remember to subscribe to my NEWSLETTER for free and receive all my new recipes like this Green beans and tomato salad recipe delivered right to your inbox!
If you try a recipe and you like it, please use my hashtag #healthyfitnessmeals on INSTAGRAM for a chance to be featured! FOLLOW Healthy Fitness Meals on FACEBOOK | INSTAGRAM | PINTEREST | TWITTER for all of my latest blog posts and recipes.