A healthy twist to the Classic Green Bean Casserole recipe without using canned mushroom soup! This lightened-up version is easy to make and always a crowd favorite. Made with fresh-cut green beans, mushrooms, and a crunchy topping.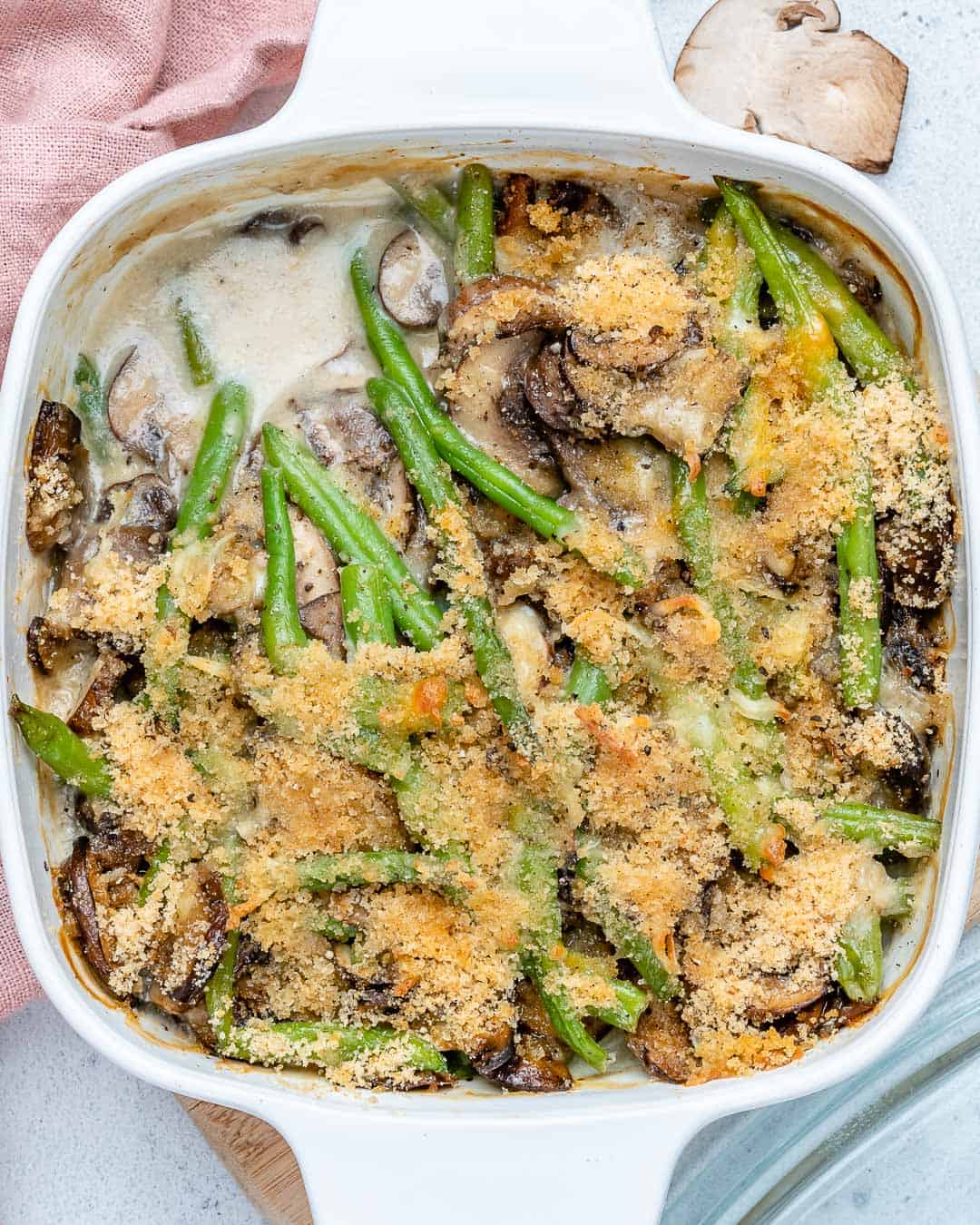 Side dishes are essential for holiday dinner tables. But they don't all have to be loaded with butter and cream! Subtle changes and alternatives to the classic version will still taste great without all the added calories! This healthy green bean casserole is so easy to make, low in fat, and packed with flavor.
If you're looking for other healthy and delicious sides, why not also try my Roasted Garlic Cauliflower or my Sugar-Free Cranberry Sauce
why you'll love this Healthy Green Bean Casserole!
Delicious! Vibrant and crunchy green beans, covered with cheese, crispy panko breadcrumbs, and seasoned to perfection. It's a side dish that's loaded with flavor!
A healthy side dish. Packed with green beans, mushrooms, made with low-fat milk and whole wheat panko, this side is fresh, light, and oh so tasty!
An easy side. Simple to prep, this recipe goes from pantry to table in less than 30 mins.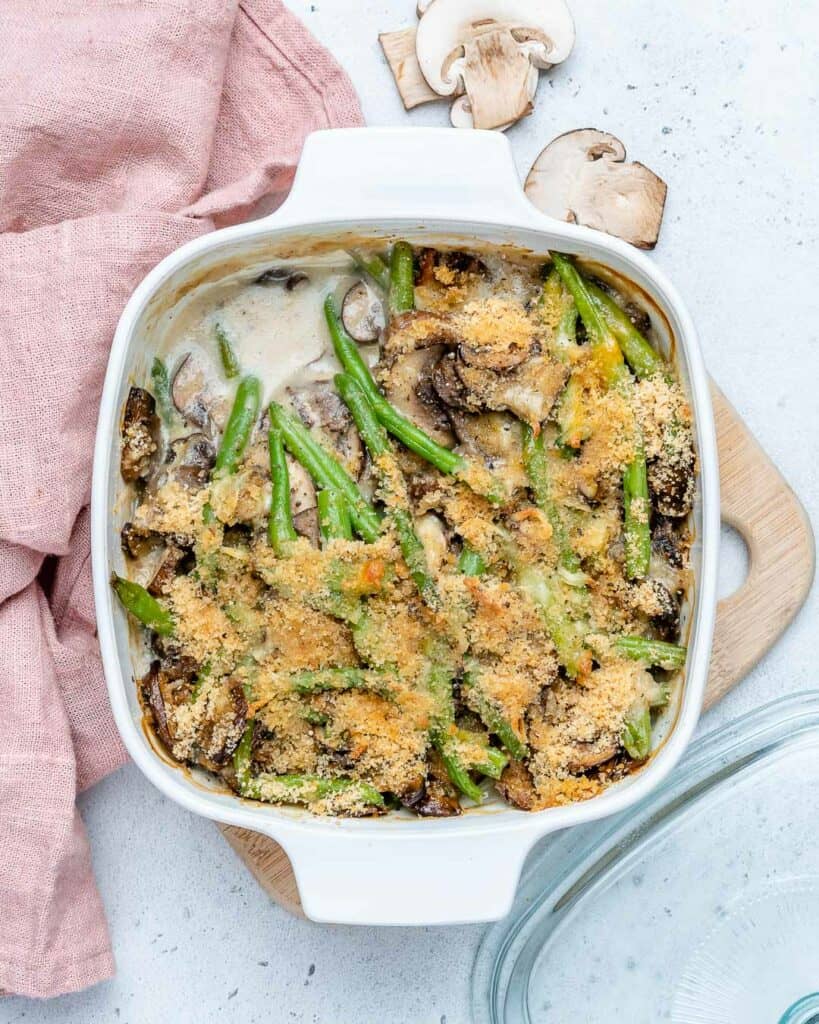 ingredients you'll need
Fresh Green Beans: Trimmed, if you prefer using frozen green beans you can.
Extra Virgin Olive Oil: you may use any other oil of choice.
Button Mushrooms
Garlic Cloves: nest to use fresh garlic, but you may use garlic powder if don't have any fresh garlic.
Seasoning: Oregano, salt, and pepper.
Low Fat Milk: or any other milk of choice.
Cornstarch
Shredded Cheese: use any cheese you like cheddar, American, gruyere, gouda, and so on.
Whole Wheat Panko: or any other panko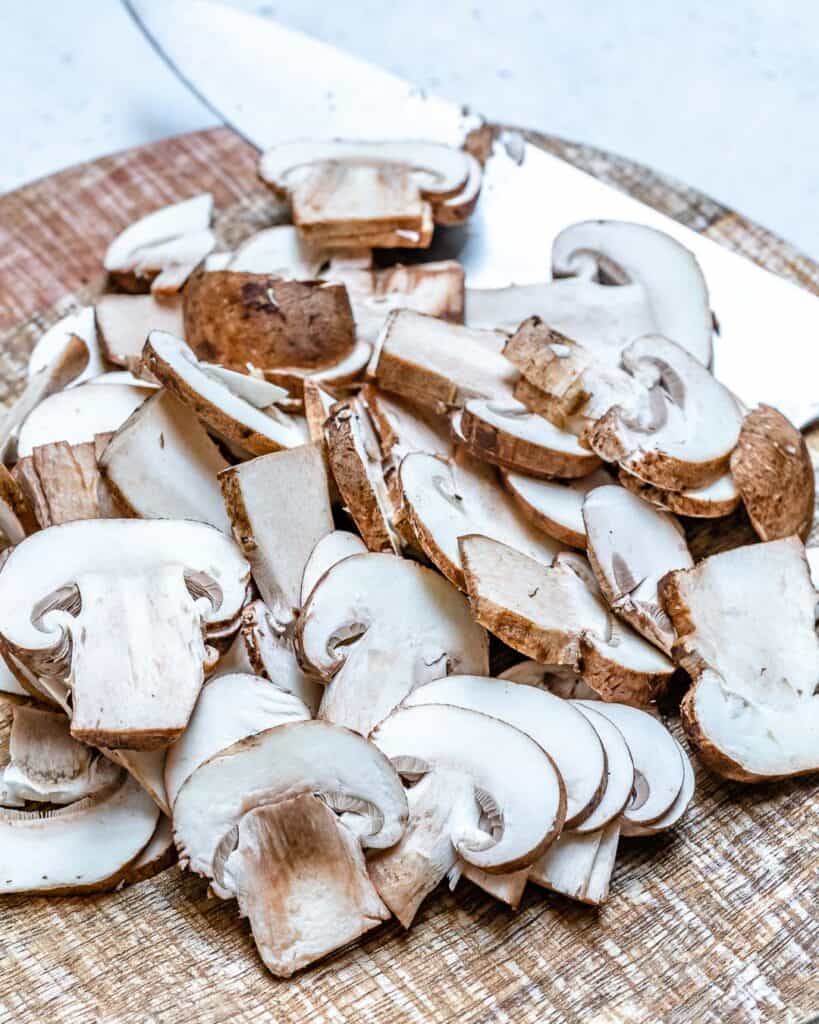 HOW TO MAKE THis healthy GREEN BEAN CASSEROLE
 Prep the green beans. In a large pot of salted boiling water, add green beans and cook until bright green and crisp-tender, about 2-3 minutes. Quickly drain and transfer to a prepared ice bath to cool, drain again and transfer the green beans to the casserole.
Cook the mushrooms. Heat oil in a large nonstick pan over medium-high heat. Add mushrooms

and cook, stirring occasionally for about 5 minutes. Add garlic and seasoning with oregano, salt, and pepper, and continue to cook for a minute or so. Transfer to the casserole, mixing it with the green beans.

Make the cheese sauce. Meanwhile, in a saucepan whisk milk, cornstarch, a pinch of salt, and pepper. Bring it to a boil, and stir in the cheese. Continue to simmer for a couple of minutes, until the sauce thickens and the cheese has melted.
Bake. Remove from heat and add it to the green bean casserole,

and toss until combined. Sprinkle with panko and place it into the preheated oven. Bake in a preheated oven until bubbly and golden on tops, about 10-12 minutes. Enjoy!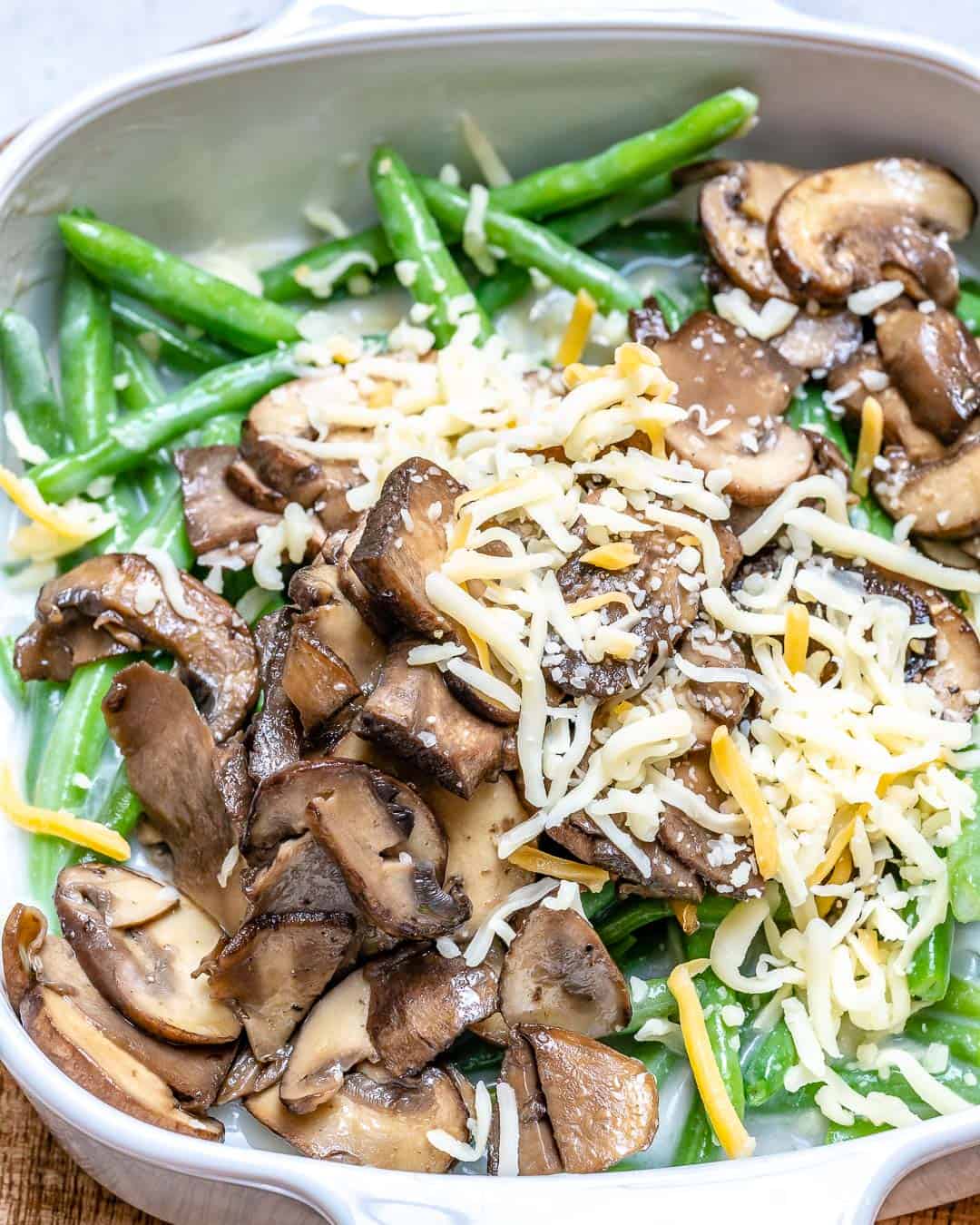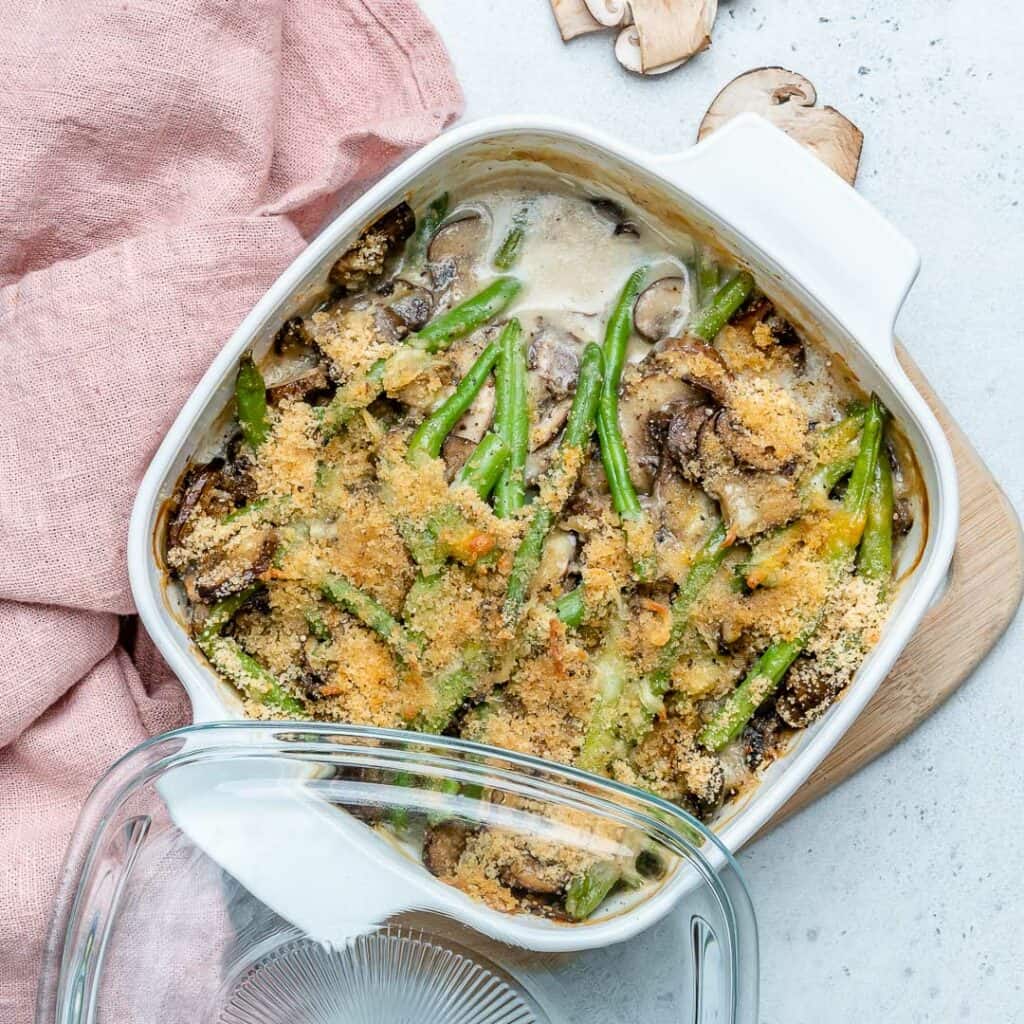 Recipe Notes and tips
Using fresh green beans – instead of frozen – gives you the crispiest beans.
To make this green bean casserole Gluten-free, use gluten-free panko/breadcrumbs.
For a spicy kick add some chopped jalapenos or a sprinkle of crushed red pepper.
If the cheese mix is too thick, thin it out with a splash or two more of milk.
Use dairy-free cheese to make this dish dairy-free.
Green beans can be blanched 1 day in advance and the sauce prepared 1 day in advance.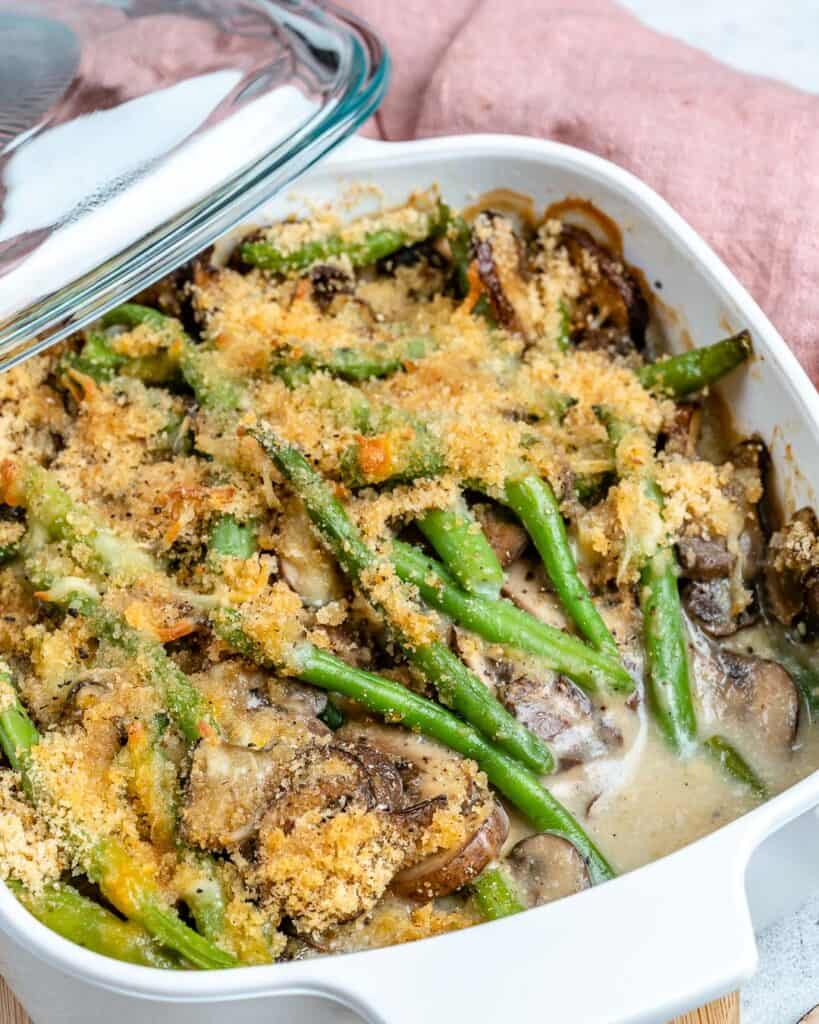 frequently asked questions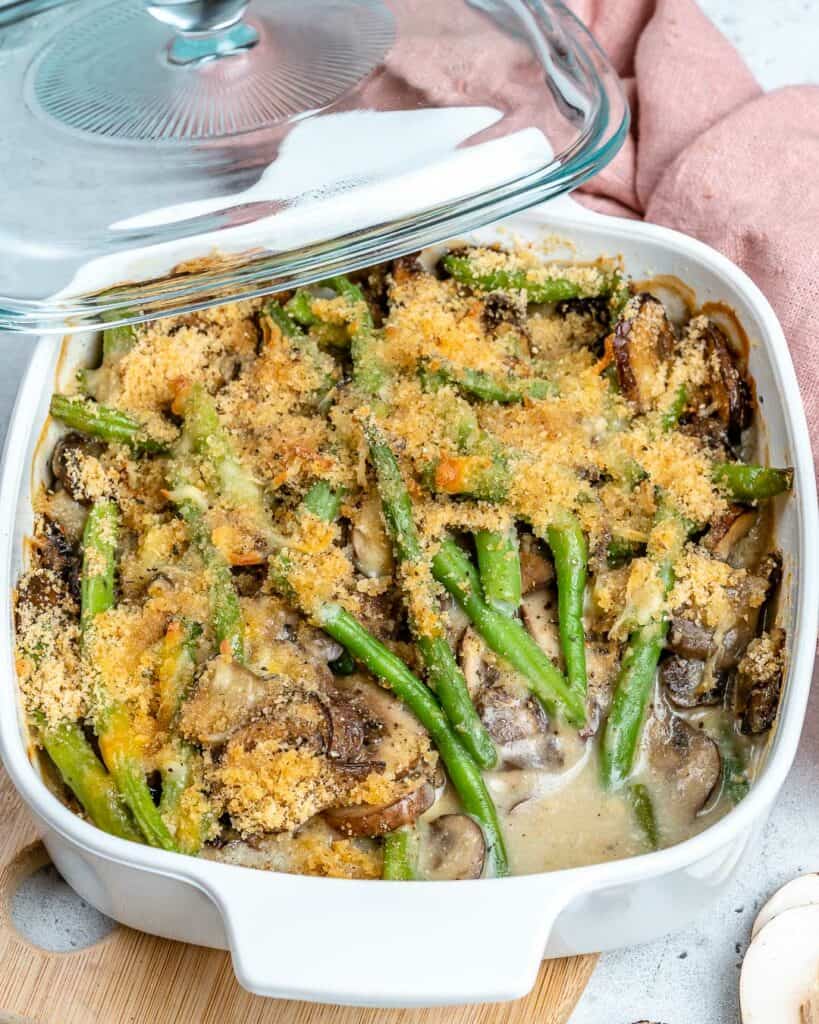 Can you freeze green bean casserole?
Green bean casserole can be frozen for up to one month. Tightly wrap or place in an airtight container. When ready to eat, allow to thaw in the fridge and either reheat in the microwave or place in a preheated oven for about 15-20 minutes.
Can you make green bean casserole ahead of time?
It is perfectly ok to make green bean casserole ahead. Follow the directions exactly the same way until the steps where you add the crumbs. Tightly wrap it and place it in the fridge for 1-2 days until ready to bake. Add the bread crumbs right before you place them in the oven.
Some other easy side dish recipes to check out: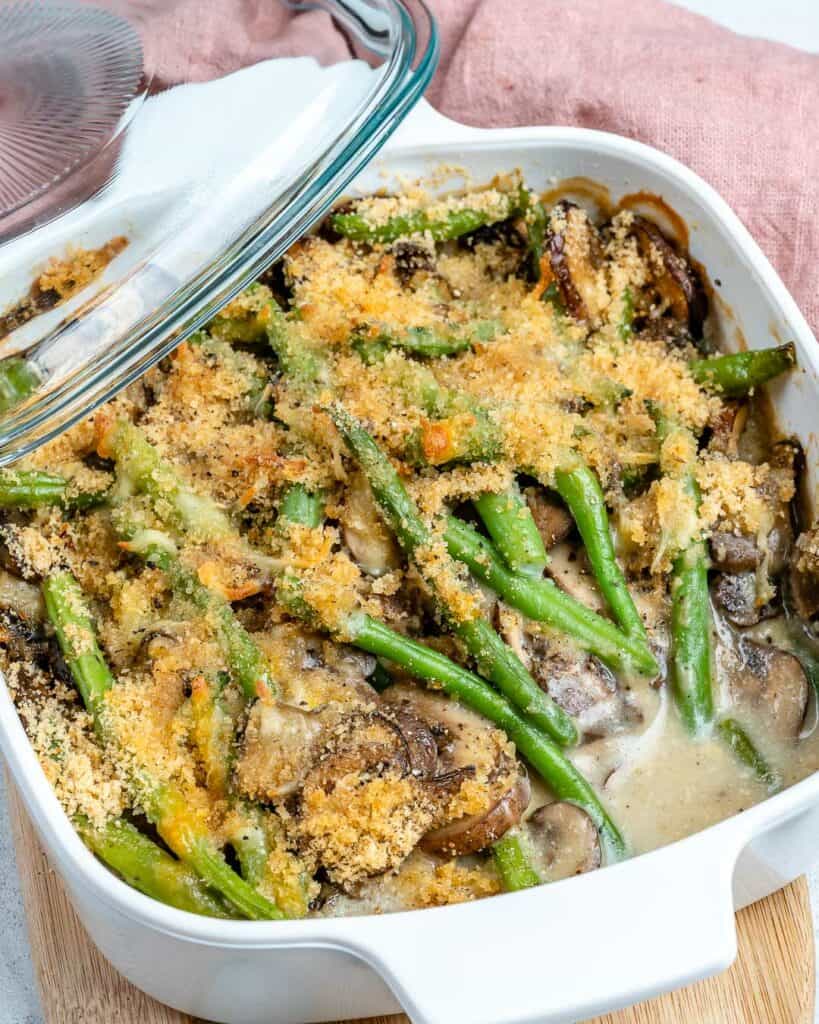 Also, remember to subscribe to my NEWSLETTER for free and receive recipes like this Healthy Green Bean Casserole Recipe delivered right to your inbox!
Finally, if you try a recipe and you like it, please use my hashtag #healthyfitnessmeals on INSTAGRAM for a chance to be featured! FOLLOW Healthy Fitness Meals on FACEBOOK | INSTAGRAM | PINTEREST | TWITTER for all of my latest blog posts and recipes.