HOW TO MAKE THE BEST CHEESE BOARD – Tips and Tricks on how to make the ULTIMATE Cheese Board with a few easy Steps. Super easy to put together and just a beautiful setup to wow your guests with a beautiful wooden cheese board set up.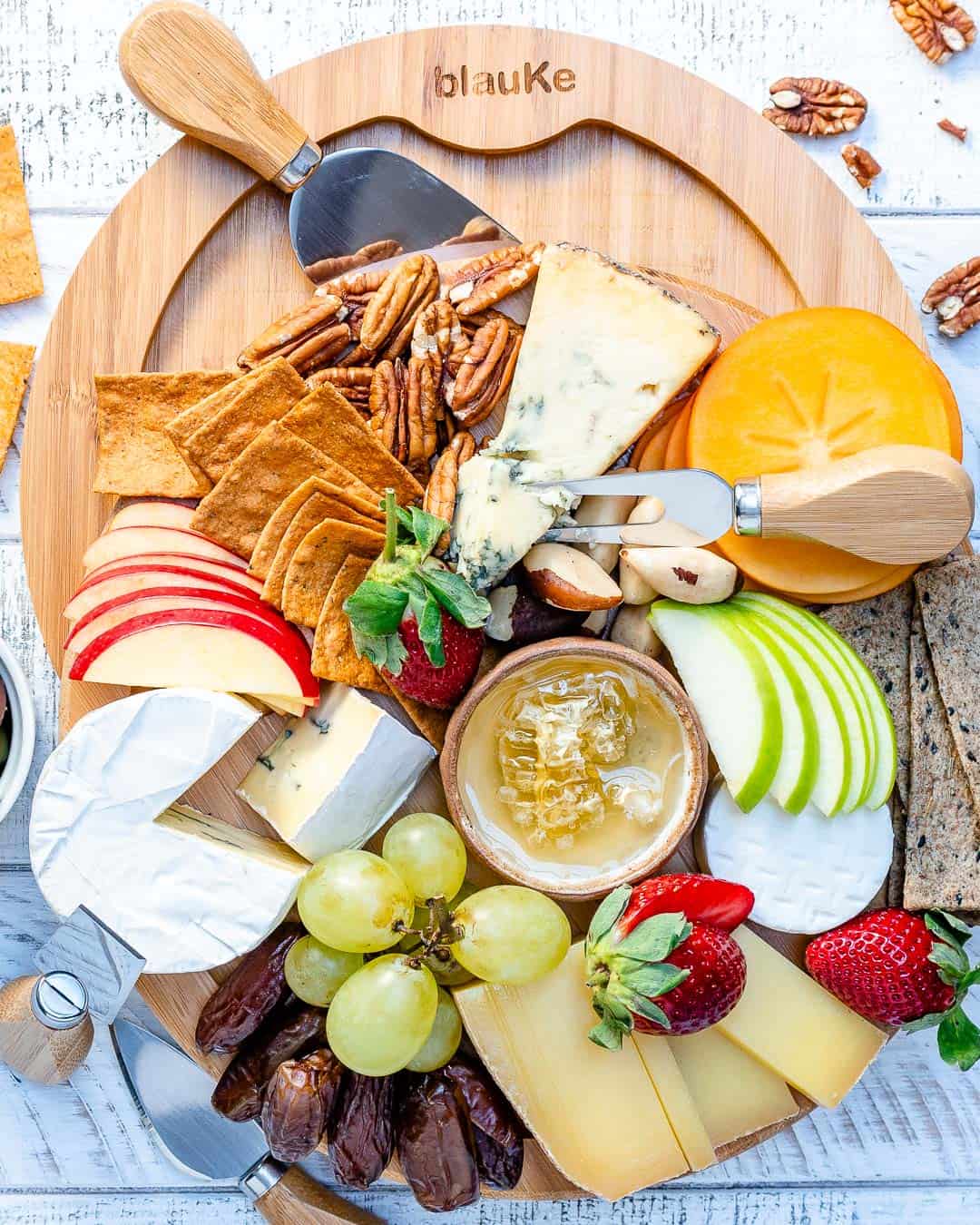 HOW TO MAKE THE BEST CHEESE BOARD
Step 1: Choosing a Nice Wooden Cheese Board Set
When thinking of making your cheese board, the first thing that should come to mind is: Do I have a Wooden Cheese Board Set? If you don't have one, then you will love this one I used for my Cheese Board. Its heavy duty and just the right size and I love how you can slide the bottom side where you can store the tools and utensils needed for serving. The Best part is how easy it is to clean and store it. You can get one of these Wooden Cheese Board Set by clicking HERE.

Step 2: Adding Different Types of Cheese
Choose about 3 to 4 different types of cheeses varying in texture, color, and taste to give a nice look and different options for your guests.
For Semi-Hard/Hard Cheese: You can use a cheese like Gouda. It is mild, yellow and famous worldwide. The name Gouda is actually a Dutch cheese that is named after the city of Gouda in the Netherlands. Good to know huh?
For a Soft Cheese: Try something like Blue Brie. It is soft and made usually from cow's milk. Originated in France and had the nickname "The Queen of Cheeses"
For a Creamy Cheese: I used Goat Cheese. Made from Goats Milk and have a distinct flavor. High in fatty acids and low in milk protein which gives it its smoother texture.
Blue Cheese: I used Stilton. Known for its distinct odor and taste, not everyone likes blue cheese. It can be made with cow's milk, sheep's milk or goat's milk and the final product has cultures of the mold Penicillium added to it that gives it that blue moldy look.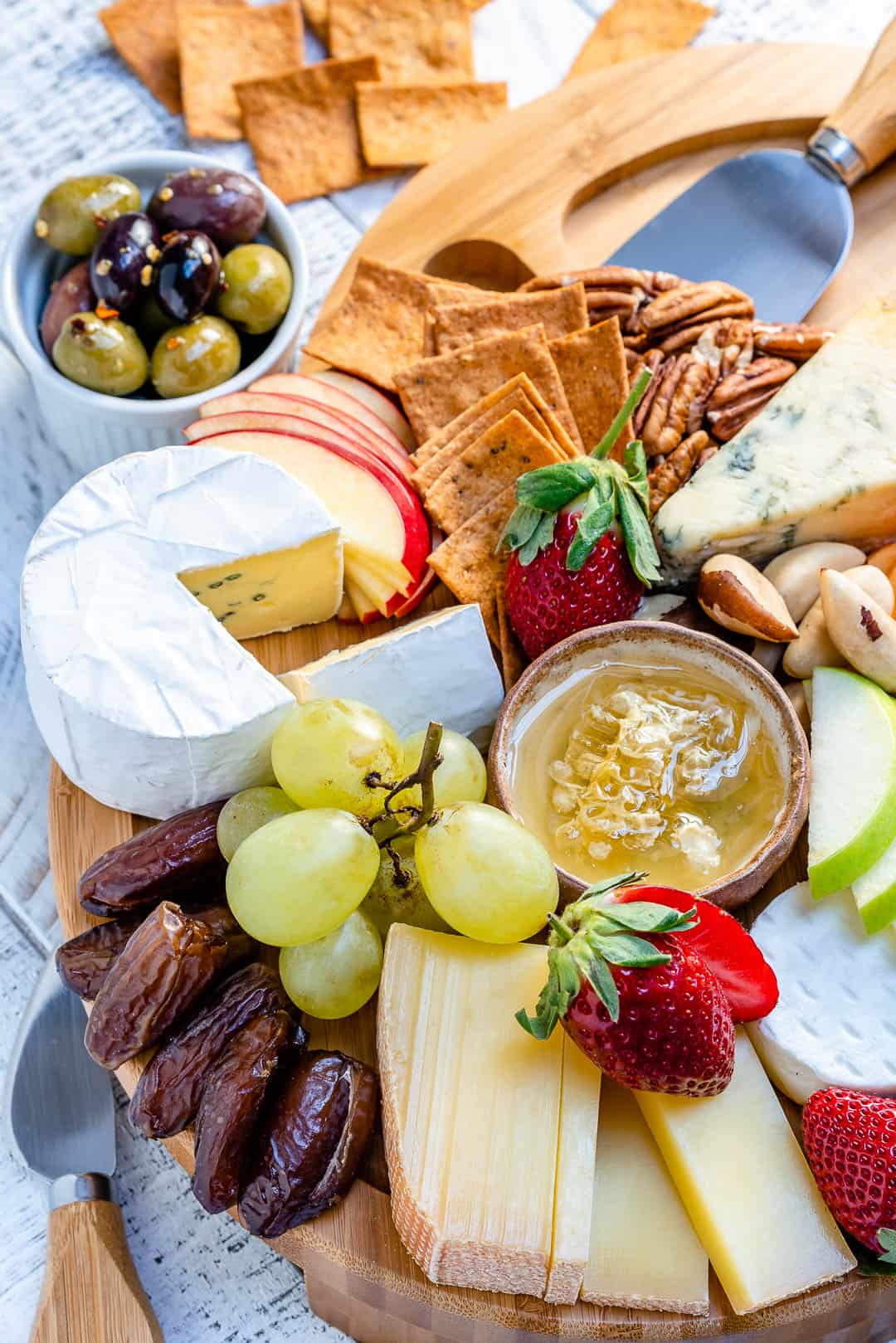 Step 3: Extras like Fruits, Crackers, Nuts, and Meats
When creating your Cheese Board you can be creative with the fruits, nuts, and crackers you use. Use a variety of both sweet and salty ingredients.
Sweet: Using colorful fruits will make your cheese board more presentable. You could use dried fruits like dates, figs or apricots. Then add some slices of fresh fruits like kiwi, apples, Strawberries, Kaki and of course some grapes.
Salty: Salty additions can be nuts. Use about 2-3 types of nuts for your Cheese Board. I went for pecans and Brazilian nuts. Other great nuts to use are walnuts, almonds, and cashews. Among others.
Meats: I personally don't eat any Charcuterie- which is smoked or dry-cured meat. But if you do, adding some smoked meat, salami or ham to your meat board will make it even more perfect.
Crackers: Think of different crackers you could use. Choose between 2-3 different kinds for a variety of options for your guests. I used Chilli Flavored crackers and Whole Grain. Take your pick at the grocery store and be creative.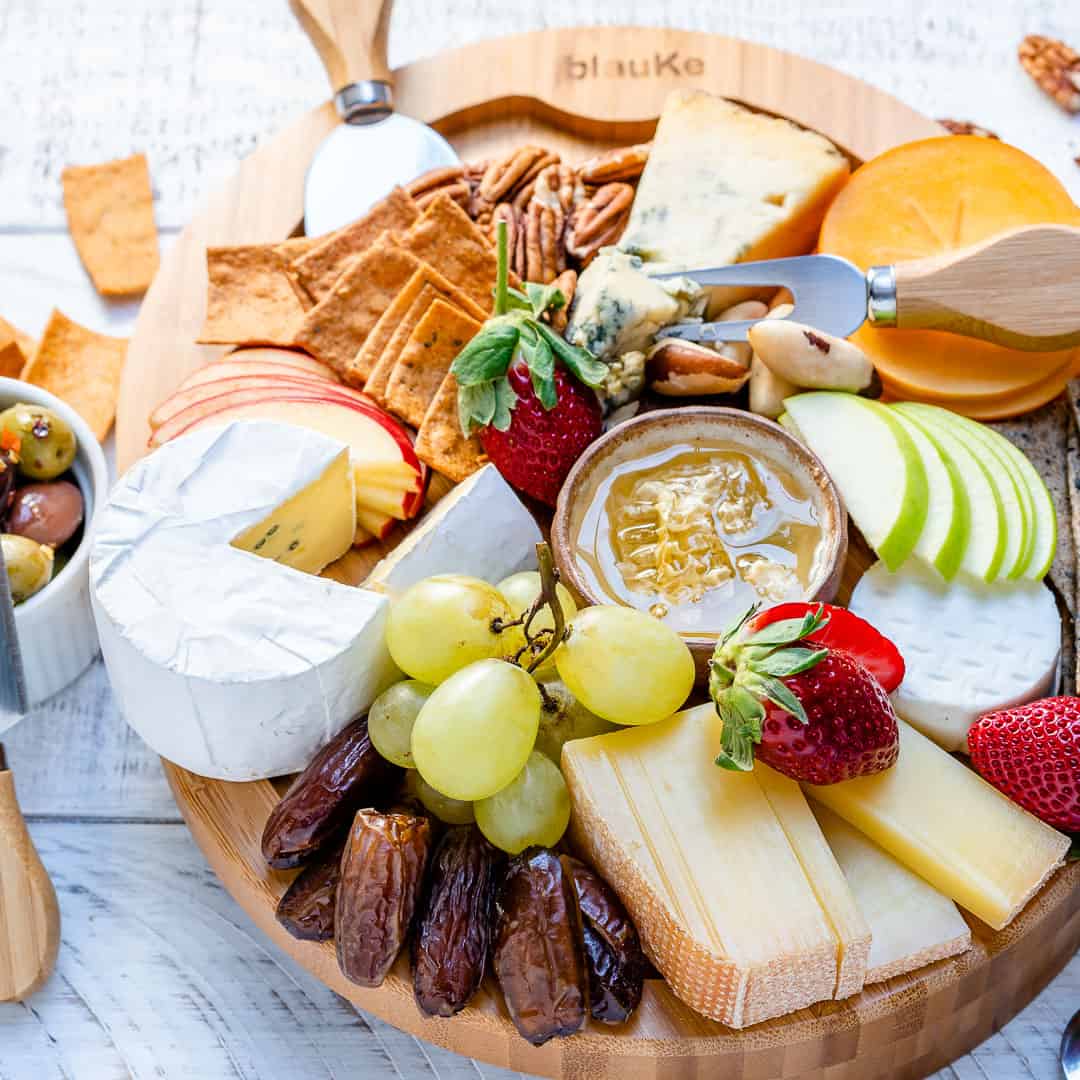 Step 4: Adding a Sweet Spread
Choosing a sweet spread will certainly complement the overall feel and look of your Cheese Board. Honey is usually used mostly. I used some Honey Comb because I am simply obsessed with them. You can use your favorite Organic or homemade Jam spread instead of honey if you like.
[mv_video key="j59w1t0pep3b60ldqgk7″ sticky volume="70″ aspectRatio title="How To Make The Best Cheese Board" thumbnail="https://mediavine-res.cloudinary.com/video/upload/j59w1t0pep3b60ldqgk7.jpg"]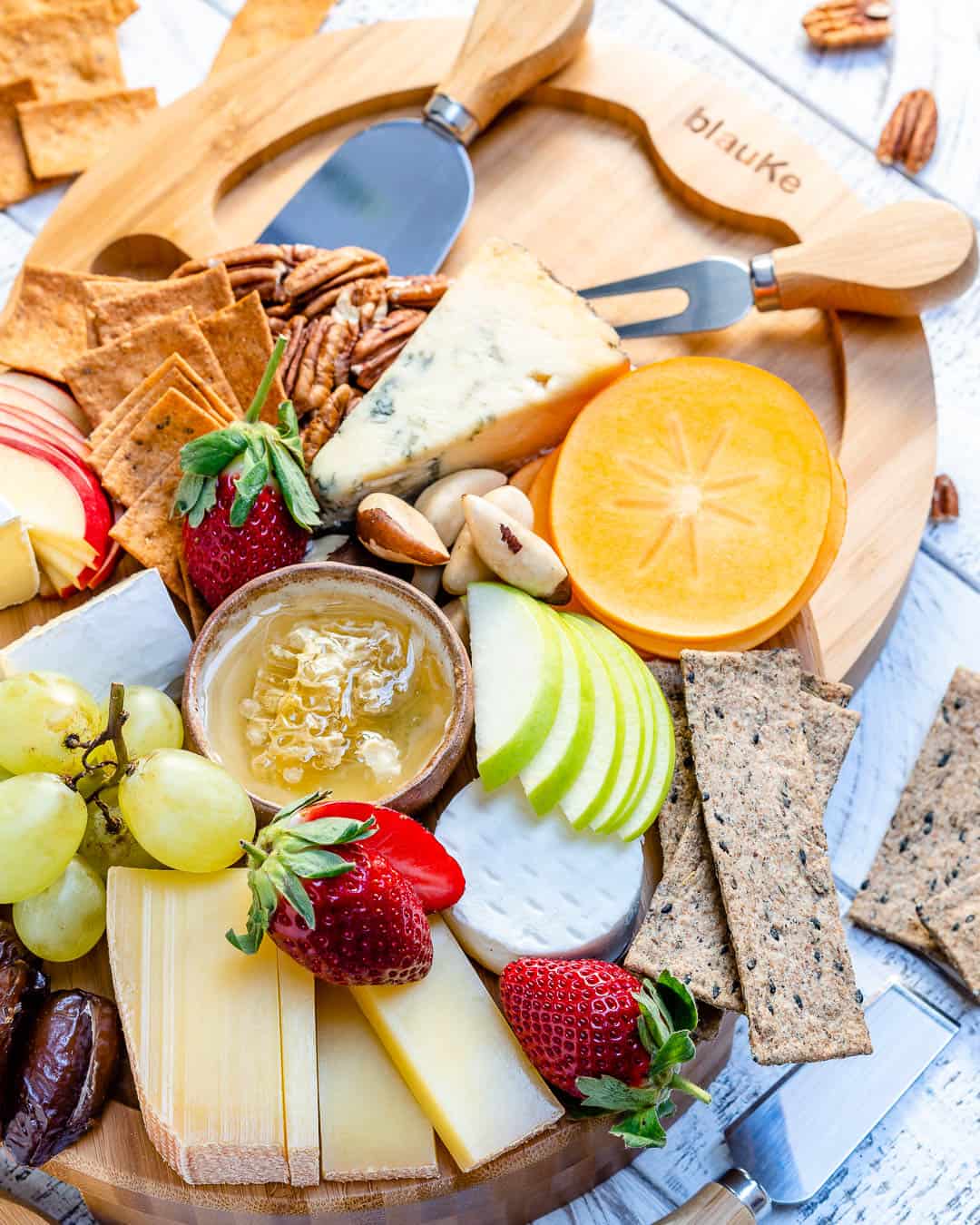 A quick note on making this Cheese Board
So, some questions I have gotten in the past about what is the best knife to use for your Cheese Board that's pretty and complements the Cheese Board. The best answer would be these knives that came with this Wooden Cheese Board Set. Which is the more reason why I LOVE this set? Its the perfect gift set for any occasion. Seriously.
Also, you can keep the knives on the board for your guests to use them to cut the cheese or also use to spread the creamy cheese.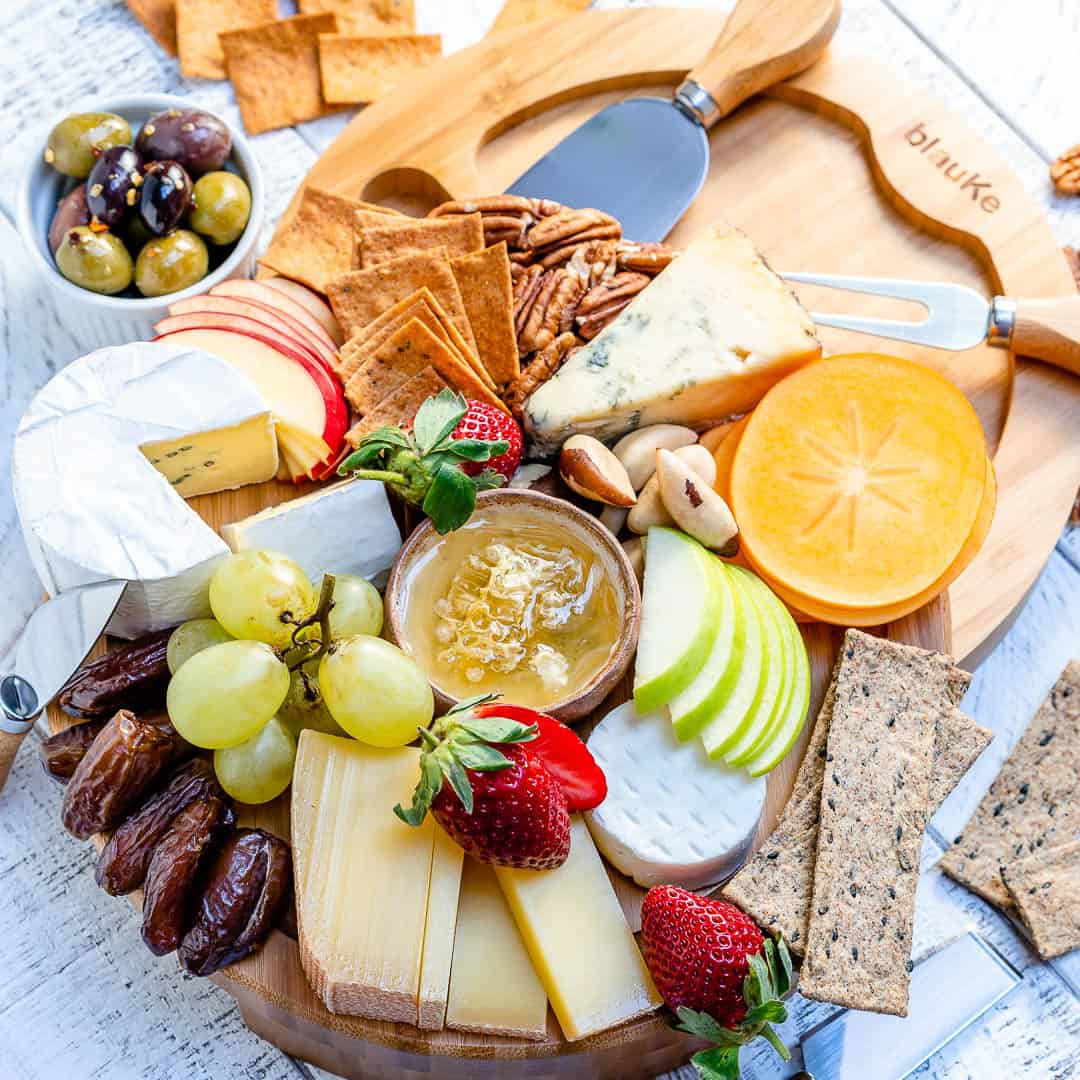 Final Tips on How to make the Ultimate Cheese Board
Just a quick and final tip on how to make the best cheese board ever. You should think of the final touches after everything is set up to get that perfect look. More like the cherry on top of whip cream. So for the Cheese Board, you can add some fresh herbs like Rosemary or cranberries.
Also, Make sure the Cheese Board is full with a variety to choose from and make it presentable. Don't be untidy.
Finally, don't forget to also enjoy it with your guests.
To Get This Beautiful Cheese Board Set CLICK HERE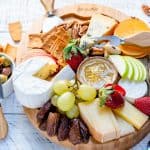 Print Recipe
How To Make the Best Cheese Board
Make the Ultimate Cheese Board With these easy Tips and Steps.
Ingredients
CHEESE: about 2.5 oz. in TOTAL per person
1

Semi-Hard/Hard Cheese: Gouda

1

Soft Cheese: Blue Brie

1

Creamy Cheese: Goat

1

Blue Cheese: Stilton
EXTRAS:
1/4

Cup

Dips: I chose comb honey

2

Packs

Varieties of crackers

chili, whole grain

2

Cups

Fresh fruits: kaki, apples, grapes, strawberries

1/2

Cup

Dried fruits: dates

1/2

Cup

2-3 types of nuts: Brazilian nuts, pecans
Instructions
STEP 1 - Choose a wooden board.

STEP 2 - Arrange the cheese around the board.


STEP 3 - Add extras to complement the cheese.

STEP 4 - Share and enjoy it with your loved ones!
Notes
Nutrition Facts for this Cheese Board is a rough estimate.
Nutrition
Calories:
308
kcal
|
Carbohydrates:
28
g
|
Protein:
9
g
|
Fat:
19
g
|
Saturated Fat:
8
g
|
Cholesterol:
38
mg
|
Sodium:
245
mg
|
Potassium:
230
mg
|
Fiber:
2
g
|
Sugar:
24
g
|
Vitamin A:
245
IU
|
Vitamin C:
1.9
mg
|
Calcium:
86
mg
|
Iron:
0.8
mg