This Chimichurri grilled cauliflower steaks recipe is easy to make, filling, and a flavorful meal served as an entree, appetizer or side dish. A hearty and satisfying plant-based meal made with a homemade Chimichurri sauce to give it a unique flavor.
Chimichurri Grilled Cauliflower Steaks
Cauliflower steaks are just what your dinner table needs at every gathering. They are easy to make, healthy, low carb, paleo, gluten-free, and vegan-friendly. Enjoy them on their own as a meal or you can have it as a side with some sort of protein. Crispy, tender, and perfectly seasoned, this grilled Cauliflower steak recipe will not only be your go-to recipe this summer but all year long. Don't have an outdoor grill? Roast these in the oven any time of year.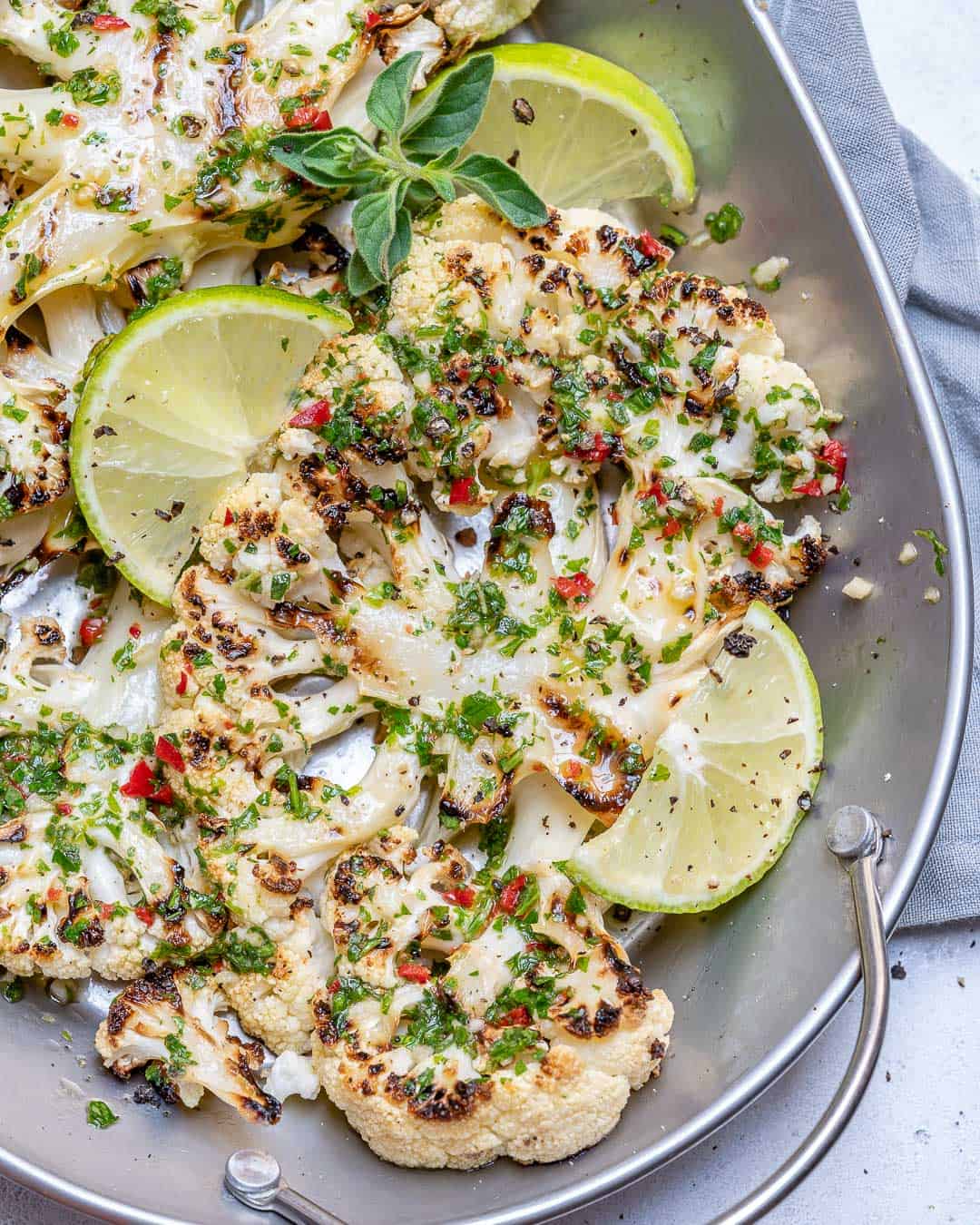 How to Cut Cauliflower Steaks
Here are a few simple tips for you to follow so you have the perfect grilled cauliflower steaks:
First, turn the cauliflower upside down and cut off the inedible leaves.
Then, go ahead and trim off the bottom stem of the cauliflower but make sure to keep the core intact. This is needed
Next, it is important to cut through right in the middle of the cauliflower head, this will keep the florets together.
Then, try to cut thick slices, about 3/4- 1 -inch thick. This will help them not fall apart while cooking.
Finally, you can save the excess florets that do not connect to the steaks while you are slicing to use for other recipes.
What goes well with roasted or grilled Cauliflower
Whether you roast or grill cauliflower, the end result is just absolutely delicious. Grilled or roasted cauliflower can be enjoyed as is as a main dish or you can have it as a side with the main dish. You can have them with this Salmon recipe or even this chicken recipe. Add them onto salads or add the next day into omelets for breakfast. Have them with sandwiches. You would be amazed at how well cauliflower pairs with other meals.
What is Chimichurri made of
Chimichurri is made primarily of freshly chopped herbs, mixed in with garlic, vinegar, red pepper flakes or fresh red chilis and olive oil. I love adding some cilantro into my chimichurri recipe for some added boost in the flavor department.
My easy Chimichurri Recipe
1 red chili, finely chopped
3–4 garlic cloves, chopped
1⁄2 cup white wine vinegar
1 tsp sea salt, or to taste
1⁄2 cup finely chopped cilantro, chopped
1⁄4 cup finely chopped flat-leaf parsley, chopped
2 Tbsp finely chopped oregano, chopped
1/2 cup extra-virgin olive oil
Mix all the ingredients in a bowl and allow to sit for about 15 minutes.
How long can Chimichurri last in the fridge
Chimichurri can last up to 5-7 days if stored in an airtight container in the fridge. It is best to freeze them into cubes and use them later when needed. Once frozen, they will last up to 3 months.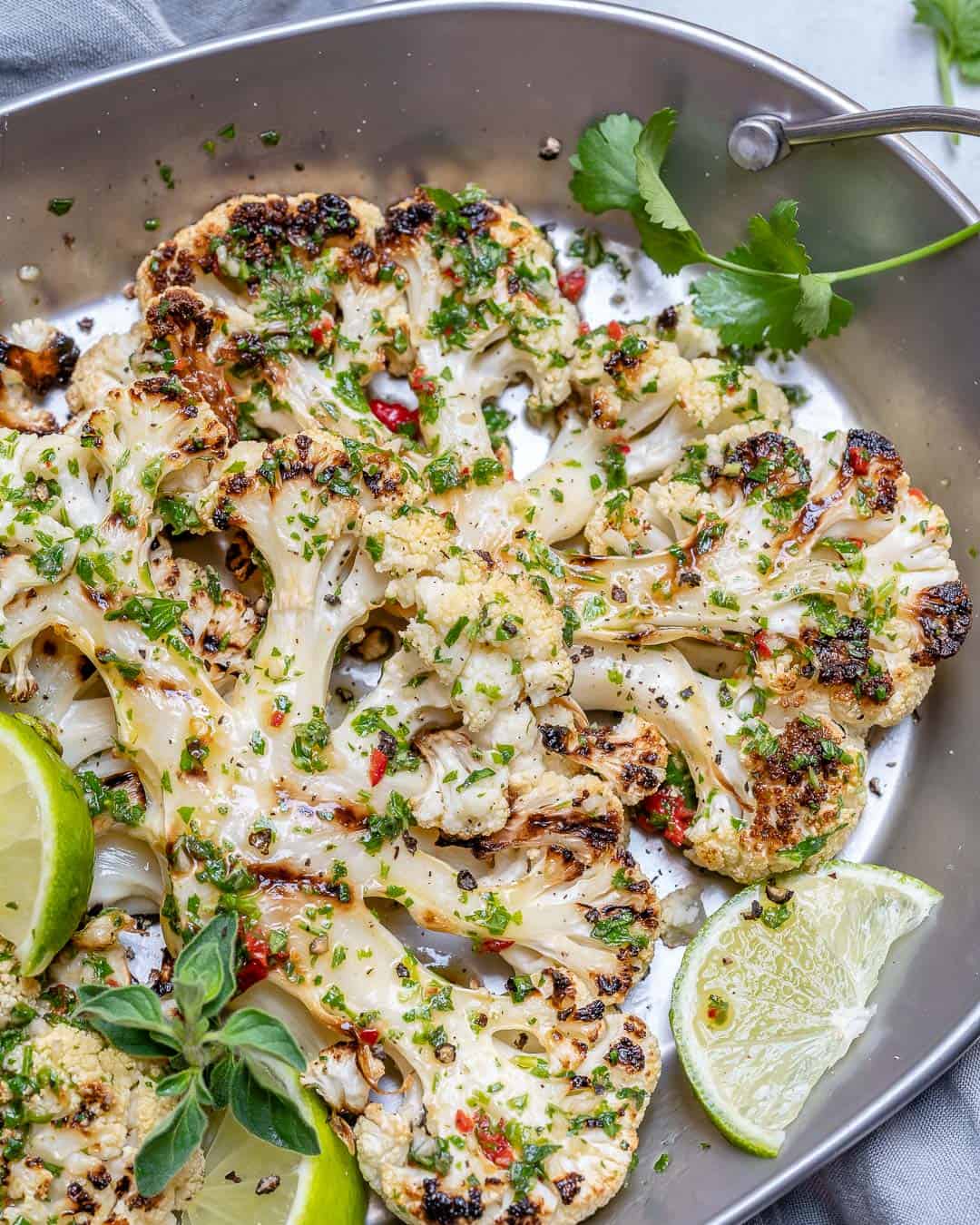 Making this grilled cauliflower steak recipe?
I would love to know what your thoughts were on this Grilled Cauliflower Steak recipe. Leave me some feedback in the comments below. Let me know how you prepared yours. If you happen to take a picture of this please tag me on Instagram so I can share it on my story.
Here are other cauliflower recipes for you to check out if you have another minute on your hands:
Remember to subscribe to my NEWSLETTER for free and receive recipes like this Grilled Cauliflower Steak Recipe delivered right to your inbox!
If you try a recipe and you like it, please use my hashtag #healthyfitnessmeals on INSTAGRAM for a chance to be featured! FOLLOW Healthy Fitness Meals on FACEBOOK | INSTAGRAM | PINTEREST | TWITTER for all of my latest blog posts and recipes.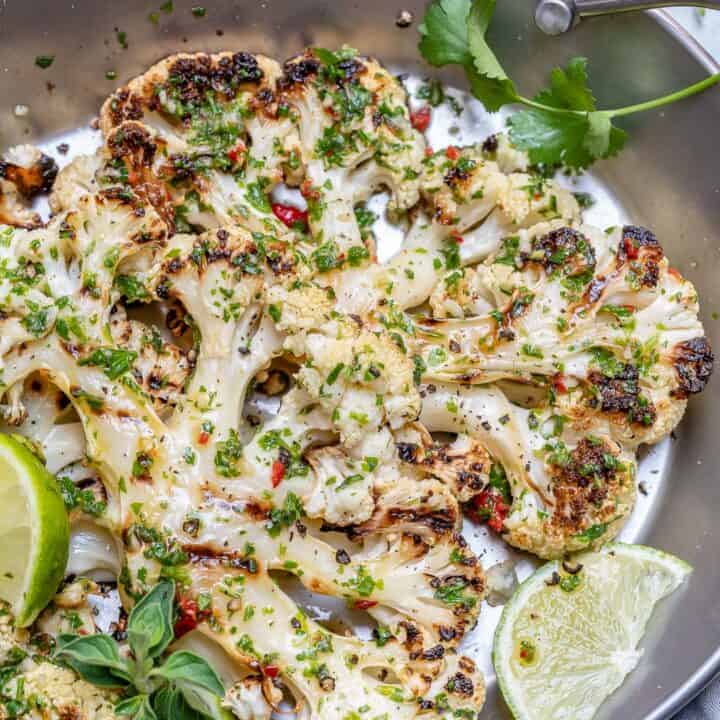 Print Recipe
Chimichurri Grilled Cauliflower Steak
Easy to make, simply grilled with salt and pepper, and topped with homemade Chimichurri
Ingredients
2

Large

Cauliflower

Sea salt and pepper, to taste
For the Chimichurri Sauce
1

Red Chili

finely chopped

4

Garlic Cloves

chopped

½

Cup

White Wine Vinegar

1

Tsp

Sea Salt

or to taste

½

Cup

Cilantro

Finely Chopped

¼

Cup

Flat-leaf Parsley

finely chopped

2

Tbsp

Oregano

finely chopped

½

Cup

Extra-virgin Olive Oil
Instructions
Combine all the ingredients for Chimichurri sauce in a medium bowl. Let it sit at least 15 minutes for the flavors to meld. Meanwhile, prep the cauliflower steaks.

Remove and discard leaves from each cauliflower head, then trim the stem but not all the way through. Try to leave the core intact.

Slice each cauliflower into 3/4" thick steaks. Reserve any loose florets to cook with the steaks or for another recipe.

Brush the cauliflower steaks generously with Chimichurri sauce on both sides. Reserve some of the sauce for later.

Heat a grill or a grill pan to medium. Place the cauliflowers onto the grill and cook until tender and charred in spots, about 5-7 minutes per side.

Serve cauliflower steaks with extra Chimichurri and enjoy!
Notes
Nutritional facts:
Please keep in mind that the nutritional information is calculated using a nutrition facts calculator. It is a rough estimate and can vary greatly based on products used.
Servings
Depending on how large of a cauliflower you use and how thick you cut them, each cauliflower should yield about 2-4 steaks. 
Each Cauliflower should yield 2 servings (2-4 steaks depending)
Sauce:
Chimichurri sauce used in this recipe. You can also use pesto or just a simple garlic herb sauce.
Nutrition
Calories:
367
kcal
|
Carbohydrates:
25
g
|
Protein:
9
g
|
Fat:
28
g
|
Saturated Fat:
4
g
|
Sodium:
715
mg
|
Potassium:
1378
mg
|
Fiber:
10
g
|
Sugar:
9
g
|
Vitamin A:
600
IU
|
Vitamin C:
225.1
mg
|
Calcium:
143
mg
|
Iron:
3.4
mg