These Parmesan Roasted Cauliflower tacos are vegetarian-friendly, easy to make, and served with a delicious homemade coleslaw salad. Perfect for lunch or dinner and takes just 30 minutes to make.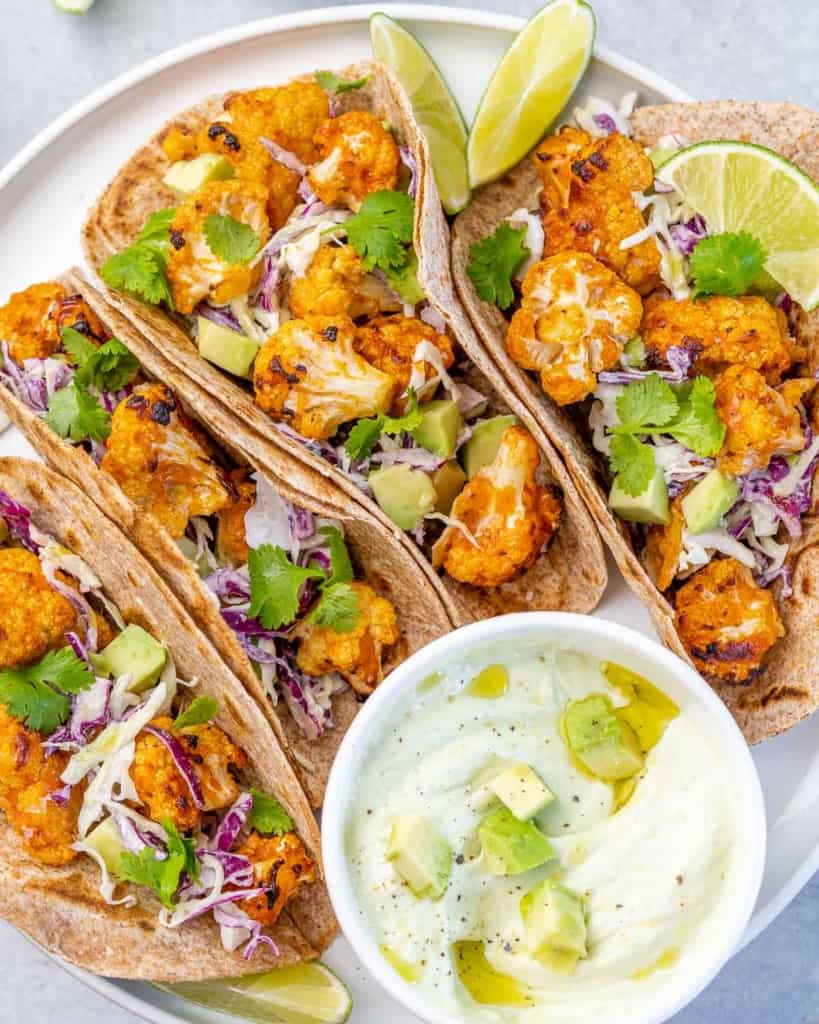 These healthy vegetarian cauliflower tacos are so tasty, juicy, and packed with nutrition. The cauliflower is coated with parmesan and hot sauce and then baked to perfection in the oven. We made our own healthy coleslaw salad with a delicious avocado yogurt dressing that complements the tacos so nicely. This cauliflower taco recipe is packed with flavor and nutrition you would want to add to your weekly dinner menu. Cauliflower is a nice alternative to meat and is great for those who are vegetarians, or anyone who wants to just have a vegetarian meal for a change.
Why you will love these vegatarian tacos
Simple and easy: All it takes is popping the cauliflower in the oven to bake while you make the homamade coleslaw. You will need just about 30 miutes. Assembling your taco is the fun part.
Packed with flavor: The flavors in this caulfilower taco will blow you away. The colesalw brings a nice touch to the tacos and the cauliflower is perfectly flavored and spicy.
Nutritious: Loaded with fiber, these tacos will leave you full and satisfied. A low fat meal to enjoy without any quilt.
Ingredients you will need
To make these cauliflower tacos you will need to check if you have the following ingredients on hand. Full measurements are listed further down below.
For the cauliflower tacos:
one head cauliflower
eggs
olive oil
hot sauce or mild buffalo sauce
parmesan cheese
smoked paprika
salt and pepper
wheat tortilla
fresh cilantro
avocado
lime
For the coleslaw salad:
cabbage (red and green)
avocado
garlic cloves
plain yogurt
lime
salt and pepper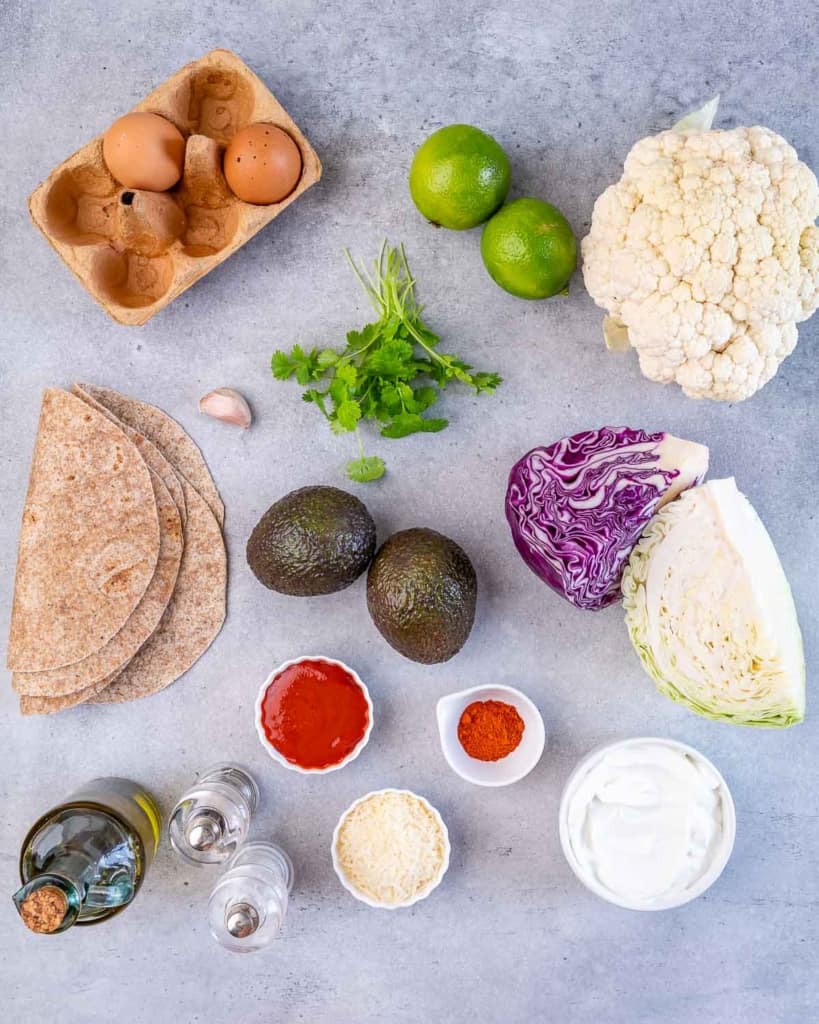 How to make this cauliflower taco recipe
For the cauliflower tacos:
Preheat the oven to 400F and line a large baking tray with parchment paper. Set aside.
Cut the cauliflower into bite-size florets. To a large bowl, whisk the eggs together with oil and hot sauce. 
Prepare a large ziplock bag and add in the Parmesan cheese, smoked paprika, salt, and pepper. Mix well.
Add the cauliflower florets to the egg mixture and toss to get all pieces nicely coated. 
Next, transfer to the ziplock bag, close it and shake to evenly coat all the cauliflower pieces. Place the florets on the prepared baking tray and bake for 15-17 minutes, or until golden brown.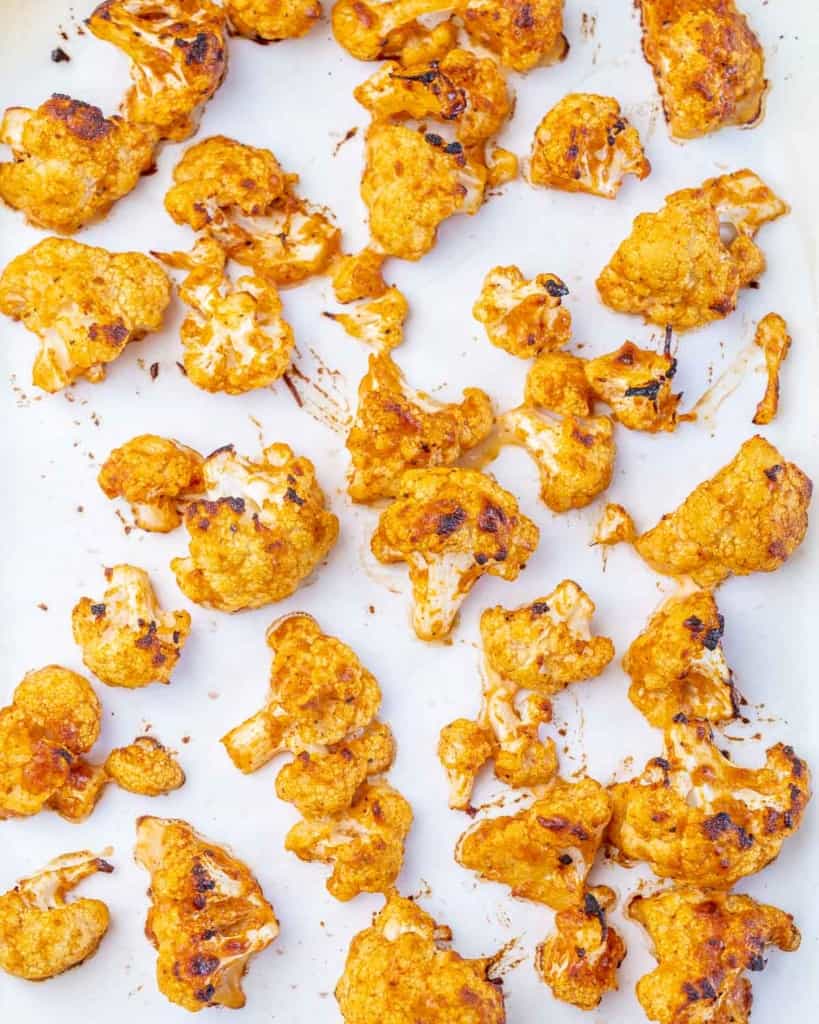 For the coleslaw salad:
Meanwhile, using a mandolin, carefully shred the cabbage very thinly. Set aside in a medium bowl.
To a small food processor, add the avocado, garlic, yogurt, lime juice, salt, and pepper. Pulse until smooth.
Pour ¾ of the avocado sauce over the shredded cabbage and toss well to combine.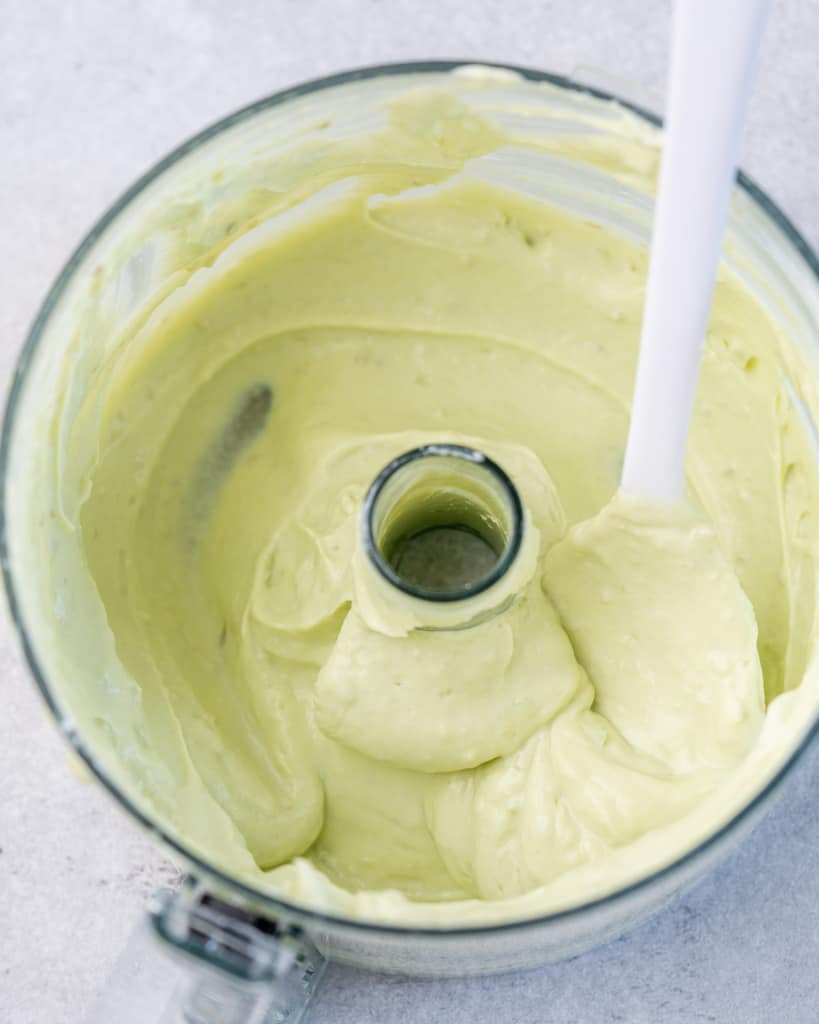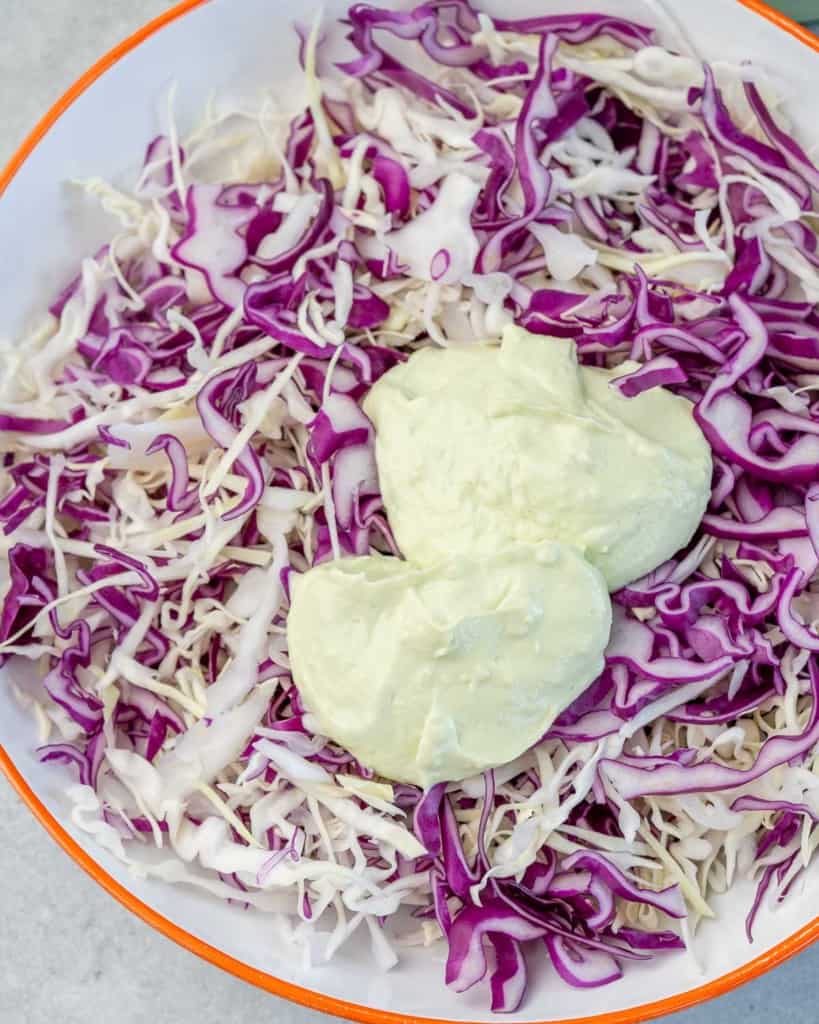 To make the tacos:
To assemble the tacos, add the baked cauliflower and top with coleslaw salad.
Drizzle with the remaining yogurt sauce, garnish with fresh cilantro and chopped avocado.
Serve with lime wedges and enjoy!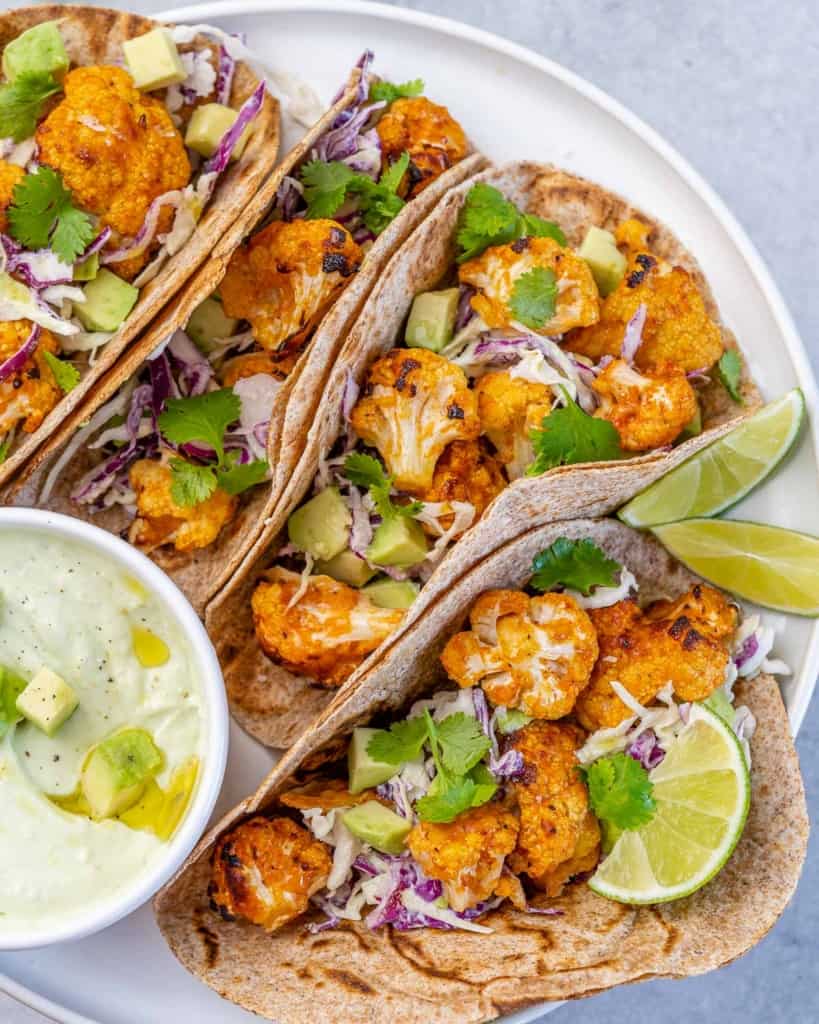 Recipe notes, tips, and substitute
Hot sauce: instead of adding hot sauce, you may use a mild buffalo sauce 
Tortilla: you can use any of your favorite low carb tortillas 
Yogurt: plain yogurt was used to make the coleslaw dressing. You can use dairy-free or Greek yogurt.
This taco is vegetarian friendly but can be made vegan by skipping the eggs or using egg substitutes. Use dairy-free yogurt and vegan parmesan.
Make ahead: consider making the coleslaw ahead and cutting and preparing the cauliflower the day before. Store the cut cauliflower in a bowl filled with water in the fridge.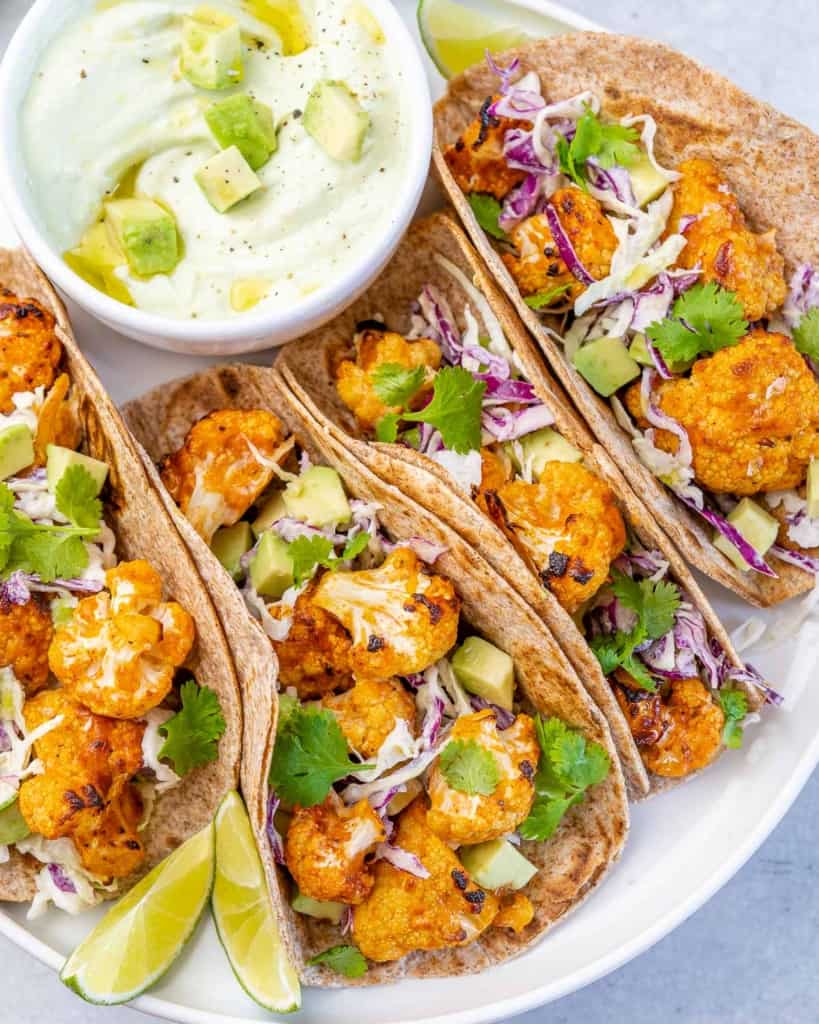 Frequently asked questions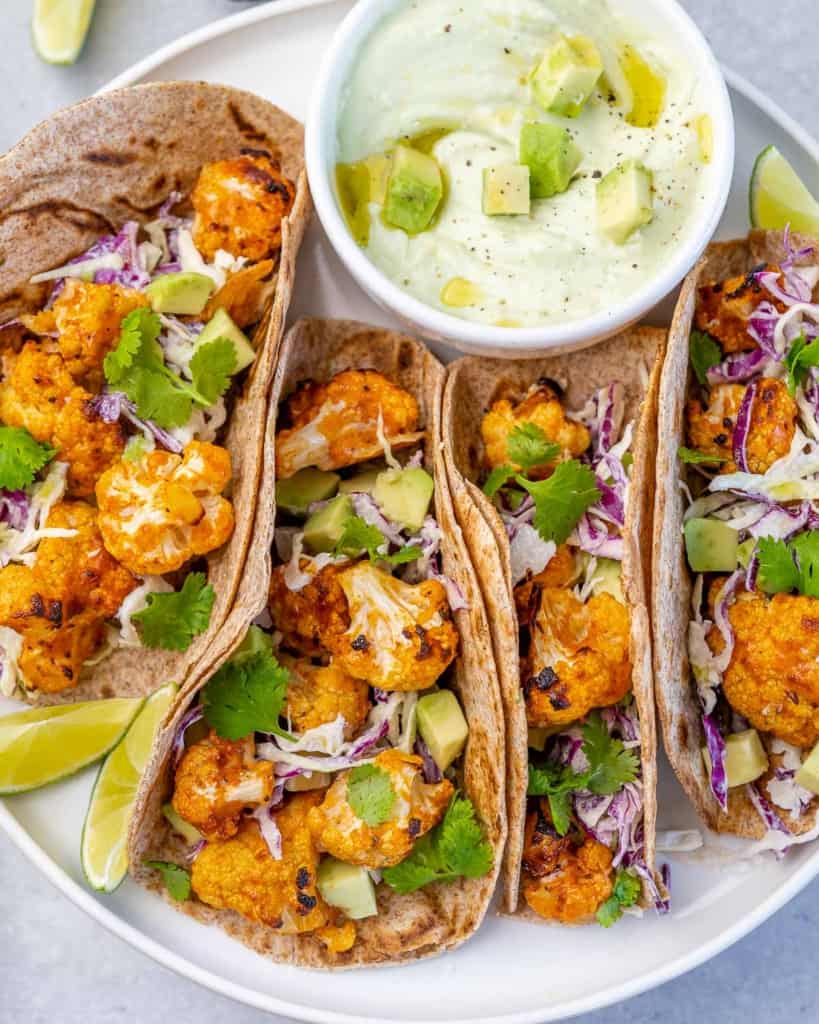 Other vegetarian recipes you may like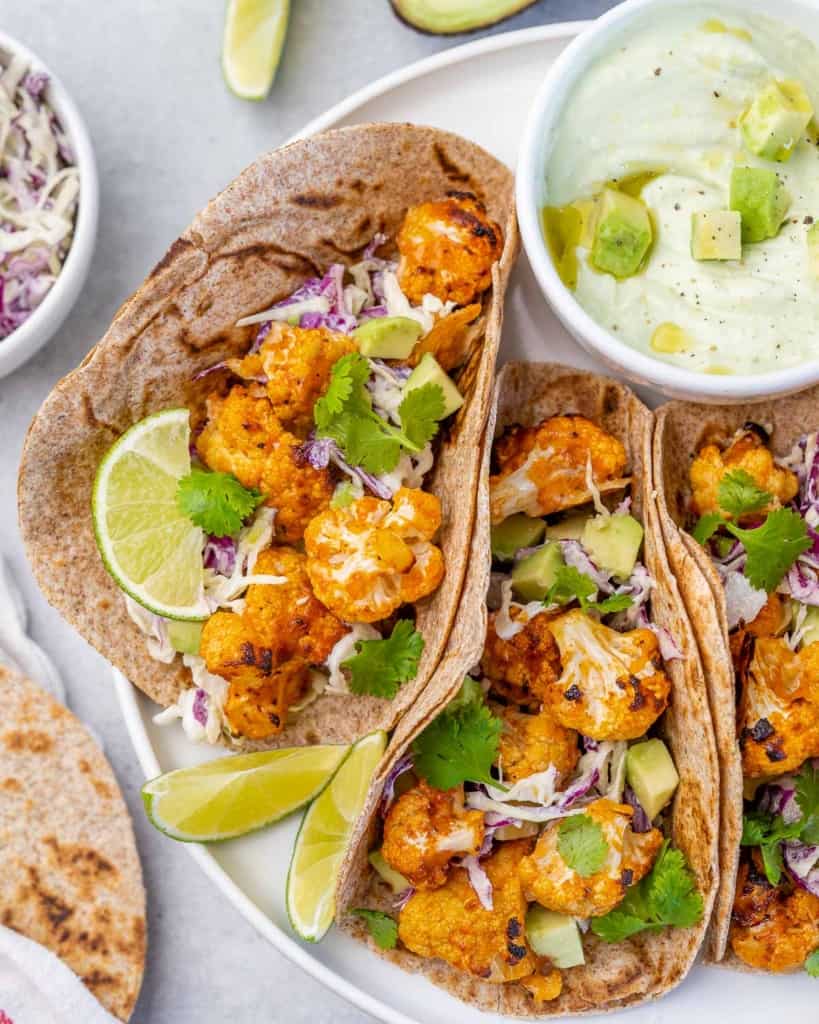 If you try a recipe and you like it, leave us some feedback in the comment section below, and don't forget to rate it! We would love it if you shared it with friends and family.
Finally, please use our hashtag #healthyfitnessmeals on INSTAGRAM for a chance to be featured! FOLLOW Healthy Fitness Meals on FACEBOOK | INSTAGRAM | PINTEREST | TWITTER for all of our latest blog posts and recipes.