Looking for a healthier way to enjoy homemade chicken nuggets? This easy Air Fryer Chicken Nuggets recipe is seasoned to perfection and cooked in the air fryer until perfectly golden and crispy. Serve with dipping sauces for a satisfying and kid-friendly dinner in under 30 minutes.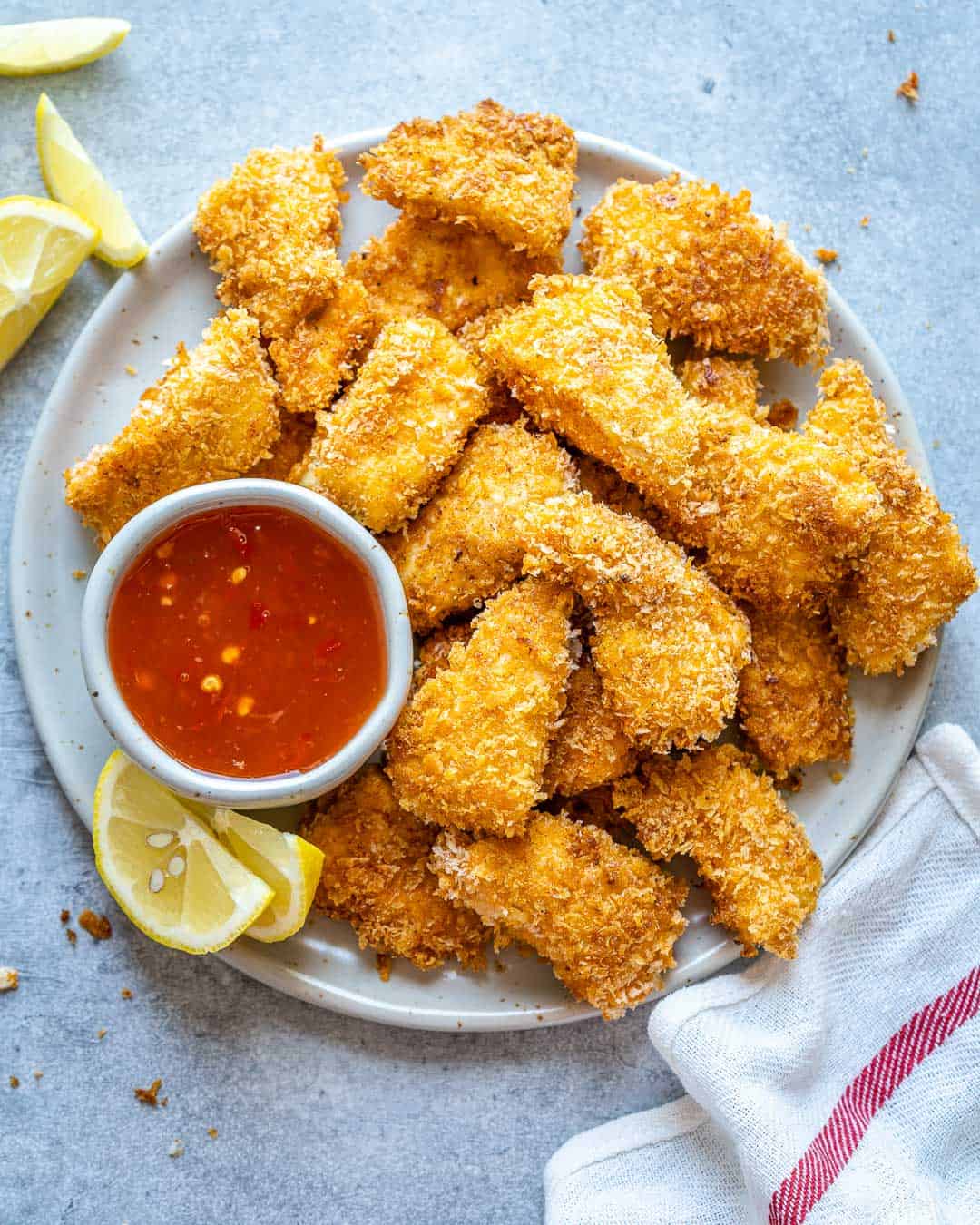 If you like making fast and easy dinners that everybody loves, this Air Fryer Chicken Nuggets recipe is perfect for you. It is a simple and healthy chicken nugget recipe that can be made in about 25 minutes and makes the best crispy nuggets. Plus making homemade chicken nuggets in the air fryer is more nutritious than store-bought, is dairy-free, and can easily be made gluten-free. Adults can enjoy these chicken nuggets just as kids and they can be added to your meal prep bowls and tossed in over your salad.
Why You'll Love These Homemade Chicken Nuggets
Super easy. This recipe only uses 8 ingredients that you probably already have around the house. Then you just need ten minutes to prep and 15 minutes to cook before dinner is ready to serve!
Kids and adults love them. Chicken nuggets are a childhood classic that no kid will turn down. But adults like them equally well, so you can serve them to the whole family.
Healthier version. Making chicken nuggets in the air fryer cuts down on fat and calories compared to store-bought, deep-fried, or fast food versions. Plus they are dairy-free and can easily be adapted to be gluten-free.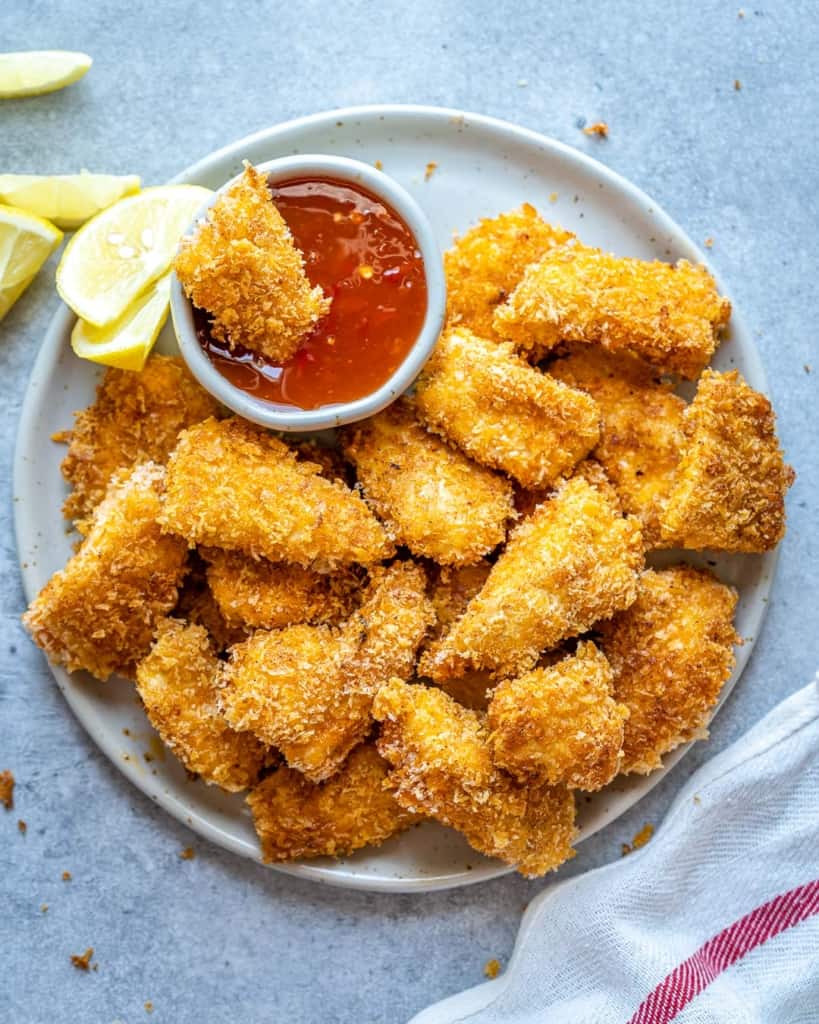 Ingredients You'll Need
These are just a list of ingredients that you will need to make these air fried chicken nuggets. For full measurements, please scroll down to the bottom of this post.
Chicken breasts
Eggs
Smoked paprika
Garlic powder
Onion powder
Black pepper
Kosher salt
Panko breadcrumbs
Cooking oil spray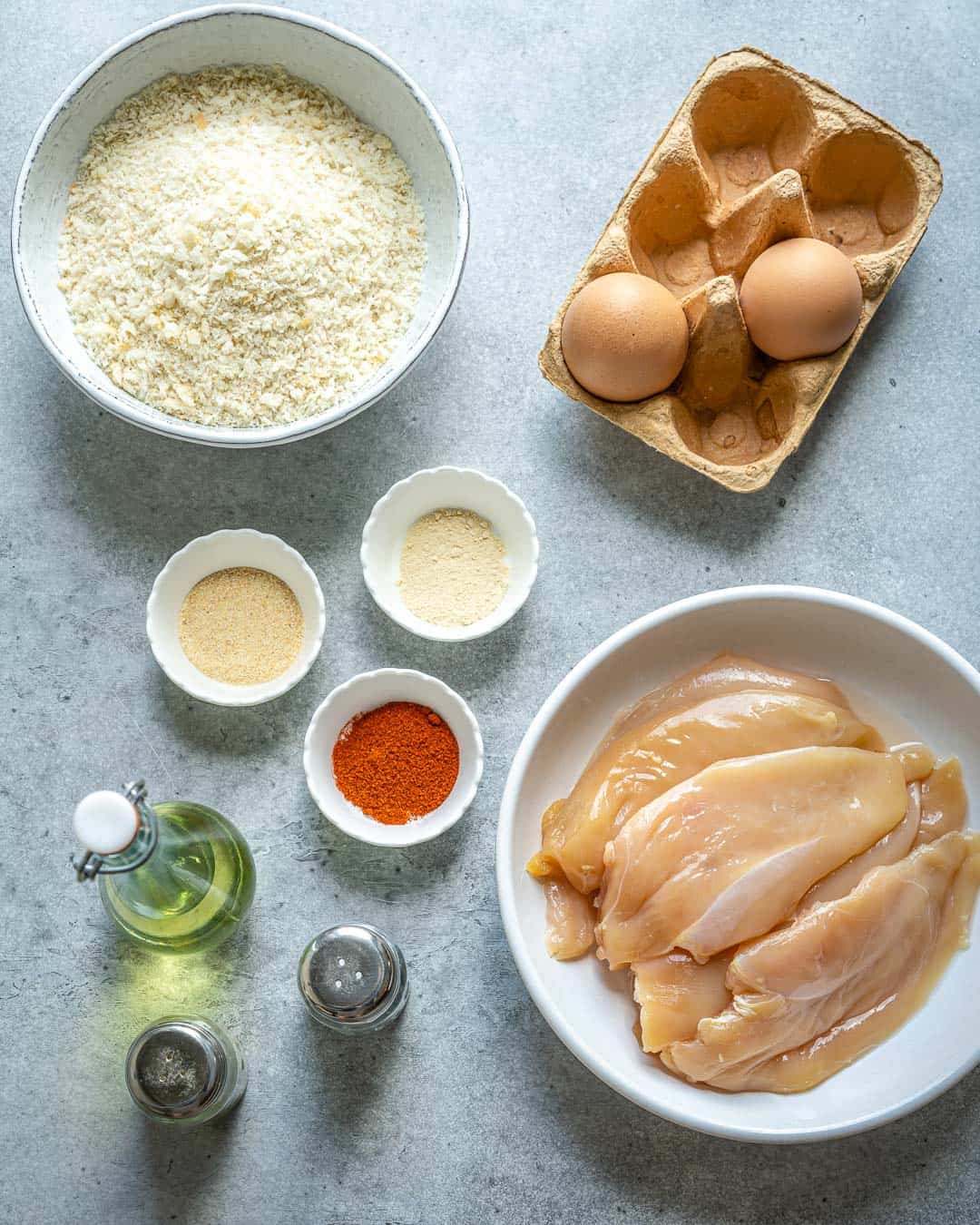 How to Make these Chicken Nuggets in the air Fryer – Step by Step
Preheat. First, preheat the air fryer at 400°F for about 10 minutes.
Prep the chicken. Next, trim any fat from the chicken breast and cut into 1-inch chunks; set aside.
Make dipping stations. In a large mixing bowl, whisk eggs, paprika, garlic powder, onion powder, black pepper, and salt. Then in a second shallow dish place the breadcrumbs.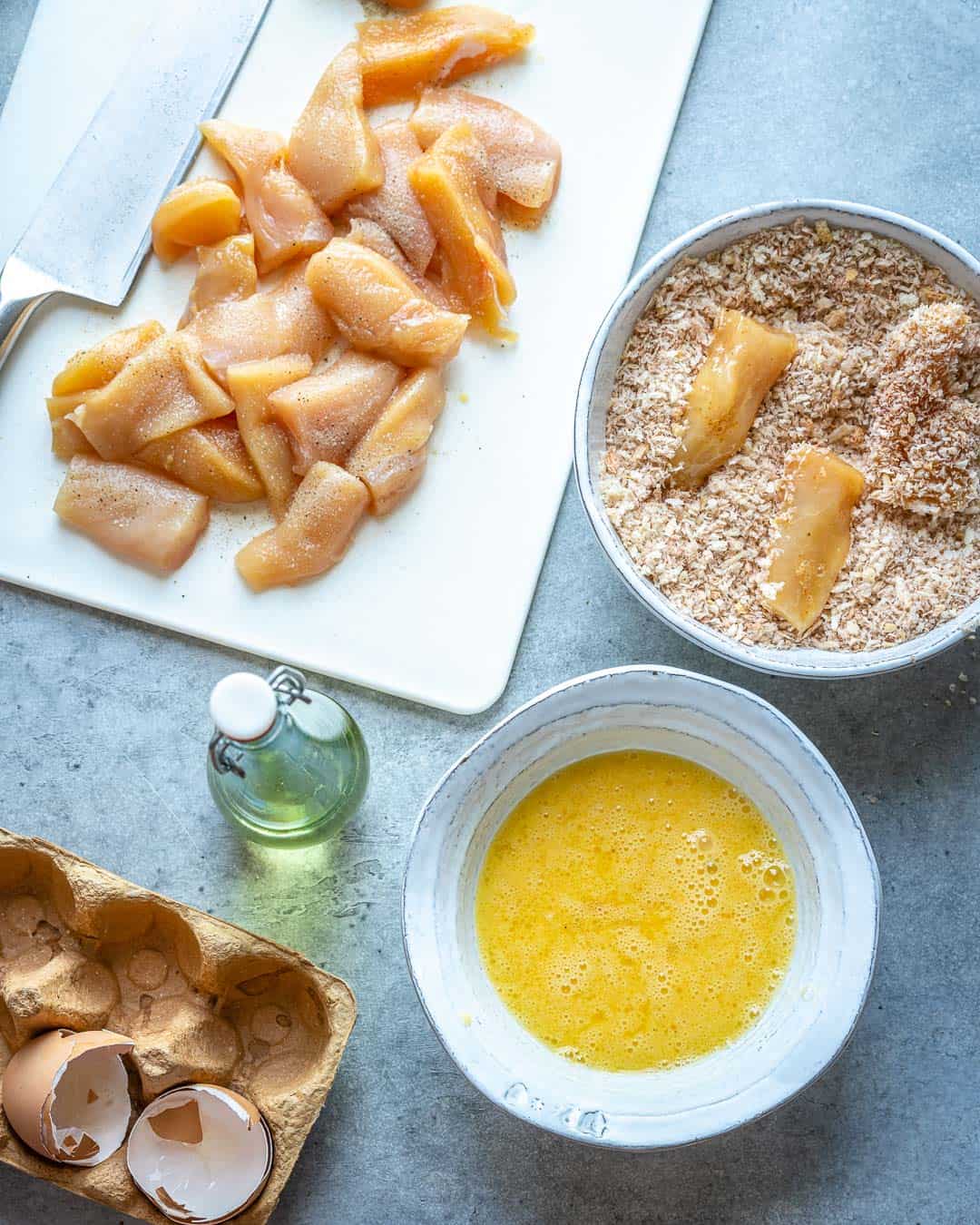 Bread the chicken. Now dip each chicken piece into the egg and then into the breadcrumbs, pressing lightly to help the coating adhere.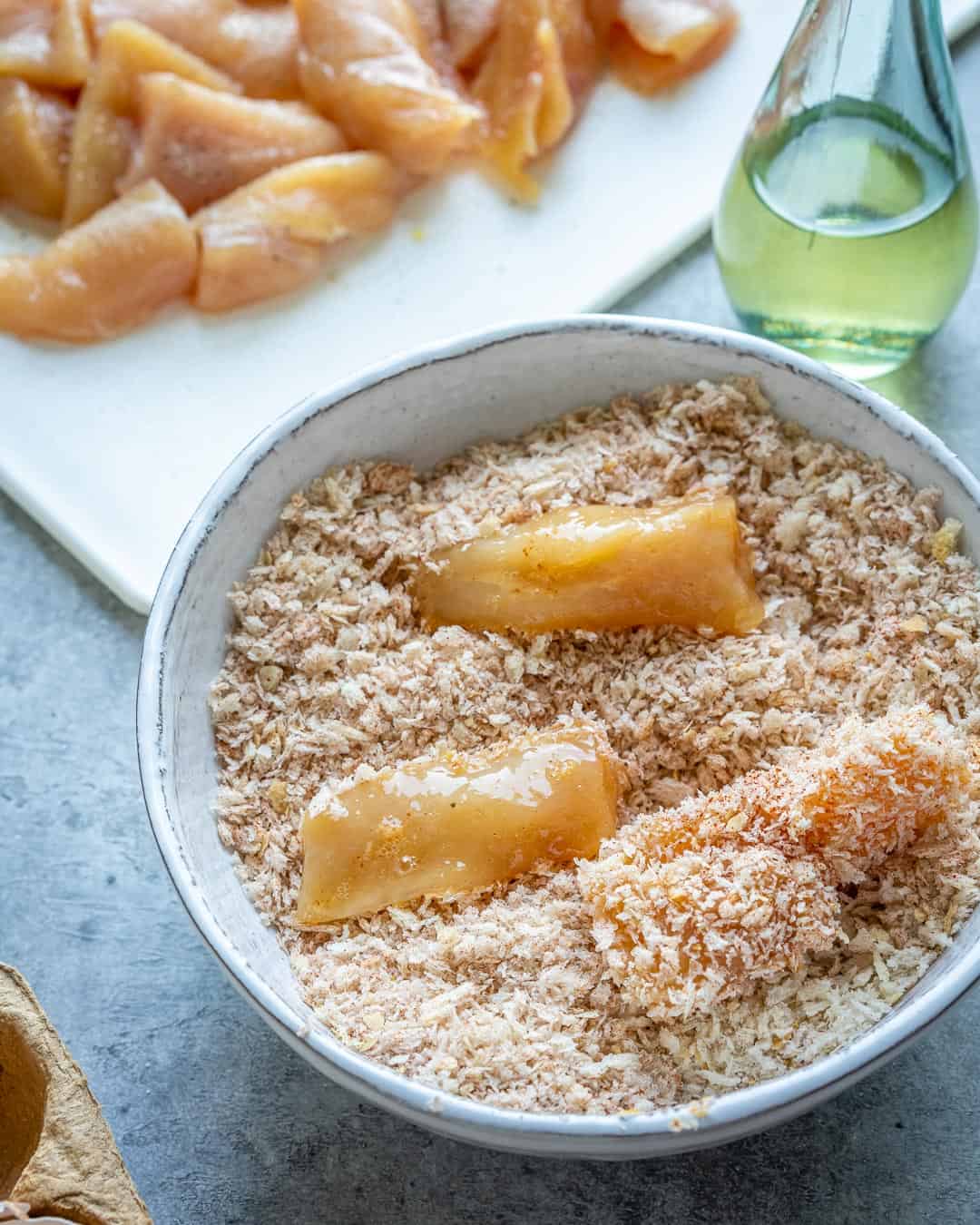 Cook. Place chicken nuggets in the air fryer basket, in a single layer; you may need to bake in two batches or more, depending on the size of your fryer. Then spray the nuggets with some cooking oil and air fry for 12-15 minutes or until crispy and the internal temperature reaches 165°F.
Serve! Once done remove the nuggets from the basket with a tong. Serve with your favorite dip and enjoy!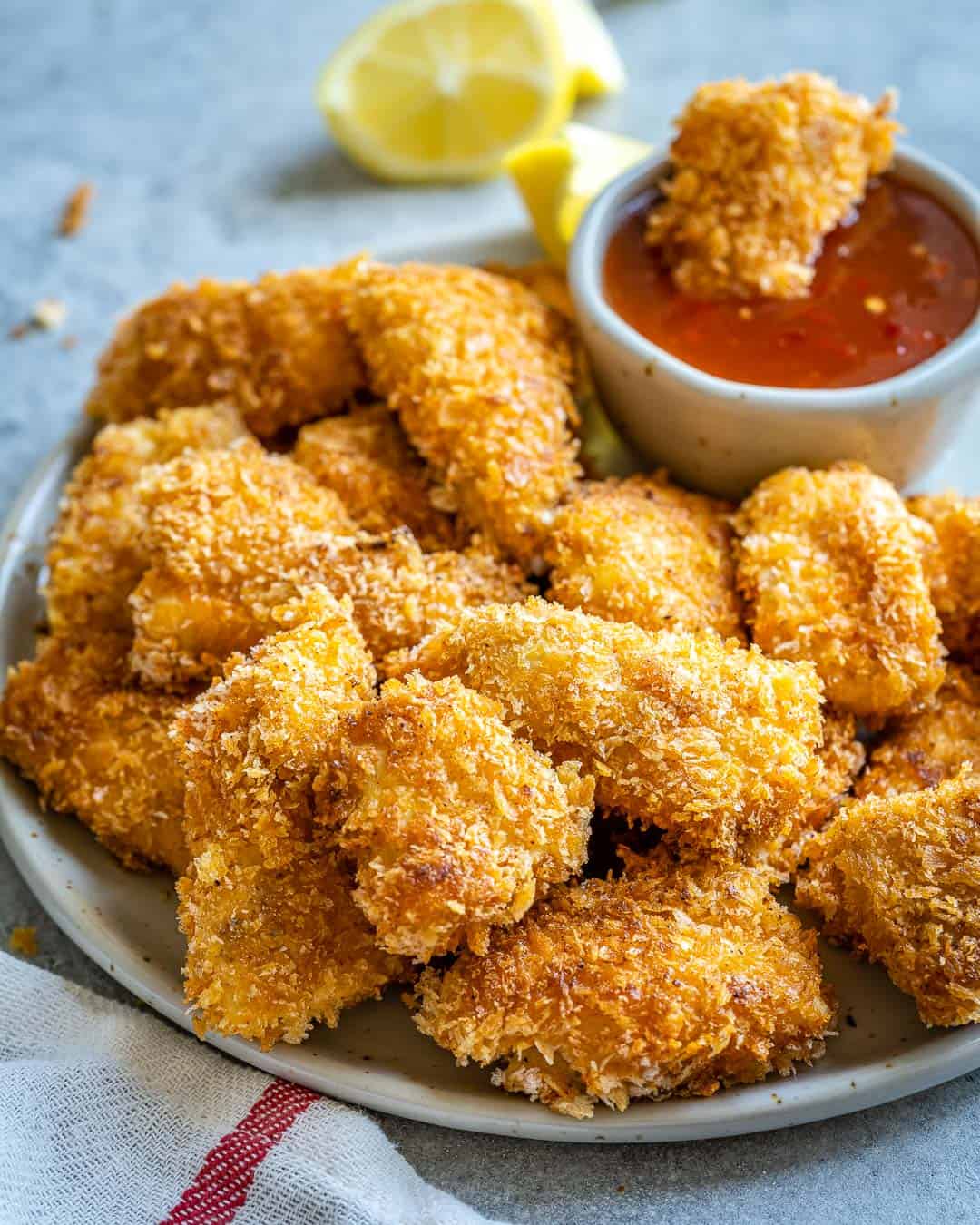 How to make crispy chicken nuggets in the oven
Preheat oven: First, preheat the oven to 400F
Prepare the nuggets: Follow the same steps as you would if you were air-frying (please refer above or scroll down to the recipe card steps 2-5)
Line the nuggets on a greased sheet pan. Or you may add a wire metal rack on a sheet pan, spray with some cooking spray to prevent nuggets from sticking, transfer the nuggets to the wire rack. Spray the top of the nuggets with more cooking spray.
Next, Bake: Place them in the oven and bake for 15-20 minutes until they are crispy or temp reached 165 F.
Finally, serve with your favorite dip.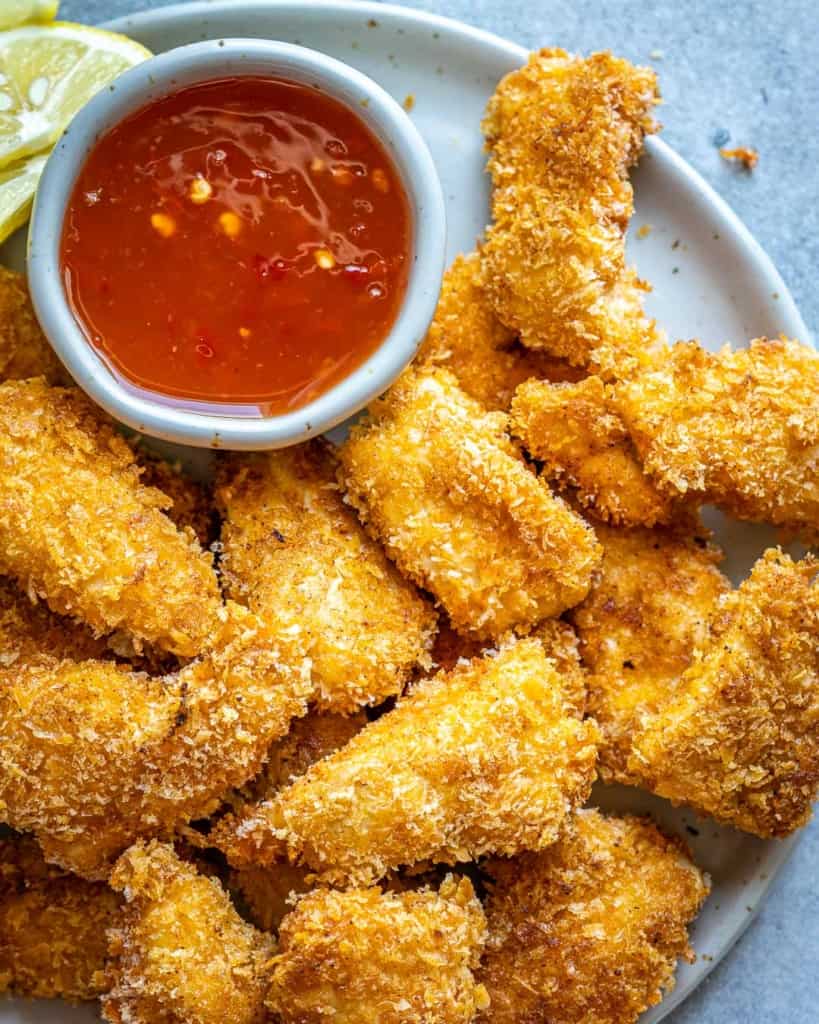 Sides to Serve with Chicken Nuggets
Tips and Substitutions
Chicken breasts: To help each chicken nugget cook evenly in the air fryer, make sure to cut them into equal-sized chunks.
Smoked paprika: Regular paprika can also be used, but the smoked paprika definitely adds more flavor.
Cooking oil spray: An olive oil spray will add a little extra flavor, but any other neutral oil will work just as well.
Cook the chicken in a single layer, with no pieces overlapping or touching significantly. Also, if needed, cook in two batches. This will help them get really crispy!
To make gluten-free, use gluten-free panko bread crumbs.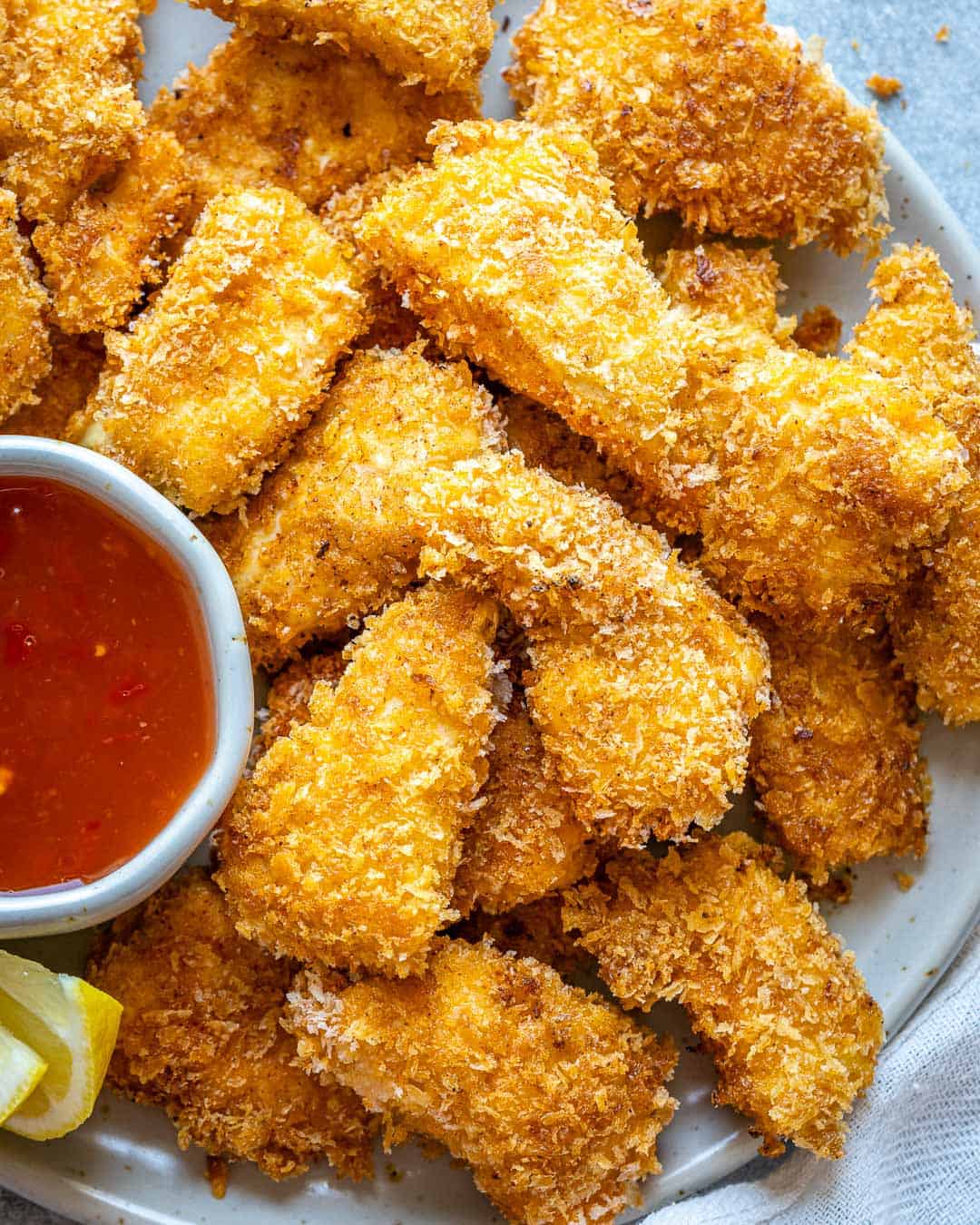 FAQ's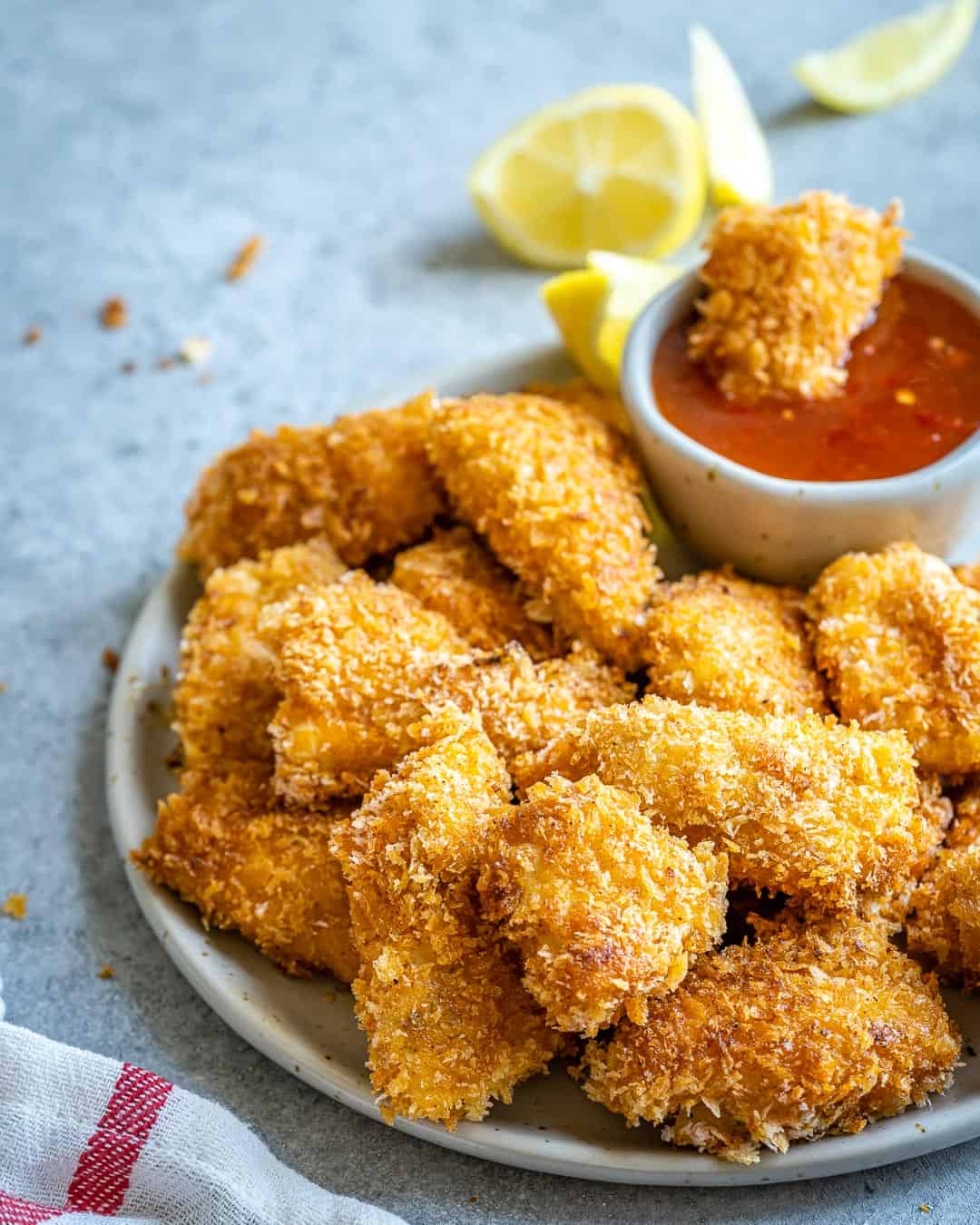 More Easy Dinner Recipes
If you try a recipe and you like it, leave us some feedback in the comment section below, and don't forget to rate it! We would love it if you shared it with friends and family.
Finally, please use our hashtag #healthyfitnessmeals on INSTAGRAM for a chance to be featured! FOLLOW Healthy Fitness Meals on FACEBOOK | INSTAGRAM | PINTEREST | TWITTER for all of our latest blog posts and recipes.