This moist and juicy Baked Honey Chicken Drumstick recipe is easy to make and packed with flavor! Whip up a quick and healthy marinade and then bake until drumsticks are sticky and golden-brown; this chicken recipe is perfect to serve to your family for lunch or dinner!
This easy chicken recipe is sweet, sticky-slightly messy but an oh-so-tasty meal, that requires a handful of ingredients, is ready in under an hour, and is a dish that everyone will love!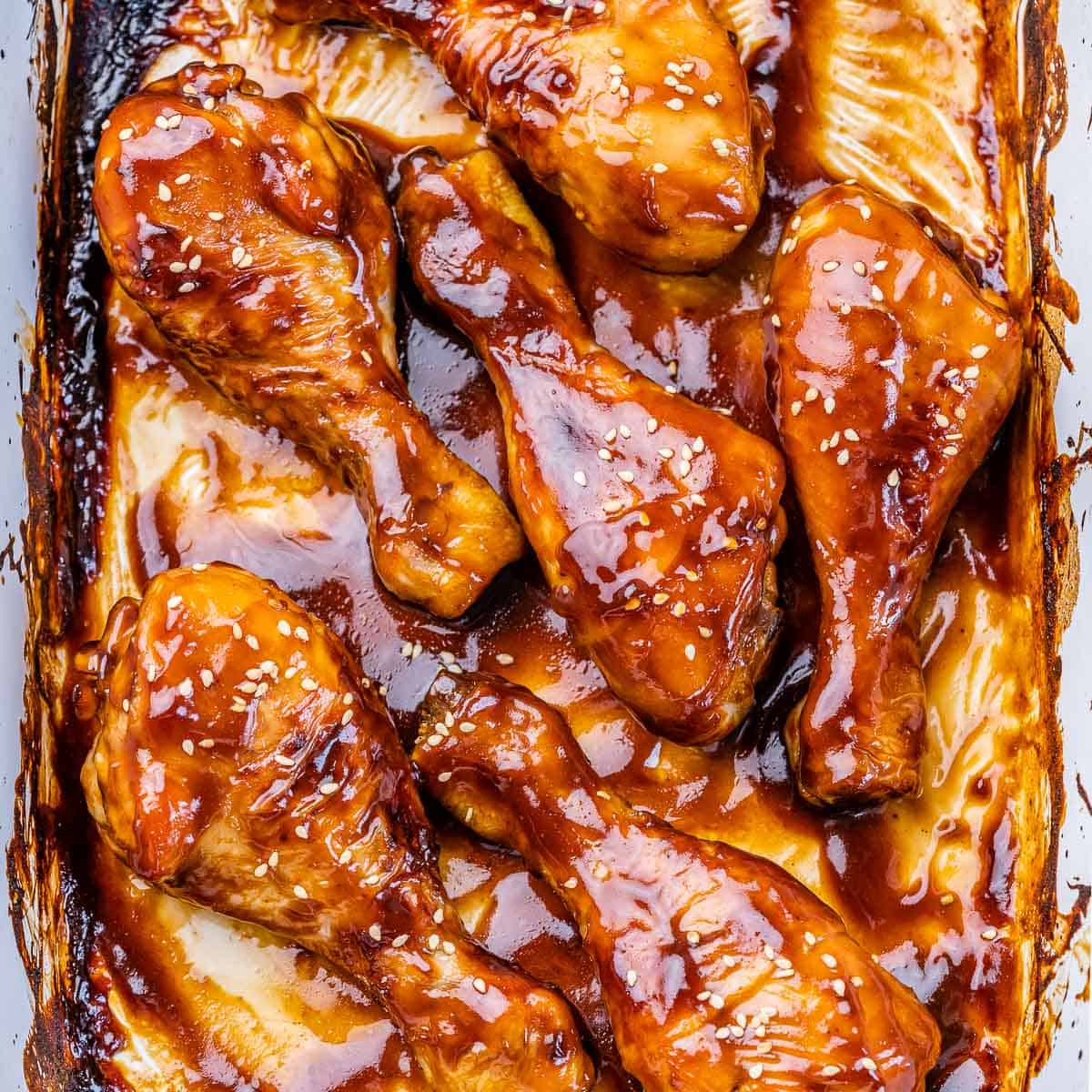 This sweet and savory Honey Baked Drumstick recipe is one flavorful chicken recipe! Made with honey, coconut aminos, a combination of warm and subtly sweet spices, and baked to perfection. This easy-baked chicken recipe will quickly become a family favorite especially since it's so easy to prepare!
The homemade honey marinade is so simple to make, coming together in a matter of minutes! Then it's poured over the drumsticks and baked to golden-brown perfection.
And while many baked chicken recipes can be boring, this dish is anything but that! Packed with flavor, this easy dish will make your tastebuds sing. The honey marinade helps ensure that the chicken is perfectly moist every time. Serve with a side of steamed rice and veggies for a complete meal.
Why you'll love these baked honey drumsticks
Healthy: This baked honey drumstick recipe is a healthy, lower-carb chicken recipe made with minimal clean ingredients.
Delicious: This simple-to-make recipe is packed with flavor. Juicy drumsticks are slathered in a sticky-sweet honey marinade that turns into a thick and ridiculously addicting glaze as it bakes. This easy recipe takes these simple flavors to the next level and will quickly become a family favorite.
Easy: This dish is so easy to whip up! It takes just a few minutes to mix up the marinade – and that's seriously the most work you have to do for this recipe! After the marinade is made, the chicken gets to sit in the flavorful sauce until you're ready to bake until golden-brown perfection. This is an ideal recipe for those super busy weeknights!
Versatile: Feel free to add sriracha or red pepper flakes to give this honey marinade a little kick. Prefer more sweetness? Add a touch more honey. Looking to add more umami? Add in more coconut aminos!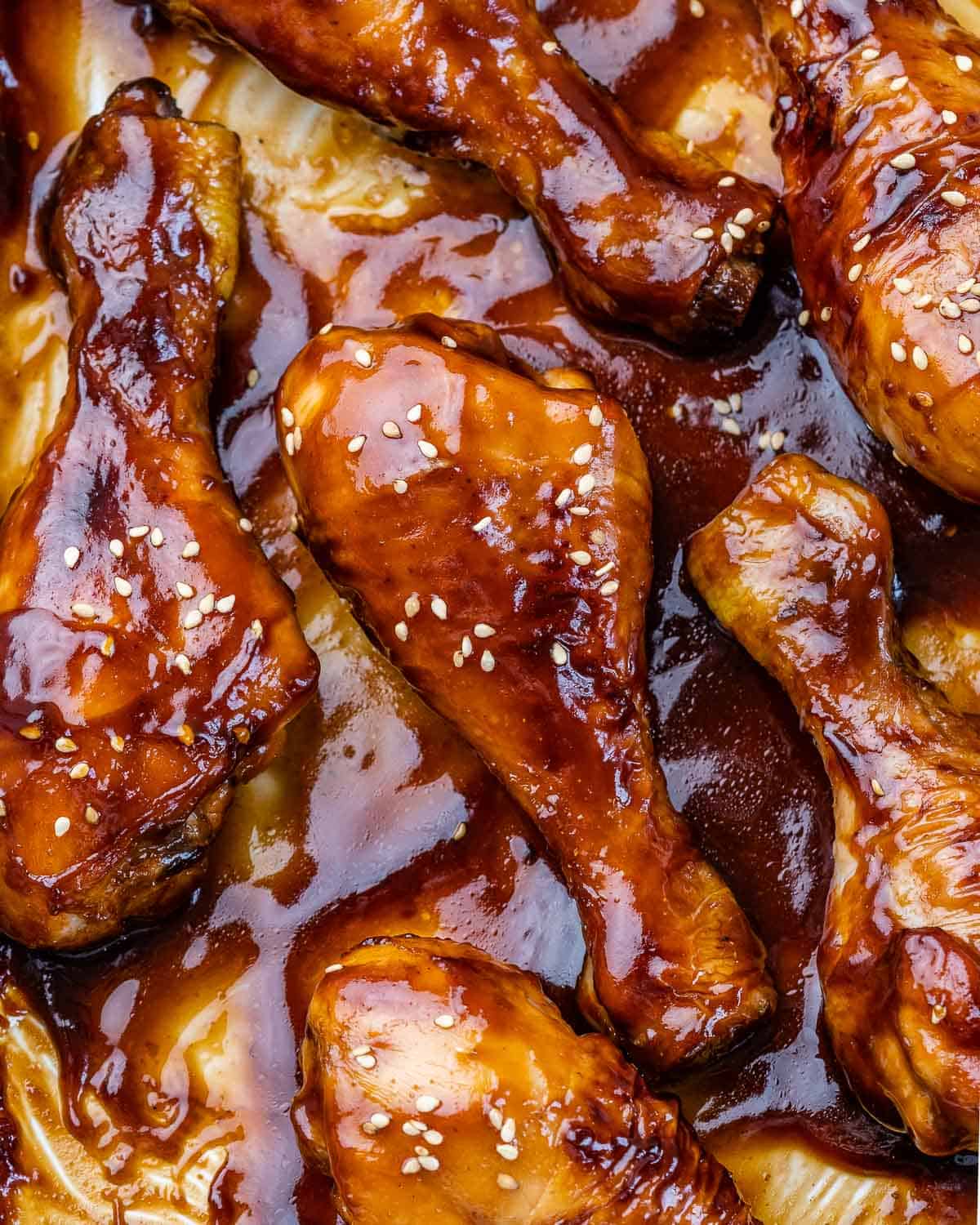 ingredients you will need for honey-baked chicken drumsticks
Chicken drumsticks: I love using drumsticks because they are SO flavorful, but bone-in, skin-on chicken thighs, boneless chicken thighs, or even breasts can be substituted. If using boneless chicken thighs or breasts, note that the cooking time will be shortened.
Honey: The sweet element of this savory chicken recipe comes from honey. Honey is a natural sugar and when paired with the coconut aminos and warm spices, helps create that perfect sweet-savory flavor of the dish.
Coconut aminos: This is an excellent alternative to soy sauce. Soy sauce tends to be high in sodium, sugar, carbs, and gluten; therefore, we like to use coconut aminos. Coconut aminos is an excellent soy-free, gluten-free, lower-sodium alternative that in my opinion, is more delicious than soy. You can find coconut aminos down the sauce aisle or near the Asian sauces of most local grocery stores.
Sesame oil: Used to add a strong, nutty flavor that pairs beautifully with the sweet and savory elements of this dish.
Seasonings: The marinade is a mix of garlic powder, onion powder, ginger powder, salt, and pepper. These warm and subtly sweet flavors all pair well together and complement the sweetness of the honey.
Cornstarch: Used to help thicken the glaze. If you need to make this dish gluten-free, feel free to use potato starch subbing in 4 teaspoons for every 1 tablespoon of cornstarch.
Kosher salt and pepper: Used to taste. Feel free to use table salt, keeping in mind you'll need to use less as the flavor is more concentrated.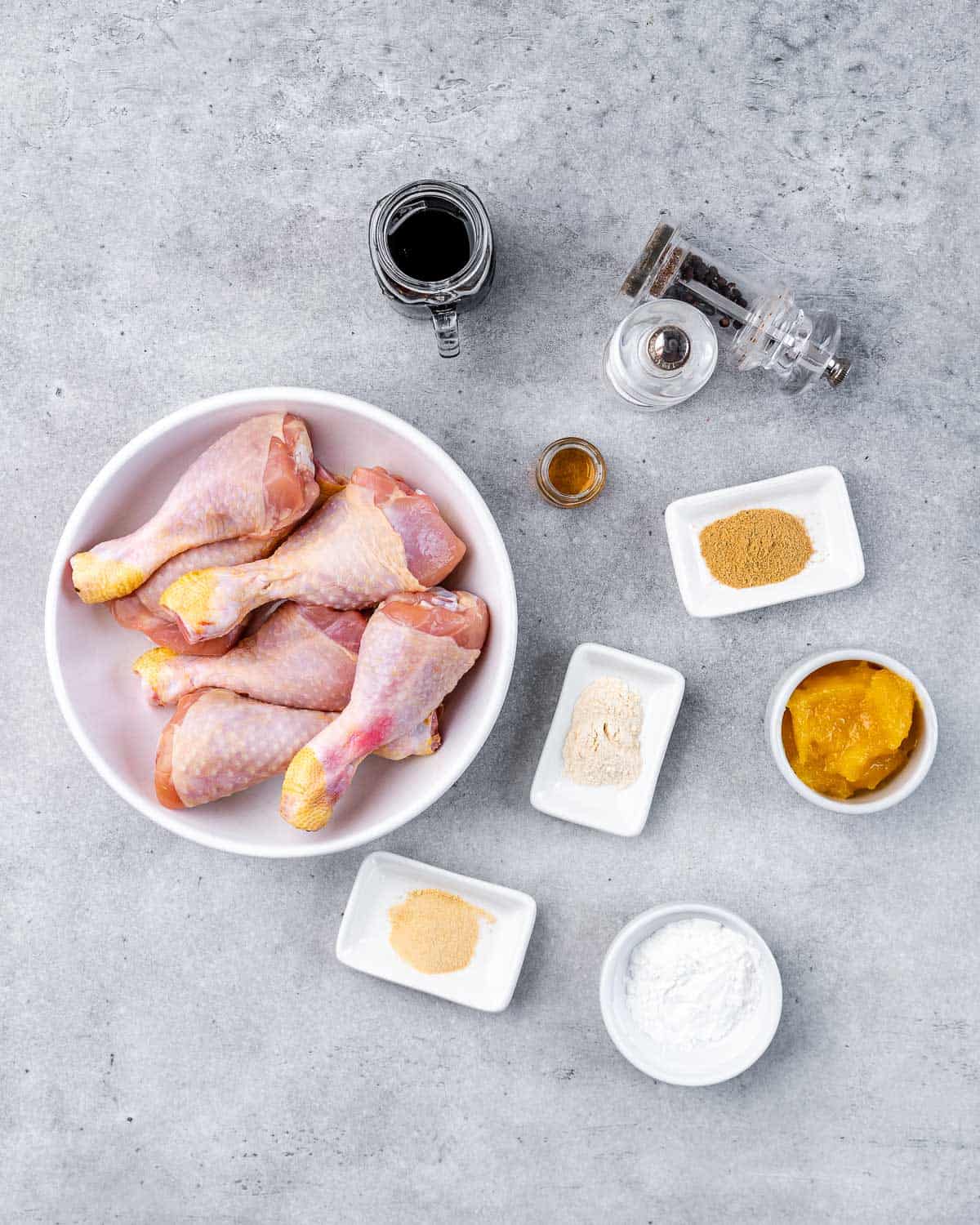 how to make honey baked chicken drumsticks
To start, make the marinade. Place honey, coconut aminos, sesame oil, garlic powder, onion powder, ginger powder, and cornstarch in a small jug or mixing bowl. Whisk vigorously until all ingredients are combined.
Next, place drumsticks in a large Ziplock bag and add marinade. Allow chicken to marinate in the fridge for at least 1 hour or overnight.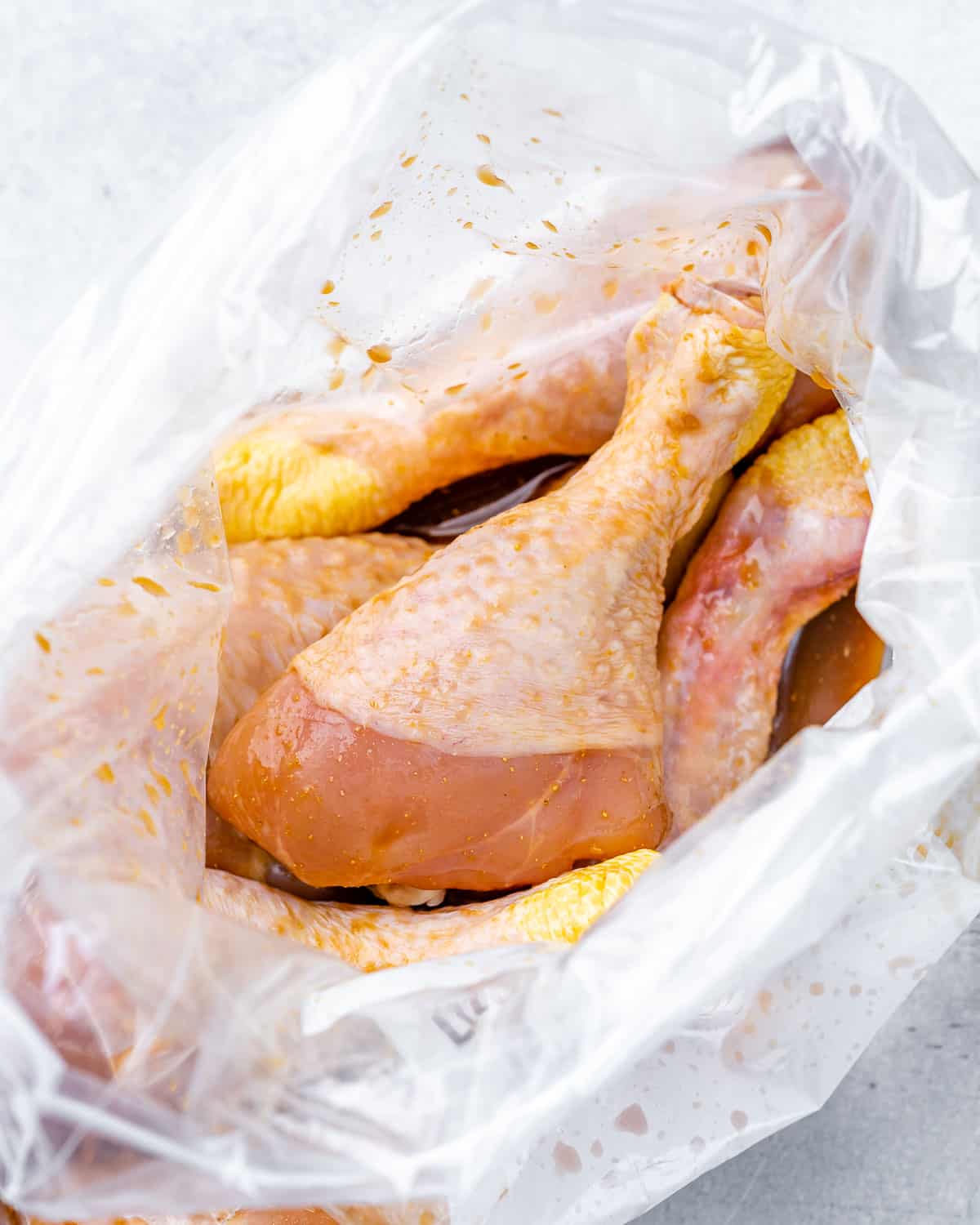 When ready to bake, preheat the oven to 400°F.
Transfer chicken and marinade to an oven-safe baking dish and bake for 45 minutes. Flip every 15 minutes, basting with the sauce as you turn.
Serve with a side of rice, sprinkle with sesame seeds and enjoy!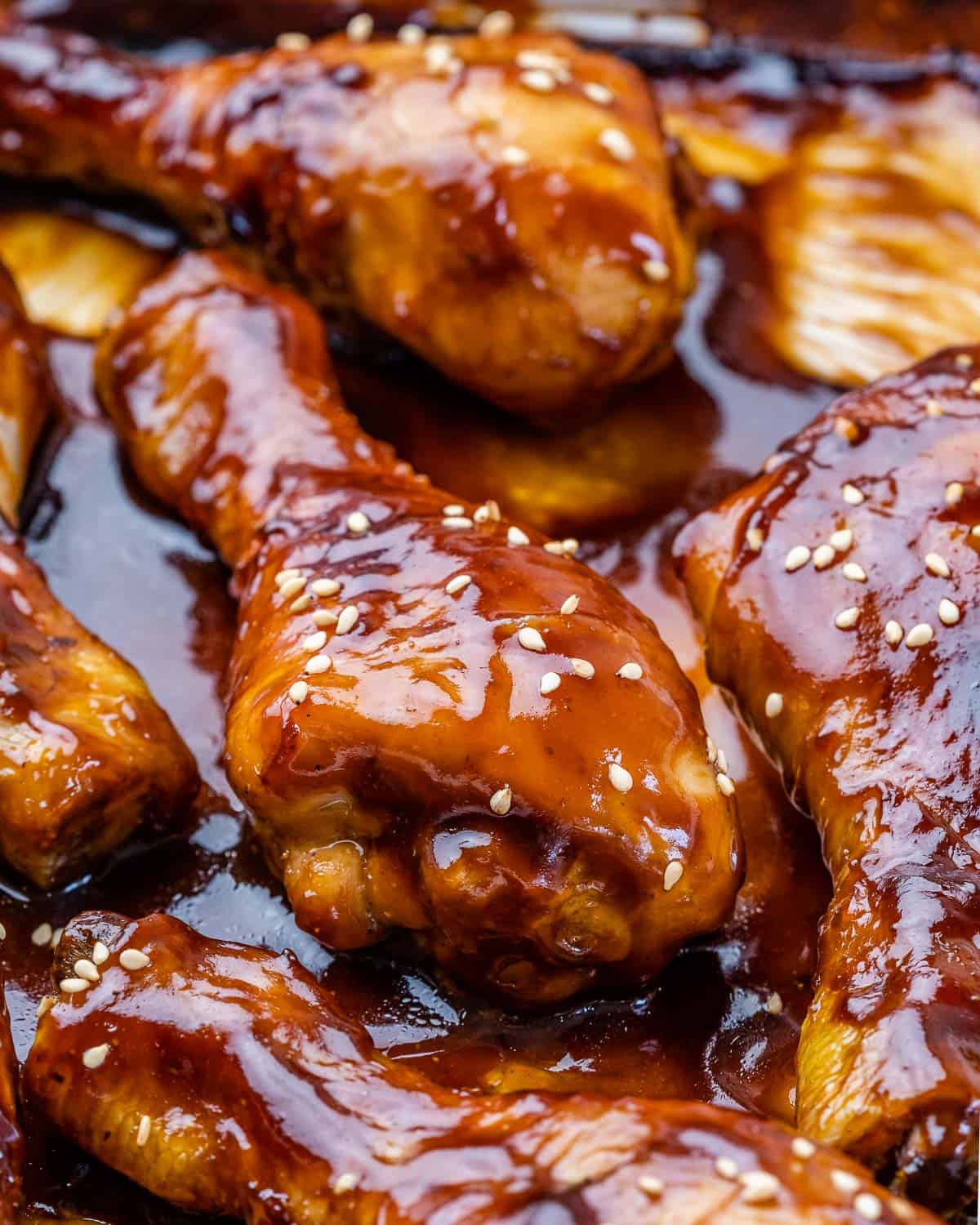 Frequently asked questions
Are baked chicken legs healthy?
Chicken drumsticks, also known as chicken legs, are an excellent source of animal protein. While I prefer to bake the chicken with the skin on to ensure it stays juicy and moist if you are following a low-fat diet, remove the skin before consuming. And if possible, always buy organic chicken raised without hormones!
What internal temperature should I cook the chicken?
Chicken is fully cooked when it reaches an internal temperature of 165°F.
How long does it take for chicken drumsticks to cook in the oven?
For this recipe, I bake the chicken legs for 45 minutes at 400°F. At this oven temperature, the chicken always turns out moist, juicy, and perfectly golden-brown with crispy skin.
Should I cover these chicken legs while cooking?
No, you do not have to; however, I find this to be a personal preference. I prefer to bake these uncovered to get that beautiful golden-brown skin. Baking uncovered also helps the skin caramelize and crisp up as it locks in all the flavors of that decadent marinade.
What temperature should I bake these chicken legs at?
To get that nice color and crispy exterior, you want a nice hot oven. This recipe bakes the chicken drumsticks at 400°F.
How to store, freeze, and reheat this honey drumstick recipe
Storage: Place cooled drumsticks in an airtight container or Ziplock bag and store them in the fridge for up to 3 days.
Freezing: Allow chicken thighs to come to room temperature, then place in a freezer-safe, airtight container or bag, and freeze for up to 1 month.
To reheat: Allow frozen chicken drumsticks to thaw overnight in the fridge, then come to room temperature on the counter. When ready to consume, place on a baking sheet and place in a 275°F oven until warmed through.
recipe notes and tips
Bake chicken until the internal temperature of the chicken reaches 165°F.
We prefer using drumsticks, but you may use bone-in, skin-on thighs, boneless skinless thighs, or even boneless skinless breasts.
Maple syrup would be a good substitute for the honey, just know the flavor will change slightly.
Serve with steamed rice and veggies and top with sesame seeds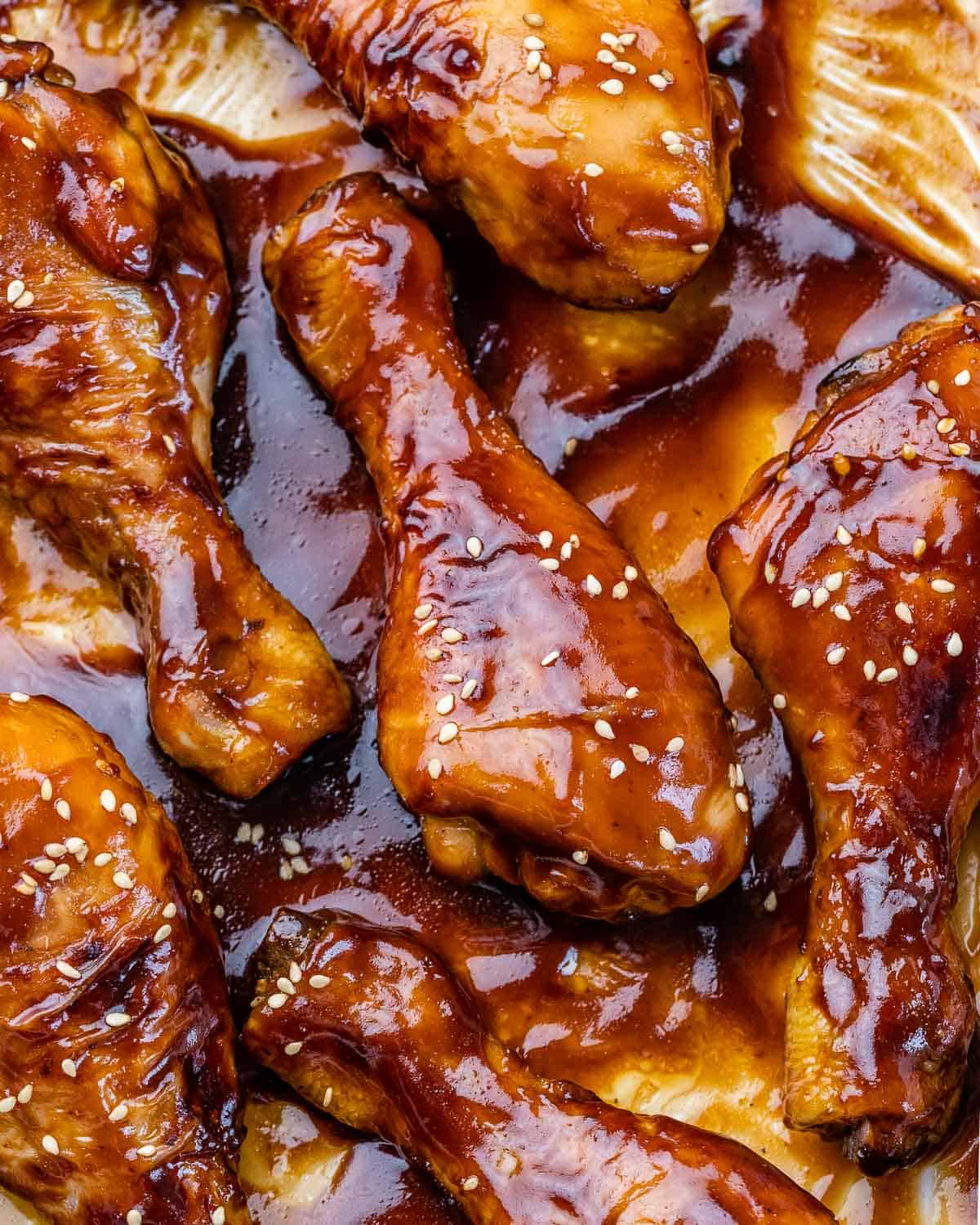 more honey chicken recipes you may like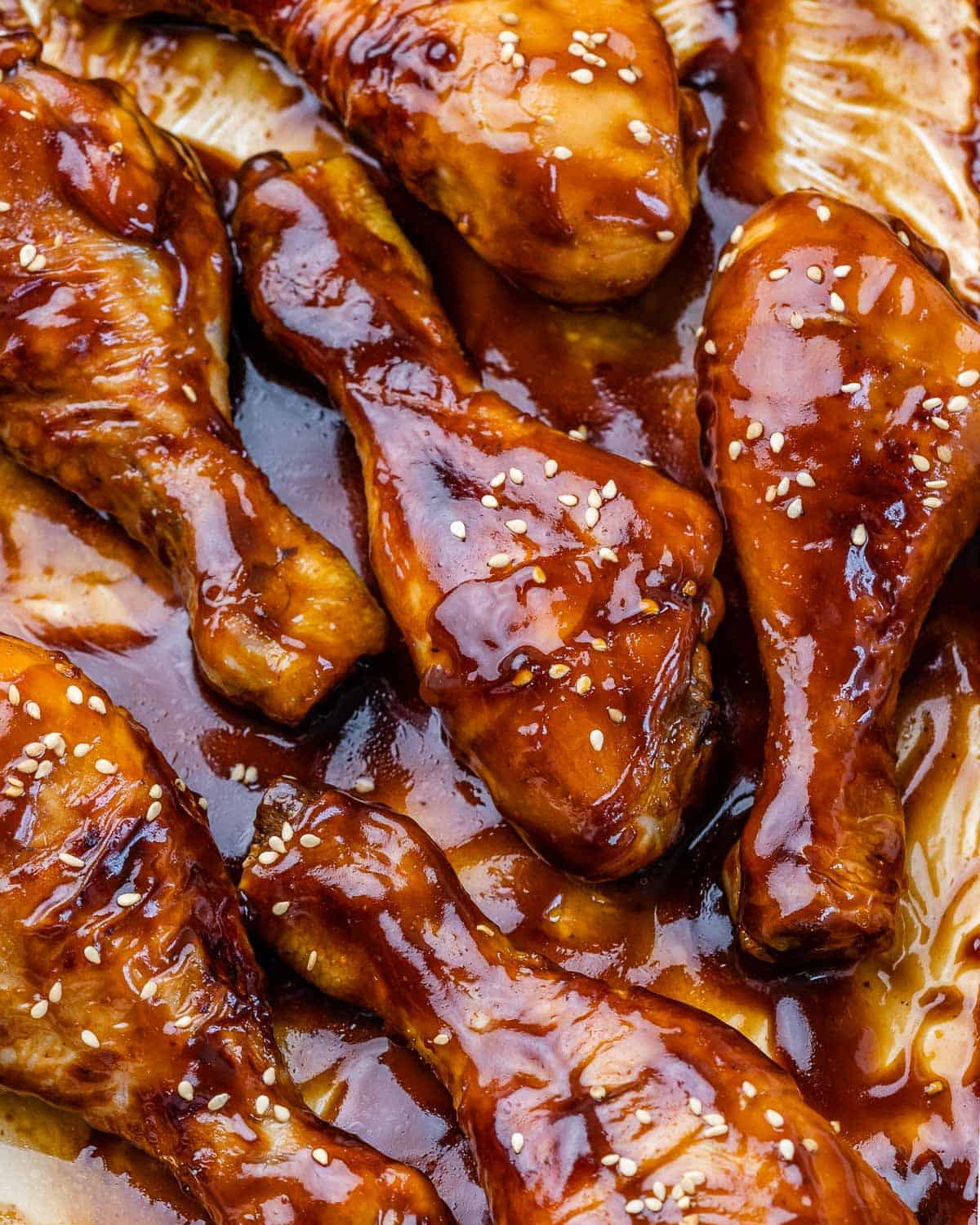 more chicken recipes you may like
If you try a recipe and you like it, leave us some feedback in the comment section below, and don't forget to rate it! We would love it if you shared it with friends and family.
Finally, please use our hashtag #healthyfitnessmeals on INSTAGRAM for a chance to be featured! FOLLOW Healthy Fitness Meals on FACEBOOK | INSTAGRAM | PINTEREST | TWITTER for all of our latest blog posts and recipes.
Honey Baked Chicken Drumstick
This moist and juicy Baked Honey Chicken Drumstick recipe is easy to make and packed with flavor! Whip up a quick and healthy marinade and then bake until drumsticks are sticky and golden-brown; this chicken recipe is perfect to serve to your family for lunch or dinner!
Print
Pin
Rate
Ingredients
¼

cup

honey

⅓

cup

coconut aminos

2

tsp

toasted sesame oil

1

tsp

garlic powder

1

tsp

onion powder

2

tsp

ginger powder

2

tsp

cornstarch

kosher salt and pepper

to taste

8

chicken drumsticks
Optional Ingredients
cooked rice

to serve

toasted sesame seed

to garnish
Instructions
In a small jug, whisk the first 7 ingredients.

Place the chicken drumsticks in a large Ziploc bag and add in the marinade from the jug.

Allow the chicken to marinate in the fridge for at least 1 hour or overnight.

Preheat the oven to 400°F. Transfer the chicken to an oven-safe dish together with the marinade.

Bake the chicken for 45 minutes, flipping every 15 minutes, and basting with the sauce.

Serve with cooked rice and sprinkle with sesame seeds if desired.
Notes
Store leftovers in an airtight container in the fridge for up to 3 days.
Freeze any leftovers in a freezer-safe, airtight container or bag, for up to 1 month.
Bake chicken until the internal temperature of the chicken reaches 165°F.
You may use bone-in, skin-on thighs, boneless skinless thighs, or even boneless skinless breasts. 
Maple syrup would be a good substitute for the honey, just know the flavor will change slightly.
Serving size: 2 drumsticks 
Nutrition
Calories:
354
kcal
|
Carbohydrates:
24
g
|
Protein:
27
g
|
Fat:
16
g
|
Saturated Fat:
4
g
|
Polyunsaturated Fat:
4
g
|
Monounsaturated Fat:
6
g
|
Trans Fat:
1
g
|
Cholesterol:
139
mg
|
Sodium:
1193
mg
|
Potassium:
376
mg
|
Fiber:
1
g
|
Sugar:
17
g
|
Vitamin A:
70
IU
|
Vitamin C:
1
mg
|
Calcium:
20
mg
|
Iron:
1
mg