This Greek Baked Chicken Breast With Feta is moist, tender, oven-baked chicken breasts steeped in flavor from a bright, zesty lemon herbed marinade. Perfect low carb chicken dinner recipe to serve any night of the week that's keto-friendly.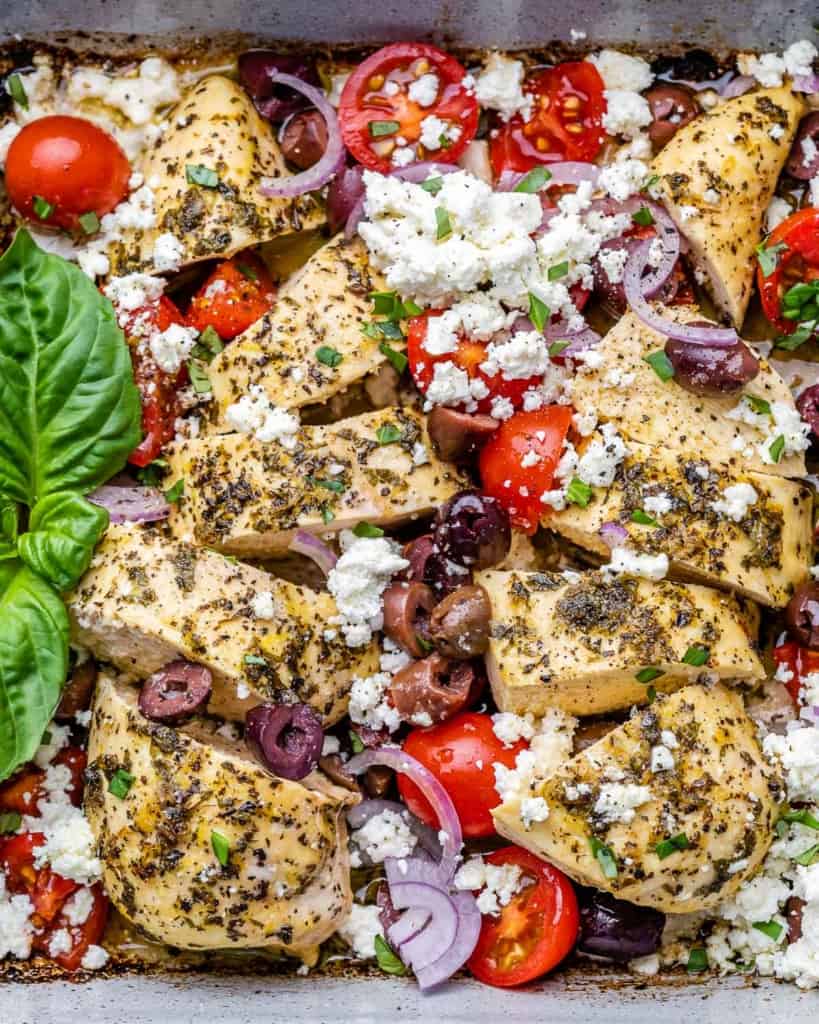 These Greek-style baked chicken breasts are topped with salty, melty feta cheese, crisp, colorful, and mild sweet red onion, and sliced Kalamata olives. Rich, meaty grape tomatoes provide a sweet crunch that balances the other toppings with the right acidity. Once you assemble your ingredients, this Mediterranean flavor-packed dish is so simple and absolutely delicious! Everything is easily prepared the night before, and your marinated chicken will be steeped with traditional Greek flavor when you're ready to pop in the oven. 
Ingenious, elegant, and bursting with fresh herb flavor, this easy oven-baked greek chicken breast is a definite time-saver; from oven to table in 25 to 30 minutes.
Why You'll Love This Baked Greek Chicken Breast
Authentic lemony Greek chicken breast flavor. Easy to make and full of flavor.
An impressive dish, that can easily be made in advance.
Tender and juicy: Longer marinade time increases moisture and lemon herb taste. You will enjoy tender and juicy flavored chicken breast.
A scrumptious, satisfying heart-healthy meal with lots of nutrient-rich ingredients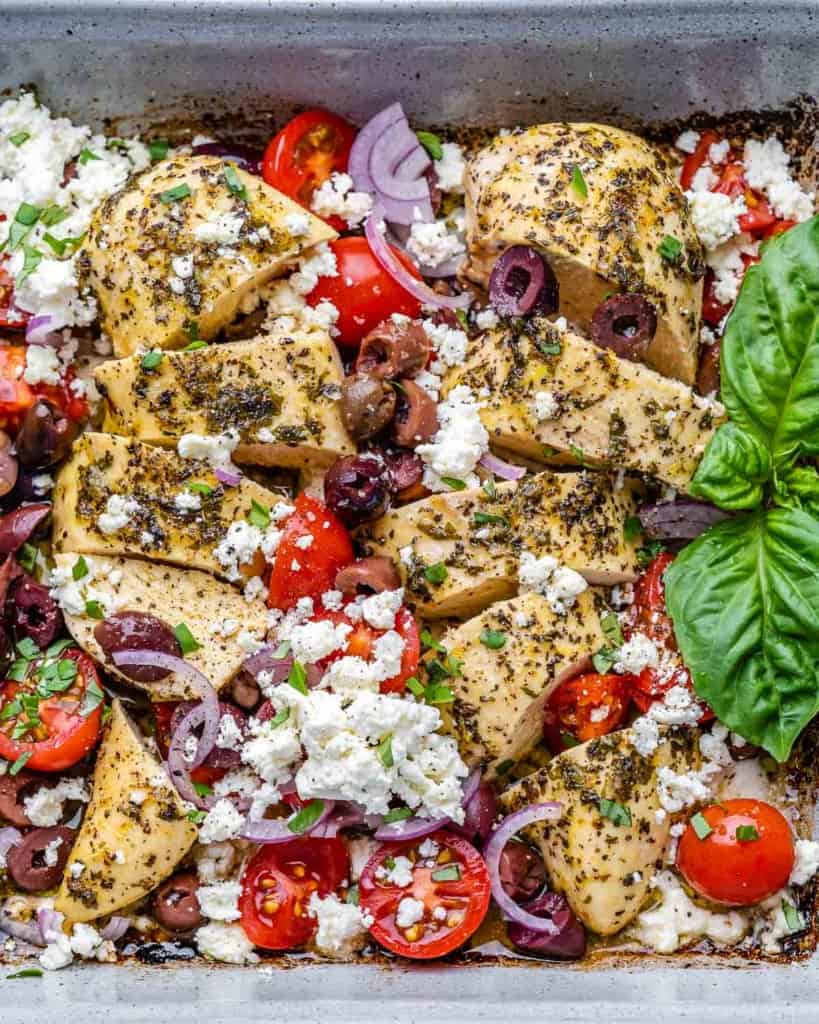 Equipment Needed To Make Easy Greek Chicken Bake
Lemon Zester
Measuring Cups
Measureing Spoons
Whisk
Small Mixing Bowl
Oven Safe Baking Dish
Meat Thermometer
Ingredients For Your Greek Chicken With Feta, Olives, And Tomatoes
Olive oil: we love cooking with olive oil, but you may use any other oil.
Lemons: you need the juice and zest of one lemon
Herbs: oregano, garlic powder, salt and pepper.
Fresh herbs: choose between parsley, basil, or oregano.
Chicken breast: you may use skinless and boneless chicken thighs or drumsticks. Cooking time will vary.
Tomatoes: Use what you have handy but cherry or grape tomato works best.
Olives: for best flavor, use kalamata olives
Feta cheese: You can use pre-bought crumbled feta
Red onion: if you can't get your hands on red onions, use white sweet onions.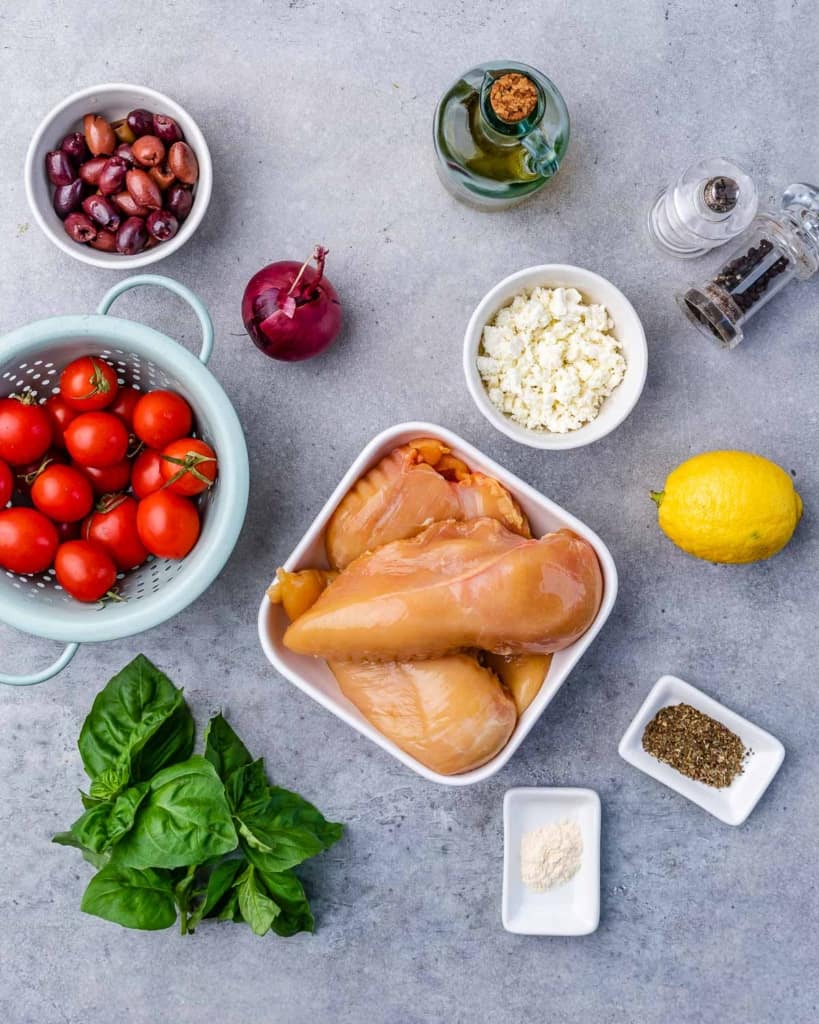 How To Make A Baked Greek Chicken Breast With Feta
Preheat the oven to 350F.
In a small bowl whisk the oil, lemon juice, zest, seasonings, and basil or herbs of choice.
Season the chicken with salt and pepper on both sides and place in a medium oven-safe dish.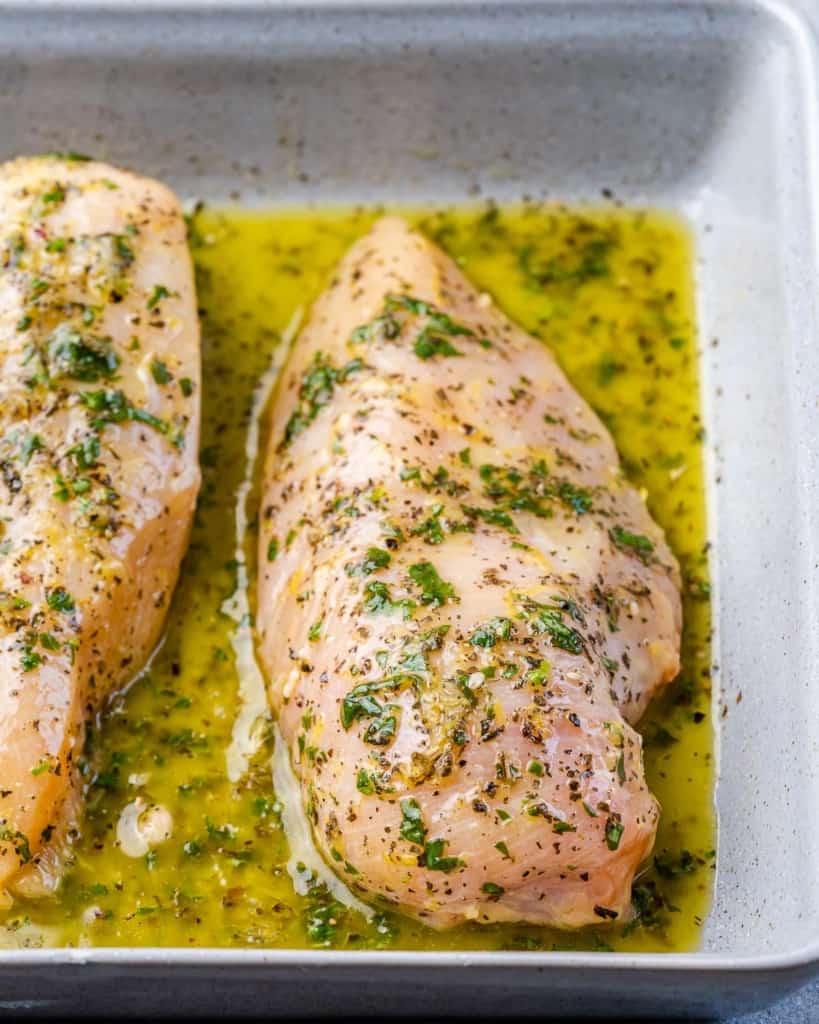 Pour over the prepared greek-style dressing. If time allows, you can marinate the chicken for 1 hour, or overnight, keeping it in the oven dish. (Just before roasting, allow it to sit for 30 minutes over the counter to get to room temp!)
Bake for 15-17 minutes.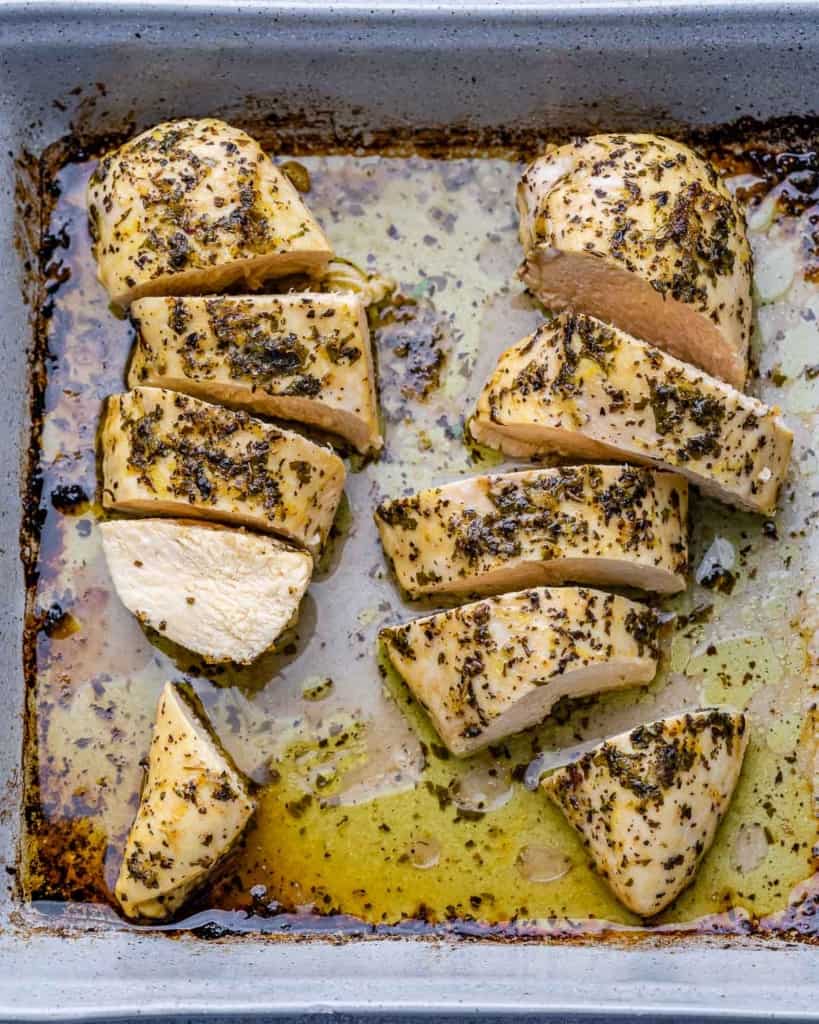 Once the chicken is done (an internal thermometer inserted into each reads 165F), remove it from the oven. Allow it to sit for 5 minutes, then chop into large chunks and place back into the dish.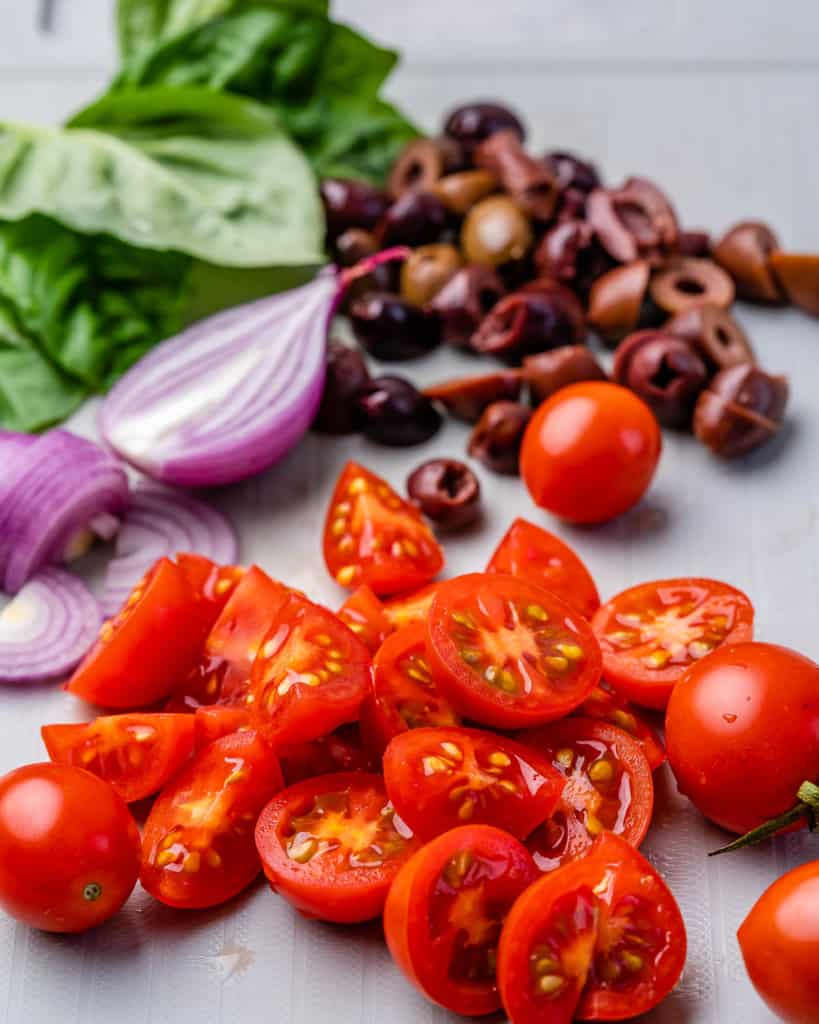 Top with tomatoes, olives, onions, and feta.
Serve immediately.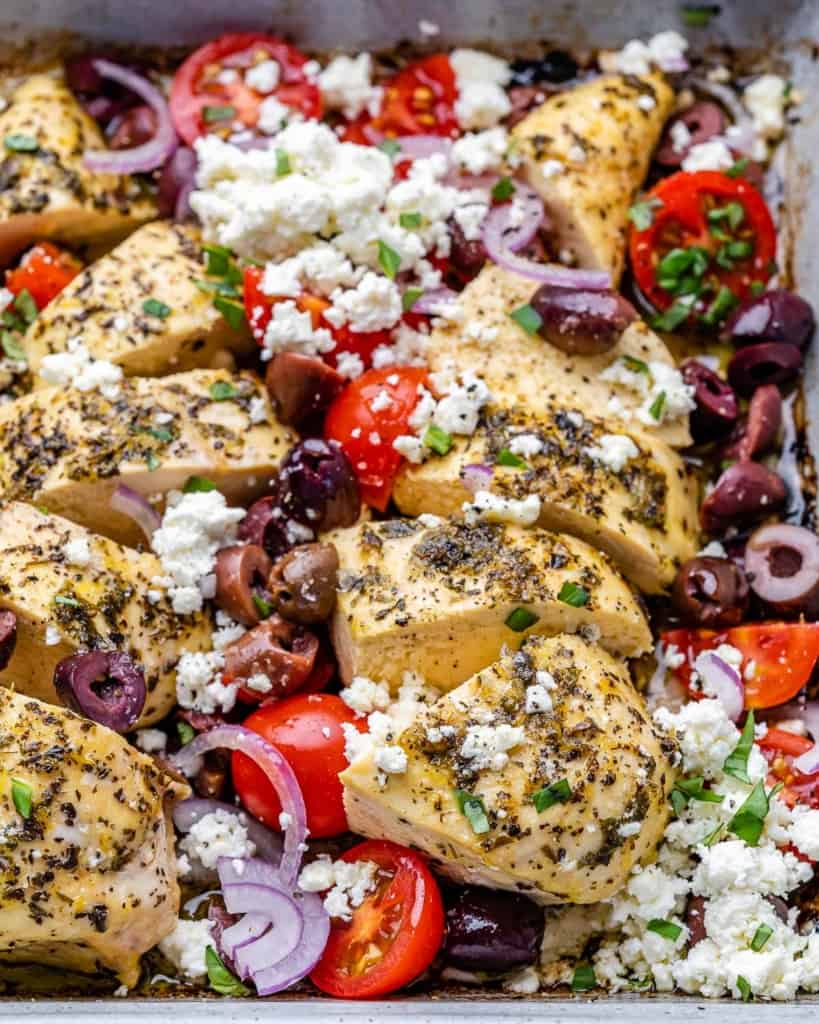 Greek-Style Baked Chicken Breast FAQs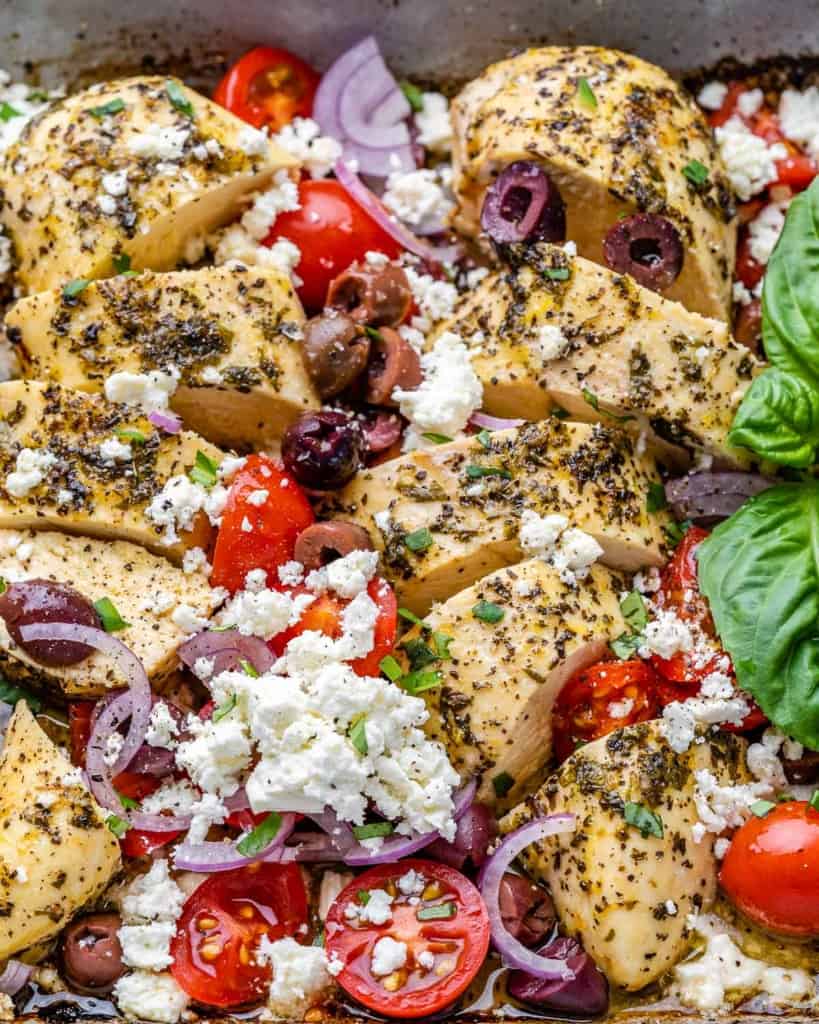 More chicken breasts recipes you may like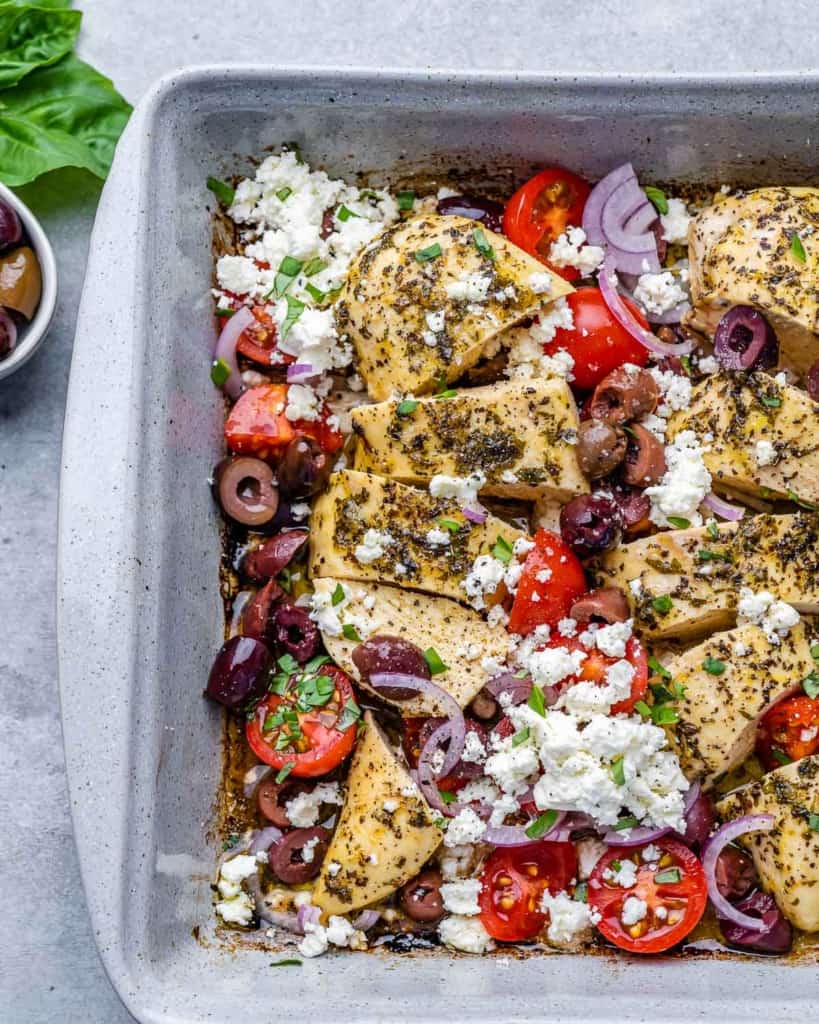 If you try a recipe and you like it, leave us some feedback in the comment section below, and don't forget to rate it! We would love it if you shared it with friends and family.
Finally, please use our hashtag #healthyfitnessmeals on INSTAGRAM for a chance to be featured! FOLLOW Healthy Fitness Meals on FACEBOOK | INSTAGRAM | PINTEREST | TWITTER for all of our latest blog posts and recipes.