This Teriyaki Chicken Meal Prep Bowls recipe is made with a perfectly sweet homemade teriyaki sauce instead of a store-bought version. Juicy tender chicken breasts are meal prepped with crunchy broccoli that's so delicious it will quickly become a family favorite! Easy to throw together in just over thirty minutes!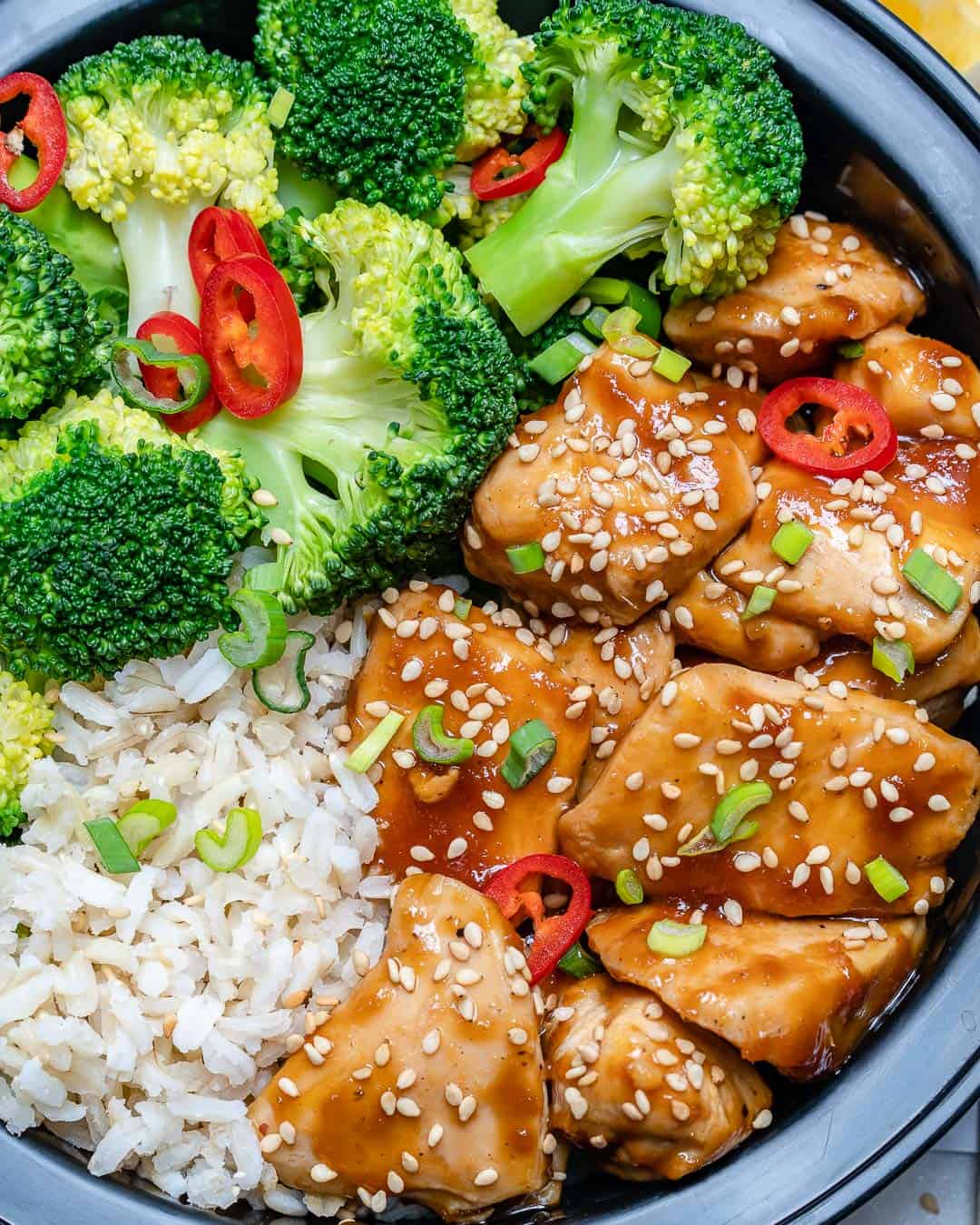 If you crave the fast food teriyaki chicken then you will love this Teriyaki chicken recipe. So many of you have requested some meal prep recipes and I decided to make some easy meals that are perfect for meal prep.
This Teriyaki Chicken Recipe is very easy to make. Ready in about 30 minutes and so tender and delicious. Making your own teriyaki sauce instead of using the store-bought version helps to ensure you're only using the best and freshest ingredients.
When served with rice and fresh veggies, this chicken teriyaki recipe becomes a complete meal. You can prep it at the beginning of the week and have a quick and easy lunch or dinner option all week long! It doesn't get better than that!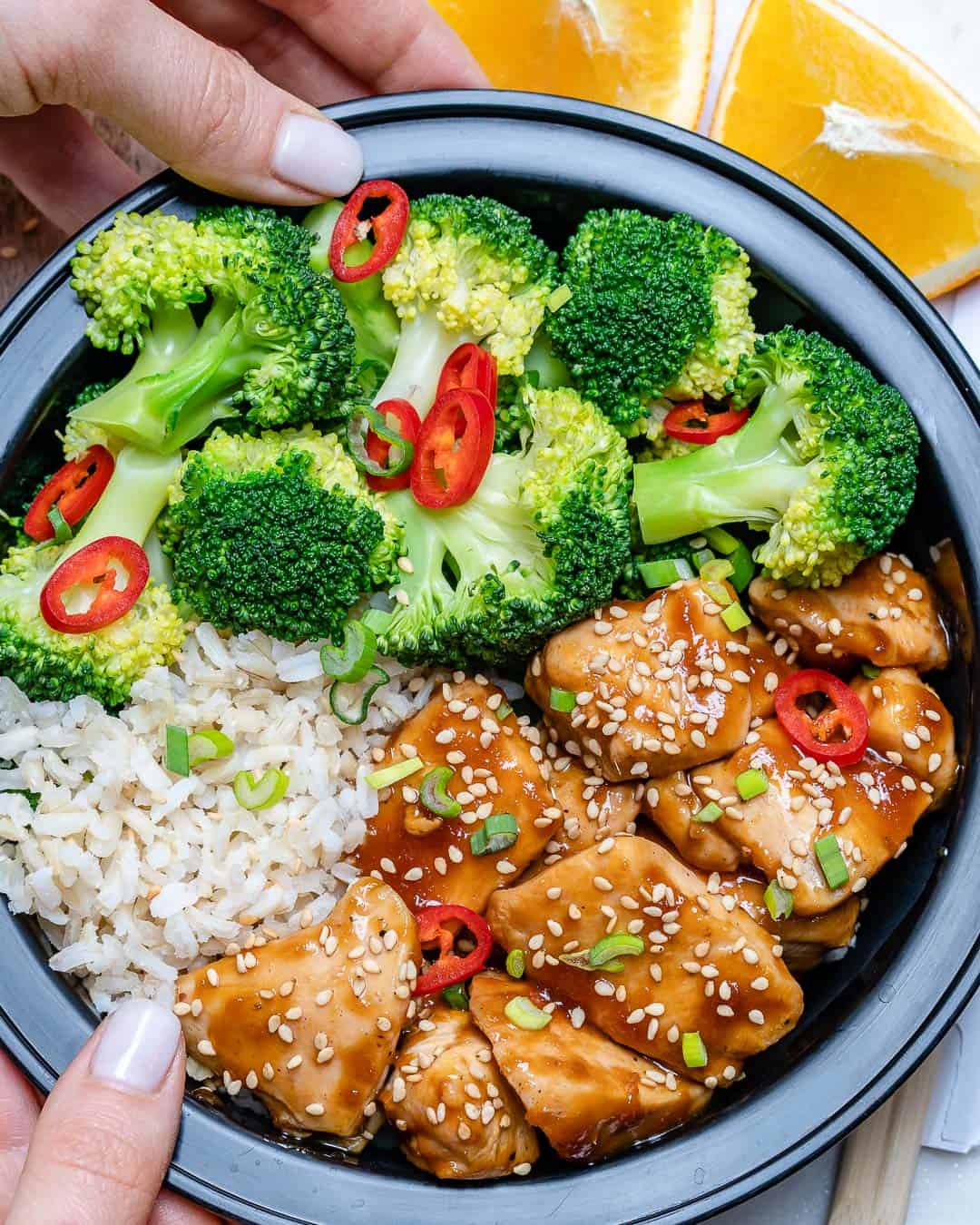 Why this Chicken Teriyaki recipe is the best
Quick and Easy: With just a handful of ingredients and 15 minutes of prep, this recipe for teriyaki chicken is ideal for busy weeknights. No need to worry about takeout when this recipe is so much healthier. It's the best part of ordering takeout, without all the guilt!
Packed with Flavor: This recipe uses a homemade teriyaki sauce rather than the store-bought version. That means no preservatives, clean ingredients, and no added sugar! And even after all of that, the flavor will absolutely send your taste buds on a ride.
Family-Friendly: This chicken teriyaki is loved by both kids and adults alike. Even the pickiest of eaters will love the tender chicken coated in the perfect sweet sauce. Throw in the rice and perfectly crunchy veggies and this becomes a meal that the whole family will be asking for again!
Great for Meal Prep: You can prepare a big batch of this east chicken teriyaki on a Sunday, and then have lunch prepared for the whole week! No need to worry about what you're going to bring to work for lunch. Just prep it all at once and you're good to go all week long.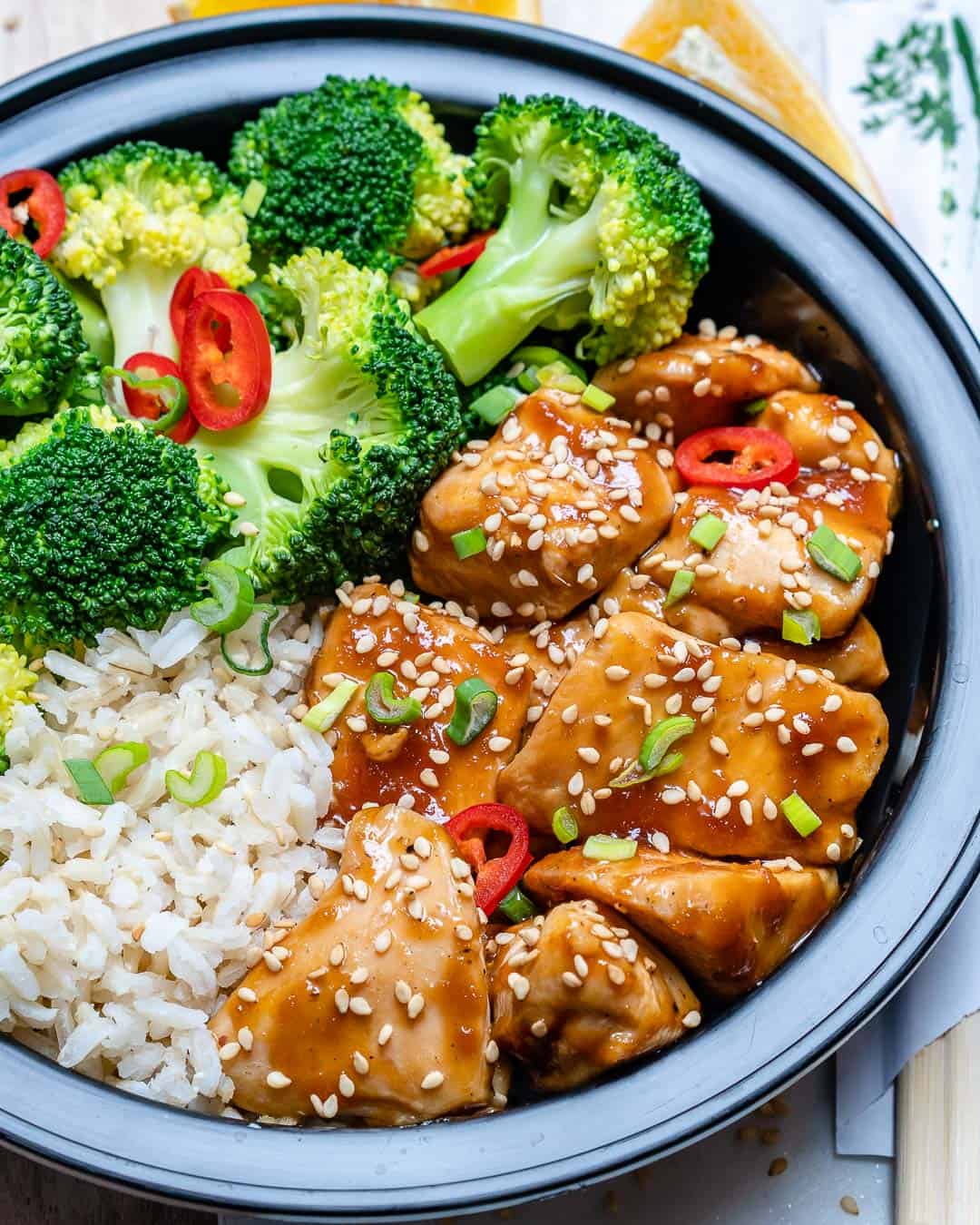 Ingredients for Best Teriyaki Chicken Recipe
Below you will find the ingredients you will need to make the Teriyaki sauce for this Teriyaki Chicken Recipe. Follow the directions to find out how to prepare the sauce.
Chicken Breasts: I prefer using chicken breasts for this recipe as it's the leanest cut of chicken- always skinless and boneless. However, you can absolutely use chicken thighs instead. No matter which you use, make sure it is diced into 1-inch cubes.
Sesame Oil: Sesame oil is used here for its bold flavor. Different than vegetable oil or olive oil, the flavor really adds to the taste of the dish. However, if you don't have any you could use any vegetable oil in its place.
Broccoli Florets: You can use either fresh or frozen broccoli for this chicken teriyaki chicken. If using frozen, be sure it is fully thawed before adding to your dish.
Rice: We need some sort of starch to help soak up that deliciously sticky teriyaki sauce. I prefer using brown rice, however, you could use white rice or even quinoa if you'd prefer.
Sesame Seeds: These are used as a garnish, and they complement the flavors of the dish really well. They also add a nice crunch! If you aren't a fan of sesame seeds, they can be omitted altogether.
Green Onions: These are also used as a garnish. Sliced green onions add a nice contrast of bright green color to an otherwise brown dish. I also love the slightly sweet onion flavor they add!
Sliced Chili: This again, is optional and used as a garnish. I just love the color contrast that the bright red peppers bring to the teriyaki chicken dish.
Teriyaki sauce
Garlic Cloves: Instead of slicing or mincing our garlic, we want freshly grated here. This helps to maximize the garlic flavor and really send the homemade teriyaki sauce over the top.
Fresh Ginger: You can't have a teriyaki sauce without ginger! We want this to be finely grated just like the garlic. Just make sure it's fine enough that you aren't going to get large chunks of ginger in your sauce.
Raw Honey: Honey adds just a touch of sweetness and a nice smooth flavor to our homemade teriyaki sauce.
Soy Sauce: Low-sodium soy sauce is always in our pantry at home. I prefer using low-sodium so that I can add my own amounts of salt if needed or desired.
Orange Juice: I always opt for freshly squeezed juice when I'm cooking. The flavors are brighter and fresher and they really add to the whole eating experience. You can use bottled orange juice if that's all you have on hand.
Cornstarch: Lastly, we need a thickener for our sauce. We want the sauce to be able to evenly coat every single piece of chicken, and the cornstarch is the perfect way to allow it to do that!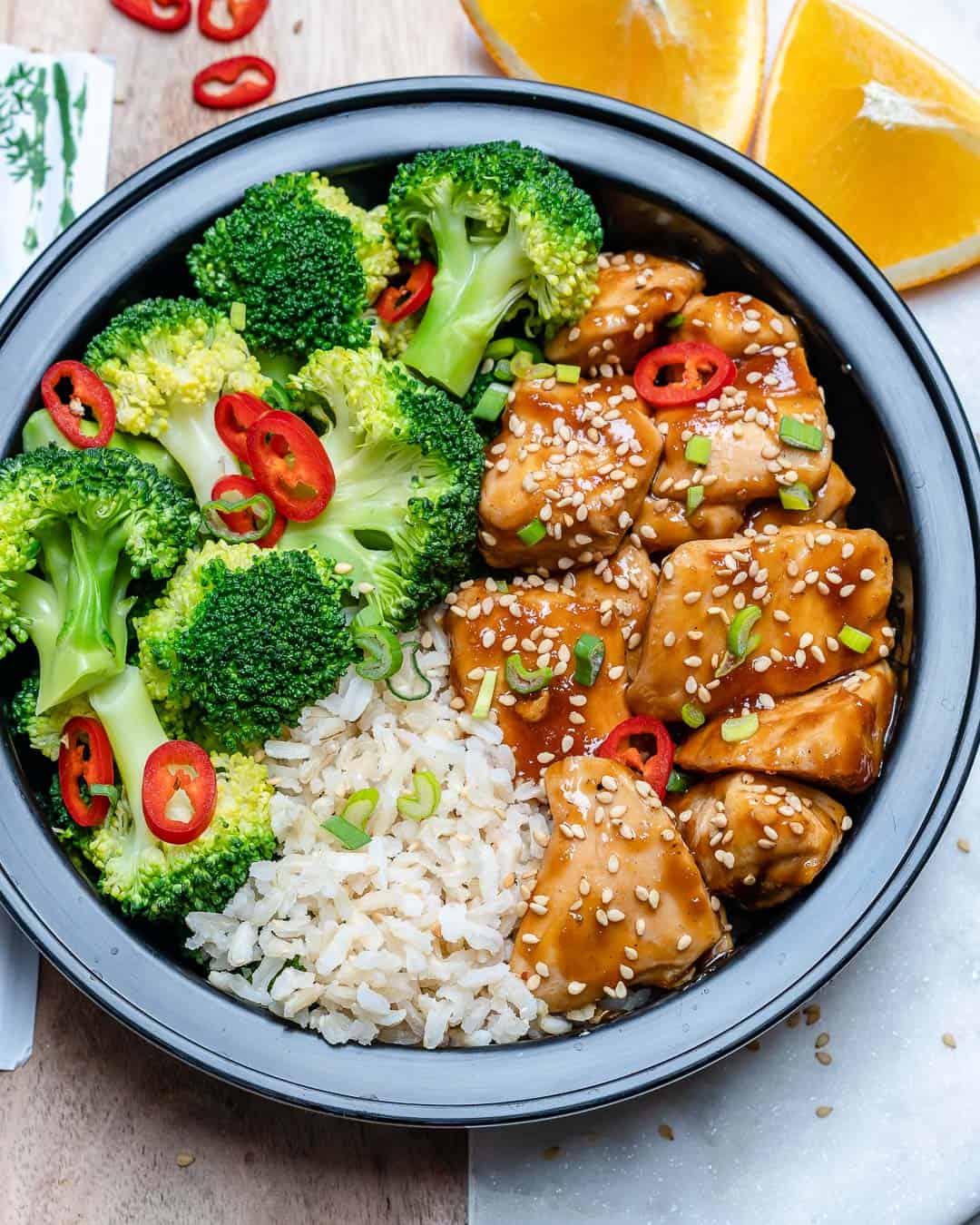 How to Make Teriyaki Chicken Breast Recipe
Cook the chicken: In a large skillet over medium-high heat, heat oil until nice and hot. Then add in the chicken until it's cooked almost all the way through. This should take about 4-5 minutes. Make sure you're stirring occasionally so that the chicken doesn't stick to the pan.
Make the sauce: While your chicken is cooking whisk all teriyaki sauce ingredients into a small bowl. After it's mixed well, you can pour it over the chicken. Then lower the heat and simmer for 3-5 minutes or until the sauce thickens and nicely coats the chicken.
Steam the broccoli: In a separate pot, steam the broccoli until just tender. This should take about 5-8 minutes.
Separate into containers: Divide the cooked brown rice among 4 glass containers, and top with steamed broccoli and teriyaki chicken.
Garnish: Top with your favorite topping! We prefer to use sesame seeds, chilies, and green onions. After you've garnished, enjoy now or save for lunch all week long!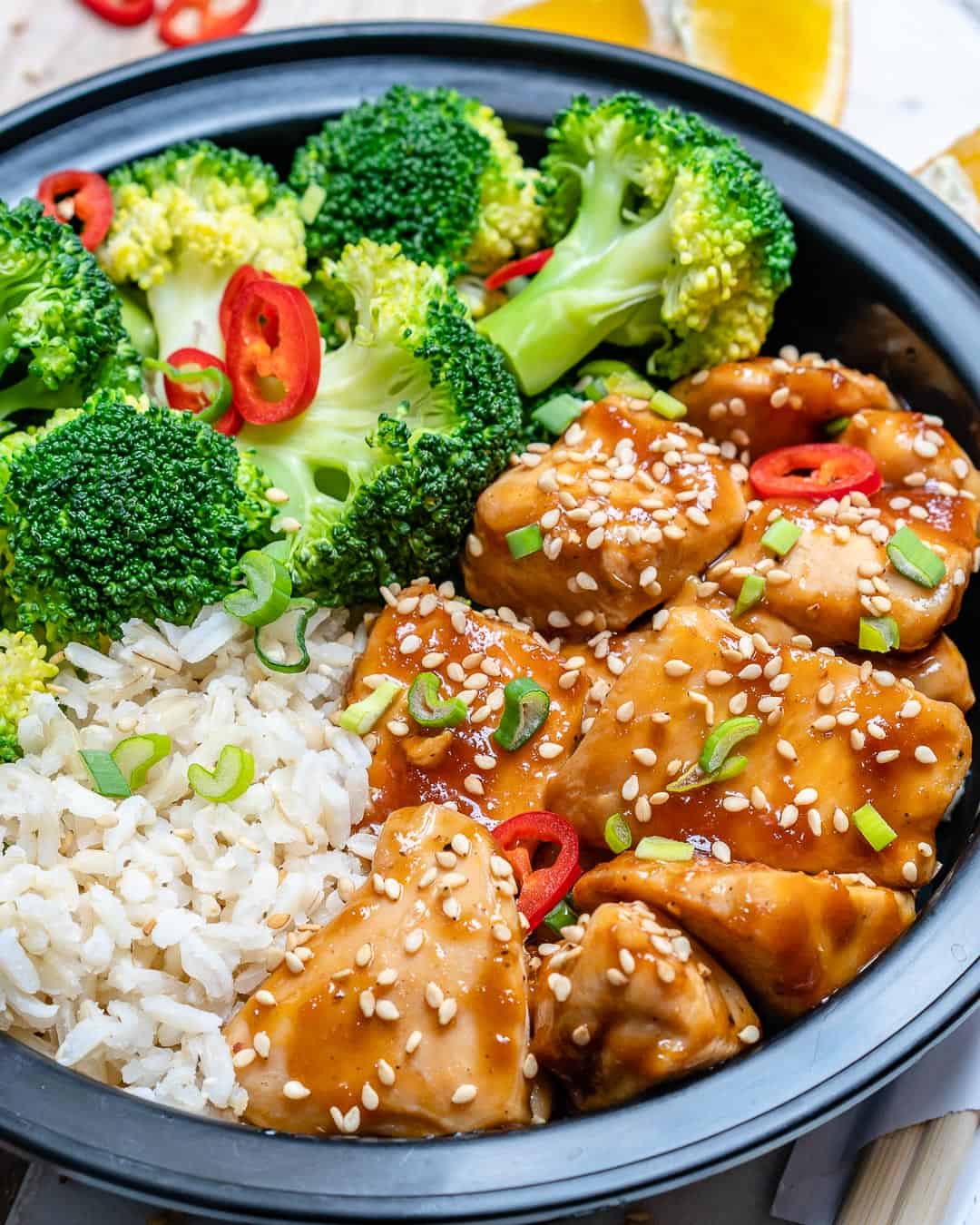 Frequently Asked Questions
How healthy is teriyaki chicken?
Teriyaki Chicken isn't the healthiest depending on how it is prepared. Even though it can be a good source of protein, it can be high in calories, fat, and sodium. They can be made healthier with healthier ingredients and should be consumed in moderation. Pair your Teriyaki Chicken recipe with nutrient-dense foods like broccoli or green beans.
What is the best teriyaki sauce?
I highly advise you to make your own teriyaki sauce unless you can find a healthier store-bought version. Otherwise, make your own! It is quite easy to make homemade teriyaki sauce. Try my teriyaki sauce recipe in this Teriyaki Chicken Meal Prep recipe.
How do you thicken teriyaki sauce?
In order to thicken your teriyaki sauce, you can add a bit more cornstarch. Cornstarch isn't the healthiest option so use it in moderation if need be. You can add a bit of whole wheat flour if you already used some cornstarch.  I used about half a teaspoon for this recipe but if the consistency isn't thick enough for you, then add about 1 teaspoon instead.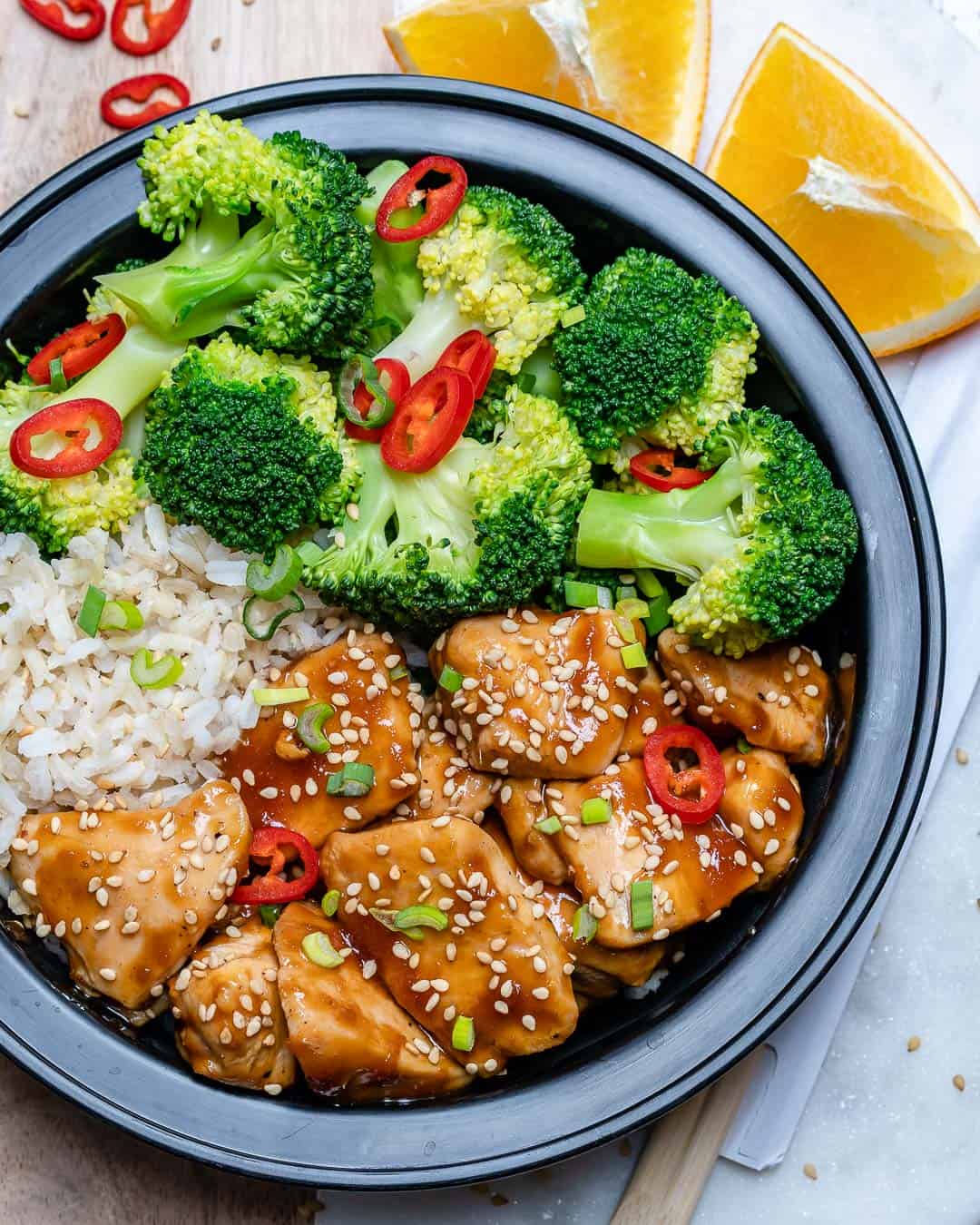 Tips and substitutions for chicken teriyaki recipe
Not a fan of broccoli? Feel free to add in extra veggies like bell peppers, onions, asparagus, broccolini, or your choice of green veggie in place of the broccoli.
Feel free to use different proteins like crispy tofu, shrimp, or use chicken thighs instead of the breasts.
Leftovers can be stored in the refrigerator for 3-5 days, Simply reheat in the microwave or on the stove when you're ready to enjoy again.
If you are sticking to a low-carb diet, try using cauliflower rice in place of brown rice or quinoa.
What to serve with this easy chicken teriyaki
How To Make Cilantro Lime Cauliflower Rice
Parmesan Roasted Broccoli and Cauliflower
Making this Teriyaki Chicken Meal Prep Recipe? I would love to see your remake so tag me on Instagram so I can share your masterpiece.
Hungry for more amazing recipes? Check these out below:
Teriyaki Chicken Meal Prep recipe below: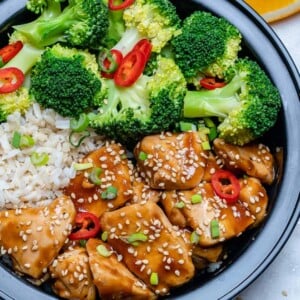 Teriyaki Chicken Meal Prep Bowl Recipe
A healthier version of the classic chicken teriyaki made simple for meal prepping.
Print
Pin
Rate
Ingredients
1.5

lbs

Skinless boneless chicken breasts or thighs

diced into 1-inch cubes

1

Tbsp

Sesame Oil

4

Cups

Broccoli Florets

fresh or frozen

2

Cups

Cooked brown rice

or quinoa

1

Tbsp

Sesame seeds

to garnish

2

Tbsp

Sliced green onions

2

Tbsp

Sliced chili

or to taste
For the Teriyaki Sauce:
2

Garlic Cloves

finely grated

2

Tbsp

Fresh ginger

finely grated

1

Tbsp

Raw honey

1/4

Cup

Low-sodium soy sauce

1/4

Cup

Freshly squeezed orange juice

1/2

Tbsp

Cornstarch
Instructions
Heat 1 tablespoon of the oil in a large skillet over medium-high heat. Add in chicken and

cook stirring occasionally for about 4-5 minutes, or until almost cooked through.

Meanwhile whisk all teriyaki sauce into a small bowl, then pour over the chicken.

Lower the heat and simmer for 3-5 minutes, until the sauce thickens and nicely coats the chicken.

Steam the broccoli until just tender, 5-8 minutes.

Divide the cooked brown rice among 4 glass containers, and top with steamed broccoli and teriyaki chicken.

Garnish with sesame seeds, chilies, and green onions and enjoy!

Refrigerate for 3-5 days and reheat just before serving.
Nutrition
Calories:
422
kcal
|
Carbohydrates:
39
g
|
Protein:
42
g
|
Fat:
10
g
|
Saturated Fat:
1
g
|
Cholesterol:
108
mg
|
Sodium:
762
mg
|
Potassium:
1102
mg
|
Fiber:
4
g
|
Sugar:
7
g
|
Vitamin A:
750
IU
|
Vitamin C:
102.8
mg
|
Calcium:
88
mg
|
Iron:
2.5
mg