These Gluten-Free healthy Pumpkin Muffins are easy to make and so delicious! Made with almond flour, gluten-free flour, coconut oil, and some fun spices. They are light, fluffy, Gluten-free, can be made dairy-free, and would make a great healthy snack or dessert for the kids.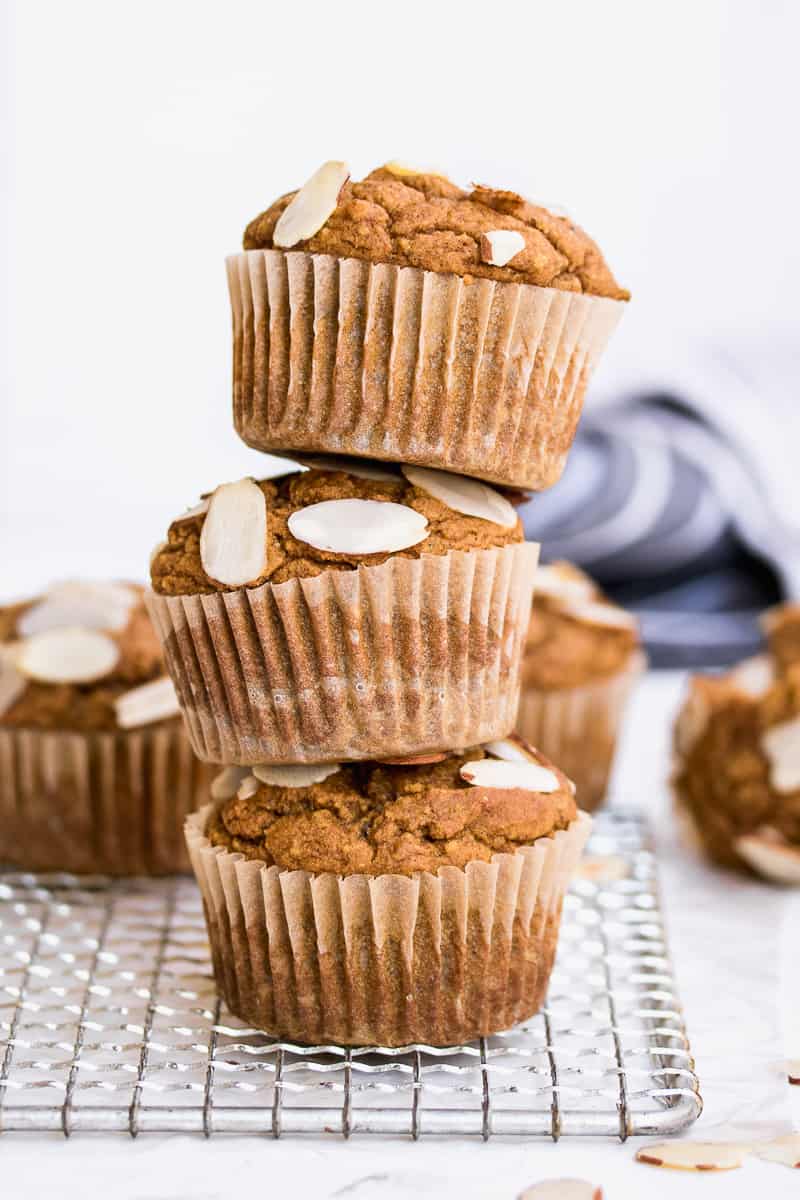 Making these Gluten-Free Pumpkin Muffins are so much fun. These pumpkin muffins are packed with goodness, so moist, and delicious – these easy healthy muffins are going to be your go-to treat or a quick breakfast on the go this fall. Made with all healthy ingredients so you can enjoy a perfect healthy breakfast to get you through your morning.
If you love muffins and like making healthier muffins to enjoy as a quick healthy breakfast we have more delicious muffin recipes you can try like these Banana Oatmeal Muffins or these Healthy Zucchini Muffins!
why you'll love these Gluten-free pumpkin muffins
Healthy muffins you'll love. Gluten-free, dairy-free (use flax eggs), and loaded with chia seeds, these hearty tasty muffins are great as a healthy treat or to start off your day.
Delicious! Richly spiced, subtly sweet, and packed with flavor, these healthy muffins will be a household hit.
Perfect for fall. Pumpkin puree, pumpkin spice, and a host of other goodies come together for a comforting and delicious muffin that's great for the holiday season.
An easy muffin recipe. You can whip up the batter in minutes, then pop in the oven for 20 mins – done!
ingredients you'll need
Flour: Almond flour and gluten-free flour. If you don't have gluten allergies you may use any other flour of choice.
Pumpkin Puree: you may use canned pumpkin puree
Honey: sub this with maple syrup or agave if you have to
Granulated Sweetener
Chia seeds
Vanilla Extract
Pumpkin Spice
Cinnamon
Almond Milk: or any other milk of choice.
Eggs
Coconut Oil: Melted
Baking Soda
Slivered Almonds: these are used to top the muffins, but can be omitted. You may also use chopped walnuts or pecans.
Salt
how to make these healthy pumpkin muffins recipe
Prep – Preheat oven to 350 F and prepare a muffin tin with 6 liners.
Make your batter –  Mix together your wet ingredients then add in your dry ingredients.
Bake – Transfer the batter to the liners, top with slivered almonds, and bake for 20-22 minutes or until a toothpick comes out clean.
Let cool and serve.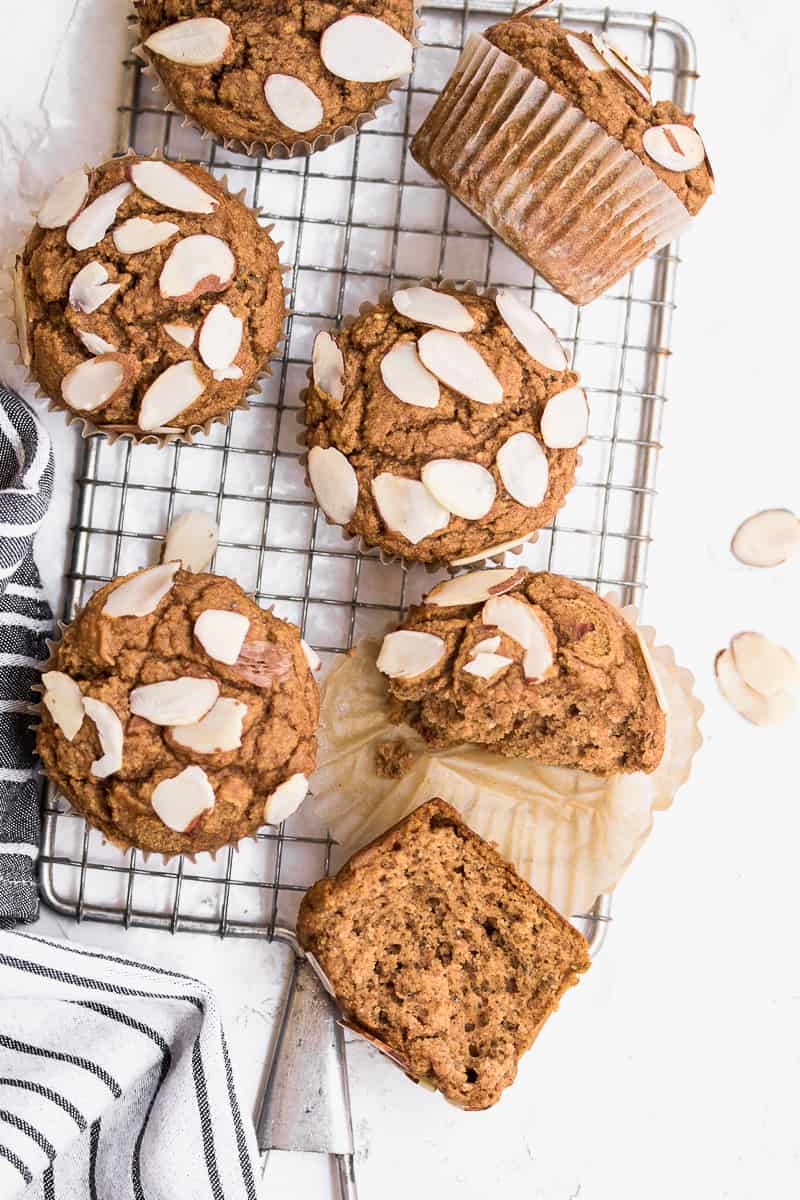 recipe notes and tips
As you start to measure out the ingredients, grab two bowls and measure out the dry ingredients in one bowl then measure out the wet ingredients in another bowl.  Then it will be a simple add wet and dry ingredients together and mix.
Make sure all of your wet ingredients are at room temperature.
If you don't have almond flour you can use whole wheat instead if you don't care for making these gluten-free. If you need this Gluten-free then just add more Gluten free flour.
Whole wheat pastry flour yields extra light and fluffy muffins that are delicate until cooled.
Make sure to use pumpkin puree and not pumpkin pie filling. Pumpkin pie filling has a completely different flavor.
Use baking soda not baking powder.
Don't overmix your batter as this will yield tougher muffins.
To make dairy-free use flax eggs.
Don't over-bake the muffins. Take them out with a toothpick inserted into the center comes out clean.
frequently asked questions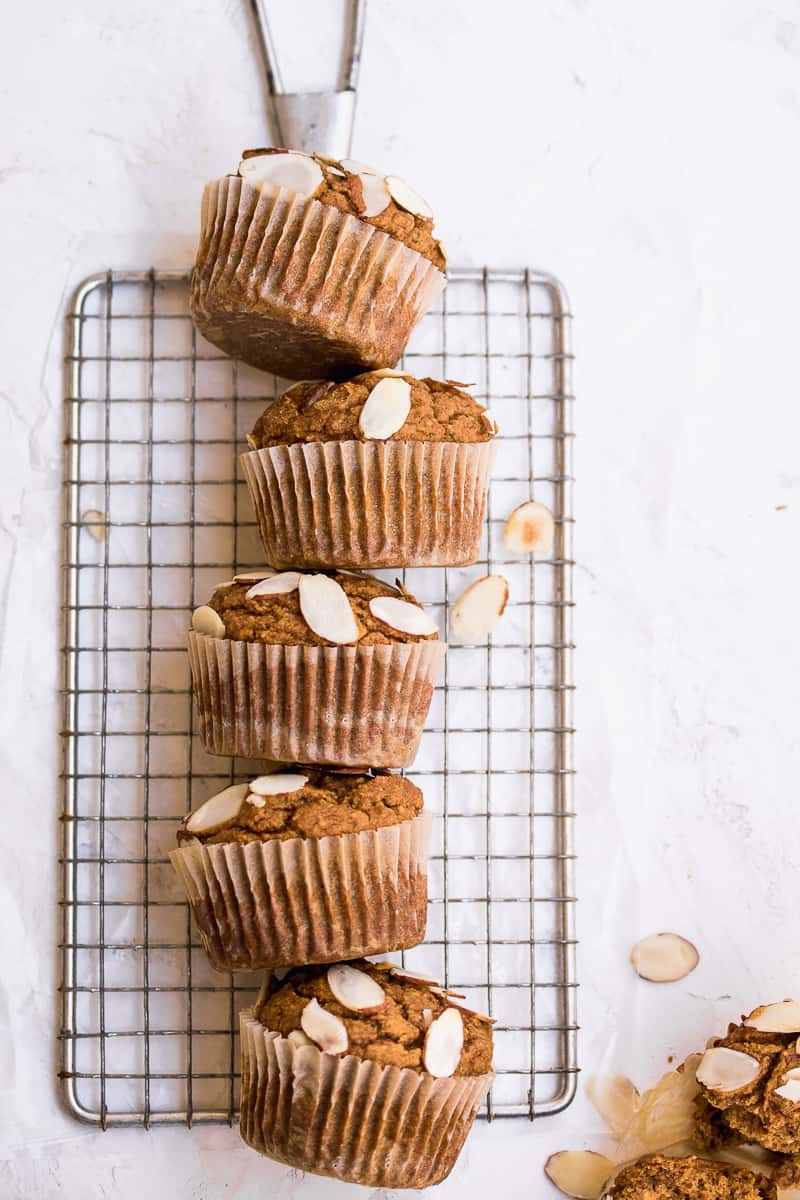 other pumpkin recipes you might like
Also, if you try a recipe and you like it, leave us some feedback in the comment section below, and don't forget to rate it! We would love it if you shared it with friends and family.
Finally, please use our hashtag #healthyfitnessmeals on INSTAGRAM for a chance to be featured! FOLLOW Healthy Fitness Meals on FACEBOOK | INSTAGRAM | PINTEREST | TWITTER for all of our latest blog posts and recipes.