Need a cozy soup? This healthy Turkey Lemon Rice Soup is the perfect bowl to cozy up to. The perfect family-friendly meal, this recipe will get your dinner on the table in less than an hour!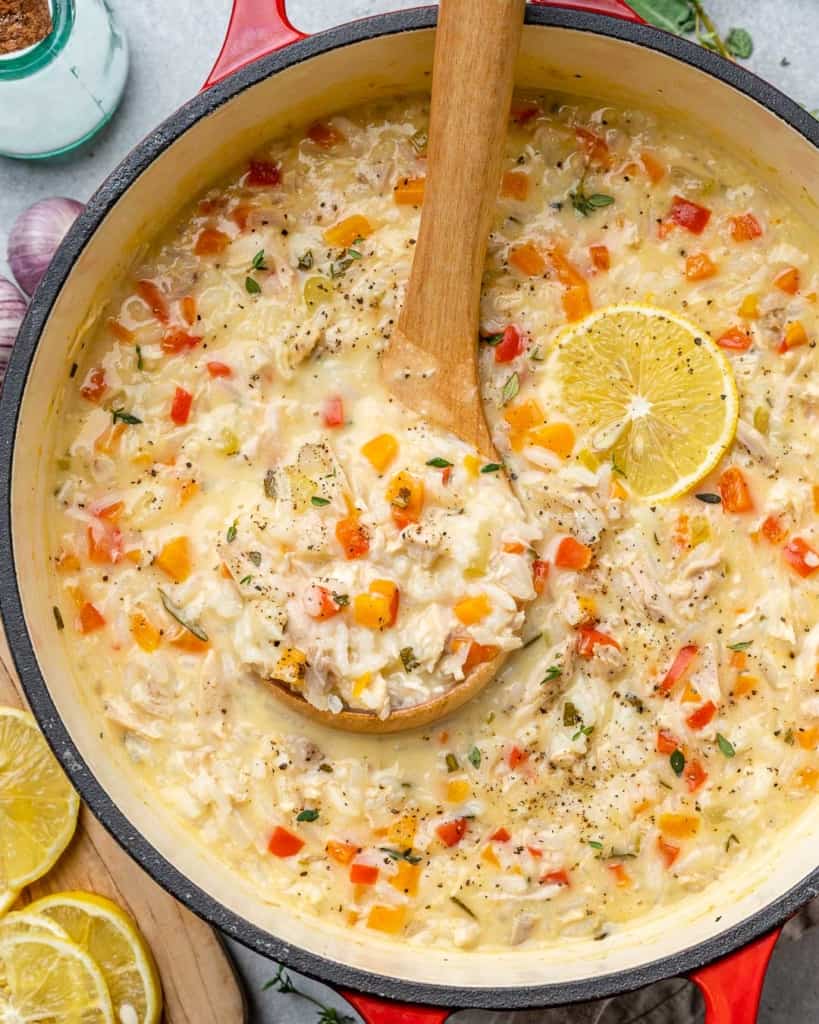 We love an easy one-pot meal and this easy turkey rice soup recipe is just that! We always have a ton of turkey leftover after the holiday season so this is one of our favorite ways to use up what we have on hand so we don't get bored of eating plain turkey leftovers for a week. Full of protein, vegetables, and rice, this soup will fill you up and warm you up from the insides! Don't have any leftover turkey, easily swap the turkey with shredded chicken breast or rotisserie chicken. This simple lemon rice soup is so tasty, filling, and easy to make. Perfect for any day of the week!
Why You'll Love this Turkey Lemon Rice Soup
It uses up leftovers. Like we mentioned earlier, we love making this soup with leftover turkey. On top of that, there's always extra carrots, onions, and celery around whenever we have a holiday meal so this soup uses it up as well.
It's easy. There's nothing easier to make than soup. Add everything to a pot and simmer til it's done.
It's tasty. Your family will be reaching for seconds with this flavorful turkey rice soup. Full of herbs and lemon-y flavors, it's such a cozy and delicious meal that it's hard to not like it.
Ingredients You'll Need
This is just a list of ingredients you will need to make this healthy Turkey Rice Soup. Full measurements are listed further down below.
Olive oil
Onion — chopped 
Celery stalks — chopped 
Carrots — peeled and finely chopped
Garlic — smashed and minced  
Red bell pepper — diced
Leftover cooked turkey — shredded
Basmati rice
Kosher salt and pepper
Fresh herbs: rosemary, Fresh sage, Fresh thyme
Bay leaf 
Broth or stock – use chicken or vegetable stock
Gluten free flour 
Coconut cream
Lemon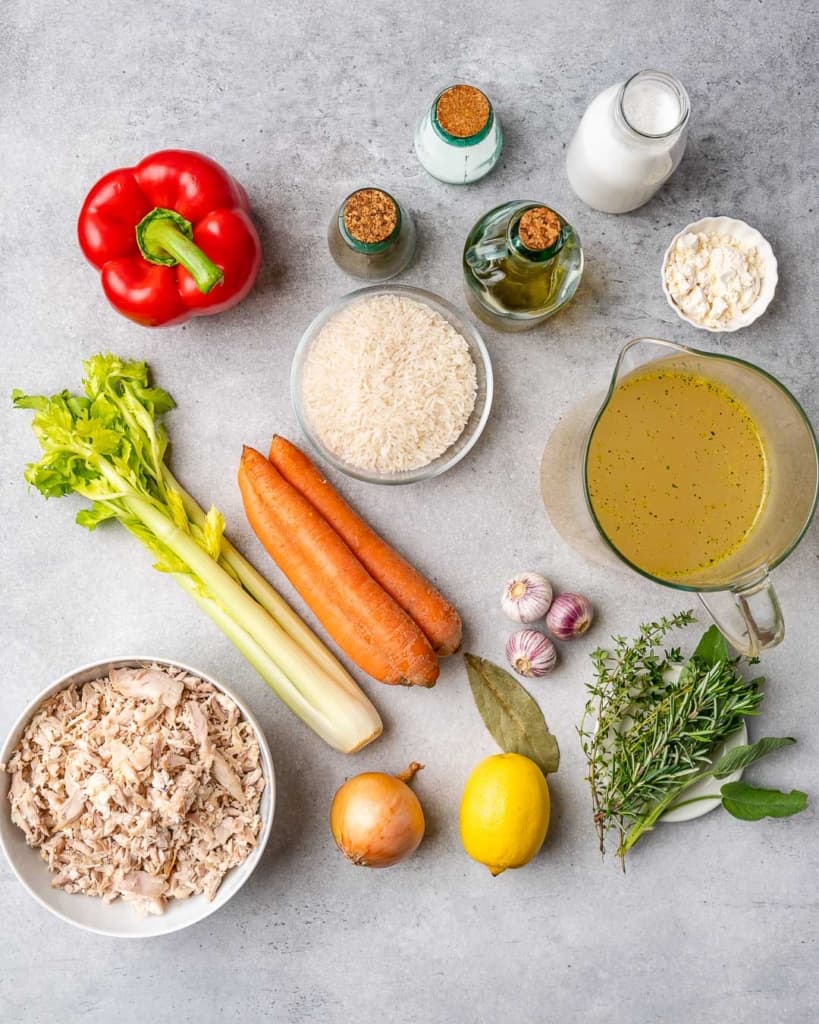 How to Make This Creamy Turkey Rice Soup
Saute the vegetables: Heat the oil in a Dutch oven or stock pot over medium heat. Saute the onion, celery, carrots, pepper, and garlic until soft, 4-5 minutes. Stir in the basmati rice and continue to cook for 1-2 minutes, stirring often.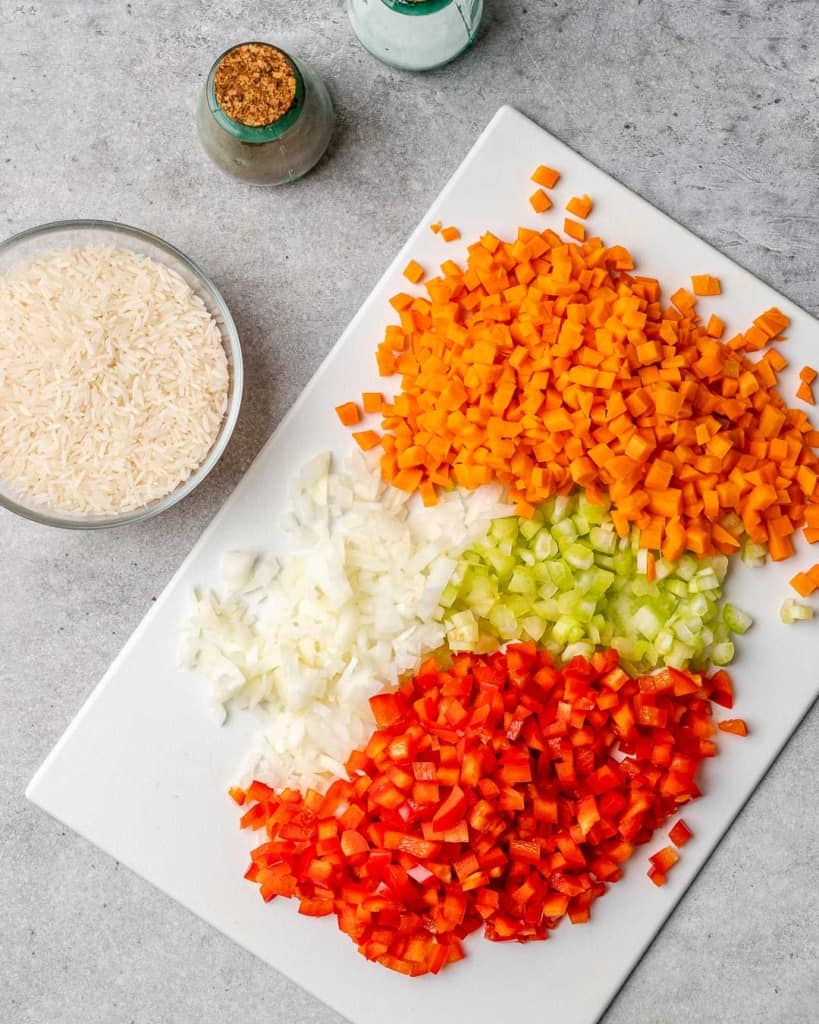 Add in more ingredients and boil: Add the leftover turkey, seasonings, herbs, and stock. Mix well to combine and bring to a boil.
Add in the thickener: Meanwhile, in a small bowl whisk well the flour with 2 tbsp water and stir it into the soup.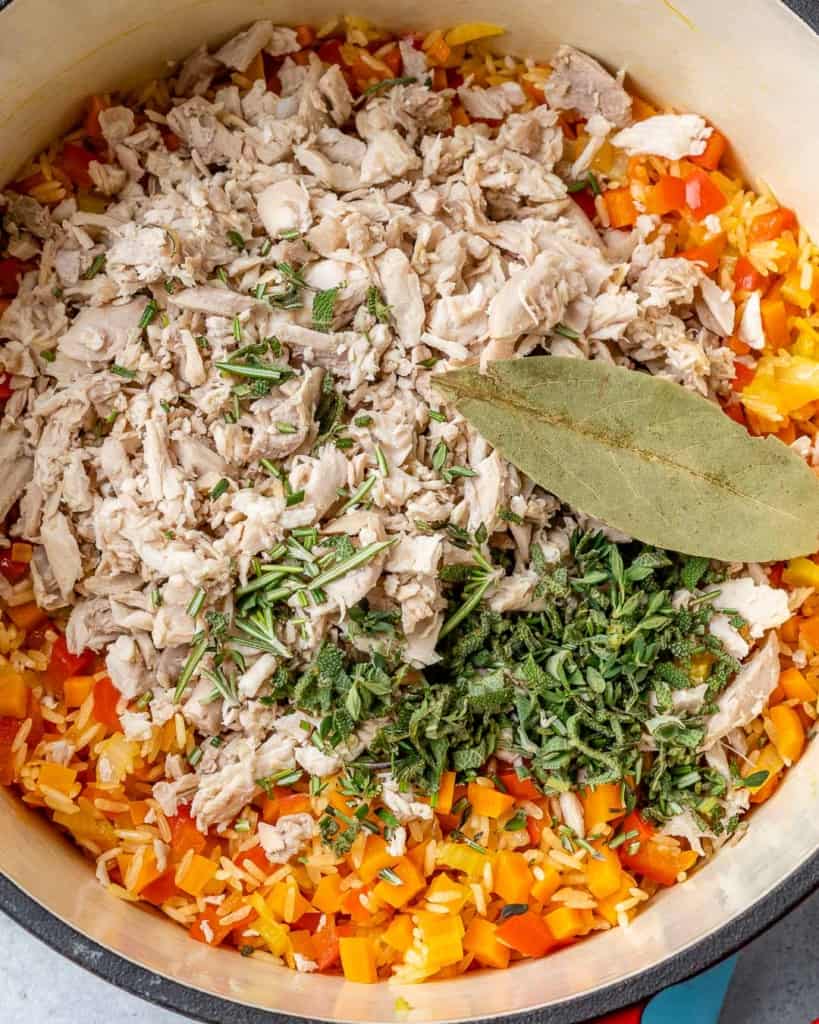 Add in the rest of the ingredients and simmer: Once the soup boils, reduce the heat to low and add the coconut cream and lemon juice. Cook on low for 18-20 minutes, or until the rice is done. 
Adjust if needed and enjoy! Remove and discard the bay leaf and adjust the seasoning, if needed. Season the turkey rice soup with thyme and enjoy!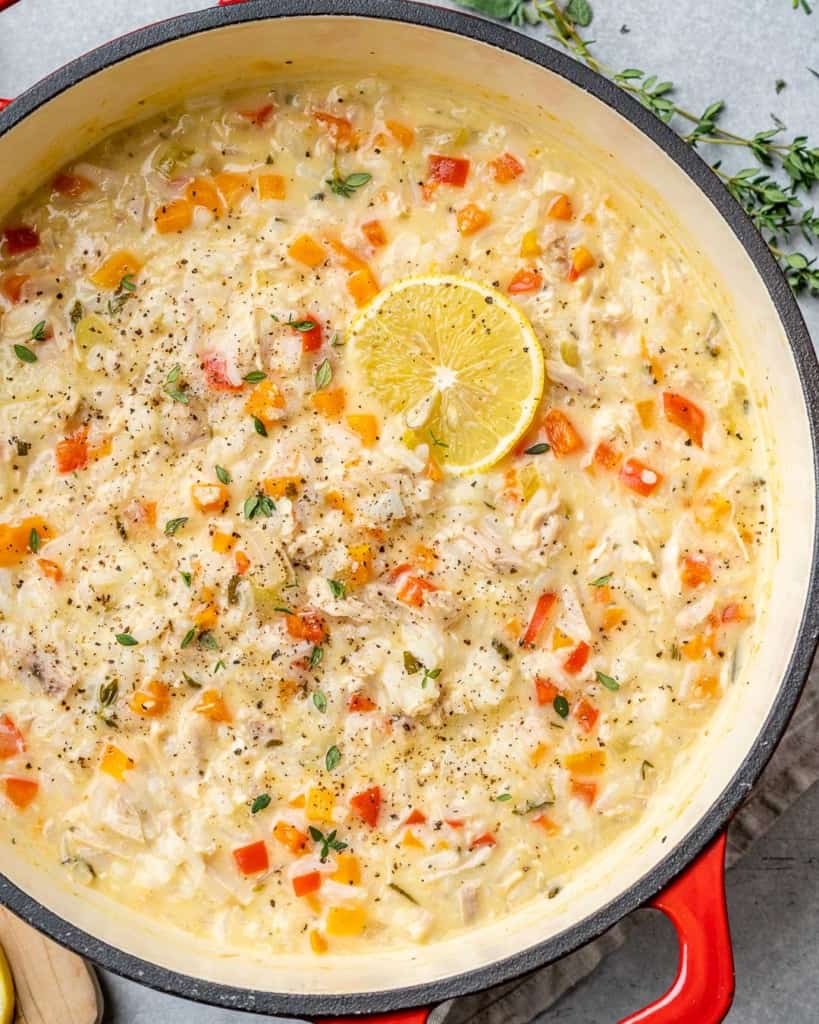 Tips and Substitutions
Turkey: Feel free to swap the turkey with shredded chicken. To save on time, you may use shredded Rotisserie chicken. If you want to keep this vegetarian, you can use a different protein such as chickpeas.
Vegetables: Add more or swap vegetables of your choice if you'd like! If you have leftover spinach, broccoli, peas, green beans, etc.
Rice: If you have cooked leftover rice, you can simply just stir it into the end of the soup. If you use a different type of rice, be sure to adjust the timing accordingly (ie. wild rice and brown rice takes longer than white rice). 
Make sure you stir into the pot a few times during cooking, to avoid the rice sticking to the bottom.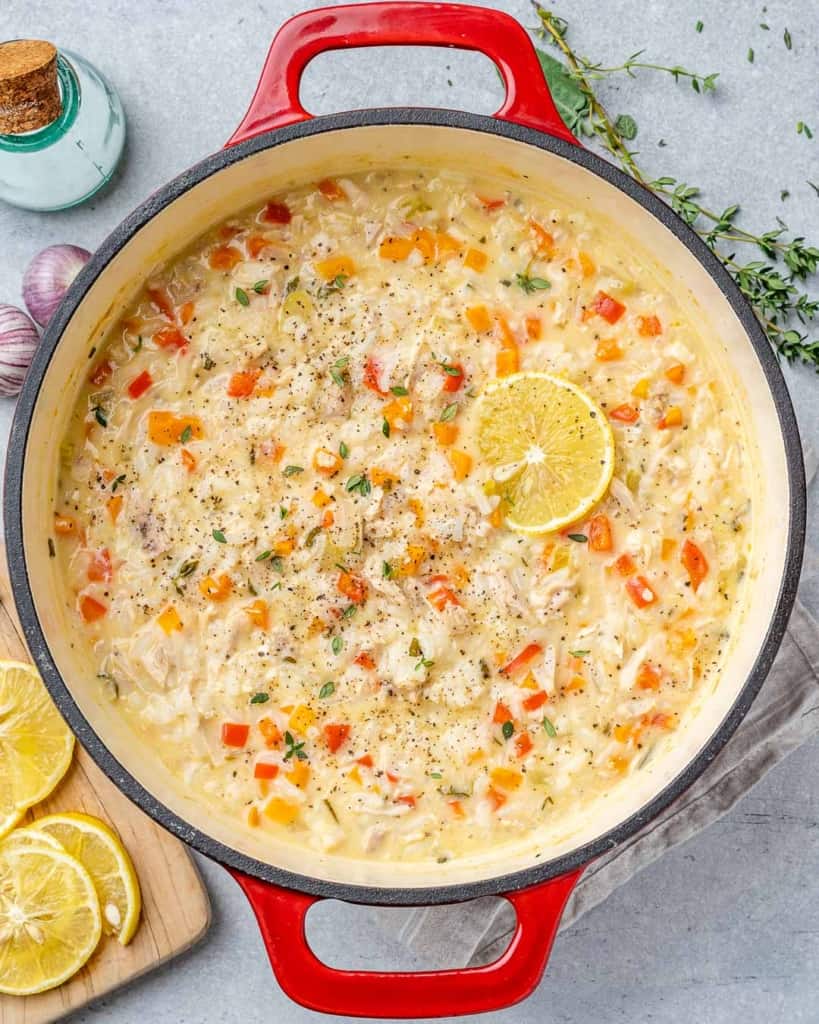 FAQs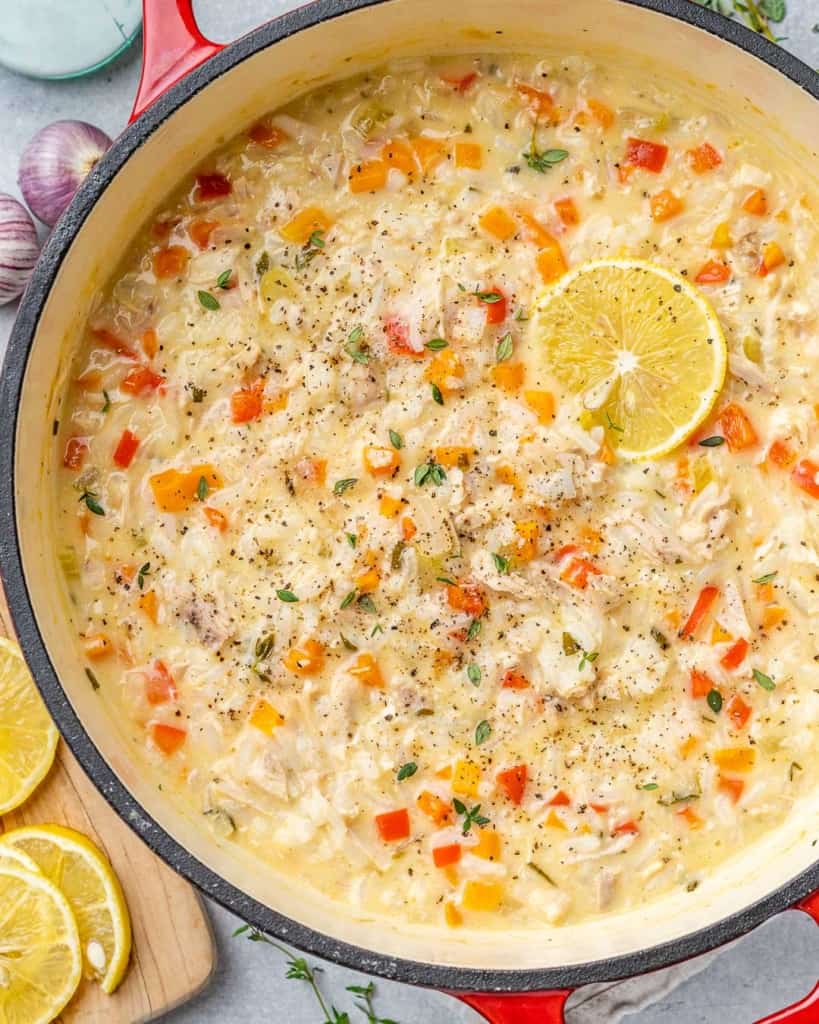 Want More Soups?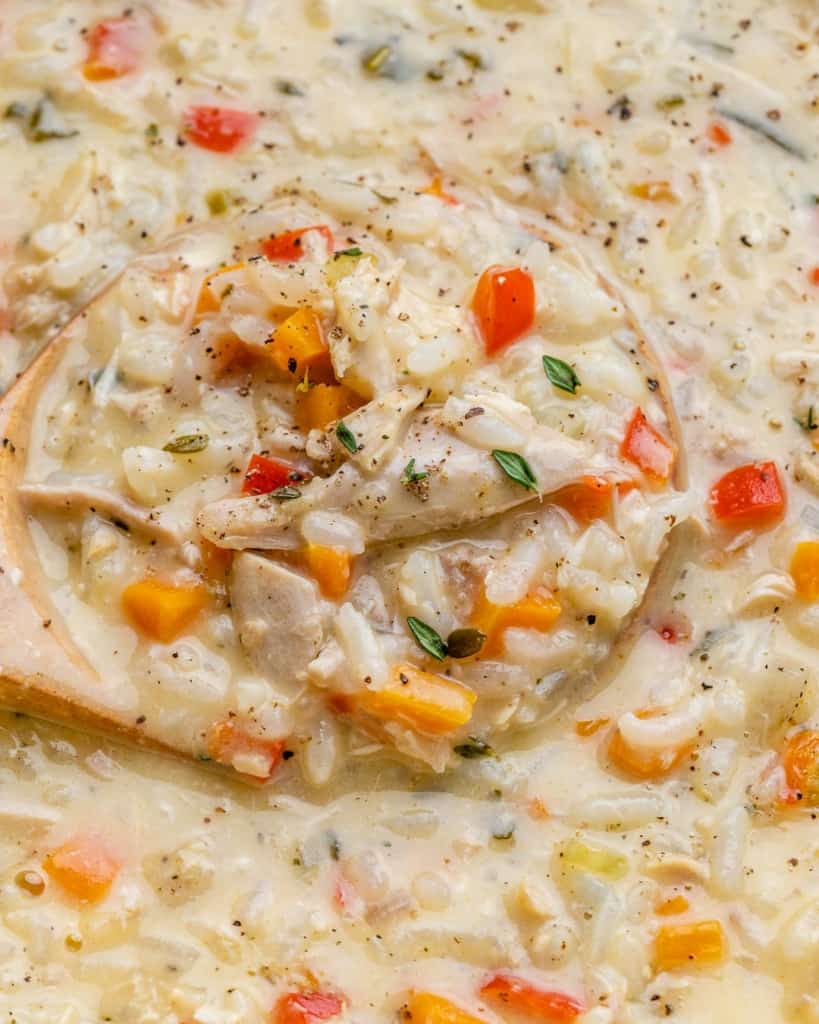 Also, if you try a recipe and you like it, leave us some feedback in the comment section below, and don't forget to rate it! We would love it if you shared it with friends and family.
Finally, please use our hashtag #healthyfitnessmeals on INSTAGRAM for a chance to be featured! FOLLOW Healthy Fitness Meals on FACEBOOK | INSTAGRAM | PINTEREST | TWITTER for all of our latest blog posts and recipes.