These No-bake Peanut Butter Cookie Dough Balls are super fun and easy to make. Takes about 6 ingredients to make and they are loaded with peanut butter. Melts in your mouth and ready in just about 5 minutes. They are the perfect protein-packed treat to have any time of the day.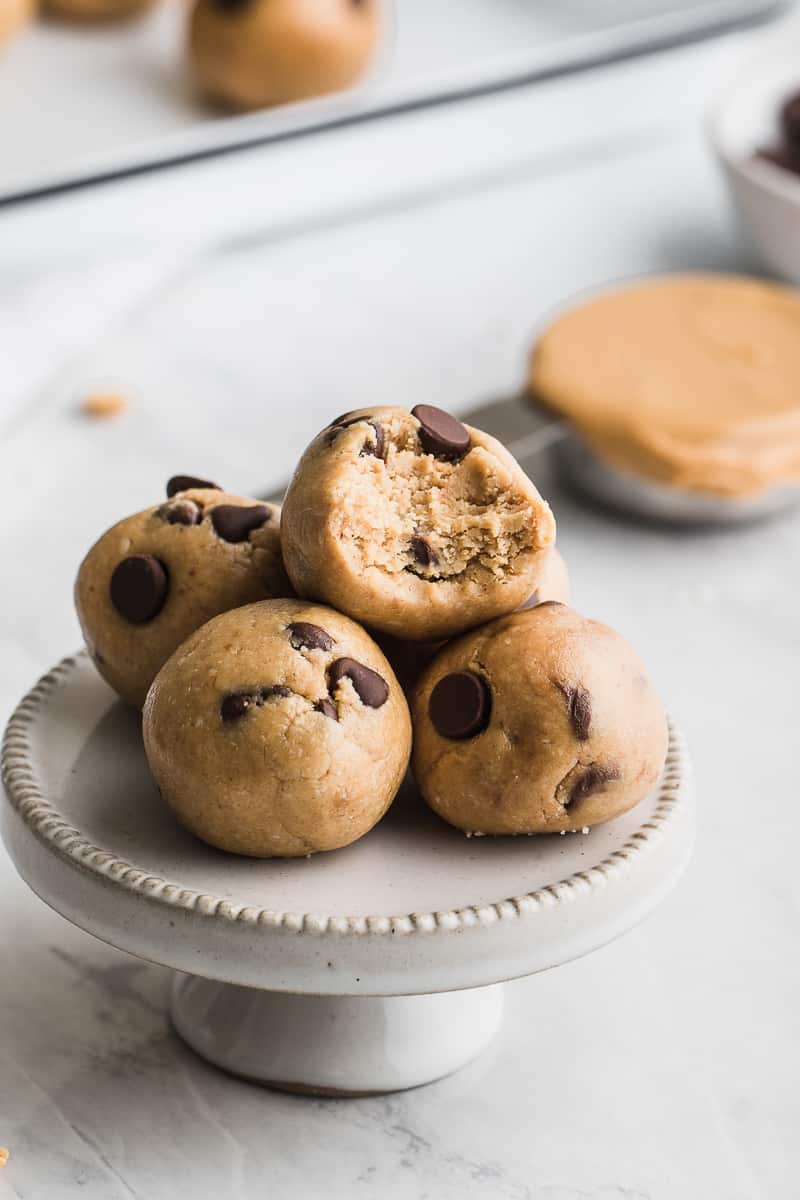 Easy No-Bake Peanut Butter Cookie Dough Balls
This post is sponsored by the National Peanut Board. I received compensation, but all opinions and content are my own.
If you don't have any peanut butter in your pantry it's time to stock up on them! My pantry has at least 2-3 jars of peanut butter and I am almost never out of peanut butter. We literally have peanut butter with everything! Whether we have some with fruits, veggies or create a super easy and delicious dessert like these No Bake and edible Peanut Butter Cookie Dough Balls.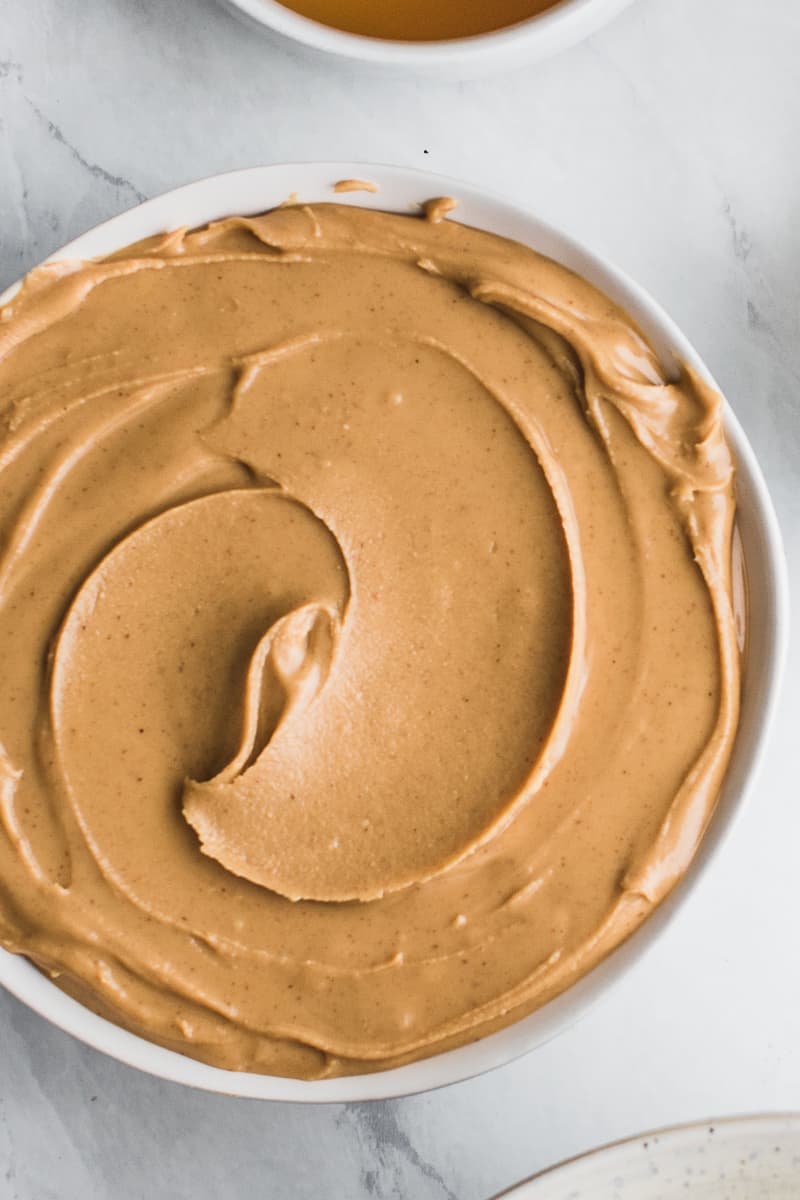 What Kind Peanut Butter to use:
Have loads of peanut butter like I do? Great! If you don't and you aren't so sure what type of peanut butter to use? I am here to help guide when you go shopping. Have a favorite brand you always use and love? Go right ahead with whatever peanut butter brand you love and works best for you.
Types of Peanut Butter:
By now, we all know that there are two main types of peanut butter: Crunchy and smooth. That's the easy part because you are either a crunchy peanut butter person or you are not. Another preference is whether the peanut butter you go with has "added sugar" to it. If you prefer not to have the added sugar, they always look at the nutrition facts label or ingredients label to determine if there is any added sugar.
Generally, all-natural peanut butter has no sugar or palm oil added. It's pretty much just peanuts and salt. The traditional peanut butter does have about 1g of sugar added to it per serving and palm oil which makes it easier to use for baking and prevents the oils from the ground peanuts to float to the top.
Whether you use peanut butter for a snack, for breakfast on a toast or smoothie or to make a dessert with, peanut butter is super versatile and easy to work with. It is a pantry staple that's super affordable and can be added to your favorite meals and recipes for a nutritious boost.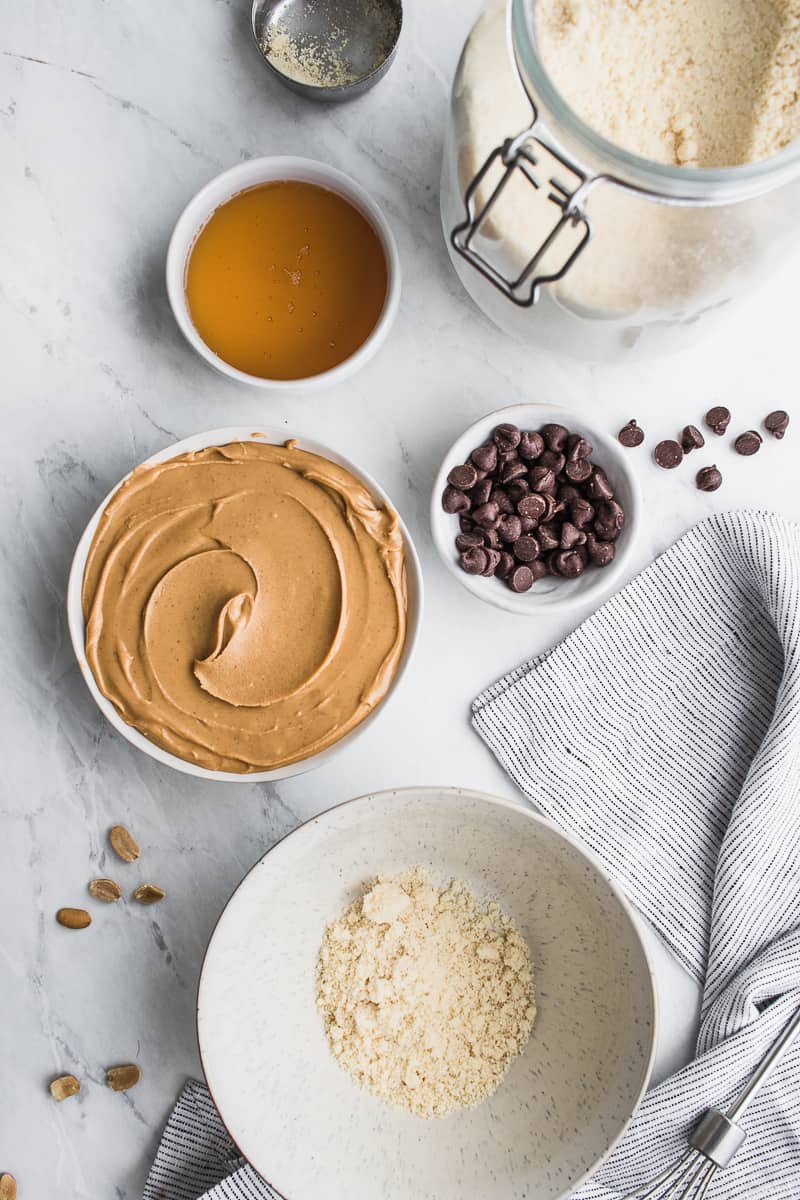 How to make:
To make these peanut butter cookie dough balls, you will need only these few basic ingredients:
Oat Flour

Peanut Flour

Peanut Butter

Agave or Honey

Vanilla Extract

Chocolate Chips
Add the peanut butter, honey, and vanilla into the bowl, mix well until combined. Then add the Peanut flour and oat flour. Mix until a dough is formed and then adding the chocolate chips. Roll into bite-sized balls and enjoy. It's as easy as that.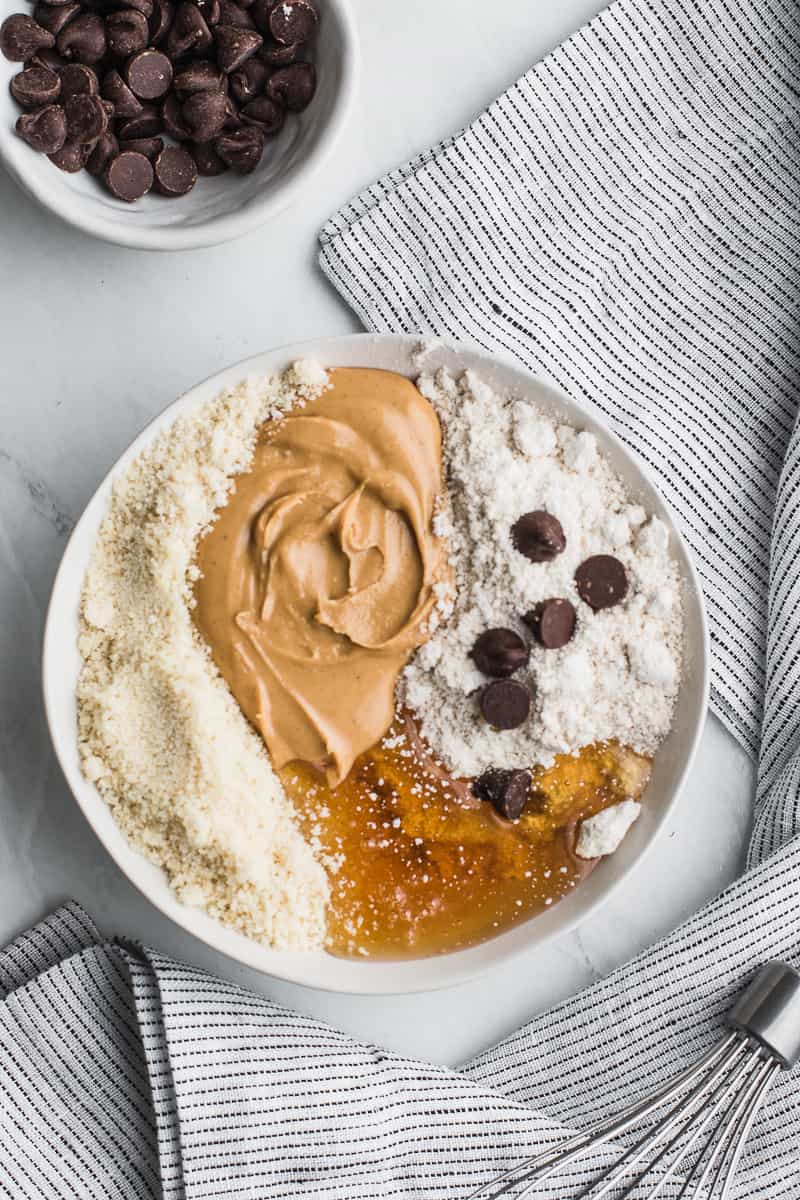 Is Peanut butter good for you?
From adults to kids, everyone loves peanut butter. Loaded with good fats and power-packed protein, no matter how you decide to use peanut butter in your daily diet regimen, in each serving (2 tablespoons), you will get 8g of protein, 2g of fiber and 12g of saturated fats.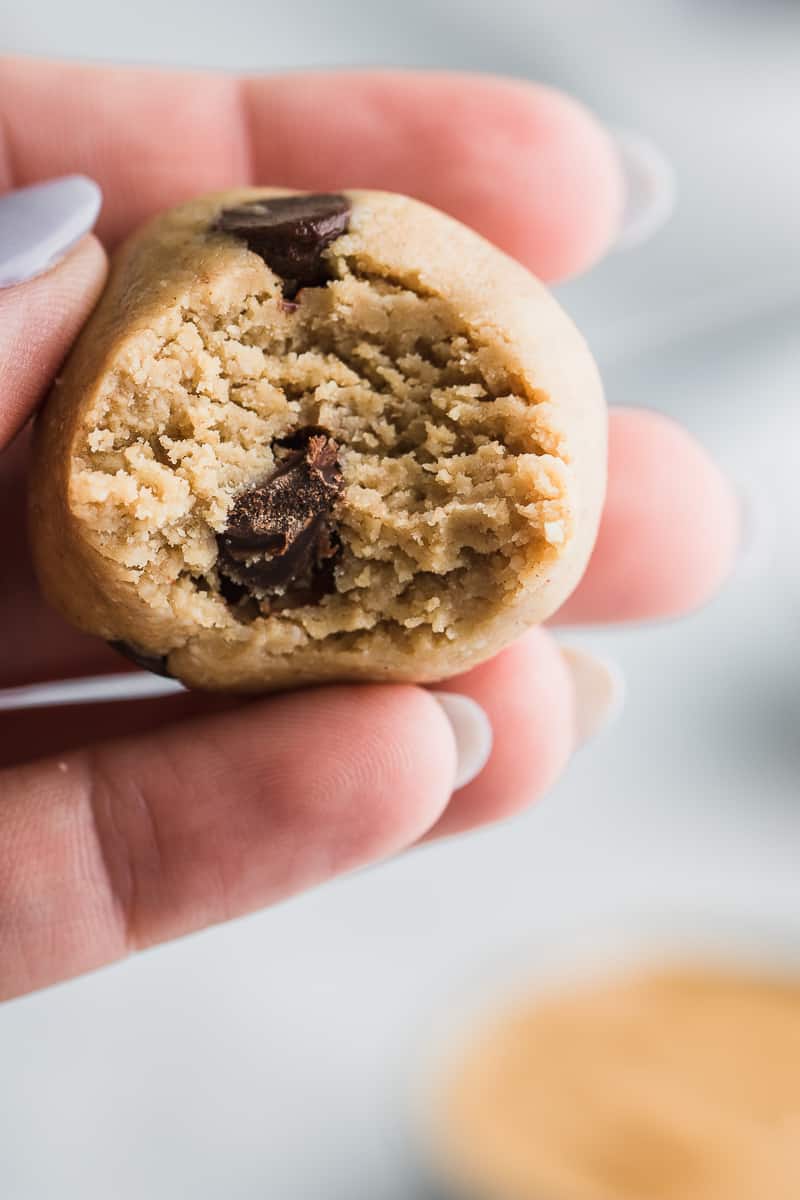 How to add Peanut Butter to your diet
The recommendation is to have 2 tablespoons of peanut butter daily. Alternatively, there are so many ways you can incorporate peanut butter into your diet. Have it as a spread over whole grain toast or rice cakes, add it into your morning protein shake for a power boost, use it as a dip with fruits and veggies, add over oatmeal or yogurt.
Also, you can head here for some more delicious peanut butter recipes for every occasion you can possibly think of.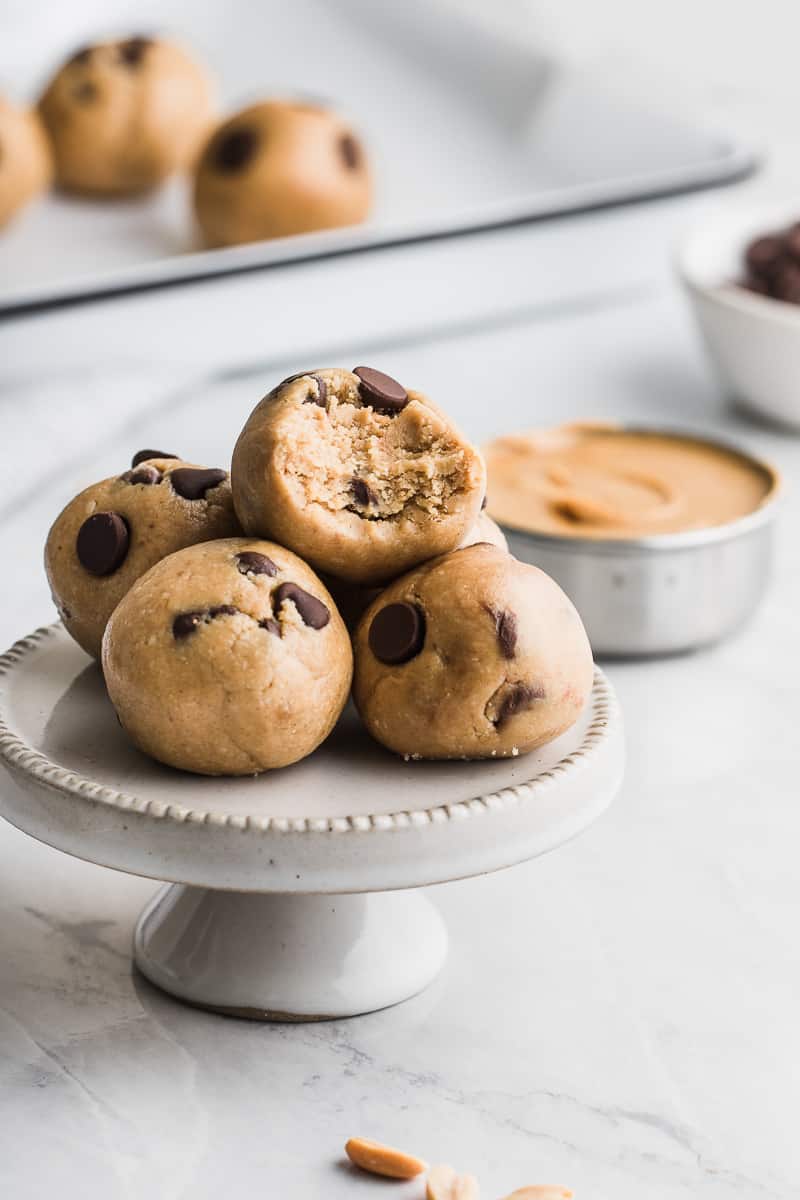 Making these No-Bake Peanut Butter Cookie Dough Balls? I would love to hear your thoughts in the comment below. Leave me a comment below and let me know your favorite way to use peanut butter!
Also, If you happen to take a snapshot of this recipe remake, use the hashtag #HowDoYouPB on social media to show off your creation and also use my #healthyfitnessmeals hashtag on Instagram and Facebook
Finally, Checkout a few other healthy dessert recipes made with peanut butter for more inspiration:
Don't forget to head here for tons more delicious peanut butter recipes!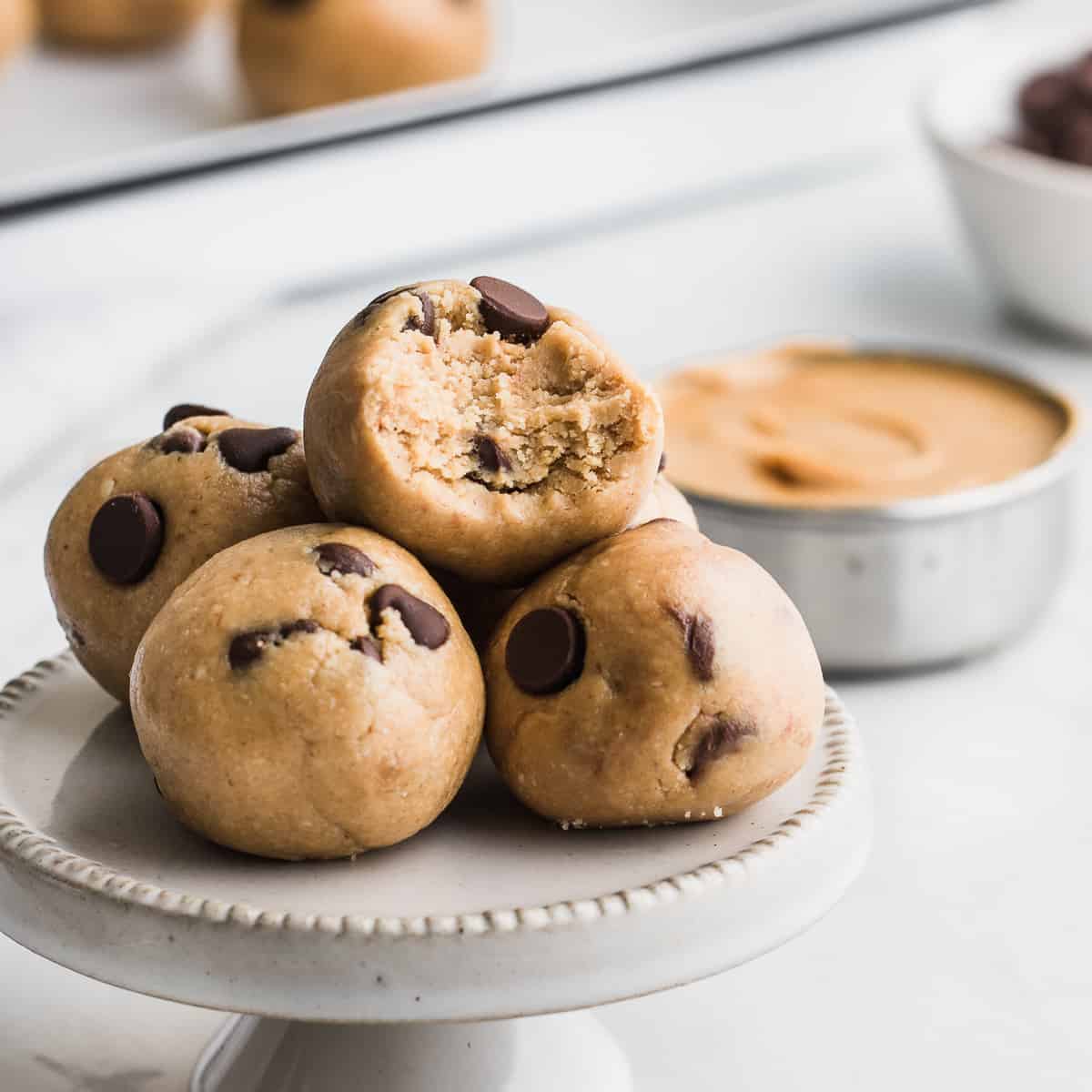 Peanut Butter Cookie Dough Ball Recipe Below:
Peanut Butter Cookie Dough Balls
A perfectly healthy snack, loaded with peanut butter, so filling and ready in minutes.
Print
Pin
Rate
Ingredients
1

Cup

Oat Flour

2/3

Cup

Peanut Flour

or almond flour

5

Tbsp

Peanut Butter

4

Tbsp

Honey

or Agave

1

Tsp

Vanilla Extract

1/3

Cup

Chocolate Chips

Dark
Instructions
In a bowl, stir together the peanut butter, honey, and vanilla until smooth.

Add in the oat flour and peanut flour and stir until a dough forms.

Separate the dough into 12 evenly sized balls.

Serve immediately or chill in the refrigerator for 2 hours before serving.

Store refrigerated in an airtight container.
Notes
Nutritional facts:
Please keep in mind that the nutritional information is calculated using a nutrition facts calculator. It is a rough estimate and can vary greatly based on products used.
Nutrition
Calories:
155
kcal
|
Carbohydrates:
21
g
|
Protein:
6
g
|
Fat:
6
g
|
Saturated Fat:
2
g
|
Cholesterol:
1
mg
|
Sodium:
46
mg
|
Potassium:
181
mg
|
Fiber:
2
g
|
Sugar:
10
g
|
Vitamin A:
10
IU
|
Calcium:
23
mg
|
Iron:
1
mg