This healthy chicken salad recipe is lightened up using Greek yogurt instead of mayonnaise. So creamy, flavorful, and easy to make. A simple chicken salad recipe that can be used top over salads, made into a sandwich and stuffed in avocados.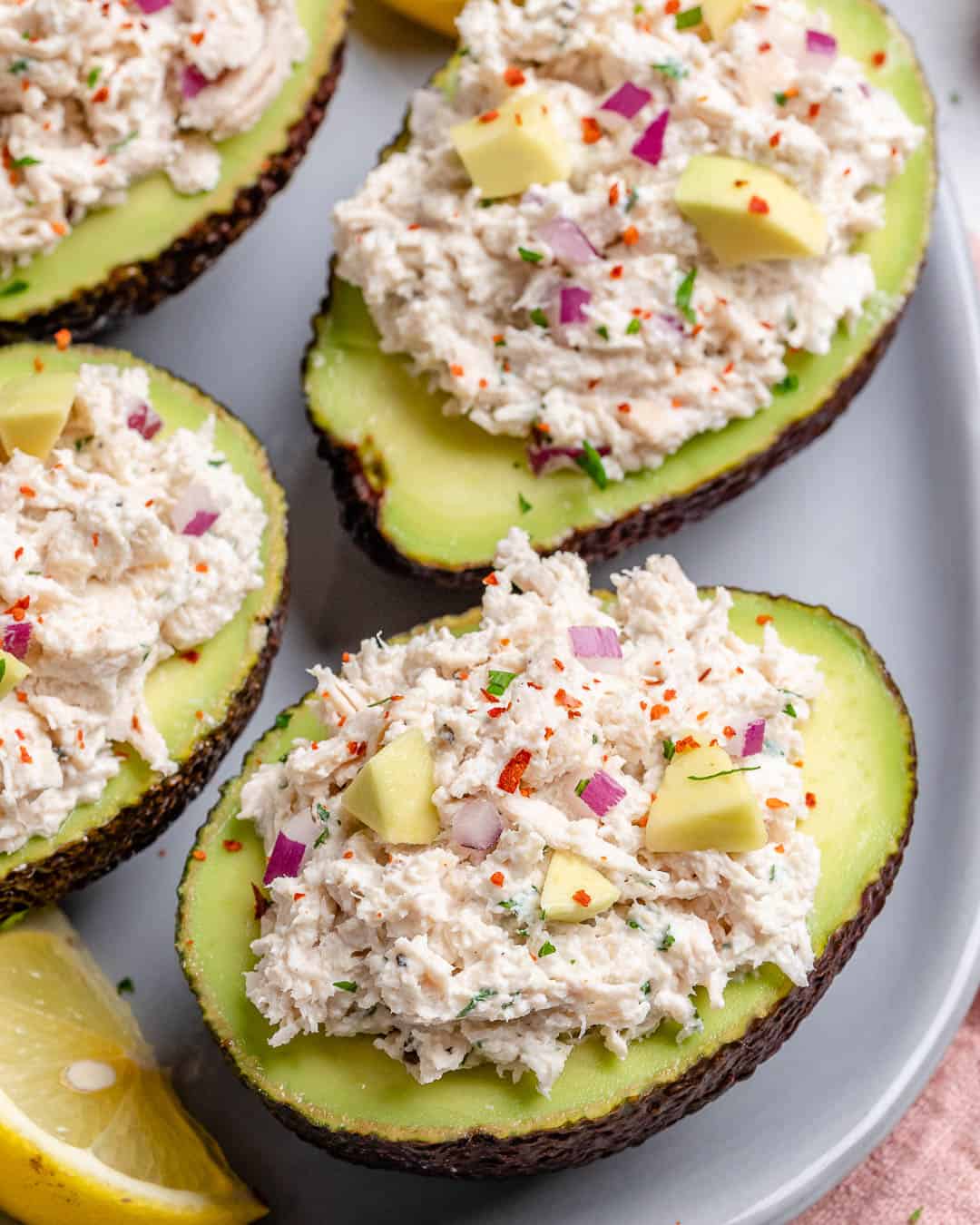 The traditional chicken salad recipe is made with mayonnaise which I swapped with greek yogurt instead for a lighter and healthier option. I have been making this recipe for such a long time now but never as stuffed avocados. Usually, I add some chopped avocados instead of the celery and we make chicken salad sandwiches as a healthy and light lunch. You will love how simple this chicken salad recipe is!
HOW TO MAKE THE BEST HEALTHY CHICKEN SALAD RECIPE
Making this healthy chicken salad recipe is quite easy. It takes very little time to put together and is perfect to make for a quick lunch or light dinner.
Chicken Salad Ingredients:
Chicken – Use Rotisserie Chicken and shred or make your own shredded chicken. (see below for tips on how to make your own shredded chicken0
Avocado – Grab a couple of avocados to stuff with the chicken salad.
Greek Yogurt – Needed in place of mayonnaise for that creamy goodness
Onions– Adds a boost of flavor
Herbs and Condiments – For additional flavor
Time to make your Rotisserie chicken salad. You will need to cut avocados in half and then pitted. Scoop some out to make room for the chicken. Chop the avocado you scooped out.
In a bowl, add the shredded chicken along with all the other ingredients. Mix well until combined. Divide equally to stuff all 4 halves of the avocados.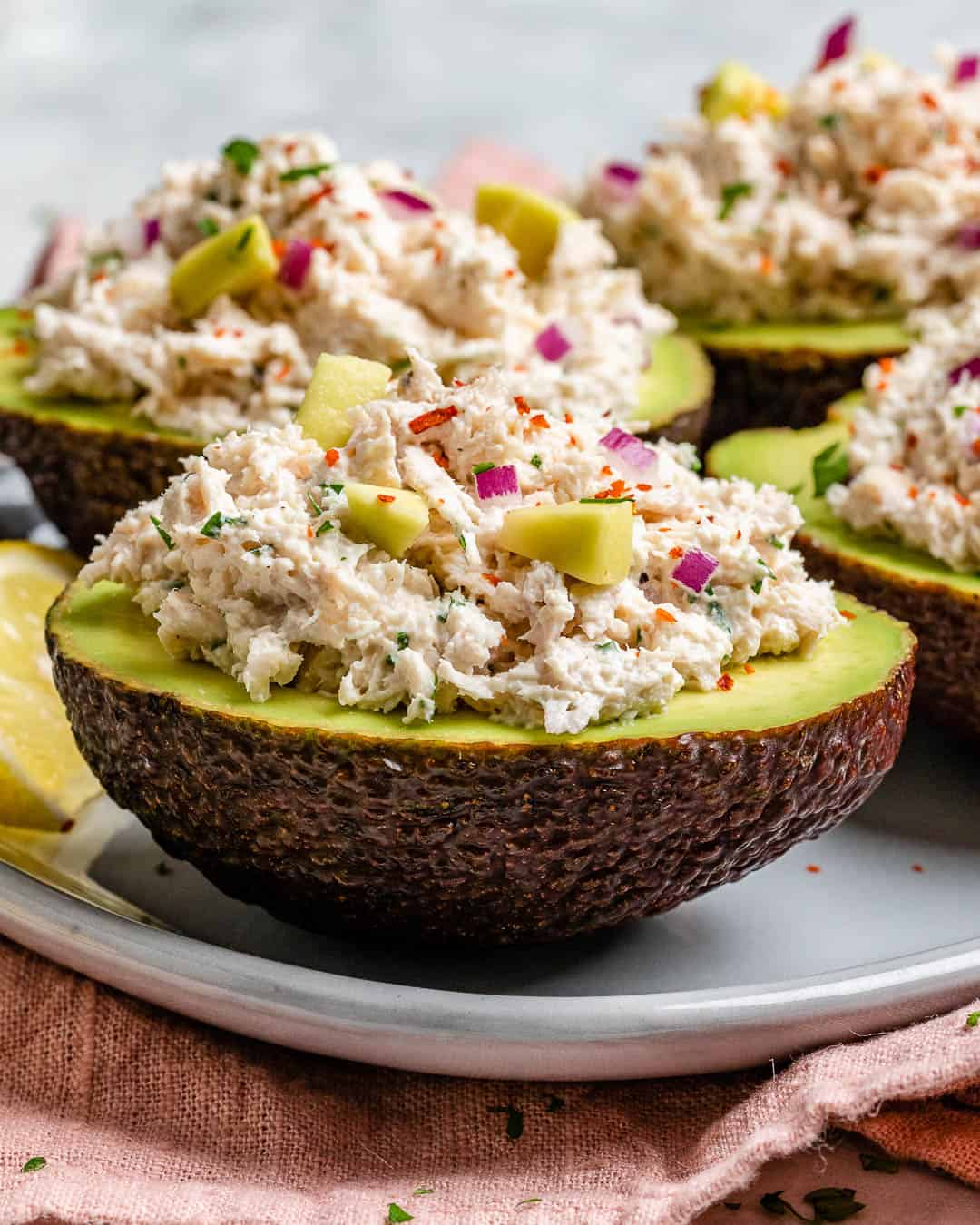 IS CHICKEN SALAD KETO
The classic chicken salad that doesn't have any added grapes, fruits, or dried fruits would be keto-friendly. This Healthy chicken salad recipe is keto since it's topped over avocados instead of it being served in a sandwich. Other keto options would be to serve in lettuce wraps.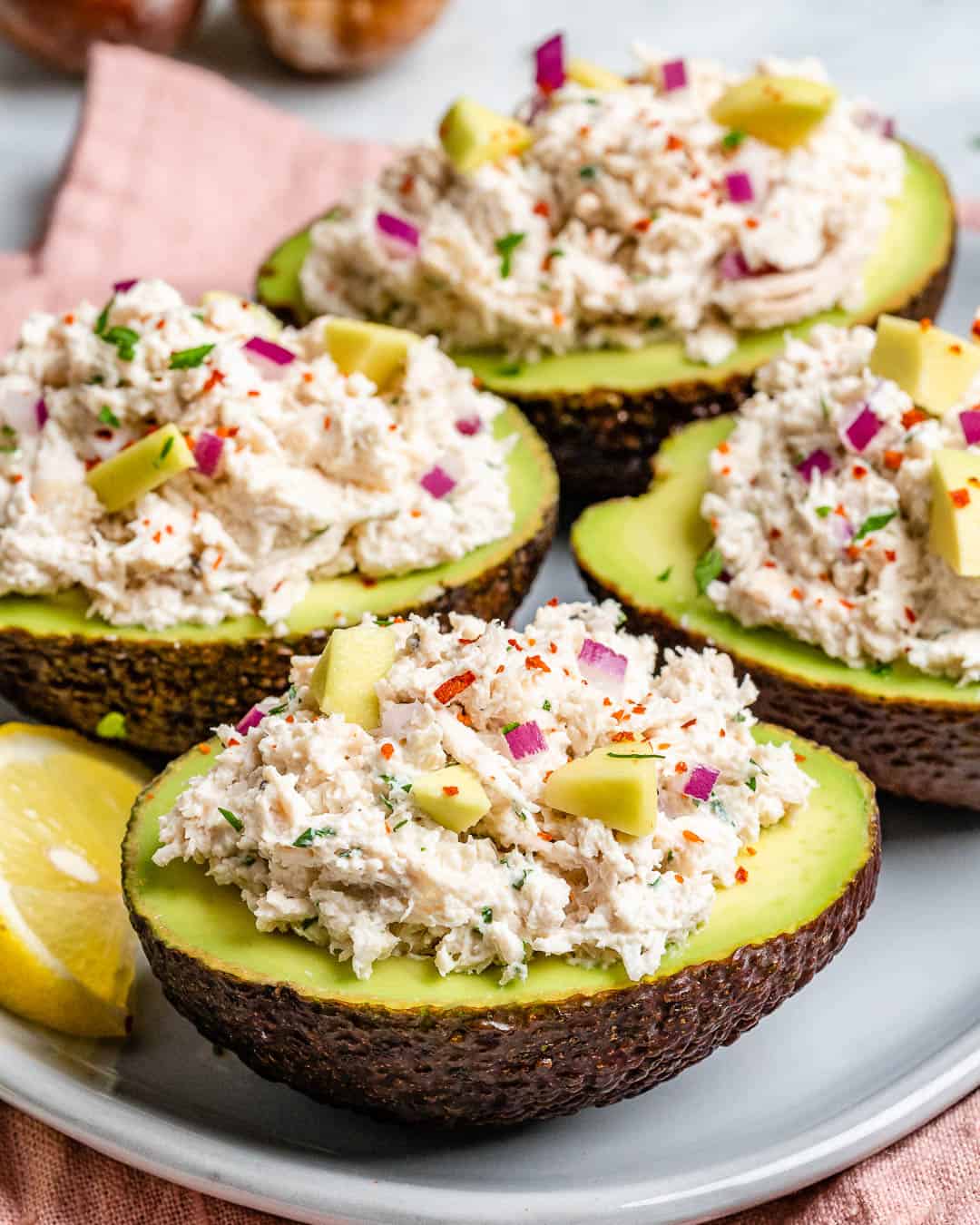 HOW LONG DOES CHICKEN SALAD LAST
Chicken salads should last for 3-4 days in the fridge if stored in a tightly sealed container. Stuff the avocados when you are ready to serve since they will change color and most likely go brown after a few hours.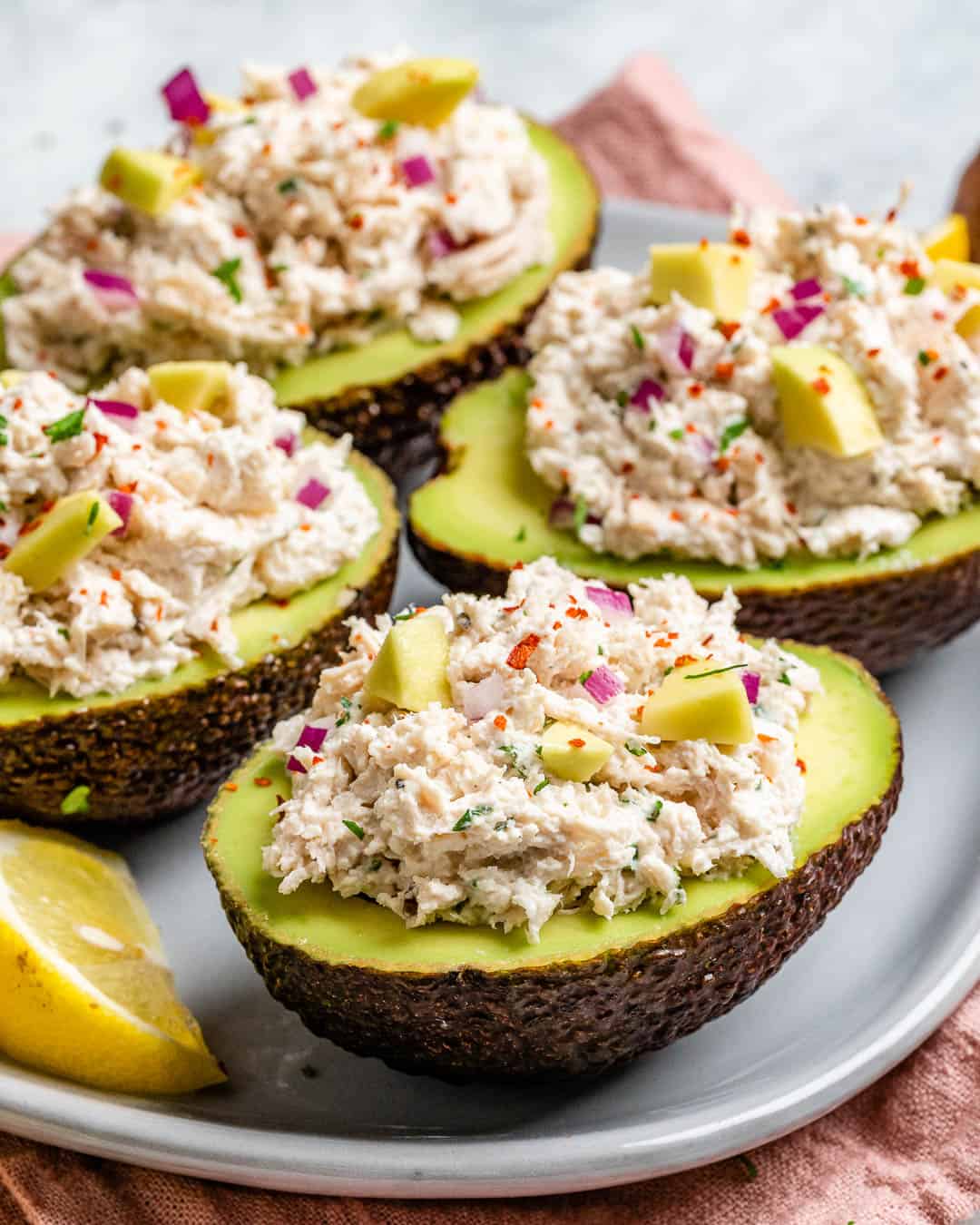 CAN YOU FREEZE CHICKEN SALAD
Chicken salad can be frozen so long as they are stored the right way in an airtight container or a good freezer bag. It should be ok to freeze for up to three months. Allow it to thaw in the fridge overnight when ready to have your chicken salad. If the consistency is somewhat watery, you can add a few tablespoons of greek yogurt. Remember to not freeze the avocados.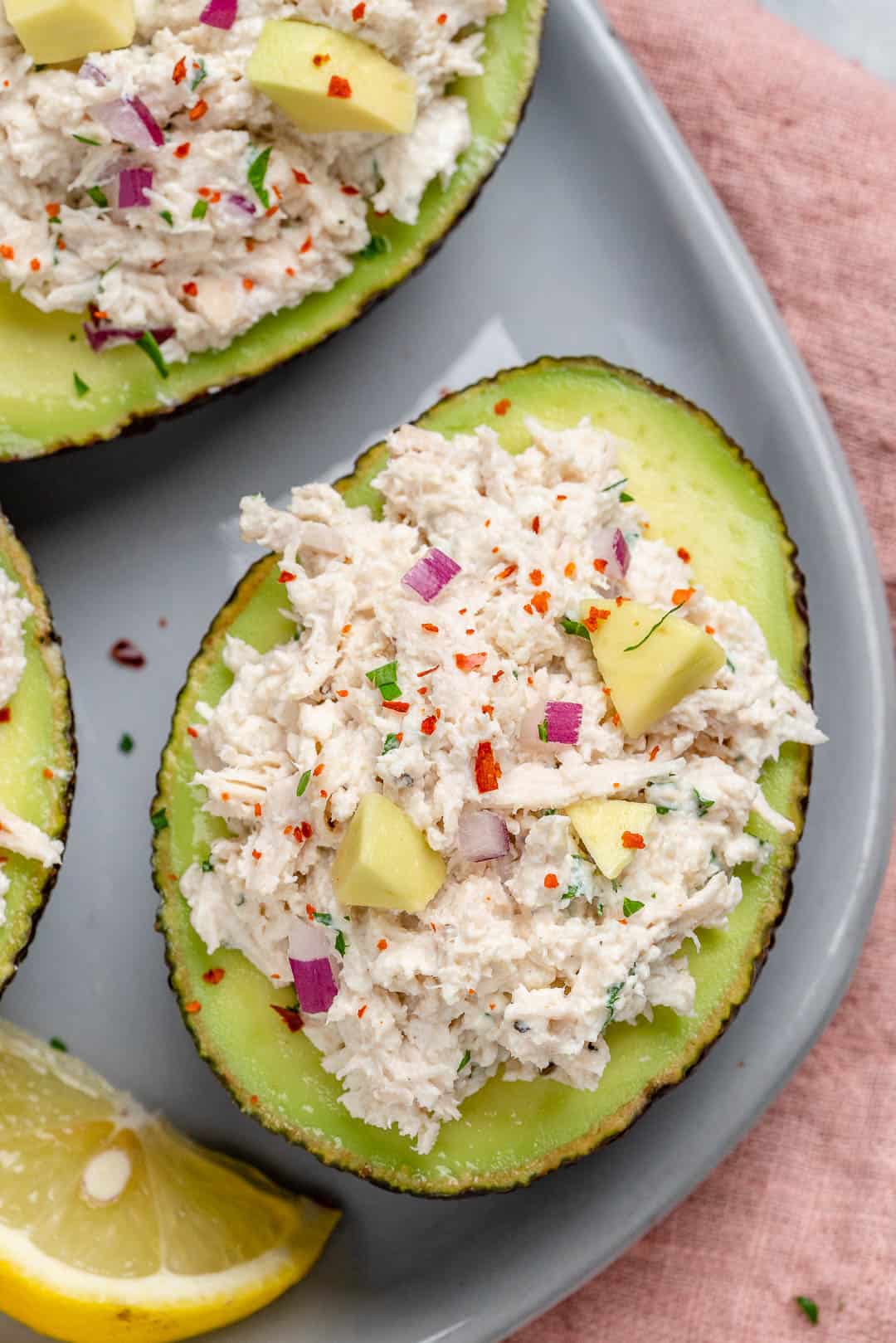 HOW LONG CAN CHICKEN SALAD SIT OUT
Chicken salad should not be sitting out for long. At the very most one hour at room temperature. It contains either mayonnaise or yogurt. For safety reasons, it is best to store your chicken salad or any leftovers in the fridge in a tightly sealed container.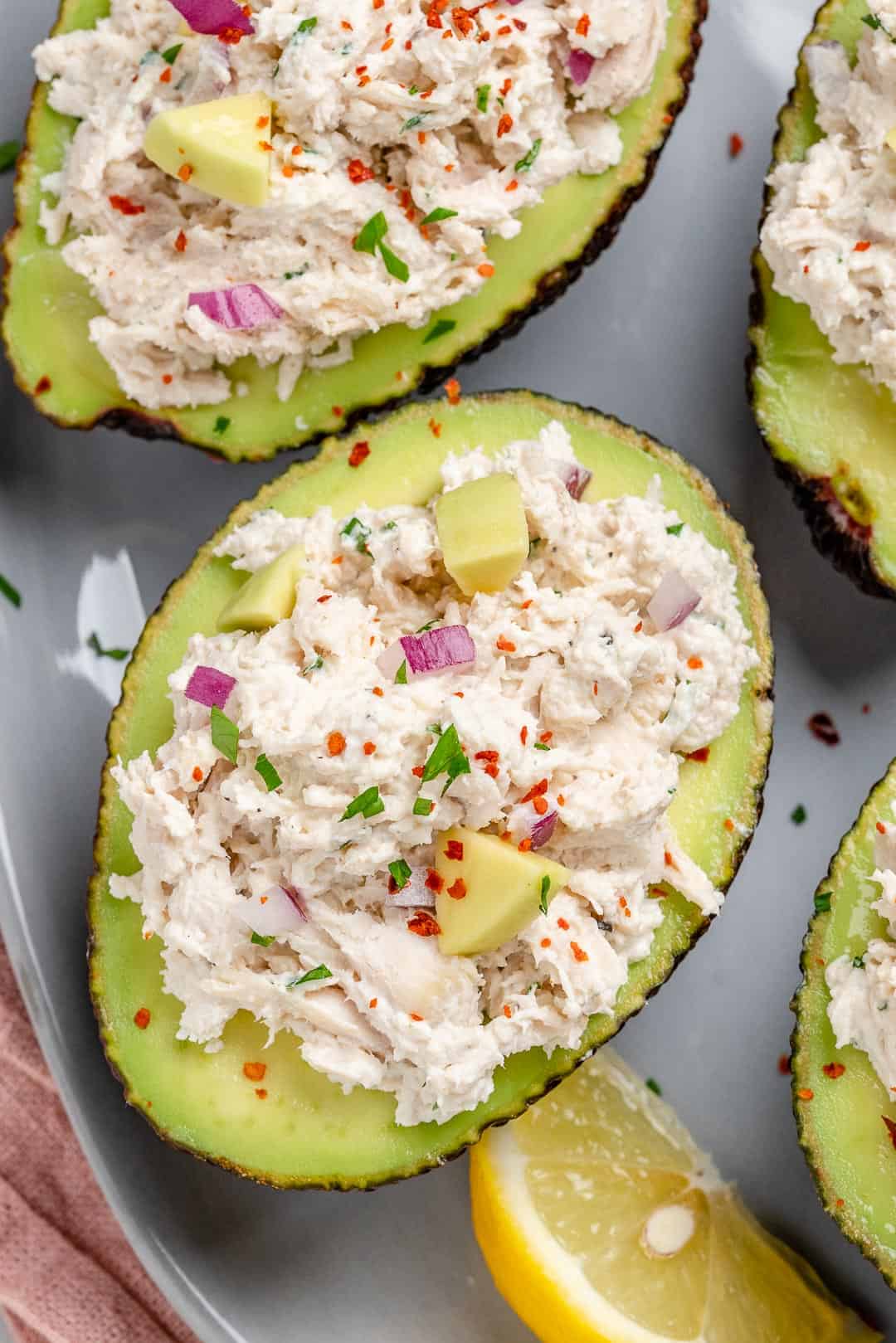 HOW MANY CALORIES IN CHICKEN SALAD
Calories will vary based on what you added to your chicken salad. Did you use mayo? Did you add fruits? Chicken salad calories will vary anywhere between 100-350 calories. This healthy chicken salad recipe is on the higher end of 309 calories because of the avocados which are high in calories. Don't let that stir you away from having avocados though! They contain good fats that our body occasionally needs. They have "good" calories.
If you are looking for a low calories chicken salad recipe, you can omit the avocados and serve the chicken salad in lettuce wraps for example. Each serving will come out to 150 calories.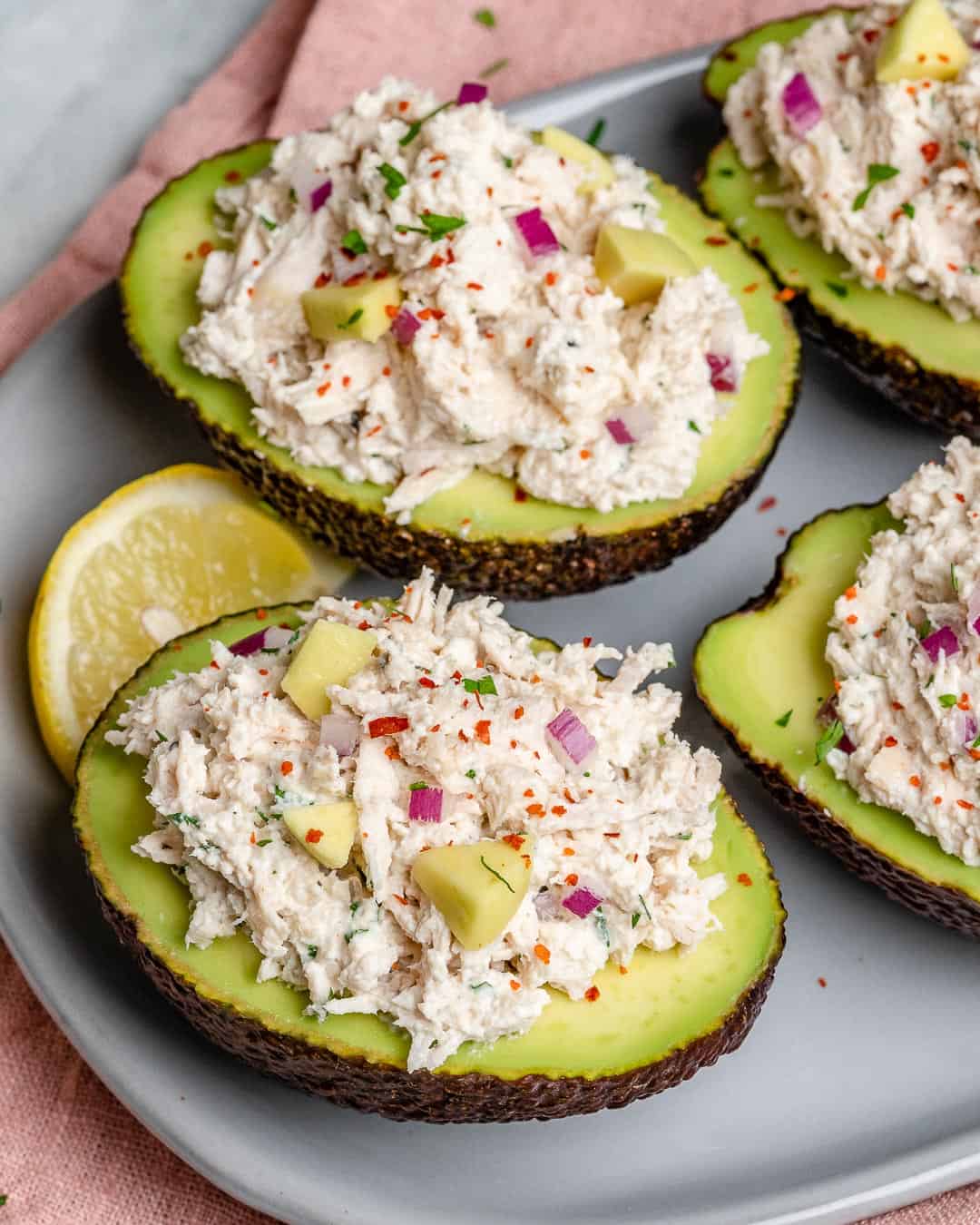 HOW TO POACH CHICKEN FOR CHICKEN SALAD
If you don't have rotisserie chicken or you don't feel like going out to get one, you can poach and make your own shredded chicken at home. Even though you can get some amazing Rotisserie chicken from Costco for about 5 dollars, we sometimes just don't want to leave the house and make use of what we have!
There are different ways to Poaching chicken. It is very easy and here is what you need to do:
Stovetop – Place boneless chicken breasts in a large deep pot or pan. Add salt, pepper, and any fresh herbs like bay leaf or cloves. Pour in about 3-4 cups of cold water. Allow it to cook/boil for about 15 minutes or until the chicken reads 150 degrees using a thermometer. Allow chicken to cool off before shredding.
Instant Pot – Using the instant pot will be much faster. Place chicken breast in pot along with salt, pepper, and herbs if using. Add enough cold water or broth to cover the chicken, close and cook on high for about 10 minutes.
Slow Cooker– You would do the same steps as you would for the instant pot and just place the cooking time for about 4-6 hours or until the chicken can easily shred using two forks.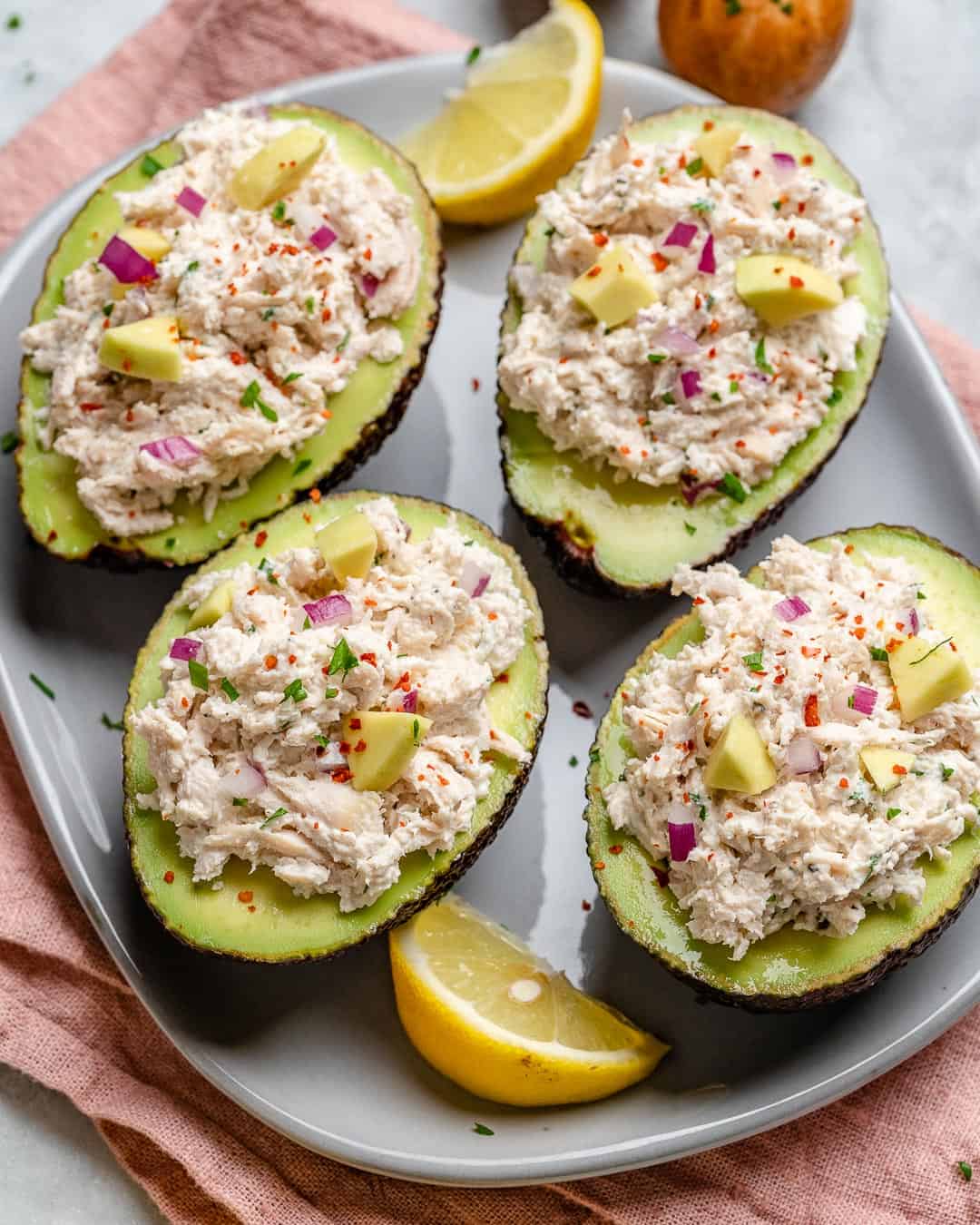 I would love to get some feedback from you if you try any of my recipes. If you like a recipe, please come back and give it a 5-star rating and leave me a comment below.
Some easy healthy recipes to try: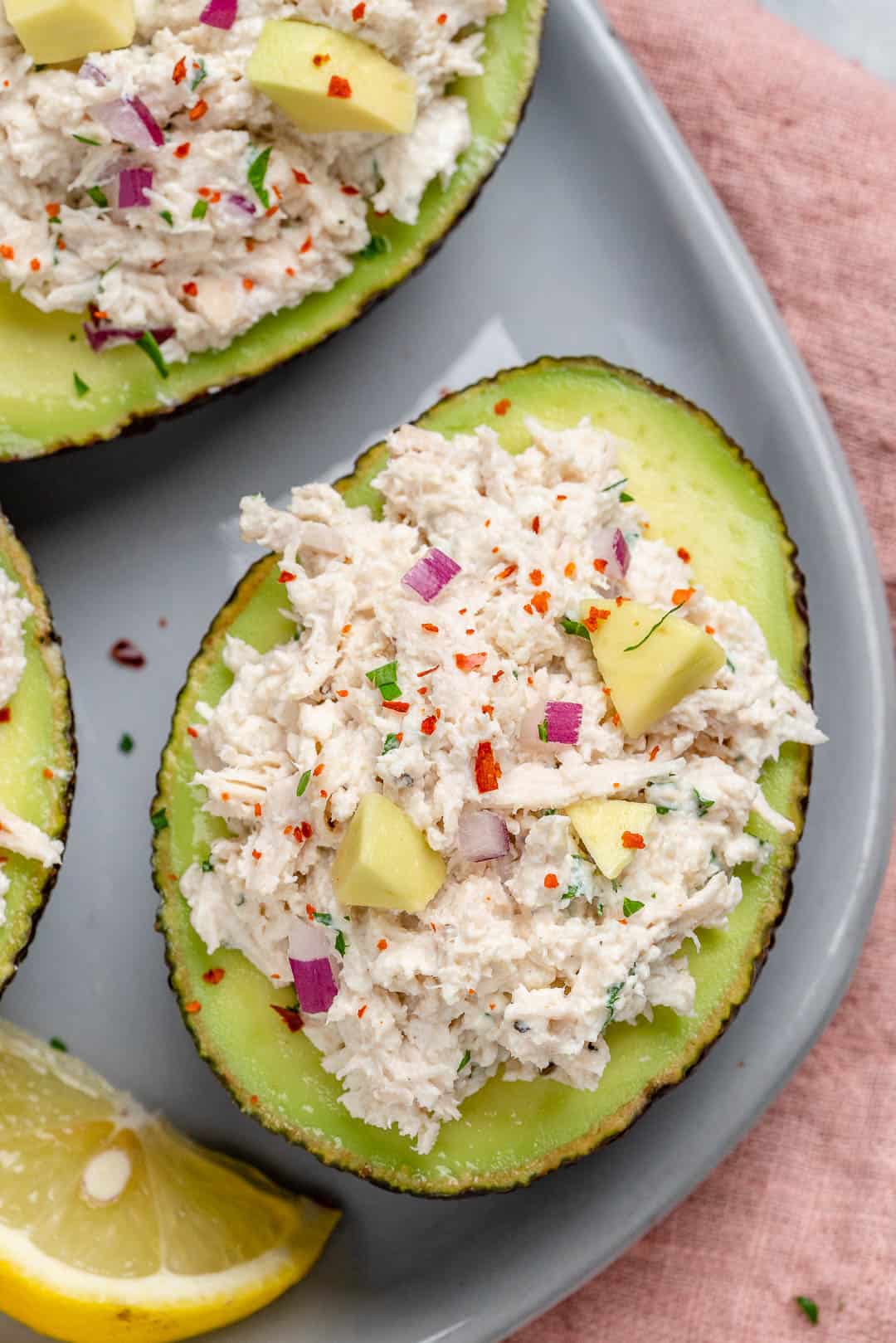 Also, remember to subscribe to my NEWSLETTER for free and receive recipes like this chicken Salad Recipe delivered right to your inbox!
Finally, if you try a recipe and you like it, please use my hashtag #healthyfitnessmeals on INSTAGRAM for a chance to be featured! FOLLOW Healthy Fitness Meals on FACEBOOK | INSTAGRAM | PINTEREST | TWITTER for all of my latest blog posts and recipes.
Print Recipe
Healthy Chicken Salad Stuffed Avocados
Avocados stuffed with a Chicken salad recipe that's lightened up with Greek yogurt.
Ingredients
2

Cups

Shredded Rotisserie Chicken

1

Small

Red Onion

finely chopped

2

Large

Avocados

pitted

⅓

Cup

Plain Greek Yogurt

1

Lemon

juiced

1

Tbsp

Dijon Mustard

Kosher salt and pepper

to taste

2

Tbsp

Chopped Parsley

plus more for garnish

Red Pepper flakes to garnish

optional
Instructions
Scoop out some of the avocados to make space for the filling. Dice the scooped avocado and place it into a bowl.

Add in the shredded chicken, onion, greek yogurt, parsley, lemon juice, and Dijon. Taste and adjust the seasoning.

Divide the chicken salad among your avocado halves and garnish with parsley and freshly ground black pepper.

Serve immediately and enjoy!
Notes
Please keep in mind that the nutritional information is calculated using a nutrition facts calculator. It is a rough estimate and can vary greatly based on products used.
Make your own cooked shredded chicken breast if you don't have any rotisserie or leftover chicken.
Nutrition
Calories:
309
kcal
|
Carbohydrates:
14
g
|
Protein:
22
g
|
Fat:
20
g
|
Saturated Fat:
3
g
|
Cholesterol:
53
mg
|
Sodium:
110
mg
|
Potassium:
749
mg
|
Fiber:
8
g
|
Sugar:
3
g
|
Vitamin A:
175
IU
|
Vitamin C:
26
mg
|
Calcium:
52
mg
|
Iron:
2
mg