Fresh, nutty, and zesty, this Thai Peanut Salad is just bursting with flavor! Ready in just minutes, this is a quick and easy side dish, or add some healthy protein to make it a meal. It's naturally gluten-free and vegetarian, and can easily be made vegan.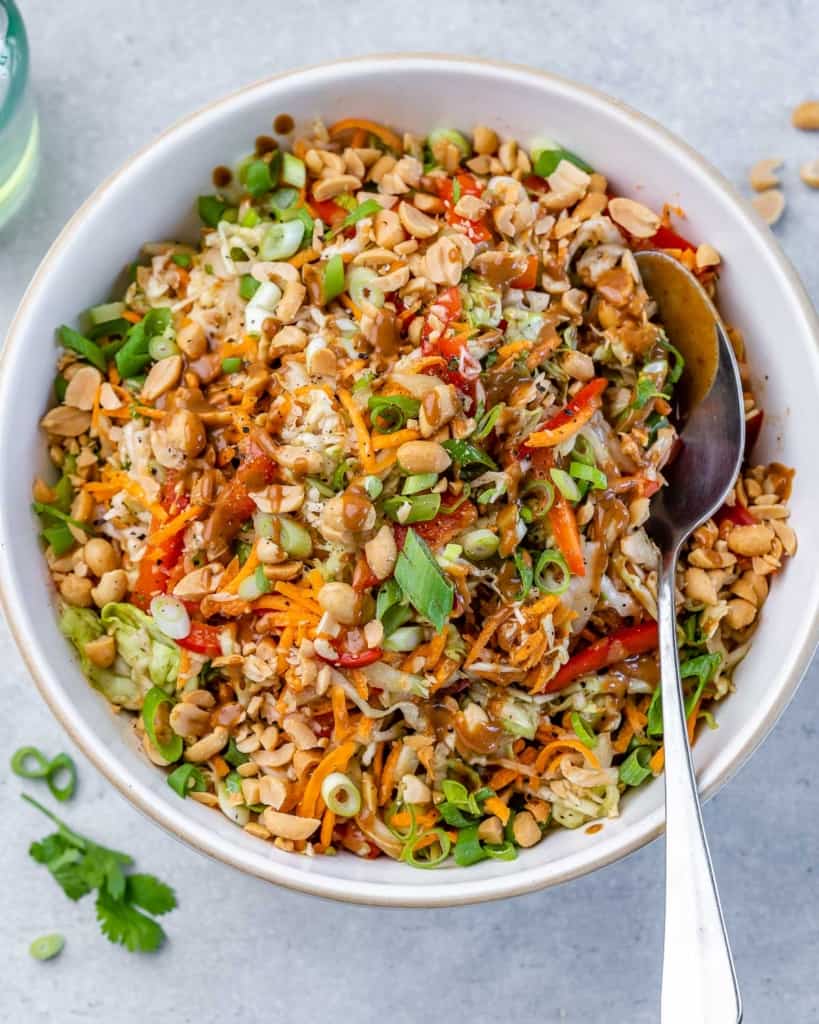 This has to be one of my favorite salad recipes. This Thai Peanut Salad tastes absolutely amazing and it's really healthy too! Loaded with cabbage, carrots, bell pepper, green onions, and cilantro, it all gets drizzled in a mouth-watering peanut dressing and sprinkled with crushed peanuts for a bit of crunch.
The best part? It takes just a few minutes to toss it all together. It's an excellent side dish anytime, or you can make it for lunch. Just add a healthy protein to round out the meal, and it will keep you full until dinner. I particularly enjoy it with salmon or chicken!
Why you will love this recipe
Simple: There is no cooking required in this Thai Salad Recipe! Just chop up the vegetables, whip up the dressing, and toss it all together.
Quick: This fast healthy salad is ready in 10 minutes or less! Perfect for a quick lunch, snack, or side dish with dinner.
Healthy: Loaded with vegetables and nuts for some healthy fats, this salad recipe is raw and so good for you!
Goes with anything: I like to eat this on its own or with a lean protein like chicken breast, salmon, or tofu.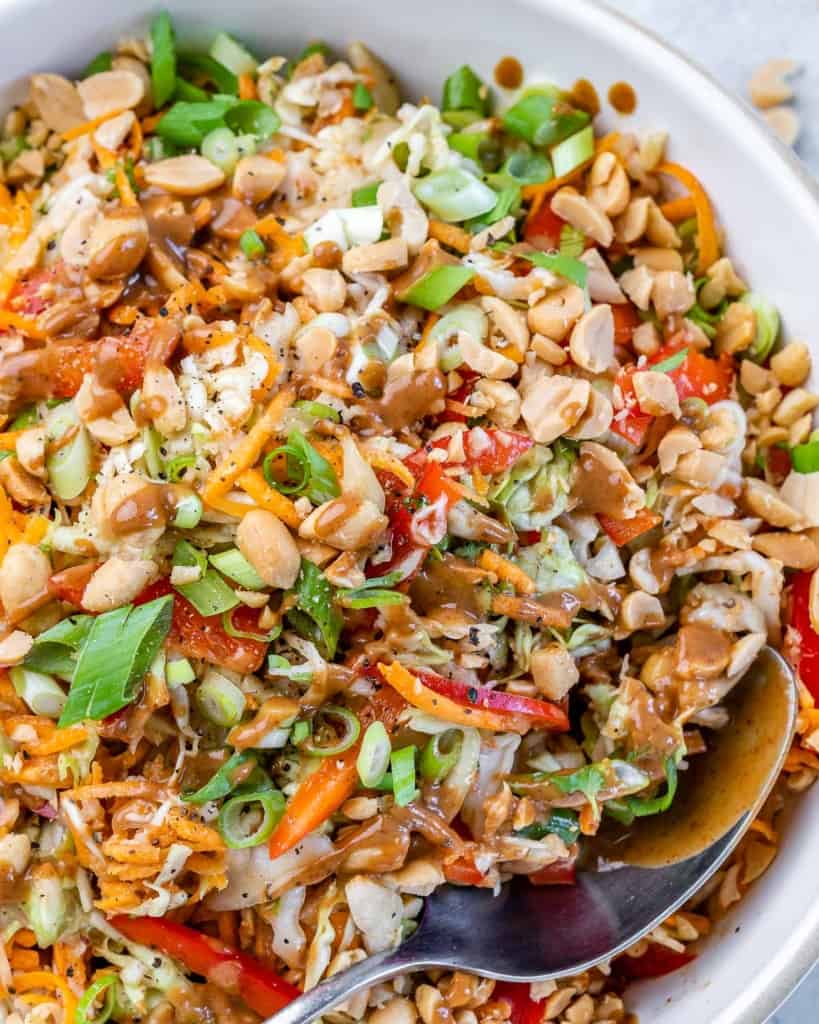 Ingredients you will need for this easy Thai salad  
Cabbage: One whole head of any color of cabbage will work for this recipe! You should opt for the round, firm varieties of cabbage rather than the loose pointy ones.
Carrots: Carrots add natural sweetness and a pop of color. Try parsnips as a substitute.
Herbs: Green onions and cilantro bring out this healthy Thai Peanut Salad recipe's freshness. You could use 1/4-1/2 a red onion instead of green onion if needed.
Bell pepper: Sweet colors like red, orange, and yellow are perfect for this recipe.
Peanuts: Peanuts add a little crunchy texture. My favorite part!
Seasoning: Simple kosher salt and pepper, to taste
For the Thai Salad Dressing:
Peanut butter: Creamy peanut butter is best to make this Thai peanut dressing nice and smooth. Make sure that it is 100% peanuts with no extra sugars for the healthiest version!
Coconut aminos: Sweet, salty, and tangy, coconut aminos are a delicious soy sauce alternative. You can add soy sauce instead, just adjust the honey to sweeten it to taste.
Lemon: Both the zest and juice add bright citrus notes. Lime is great in this recipe too!
Honey: Honey adds sweetness to the Thai peanut salad dressing. Maple syrup is a great alternative if needed.
Water: Use a little water to thin the dressing as desired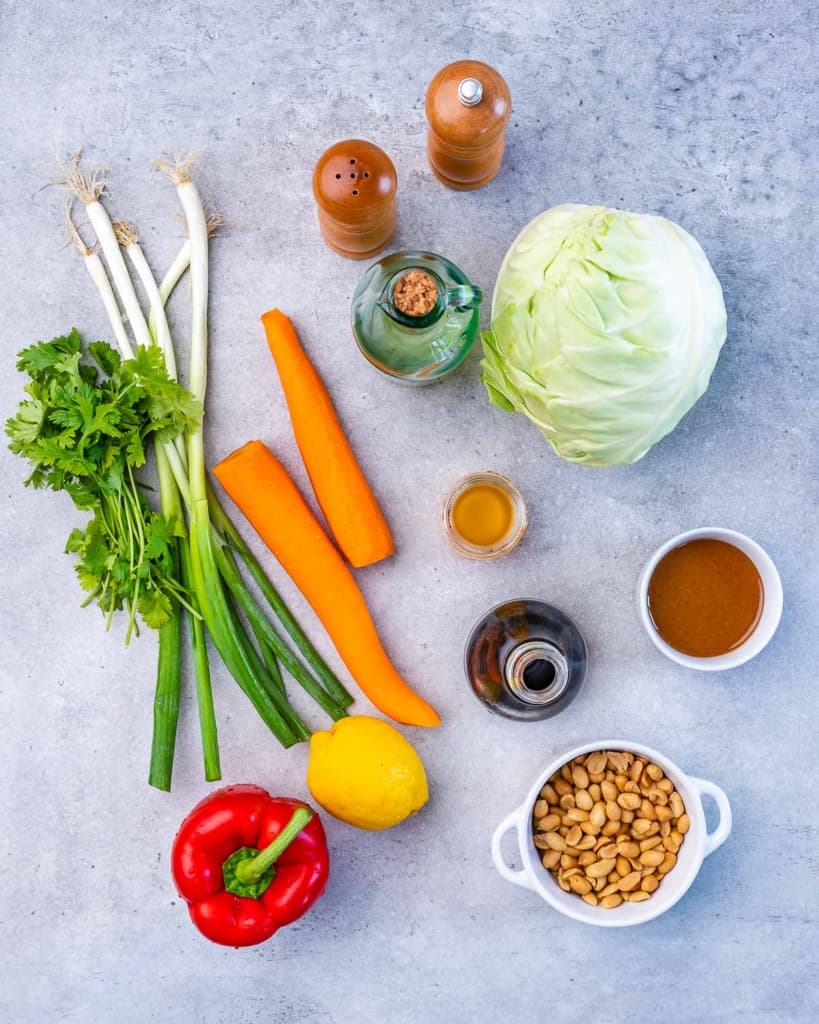 How to make this Thai Peanut salad recipe
1. Make the dressing: Whisk the dressing ingredients in a large bowl until smooth. Add water as needed to thin it until it reaches your desired consistency.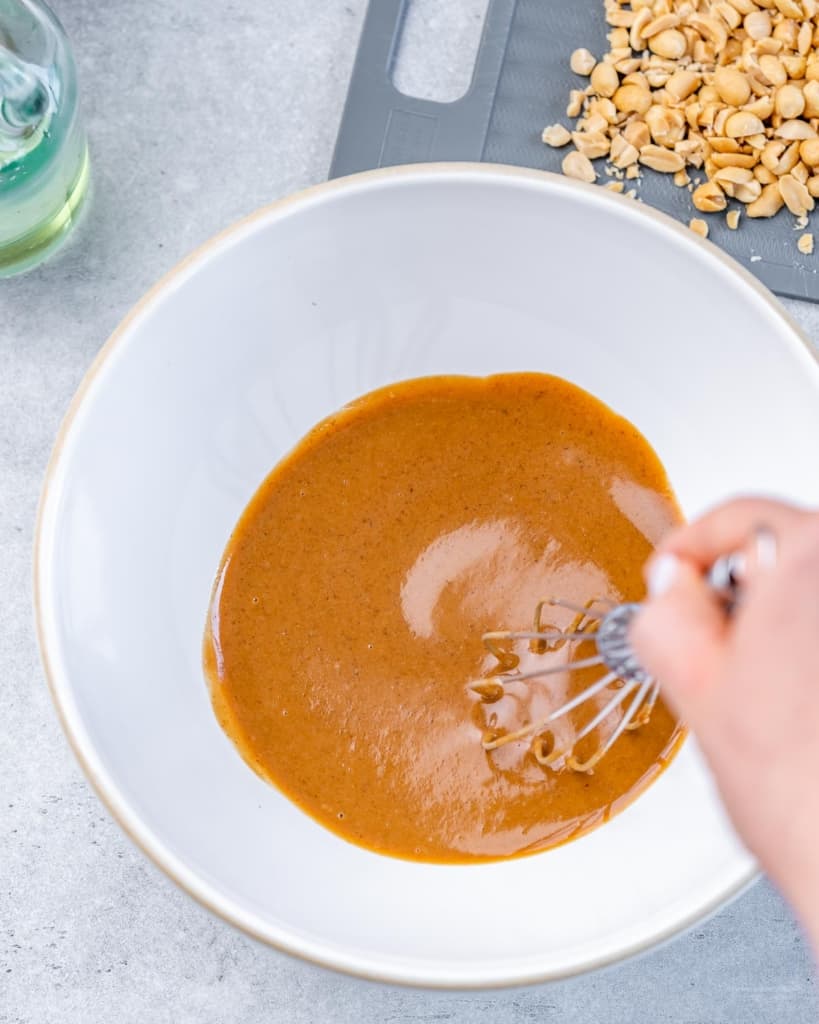 2. Add veggies: Stir in the cabbage, carrots, green onions, pepper, cilantro, and peanuts.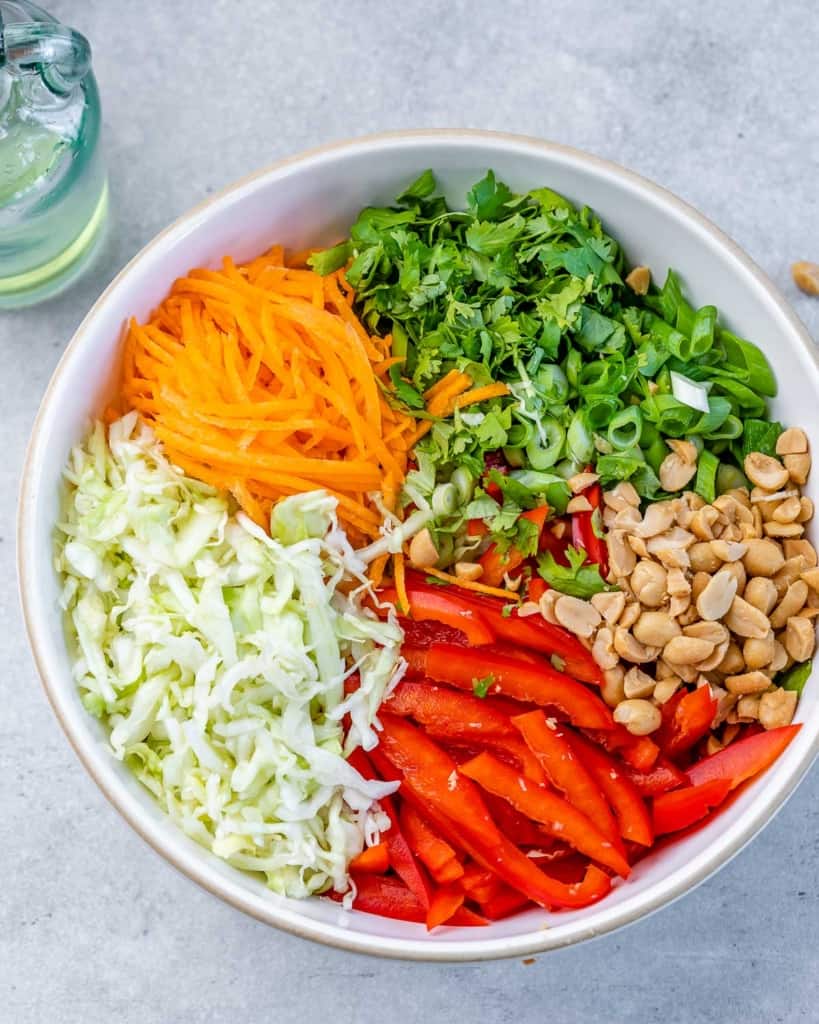 3. Season and toss: Season to your taste and thoroughly toss to coat the salad with the creamy peanut dressing.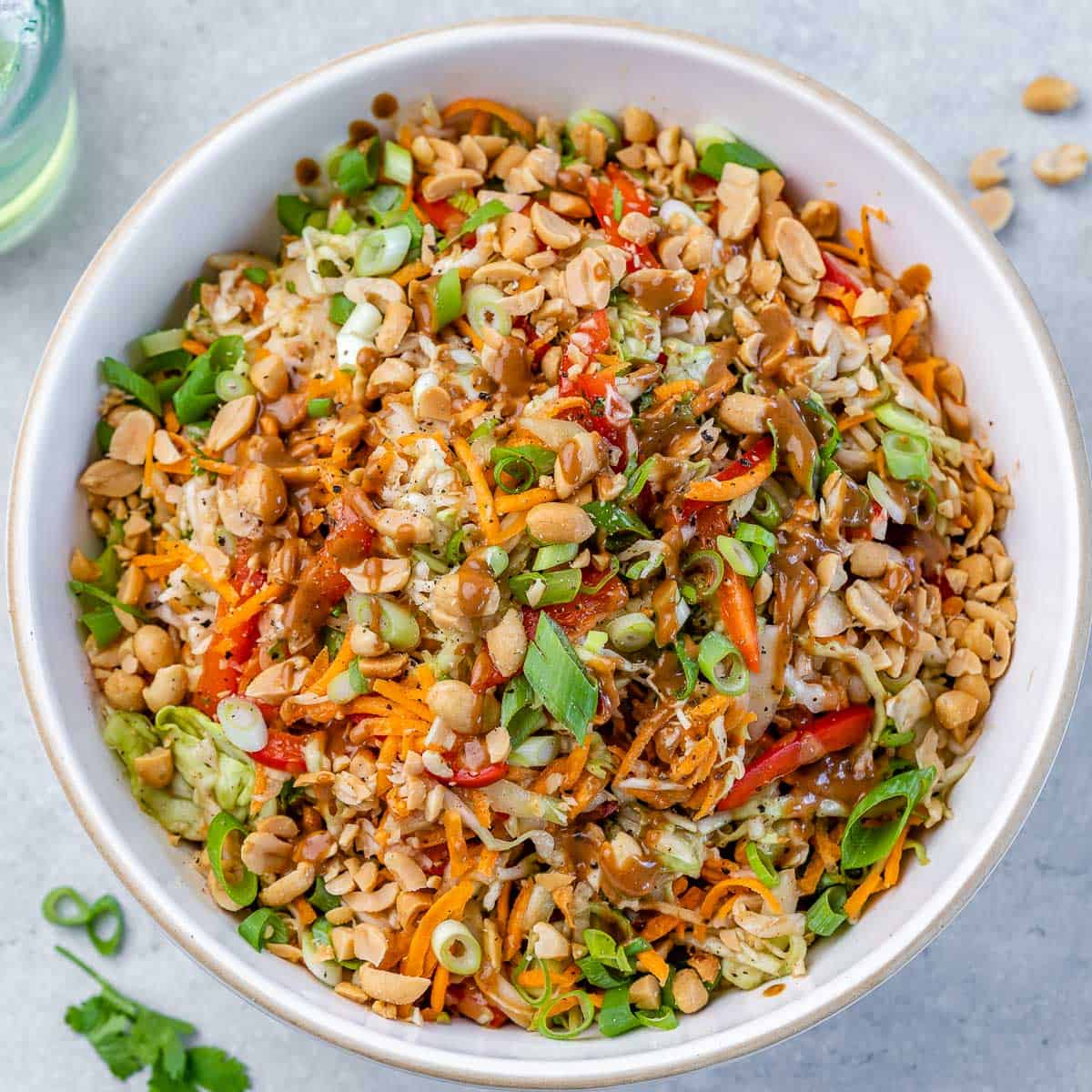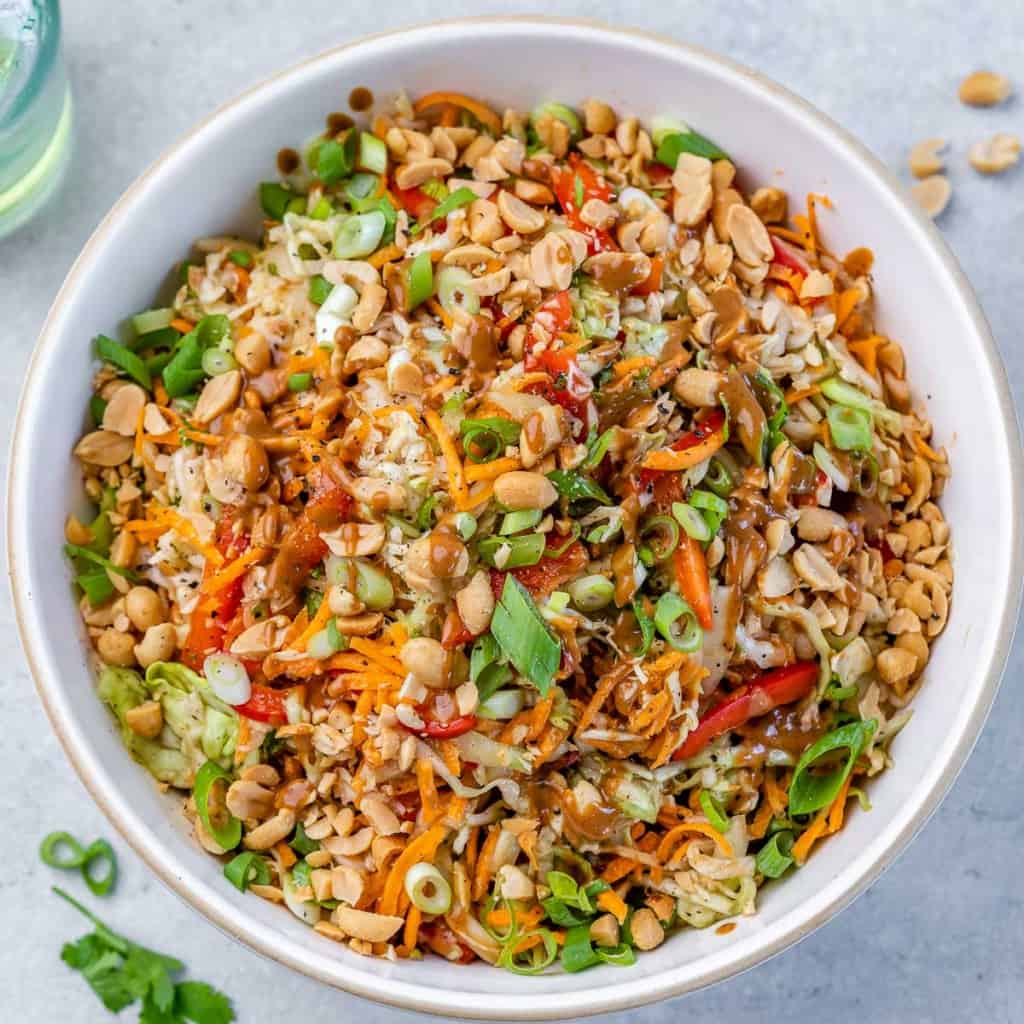 Tips for Success
Add a protein to make it a meal: Round out this recipe with a healthy protein like chicken, turkey, or fish. It's so filling this way!
Double the Thai Salad Dressing and save some for salads throughout the week.
Make it vegan by adding maple syrup instead of honey.
Make it paleo by adding almond butter instead of peanut butter, and slithered almonds or crushed pecans instead of peanuts.
Store in an airtight container for up to 3 days.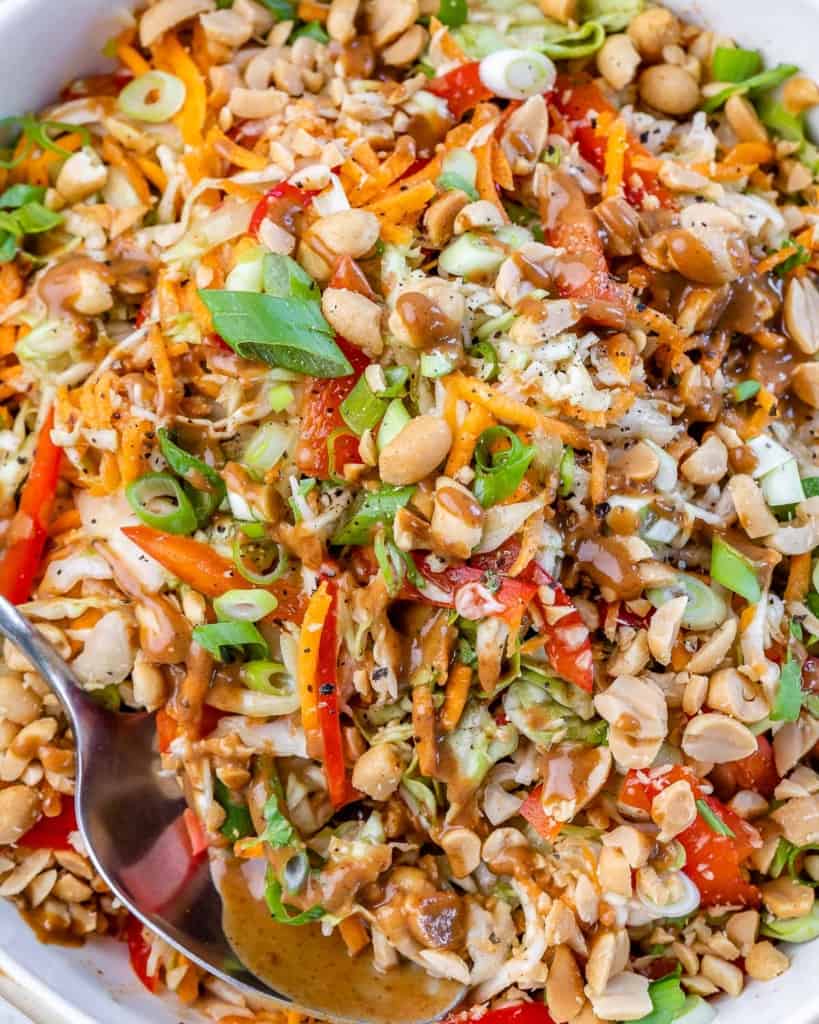 Frequently Asked Questions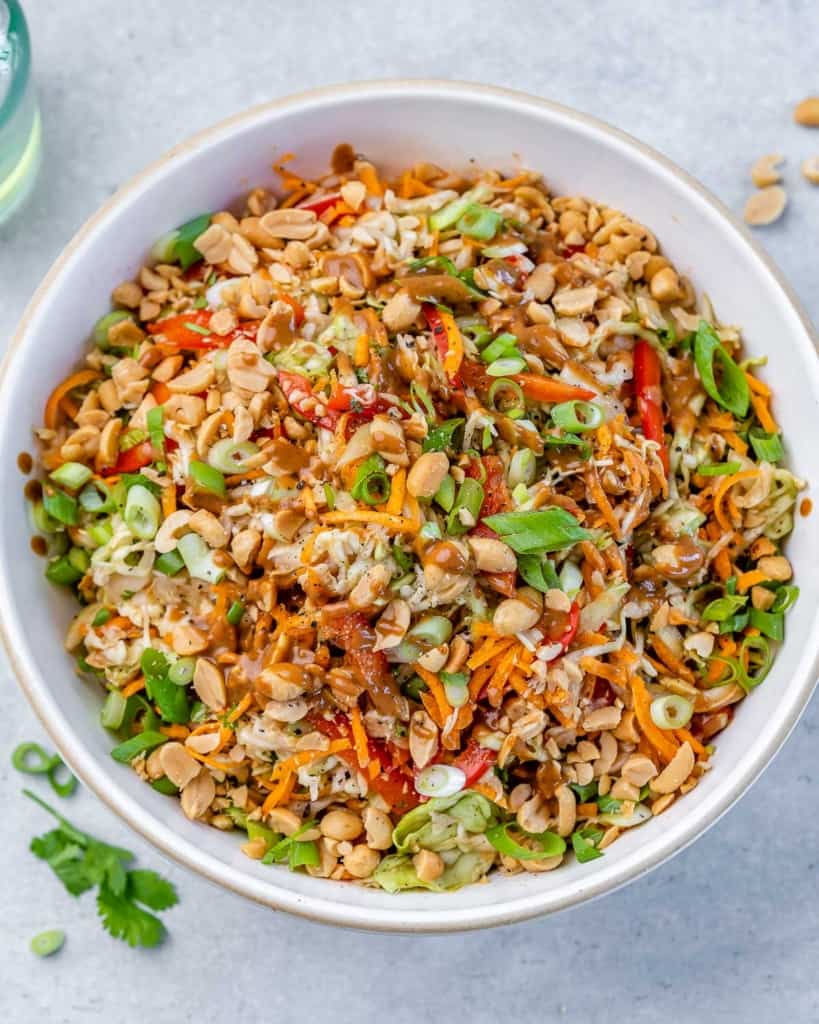 More easy salad recipes to try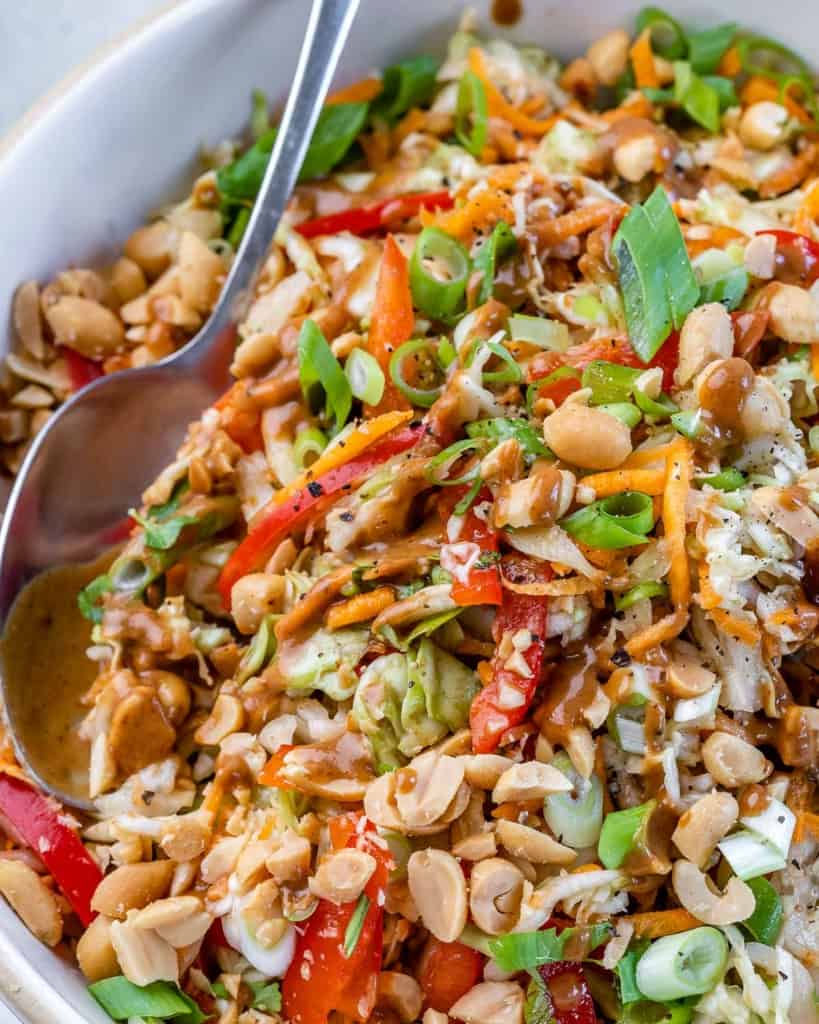 Also, if you try a recipe and you like it, leave us some feedback in the comment section below. Don't forget to rate the recipe, too! We would love it if you shared it with friends and family.
Finally, please use our hashtag #healthyfitnessmeals on INSTAGRAM for a chance to be featured, too! FOLLOW Healthy Fitness Meals on FACEBOOK | INSTAGRAM | PINTEREST | TWITTER for all of our latest blog posts and recipes.