A healthy Middle Eastern Red Lentil Soup recipe that is hearty, filling, and full of comforting flavor. This one-pot soup is super easy to make and perfect for a weeknight dinner. Plus it's vegan, vegetarian, and gluten-free.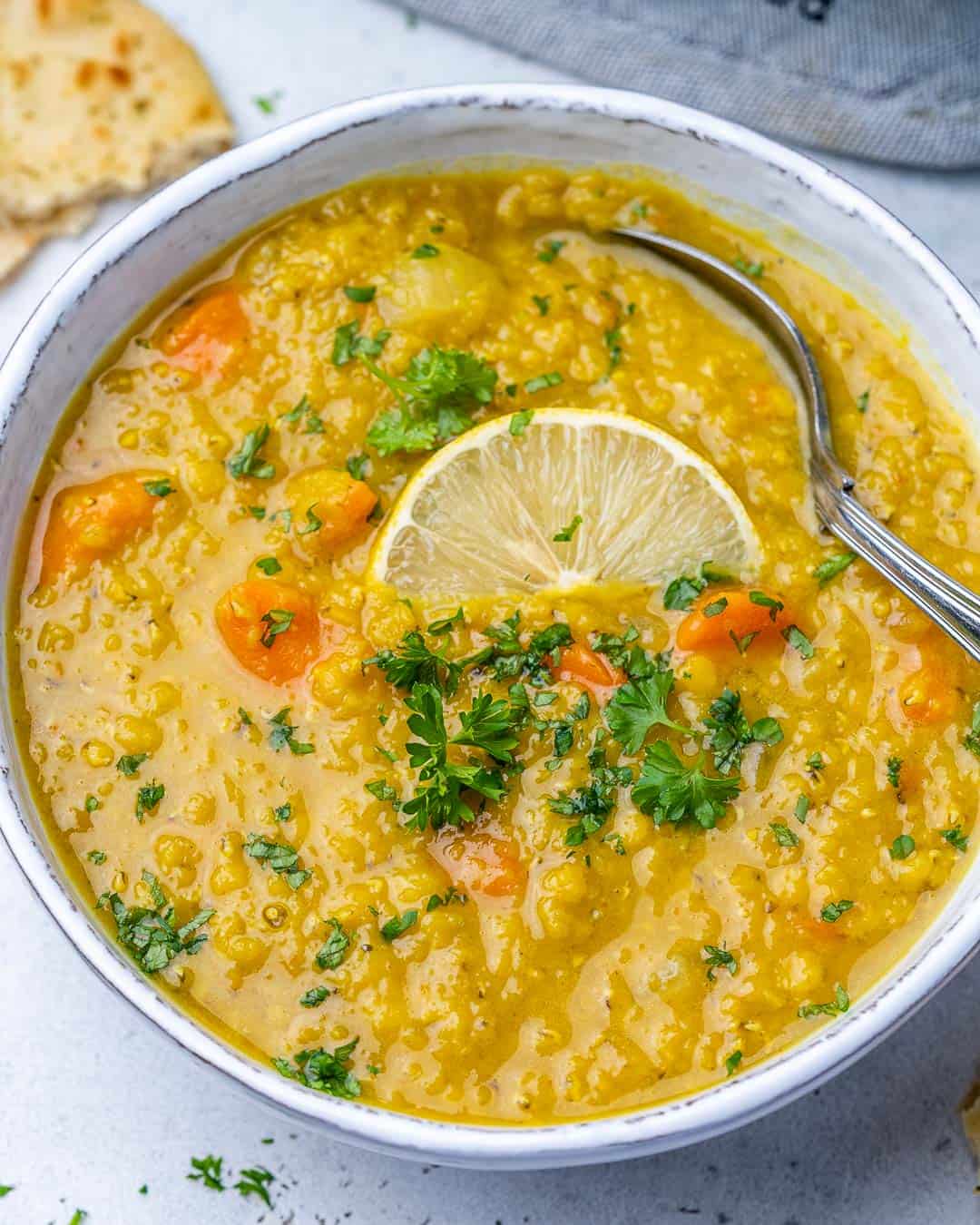 If you're looking for a good Meatless Monday dinner this winter, Middle Eastern Red Lentil Soup is the perfect recipe! This soup is fast and simple to make, and all made in one pot for easy cleanup. It's made with onions, carrots, red lentils, seasonings, and fresh lemon for a burst of bright flavor. It's a very filling and hearty soup that will satisfy kids and adults alike.
Why you should make this vegan lentil soup recipe
It's healthy. Lentils are a great vegan or vegetarian option because they are full of plant-based protein and fiber. Plus this soup is full of vitamin B, iron, folate, and other nutrients. 
It's budget-friendly.  Lentils are so affordable, which makes this a great Meatless Monday dinner or meal to serve to a large family. 
Delicious and flavorful. The flavors in this lentil soup come from the earthy turmeric and warm cumin. Add some fresh lemon to pull it all together. So delicious!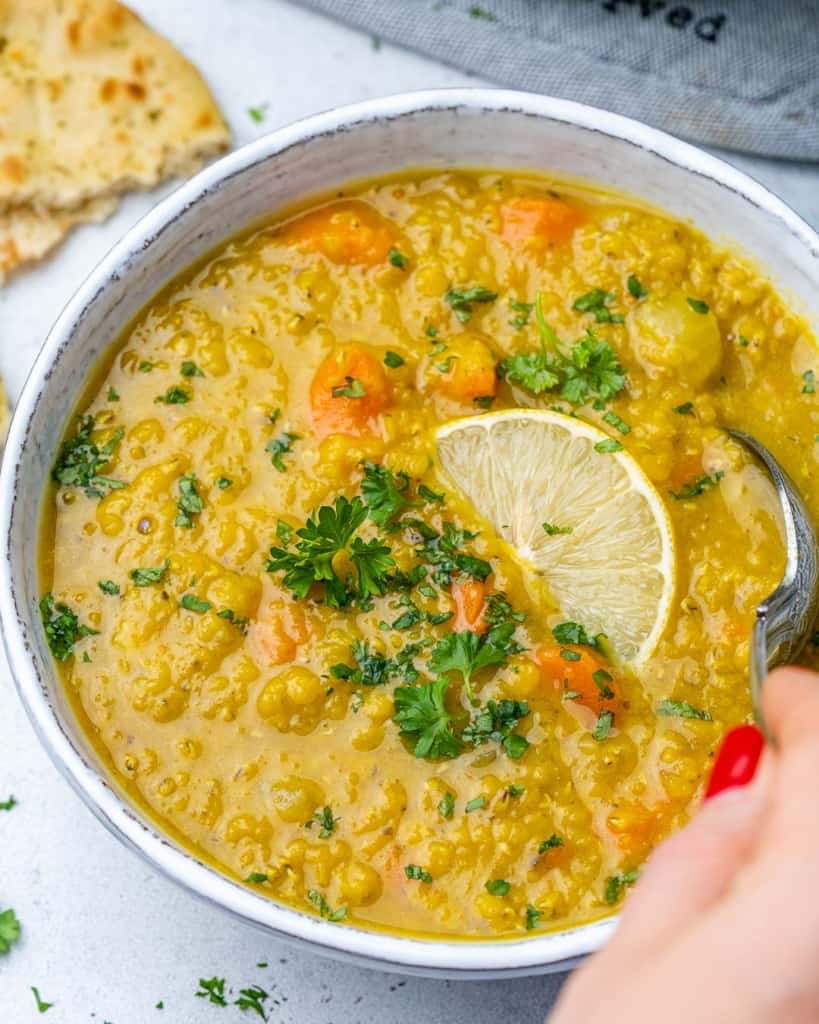 Ingredients You'll Need
This is just a list of ingredients you will need to make this easy Lentil Soup Recipe. Full measurements are listed further down below.
Olive oil
Onion
Garlic cloves
Carrots
Ground turmeric
Ground Cumin
Kosher salt
Black pepper
Red lentils
Water
Lemon
Fresh curly parsley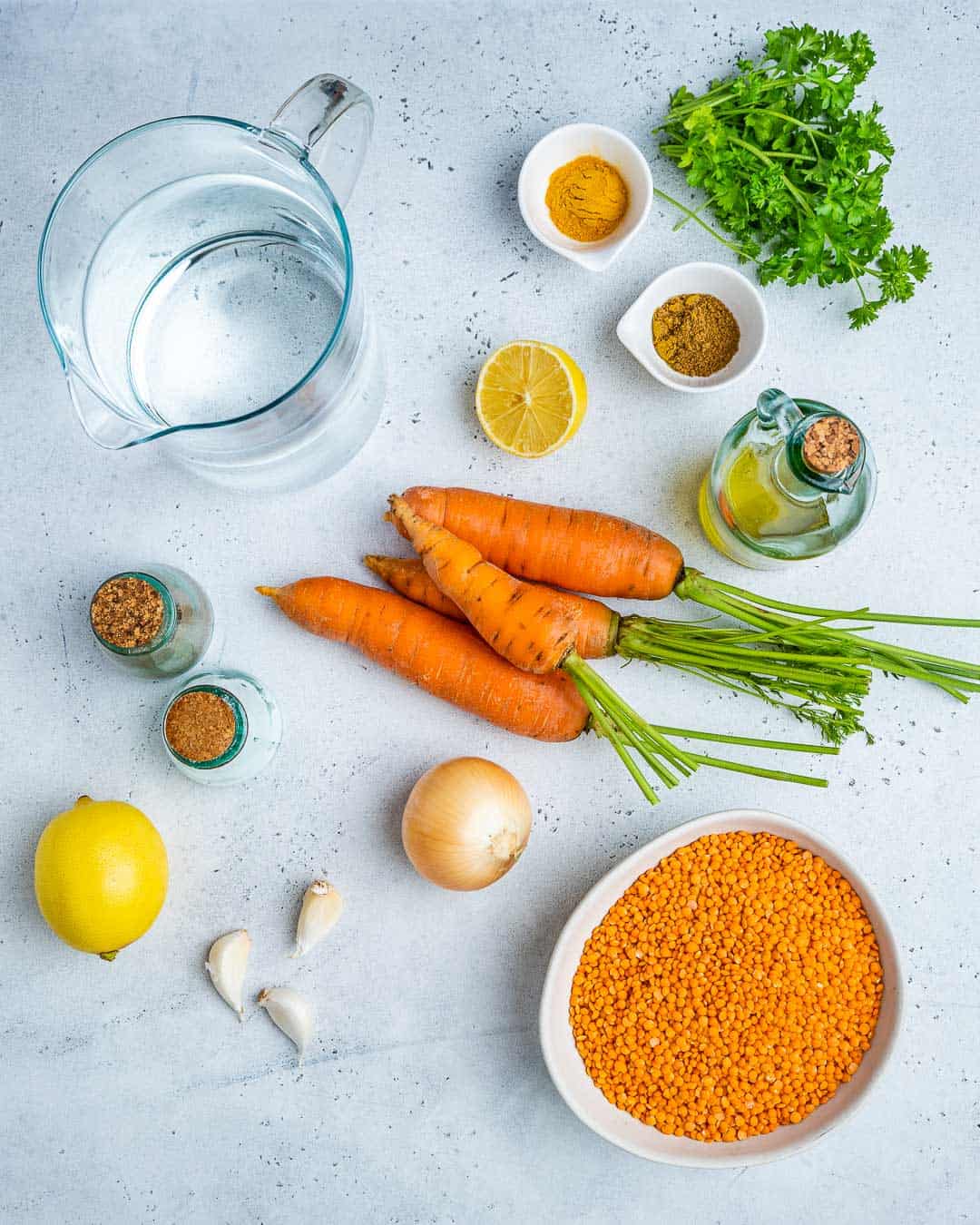 How to Make Lentil Soup
Saute veggies. Heat the oil in a large pot or Dutch Oven. Sauté the onion, garlic, and carrots for 3-4 minutes, until softened and slightly golden.
Add other ingredients. Stir in the remaining ingredients except for parsley. We love washing the lentils before adding it in.
Cook soup. Bring the soup to a boil, then cover and reduce heat to low. Cook for 20-25 minutes, or until lentils are tender and soup has thickened.
Serve with garnishes. Once the soup is ready, taste, and adjust the salt if needed. Serve hot, garnished with freshly chopped parsley and lemon wedges.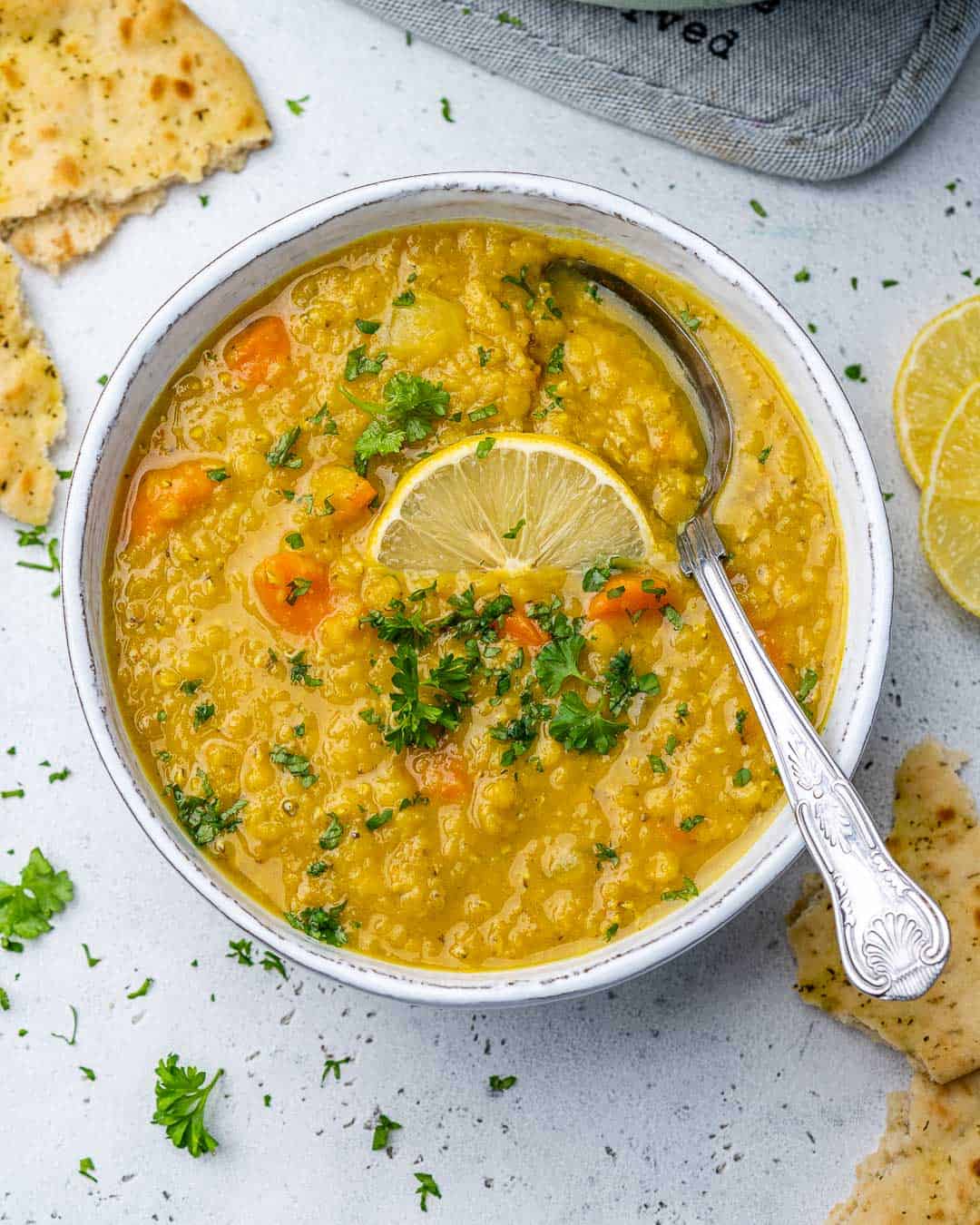 Tips and substitutions
Olive oil: You can substitute it with avocado oil, peanut oil, vegetable oil, or sunflower oil. 
Onion: You can use yellow onion, white onion, or sweet onion. 
Lentils: You can substitute the red lentils for green, although the flavor and texture will be slightly different. 
Use fresh lentils: Old lentils won't soften, even with a long cooking time. Use lentils that are newly bought for best results. 
Sort the lentils: Before cooking, quickly sift through the lentils to remove any small debris or pebbles. Wash/rinse the lentils thoroughly.
Simmer gently: Lentils can easily get mushy if they are cooked on too high of a heat. Simmer the soup gently for soft, but not mushy, lentils.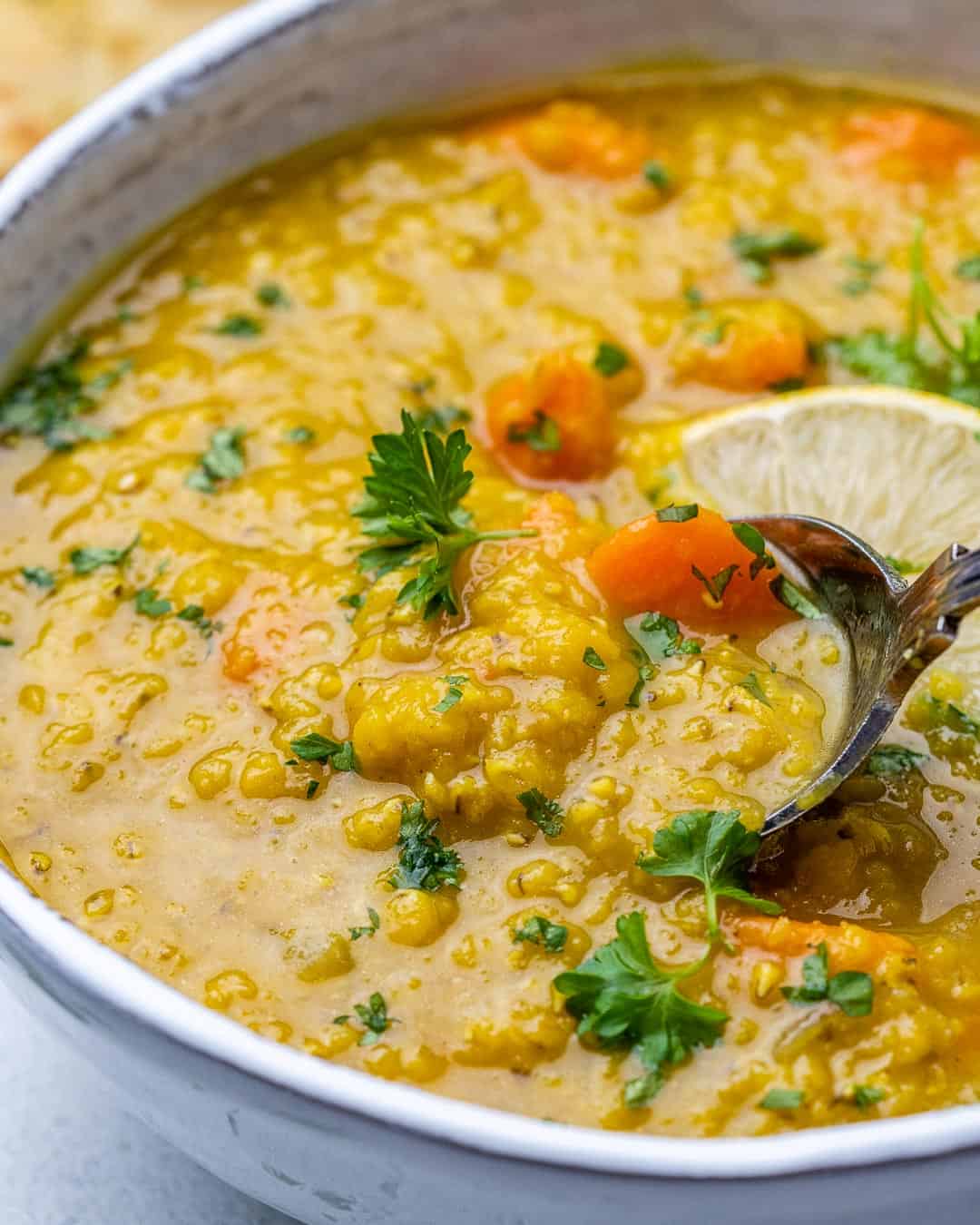 How to make this lentil soup in your instant pot
First, place the instant pot into sauté mode. Heat the oil.
Then, add the onion, garlic, and carrots and cook for 2 minutes. Stir frequently until onion and carrots have softened.
Next, add the remaining ingredients in the pot except for the parsley. Don't forget to rinse out the lentils before adding them in.
Place the lid over the pot. Press the pressure cook button, place it on high, and let it cook for 15 minutes. When it's done, quick release, open the lid, and mix.
If it's not thick enough to your liking, you may keep it on saute mode for another 5 minutes.
Serve with some fresh parsley and lemons
FAQs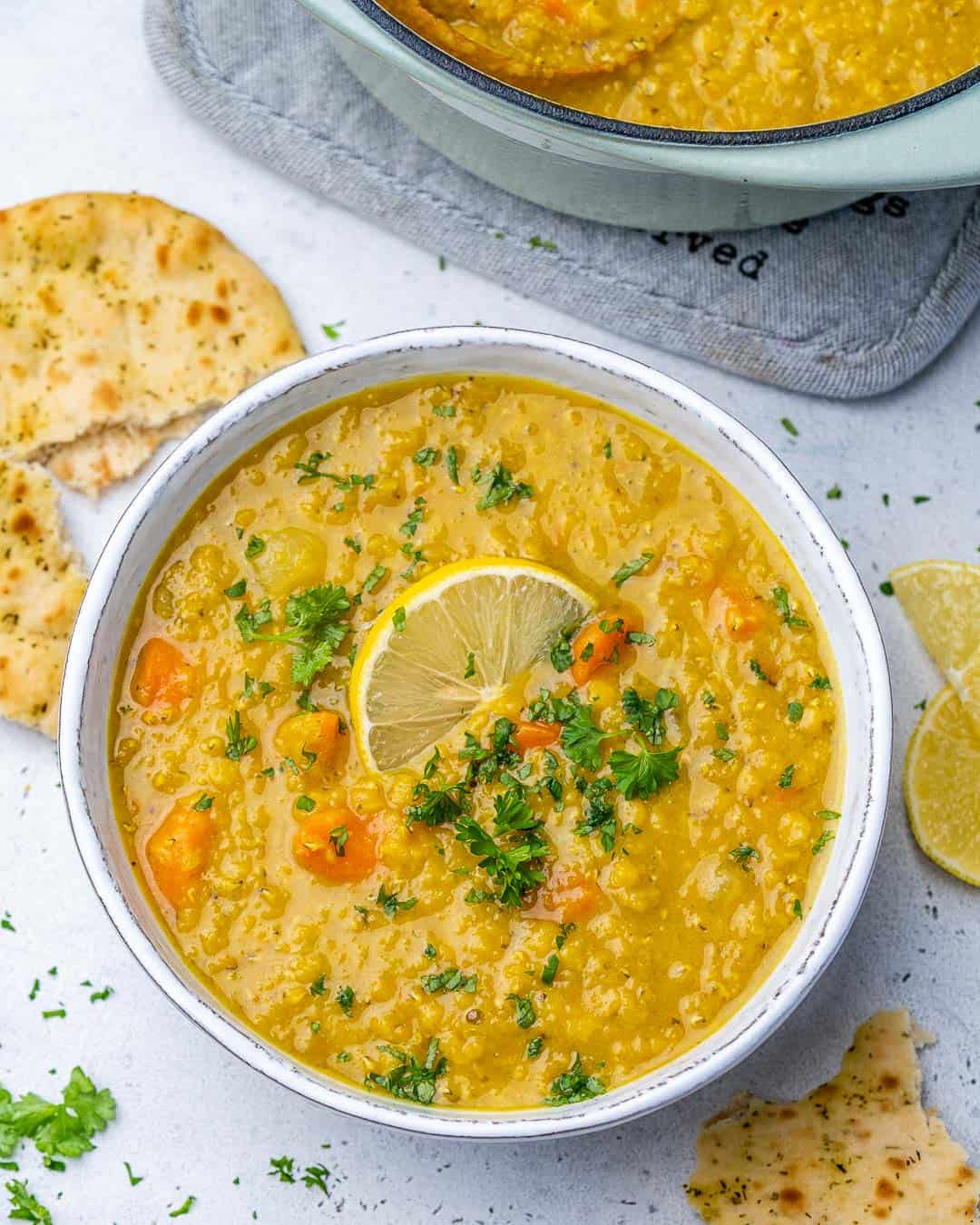 Other soup recipes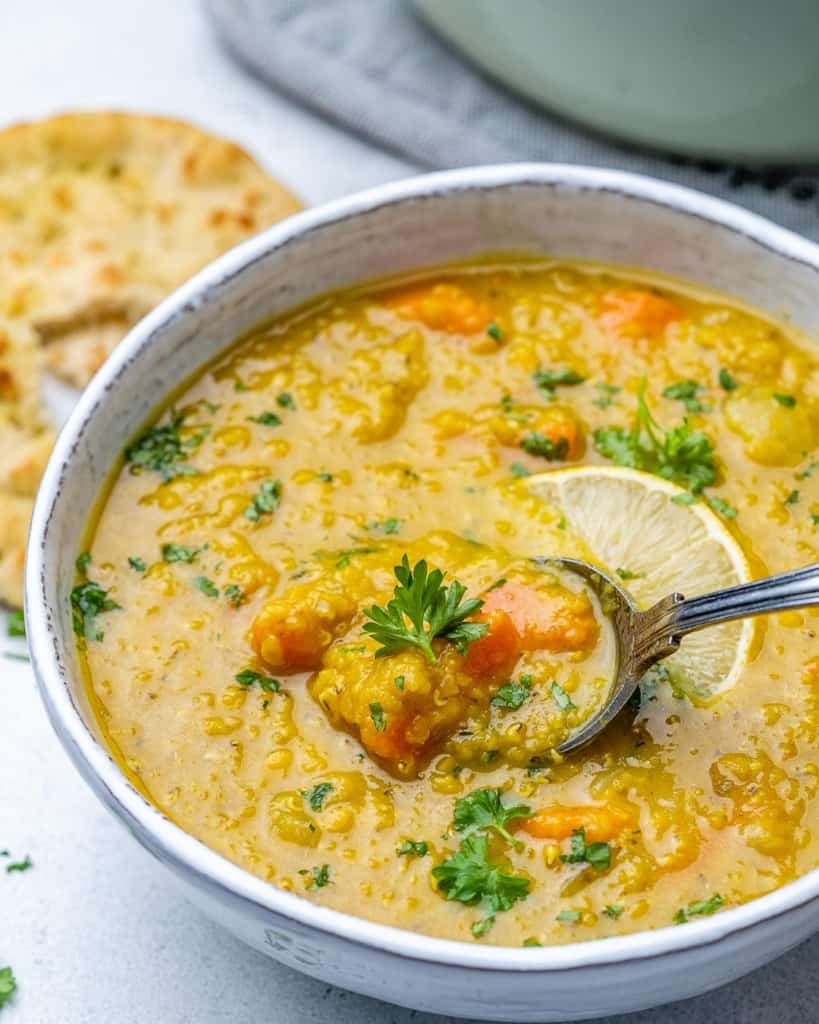 If you try a recipe and you like it, leave us some feedback in the comment section below, and don't forget to rate it! We would love it if you shared it with friends and family.
Finally, please use our hashtag #healthyfitnessmeals on INSTAGRAM for a chance to be featured! FOLLOW Healthy Fitness Meals on FACEBOOK | INSTAGRAM | PINTEREST | TWITTER for all of our latest blog posts and recipes.