Keep the oven off with these healthy No-Bake Peanut Butter Bars! They're loaded with all-natural ingredients and are whipped up easily in less than 30 minutes. The hardest part is waiting for them to set!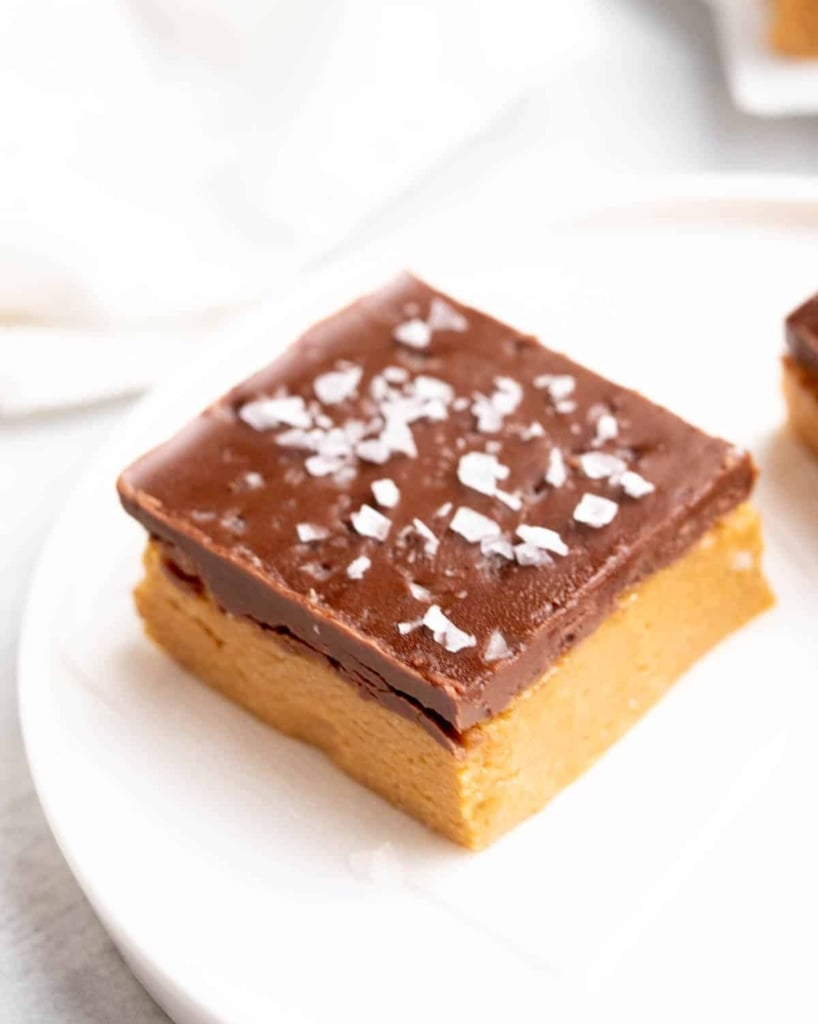 Making healthy no-bake chocolate peanut butter bars is one of my favorite things to do in the kitchen! From Cookie Dough Bars to Chocolate-Filled Oat Bars, anything chocolatey that I can make a little healthier is a win in my house. I especially like that I can give my family a treat without worrying about added ingredients and sugar overload!
These No-Bake Peanut Butter Bars are packed with both peanut butter and chocolate. They're like a healthy peanut butter cup in bar form. Chocolate Peanut Butter Bars are sweet, nutty, and smooth, and can also be made paleo-friendly (with almond butter). These healthy treats are 100% vegan as well!
Why You will love this no-bake dessert recipe
They're easy! It takes me less than 30 minutes from beginning to chilling these no-bake peanut butter bars. That is no time at all!
No cooking required: The most cooking that you'll have to do is to melt the chocolate in the microwave. It's so easy!
Healthy: There is no processed sugar! You can easily opt for healthy dark chocolate chips and peanut butter that is 100% peanuts keeping it natural and still amazingly delicious.
Make-ahead: This is an excellent healthy dessert recipe to make a day ahead, and perfect for sharing with friends.
Everyone loves them! Kids and adults alike will be all over these no-bake peanut butter bars!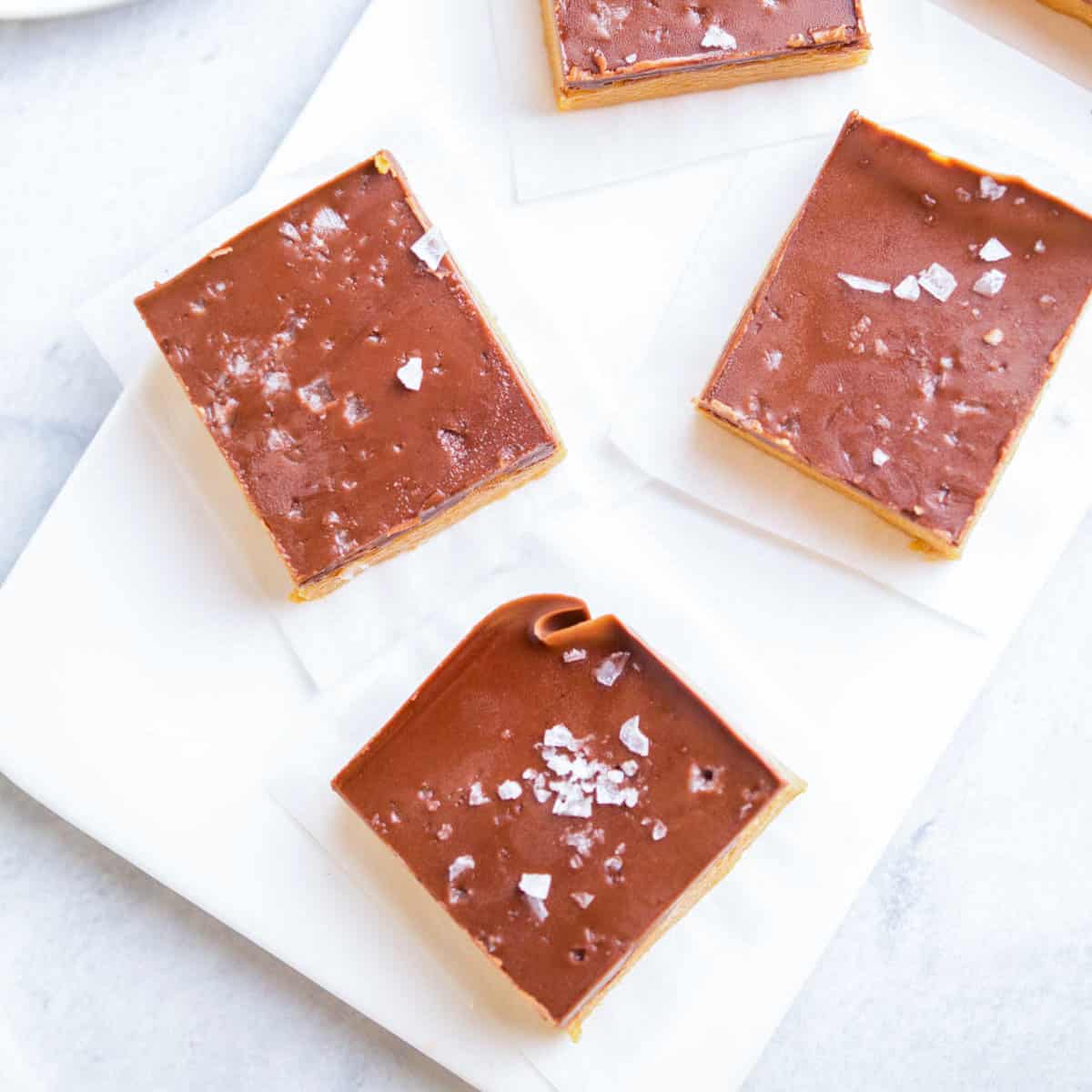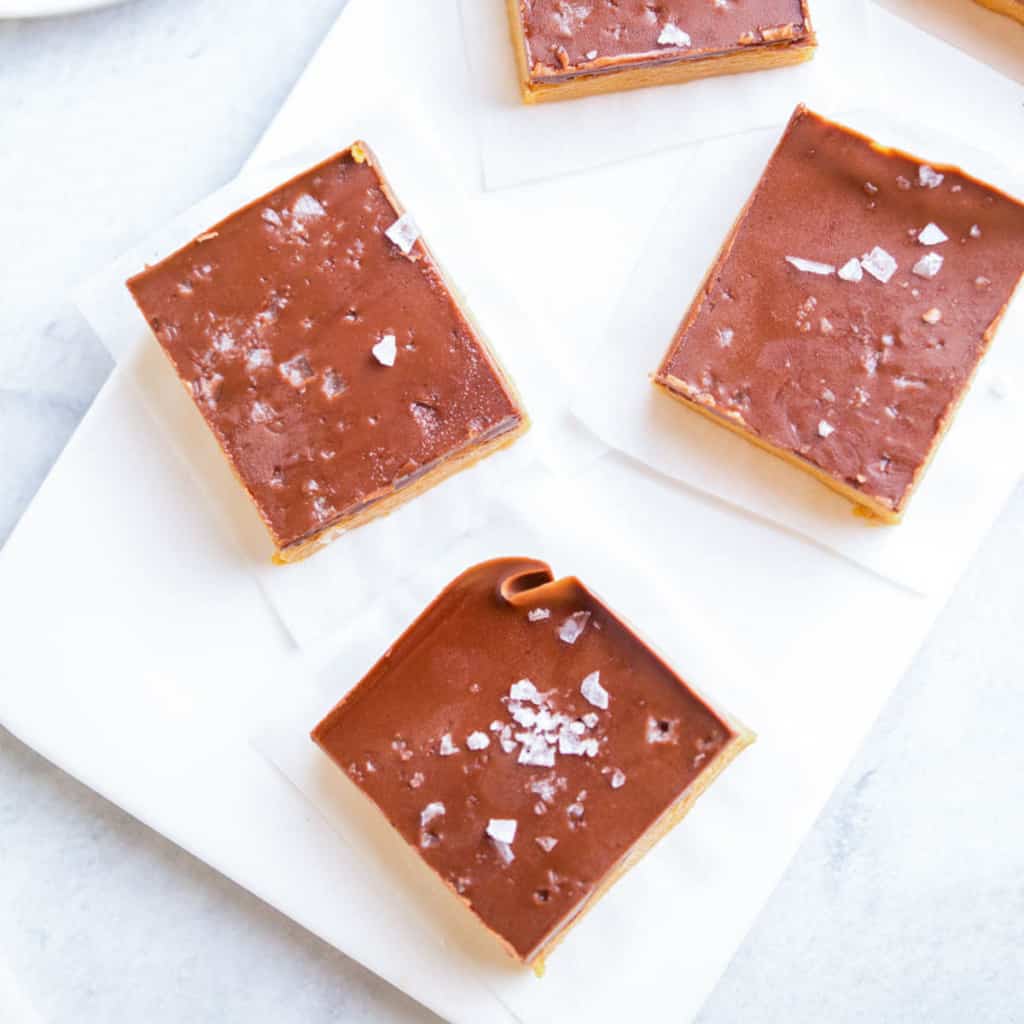 Ingredients for No-bake Peanut Butter Bars
For the bottom layer
Peanut Butter: The star of this recipe! I like to use peanut butter which is 100% peanuts, with no added ingredients. The extras are unnecessary! You can substitute almond butter or sun butter if you have allergies or are looking for a paleo-friendly alternative.
Flour: I like to use coconut flour or almond flour, however, you can also use 2 cups of fine oat flour if needed.
Sweetener: Maple syrup, honey, or agave are all perfect in this recipe! Using maple syrup or agave makes these no-bake chocolate peanut butter bars vegan as well.
For the top chocolate layer
Peanut butter: Yes, more peanut butter! You can never have enough peanut butter in no-bake peanut butter bars!
Chocolate: Dark chocolate or chocolate chips of your choice.
Coconut oil: Coconut oil helps the chocolate layer to harden up so that it's not too runny.
Salt flakes: Adding a little salt on top of these peanut butter chocolate bars is a must! All of the other flavors really pop with this simple addition.
How do you make peanut butter bars?
Into a medium bowl, add the peanut butter, maple syrup, or which sweetener you are using, and mix thoroughly until smooth.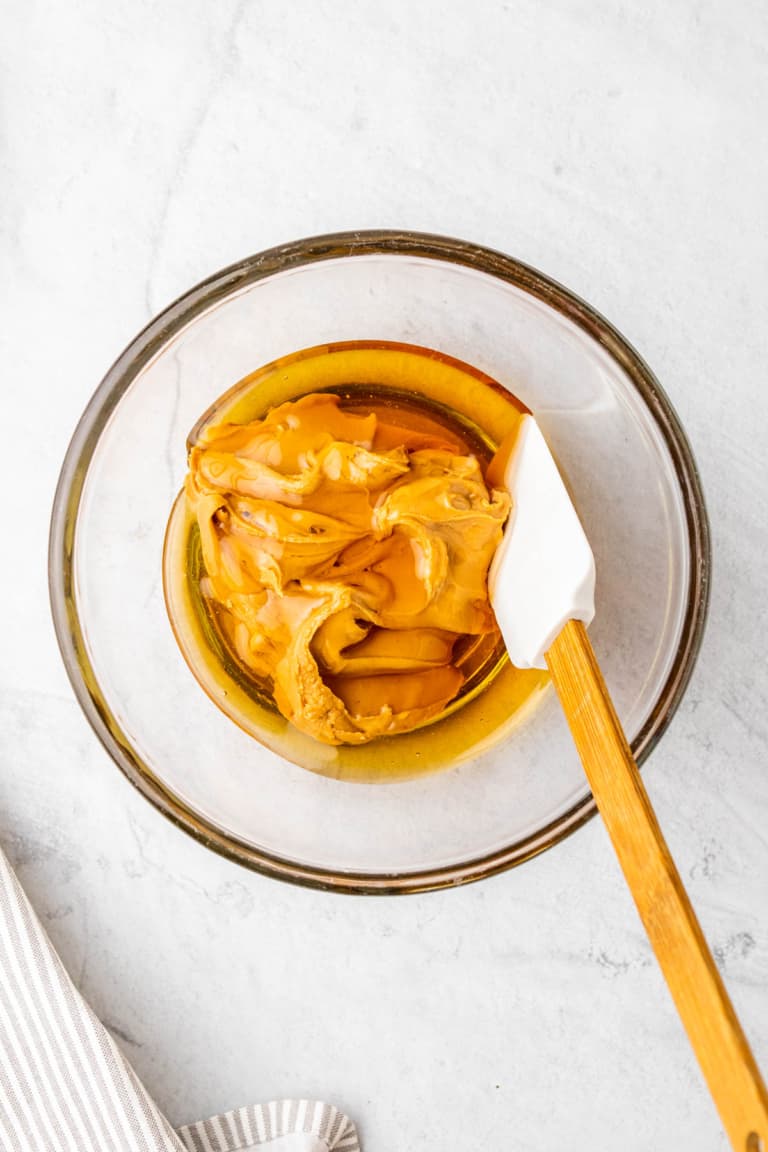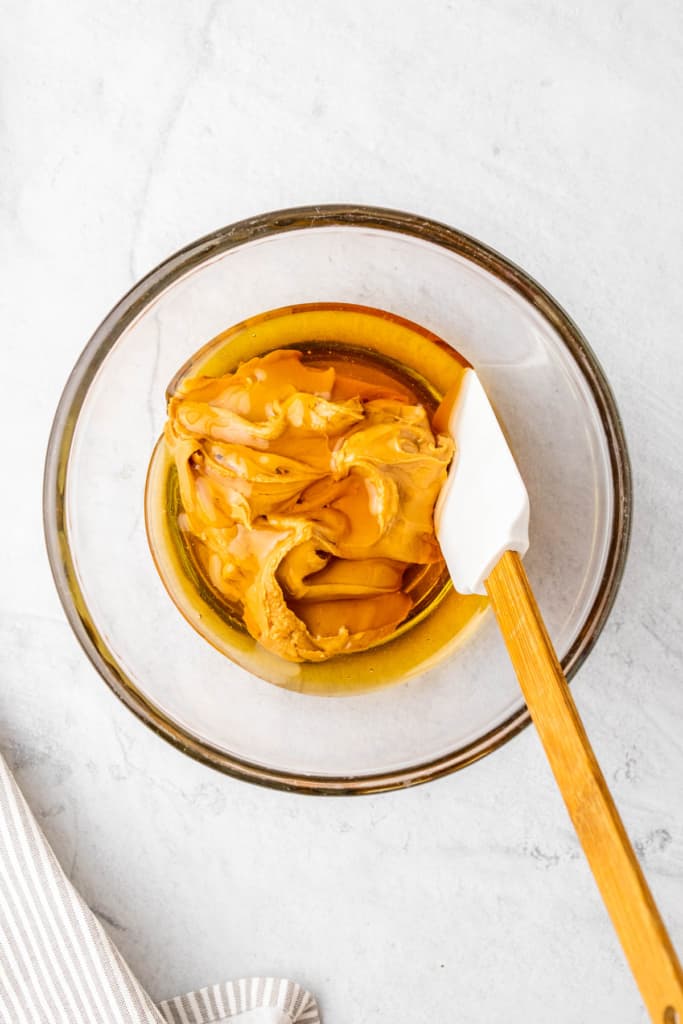 2. Then, add the coconut or almond flour. Using a spatula mix well until combined. If the dough gets hard to mix, you may use your hand until a thick dough mixture is formed.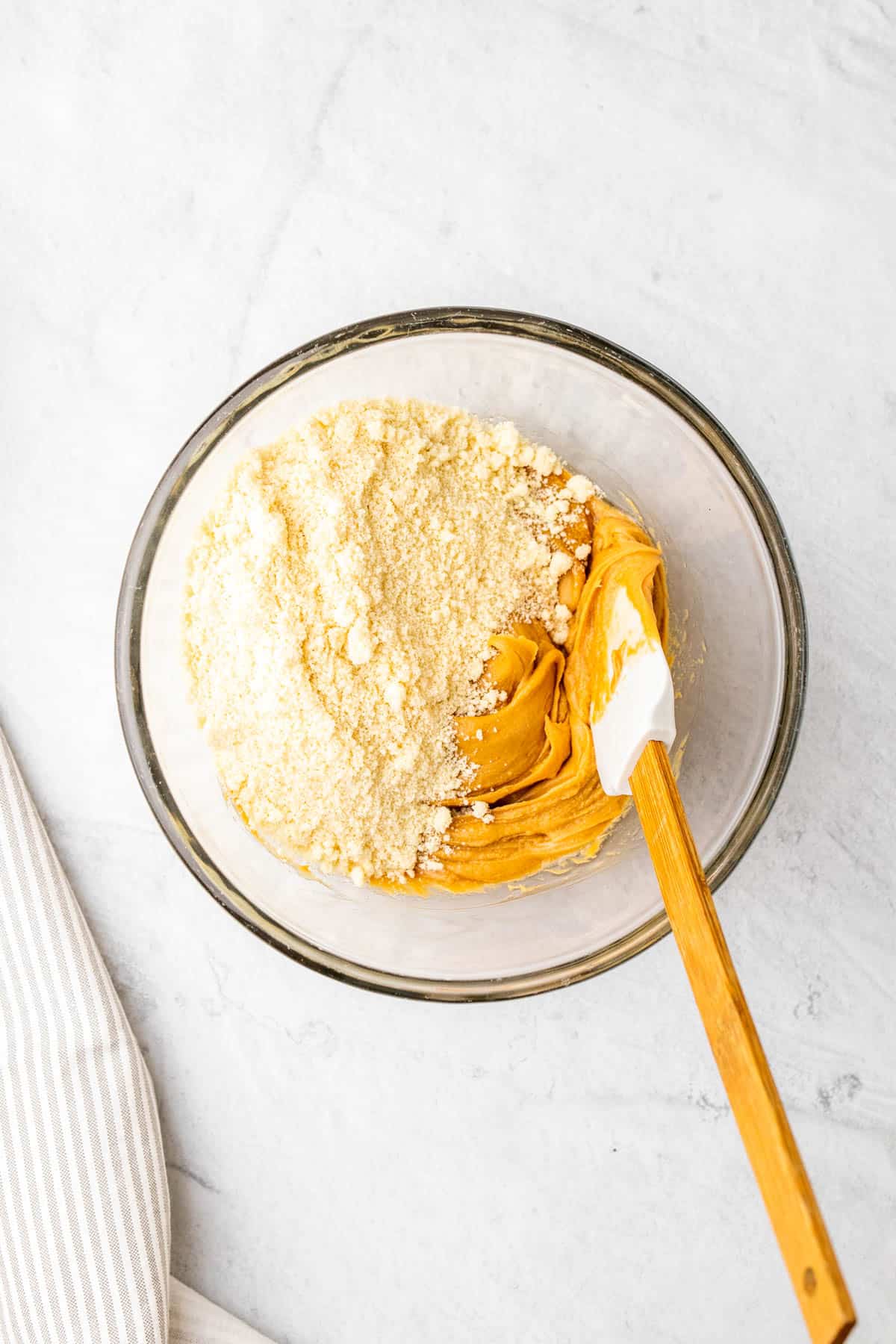 3. Prepare a 9×5-inch baking dish with parchment paper. Pour the dough mixture into the baking dish.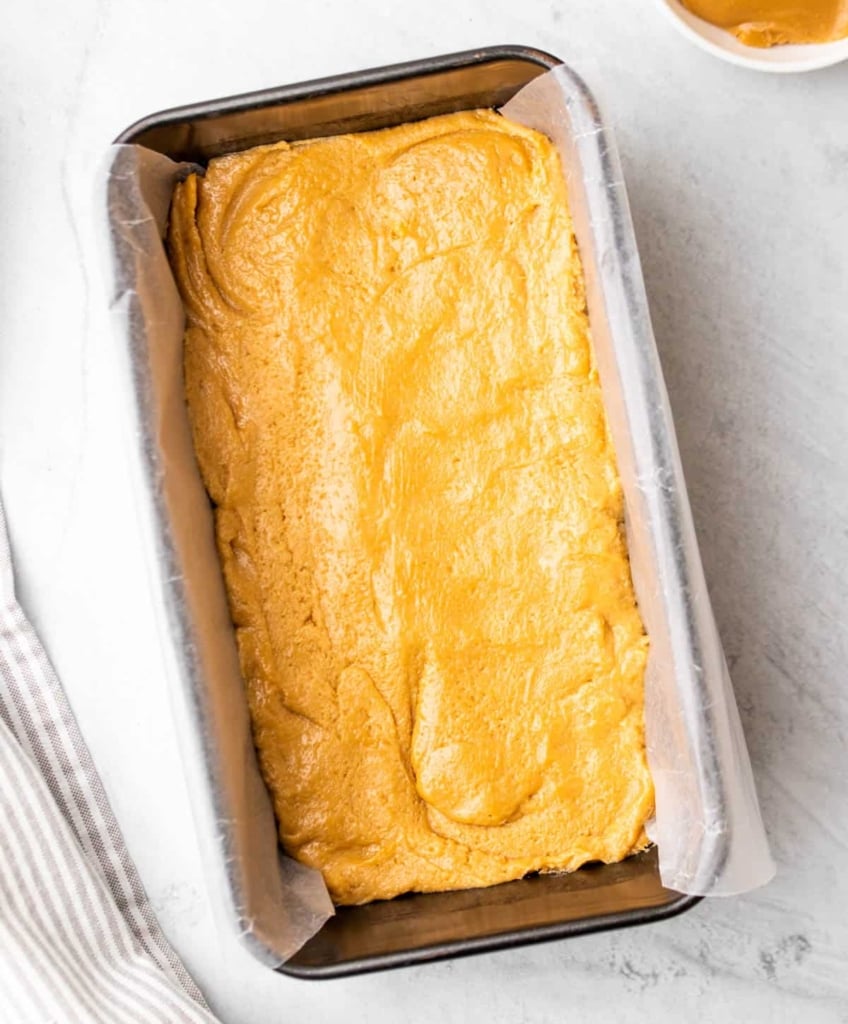 4. Using your hands. Press down on the dough and spread out smoothly into an even layer across the entire bottom of the dish.
5. Place the dish with the peanut butter dough in the freezer for 10-15 minutes. Then make the top layer.
6. Place the chocolate/chocolate chips, coconut oil, and peanut butter in a microwave-safe bowl.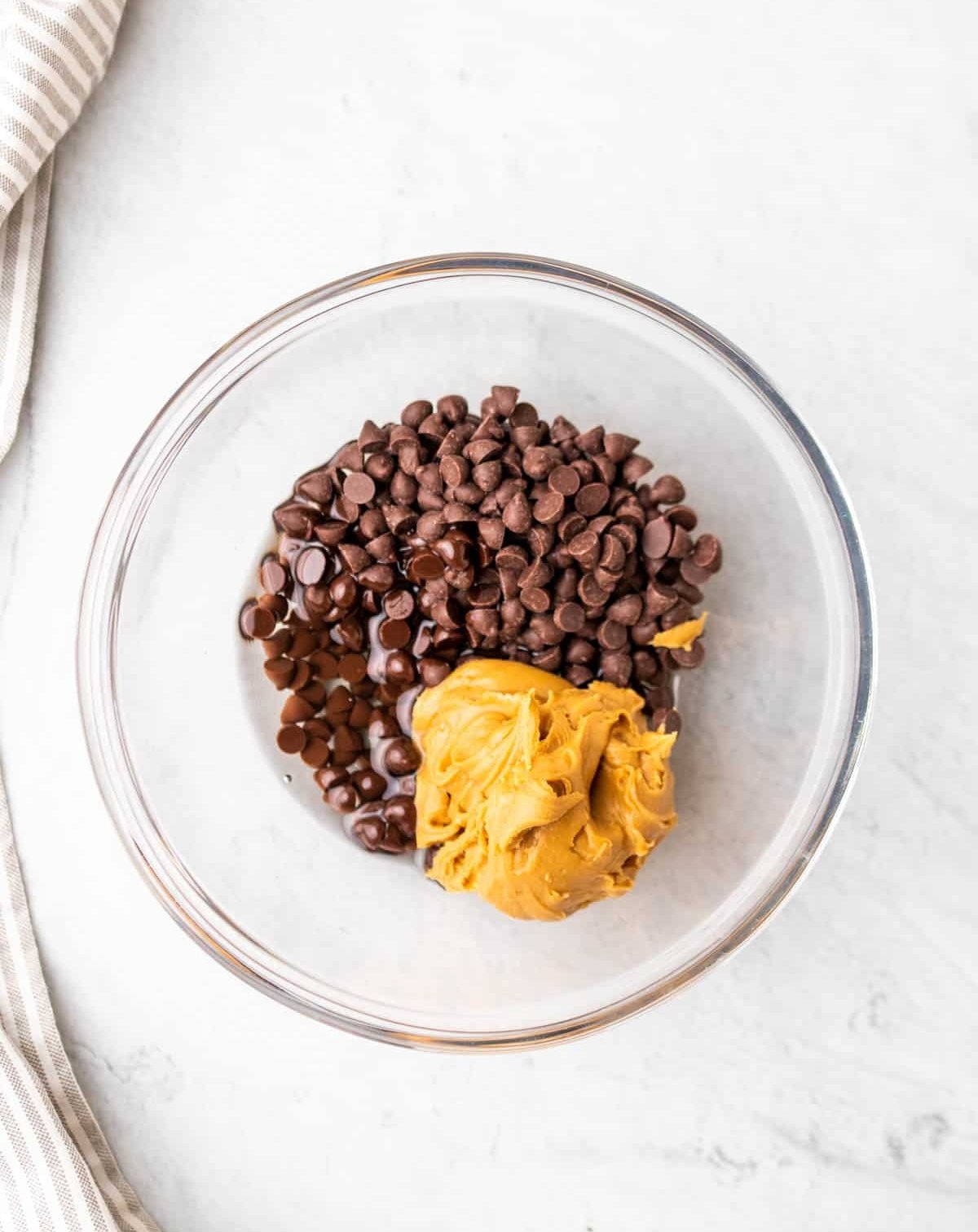 7. Melt the chocolate in the microwave using 30 seconds Bursts until the chocolate is nicely melted to prevent it from burning. Mix until smooth.
8. Next, remove the dish with the peanut butter dough from the freezer. Pour the chocolate mixture over the peanut butter dough.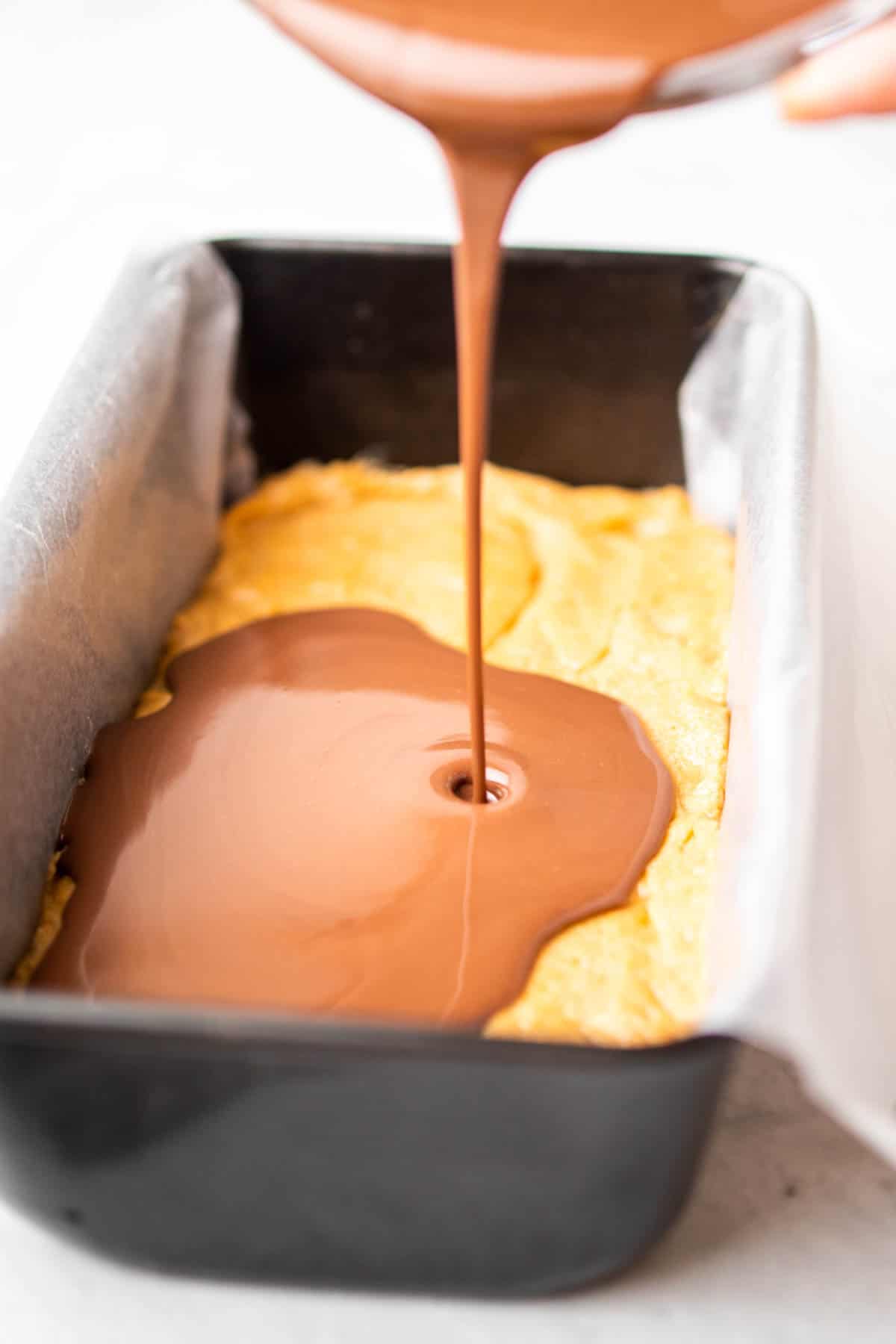 9. Using a spatula, spread the chocolate evenly. Sprinkle with some salt flakes if using.
10. Place the dish back into the freezer for about 10-15 minutes until it sets.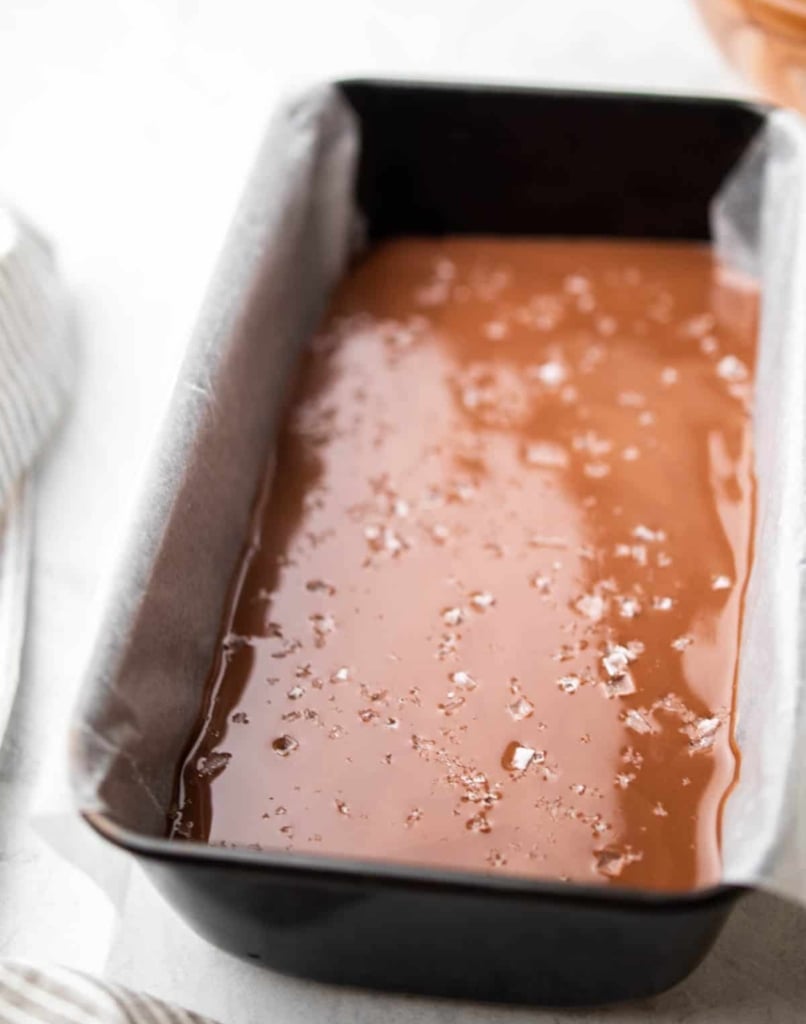 11. Once it sets, remove the dish from the freezer. Careful remove from the pan by pulling on the parchment paper from each side.
12. Slice into 12-16 square bars. Top with more salt flakes if needed. Enjoy.
Tips for Success
If needed you can substitute coconut or almond flour for oat flour. To make oat flour, simply blend 2 cups of dry oatmeal in a blender or food processor until it is a fine powder.
If you like a little crunch, add 3/4 cup of creamy peanut butter and 1/4 cup of chunky peanut butter when you're making the dough. Stick to creamy peanut butter in the topping though, so that the chocolate layer is silky smooth!
Make sure you use refined coconut oil as virgin coconut oil will taste coconutty which is not ideal for this no-bake chocolate peanut butter bars recipe.
If needed, you can melt the chocolate in a bain marie (double boiler) on the stove by filling a pot with hot water and placing a heat safe bowl with the ingredients on top. Mix occasionally until the chocolate is melted.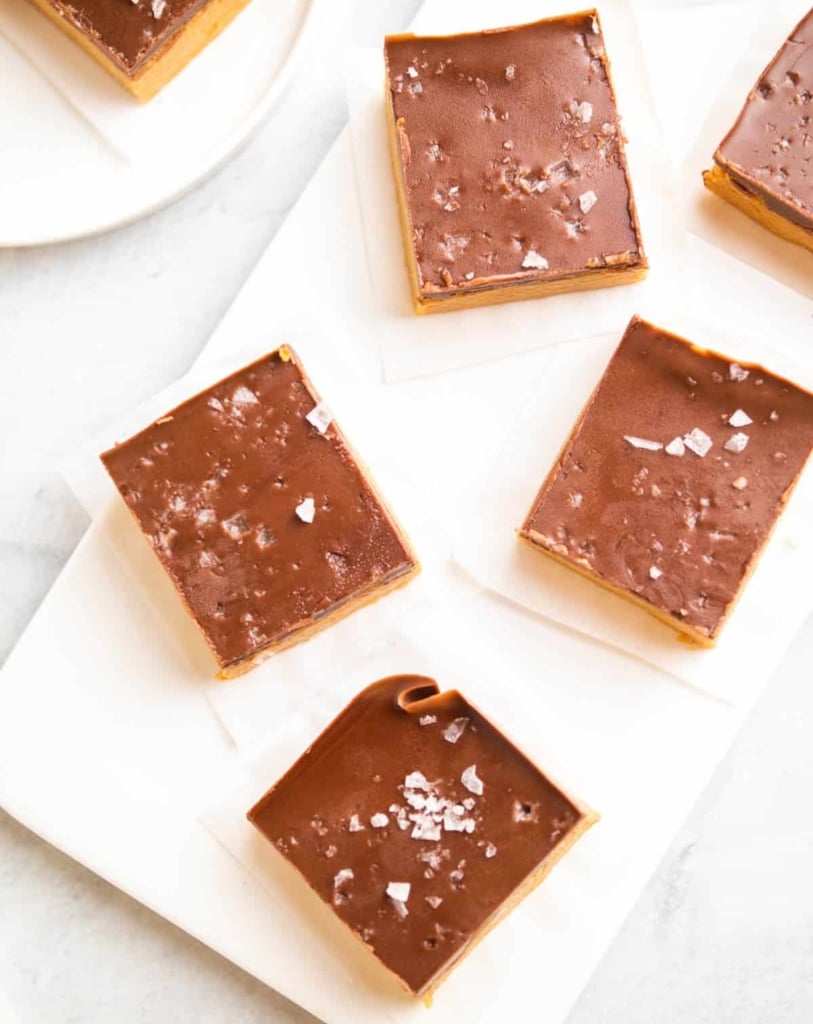 Frequently Asked Questions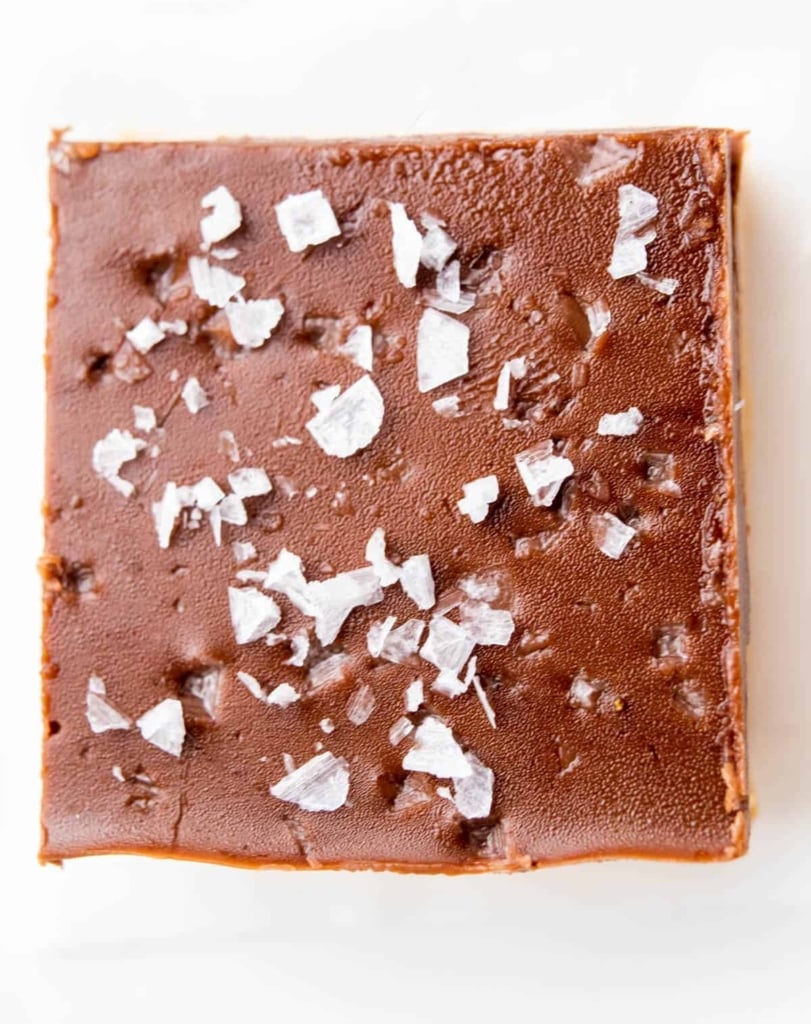 If you love No-Bake peanut butter bars, try these: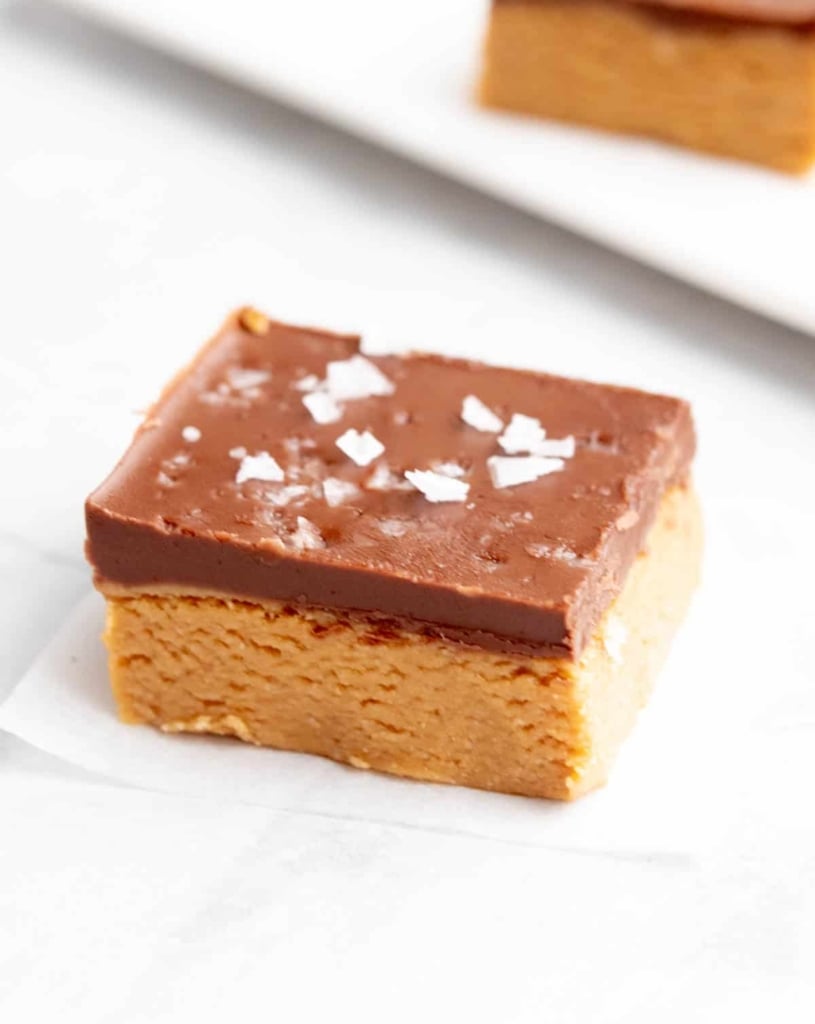 If you try a recipe and you like it, leave us some feedback in the comment section below, and don't forget to rate it! We would love it if you shared it with friends and family.
Finally, please use our hashtag #healthyfitnessmeals on INSTAGRAM for a chance to be featured! FOLLOW Healthy Fitness Meals on FACEBOOK | INSTAGRAM | PINTEREST | TWITTER for all of our latest blog posts and recipes.