Maple Roasted Butternut Squash is made with tender squash covered in a sticky maple syrup thyme sauce, then topped with pecans and dried cranberries. This dish is simple to prepare and the perfect vegan or vegetarian side for the holidays. It's sweet, savory, and so delicious!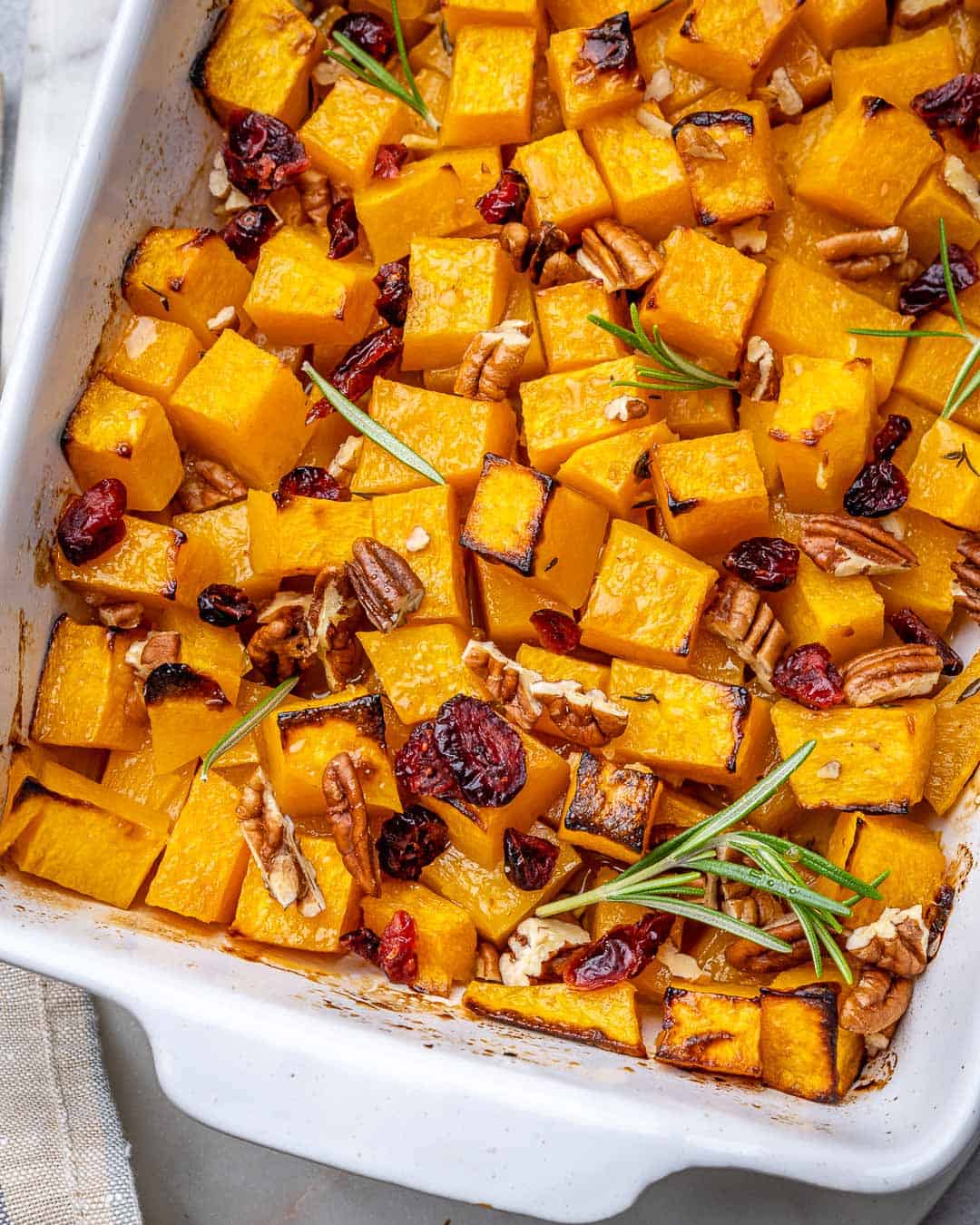 Tender squash, sticky maple syrup, crunchy pecans, and tart cranberries… There's nothing not to love about this Maple Roasted Butternut Squash recipe! It's simple to make, packed with flavor, and loved by kids and adults alike. This is a great recipe to serve during the fall or for special holidays, like Thanksgiving and Christmas. Plus, it's a vegan and vegetarian option that is full of nutrients.
Want a full holiday menu? Try serving this roasted butternut squash with Mustard Maple Glaze Roasted Turkey Breast and our Healthy Green Bean Casserole.
Why you should make this butternut squash recipe
So flavorful. Butternut squash has a sweet, nutty flavor that is complemented by the sweet maple syrup and fresh thyme. Perfect holiday flavors!
Healthy side dish. Butternut squash is full of vitamin A, vitamin C, fiber, and other nutrients. Plus this recipe is vegan and vegetarian.
Simple to prepare. This recipe requires cutting the squash, adding the maple syrup sauce, and baking. Super easy! Buy the squash pre-cut for an even easier side dish.
Ingredients you'll need
This is just a list of ingredients you will need to make the Roasted Butternut Squash recipe. Full measurements are listed further down below.
Butternut squash
Olive oil
Maple syrup
Garlic
Kosher salt
Ground pepper
Fresh thyme
Dried cranberries and pecans (optional to serve)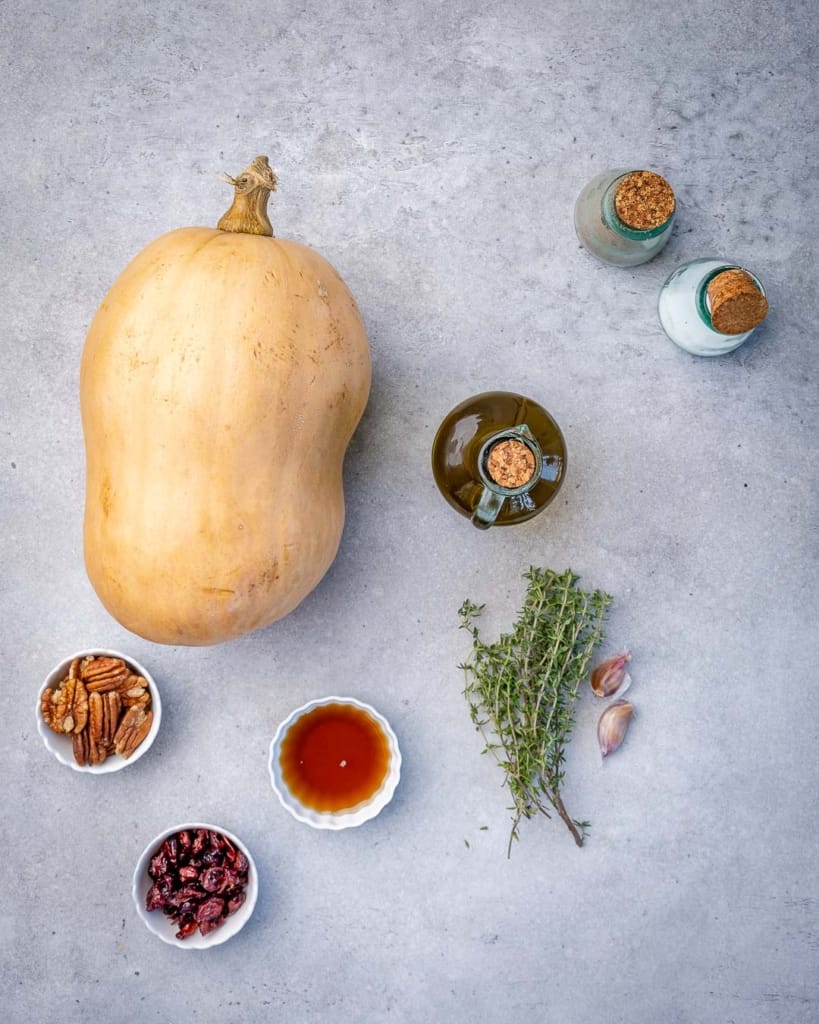 How to roast butternut squash
Preheat the oven to 400F.
Make the sauce. In a small bowl, add maple syrup, oil, garlic, salt, and thyme. Mix well to combine.
Coat butternut squash. Place the prepared butternut squash in a large bowl and pour over the maple mixture. Mix until evenly coated.
Bake. Transfer the squash and spread it evenly to a large baking dish or a rimmed baking sheet. Bake for 30-40 min, or until the tops start to brown and caramelize.
Garnish and serve. Remove the dish from the oven and allow it to cool. Then garnish with extra thyme, dried cranberries and pecans if desired.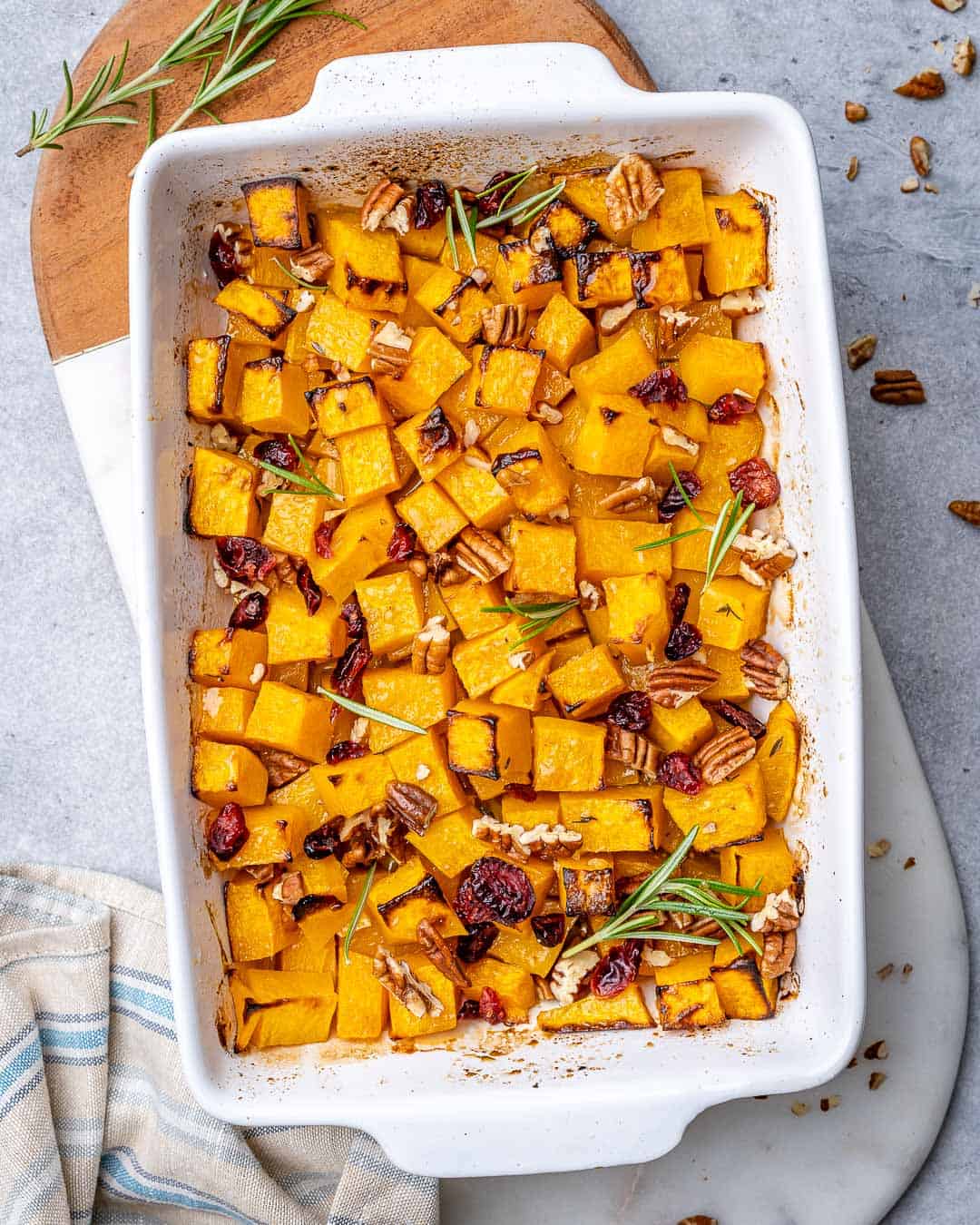 Tips and substitutions
Butternut squash: Buy it whole or buy it peeled and chopped.
Maple syrup: Use real maple syrup (not pancake syrup) for the best results. You can also substitute honey.
Fresh thyme: You can substitute it with dried thyme, but it won't be as flavorful.
If your squash is tender but not golden brown on the edges, you can broil it for a few minutes, in the end, to help it caramelize.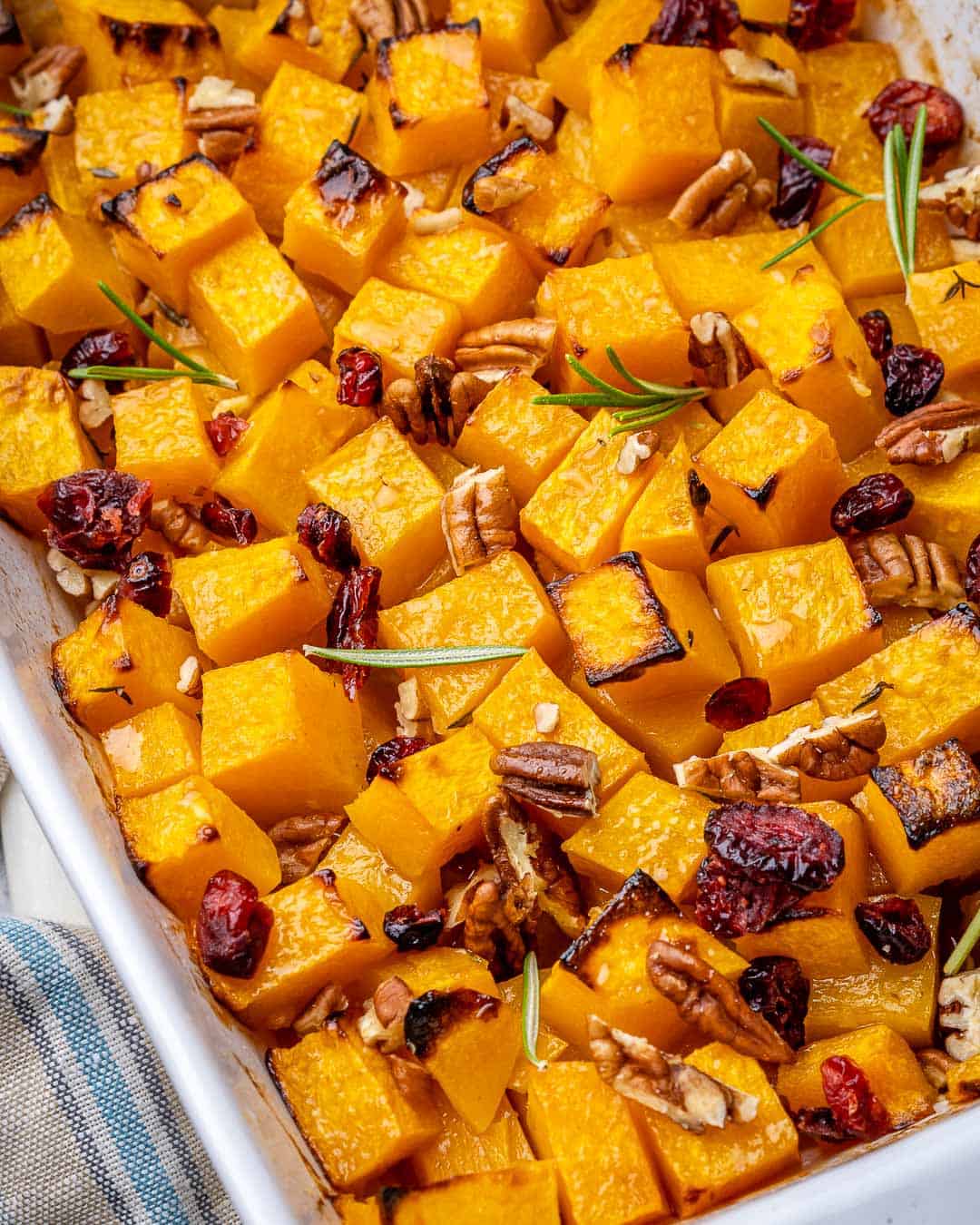 FAQs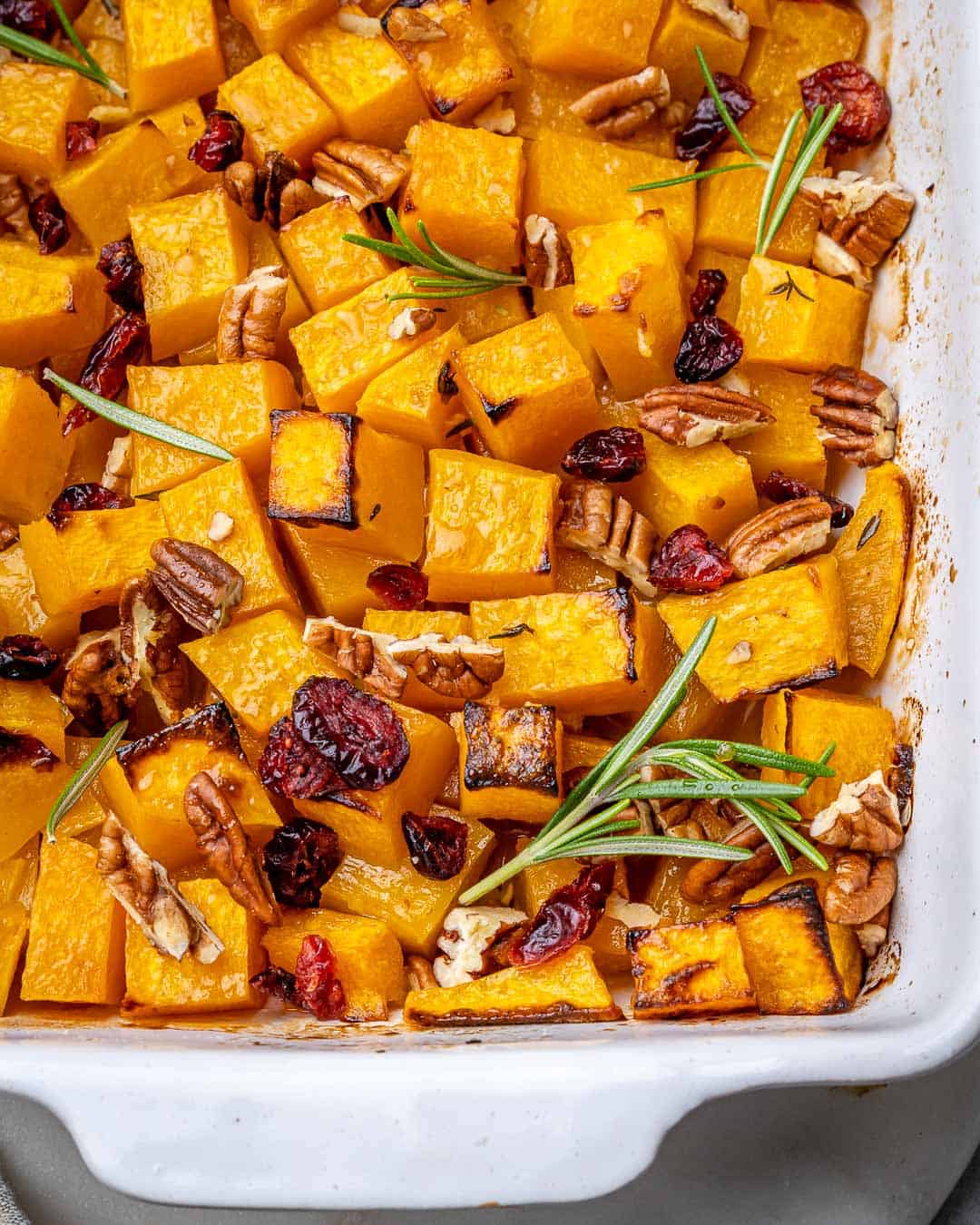 Other side dishes
If you try a recipe and you like it, leave us some feedback in the comment section below, and don't forget to rate it! We would love it if you shared it with friends and family.
Finally, please use our hashtag #healthyfitnessmeals on INSTAGRAM for a chance to be featured! FOLLOW Healthy Fitness Meals on FACEBOOK | INSTAGRAM | PINTEREST | TWITTER for all of our latest blog posts and recipes.