This Vegetarian Tortilla Soup recipe is made in the crockpot for a hassle-free dinner that the entire family can enjoy. It is easy to make, filling, so delicious, and perfect for any day of the week as we head into the fall season.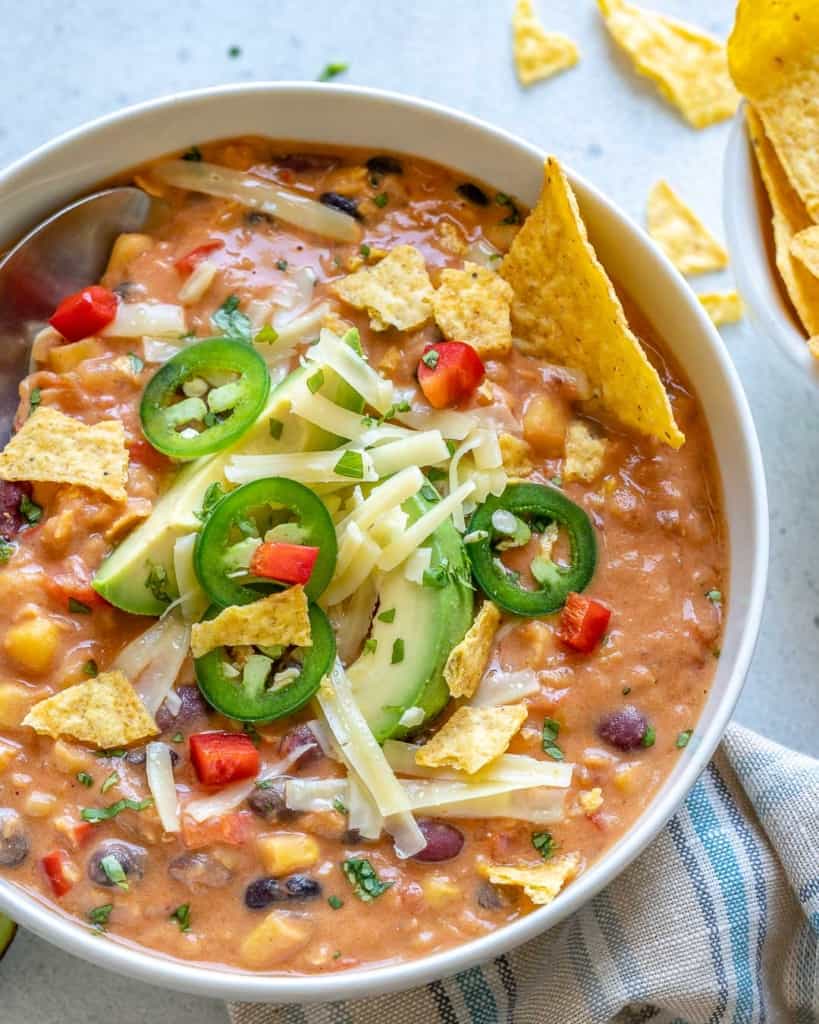 Colder weather calls for soups and chili recipes. If you are looking for a vegetarian soup recipe then this vegetarian tortilla soup recipe is perfect for you. Great for those busy days that you just need to toss everything in your slow cooker or crockpot, head out, and have dinner ready for the family when you get back home.
Making the crockpot tortilla soup is easy and it's made with ingredients that you most likely already have sitting in your pantry. It's as easy as tossing all the ingredients together in your crockpot turn it on and walk away. Enjoy this creamy tortilla soup as is or serve as a side dish any day of the week for lunch or dinner. We will be showing you how to make this tortilla soup on your stove top, slow cooker, and instant pot!
Why you should make this creamy tortilla soup
Epicly good: We promise you that you will love the creamy and delicious tortilla soup. They are also vegetarian-friendly.
Very Easy to make: All you need to do is prep your ingredients, toss them into the slow cooker, and let it do all the work for you. Don't forget to add the cream cheese at the very end.
Nutritous and filling: This vegetarian tortilla soup is packed with nutrition and will keeo you full and satisfied.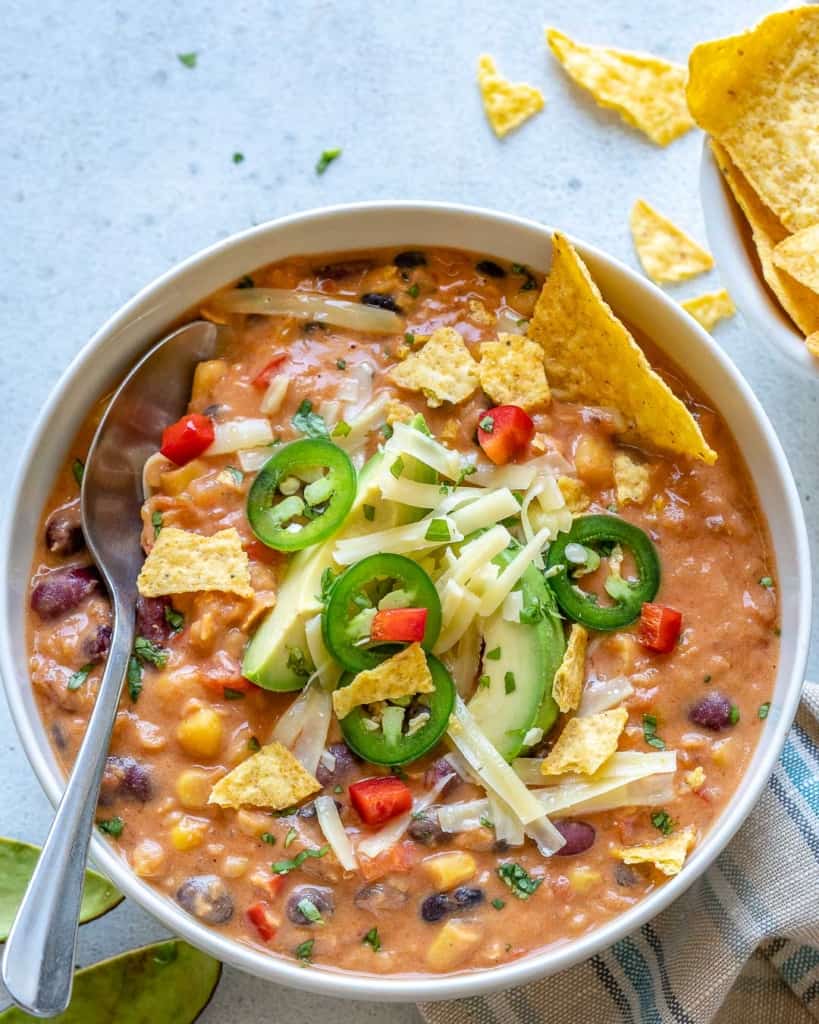 Ingredients you will need
Below is just a list of ingredients to check if you have and that you'll need to make this tortilla soup. Full measurements will be listed further down below in the recipe card.

medium onion
olive oil- or any other neutral oil
red bell pepper, or green
jalapeno pepper
vegetable broth
tomato sauce or crushed tomatoes
mild or medium salsa
Beans: black beans, red beans, or any other beans of choice
corn, fresh, canned, or frozen
dried red lentils
seasonings: smoked paprika, garlic powder, cumin, cayenne pepper, salt, and pepper
light cream cheese, or dairy-free cream cheese
OPTIONAL TOPPINGS: crushed tortilla chips, shredded cheddar, sliced or diced jalapeños, chopped red onion, sliced avocado, fresh cilantro, sour cream, or Greek yogurt
How to make this vegetarian tortilla soup in your crockpot
Start by prepping the vegetables; dice the onion and peppers. Drain and rinse the beans.
Wash the lentils thoroughly under cold running water and set them aside.
Except for cream cheese, combine all the ingredients in a slow cooker.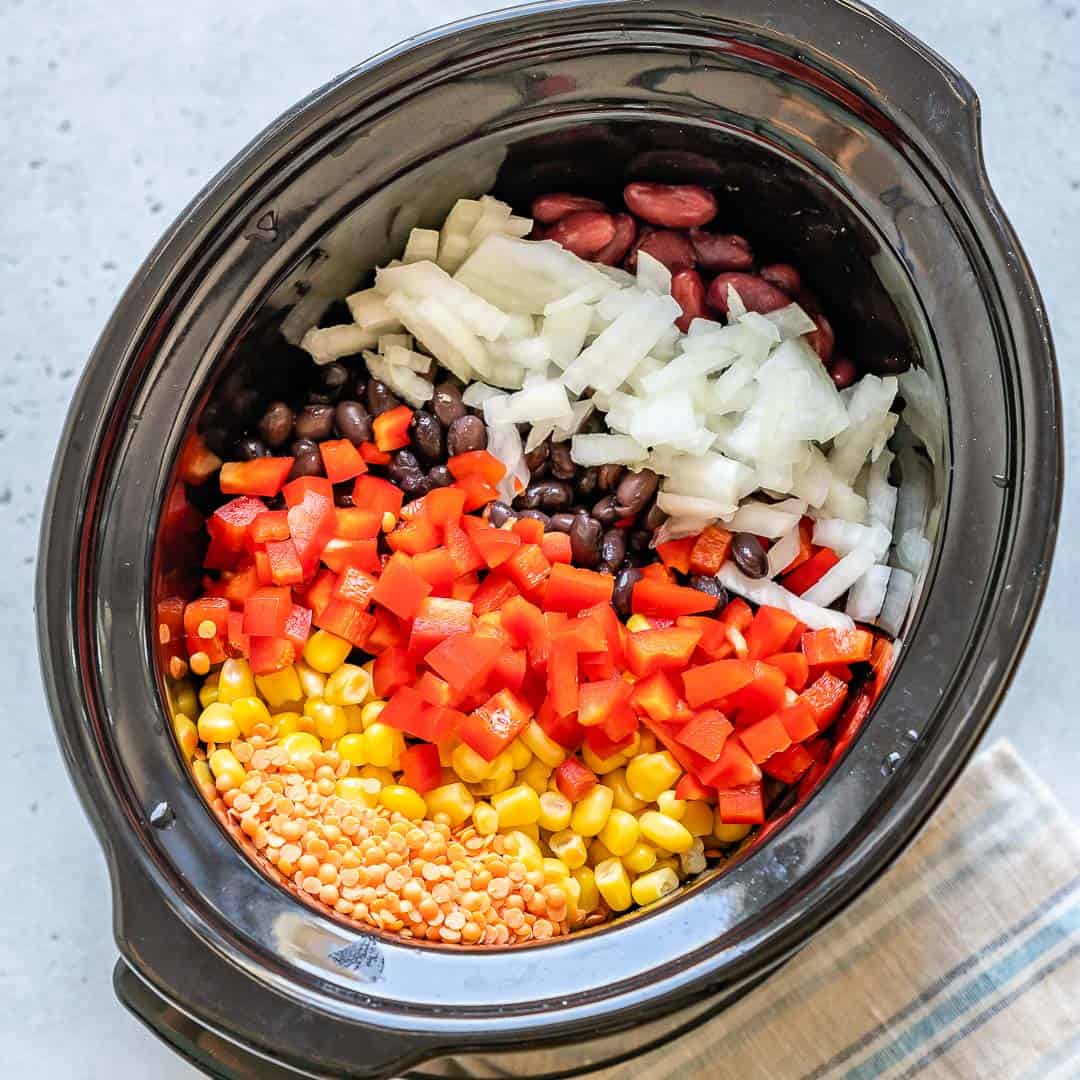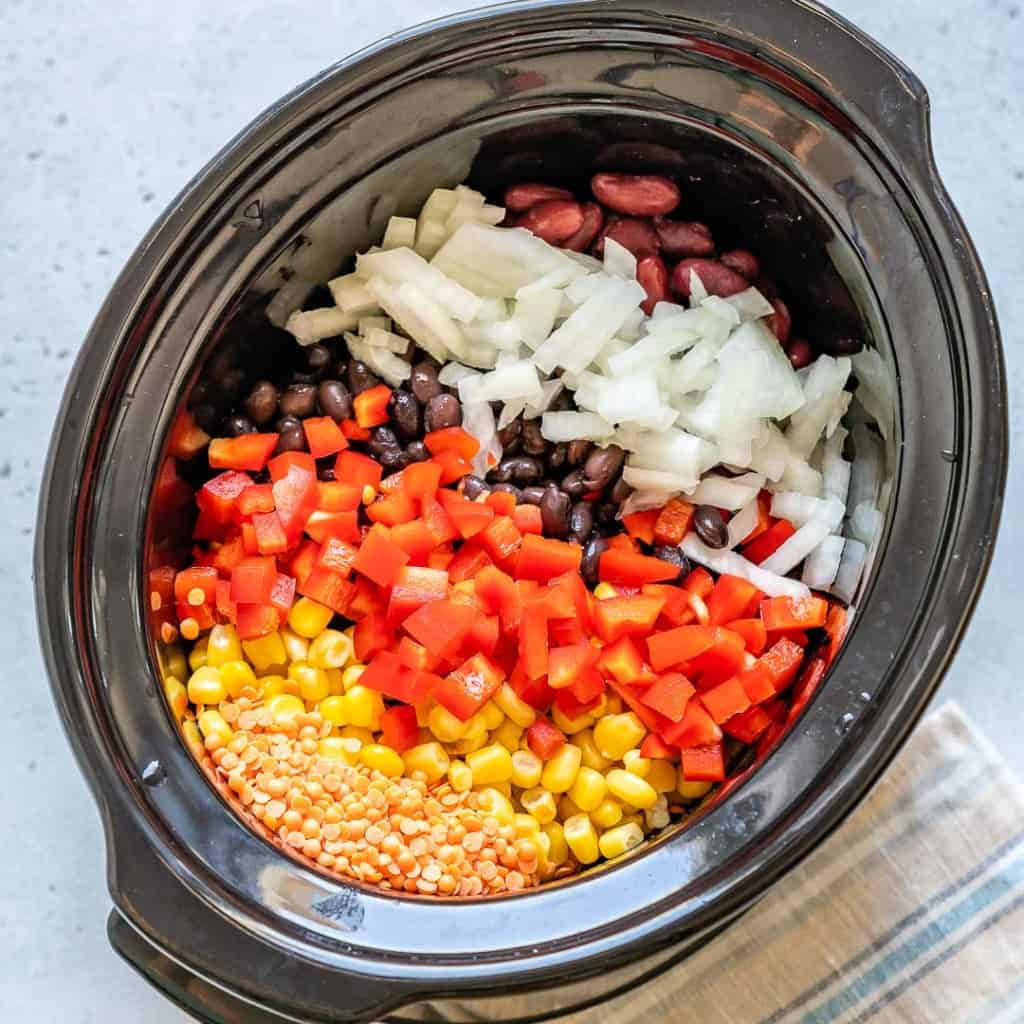 Cover and cook on HIGH for 4-6 hours or on LOW for 7-8 hours, until vegetables and lentils are cooked through and the soup is thick.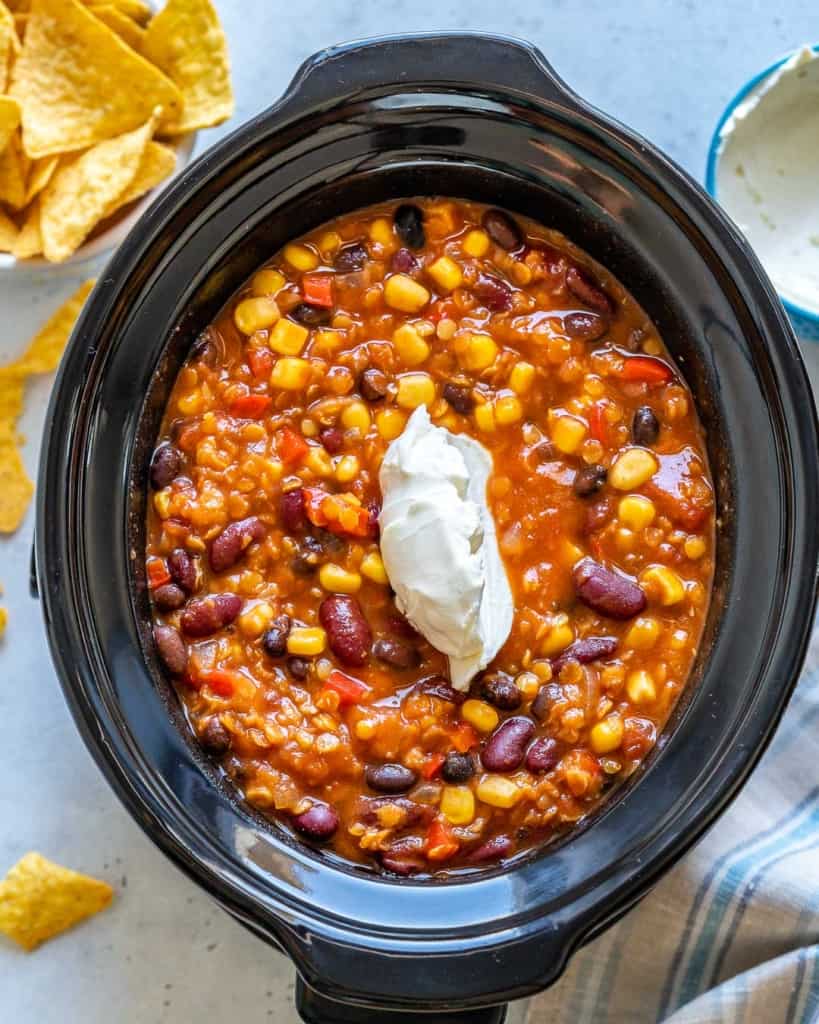 Once done, remove the lid and mix in the cream cheese. Pour the soup into a large serving bowl.
Add your favorite toppings and serve warm!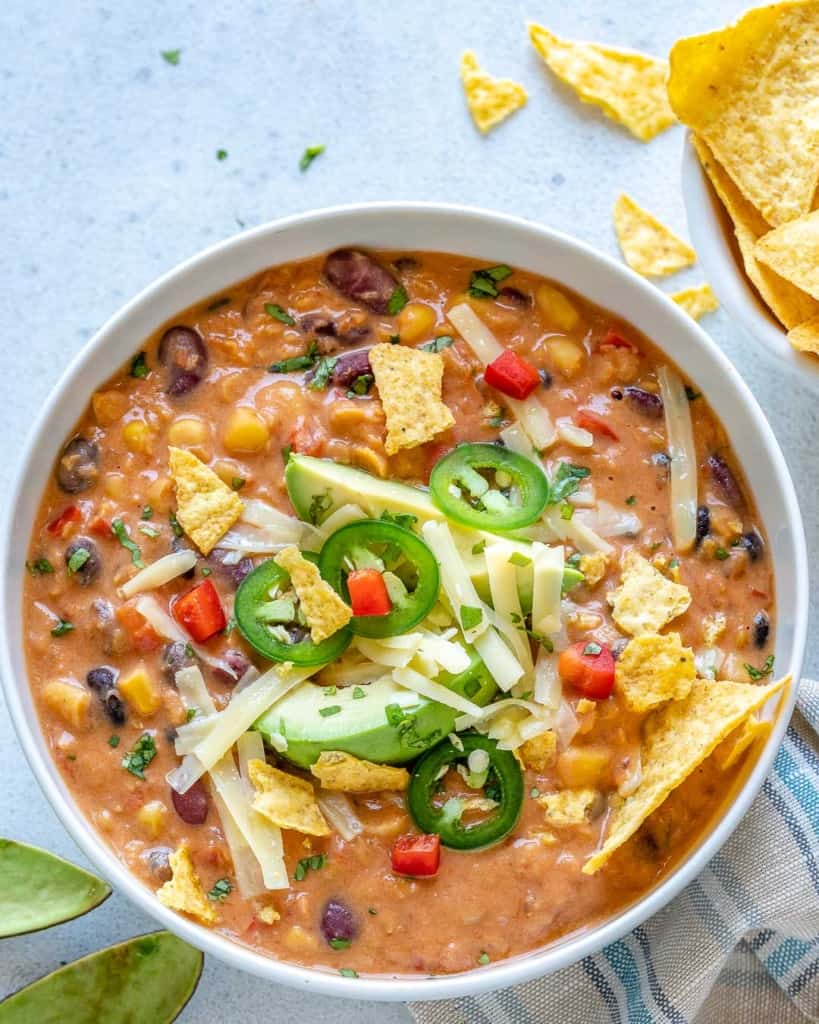 How to make this tortilla soup in an instant pot
Turn the Instant Pot on and add oil. Stir in onion and sauté for 2-3 minutes.
Next, place all the ingredients into the pot, except for cream cheese.
Cover the pot with the lid, setting the valve to the sealing position. Then, cook on high for 15 minutes. Once the pot beeps, allow the pot to release pressure naturally.
Unlock the lid and add the cream cheese. Stir well and serve with your favorite toppings.
How to make this Vegetarian Tortilla soup on your stovetop
Heat the olive oil in a Dutch oven or a soup pot, over medium-high heat.
Add onion and sauté until translucent. Stir in bell pepper and jalapeño, cook, stirring constantly until slightly golden brown.
Immediately pour in the broth. Add in tomato sauce, salsa, beans, corn, and lentil.
Stir in the spices, mix well until all the ingredients are well incorporated.
Reduce the heat to low and let it simmer over low heat for 30-35 minutes until lentils is
tender and the soup is thick according to your liking.
Once the soup is done, stir in cream cheese. Cook for additional 5 minutes. Taste and adjust the salt and pepper, if needed.
Pour the soup into bowls. Add sliced jalapeños, onion, and avocado.
Sprinkle crushed tortilla chips and cheddar cheese on top. Garnish with fresh cilantro leaves and enjoy!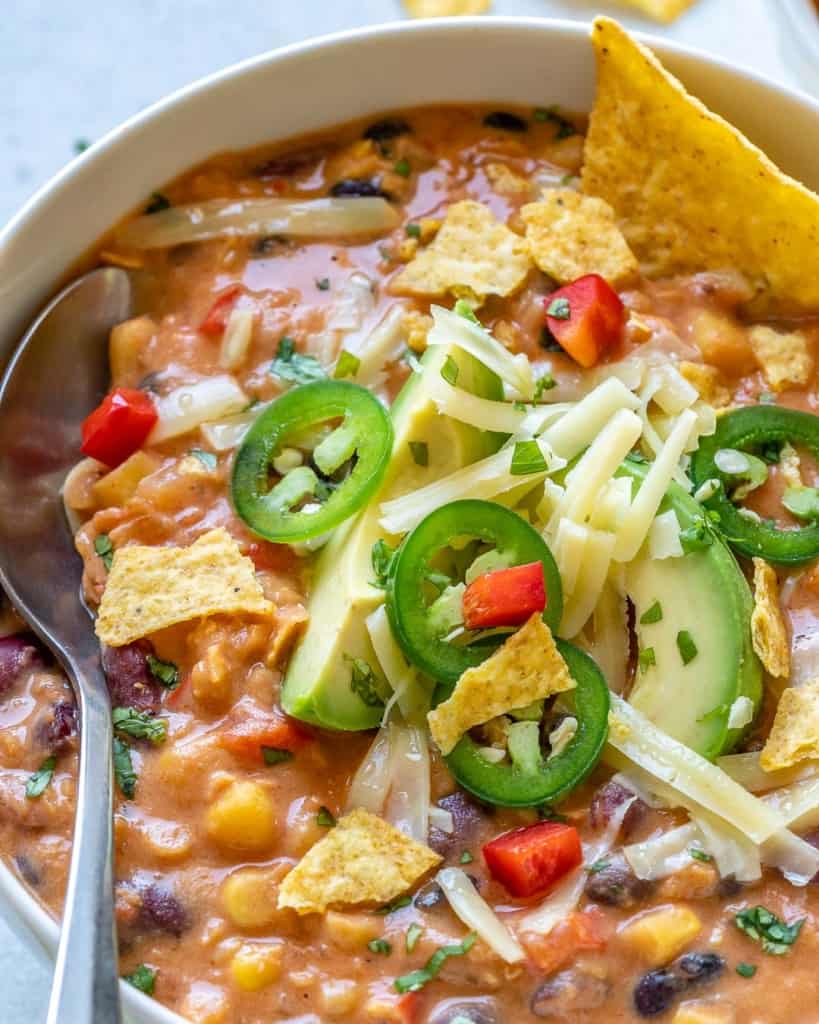 Recipe notes and tips
Do not add the cream cheese until the soup is almost done.
Use any beans you like. We used black and red beans.
You can use fresh, frozen, or canned corn.
Store leftovers in a tightly sealed container in the fridge for up to 4 days. Reheat single servings in the microwave for 60-90 seconds.
Freeze this vegetarian tortilla soup for up to 3 months.
Go with hot salsa if you prefer this soup to be more on the spicy side. Adding more cayenne pepper is another option.
Instead of cream cheese you can add another cream like heavy cream or half and half. (a not so less healthy option)
If you can't handle too much heat/spice, seed the jalapenos before adding it in.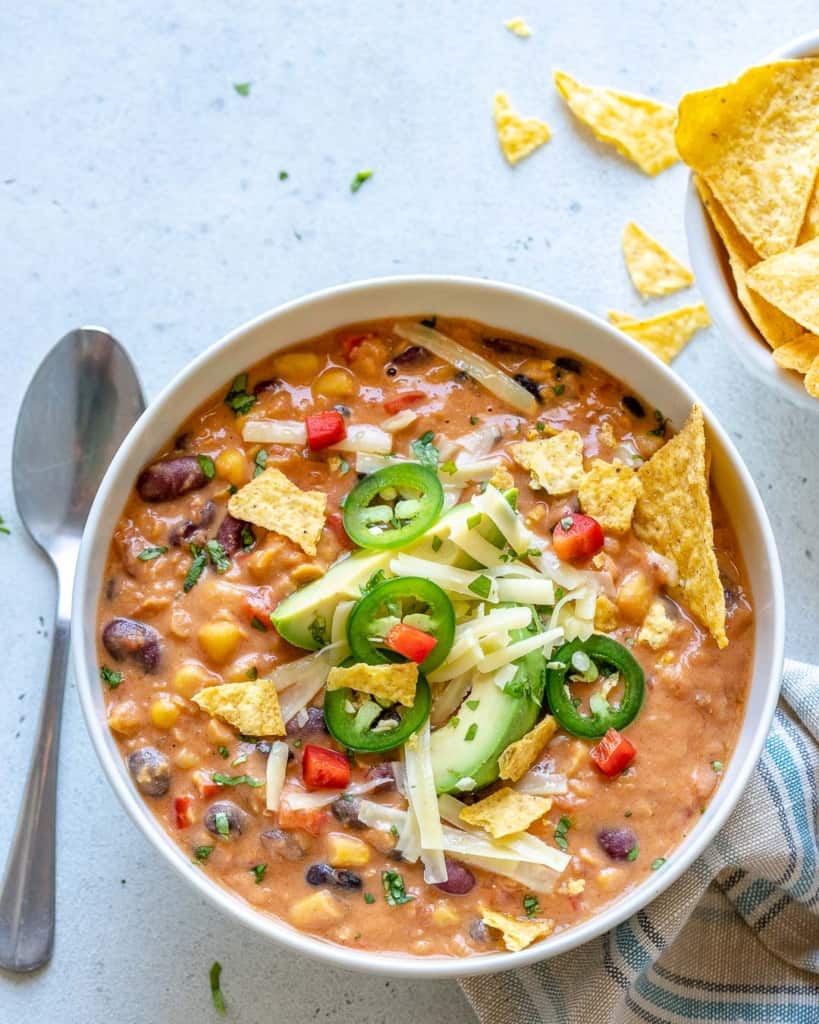 Frequently asked questions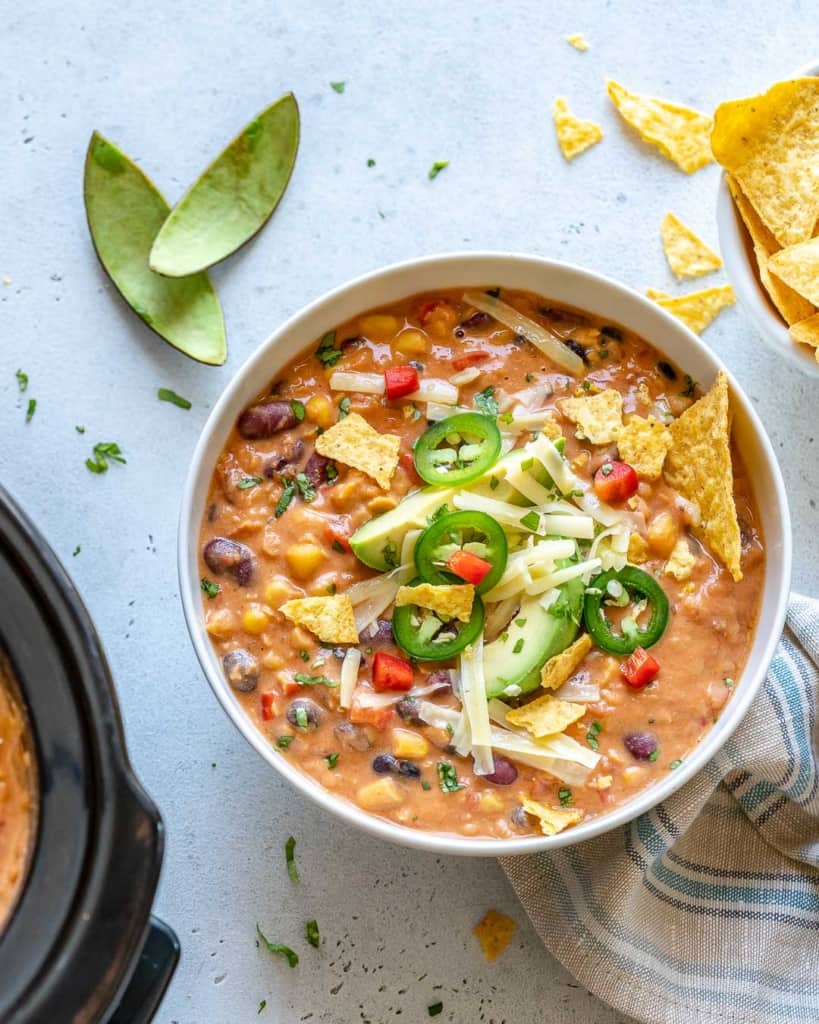 Other healthy soup recipes to try
If you try a recipe and you like it, leave us some feedback in the comment section below, and don't forget to rate it! We would love it if you shared it with friends and family.
Finally, please use our hashtag #healthyfitnessmeals on INSTAGRAM for a chance to be featured! FOLLOW Healthy Fitness Meals on FACEBOOK | INSTAGRAM | PINTEREST | TWITTER for all of our latest blog posts and recipes.