This Creamy Cajun Chicken recipe is easy to make with a juicy, golden, pan-fried chicken in a Cajun spiced cream sauce. Creamy, delicious, and ready in less than 20 minutes! Makes for a perfect weeknight dinner that the whole family will enjoy.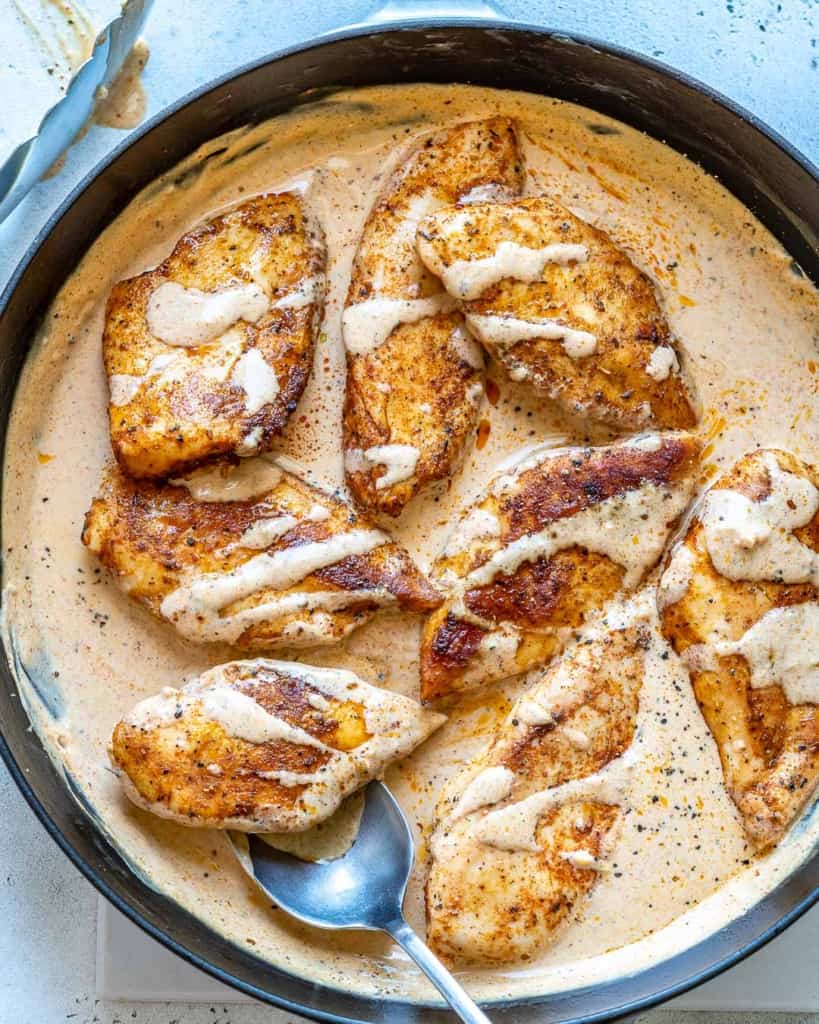 This Creamy Cajun Chicken is a super quick recipe that's loaded with flavor! A zingy, velvety cream sauce covers crispy tinged chicken, all topped with tangy Parmesan. There's something about creamy chicken that's just so satisfying, perfect for a delicious and filling weeknight meal! Tender and juicy seared chicken breasts that can be served with rice, pasta, or zoodles for a low carb option.
If you're looking for other easy chicken recipes, why not also try my Broccoli Chicken Pasta Casserole and my Thai Basil Chicken Recipe!
Why you'll love this creamy cajun chicken recipe
A delicious Cajun cream sauce. Made with cream cheese, chicken broth, Cajun seasoning, and a host of other goodies… welcome to flavor town!
Pan-seared chicken. Pam searing chicken locks in all the juices, making each bite melt in the mouth. Plus the chicken comes out golden with lovely crisp edges.
An easy chicken recipe. Only a few ingredients needed, this goes from pantry to table in around 20 mins!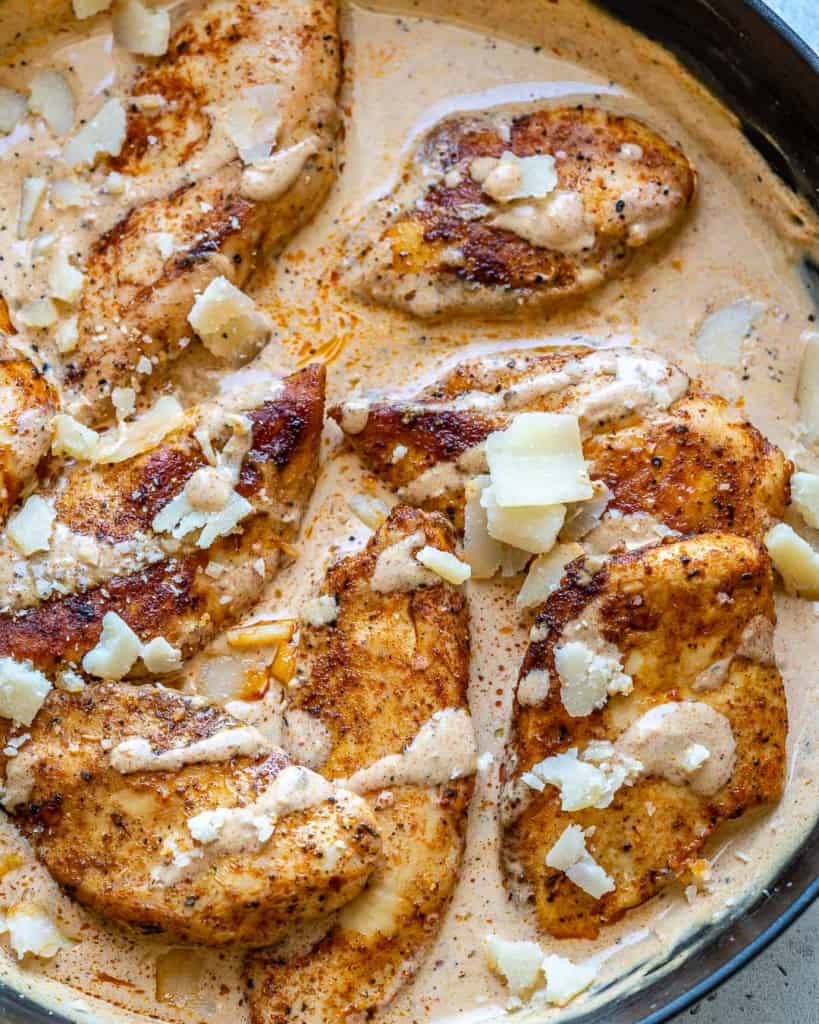 ingredients you'll need
These are just a list of ingredients you will be needing. The full measurements are listed at the bottom of this post
Chicken Breast – you may use any other chicken, like boneless chicken thighs
Cajun Seasoning – dial down a bit on this for less heat
Salt & Pepper
Garlic
Chicken Broth – you may use vegetable broth
Cream Cheese – this is used in place of heavy cream. You may use lite coconut milk. The ones in cans.
Parmesan Cheese – freshly grated cheese
Olive Oil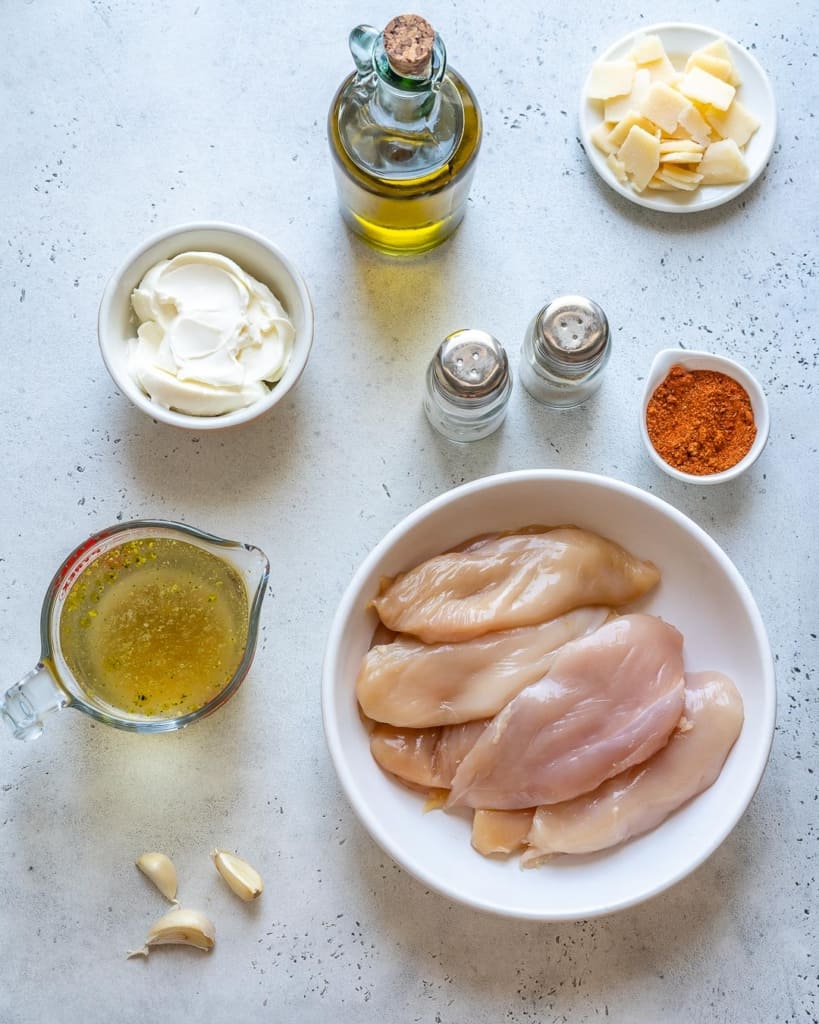 How to make this creamy cajun chicken
First, season your chicken – Rub the chicken with Cajun seasoning, some salt, and pepper.
Next, pan sear – In a skillet with oil, pan sear the chicken – about 5 mins per side – until cooked through. Set aside
Then, make the cream sauce – To the pan, first oil and garlic add the chicken broth and simmer. Finally, stir in the cream cheese and Cajun seasoning.
Combine – Add the chicken to the sauce, simmer and allow to thicken.
Finally, top with Parmesan, serve, and enjoy!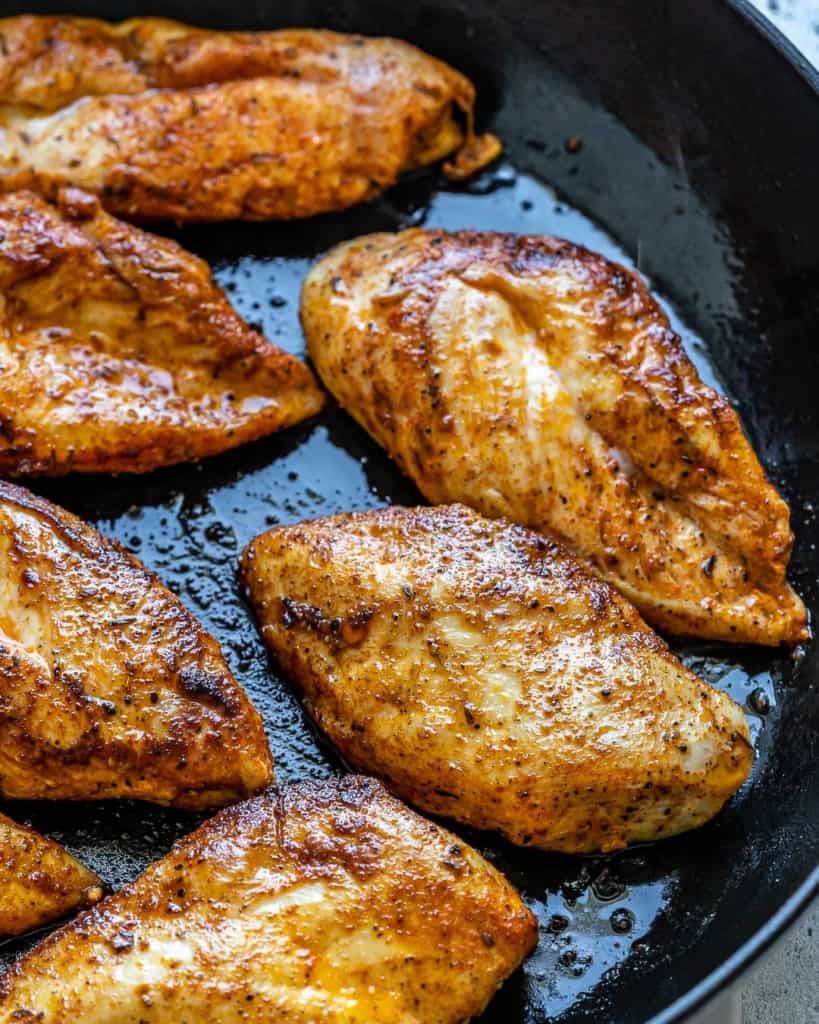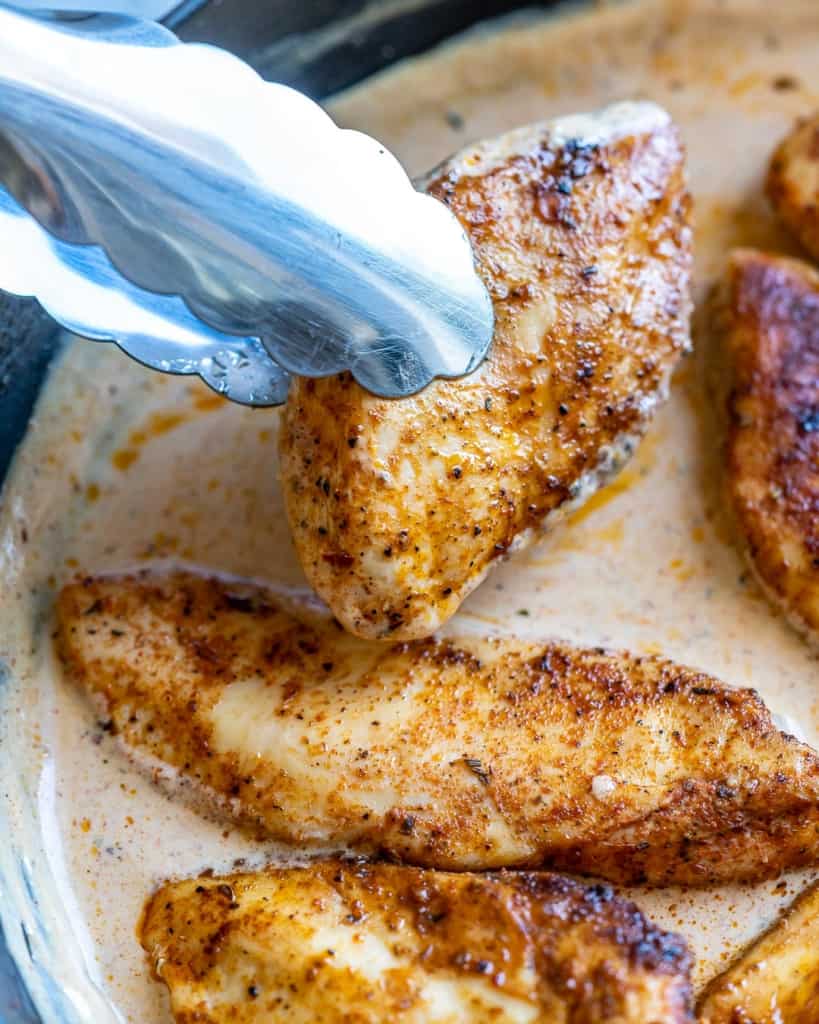 recipe notes and tips
You can also use boneless, skinless chicken thighs but adjust the cooking time as needed.
To check your chicken is done it's always best to use a meat thermometer. Stick the thermometer into the thickest part of the chicken, if it reads 165F then it's done.
Ideally opt for low salt Cajun seasoning, to control your sodium intake.
You can use full-fat or low-fat cream cheese.
It's best to use a deeper pan/skillet, so your sauce doesn't overflow!
If your chicken breasts are on the thick side, consider slicing them lengthwise so that you have 2 pieces that are half as thick.
Top with some fresh parsley for a pop of freshness.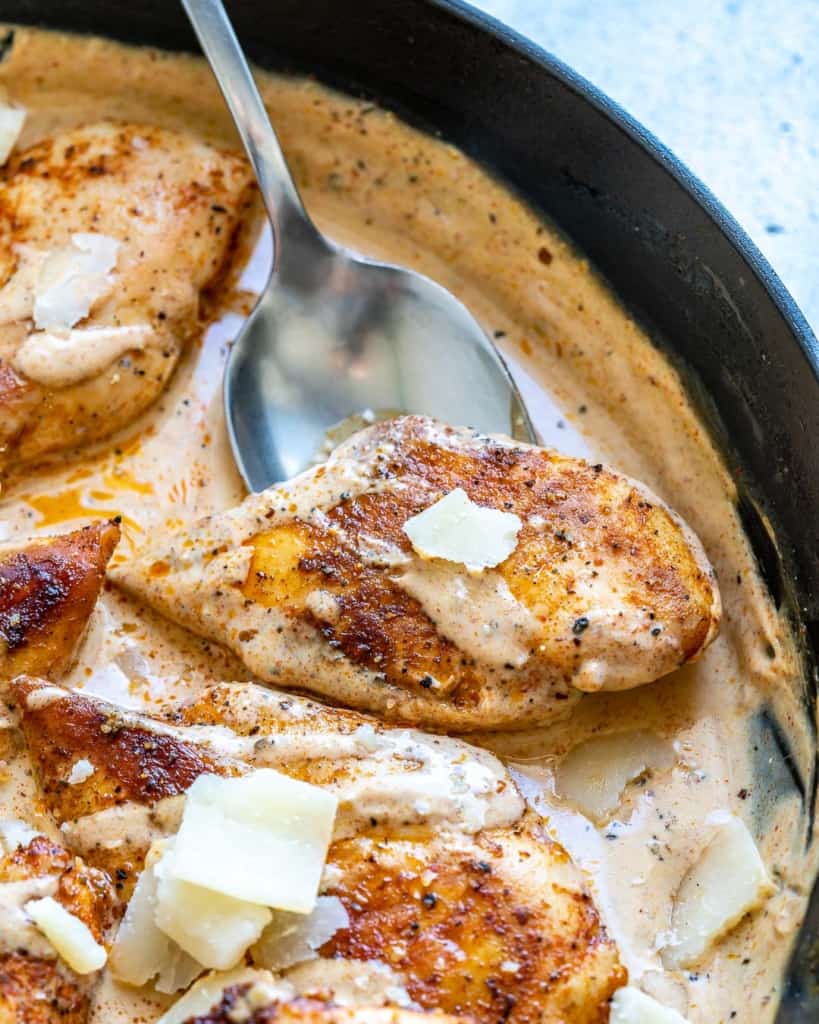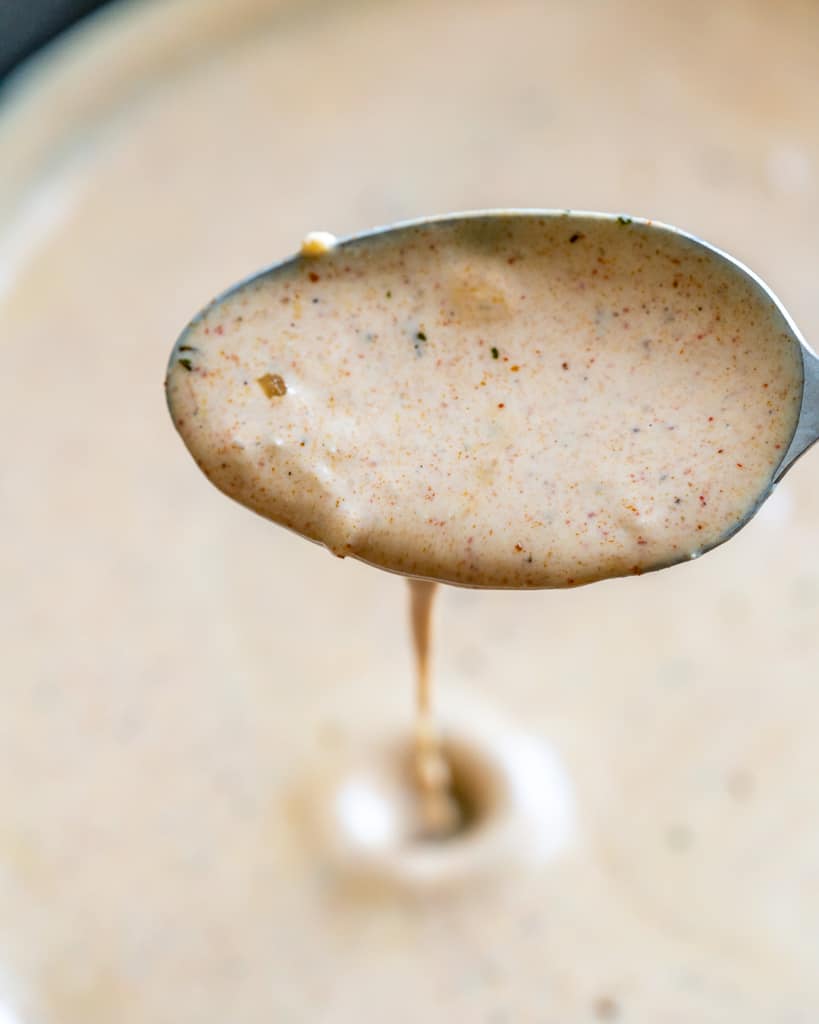 faq's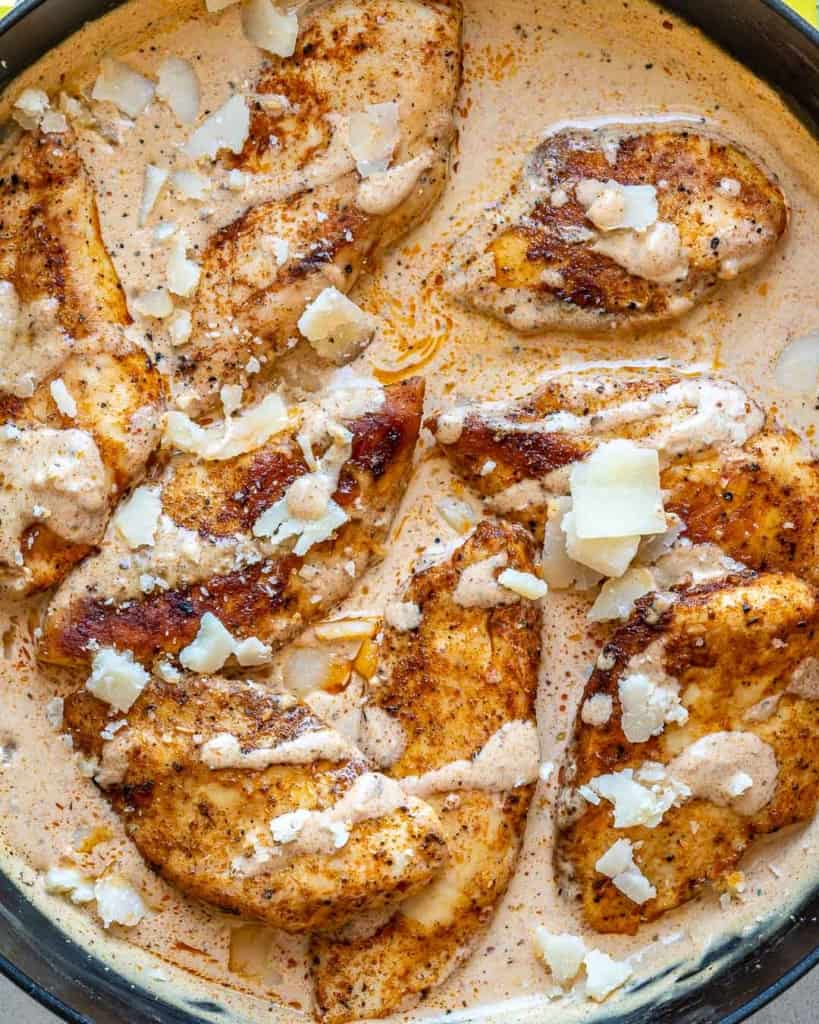 other delicious chicken recipes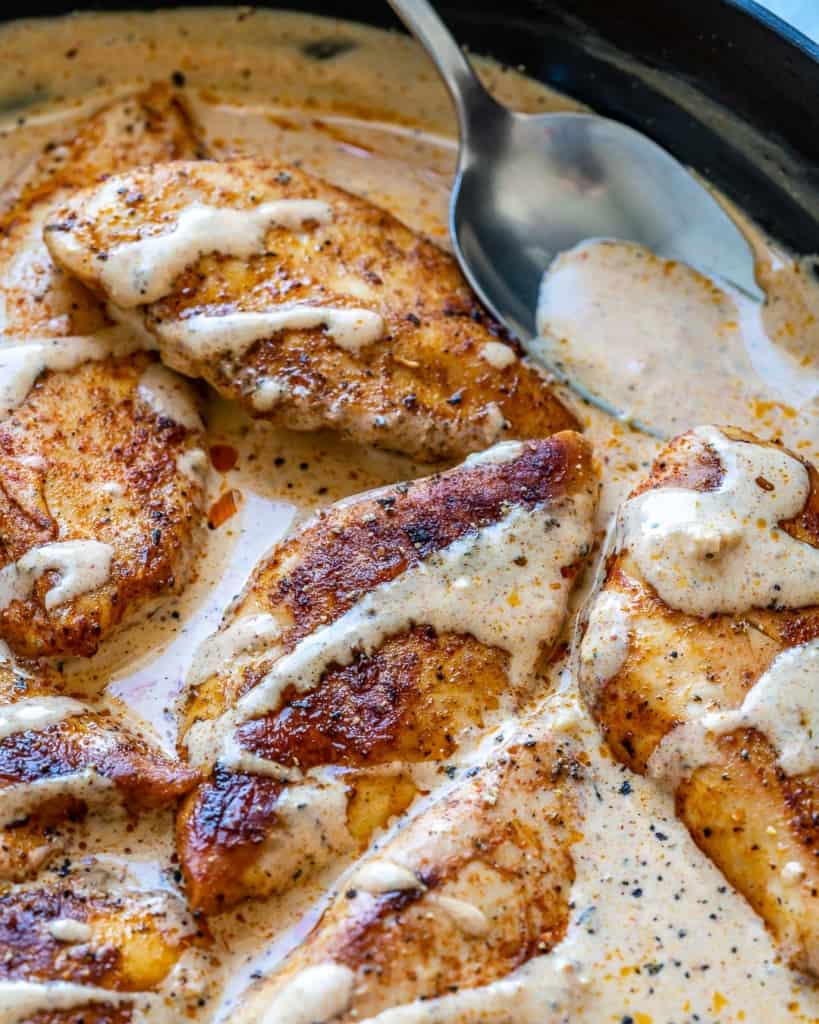 If you try a recipe and you like it, leave us some feedback in the comment section below, and don't forget to rate it! Also, we would love it if you shared it with friends and family.
Finally, please use our hashtag #healthyfitnessmeals on INSTAGRAM for a chance to be featured! FOLLOW Healthy Fitness Meals on FACEBOOK | INSTAGRAM | PINTEREST | TWITTER for all of our latest blog posts and recipes.