Zucchini noodles (also known as "zoodles") are a delicious low-carb gluten-free alternative to traditional pasta. We will be showing you a step-by-step process of how to make zoodles and different ways to enjoy them.
What are Zucchini noodles "Zoodles"?
Zoodles is a word that combines both zucchini and noodles. Zoodles are when you cut up a zucchini thinly into a noodle shape. The zoodles are then cooked and can be used in place of pasta. They are a great option if you are looking to have a low-carb meal instead of carbohydrate-rich pasts or if you have any gluten allergies or are on a keto-diets.
Why you should consider adding zucchini noodles to your meals
A great low carb alternative: If you are doing a low carb diet or on a keto-diet, then using zucchini noodles is your way to go. They are low in carbs, and a great option to swap traditional noodles with.
Gluten-free option: Your stomach can't handle gluten? Even though there are gluten-free pasta options readily available, you may want to have a more nutritious option by swapping the pasta with zoodles.
Very nutritious: Zucchini is very nutritious and good for you. They are high in antioxidants, Vitamins like B6, C, potassium, and mangnessium. Also rich in fiber and helps promote healthy digestion.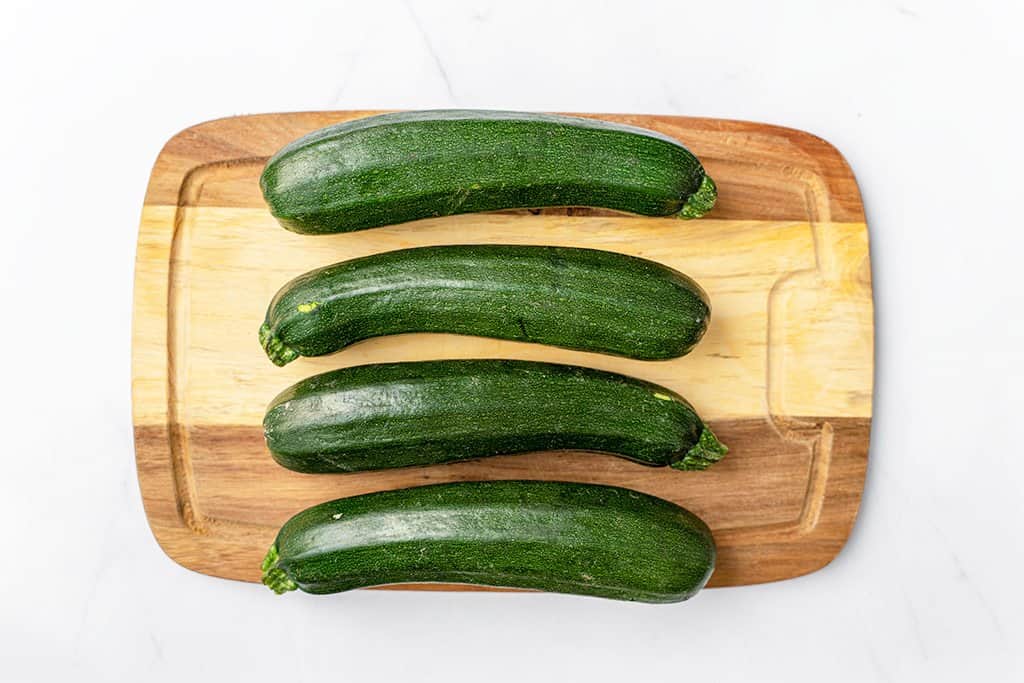 How to Make Zoodles
There are many different methods to make zucchini noodles or zoodles. We will be walking you though each method so you can decide which method best fits. The different ways of making zoodles which will be discussed in dept are using a plain knife, a peeler, a mandolin, or a spiralizer.
Ho toMake Zoodles with a Spiralizer
To make zoodles that mimic the shape of spaghetti, you can use a spiralizer. You can use a handheld spiralizer, a countertop spiralizer, for a spiralizer attachment on a Kitchenaid. Be sure to cut off the ends of the zucchinis so the spiralizer can grip them. Your zucchini noodles will come out curly when using a spiralizer. You simply follow in instructions on how to use the equipment if you choose to use a spiralizer.
how to Make Zoodles with a Mandolin and Knife
Using the different settings on a mandolin, you can make zoodles that are similar to pappardelle-styled noodles by running the zucchini through the mandolin or fettuccine by running the zucchini through and then cutting them lengthwise with a knife. Always be mindful when using a mandolin, either use a guard or cut-resistant gloves when running the zucchini run and down the mandolin blade.
Make Zoodles with a Julienne Peeler
For thinner zoodles that are similar to angel hair pasta, use a julienne peeler on a zucchini. Using a julienne peeler gives you long thin straight strands of zucchini noodles compared to a spiralizer. To use the julienne peeler, hold the zucchini with one hand and run the julienne peeler down across the zucchini to make the long thin strands.
How to Cook Zucchini noodles "zoodles"
There are a few methods on how to cook zoodles. You want to cook your zucchini noodles just enough that they're heated through but not too much that they release a ton of water. It can be a little tricky at first as zoodles can get watery when you cook them too much but not to worry, With our guide, you'll be making perfect zoodles every time.
enjoy zoodles Raw
You can eat zoodles raw! No risk of watery zucchini noodles with this method! Think of how you would serve a cold pasta salad and you can substitute the pasta with the raw zoodles. Be sure to season with salt and pepper.
Cooking zoodles In the Microwave
The quickest way to cook zucchini noodles with the least amount of clean-up is by cooking your zoodles in the microwave. Simply microwave the zoodles for 30-60 seconds then season them with some salt and pepper. Enjoy it with your main dish or chicken or whatever you plan to serve it with.
COOKING ZOODLES On the Stovetop
Another way to cook your zucchini noodles is to sautee them on the stovetop. Place your pan on the stovetop on medium heat, add 1-2 tablespoons of olive oil to the pan, add the zucchini noodles into the pan, and sauté for 1-2 minutes or until the zoodles have just heated through. Season with salt and pepper.
Avoid placing a lid on your pan since it'll trap the moisture and give you watery zucchini – plus it takes only 1-2 minutes so it cooks quick! Also, avoid overcrowding the pan to keep the zoodles from steaming up and getting watery.
COOKING ZOODLES In the Oven
Preheat the oven to 350F. On a large parchment-lined sheet pan, toss the zucchini noodles with some olive oil, salt, and pepper and bake for 10 minutes. Yuo do not want to overcook them. When done, pat dry if needed!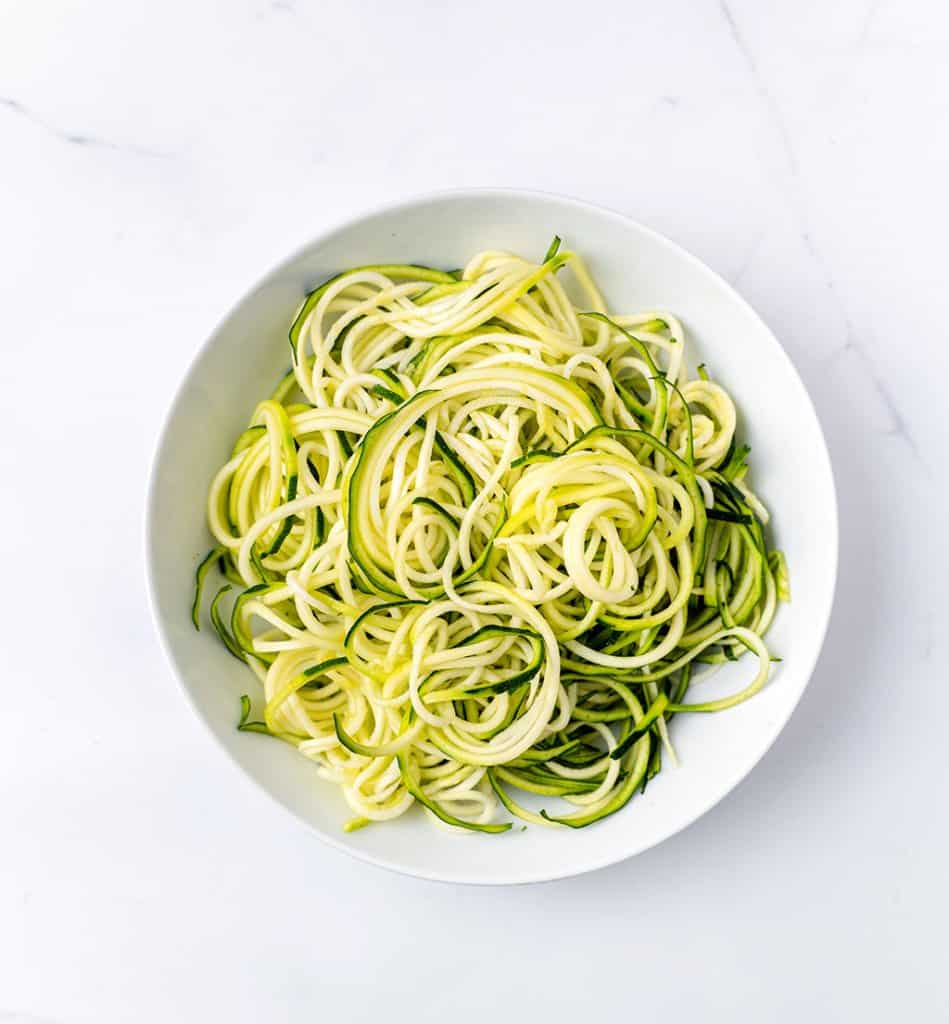 Tips on Making The Perfect Zoodles
Avoid overcrowding your pan to keep the zoodles from getting watery and soggy.
Do not overcook the zucchini noodles as they'll release a lot of water and the noodles won't have that crisp bite to it anymore.
Season zucchini noodles after cooking on the stove or in the microwave as adding salt to the zoodles before cooking will draw water out and make them watery.
If storing a zucchini from the store, be sure to place it in the fridge but not wrapped in plastic as it can cause it to lose its firmness as it traps moisture, making it harder to work with. They won't be as fresh and crisp.
How to Pick the best Zucchini
While larger zucchini are easier to work with as it gives your spiralizer a larger item to grip or gives you an easier time to cut, larger zucchini tend to be more watery. We recommend getting a medium sized zucchini to make zoodles with.
Give the zucchini a squeeze at the store – they should be firm and not have any nicks on them.
The more vibrant the color of the zucchini is, the more flavorful they are.
Try to pick the straightest zucchini to make it easier to work with.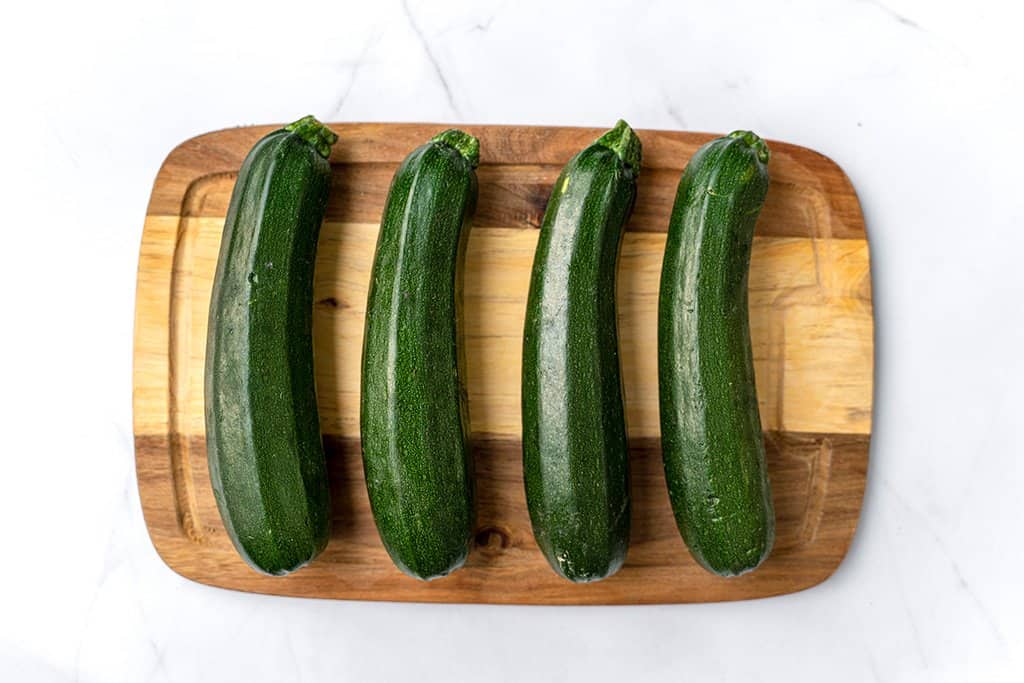 Frequently asked questions
How to store zucchini noodles?
Zucchini noodles are a great ingredient to make ahead of time as they stay fresh for up to 4 days in the fridge. Be sure to store them in an airtight bag or container with a paper towel. The paper towel helps absorb any excess moisture and keeps them from getting slimy over time.
Can you freeze Zucchini noodles?
We would not recommend freezing zucchini noodles. As zucchinis are mainly made up of water, they will get mushy once it thaws. Frozen zoodles also aren't as flavorful. As making them doesn't take too much effort, I would suggest making a fresh batch when needed or meal prep a batch 2-3 days ahead of time. You can eventually freeze them if you prefer to do so and even buy them frozen. When you thaw them place over a paper towel to absorb as much moisture as possible.
Do you have to peel a zucchini to make zoodles?
There is no need to peel the zucchini before making them into zoodles. Just make sure to give your zucchini a thorough wash and pat dry before using. The skin of the zucchini is ok to eat.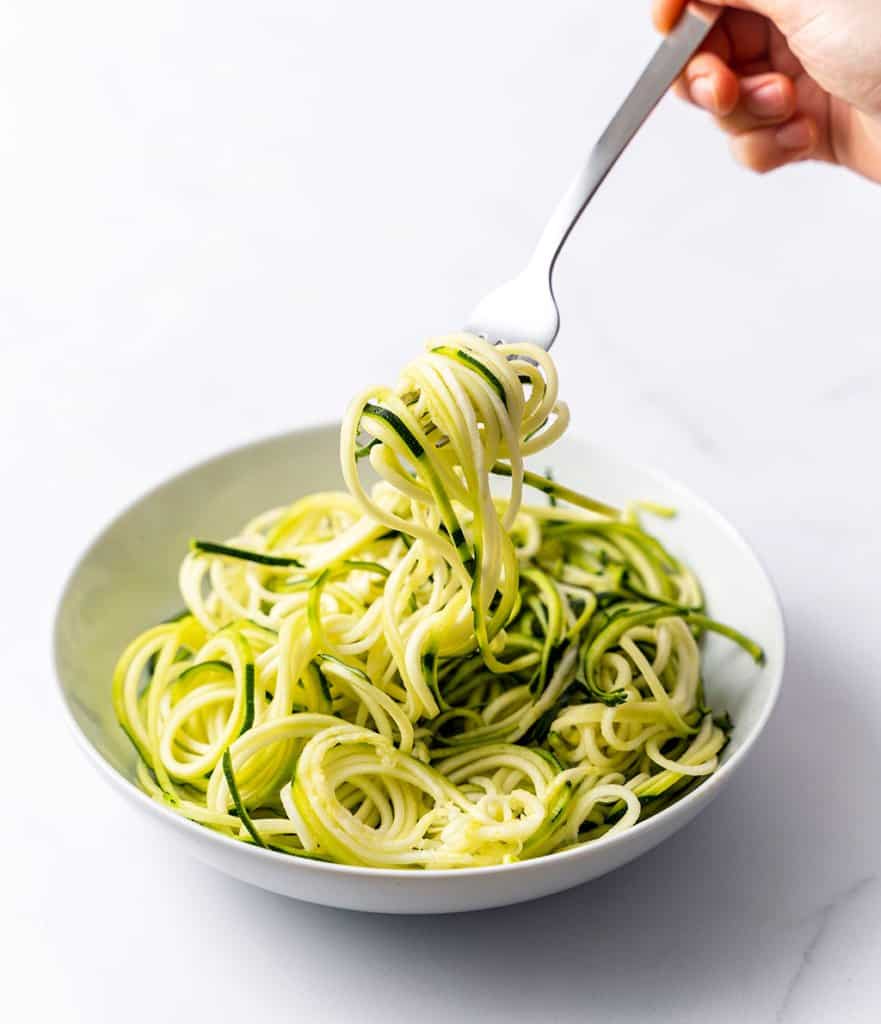 Recipes using Zucchini Noodles
If you try a recipe and you like it, leave us some feedback in the comment section below, and don't forget to rate it! We would love it if you shared it with friends and family.
Finally, please use our hashtag #healthyfitnessmeals on INSTAGRAM for a chance to be featured! FOLLOW Healthy Fitness Meals on FACEBOOK | INSTAGRAM | PINTEREST | TWITTER for all of our latest blog posts and recipes.
How to Make Zucchini Noodles aka Zoodles
Zucchini noodles (also known as "zoodles") are a delicious low carb gluten-free alternative to traditional pasta. Learn how to make zucchini noodles a couple different methods as well as what to do with them!
Print
Pin
Rate
Equipment
knife

peeler

mandolin

spiralizer
Instructions
How to make zucchini noodles from scratch
Eash zucchini thoroughly. On a cutting board, cut the tips of the zucchini on both ends.

Using a peeler, peel thin layers of the zucchini.

Continue peeling thin layers off the zucchini until all is peel through.

Line the thin layers of zucchini on the cutting board over each other and using a knife, julliene the zucchini slices.

collect all the julienned zoodles on a plate to be used as you wish. You now have zucchini noodles.
Using a spiralizer
If you have a spiralizer that you would like to use to make your zoodles look like spaghetti, you can. You will just have to follow the instructions that came with it.
Using a mandolin
If using a mandolin, you can slice the zucchini using the specific blades provided to make the type of noodles you like with the zucchini.
How to cook Zoodles on the Stovetop
Add the zucchini noodles into the pan, careful to not cover crowd the pan, and sauté for 1-2 minutes or until the zoodles have just heated through. Season with salt and pepper to taste.
How to cook zoodles In the Oven
On a large parchment lined sheet pan, toss zucchini noodles with some olive oil, salt and pepper and bake for 15 minutes. When done, pat dry if needed!
Enjoy Raw
Zoodles can be enjoyed as is raw as well if you choose to not cook it
Notes
Use a knife, a peeler, a spiralizer, or a mandolin to make the zoodles, 
Wash the zoodles well before making them into zoodles.
Go with firm and not soft noodles.
You may have it with the skin. No need to peel the zucchini.
Yellow zucchini can also be used.