This Chocolate Fruit Dip recipe is sure to blow you away. Its a winner with my kids and the best part is its healthy and easy to put together!
Chocolate Fruit Dip
Making this Chocolate fruit dip is fun and very easy. Add some protein if you desire a high protein treat. I love adding protein to almost all my treats because i feel like i never get enough protein from the meals i eat. I tend to skip breakfast too. Sometimes. I get my coffee in and go about my day and before you know it its lunchtime. Anyone else do this? Its not ideal though. Breakfast is very important to prevent muscle breakdown. I do snack quite a bit so this Chocolate Fruit Dip comes in very handy sometimes.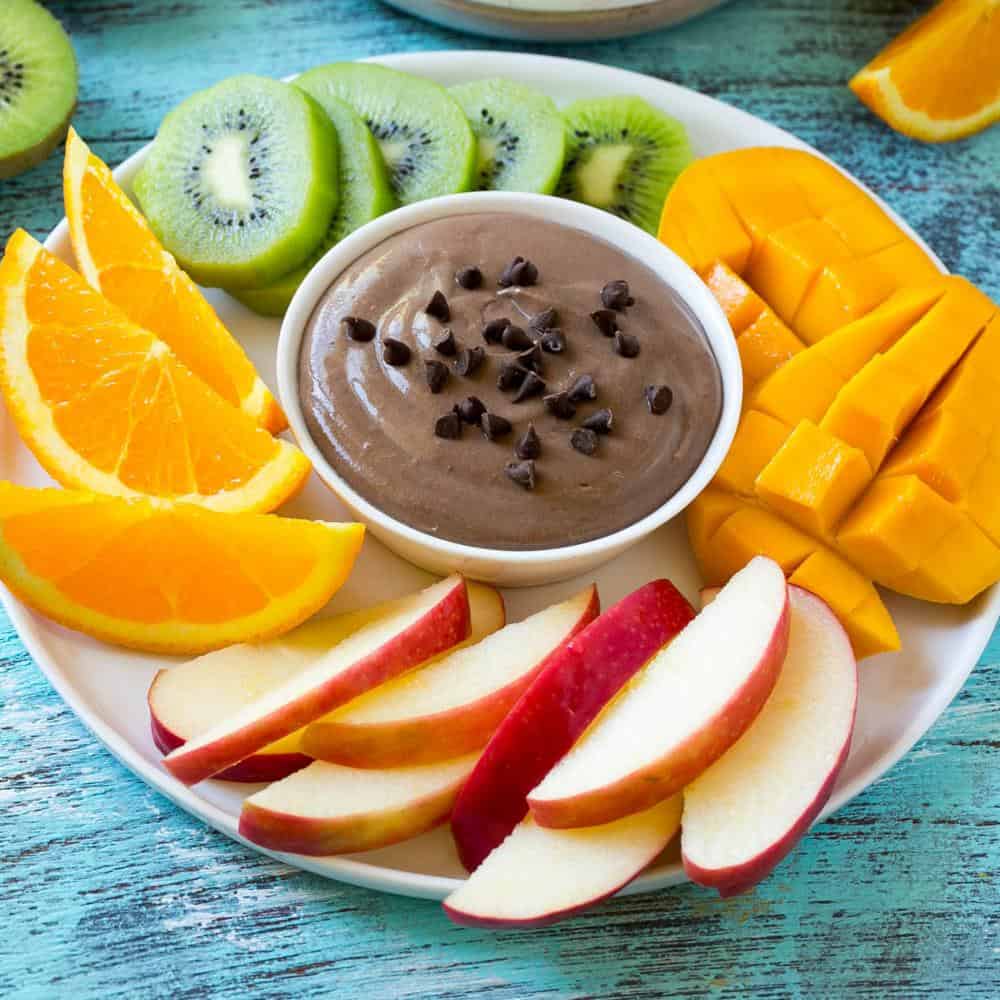 Try this dip with different fruits. My kids love love love Nutella so sometimes i say ok we are only having Nutella once a week and if you guys want any more dips with your fruits we are making this chocolate fruit dip. They were hesitant at first and then they fell in love. But honestly they still prefer Nutella. Even i love Nutella. Who doesn't love Nutella? 
If you make this Chocolate Fruit Dip i would like to hear your thoughts on it. Leave me a message below and don't forget to share it on Pinterest!
Here is another recipe i think you will like: MIXED BERRY FRUIT SALAD
How to make this Chocolate Fruit Dip:
Chocolate Fruit Dip
This chocolate fruit dip is a quick and easy 5 minute snack!

Ingredients
1/4

Cup

Chocolate chips

1

Scoop

Whey Protein

chocolate flavor

1/4

Cup

Almond, cashew or peanut butter

1

Cup

Vanilla Greek yogurt

2

Tbsp

Water

2 tablespoons water optional: 1 tablespoon mini chocolate chips for garnish
Instructions
Place the chocolate chips in a medium bowl; microwave in 30 second increments until chocolate is melted.

Stir in nut butter until mixture is smooth.

Add the Greek yogurt, protein powder and water and stir until a smooth and creamy dip forms. You can add more water if needed, 1 teaspoon at a time, to get to desired consistency.

Serve, topped with chocolate chips if desired.
Nutrition Facts
Chocolate Fruit Dip
Amount Per Serving
Calories 147
Calories from Fat 72
% Daily Value*
Total Fat 8g 12%
Cholesterol 3mg 1%
Sodium 30mg 1%
Potassium 155mg 4%
Total Carbohydrates 12g 4%
Protein 7g 14%
* Percent Daily Values are based on a 2000 calorie diet.