This Keto Shrimp Scampi Zoodles Recipe is a quick, easy, low carb, tasty meal that's lightened up with a delicious lemon butter sauce. This Scampi recipe pairs well with zucchini noodles to make the perfect keto-friendly meal the whole family can enjoy.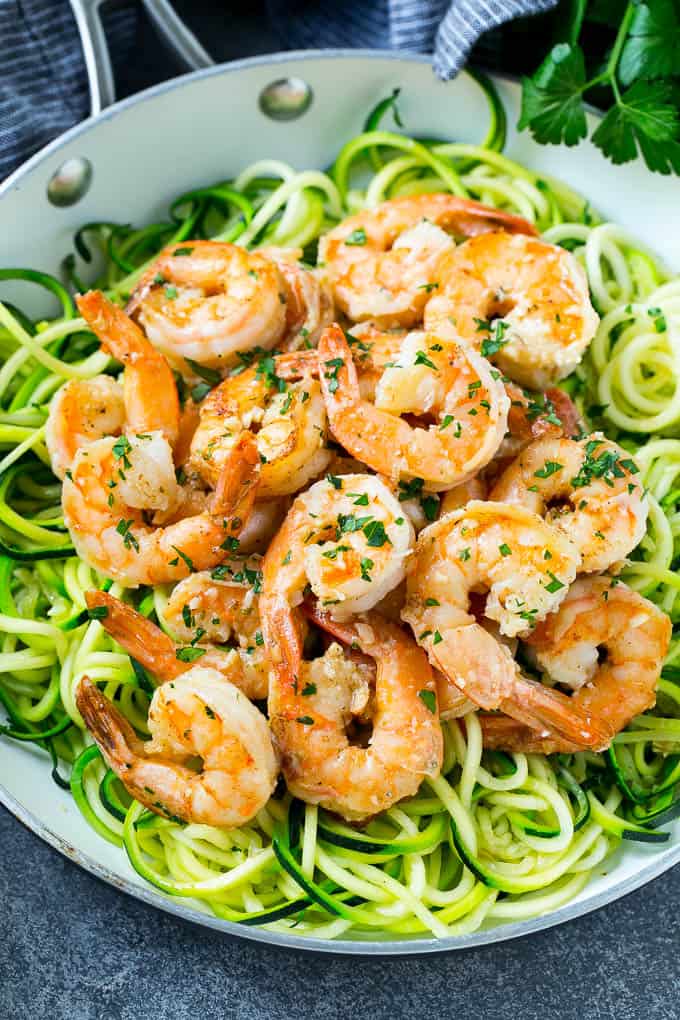 So much we could say about this quick-to-make, Low Carb Shrimp Scampi zoodles recipe. The fact that we made it with zucchini noodles instead of pasta says a lot about this dish. Cut down on the carbs tremendously for a keto-friendly dish that's filling and delicious. Some of you may say nothing beats the taste of pasta. This is true. But those who are looking for low-carb meals will love this easy Shrimp Scampi recipe.
This healthy homemade shrimp scampi recipe is made without wine. Instead, we used broth and lemon juice.
Why you will love this shrimp scampi
Simple and easy: This low-carb shrimp scampi with zoodles is a simple meal to put together and easy to make. We promise.
Delicious: The flavors of this garlicky shrimp scampi will blow you away. Very tasty and full of flavor.
Healthy and low in carbs: Perfect if you are on a keto diet and looking for a low-carb meal that's filling and tasty.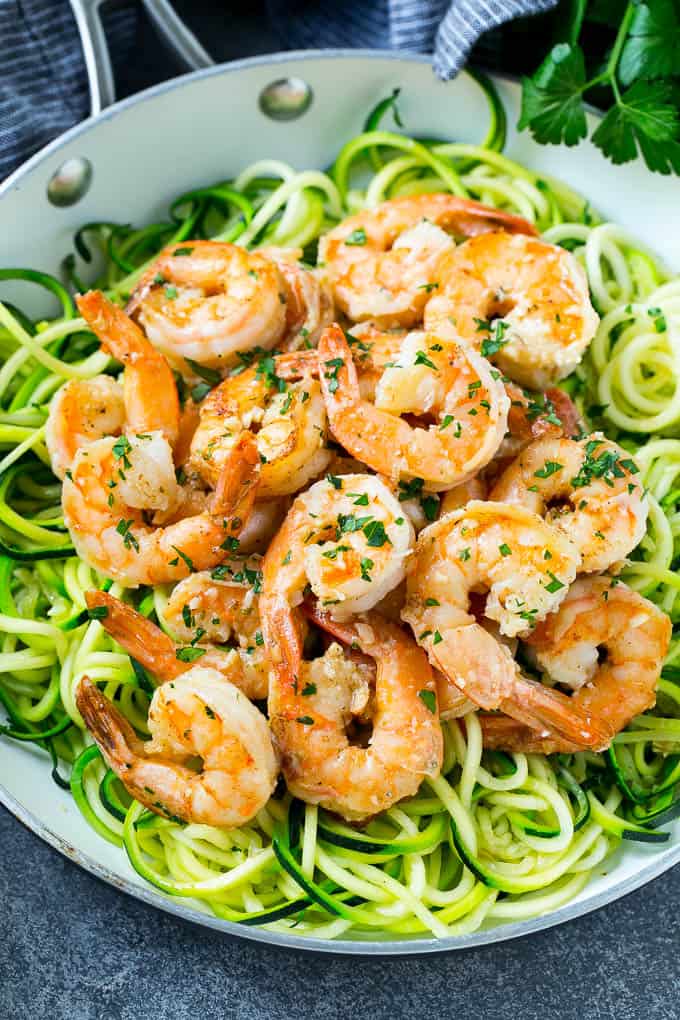 Ingredients you will need
Zucchini: better to use green zucchini if planning to spiralize into noodles.
Butter or olive oil: any kind of oil. Avocado or olive oil
Shrimp: use frozen raw shrimp, peeled and deveined. Allow thawing first
Minced Garlic: use fresh garlic cloves if possible. Not garlic powder.
Italian seasoning (or equal parts dried garlic, oregano, and basil)
Chicken Broth: or any broth of choice. Vegetable broth works too
Lemon Juice: use fresh lemons
Chopped parsley: used to garnish
Salt and pepper to taste
HOW TO MAKE SHRIMP SCAMPI ZOODLES
We have a video on how to make this keto shrimp scampi. Take a quick look at the video for easy how to step by step.
First, heat a skillet, then melt the butter over medium-high heat. This should take about a minute or so. Add the shrimp to the pan and sprinkle the Italian seasoning over the shrimp, along with salt and pepper to taste.
Then, cook the shrimp for about 2-3 minutes. Add the garlic and cook for 1 more minute. Next, add the chicken broth to the pan. Finally, add the zucchini noodles to the pan.
Cook, stirring occasionally, for 3-4 minutes or until zucchini noodles are just tender. Add salt and pepper to taste.
Drizzle the lemon juice over the top of the shrimp and zoodles. Sprinkle with parsley and serve. You may add more lemons or crushed peppers after this step.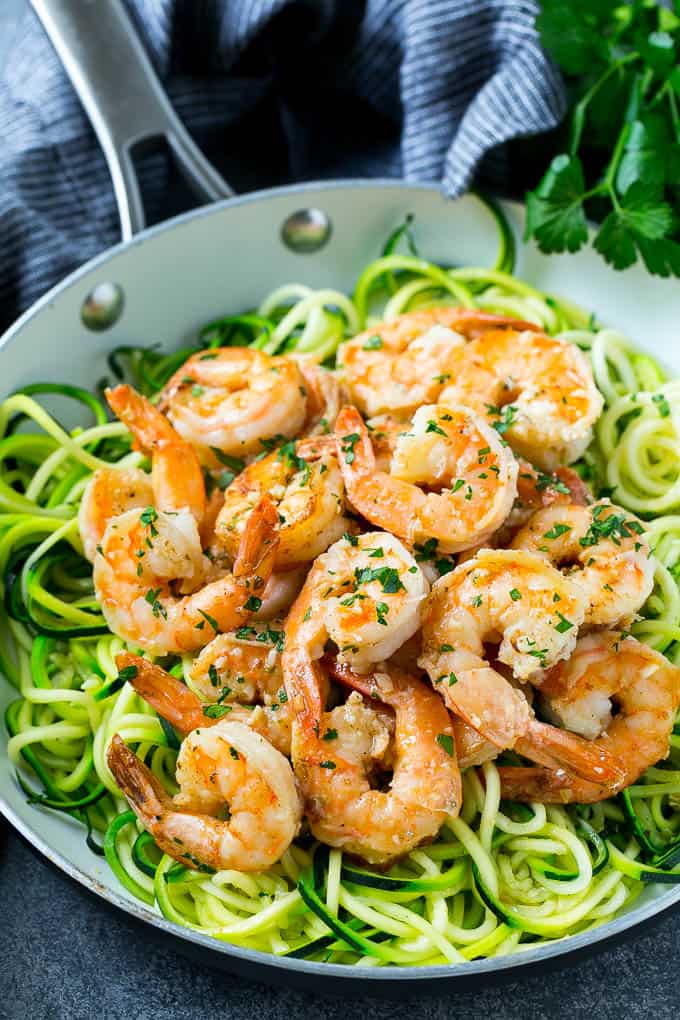 Frequently asked questions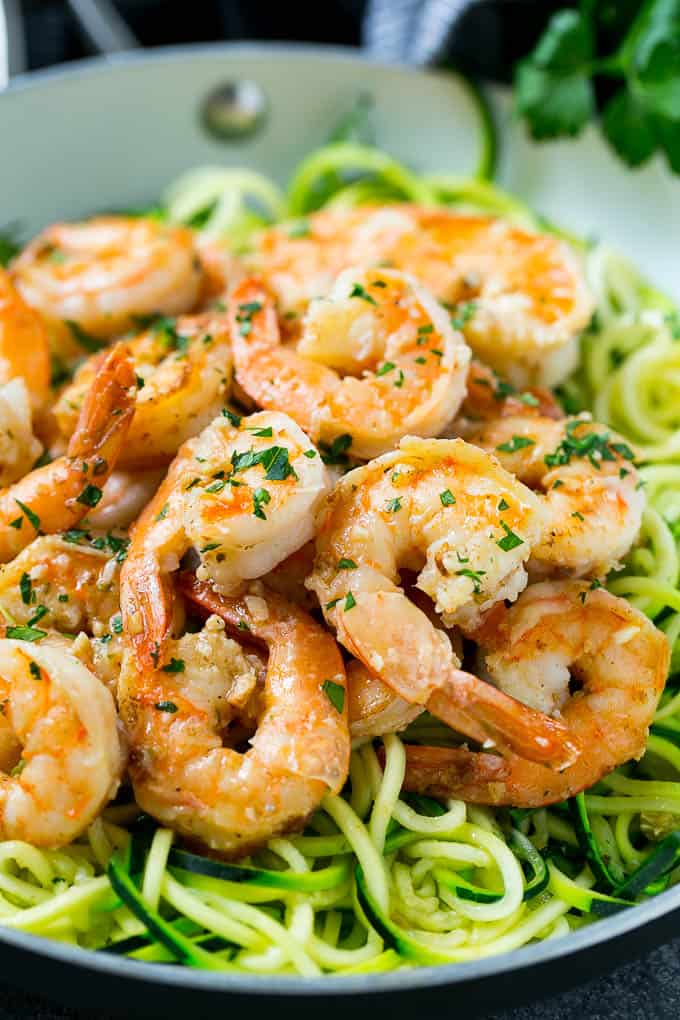 We vouch that this is the best keto Zucchini Shrimp Scampi recipe out there. Planning on making this? Please come back and rate it. Leave us a comment below with some feedback. We would love to hear from you. Also, tag us on Instagram using the #healthyfitnessmeals hashtag so we can see what you make from our website.
Recipe Notes and tips
Use a spiralizer for the best zoodle results!
Make sure you have spiralized the zucchini into zoodles before you get started.
If you want to dip your toe into zoodles, you can always do a 50/50 mix of zoodles and whole wheat pasta. You'll have to cook the whole wheat pasta prior to the rest of the recipe.
Add some crushed chili flakes for a kick of heat.
Cut the zoodles into 6-inch lengths so they are easier to eat.
Don't overcook the zoodles or they will become too watery.
For an extra Italian twist, sprinkle on some Parmesan before serving.
Top with parsley for a pop of freshness.
Serve immediately.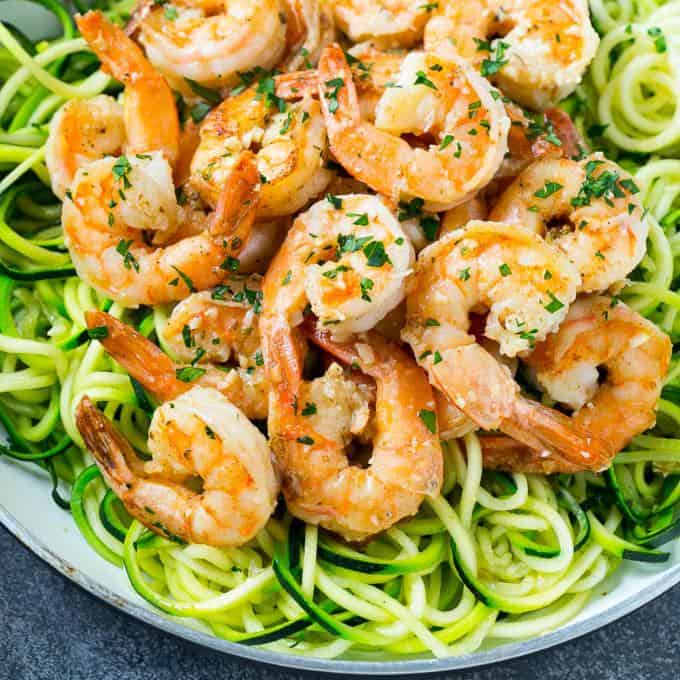 More Zoodles recipe for you: