Cheesy and savory, lemon shrimp pasta with zoodles is a healthy recipe that is perfect for the entire family. Freshly ground parmesan cheese, spiralized zucchini, whole-wheat pasta, and fresh lemon juice are lightly combined and encompass this shrimp and pasta recipe.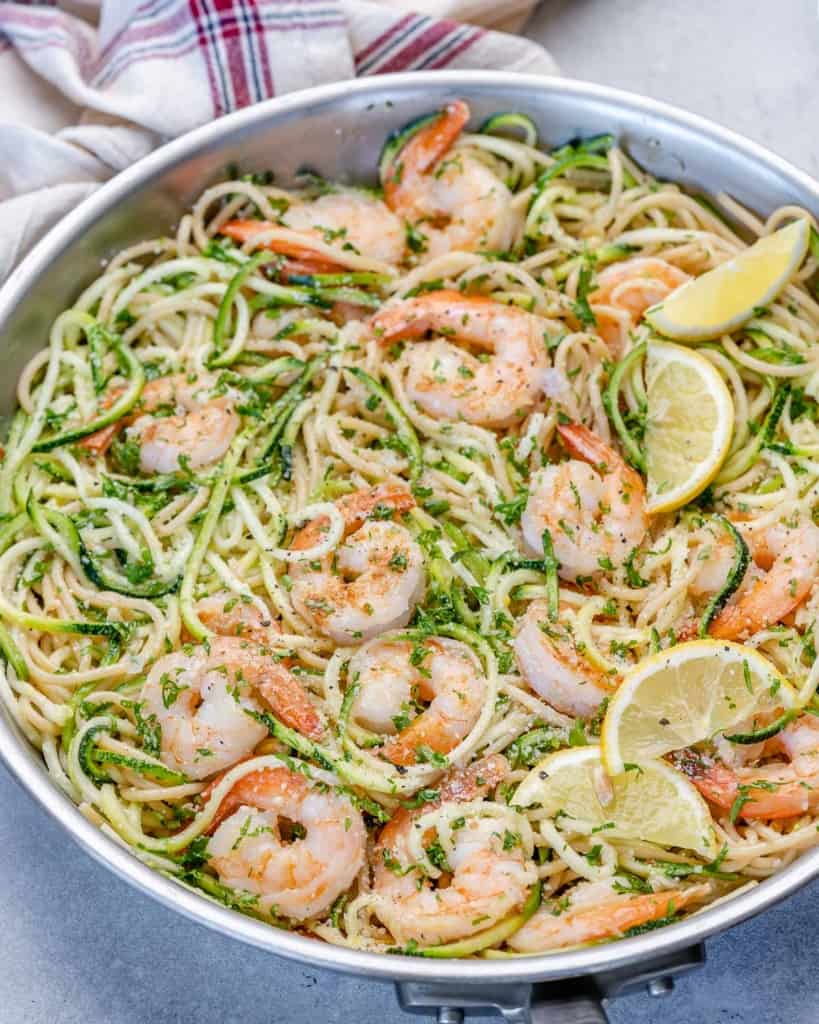 In the mood for pasta but want something a little healthier? This recipe for lemon shrimp garlic pasta recipe is made with freshly spiralized zoodles for an extra serving of fiber and nutrients.
Lemon garlic shrimp with pasta and zoodles comes together within 30 minutes and is a healthy Italian-style dinner that is perfect for those busy weeknights at home. Shrimp and pasta recipes are loaded with protein and tender prawn flavors!
Enjoy this simple and easy shrimp pasta recipe for dinner or lunch and serve it any day of the week. It is a perfectly healthy and guilt-free shrimp and pasta recipe that the whole family can enjoy. It is made with a handful of simple ingredients you most likely have and can be ready in just 30 minutes. This meal can be served low carb and keto-friendly by skipping the pasta and serving it with just the zoodles.
Why This Shrimp & Pasta Recipe is the Best
Flavorful and delicious: The flavors of parmesan, lemon juice, and parsley create a bright combination that is like no other. If you like bright savory pasta, then you will love this lemon garlic shrimp recipe.
Quick and easy: Cooking the pasta is the longest step of this easy recipe! After the pasta has cooked until al dente, the shrimp are quickly sautéed on the stovetop and tossed with all of the other fresh ingredients.
Healthy with protein: Shrimp is packed with protein and the addition of zucchini gives this pasta dish a wholesome nutritious spin.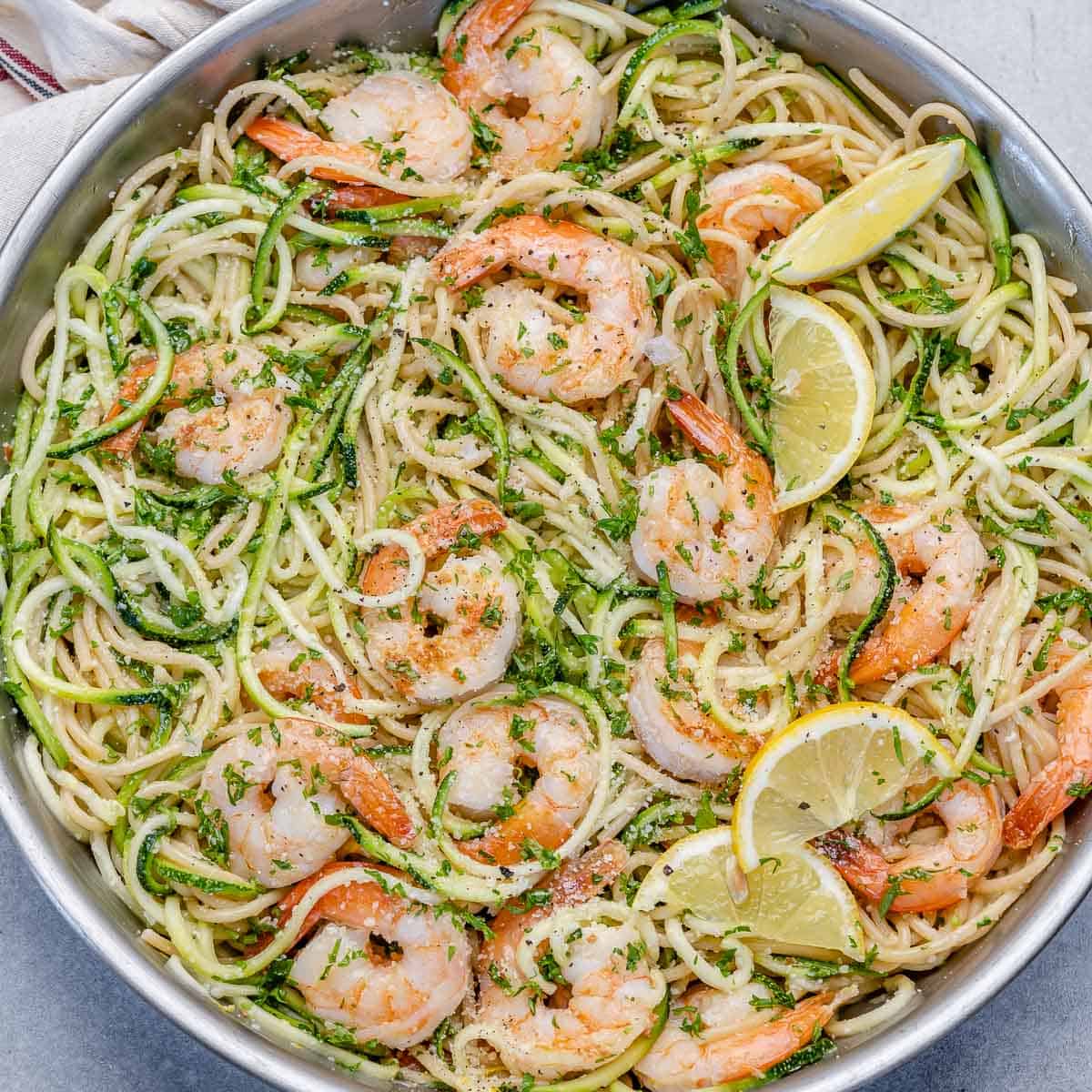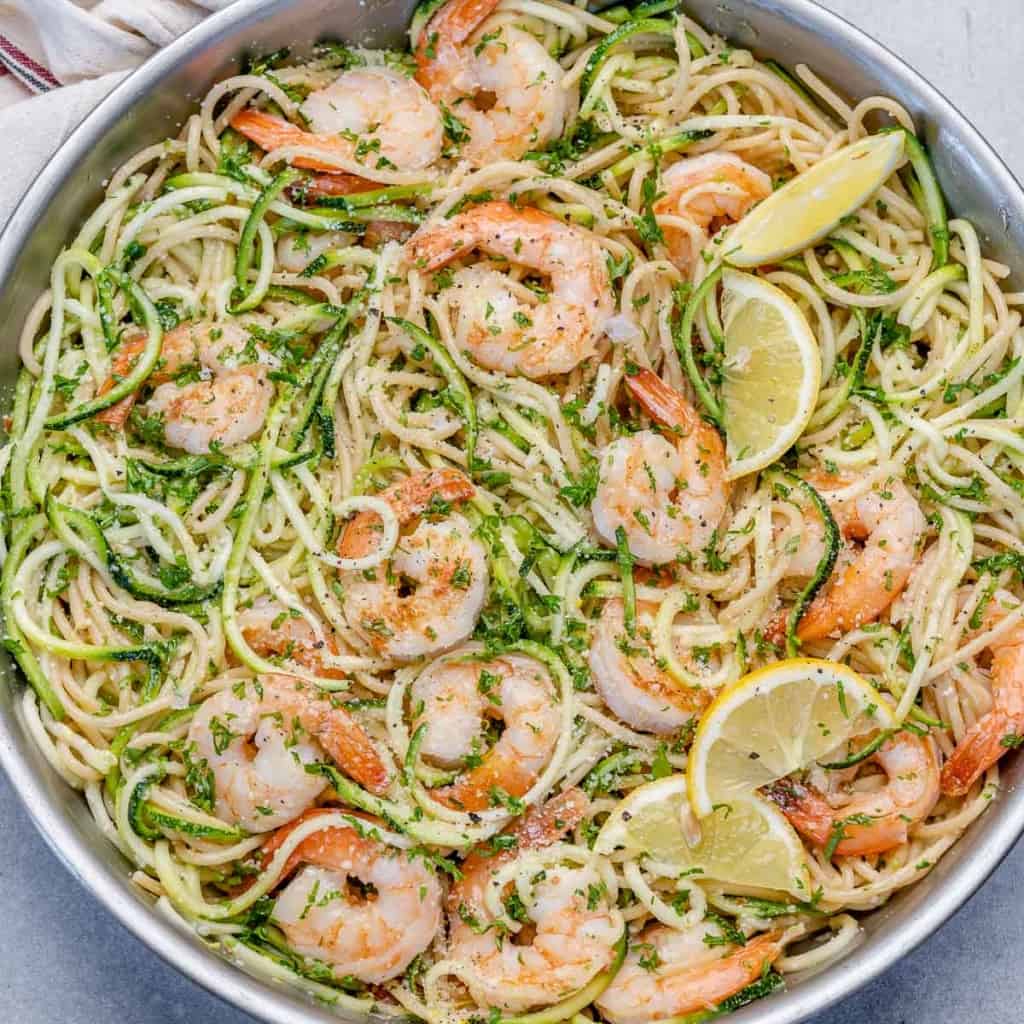 Ingredients you will need for this Healthy Lemon Shrimp Pasta
Spaghetti pasta: You will need whole-wheat spaghetti pasta to keep this pasta dish on the healthier side. Whole-wheat pasta is much healthier than regular pasta.
Olive oil: Olive oil is fragrant, rich in flavor, and a great ingredient for this Italian-style recipe. We recommend using fresh high-quality oil if possible.
Garlic: Freshly minced garlic provides plenty of savory flavors for this lemon shrimp pasta recipe. Fresh garlic is best, but garlic powder will work in a pinch.
Shrimp: One pound of peeled and deveined shrimp are cooked until just done for the freshest most tender flavors. The shrimp absorbs all of the other savory fresh ingredients.
Zucchini zoodles: Fresh and spiralized zucchini creates fresh zoodles. Two large zucchini are what you will need.
Lemon: The zest and juice of two lemons provide this shrimp recipe with the most pungent bright flavors.
Parmesan cheese: Grated parmesan cheese gives this shrimp lemon pasta cheesy savory flavors anyone will love. We highly recommend freshly grated parmesan.
Parsley: Green leafy parsley is bright and fresh in flavor. The parsley ties everything together!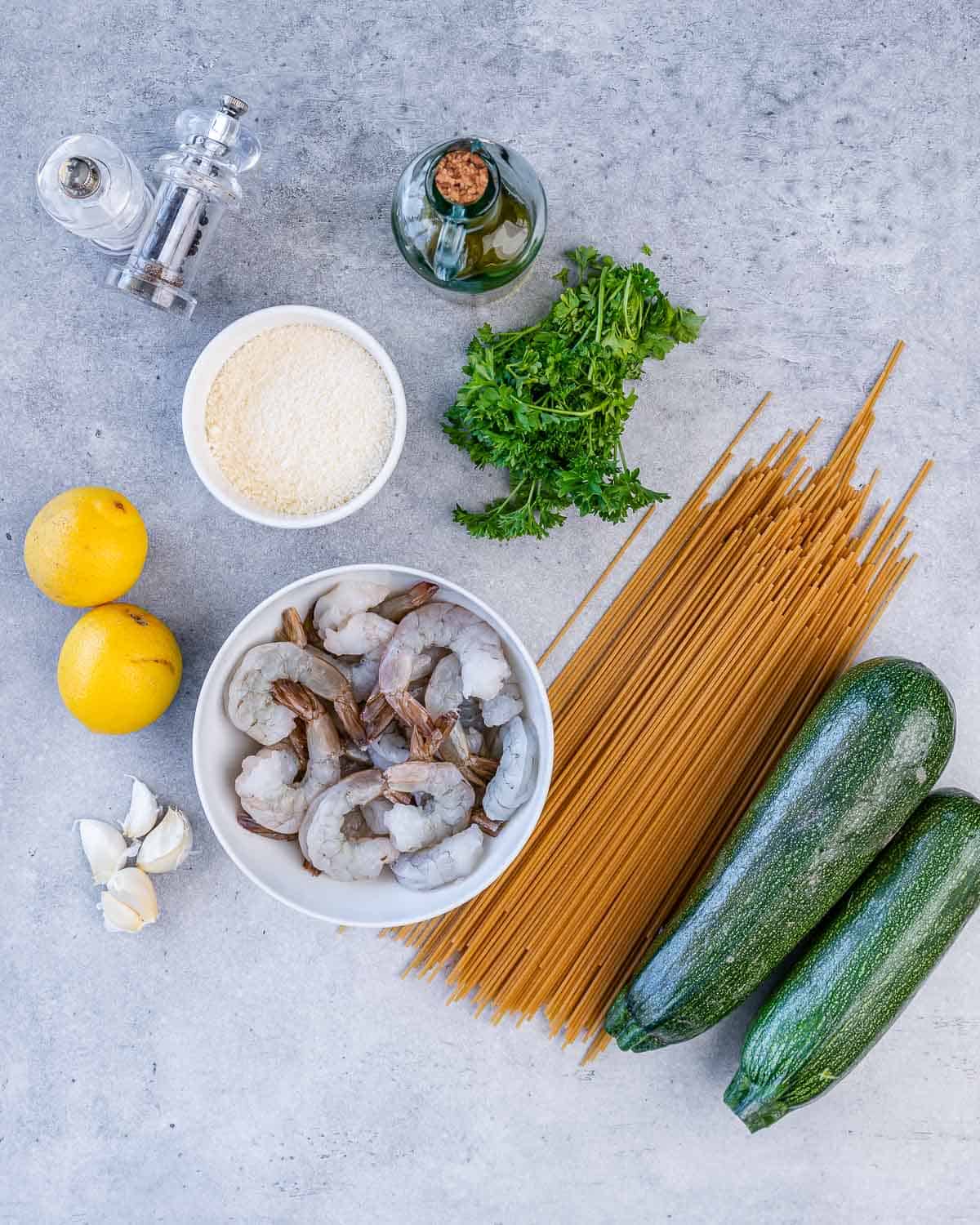 How to Make Shrimp Pasta With Zoodles
First, cook the pasta in salt water according to the package's instructions. Once the pasta is al dente, reserve one cup of the pasta water and drain the pasta.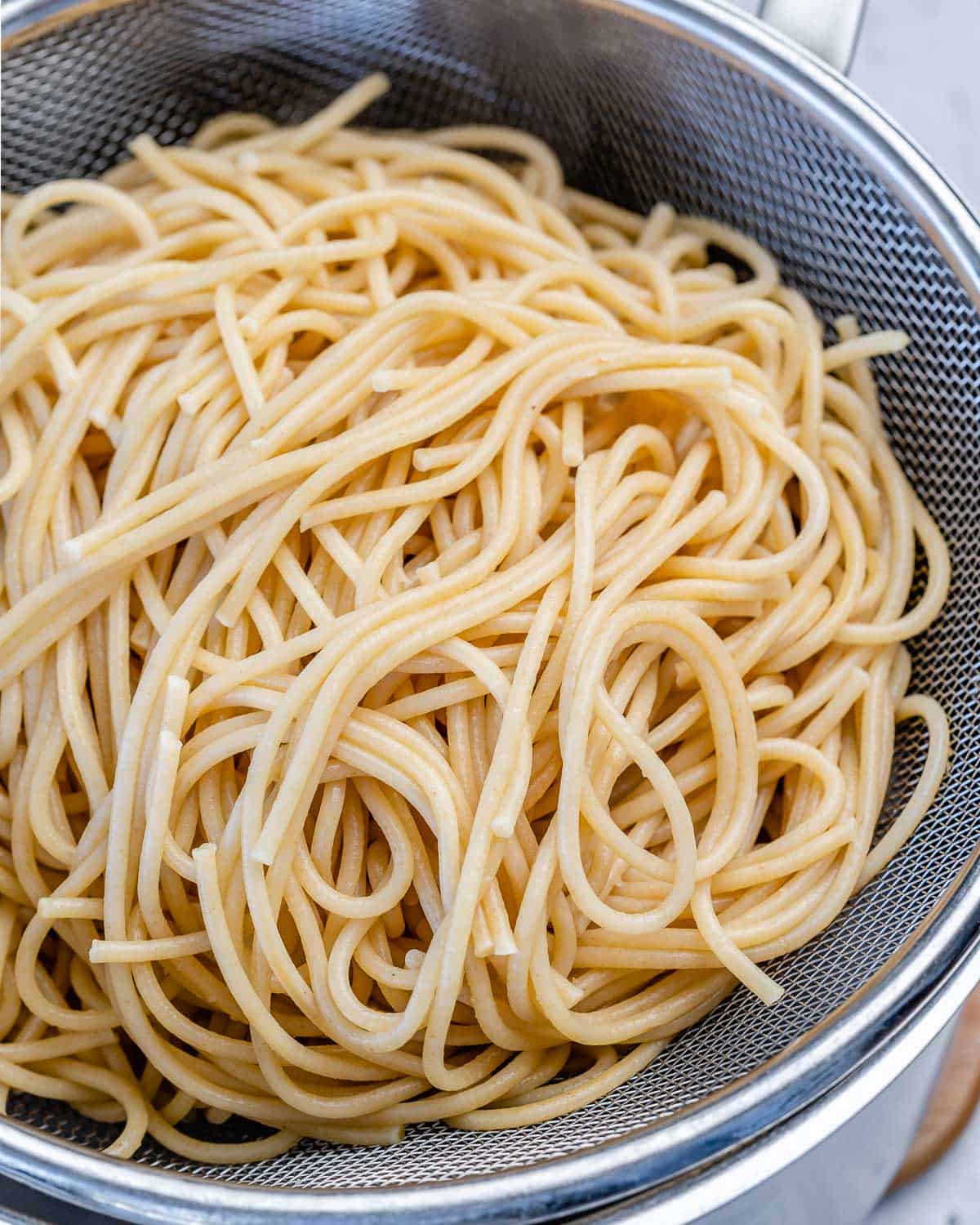 Meanwhile, heat oil in a large skillet over medium heat. Next, add the garlic to the pan and sauté for 30 seconds until fragrant. Be careful not to burn the garlic.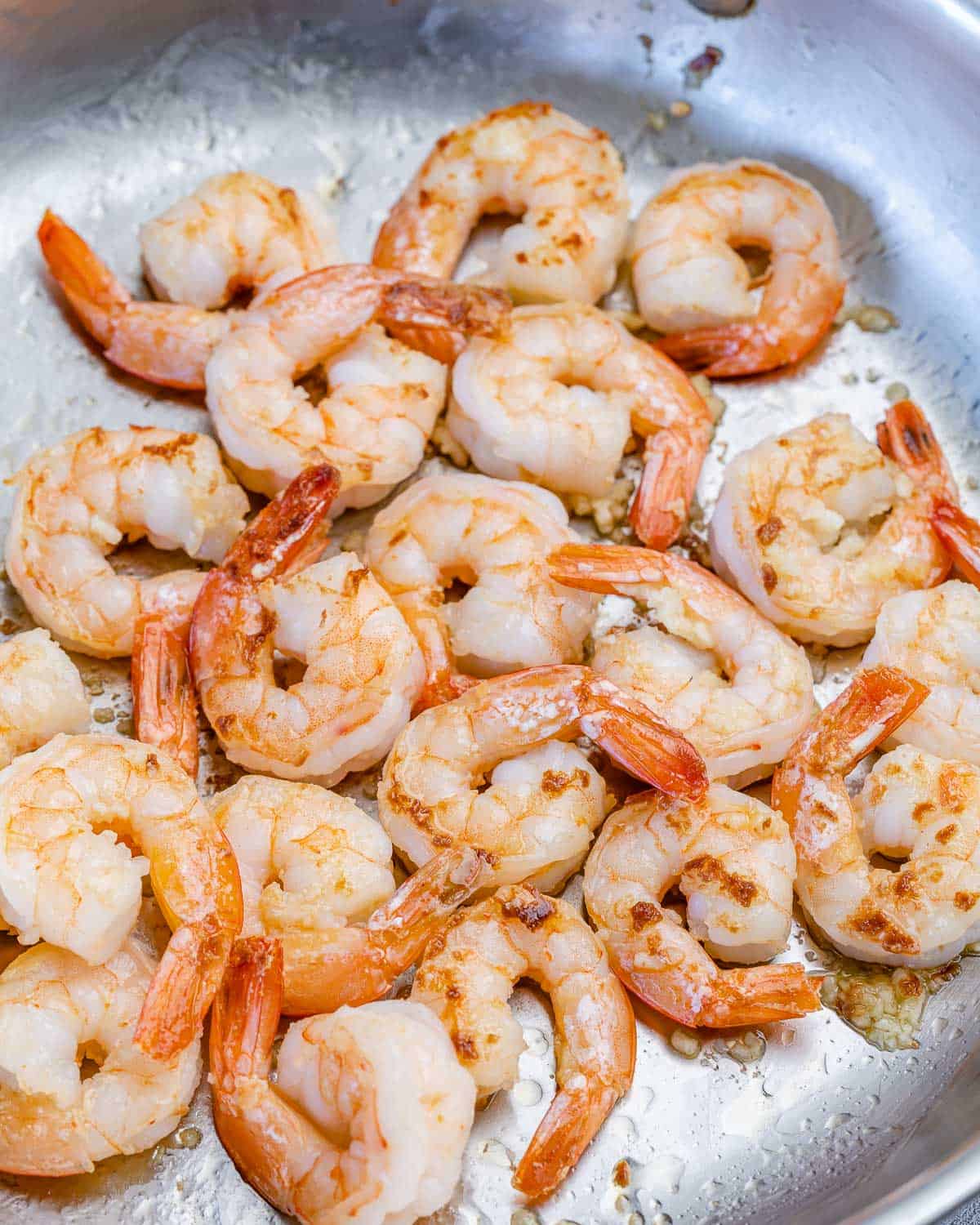 Stir the shrimp into the pan and cook for two to three minutes until opaque and pink.
Next, remove the pan from the heat and add the pasta along with the pasta water. Add the zoodles, lemon juice, zest, parmesan, and freshly chopped parsley.
Toss all of the ingredients lightly until combined. Serve and enjoy!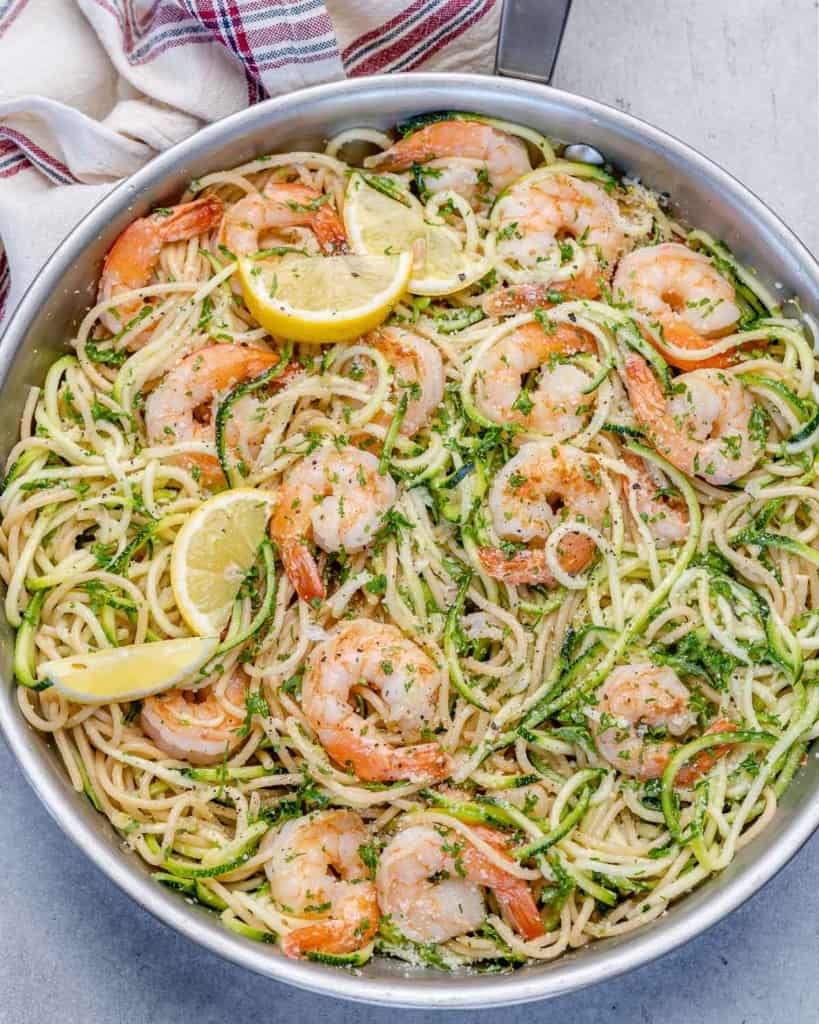 Recipe Notes and Tips
Store the leftovers in an airtight container in the refrigerator for up to four days.
Instead of shrimp, try other types of seafood or even chicken. You do not have to use shrimp. Do use raw shrimp instead of pre-cooked shrimp.
You can find zoodles at most grocery stores near the produce section or make your own. It is really easy to make your own zoodles at home. Here is a step-by-step process on how to make zucchini noodles that you can check out.
Season lemon garlic pasta with zoodles with salt and pepper to your liking.
Do not overcook the zoodles so it doesn't come out soggy and watery.
Add some chili peppers if you prefer this to be a bit on the hot side.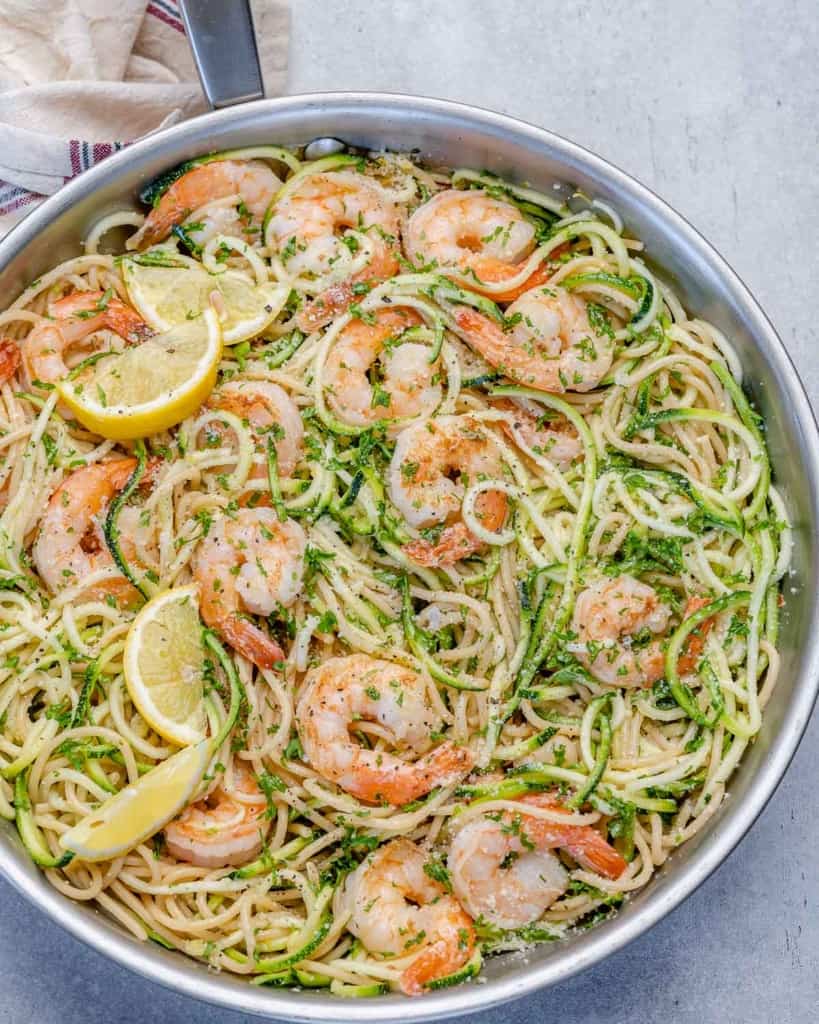 Frequently Asked Questions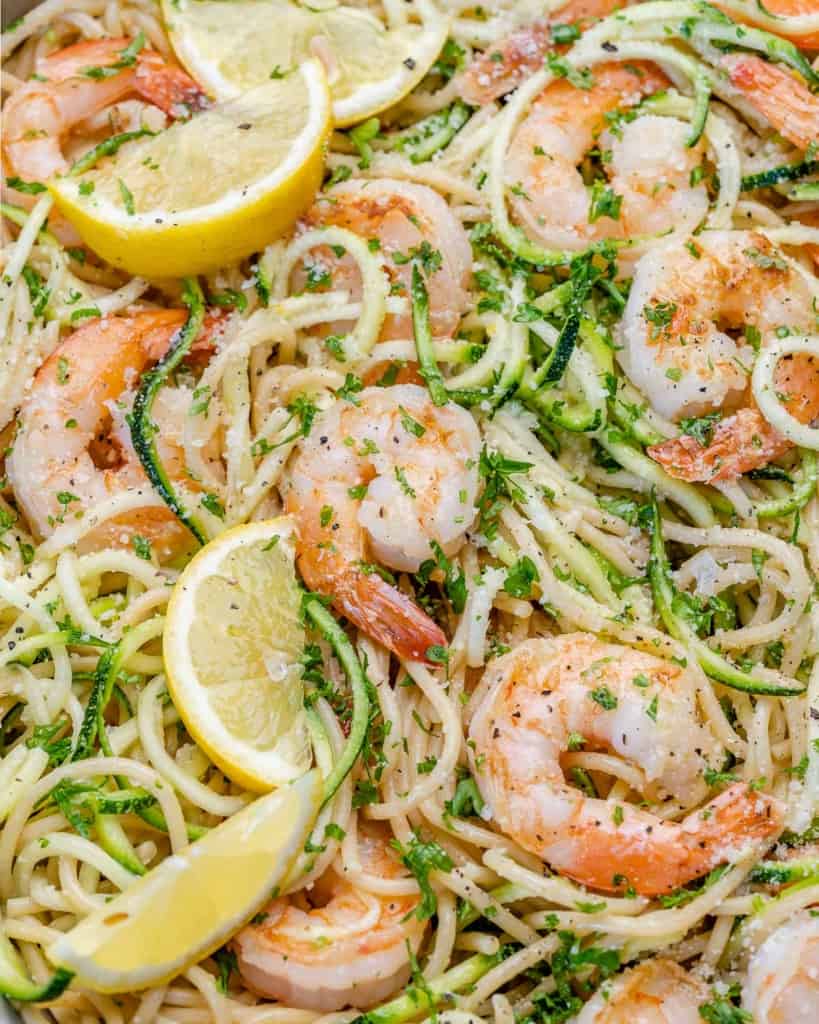 What to Serve With Lemon Garlic Shrimp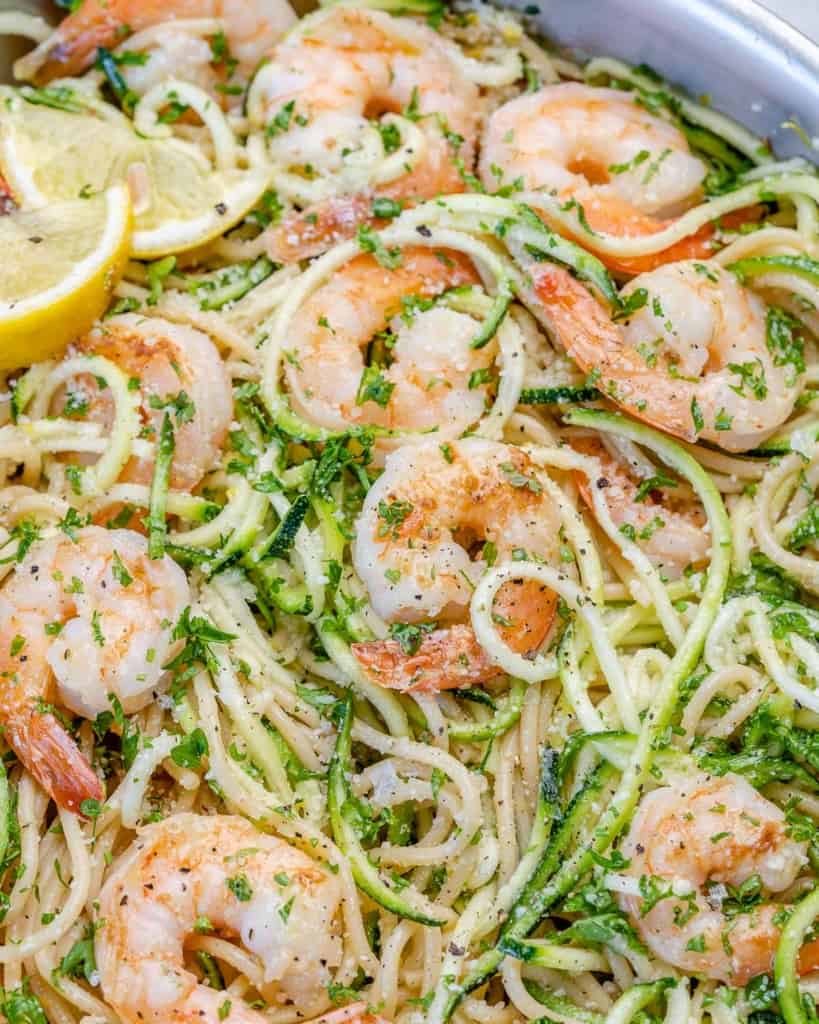 Other Pasta Recipes You Will Love
Healthy Chicken Carbonara Pasta
Light and Healthy Chicken Alfredo With Zoodles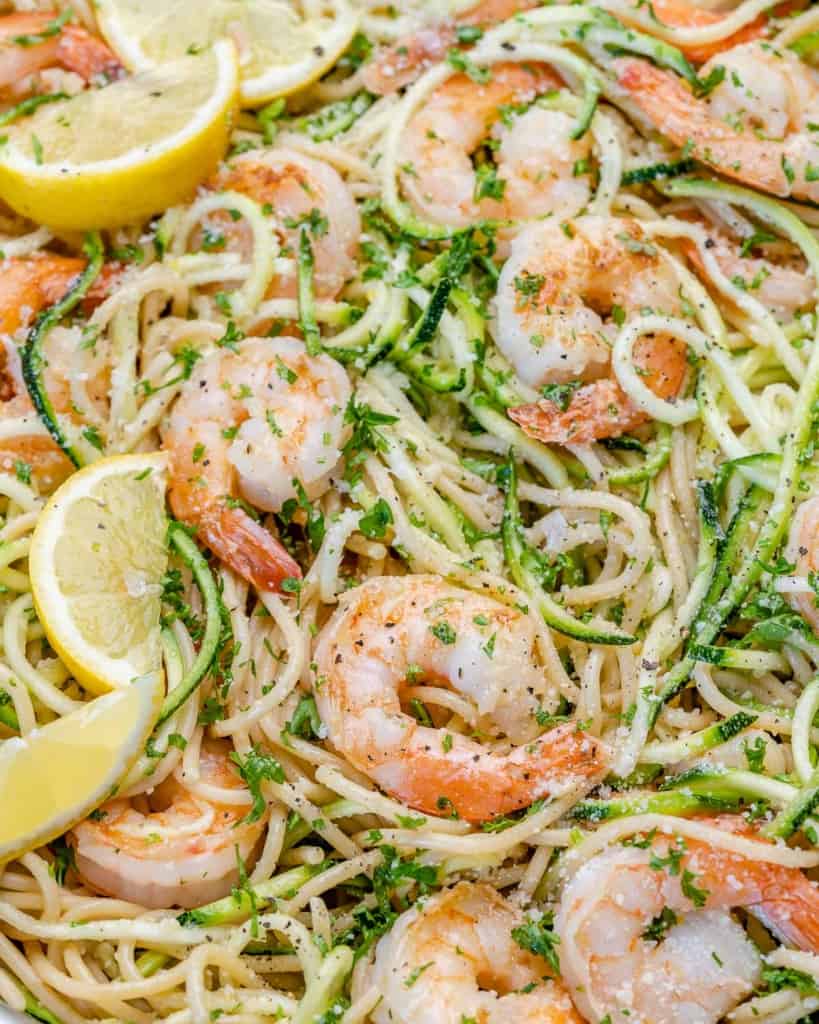 Also, if you try a recipe and you like it, leave us some feedback in the comment section below. Don't forget to rate the recipe, too! We would love it if you shared it with friends and family.
Finally, please use our hashtag #healthyfitnessmeals on INSTAGRAM for a chance to be featured, too! FOLLOW Healthy Fitness Meals on FACEBOOK | INSTAGRAM | PINTEREST | TWITTER for all of our latest blog posts and recipes.