This Roasted Chickpea and avocado salad is a great way to use up your veggies and enjoy a great-tasting salad loaded with fiber. Easy to make salad recipe with a homemade Greek yogurt dressing that's simple and delicious.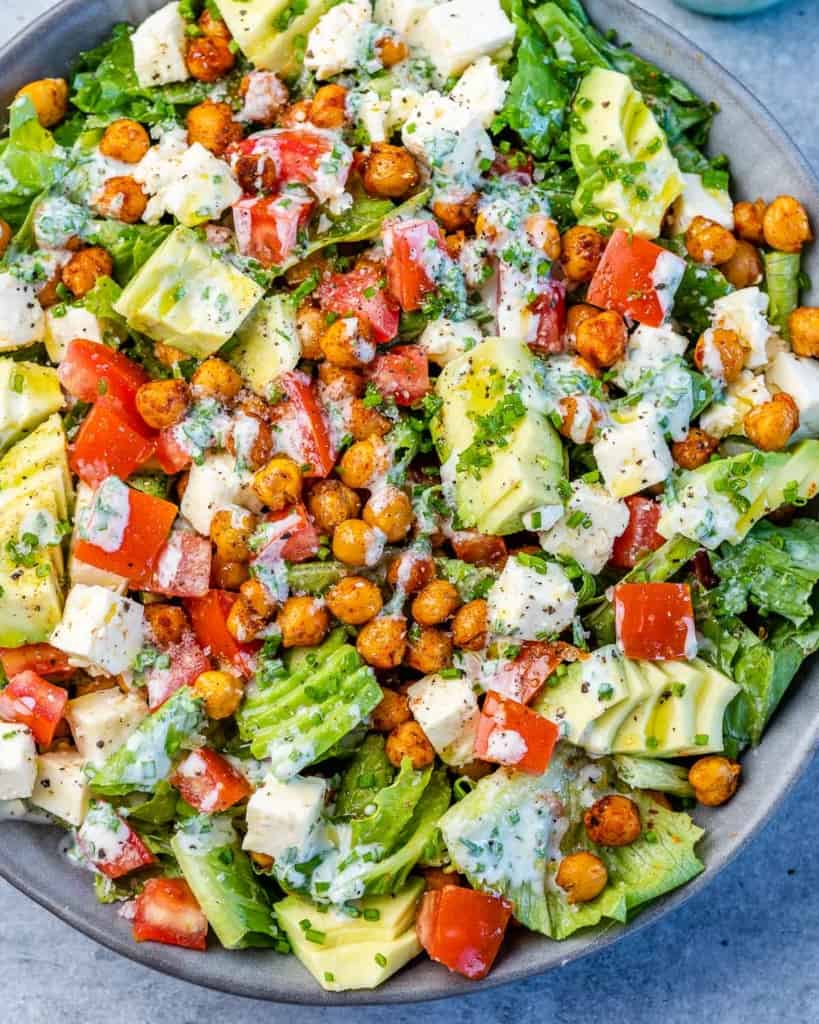 Roasted chickpeas are perfect to add over salads for added fiber and protein. This roasted chickpea salad recipe is loaded with veggies, topped with roasted chickpeas, avocados and then tossed in with a delicious homemade creamy Yogurt Dressing. The homemade Dressing is simple and made with Greek yogurt, honey, mustard, chives, parsley, garlic, salt, pepper, oil, and lemon juice. This chickpea avocado salad recipe makes for a perfect healthy lunch or light dinner you can enjoy any day of the week.
Why you will love this easy chickpea salad
Simple and easy: This roasted chickpea salad recipe is simple and quite easy to make. Once you roast the chickpeas, you build up the salad with the veggies you are using and toss with the homemade dressing.
Nutritious and healthy: Chickpeas are loaded with fiber and protein. A great addition to add to salads to keep it vegetarian-friendly but yet filling and satisfying.
Mouthwatering good: This chickpea salad is extremely flavorful and delicious. You would love it and it will become your go to salad.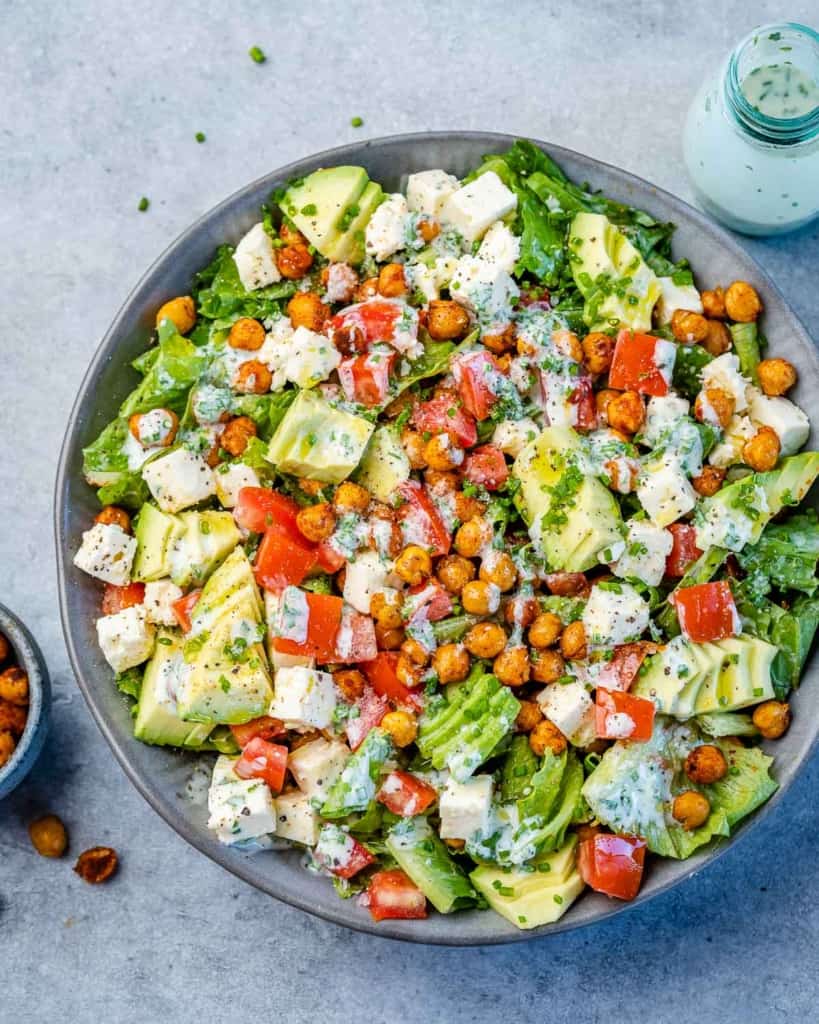 Ingredients you will need
Keep in mind the ingredients below are only what you will need to make this chickpea salad recipe. The full measurements are listed further down below.
For the chickpeas:
one can chickpeas
olive oil
seasoning: cinnamon, smoked paprika, and salt
For the dressing:
Greek yogurt
honey
Dijon mustard
olive oil
fresh chives
fresh parsley
lemon
garlic cloves
salt and pepper
For the salad:
​chopped romaine lettuce or greens of choice
large tomatoes like vine-ripe tomatoes
2 ripe avocado
feta cheese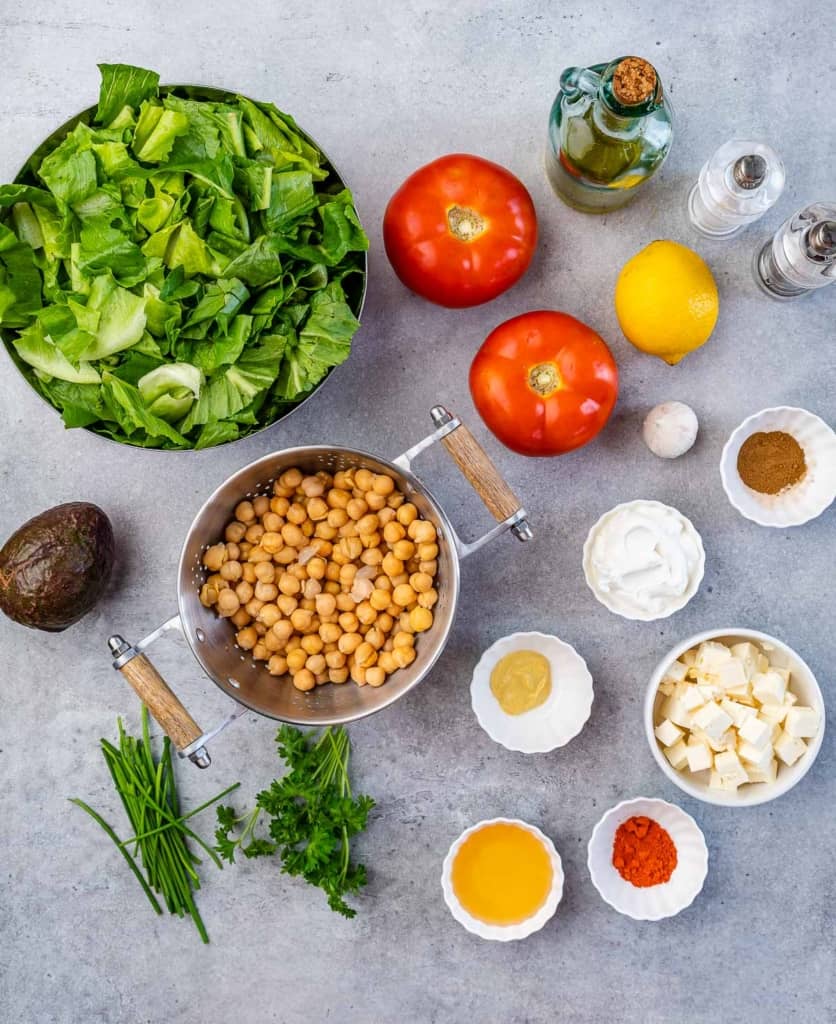 How to easily make this Roasted chickpeas and avocado salad recipe  
First, you will need to roast the chickpeas: So, preheat the oven to 375 F. Drain and rinse the chickpeas. Pat them dry with paper towels and remove any loose skins. Add them to a baking dish and drizzle with olive oil; Toss with the seasonings then bake for 30 minutes.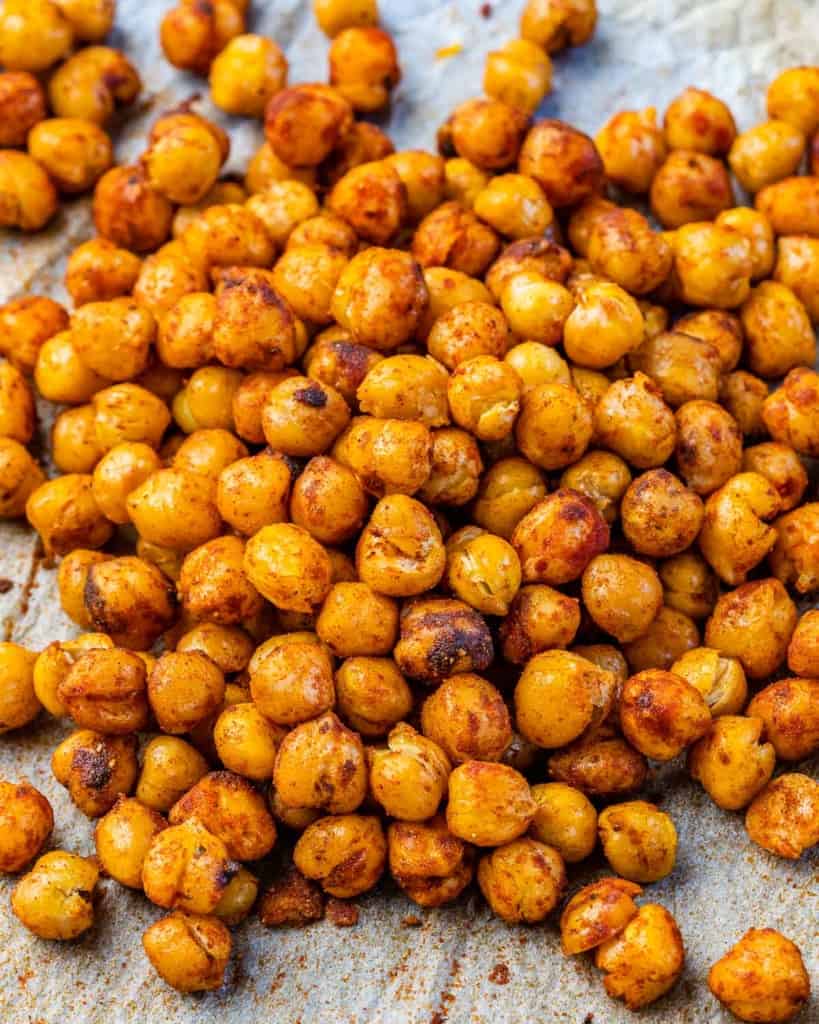 Next, allow the chikpeas to cool down: Once the chickpeas are baked, let them cool at room temperature for 15 minutes to become crispy.
While chickpeas are roasting make the dreesing and assemble the salad.
Make dressing: For the dressing, add all the ingredients to a small jar and mix well to combine.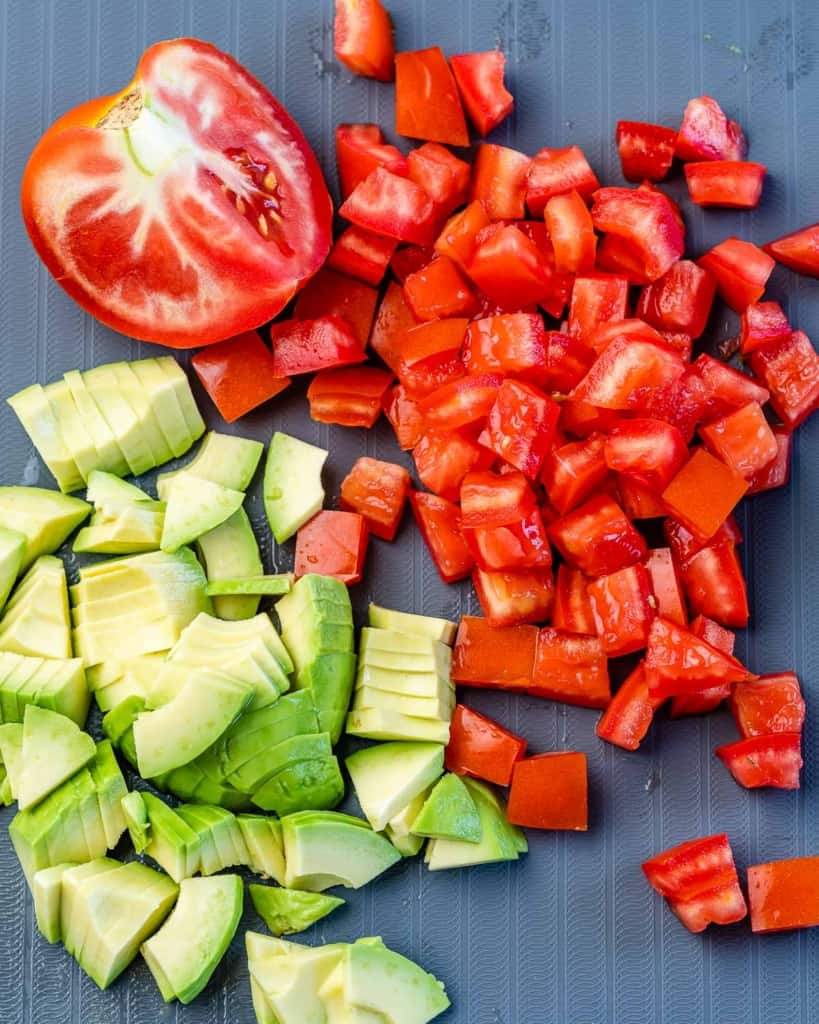 Assemble salad: In a large salad bowl, toss the veggies, cheese, roasted chickpeas together with the dressing. 
Serve: Garnish with freshly chopped parsley and enjoy!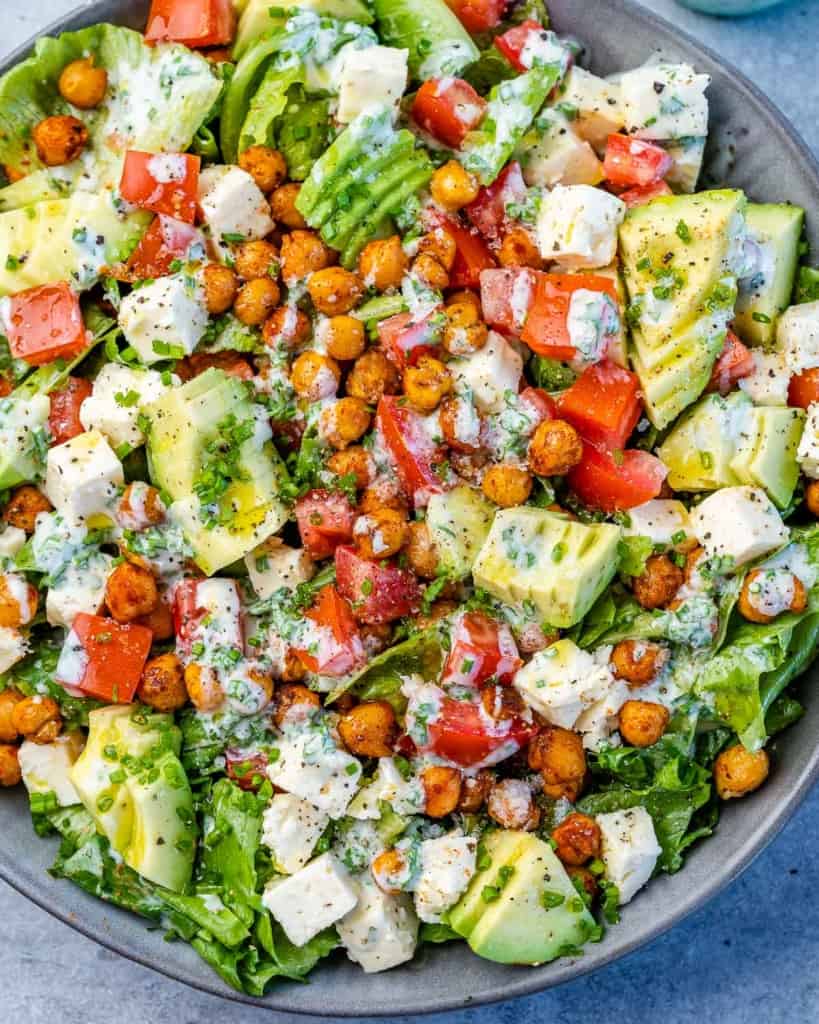 frequently asked questions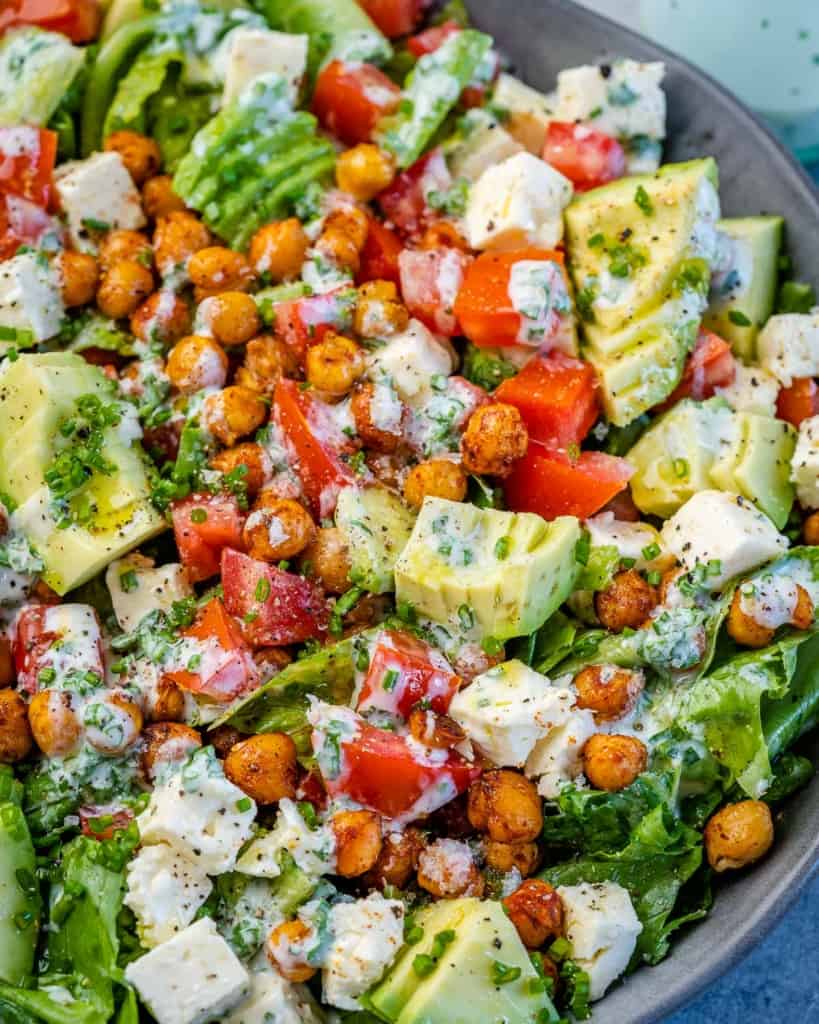 Recipe notes, tips, and substitutes
Do not use over-ripened avocados. You need them to be ripe but firm.
Any lettuce of choice or greens will work. We used Romaine lettuce
Yogurt: Greek yogurt was used but plain yogurt will work, or any plant-based yogurt you prefer. 
 Use only fresh veggies to make a salad. We recommend you do use fresh garlic cloves instead of garlic powder.
Fresh lemon juice will taste much better than bottles of lemon juice. But if you are in a pinch and only have bottles of lemon juice you may use that instead. 
We used canned chickpeas but you may use dried chickpeas and just cook them ahead.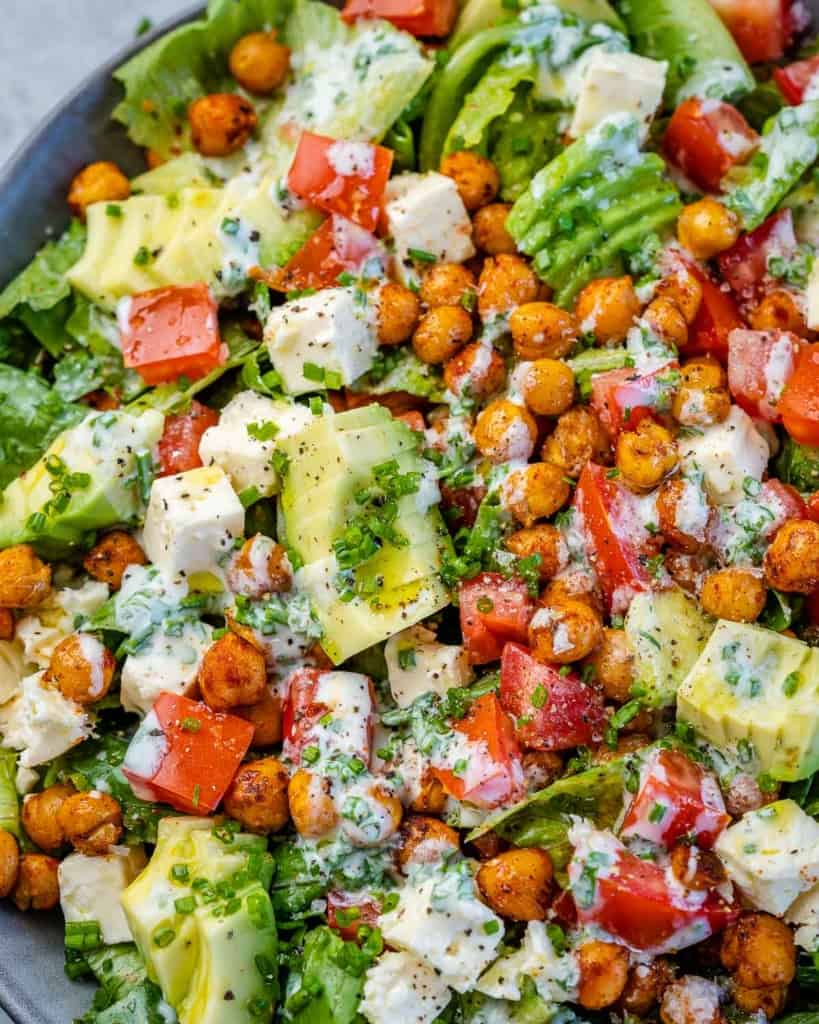 Other easy salad recipes you may like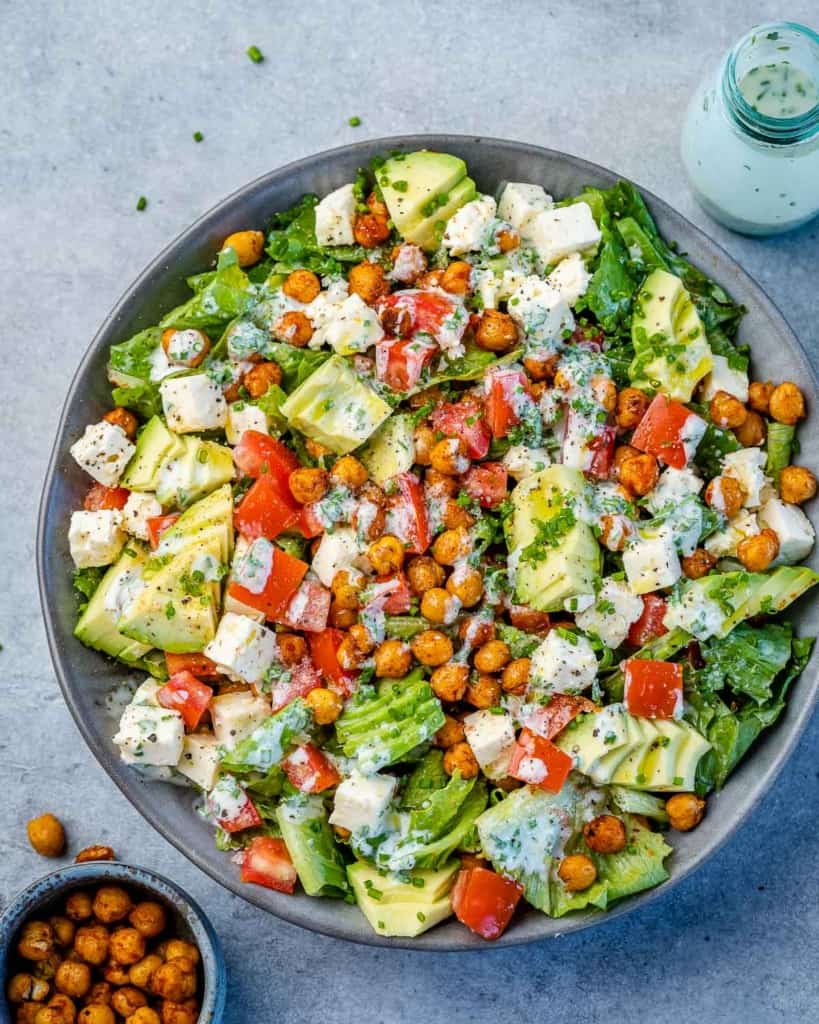 If you try a recipe and you like it, leave us some feedback in the comment section below, and don't forget to rate it! We would love it if you shared it with friends and family.
Finally, please use our hashtag #healthyfitnessmeals on INSTAGRAM for a chance to be featured! FOLLOW Healthy Fitness Meals on FACEBOOK | INSTAGRAM | PINTEREST | TWITTER for all of our latest blog posts and recipes.