Healthy, flavor-packed Enchilada Stuffed Zucchini Boats are packed with chicken, enchilada sauce, and layers of shredded cheese. Stuffed zucchini is easy to make, super tasty, and perfect for using up garden-fresh zucchini!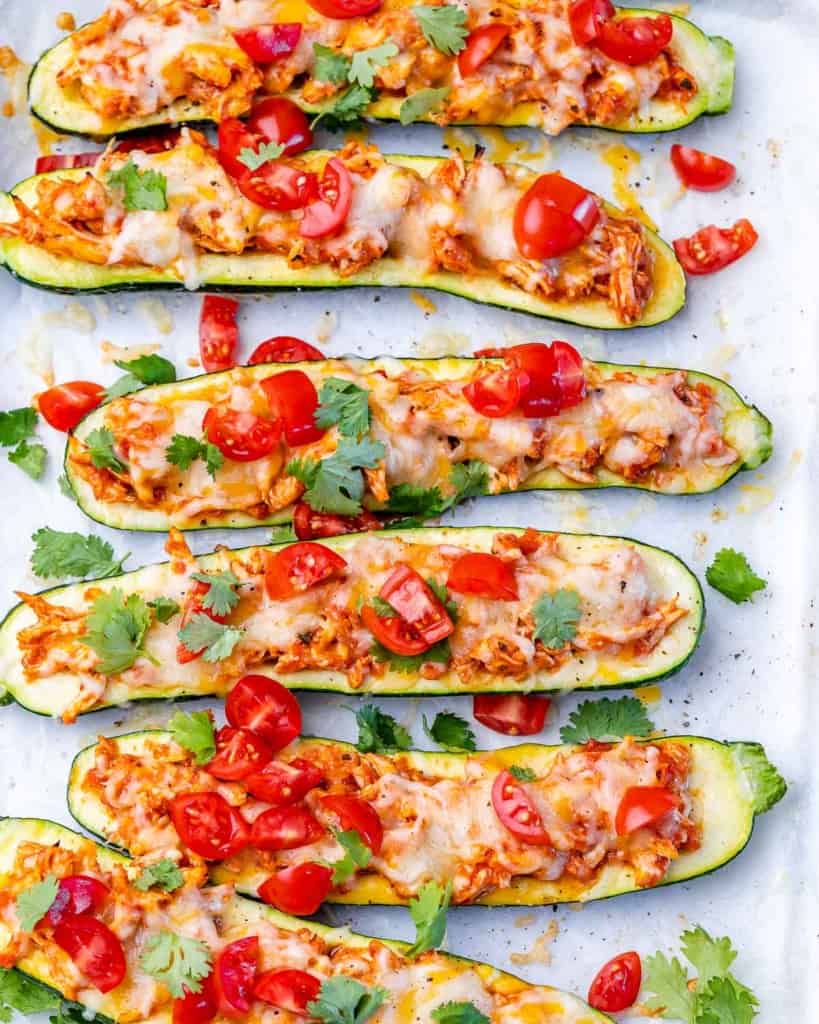 If you've never had zucchini boats before, you're in for a real treat. These Enchilada Stuffed Zucchini Boats happen to be our seventh recipe for zucchini boats on the site! Try these Low Carb Pizza Zucchini Boats and WOW get ready to fall in love.
This new recipe includes a delicious enchilada chicken filling, Mexican blend cheese, juicy tomatoes, and fresh cilantro. Overall, this dish is pretty simple to make and OMG, it'll make you WANT to eat zucchini. Maybe even two. I think it may have something to do with all that melty cheese!
Why we love this recipe
Easy: This stuffed zucchini recipe is so simple to throw together! All you have to do is prep the zucchini, make the filling, bake, and then top with fresh tomatoes and cilantro and serve! It's super easy!
Healthy: These low-carb Enchilada Stuffed Zucchini Boats use nutrient-rich zucchini instead of tortillas. They are the perfect way to add extra vegetables to your diet!
Family-friendly: Call these zucchini boats and let the kiddos pick them up and eat them with their hands! They won't even notice that they're eating a meal loaded with vegetable goodness.
Delicious: This flavor profile is a crowd-pleaser! And with this twist on enchiladas, you will be satisfied without going overboard on the carbs.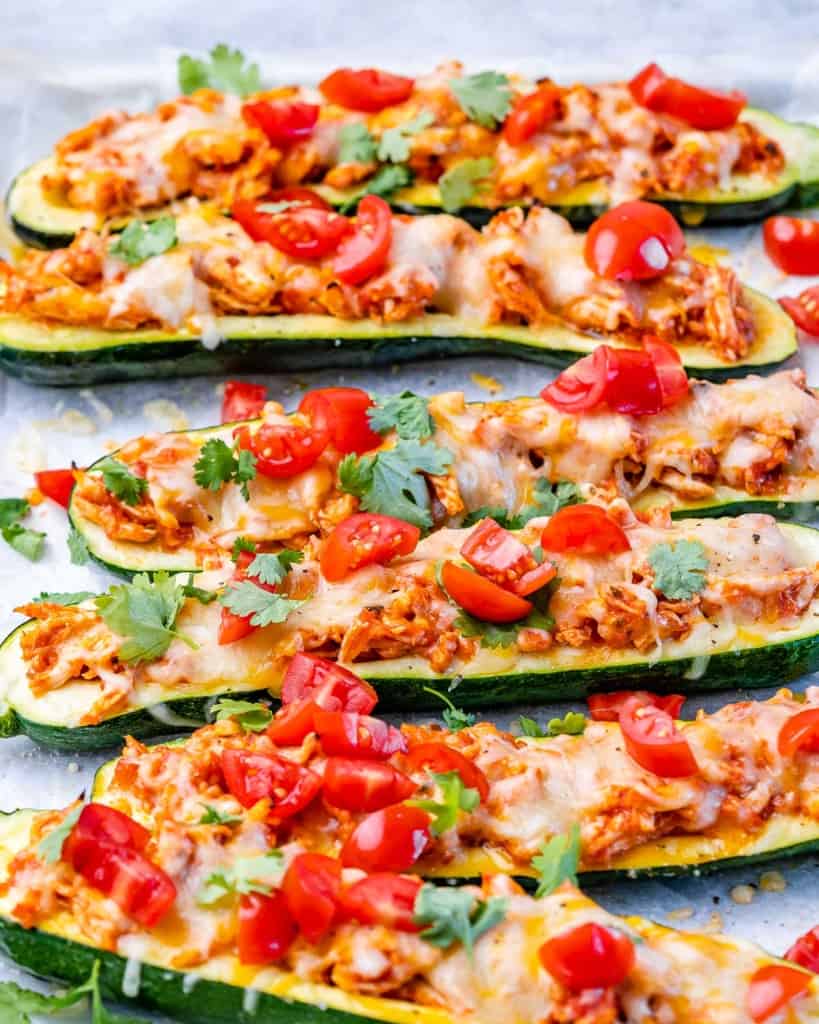 Ingredients needed
You don't need much to make these zucchini boats. Zucchini (of course), the filling, and some toppings all come together to create a tasty dinner! Here's what you'll need:
Zucchini: The star of this recipe! We especially love using this veggie because it's like a blank canvas that takes on savory flavors without really adding any of its own. You can sub with yellow squash if desired.
Chicken: Feel free to cook your chicken however you want before shredding it, or even use a rotisserie chicken.
Enchilada sauce: For that classic enchilada flavor, it adds spice, moisture, and seasoning with very little effort!
Cheese: Can't go wrong with gooey cheese and we love a Mexican blend cheese in this recipe. Feel free to sub with cheddar cheese or even a dairy-free cheese.
Toppings: Chopped tomatoes and fresh cilantro add color and fresh flavor. Other great topping options are hot sauce, plain Greek yogurt, and/or guacamole.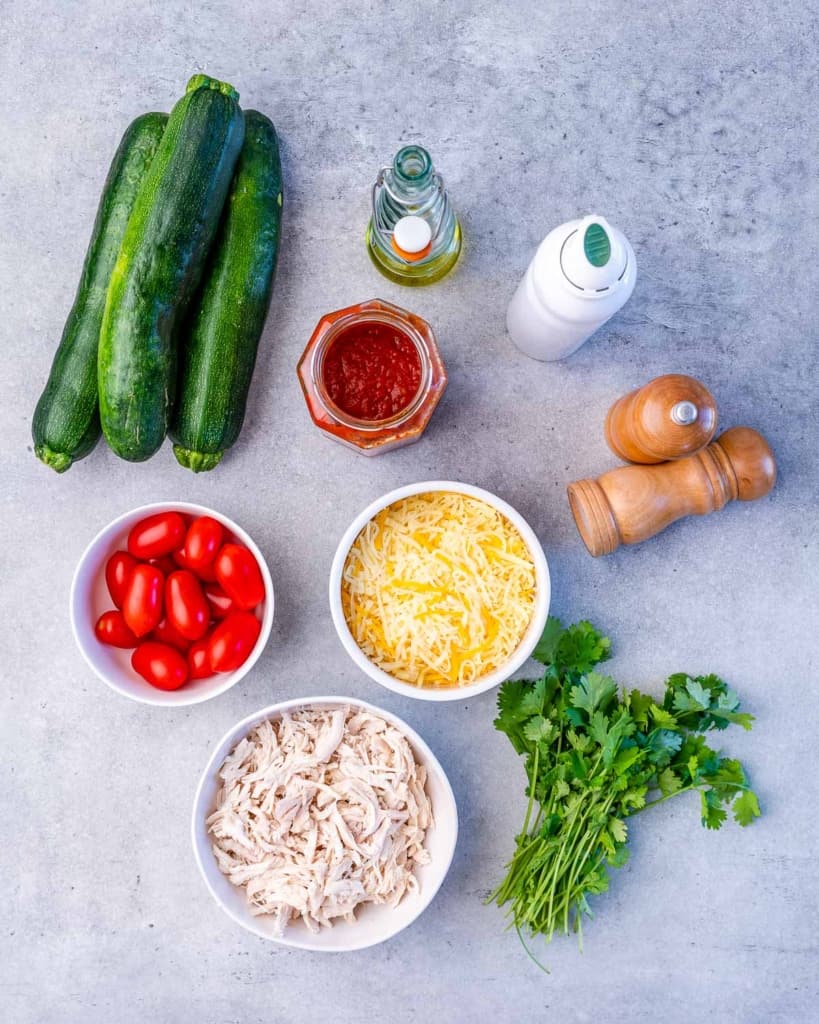 How to make this recipe
Making stuffed zucchini boats is really easy! There are only two main components to zucchini boats: the zucchini and the stuffing. Here's a quick rundown of the process, but for full instructions, reference the recipe card at the bottom of the post.
Prep: Preheat the oven to 400°F and spray cooking spray in a large rectangle dish that fits all the halved zucchini without overlapping.
Prepare the zucchini: Use a teaspoon to scoop out some of the zucchini flesh, leaving a 1/4" rim to create the boats that will hold your filling. Lay the prepared zucchini into the dish and season with salt and pepper. Roast in the preheated oven for 10 minutes.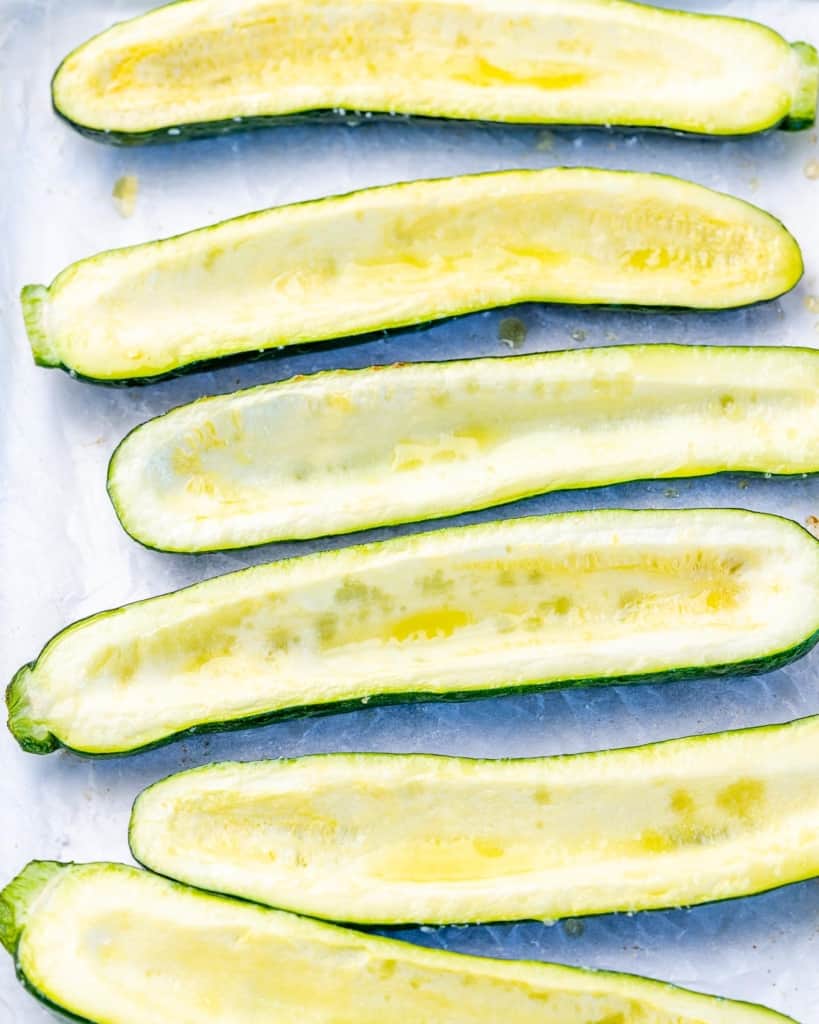 Make the filling: Meanwhile, in a medium bowl, combine the chicken, enchilada sauce, and half of the cheese blend.
Stuff the zucchini: Once the zucchini are done roasting, stuff with the enchilada chicken, and then sprinkle with the remaining cheese.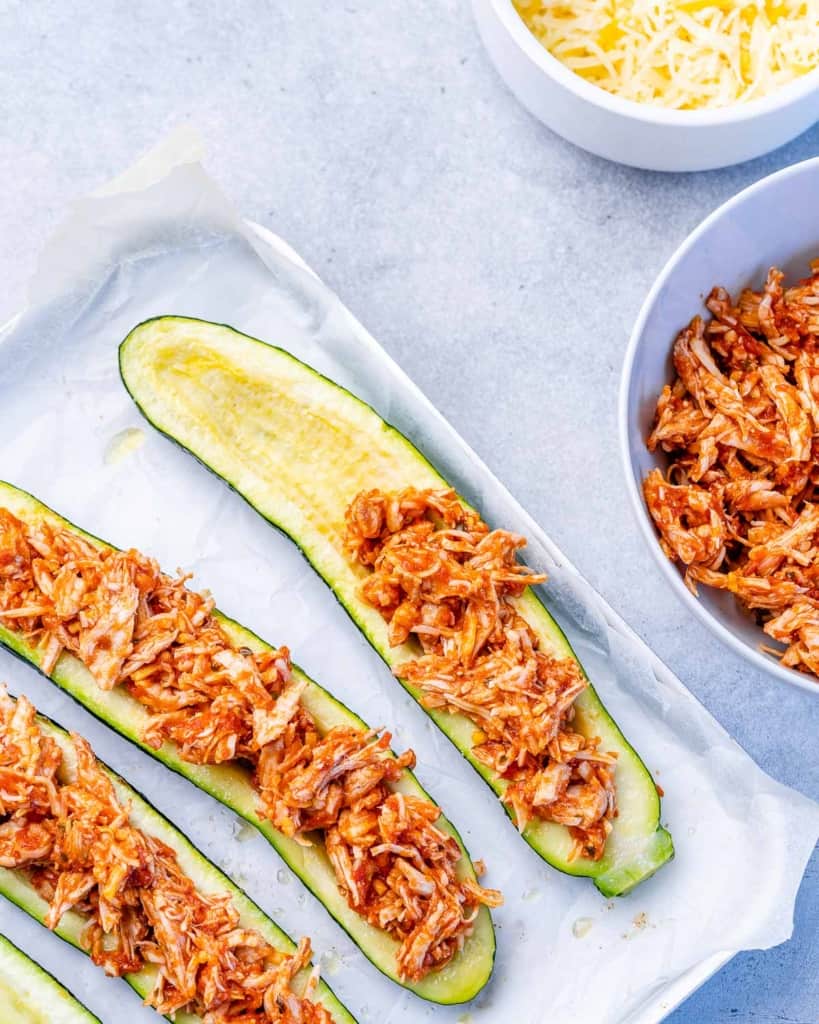 Cook and enjoy: Bake for 15-20 minutes, or until the cheese is bubbly. Top with chopped tomatoes, fresh cilantro, and any other desired toppings.
Tips for Success
Here are some tips to make sure your zucchini dish is incredible every single time!
Use similar-sized zucchini: For even baking, it's best if all of the zucchini are the same size and medium zucchini will fit best in the dish.
Scooping the zucchini: Be careful not to scoop your zucchini halves too deep. Leave about a 1/4-inch rim. If you go too deep, the filling may fall out of the bottom once the zucchini boats have cooked.
Use the pulp: We love to save the scooped-out zucchini pulp for smoothies. It's nutritious and you can't even taste it! Transfer the pulp to a freezer-safe container or bag and freeze. Add it to smoothies when you want a nutritional boost. No need to thaw!
Pre-cook zucchini: Don't forget to roast the zucchini halves for about 10 minutes before adding the filling. This will ensure your zucchini boats turn out nice and tender.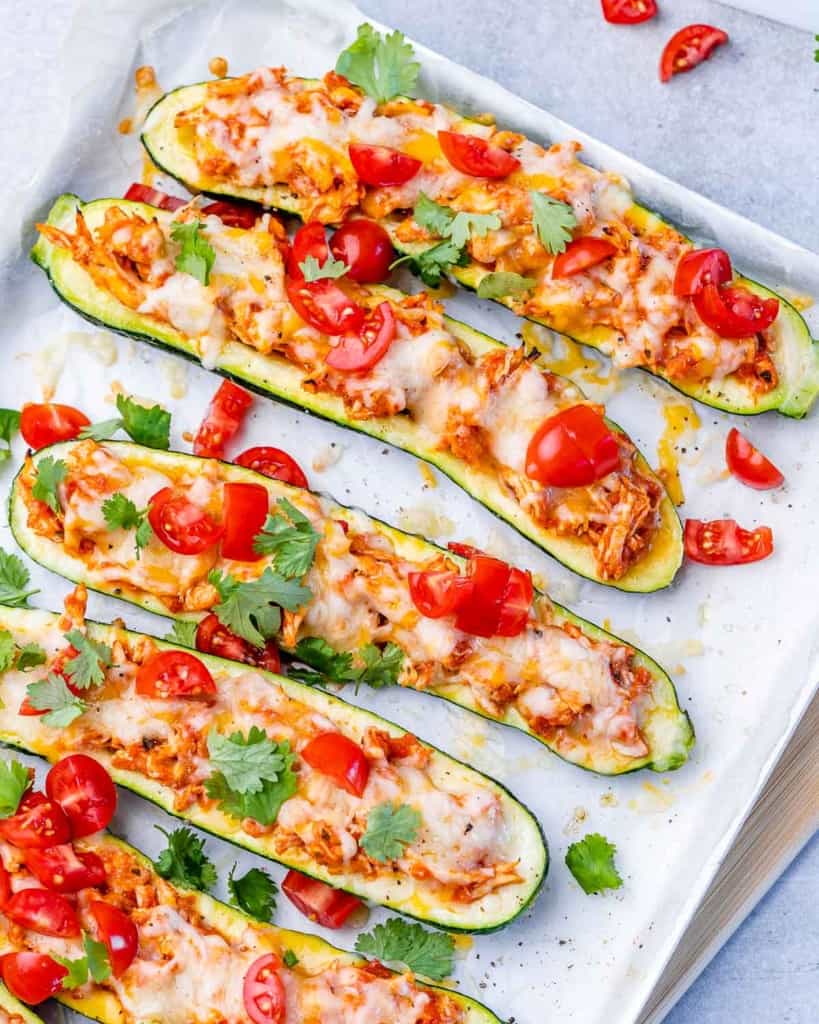 Frequently asked questions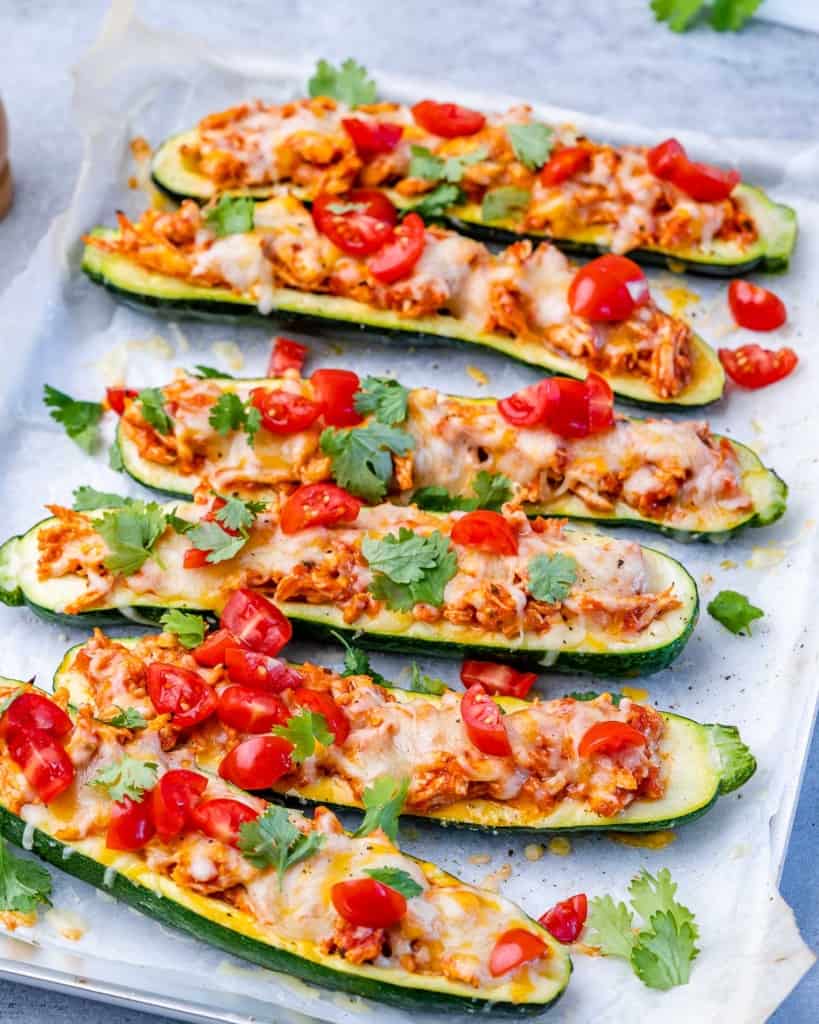 Storing, reheating, and freezing
Store any leftovers in an airtight container for up to 4 days. The flavors intensify over time and these taste even better the next day, making them great for meal prep!
Reheat in the microwave or in the oven until heated through. 
Freeze: Yes, you can absolutely freeze these enchilada zucchini boats! Freeze them on a flat surface like a baking tray until they are firm, and then transfer them to an airtight container and freeze them for up to 4 months.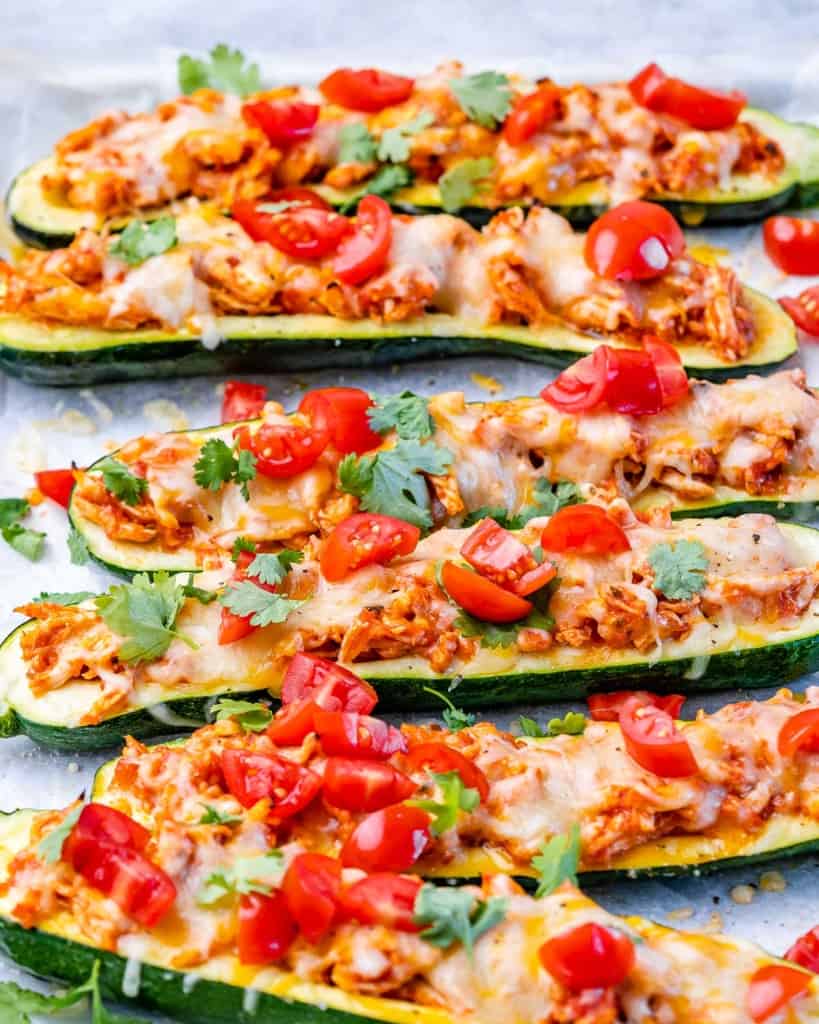 More zucchini recipes to try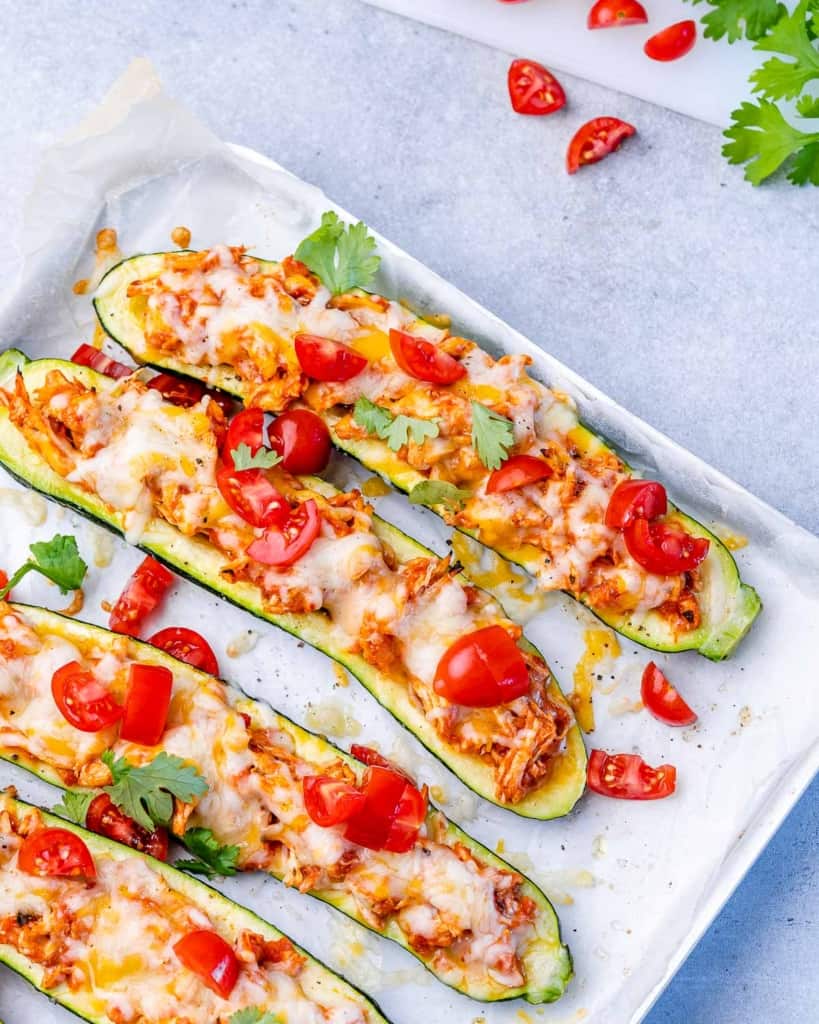 If you try a recipe and you like it, leave us some feedback in the comment section below, and don't forget to rate it! We would love it if you shared it with friends and family.
Finally, please use our hashtag #healthyfitnessmeals on INSTAGRAM for a chance to be featured! FOLLOW Healthy Fitness Meals on FACEBOOK | INSTAGRAM | PINTEREST | TWITTER for all of our latest blog posts and recipes.