This Chocolate Peanut Butter Peppermint Fudge is made with 5 simple ingredients and it is the perfect treat to have during the holiday season without the guilt. An easy, no-fuss, festive fudge recipe that will be a hit among family and guests.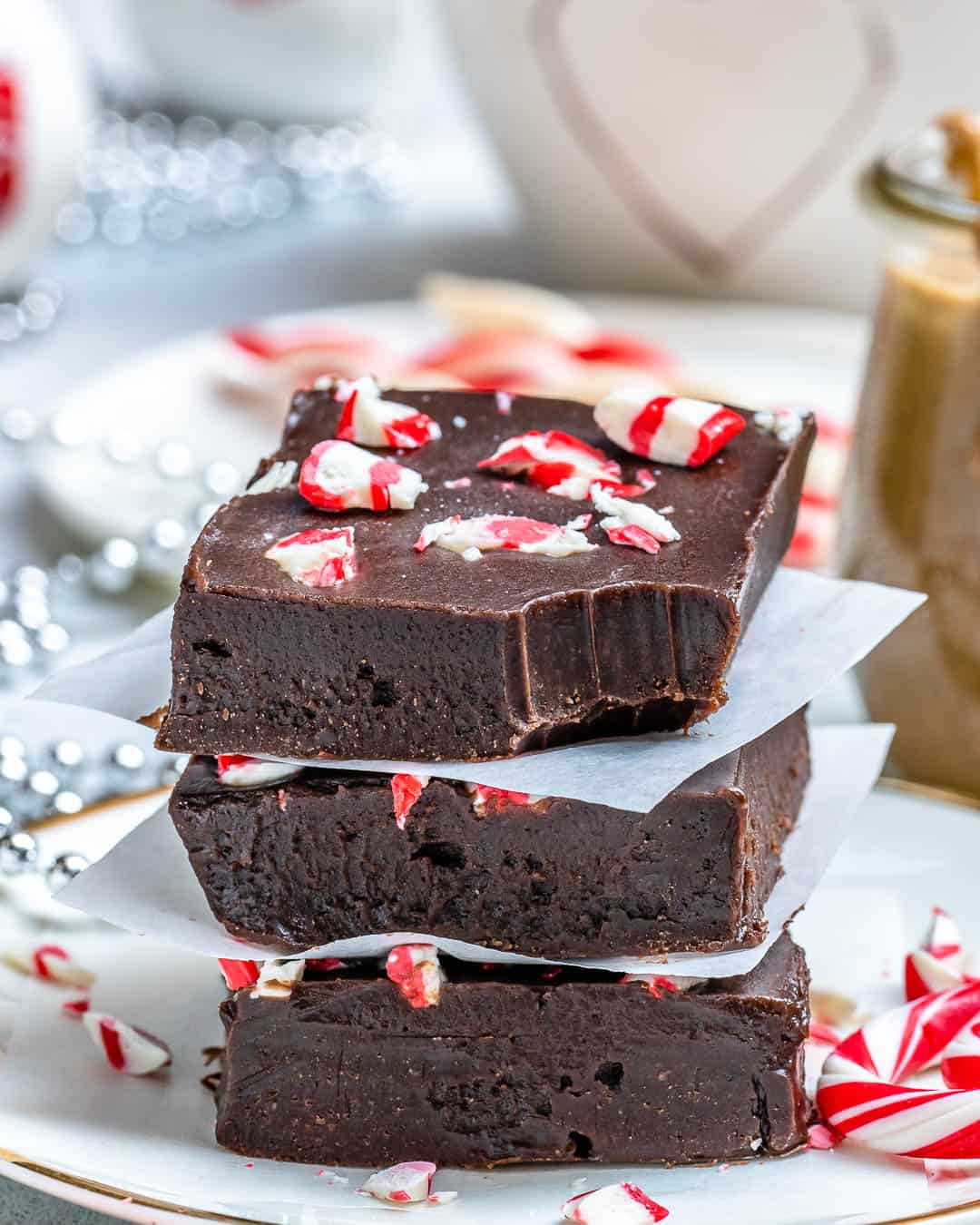 Easy Chocolate Peanut Butter Fudge Recipe
This post is sponsored by the National Peanut Board. I received compensation, but all opinions and content are my own.
The most wonderful time of the year just got better – with peanut butter. This holiday season will be a whole lot sweeter with this easy and guilt-free homemade fudge recipe. They are made with peanut butter as the main ingredient that brings in its rich and creamy texture. The more reason to always stock up on peanut butter!
The best part is you won't need to bake them! Whether you are making this simple peppermint chocolate peanut butter fudge for a cookie trade, family or guests, I assure you that they will be a huge hit!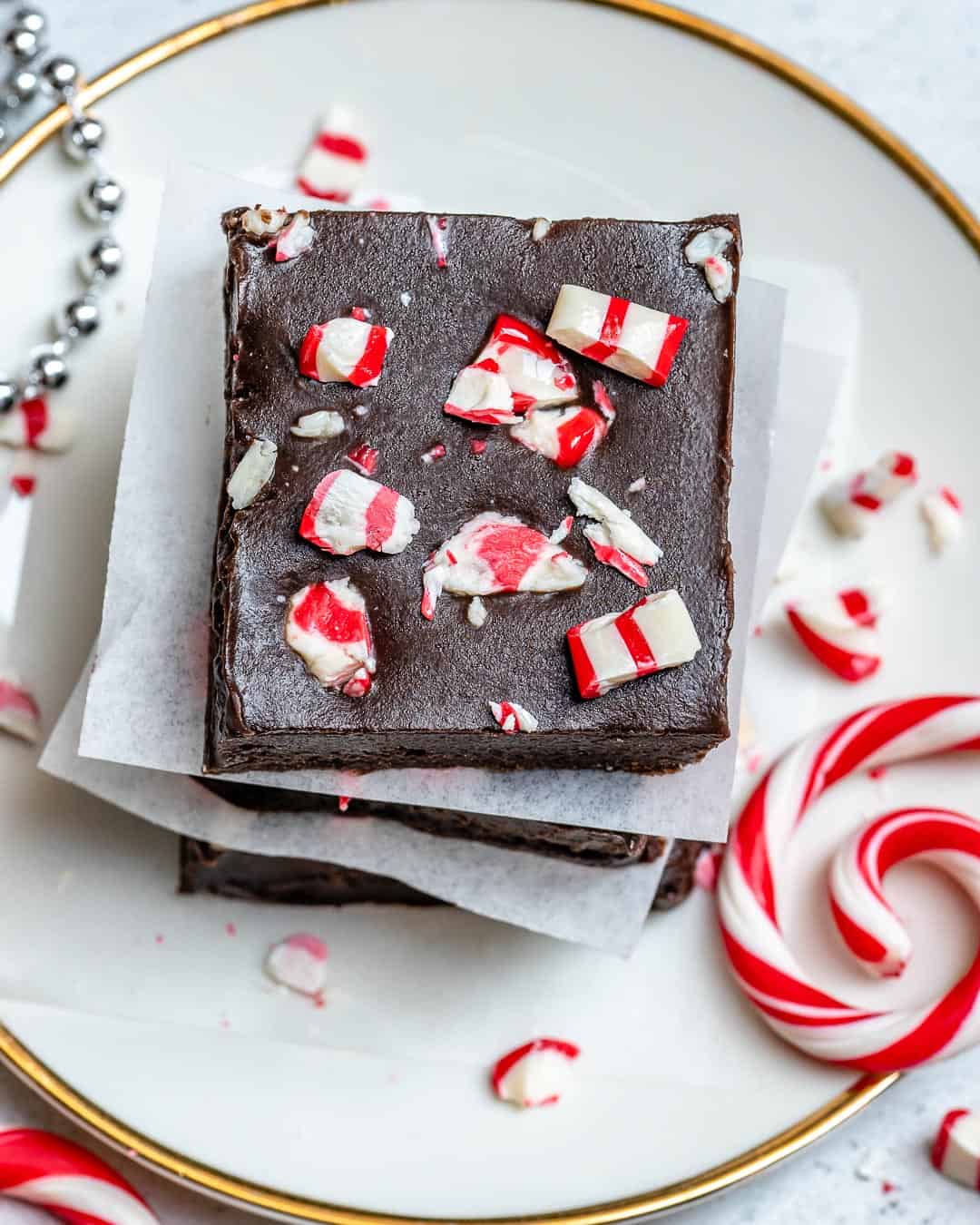 HOW TO MAKE PEANUT BUTTER FUDGE
This fudge recipe is quite simple to make! Here are the few ingredients you will need to make this easy festive fudge.
Peanut Butter: I prefer using all-natural creamy peanut butter. Use any brand you love and always use.
Coconut Oil: Try using organic, cold-pressed, unrefined virgin coconut oil
Cocoa Powder: I Used Cocoa powder instead of chocolate chips for this recipe
Sweetener: Honey or maple syrup. If you are looking to make this a vegan chocolate peanut butter fudge, be sure to use maple syrup and not honey.
Extract: Peppermint is ideal for this particular recipe.
Peppermint Candy: Use Peppermint candy canes if they are in season.
HOW TO:
Melt coconut oil in a pot over medium heat, add the maple syrup, peppermint extract, and cocoa powder. Mix well. Remove from heat and then add the peanut butter, whisk until combined.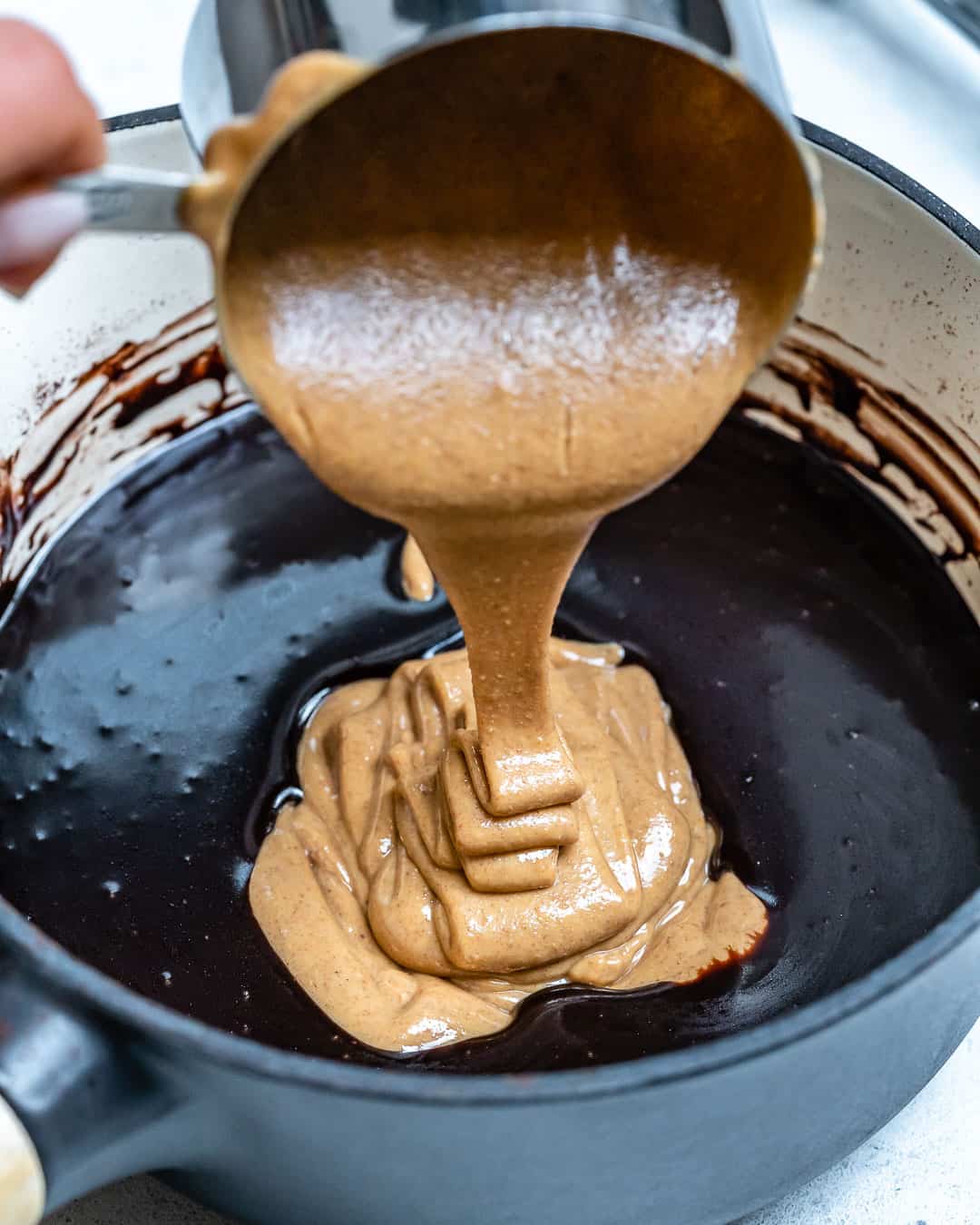 Once the peanut butter is combined well with the chocolate syrup, prepare an 8″ baking dish with parchment paper.
Pour the peanut butter chocolate mixture into the baking dish or pan and then sprinkle with some crushed peppermint candy.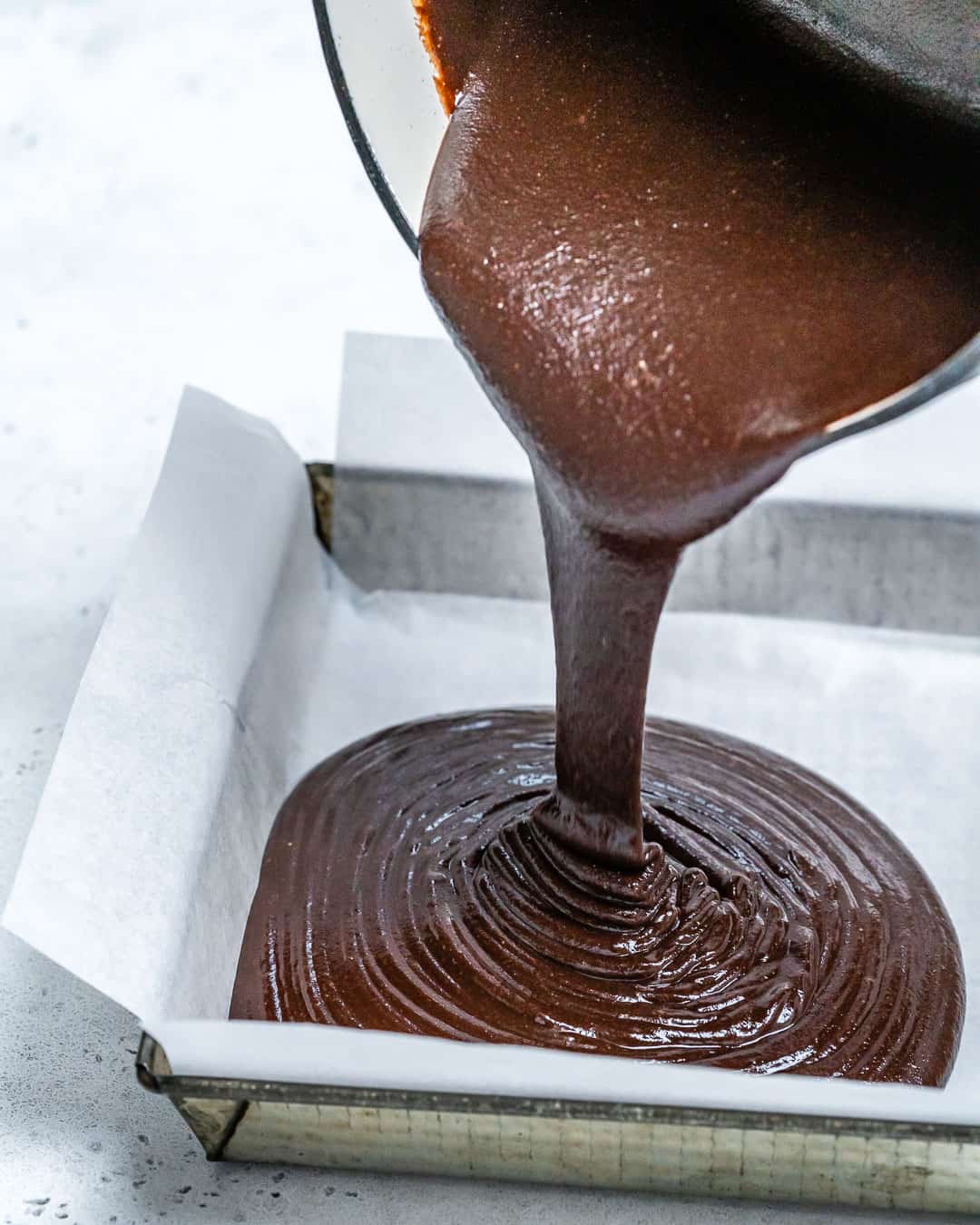 Place the pan in the freezer for about 3 hours to set. Once set, cut into 9 equal squares and serve.
SOME PEANUT BUTTER FACTS
A pantry staple in every household. Very versatile, affordable and can be used in many different recipes like soups, sandwiches, desserts, salad dressings and so on.
They are great to have all year round, especially during the holidays because they come in very handy when making delicious guilt-free desserts.
Adds a nutritional boost to meals and drinks.
In every 2 tablespoons of peanut butter, you get 8 powerful grams of protein, 2 grams of filling fiber and 12 grams of unsaturated fat.
Also, according to the National Peanut Butter Board, a jar of peanut butter can be found in over 90% of U.S. households. Are you one of them? I AM!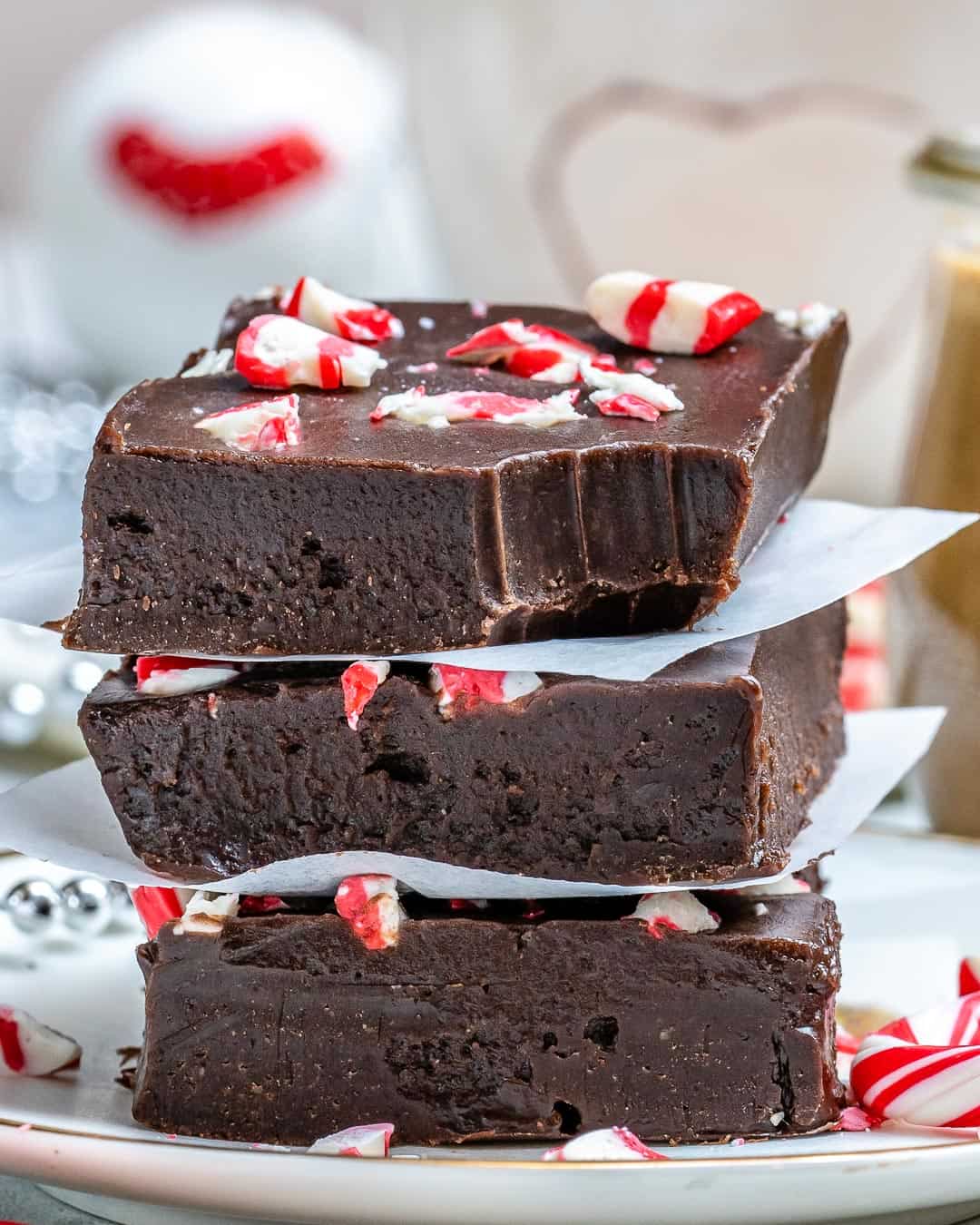 SOME FREQUENTLY ASKED QUESTIONS
So many questions pertaining to this quick peanut butter fudge recipe and peanut butter in general. I hope i answered a few for you below. You can always drop a question in the comments below.
Can you freeze peanut butter fudge?
You can freeze peanut butter fudge for up to 3 months. The key is to store them in an airtight container. When ready to eat, remove frozen fudge and allow it to thaw in the fridge for 2-4 hours. Also, you can refrigerate peanut butter in a tightly sealed container for up to 1 month.
Is peanut butter Vegan?
Peanut butter is vegan-friendly because it is mostly made of ground peanuts and salt. Be on the safe side and read the back of the labels to see the exact ingredients in the brand you are buying.
Are peanut butter Gluten-free?
Gluten is a form of protein that is found in grains like wheat, rye, and barley. It is safe to say that peanuts and peanut butter are naturally gluten-free.
How much protein in peanut butter?
There are 8 powerful grams of protein in every 2 tablespoons of peanut butter.
Does peanut butter have dairy?
The 'butter' in peanut butter doesn't mean that it actually has butter or dairy in them. Also, Natural Peanut butter is completely dairy-free and if you are lactose intolerance you should be just fine indulging in some peanut butter.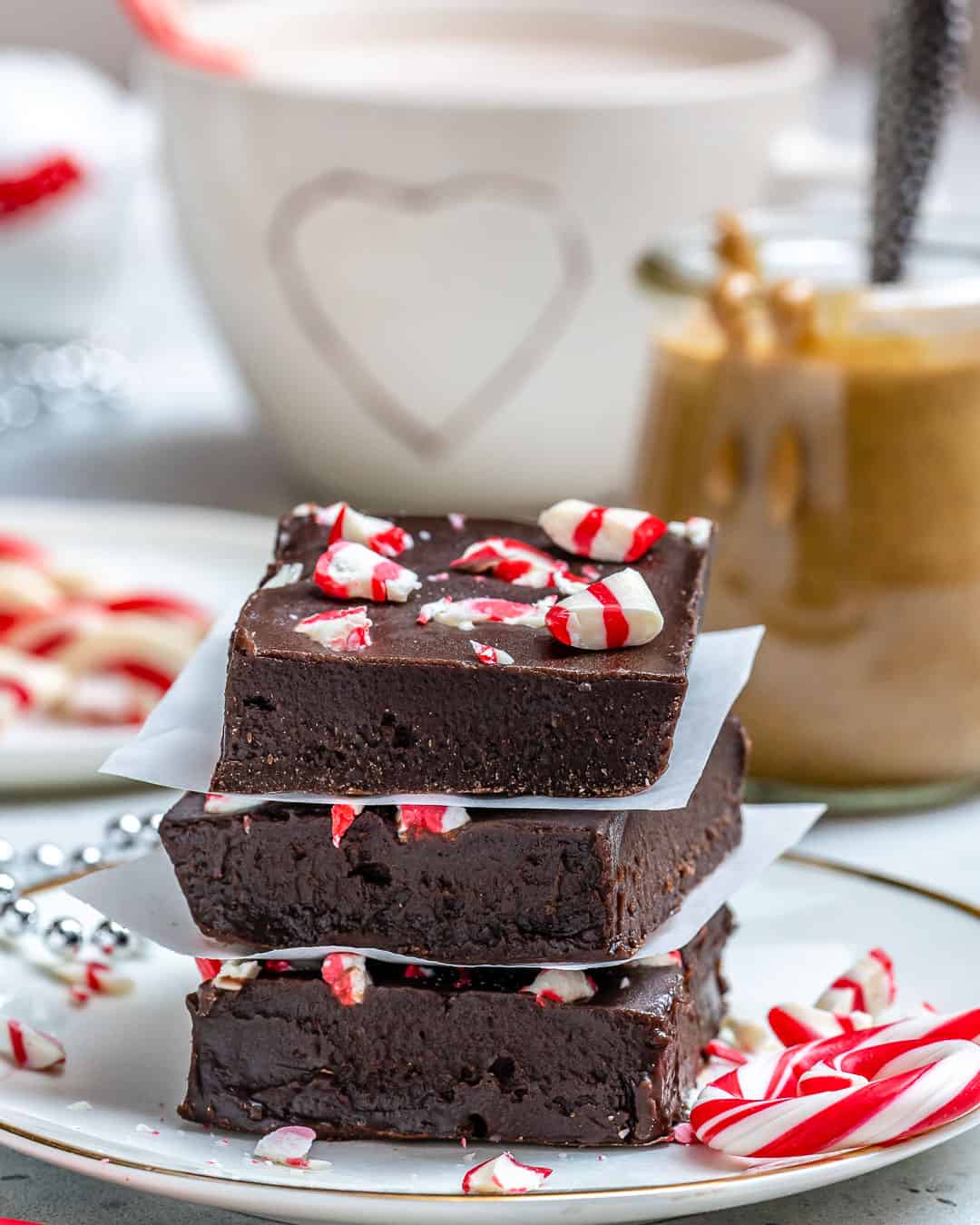 I would love to see your peanut butter recipe creations and how you spread some peanut butter love! Please share your favorite peanut butter recipe in the comments below and don't forget to use the hashtag #HowDoYouPB if you decide to share it with us on social media.
Also, I created these Peanut Butter Cookie Dough Balls for the National Peanut Board a few months back. Check it out.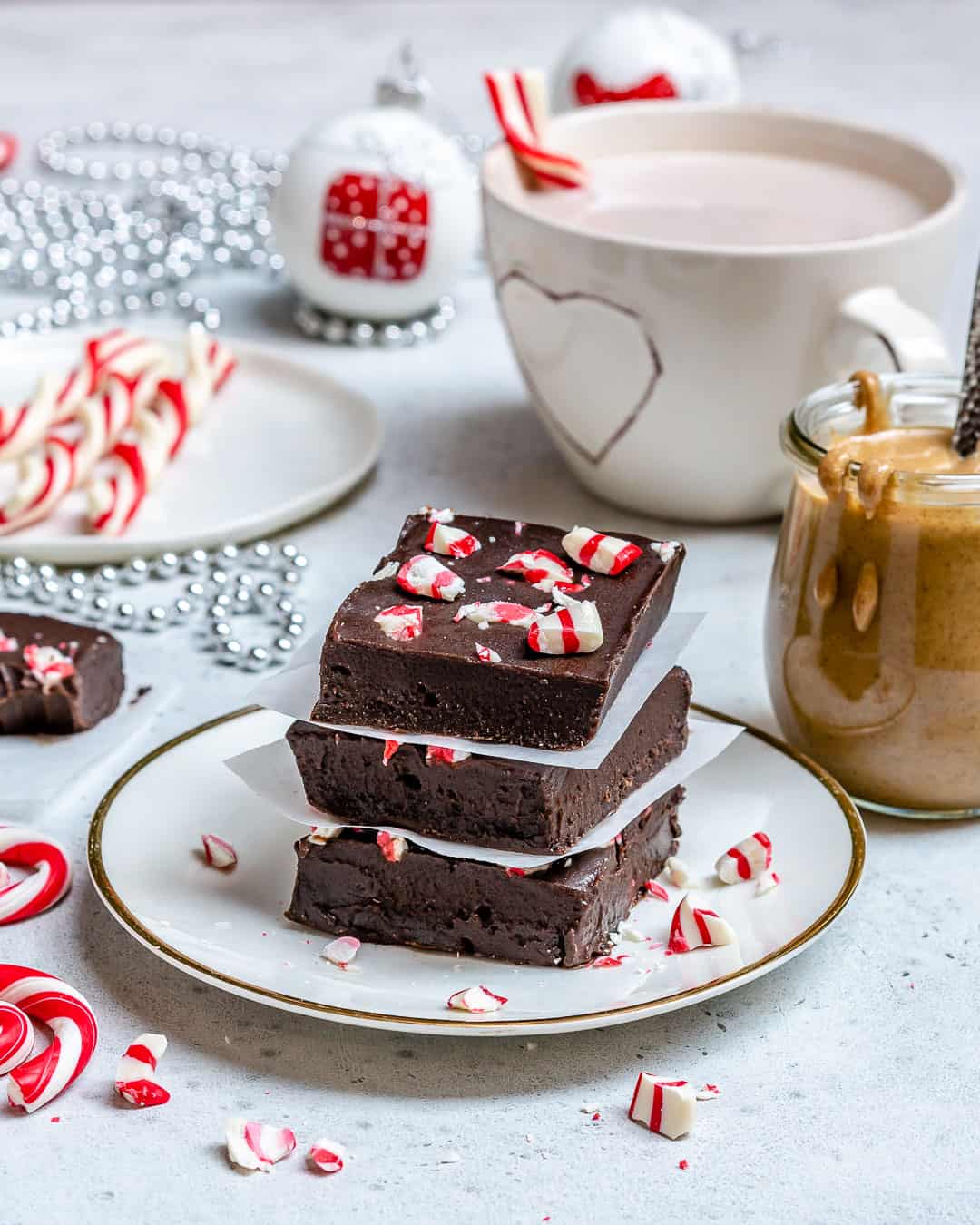 Peanut butter recipes are endless and there are so many out there. Please visit here for even more delicious peanut butter recipes for every occasion.
Chocolate Peanut Butter Peppermint Fudge
Creamy, soft, rich, easy to make, and the perfect holiday treat without any of the guilt!
Print
Pin
Rate
Ingredients
½

Cup

Organic Coconut Oil

⅓

Cup

Honey or Maple Syrup

use maple syrup for a vegan option

½

Cup

Cocoa Powder

1½

Tsp

Peppermint Extract

1½

Cup

Peanut Butter

2

Tbsp

Crushed Peppermint Candies

or crushed candy canes
Instructions
Line an 8" square baking pan with parchment paper to have it prepared.

Place the coconut oil in a saucepan over medium heat. Once melted, stir in the maple syrup, cacao powder, and peppermint extract. Take it off the heat and pour in the peanut butter. Whisk until well combined.

Pour the peanut butter chocolate mixture into the prepared pan and sprinkle with crushed peppermint candies.

Place the pan in the freezer for at least 3 hours to set. Carefully cut it into squares and enjoy!
Nutrition
Calories:
386
kcal
|
Carbohydrates:
29
g
|
Protein:
12
g
|
Fat:
27
g
|
Saturated Fat:
13
g
|
Sodium:
234
mg
|
Potassium:
387
mg
|
Fiber:
4
g
|
Sugar:
14
g
|
Calcium:
34
mg
|
Iron:
1
mg