We love healthy oatmeal bars and these Chocolate chip oatmeal bars are just perfection. They are easy to make, nutritious, and the perfect healthy breakfast on-the-go recipe or dessert. A filling and kid-friendly recipe to make any day of the week.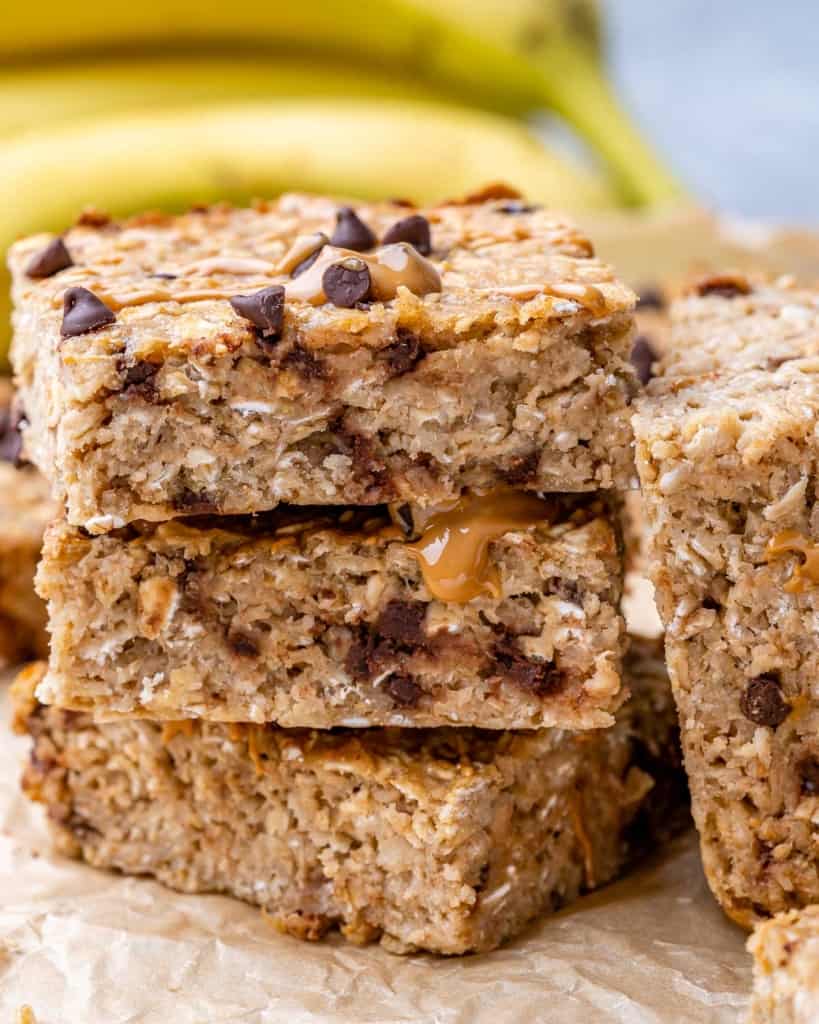 Not sure what to do with those ripe bananas on your kitchen counter? Look no further, these healthy oatmeal bars will be the perfect recipe to make. Knowing that the kids will love it will be a big bonus too. Loaded with flavor and fiber, they are the perfect breakfast oatmeal bars to make and save for the entire week. Serve them as a snack, a breakfast meal, or dessert. Oatmeal bars are one of our favorite ways to make oatmeal and add more fiber to our diet. These oatmeal chocolate chip bars can easily be made gluten-free and vegan-friendly.
Why you will love these baked oatmeal bars
Healthy and good for you: Loaded with good for you ingredients and a healthy dose of fiber from the rolled oats.
Easy and simple: These healthy oatmeal bars are really easy to make with simple ingredients. Mix all teh ingredients together and pop in the oven.
Perfect for on-the-go: Always in a hurry to leave the house in the morning, these oatmeal bars are a great option to grab and enjoy in the car on your way to school or work.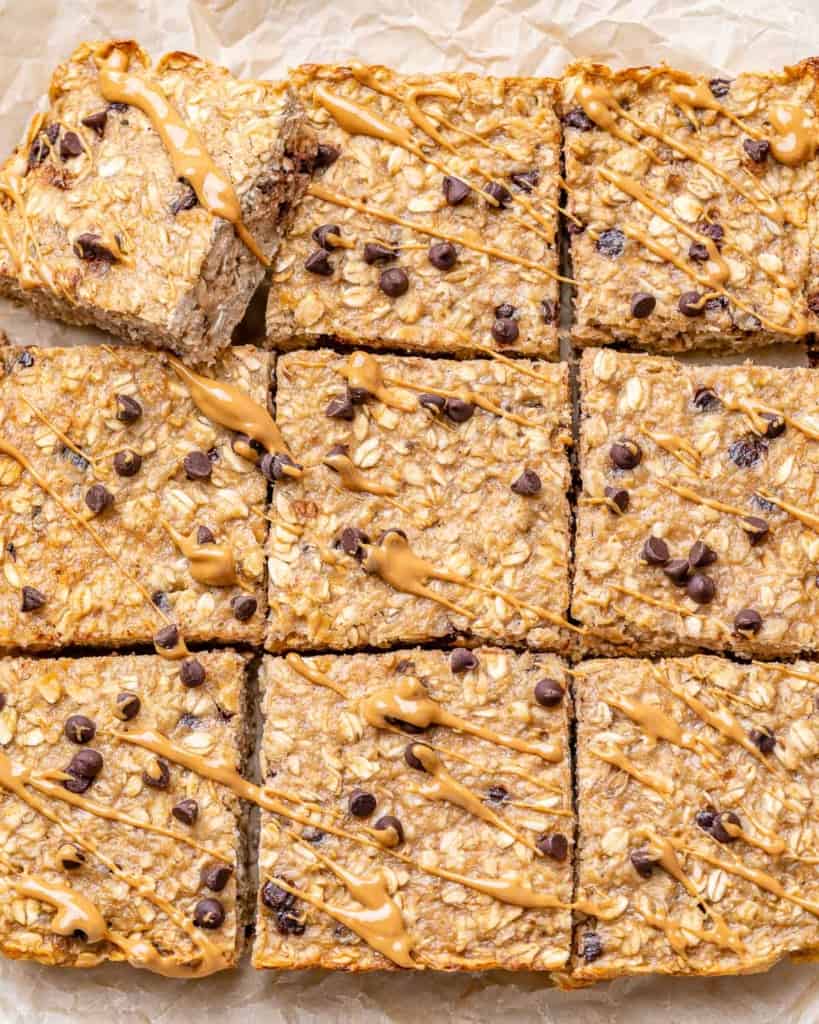 Ingredients you will need to make these healthy oatmeal bars
Flax seed: a great way to add in fiber
Bananas: make sure the banana is ripe
Yogurt: we used coconut yogurt but you can use any other yogurt of choice.
Nut butter: any nut butter like almond butter, peanut butter, or cashew butter
Honey: we used honey for teh sweetener, but you can use agave or maple syrup.
Almond milk: don't have almond milk, use any other milk.
Oats: best to use rolled oats, but quick oats will work. Consistency will vary
Baking powder and Vanilla extract
Chocolate chips: we used dark chocolate chips but dairy-free or sugra-free will work just fine.
How to make these homemade oatmeal breakfast bars
Preheat the oven to 350°F and line a 9-inch square baking pan with parchment paper. In a small bowl whisk the flaxseed with water.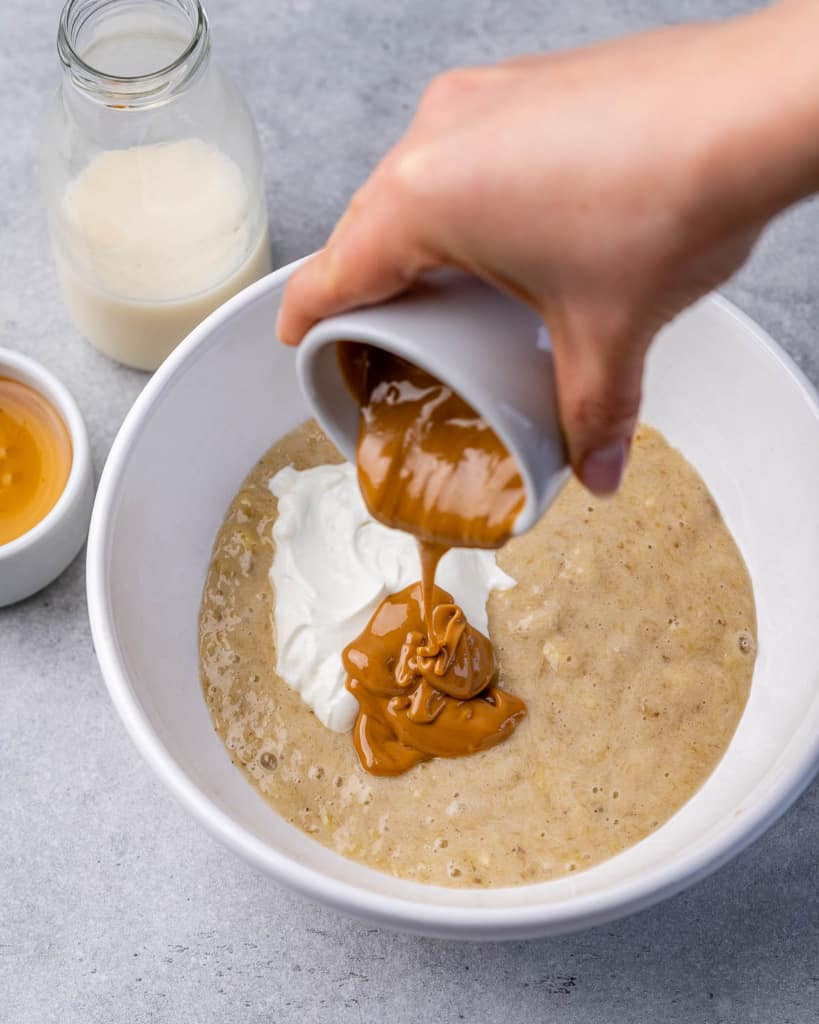 In a large bowl, whisk the following 5 ingredients. Add in the flax egg mixture, then incorporate the remaining 4 ingredients.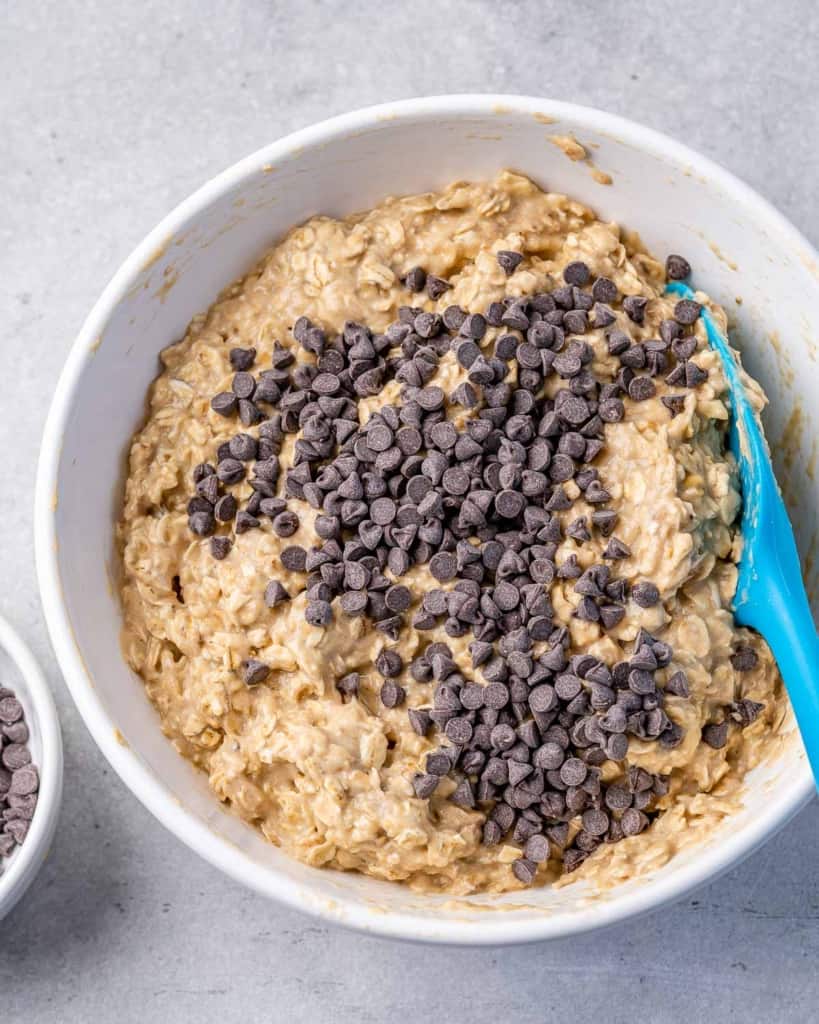 Pour the batter into your prepared pan. Bake for 25 minutes, then allow it to fully cool before slicing it.
Frequently asked questions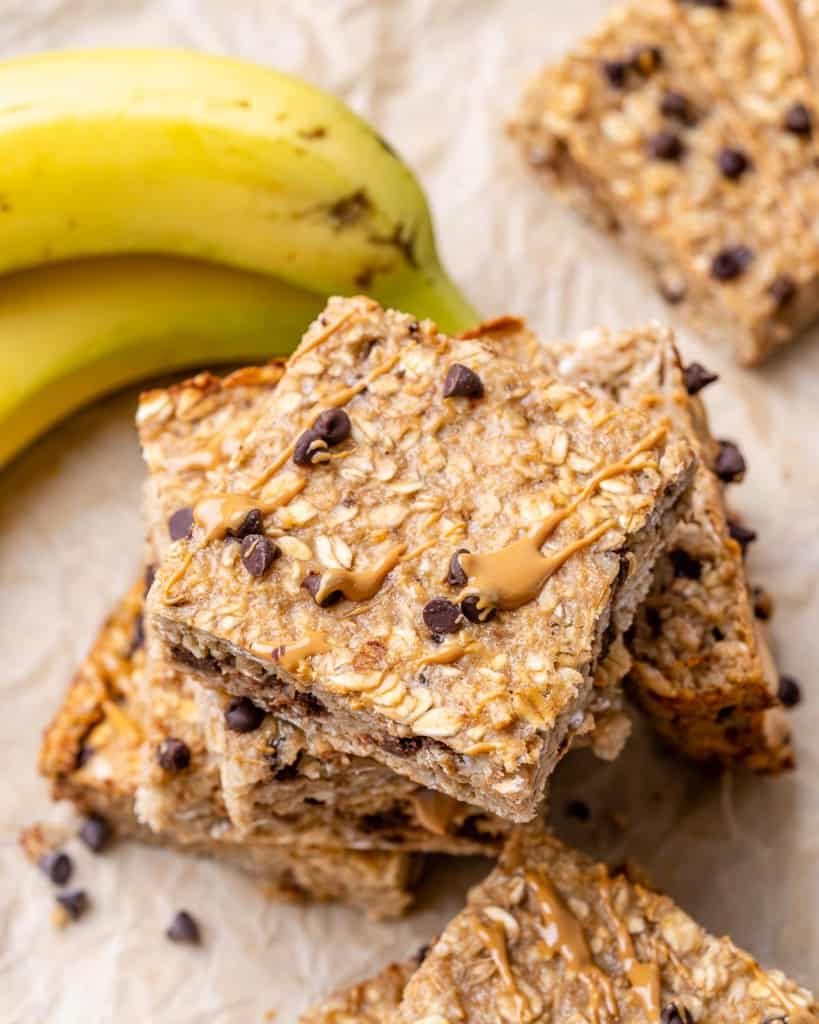 REcipe notes and tips
Serving size: one square bar
Use rolled oats instead of quick oats. If you only have quick oats, then go ahead and use quick oats.
Any milk of choice works. So If you don't have almond milk, use 2% milk.
Honey: For sweetener, we used honey, but this ingredient can be substituted with agave or maple syrup.
Yogurt: we used coconut yogurt but any other yogurt would work. You will need to use dairy-free yogurt if you want a vegan version.
To make this vegan: do use non-dairy yogurt, maple syrup or agave, almond milk, and dairy-free chocolate chips
For a gluten-free option, you can use GF rolled oats and make sure non of the other ingredients you are putting in do not have any wheat or ingredients with gluten.
Make sure you allow these oatmeal bars to cool off completely before you cut them into squares and serve.
Consider adding nuts if you perfer something crunchy. Walnuts would be a great choice.
Store leftovers in a sealed container in the fridge for up to 7 days. You can keep these on the kicthen counter for up to 4 hours the same day you make then.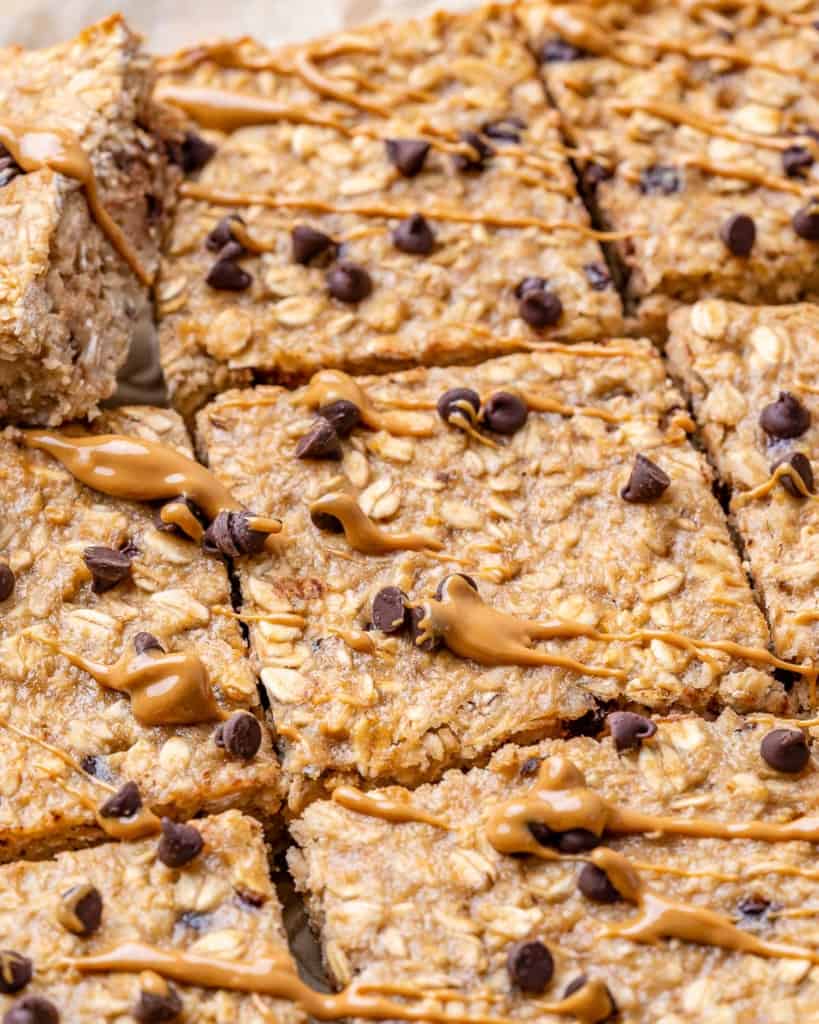 More simple oatmeal recipes we think you will love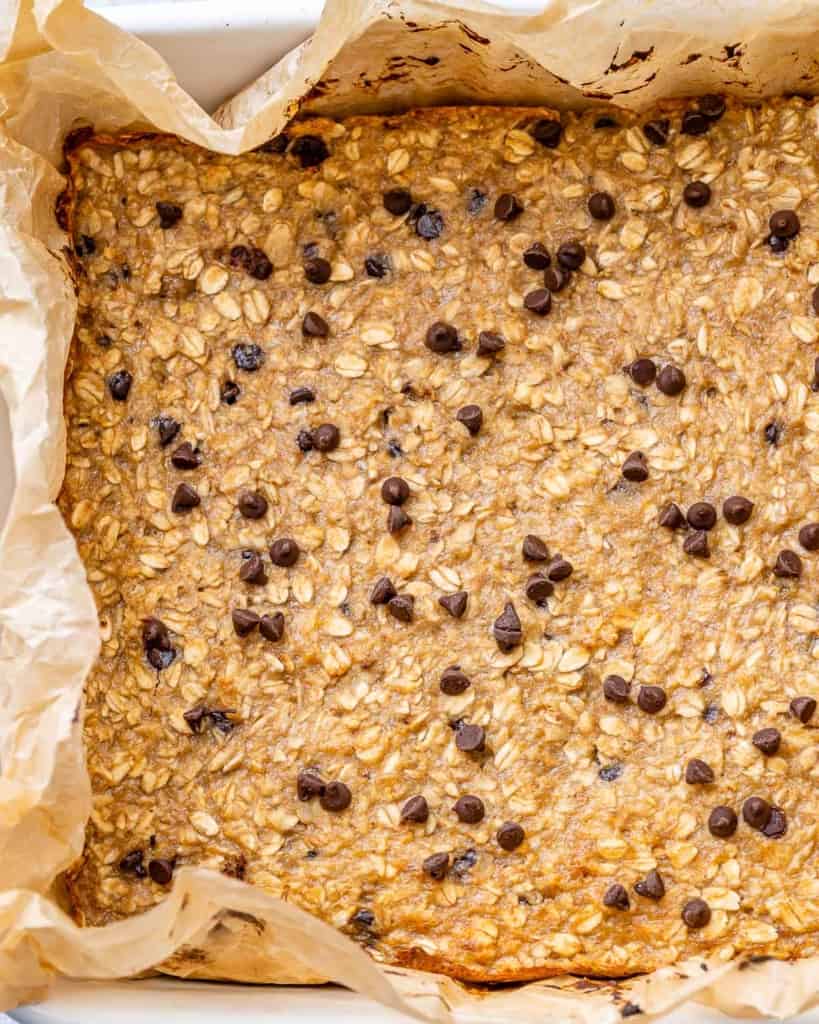 If you try a recipe and you like it, leave us some feedback in the comment section below, and don't forget to rate it! We would love it if you shared it with friends and family. Finally, please use our hashtag #healthyfitnessmeals on INSTAGRAM for a chance to be featured! FOLLOW Healthy Fitness Meals on FACEBOOK | INSTAGRAM | PINTEREST | TWITTER for all of our latest blog posts and recipes.