This authentic homemade baba ganoush is so easy to make and full of flavor. Perfect side dish or appetizer to add to your dinner table and will only need 30 minutes to make. Serve with pita, veggies, or crackers.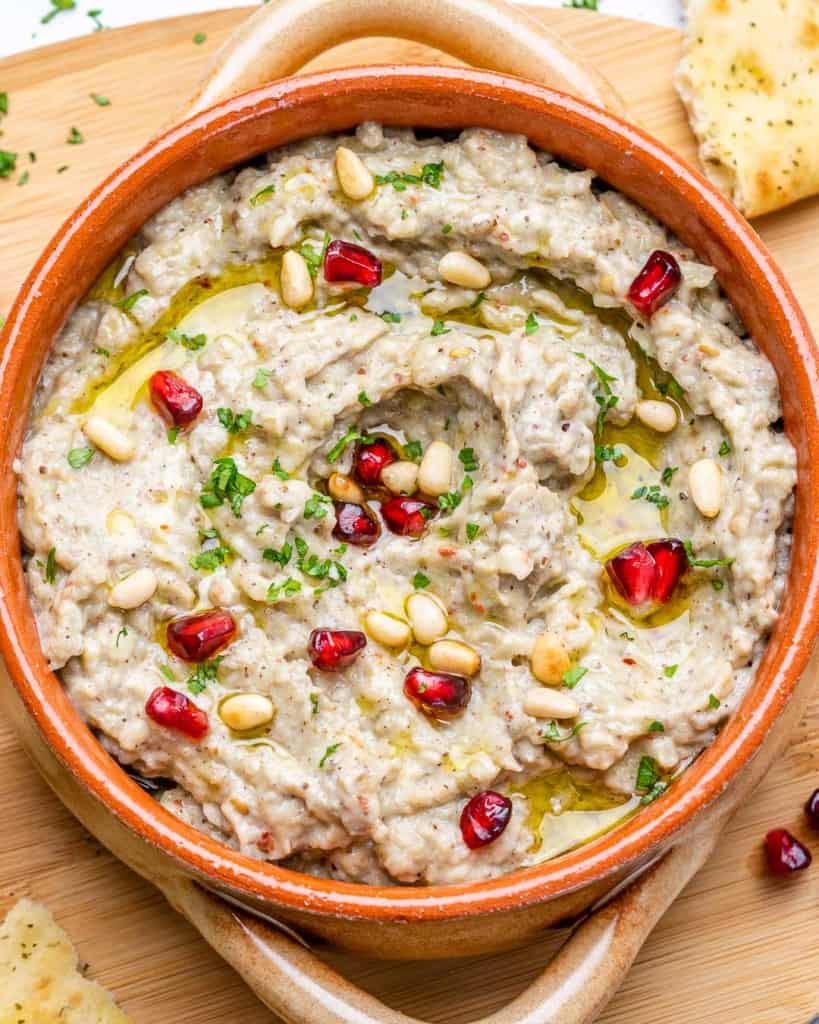 Baba ganoush is an authentic middle eastern dip made with roasted eggplants (aubergine), fresh lemons, garlic, olive oil, and tahini paste. A homemade eggplant dip that's delicious, creamy, and can be enjoyed as an appetizer or side dish recipe. It's a must-have on dinner tables or gatherings in a middle eastern household especially when hosting an outdoor grilling or BBQ. This baba ganoush is made from scratch with no hidden ingredients and needs just about 5 minutes of preparation. This healthy and authentic dip is low carb, keto, gluten-free, and naturally vegetarian. It can easily be made vegan by either skipping the yogurt or using dairy-free yogurt.
Why you will love this eggplant dip
Little to no prep time: you need about 5 minutes to prep your eggplant and pop it in the oven to roast. Then combine all the ingredients together in the food processor to make this delicious dip.
Perfect make ahead: baba ganoush is best served cold, which makes this a great make-ahead dip to make the day before and store in the fridge until ready to serve.
Healthy dip: no hidden ingredients and made with simple and fresh ingredients compared to other dips and appetizers.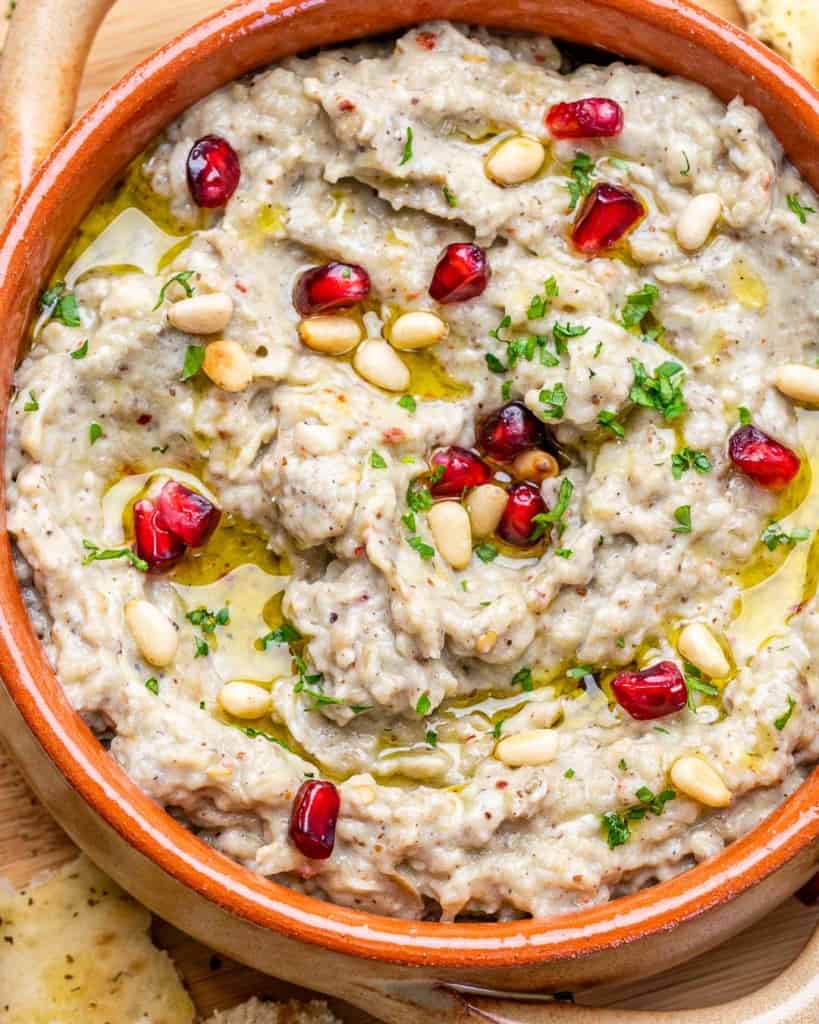 Ingredients you will need
These are just a list of a handful of ingredients you will need to make this baba ganoush dip. The full measurements are listed further down below.
2 medium eggplants (I find it to cook better than 1 large)
tahini paste
Greek yogurt
garlic cloves
lemon juice
salt and pepper
sumac
crushed peppers (optional in case you don't like any spice)
pine nuts
to garnish: pomegranate arils, fresh chopped parsley, olive oil
serve with: fresh veggies, pita, or crackers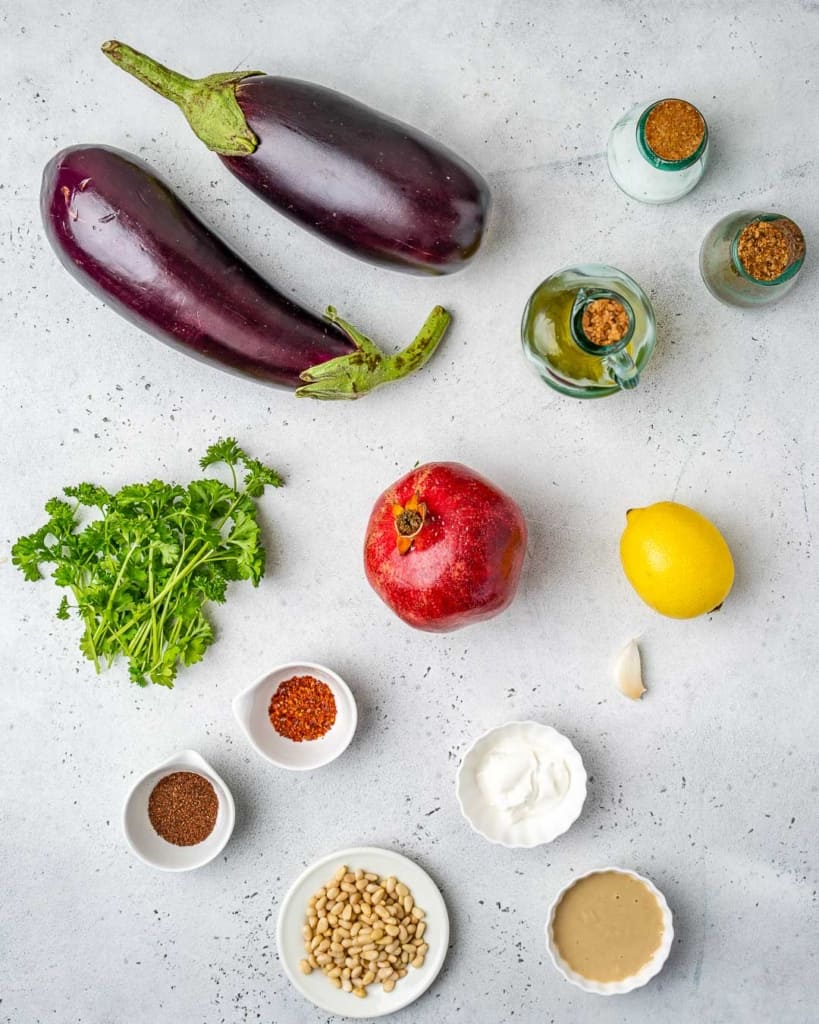 How to make homemade baba ganoush from scratch
Prepare the eggplant and roast: Heat your grill to medium-high or turn on your gas burner if you have one (You may also preheat the oven to 400F and bake for 40-50 minutes)
Cook the eggplants until tender and charred on all sides, turning them with a pair of tongs every 5 minutes or so. They will be completely cooked and tender when you press them, and it should take around 15-20 minutes depending on their size. Once the eggplant is done, allow it to cool until ready to handle.
Peel the eggplants: Next, peel the eggplant and remove the charred skin. Place the cooked flesh in a colander and allow it to sit and drain for about 5 minutes.
Process all ingredients: Transfer the roasted eggplant to the food processor. Next, add in the remaining ingredients. Pulse a few times to combine.
Serve: Place the baba ganoush in a serving bowl, add a drizzle of oil and sprinkle with pomegranate arils and parsley. Finally, serve with crunchy veggies and warm pita bread, if desired.
Tips: strain eggplant, choose fresh ingredients, adjust the taste to your liking, cool it in the fridge.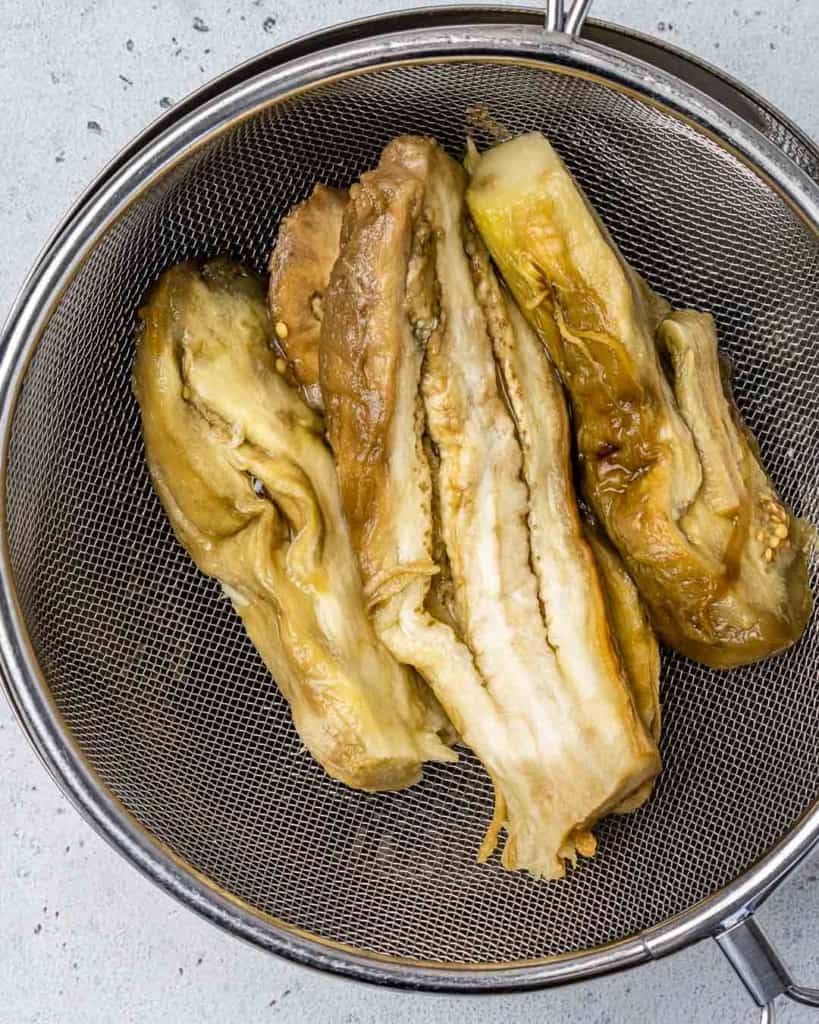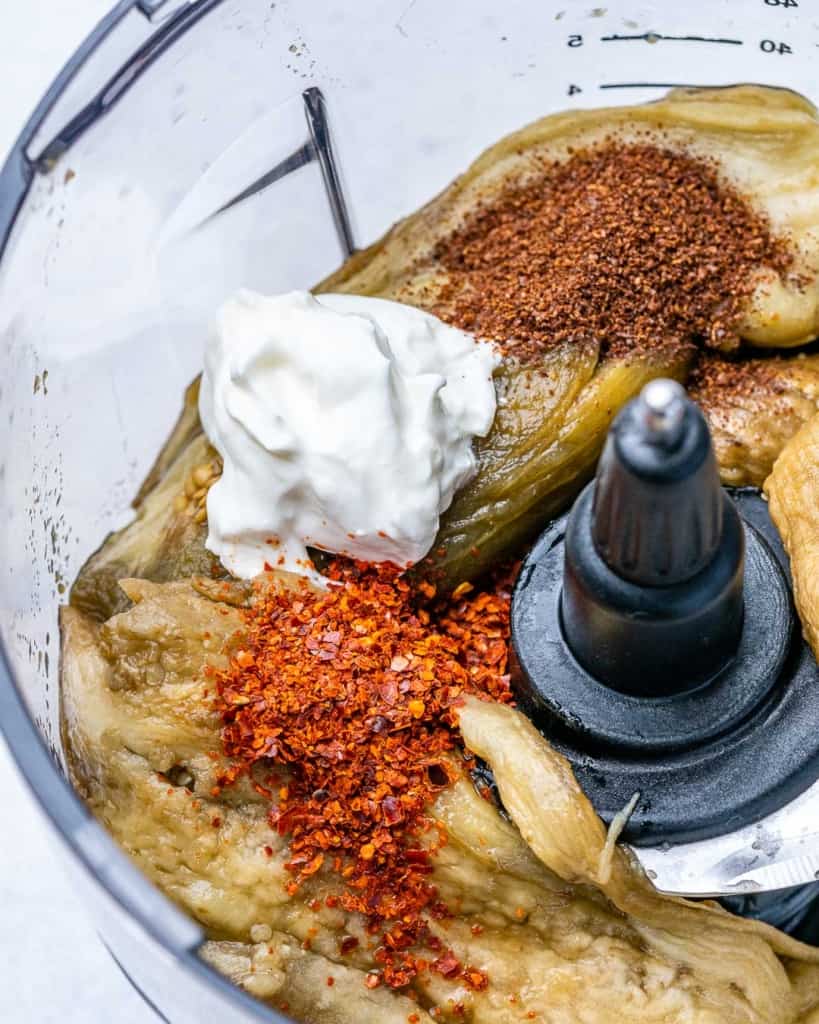 Recipe notes and tips
Eggplants: you may use one large eggplant instead of 2 medium. It may need an additional 5-10 minutes to cook through.
You can bake these eggplants instead: preheat the oven at 400 F and allow them to bake for 40-50 minutes until they are soft and tender.
Use fresh ingredients as much as possible. So it's a must to use fresh lemons and fresh garlic.
To give the baba ganoush a creamy texture we added some Greek yogurt. This can be an option. If you want this to be a vegan dip or you can simply use a dairy-free yogurt.
Taste and adjust the salt, pepper, and lemon as needed.
If you can find sumac anywhere it is ok to skip this ingredient. It just gives it a kick of citrus flavor. You can simply add more lemons if needed.
Allow the eggplant to drain any excess water to prevent the eggplant dip to be watery and be thick and creamy instead.
Serve baba ganoush cold. It is important that you store it in the fridge for a bit before serving.
Top with any garnishes of your choice.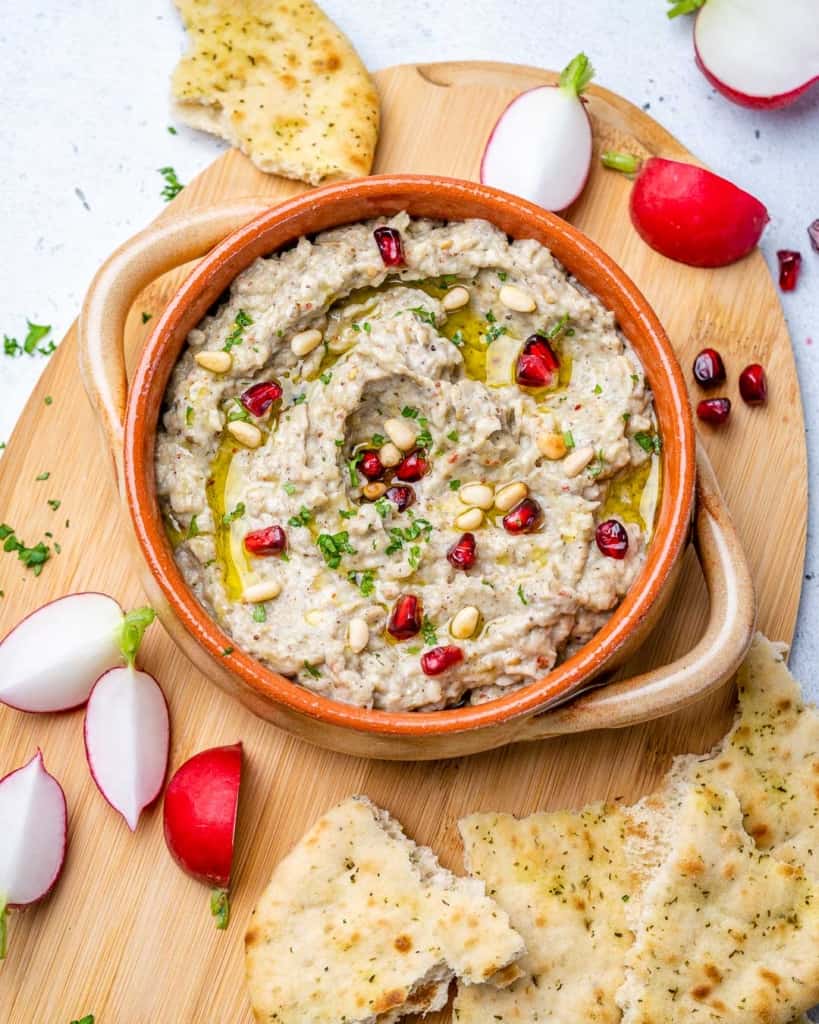 frequently asked questions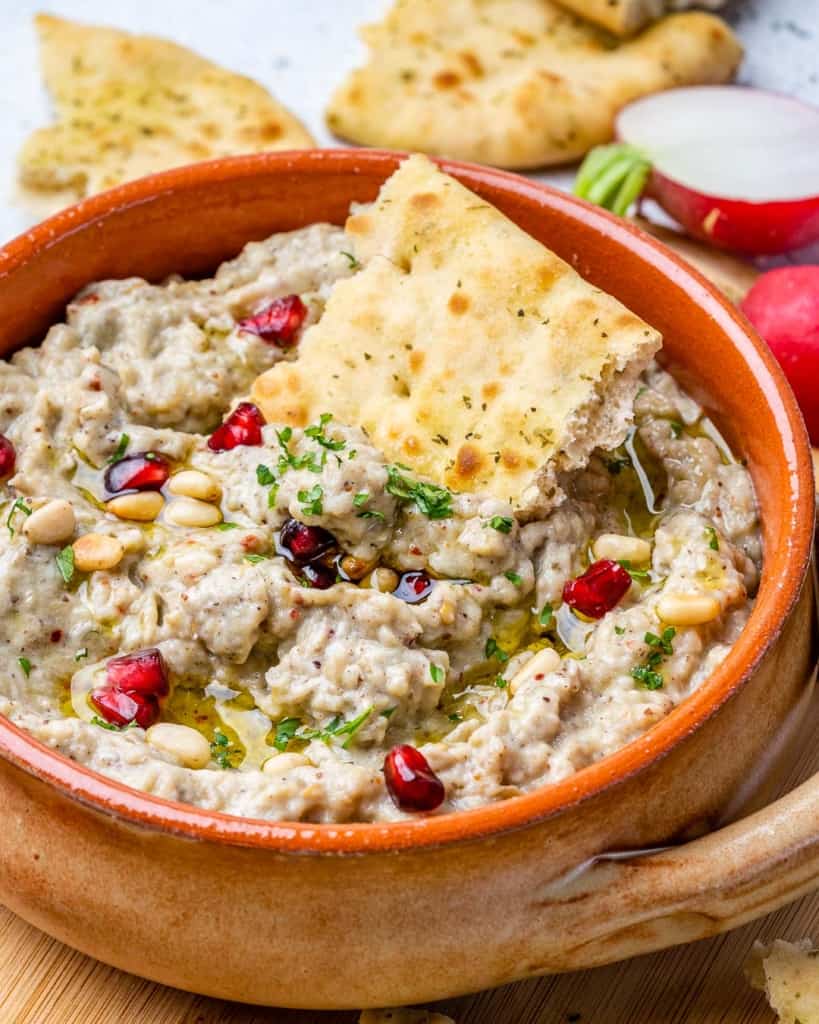 Other appetizer recipe to try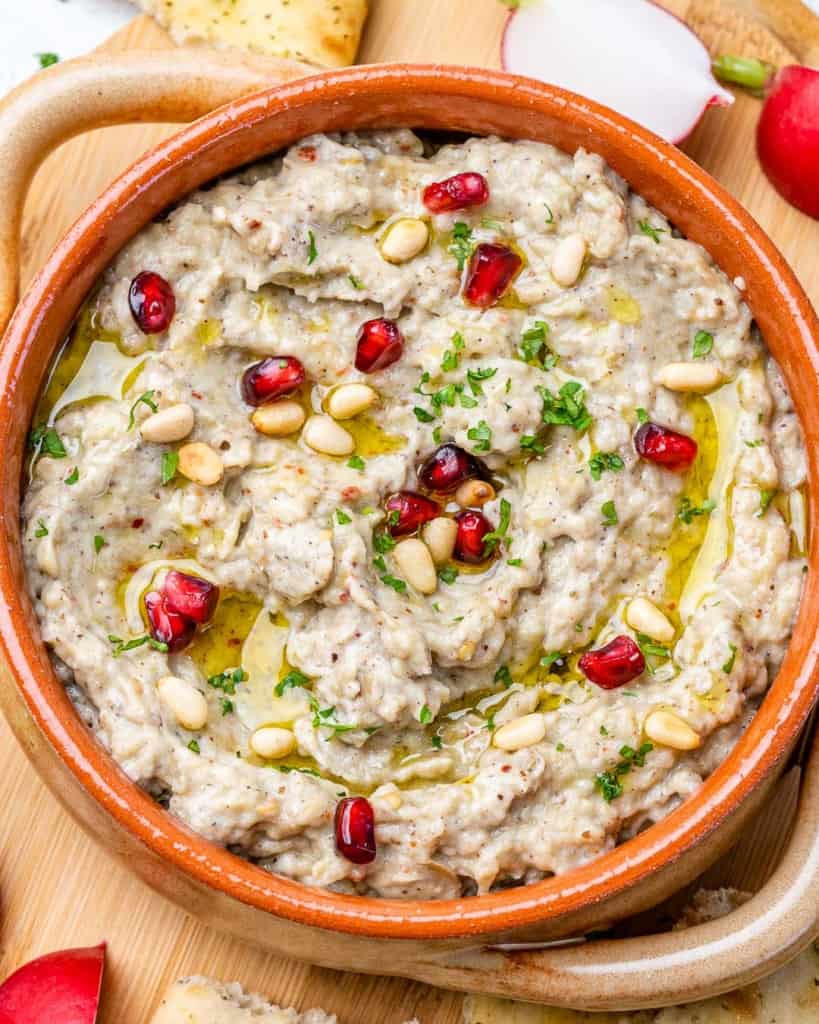 If you try a recipe and you like it, leave us some feedback in the comment section below, and don't forget to rate it! We would love it if you shared it with friends and family.
Finally, please use our hashtag #healthyfitnessmeals on INSTAGRAM for a chance to be featured! FOLLOW Healthy Fitness Meals on FACEBOOK | INSTAGRAM | PINTEREST | TWITTER for all of our latest blog posts and recipes.