In the mood for sweet, moist, nutty, and cinnamon Apple Muffins? Jump into fall with these easy and healthy apple spice muffins that are sweetened with maple syrup and loaded with protein and pieces of freshly grated apples!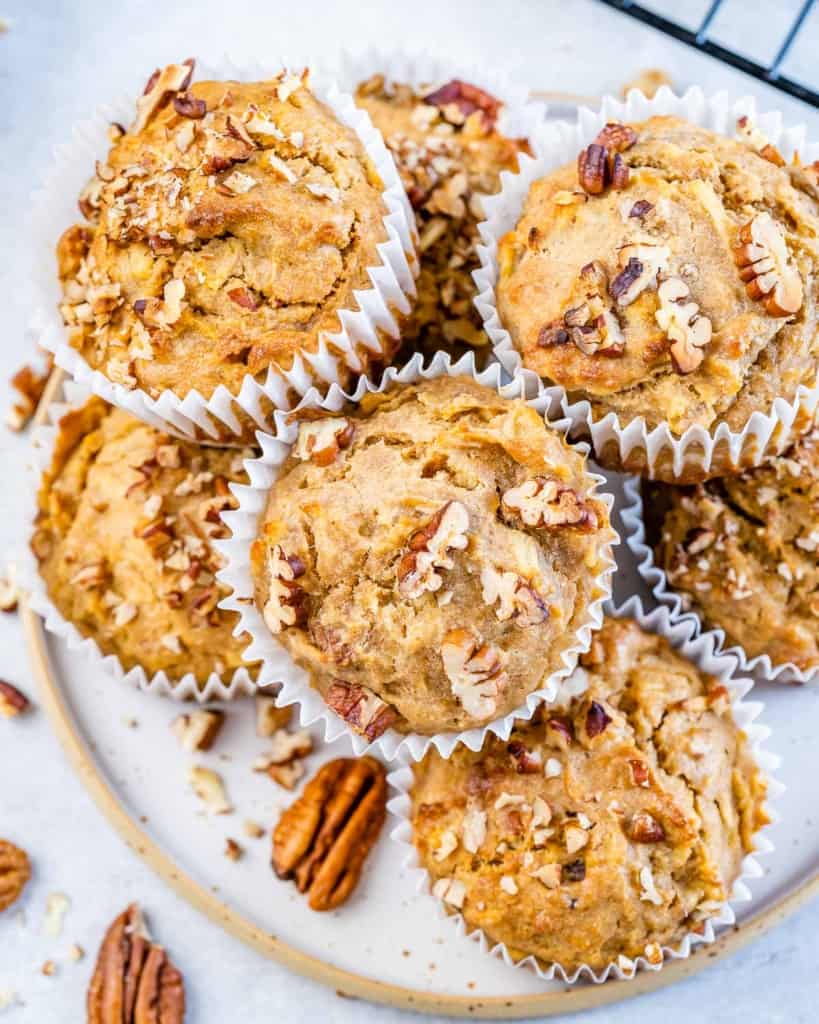 There is just something about baking apple cinnamon muffins when the weather gets cooler. These spicy moist muffins are fitting for those moments when you're looking to bake something quick, easy, and great for any occasion and holiday. Sweet and nutty pecans and creamy peanut butter add healthy plant-based protein to these healthy apple muffins making them the perfect option for breakfast, brunch, dessert, or whenever you are in need of a flavorful snack.
Dairy-free, refined sugar-free, and made with whole wheat flour, these muffins are healthier than most storebought muffins because they are made with wholesome ingredients that are full of fiber and healthy fats from coconut oil and chopped pecans. Crunchy and tasty, you will love these muffins.
Why You'll Love This Apple Muffin Recipe
Flavorful: What is there not to like about deliciously moist and cinnamon-filled muffins with grated or shredded apples? These apples muffins contain a perfect balance of warm and nutty flavors from fresh pecans and rich vanilla.
Easy: Ready in less than 30 minutes, you will have nutrient-dense muffins ready to be enjoyed in no time. We like to make these muffins for meal prep and keep them to enjoy throughout the busy weeks!
Family-Friendly: These muffins are great for lunch and snack boxes when you're on the go, working from, or attending school. Enjoy these easy apple muffins for breakfast or brunch as a family at home–the kids will love them.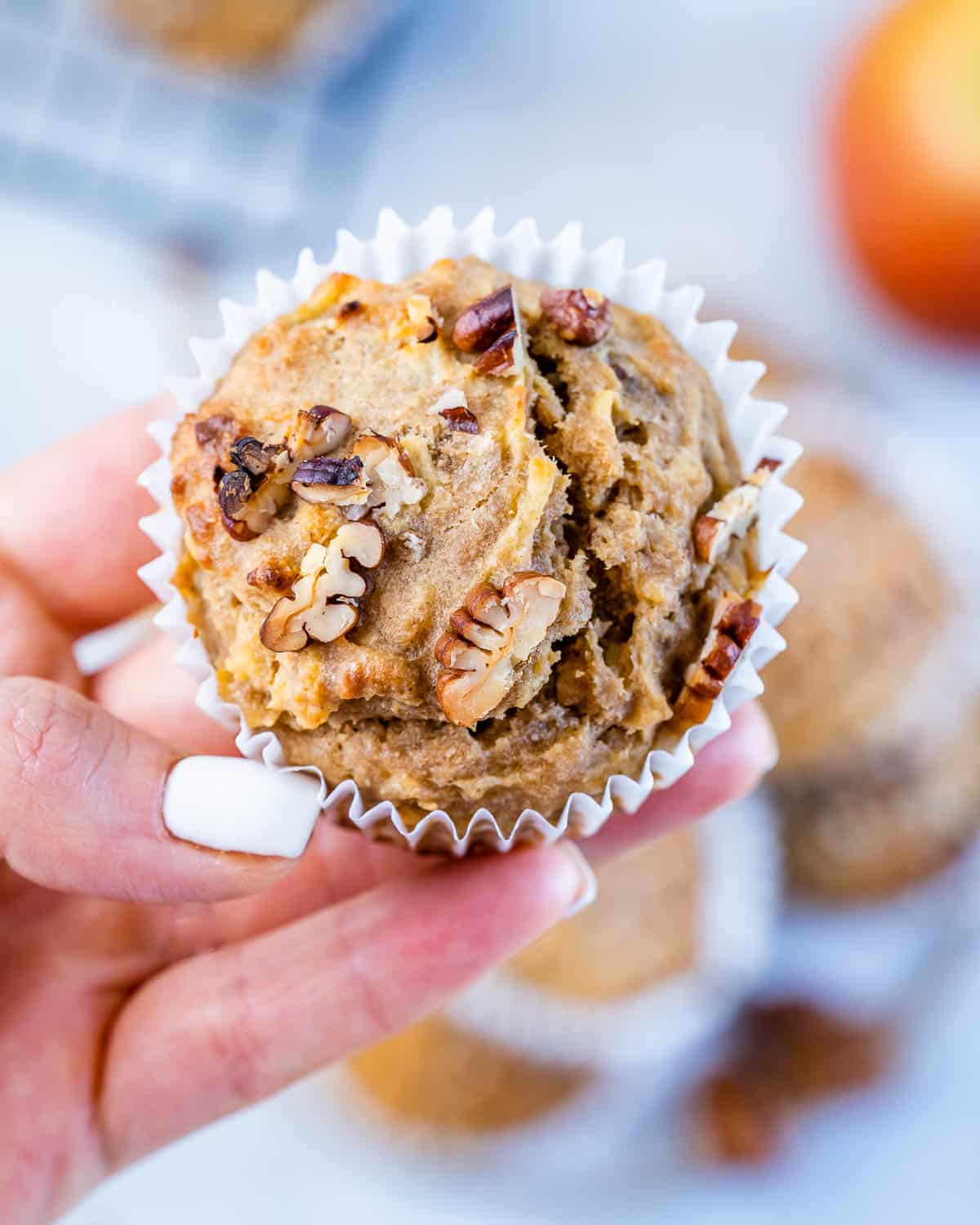 Ingredients Needed to Make Healthy Muffins
This is just a list of ingredients you will need to make these Apple Muffins. The full measurements are listed below.
apples, extra-large, peeled, and shredded, any kind of apple will do, but we like Granny Smith
lemon, juice, and zest
flour, whole wheat flour
baking powder
spices, cinnamon, and allspice
salt
eggs, large
maple syrup, or honey
oil, coconut
vanilla, pure
peanut butter, drippy
pecans, roughly chopped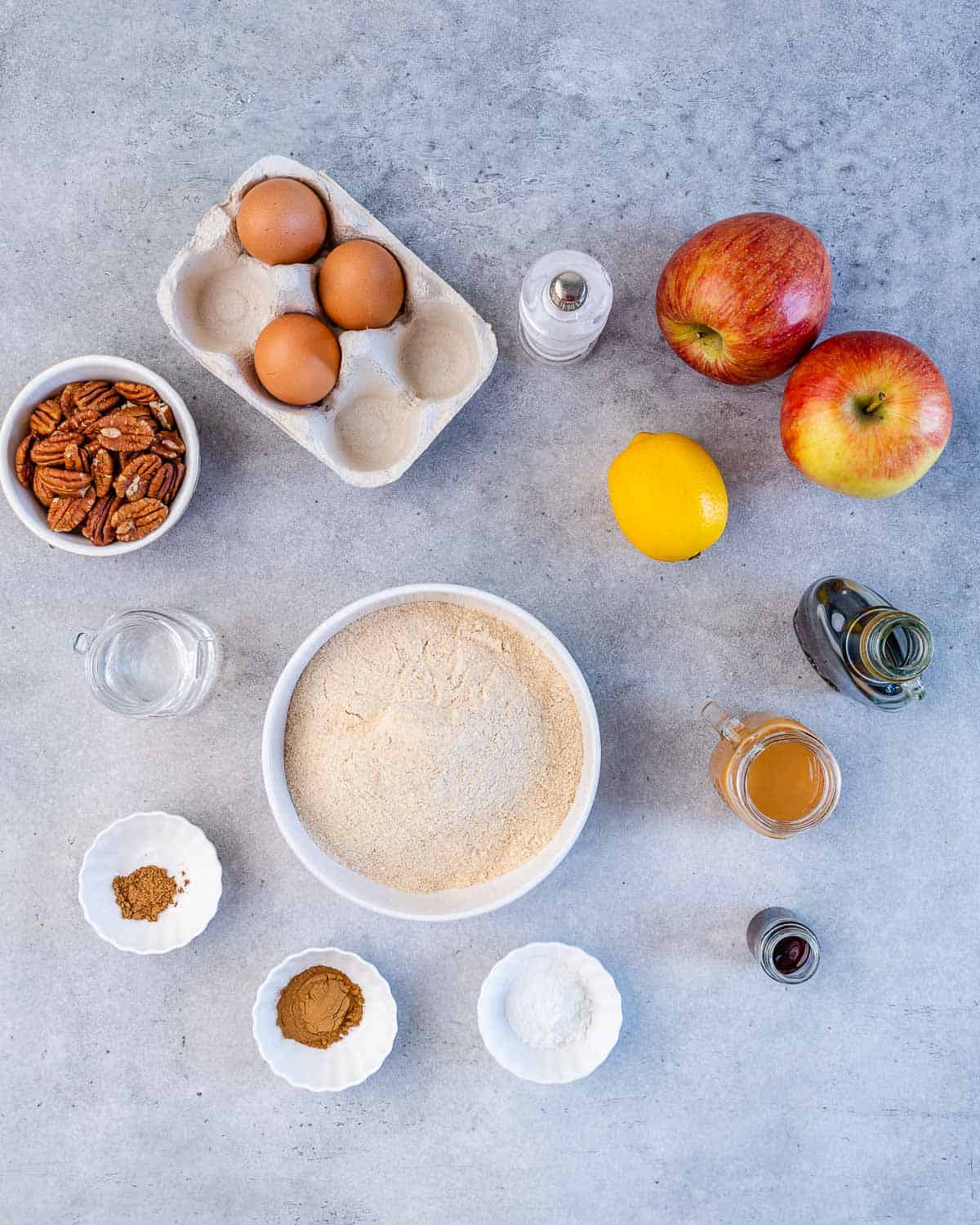 How to Make These apple cinnamon Muffins
Preheat oven: First, preheat the oven and line a muffin tin with cup liners.
Shred apples: Shred or grate the apples and toss them with lemon juice and zest. Set aside.
Combine dry ingredients: Next, in a large mixing bowl, add the flour, baking powder, cinnamon, all-spice, and salt. Mix well to combine.
Add wet ingredients: Next, whisk in the eggs, apples, maple syrup, coconut oil, and vanilla extract.
Mix peanut butter: Pour in the peanut butter and fold in the pecans.
Divide batter: Divide the batter among the prepared muffin cups.
Bake: Bake the muffins for 18-20 minutes.
Cool: Allow the muffins to cool prior to serving. Enjoy!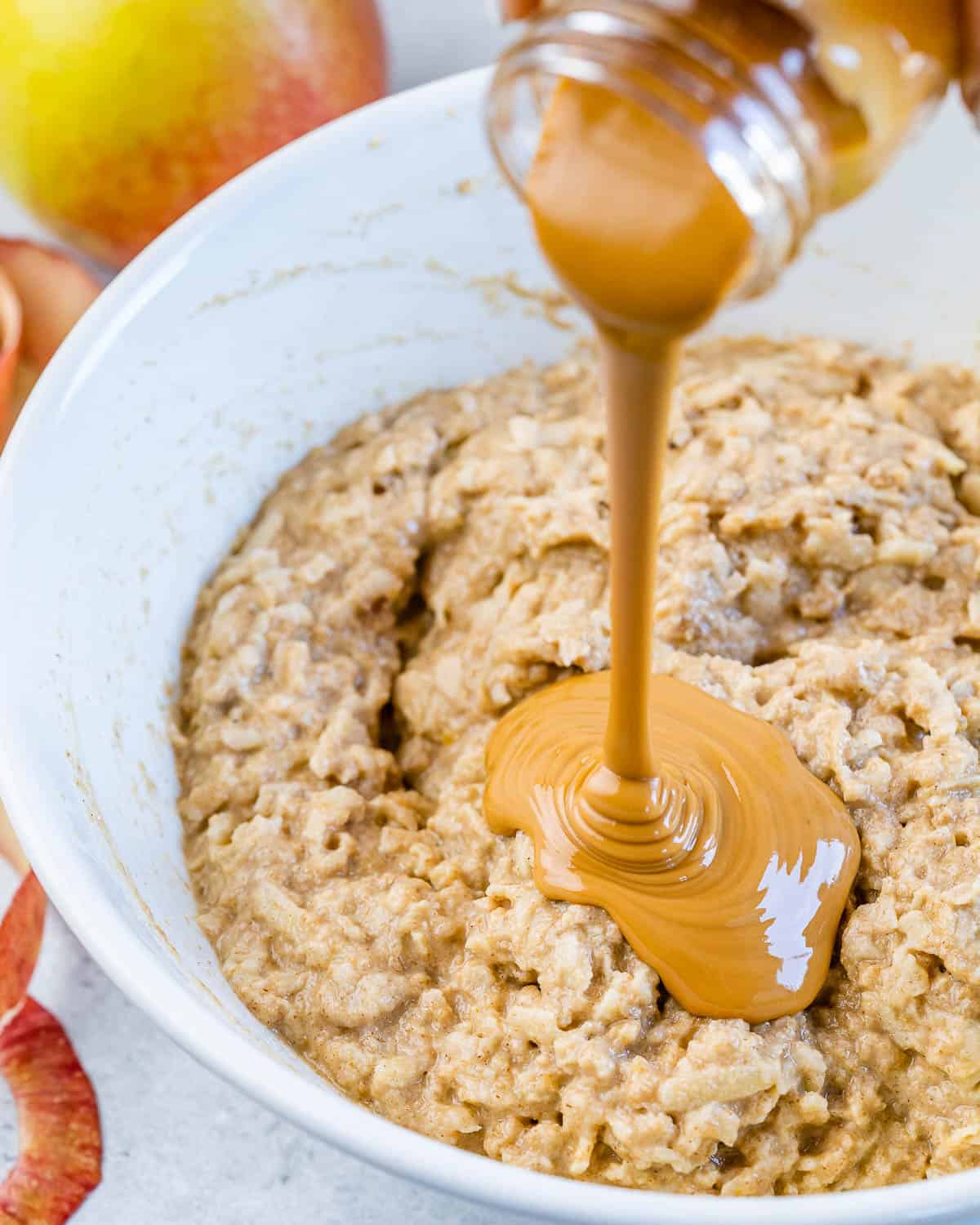 Recipe Notes and Tips
Rather than using Granny Smith, feel free to use Honey Crisp, Pink Lady or Cripps Pink, Golden, or Red Delicious.
For a version that is not vegan, you can substitute the maple syrup honey. Another sweetener you can use for these muffins is agave nectar or for a sugar-free opion, use monk fruit sweetener.
Don't want to use apples? Use pears, peaches, or bananas.
Instead of pecans, use almonds.
For a gluten-free option, use a 1:1 gluten-free baking flour.
Store the leftovers in an airtight container for up to four days. Freeze the muffins in a freezer-safe container or bag for up to six months. When ready to enjoy the muffins, allow them to thaw in the refrigerator overnight prior to eating.
Serve these muffins warm with your favorite vegan or regular butter.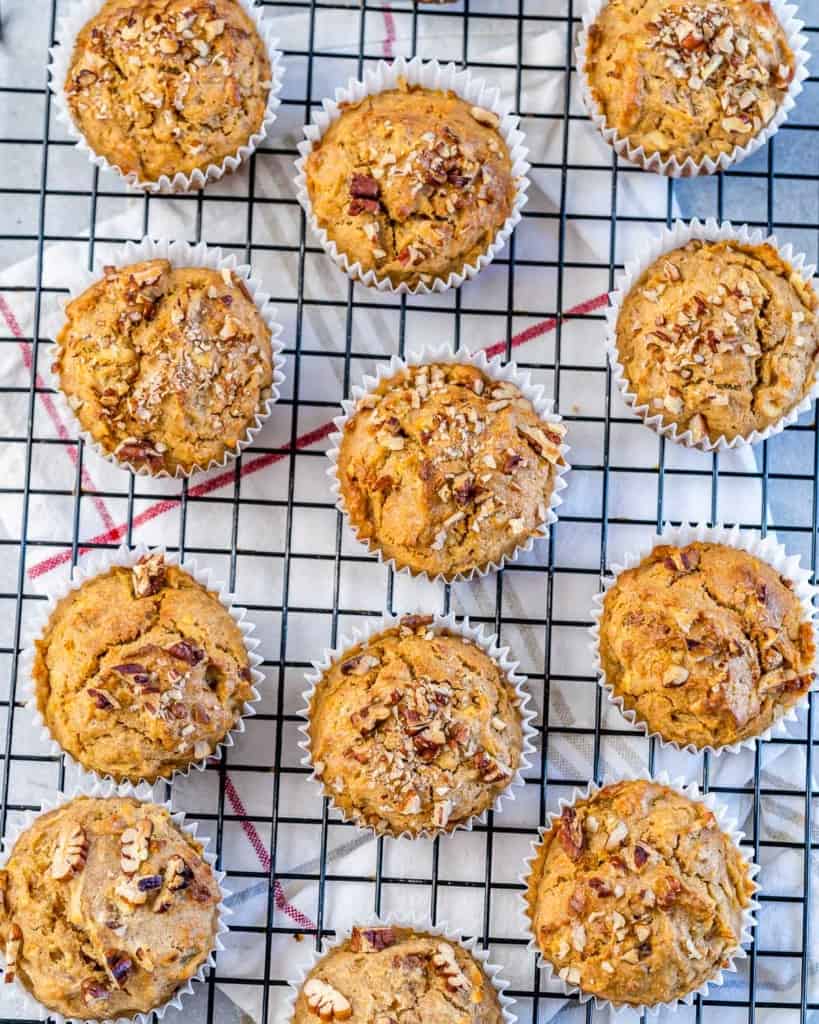 Frequently Asked Questions
Other Muffin Recipes You Will Enjoy
Healthy Gluten-Free Blueberry Muffins
Flourless Banana Protein Muffins
Chocolate Muffins (Healthy and Flourless)
Oat Flour Pumpkin Muffins (Healthy)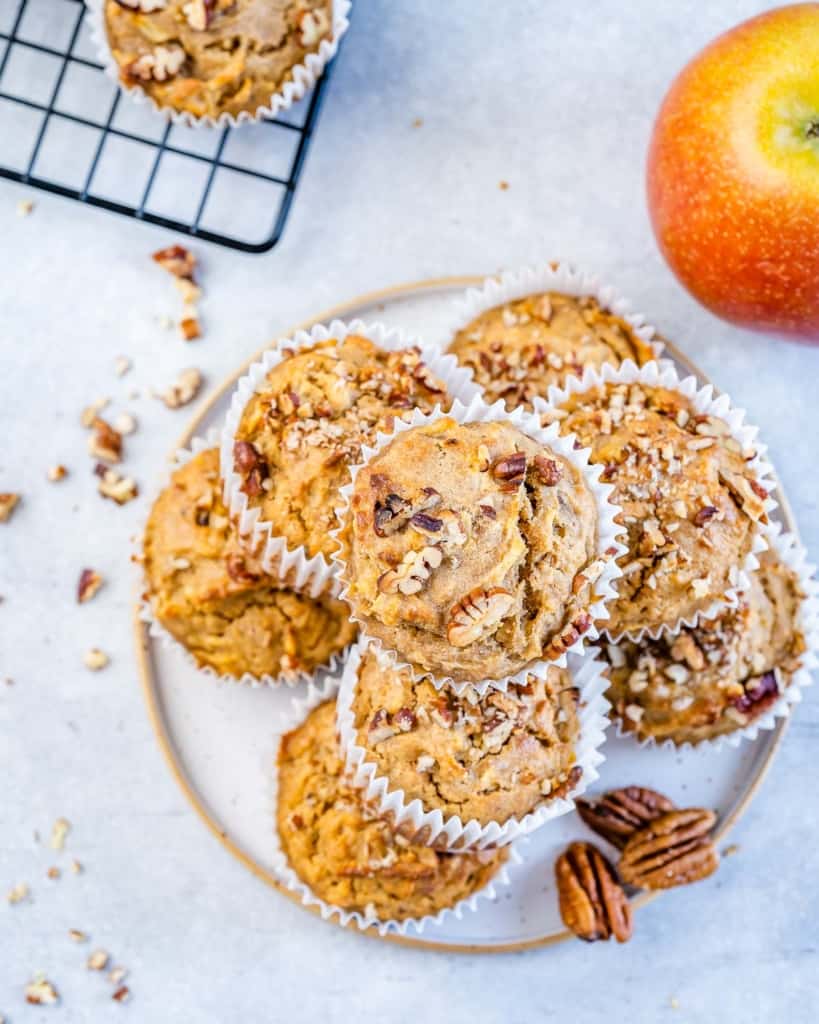 If you try a recipe and you like it, leave us some feedback in the comment section below, and don't forget to rate it! We would love it if you shared it with friends and family.
Finally, please use our hashtag #healthyfitnessmeals on INSTAGRAM for a chance to be featured! FOLLOW Healthy Fitness Meals on FACEBOOK | INSTAGRAM | PINTEREST | TWITTER for all of our latest blog posts and recipes.