This Chocolate Chia Protein Pudding recipe is a simple and healthy dessert or snack recipe that's a healthier version of the classic chocolate pudding. It contains way more protein so you can enjoy it and have absolutely no guilt.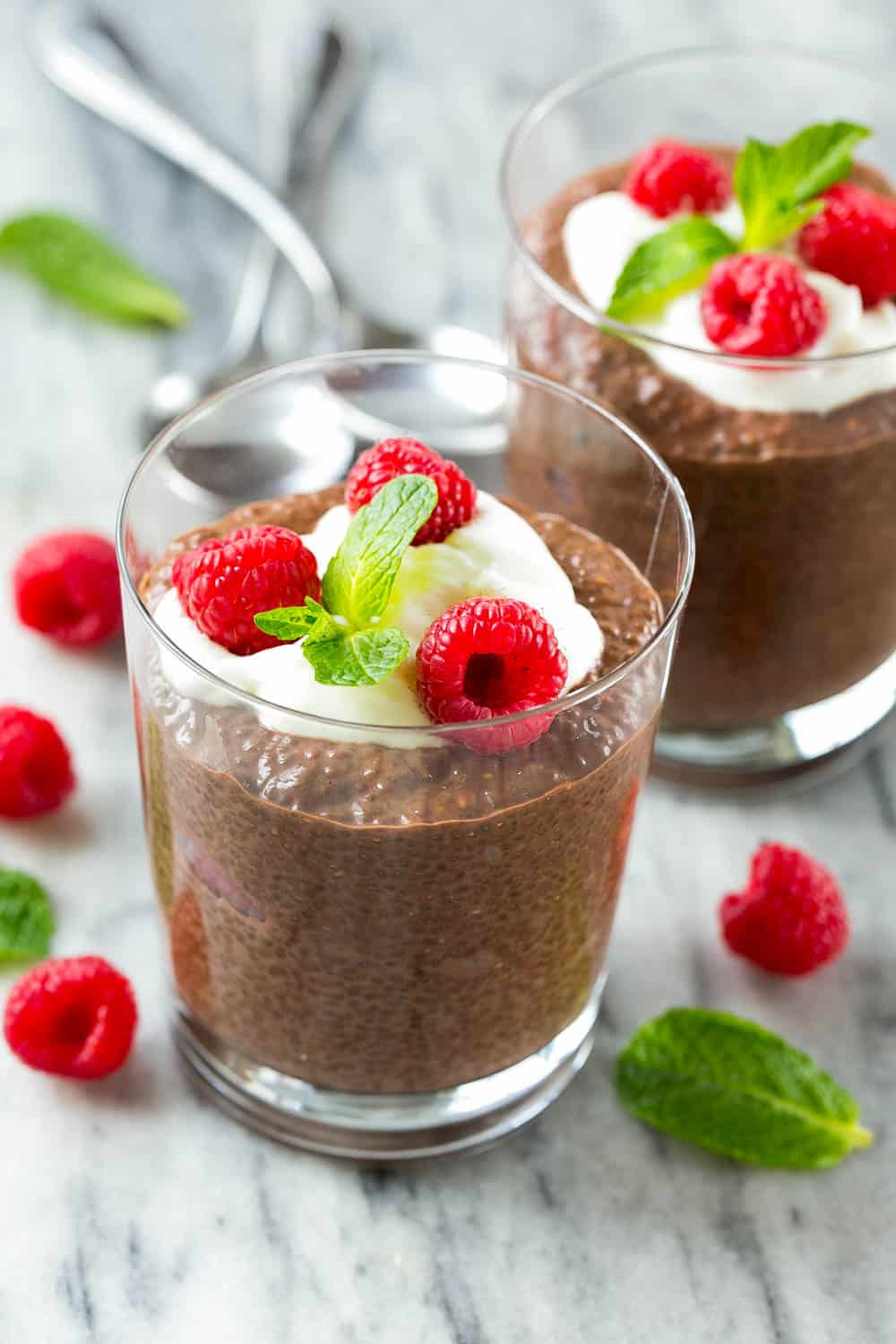 Easy Chocolate Chia Protein Pudding Recipe
Chia pudding is such an easy way to make a quick and healthy dessert that you can also have as a snack or for a quick and easy breakfast. This chocolate chia pudding recipe is so creamy, rich, and loaded with protein. They are made with plant-based milk, cocoa powder, chia seeds, maple syrup, and added whey protein for that added protein boost. The vanilla extract is optional but gives it a nice taste. This chia pudding recipe can be made vegan if you use plant-based protein and either almond or coconut milk.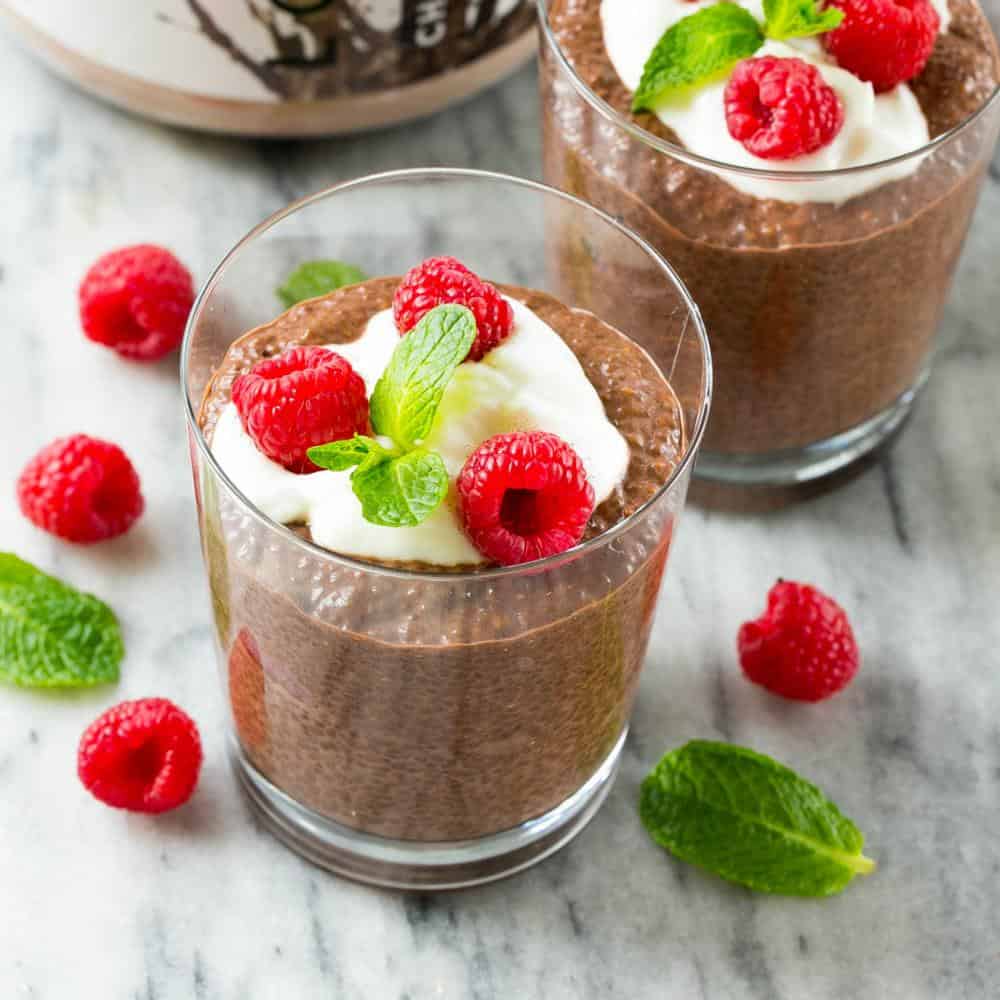 Health Benefits of Chia Pudding
Chia pudding is made with good amounts of chia seeds which have many proven health benefits. They are among one of the healthiest foods known to mankind.
Some benefits of chia seeds include:
Highly nutritious – one ounce of chia seeds has 101 calories, 11g of fiber, 4g of protein, 9g of fat (5 of which are omega-3 fatty acids), and other essential vitamins and minerals.
Loaded with antioxidants – which helps fight against cancer and aging.
High in Fiber – one ounce of Chia seeds has 12g of carbohydrates and 11 of which are fiber, which helps with digestion and promotes fullness. They absorb 10-12 times their weight in water.
High in protein – helps reduce appetite and cravings, thus promotes weight loss.
Promotes Bone health – Chia seeds are high in calcium, magnesium, and phosphorus which are essential for bone health.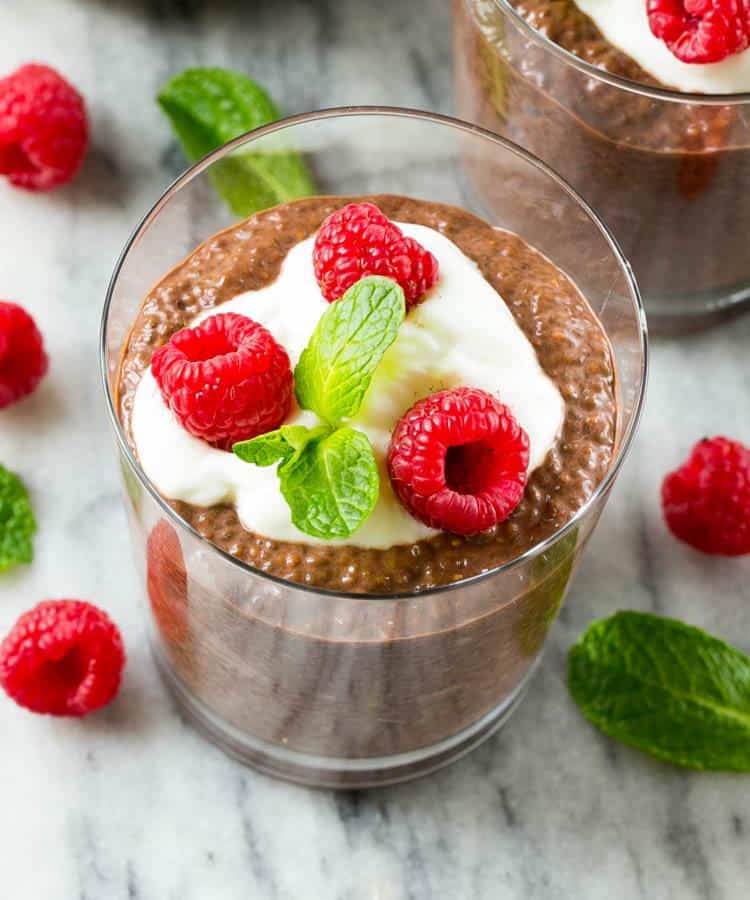 How to make chocolate chia pudding
You really need as little as 3 ingredients to make chia pudding, some sort of liquid, chia seeds, and sweetener. Chia seeds have no taste so they will retain the taste of whatever ingredients you use to make the chia pudding. Often times it is best to use some sort of milk as the base whether you use plant-based milk or skim milk.
Place the cocoa powder in a bowl and add about 2 tbsp of the milk to mix the cocoa powder in without forming any clumps. Add the remaining almond milk and whisk. Then, add the chia seeds, maple syrup, protein powder, and vanilla. Mix until well combined and cover. Place in the fridge for about 2 hours so the chia absorbs the liquid and form a pudding.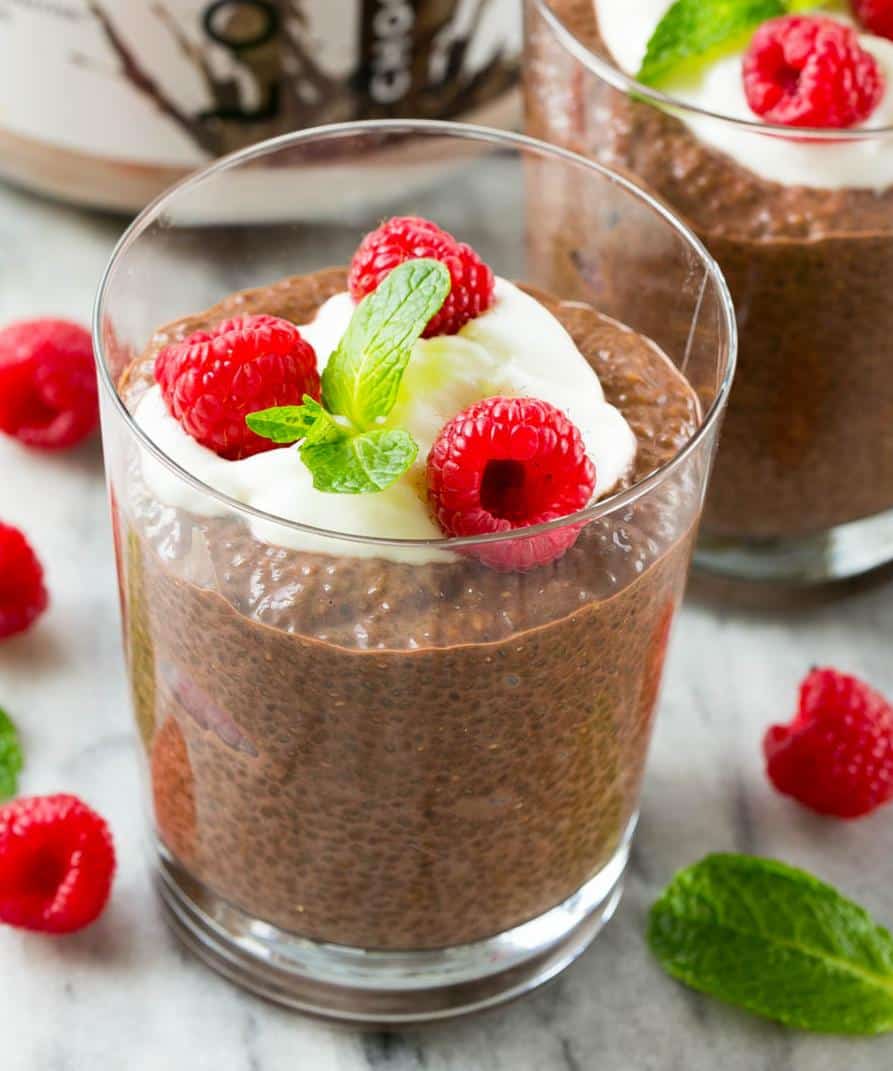 Some frequently asked questions
Here are a few questions that you may have.
What does Chia pudding taste like?
Chia seeds have literally no taste to them. So they will taste like whatever liquids you use to make the chia pudding with for example almond milk or coconut milk. Maybe even chocolate milk. You can make it taste like whatever you like it to be. As far as the texture, they are thick and creamy. Similar to tapioca pudding.
How long does Chia pudding last?
Chia pudding after it is mixed and ready to eat should last about 5 days in the fridge in an airtight container. They keep well which is why it is great to make them ahead and place in the fridge for an on-the-go breakfast or snack.
Why is my chia pudding runny?
If your chia pudding is runny, then used too many liquids. Most Chia pudding recipes will call for a 4:1 ratio. It is really something you need to experiment with to see which way you like it best. Some like it runny and some like it very thick. If you prefer your chia pudding more on the thick side, you can add 1-2 tablespoons of chia seeds to it, mix and give it about 2-3 hours to absorb.
Is Chia pudding good for weight loss?
Chia seeds are very high in fiber. Every one ounce of chia seeds has 11g of fiber. Foods that are high in fiber have been linked to help with weight loss because they help promote the feeling of fullness. They are also high in protein.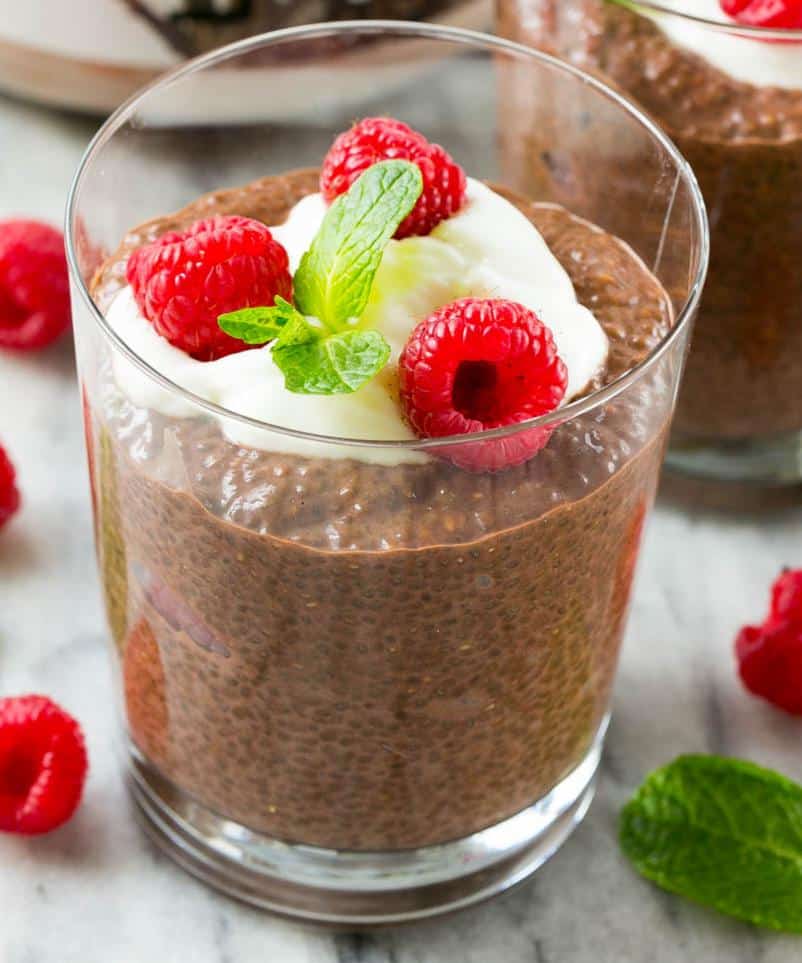 Chia pudding substitutes
There are many different ways to make chia pudding and you will have to try a few recipes out there until you find the right one for you. Here are a few substitutes you can make to this recipe if you would like to switch things up a bit.
Milk – You can use any milk that you like. You can use either almond milk, coconut milk, or skim milk. stick to plant-based for vegan options
Sweetener – Maple syrup for a vegan option, honey, or any other sweetener of your choice like cane sugar or Truvia.
Protein – You may not want to use any added protein which is fine. Just use a 4:1 ratio milk to chia seeds. if using protein use any protein you prefer. Plant-based for vegans.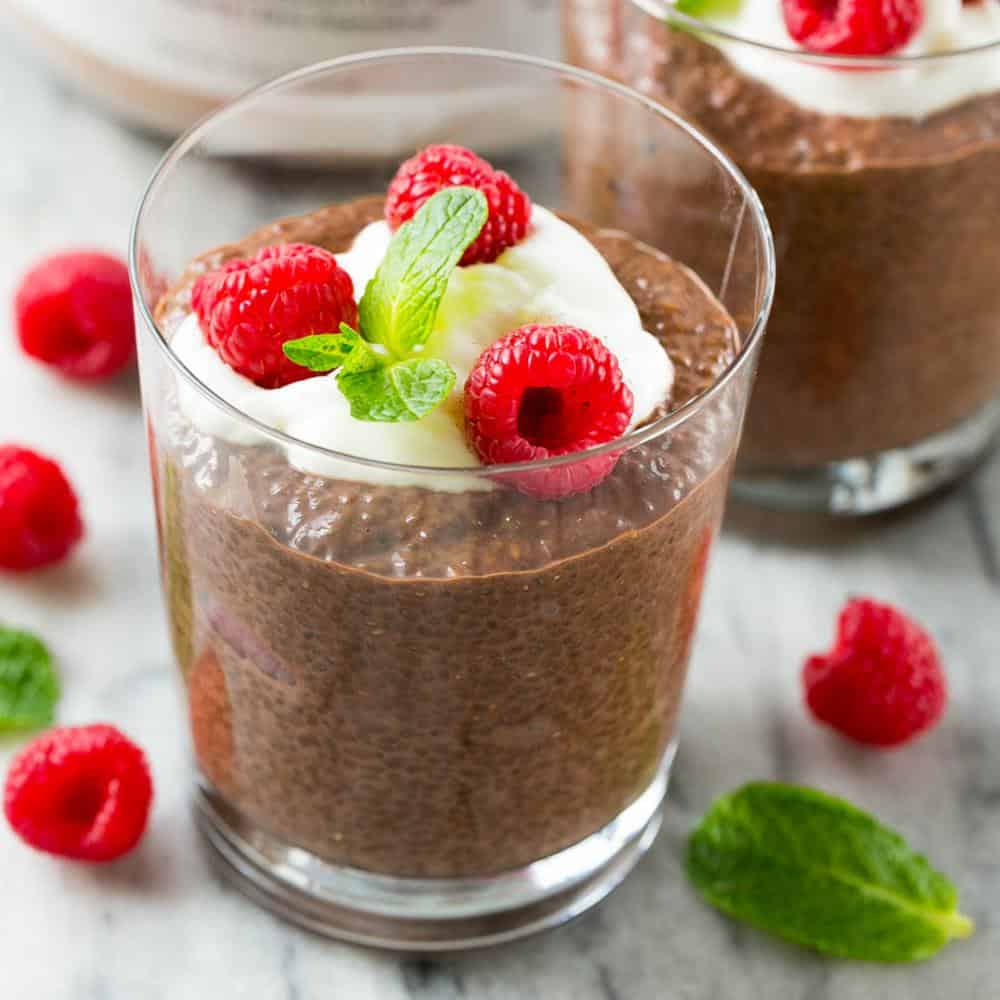 Making this Chocolate Chia Pudding Recipe?
I would love to get some feedback from you if you make this recipe. Please leave me a comment below and let me know what your thoughts are. Also, if you liked it please don't forget to give it a 5-star rating.
Here are a few other easy breakfast recipes you can check out: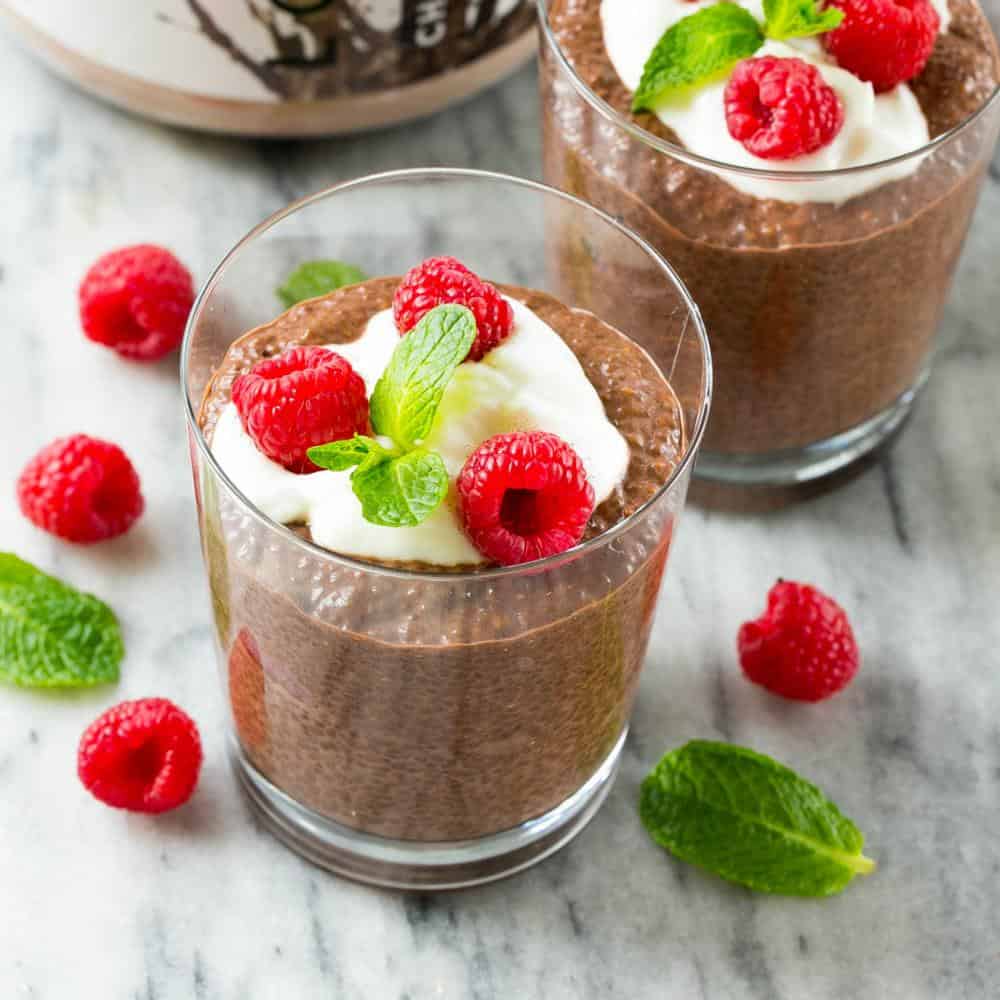 Remember to subscribe to my NEWSLETTER for free and receive recipes like this Chocolate Chia Pudding Recipe delivered right to your inbox!
If you try a recipe and you like it, please use my hashtag #healthyfitnessmeals on INSTAGRAM for a chance to be featured! FOLLOW Healthy Fitness Meals on FACEBOOK | INSTAGRAM | PINTEREST | TWITTER for all of my latest blog posts and recipes.
Chocolate Chia Protein Pudding
A simple treat that's a healthier version of the classic chocolate pudding, and contains way more protein.
Print
Pin
Rate
Ingredients
¼

Cup

Cocoa powder

1/3

Cup

Chia seeds

¼

Cup

Maple syrup

1

Scoop

Whey Protein

chocolate flavor

1/4

tsp

Vanilla Extract

2

Cups

Almond milk, coconut milk, or skim milk
coconut whipped cream or Greek yogurt, raspberries, mint sprigs
Instructions
Place cocoa powder in a bowl with a little bit of the almond milk and mix well to allow the cocoa powder to mix well.

Then add the remainder of the almond milk and mix again. Add the chia seeds, maple syrup, protein powder, and vanilla.

Whisk until the mixture is smooth and cocoa powder has dissolved. Approximately 2-3 minutes.

Cover the bowl and place in the refrigerator for at least 2 hours or until mixture has thickened.

Serve, topped with garnishes if desired.
Notes
Please keep in mind that the nutritional information is calculated using a nutrition facts calculator. It is a rough estimate and can vary greatly based on products used.
Nutrition
Calories:
365
kcal
|
Carbohydrates:
49
g
|
Protein:
18
g
|
Fat:
14
g
|
Saturated Fat:
2
g
|
Cholesterol:
31
mg
|
Sodium:
374
mg
|
Potassium:
431
mg
|
Fiber:
14
g
|
Sugar:
25
g
|
Vitamin C:
1
mg
|
Calcium:
613
mg
|
Iron:
4
mg