This Chicken Caprese Salad is so flavorful with tender and juicy chicken breast in every bite. Loaded with veggies, protein, and tossed with a delicious honey balsamic dressing.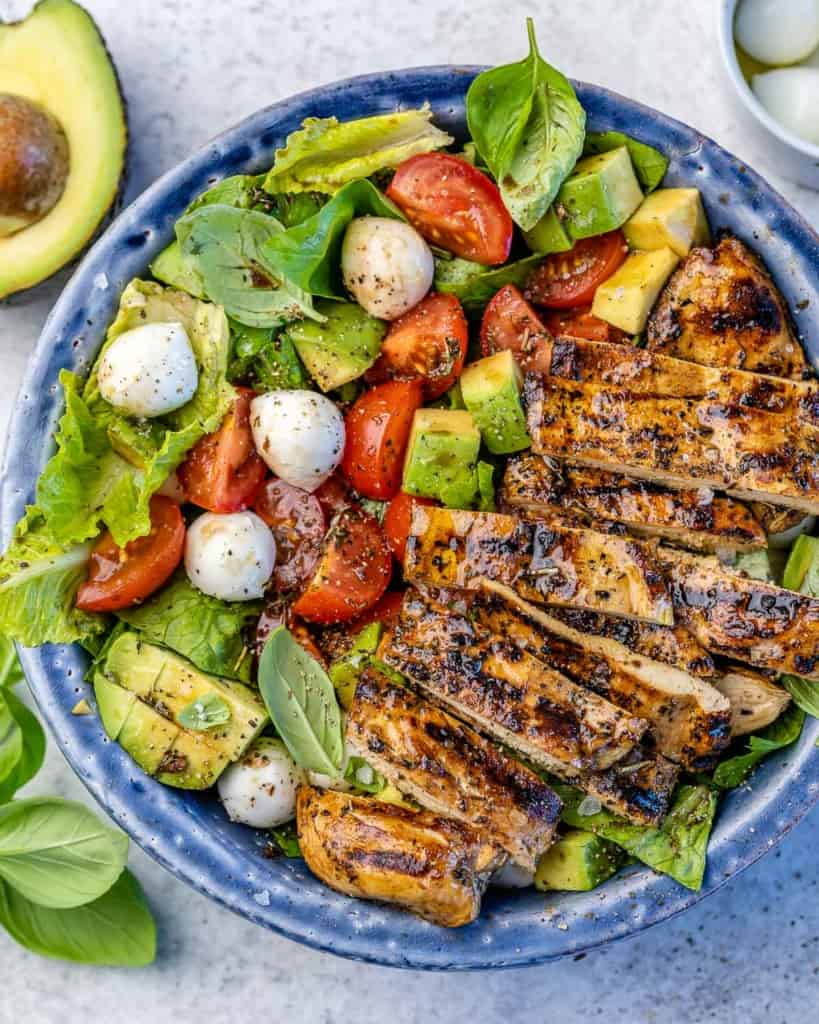 Grilled chicken salads are one of our favorite meals to make. They can be enjoyed as a lunch or a light dinner option. Loaded with protein and nutrients, this chicken Caprese salad is full of flavor and easy to put together. Enjoy your favorite tomatoes mozzarella Caprese salad with a twist by making it into a full meal when you add some balsamic chicken breast to it. The grilled Chicken breast is so juicy and the salad is tossed in with a honey balsamic dressing. We added in some avocados for a boost of healthy fats and some fresh basil for a boost of fresh flavorful herbs.
Why you will love this caprese chicken
Simple and easy: this chicken caprese salad is simple and really easy to make. Takes just avout 30 minutes to put together.
Low carb: a grilled chicken salad recipe thats low in carbs and a perfect meal that's keto-friendly.
So tasty: The flavor of this chicken caprese salad will blow you away. With a hint of honey and balsamic vinegar, it takes your salad game to a whole new level.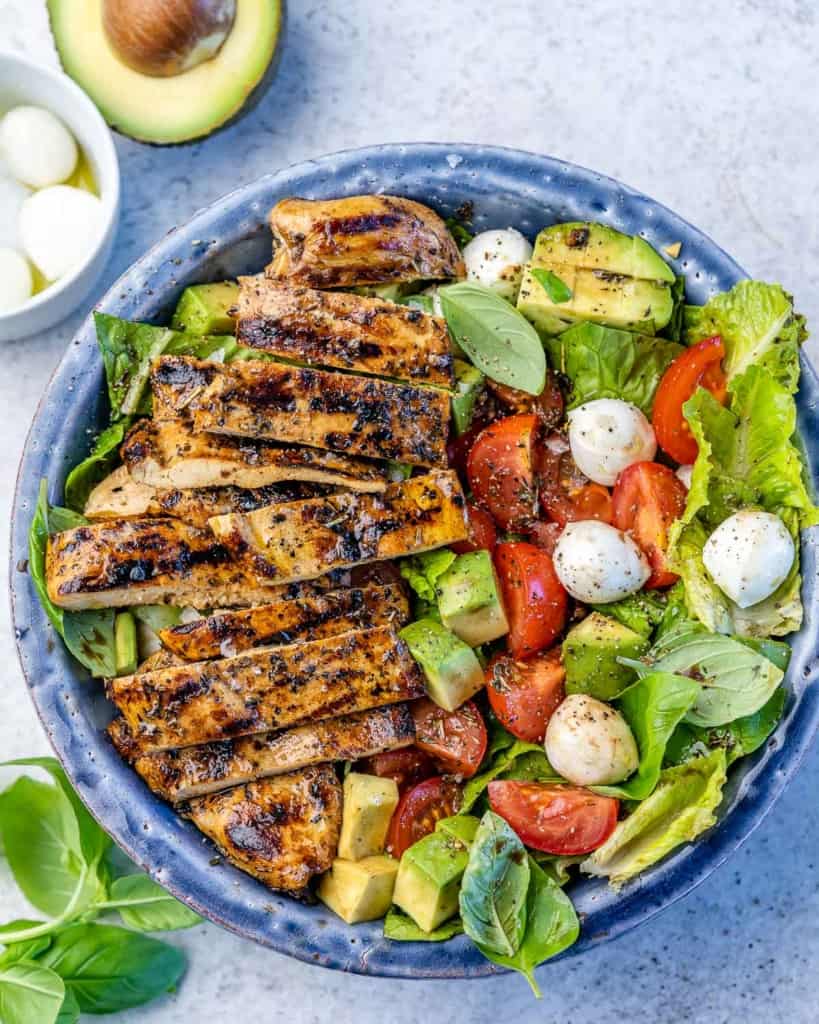 Ingredients you will need
Below is just a list of ingredients you will need to grab from the store to make this chicken Caprese salad. Full measurements are listed further down below.
For the Marinade/Dressing
balsamic vinegar
olive oil
honey
garlic cloves
Italian seasoning
salt and pepper
For the Salad:
boneless and skinless chicken breasts
romaine lettuce, or any other lettuce
avocado
cherry or grape tomato
mini mozzarella balls
fresh basil leaves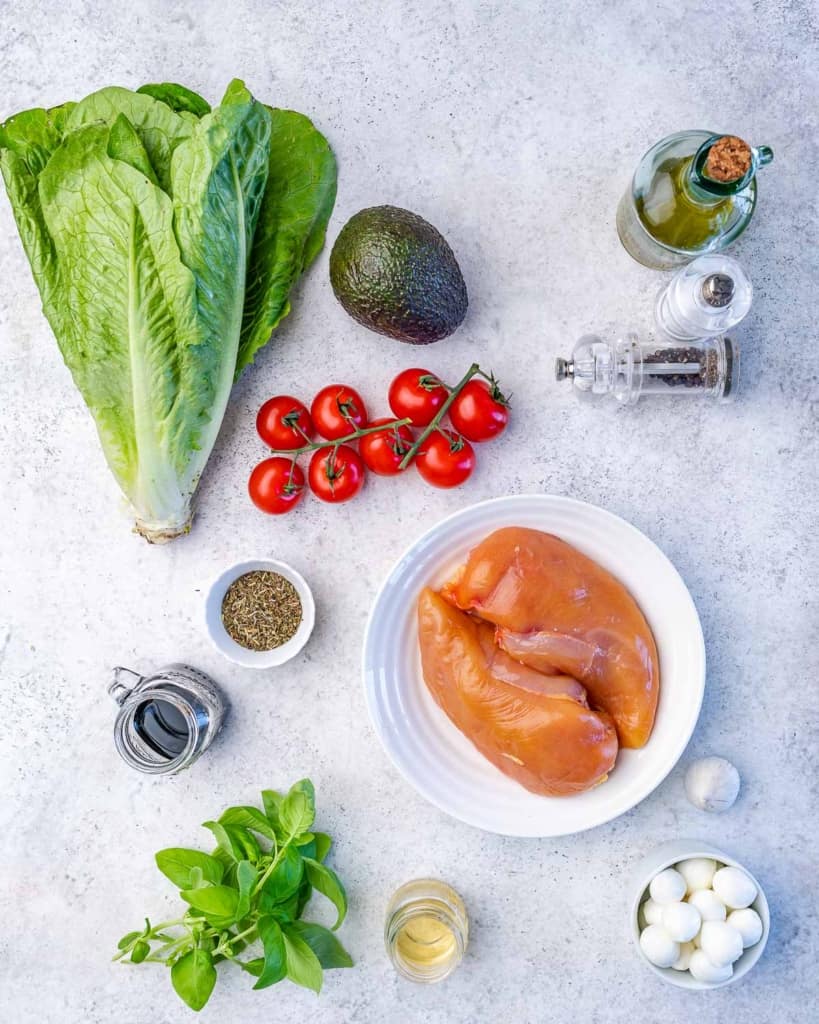 How to make this chicken caprese salad
Make the dressing: To a small jar add all the dressing/marinade ingredients and shake vigorously to combine.
Marinate the chicken: Pour about 1/3 of the marinade over the chicken and toss to completely coat. Reserve the remaining marinade to use as a dressing, but make sure it doesn't touch the raw meat.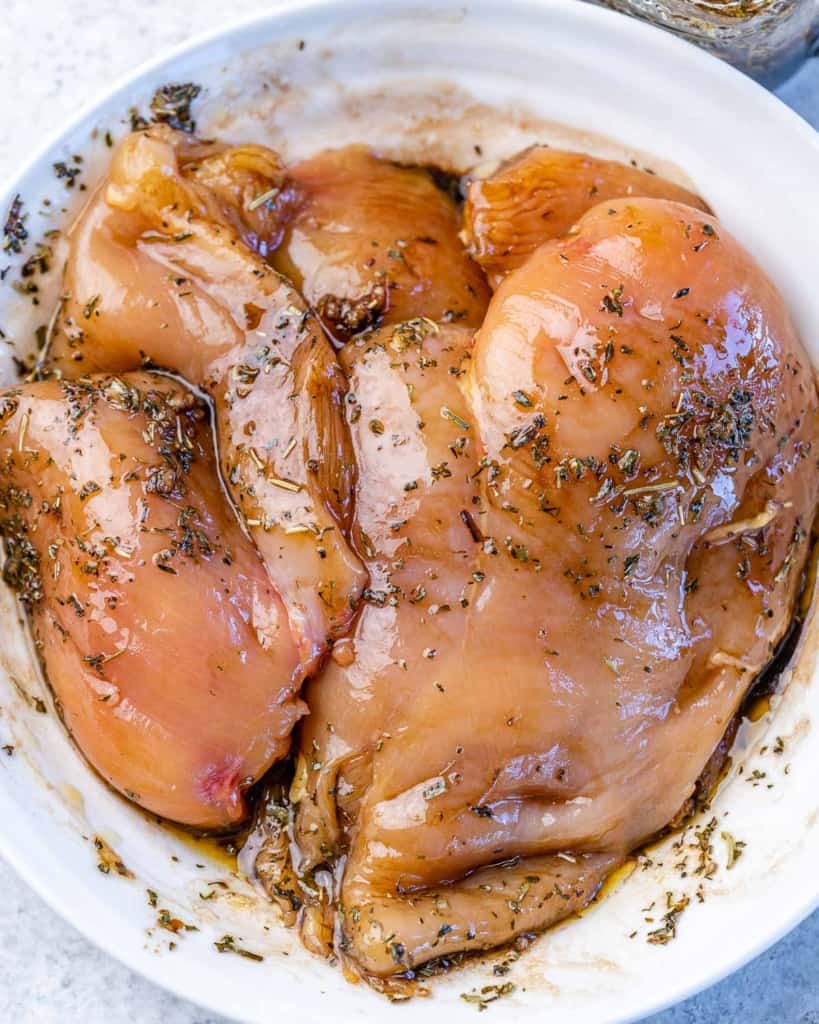 Grill the chicken: Heat a grill pan or an outside grill over medium-high heat. Grill the chicken for about 5-7 minutes per side, or until charred and cooked through.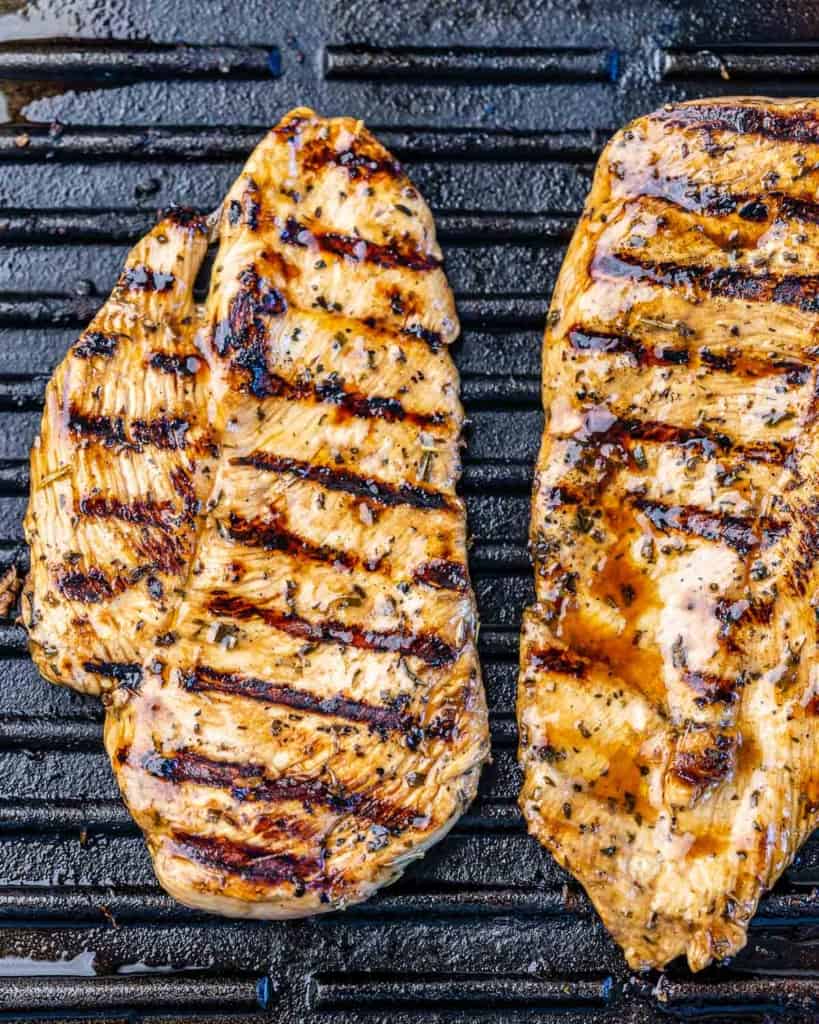 Assemble the salad: To a large salad bowl add the romaine lettuce and top with remaining prepped veggies. Toss in the mozzarella balls and sliced grilled chicken.
Serve and enjoy: Drizzle with the remaining dressing and toss to combine.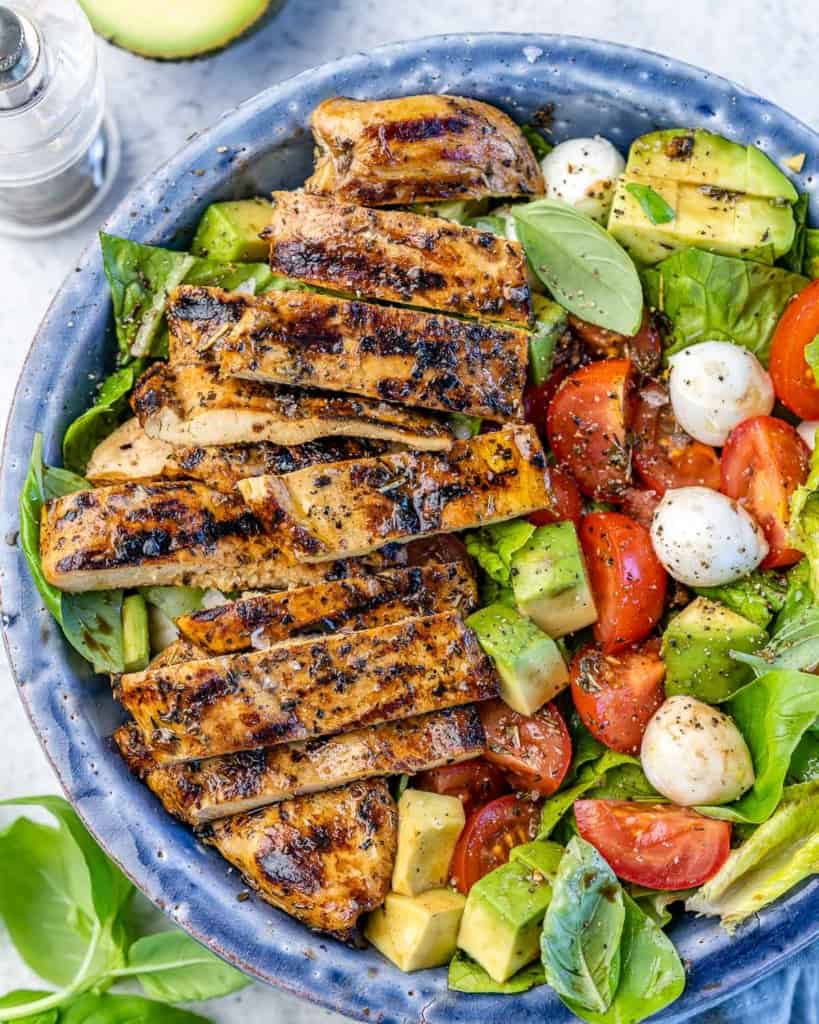 recipe notes and tips
Chicken breast is recommended. But you may use boneless and skineless chicken thighs.
Use fresh mozzerella as you would when making traditional caprese. For the salad, we recommend using the fresh mozzarella balls. If for any reason you can't find them, cut up fresh mozzarella into cubes.
Avocado: use firm ripe avocados. Not too soft because it could be mushy.
Other toppings you can add: bleuberries, strawberries, or walnuts
Fresh basil leaves are highly recommened instead of dried basil.
Any lettuce will work in place of Romaine.
If you dont have honey, you can use maple syrup.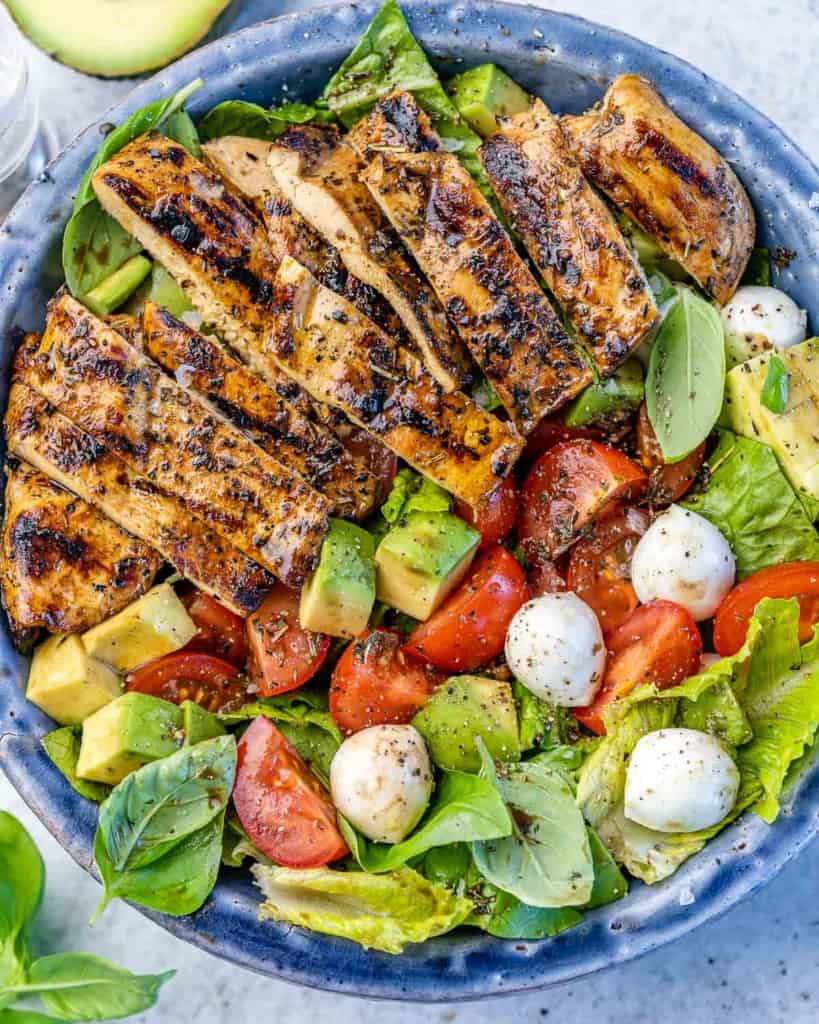 Frequently asked questions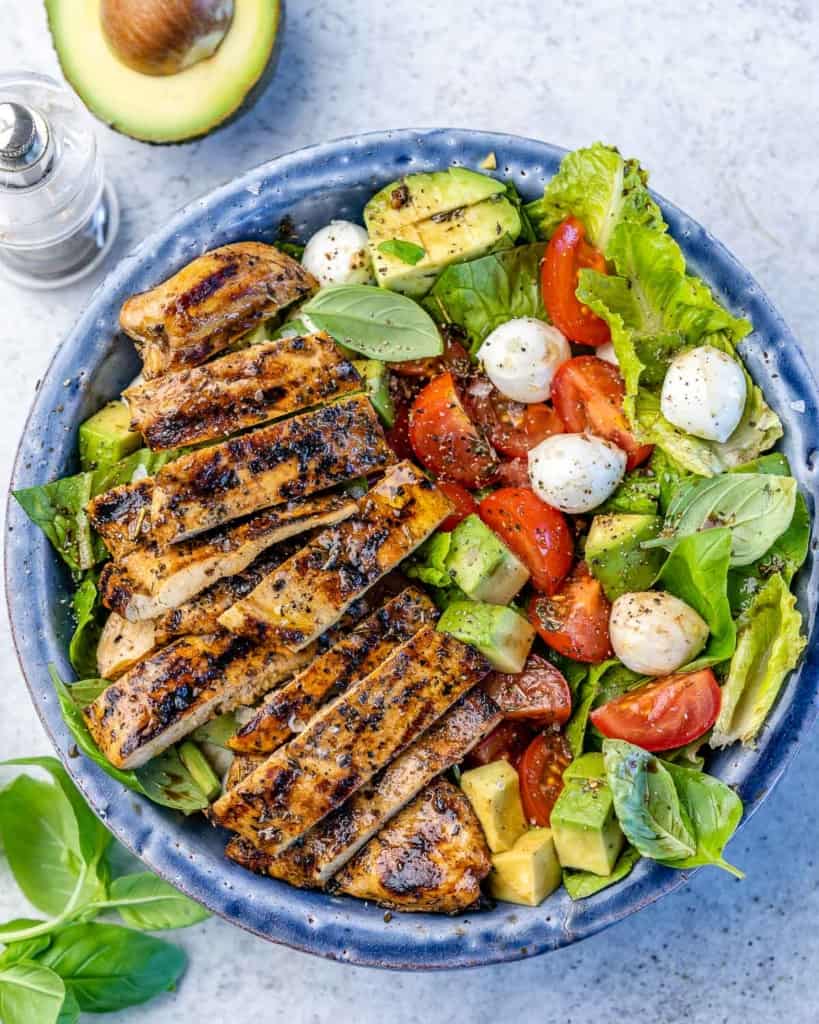 Other salads you may like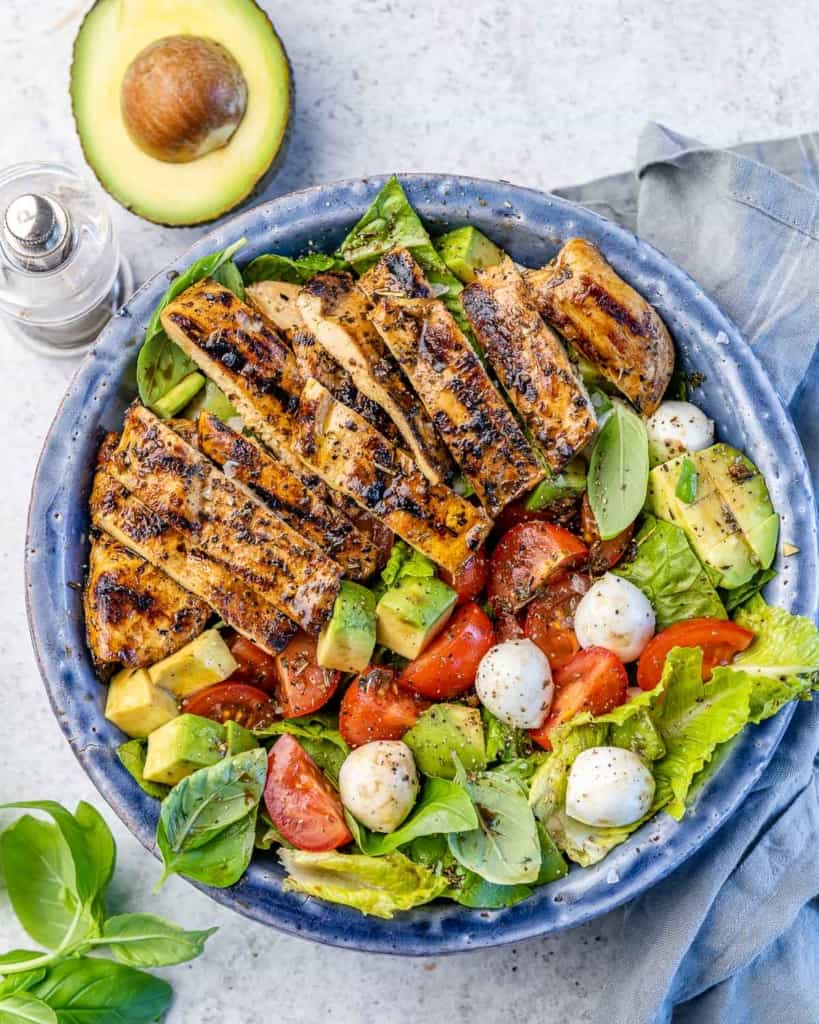 If you try a recipe and you like it, leave us some feedback in the comment section below, and don't forget to rate it! We would love it if you shared it with friends and family.
Finally, please use our hashtag #healthyfitnessmeals on INSTAGRAM for a chance to be featured! FOLLOW Healthy Fitness Meals on FACEBOOK | INSTAGRAM | PINTEREST | TWITTER for all of our latest blog posts and recipes.