This Mediterranean-style Chicken Salad recipe is so wholesome and delicious. A simple salad bowl loaded with fresh veggies and topped with tender and juicy grilled chicken.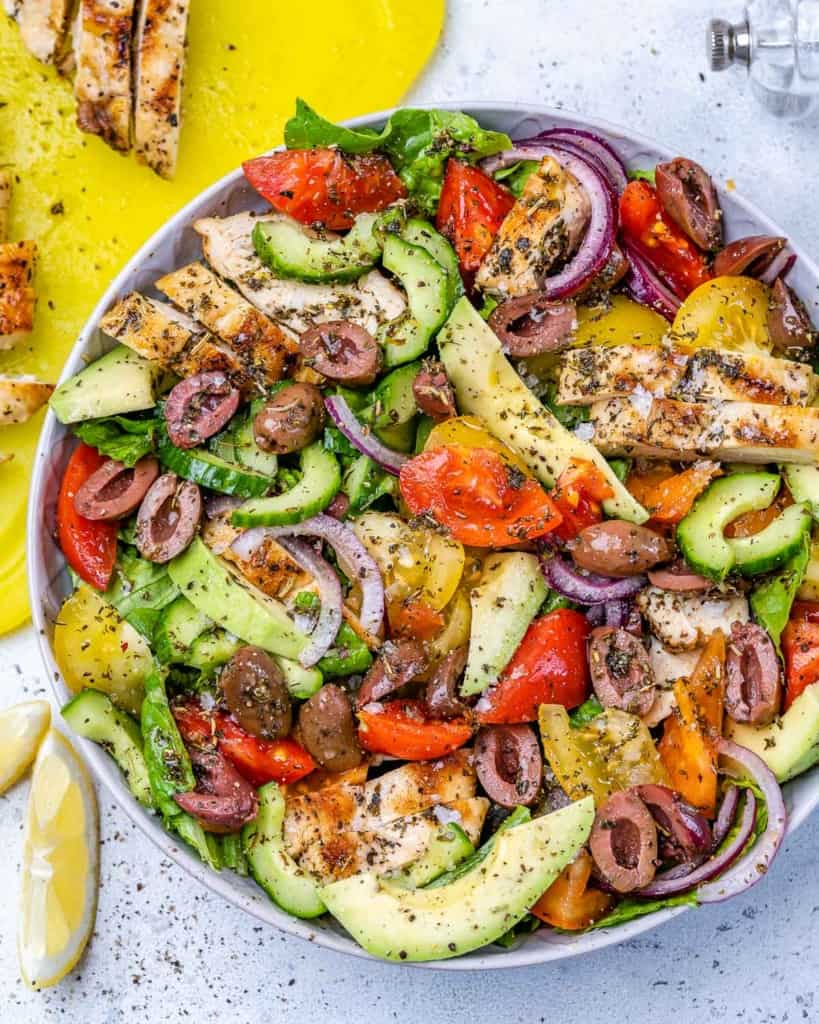 Healthy meals don't have to be bland and boring. When we think of healthy meals we envision boring and tasteless meals that just aren't satisfying. Do you agree? This is where our healthy recipes come in. You will love this wholesome Mediterranean Chicken salad recipe that's loaded with fresh veggies that are nutritious and heart-healthy. This easy chicken salad is tossed in with a homemade lemon dressing and topped with juicy and tender chicken. A healthy low-carb meal that's perfect for lunch or dinner any day of the week!
Why you will love this chicken salad recipe
Simple and easy: This Mediterranean-style chicken salad is so simple and easy to make. Prep and cut up the veggies, make the dressing, cooked the chicken, and then assemble.
Healthy: Salads are everyone's healthy go-to meal. The dressing used on this salad is just perfectly healthy to match the remaining ingredients used in this salad.
Nutritious: Loaded with lean protein and heart-healthy veggies to supply your body with the nutrition it needs.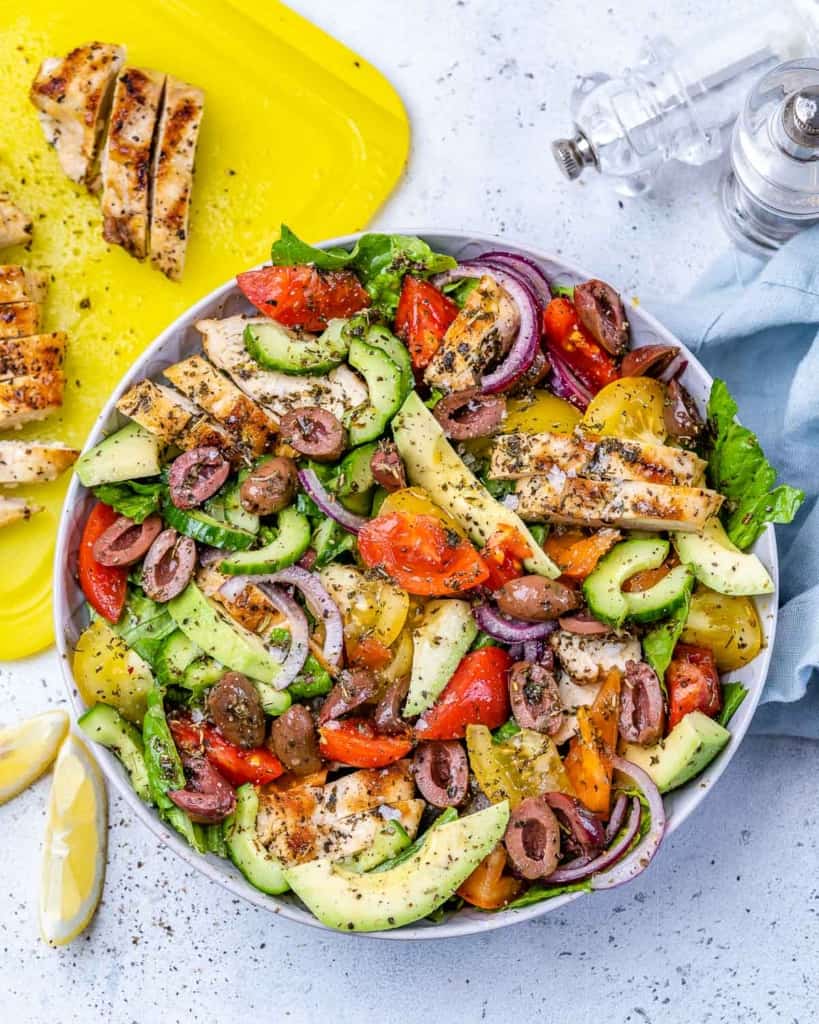 Ingredients you will need
Here are a list of ingredients you will need to make this healthy chicken salad. Be sure to go further down below for the full measurements.
For the dressing:
olive oil or avocado oil
lemon
fresh parsley
Italian herbs
garlic cloves
salt and pepper
boneless chicken breast
romaine lettuce
English cucumber
garden tomatoes
red onion
avocado
kalamata olives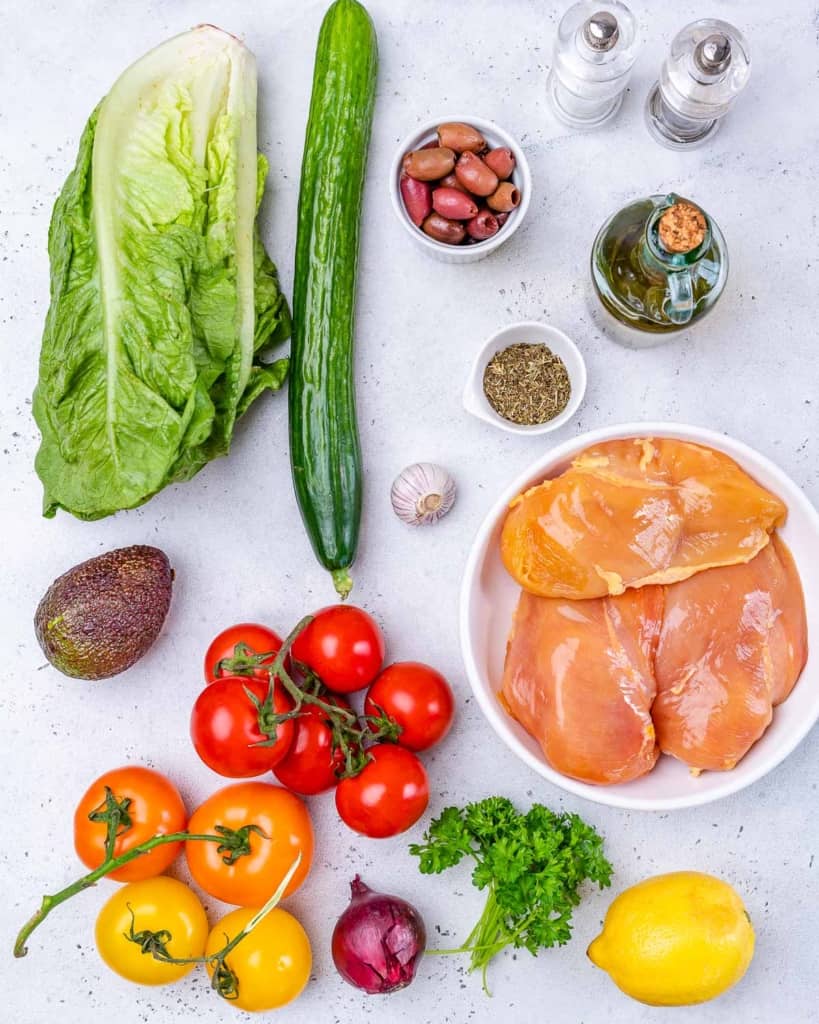 How to make this grilled Mediterranean Chicken Salad
Make the dressing: add all dressing ingredients to a jar, put the lid on and shake vigorously to combine.
Prepare and marinate the chicken: Place the chicken in a Ziploc bag and pour in half of the dressing. Mix through the bag to coat the chicken and allow it to marinate for 30 minutes.
Keep the remaining half to use over the salad; make sure it doesn't touch the raw meat.
Prepare the salad: Meanwhile, prepare all the salad ingredients.
Cook the chicken: Preheat a grill pan or your outside grill on medium-high heat. Add the chicken and cook for 6-8 minutes, or until the internal temperature reaches 165F. Once the chicken is done, allow it to sit for a bit, then chop it.
Assemble chicken and serve: Finally, to a large salad bowl add all the salad ingredients, and drizzle with the remaining dressing. Toss with tongs to combine the salad. Serve and enjoy!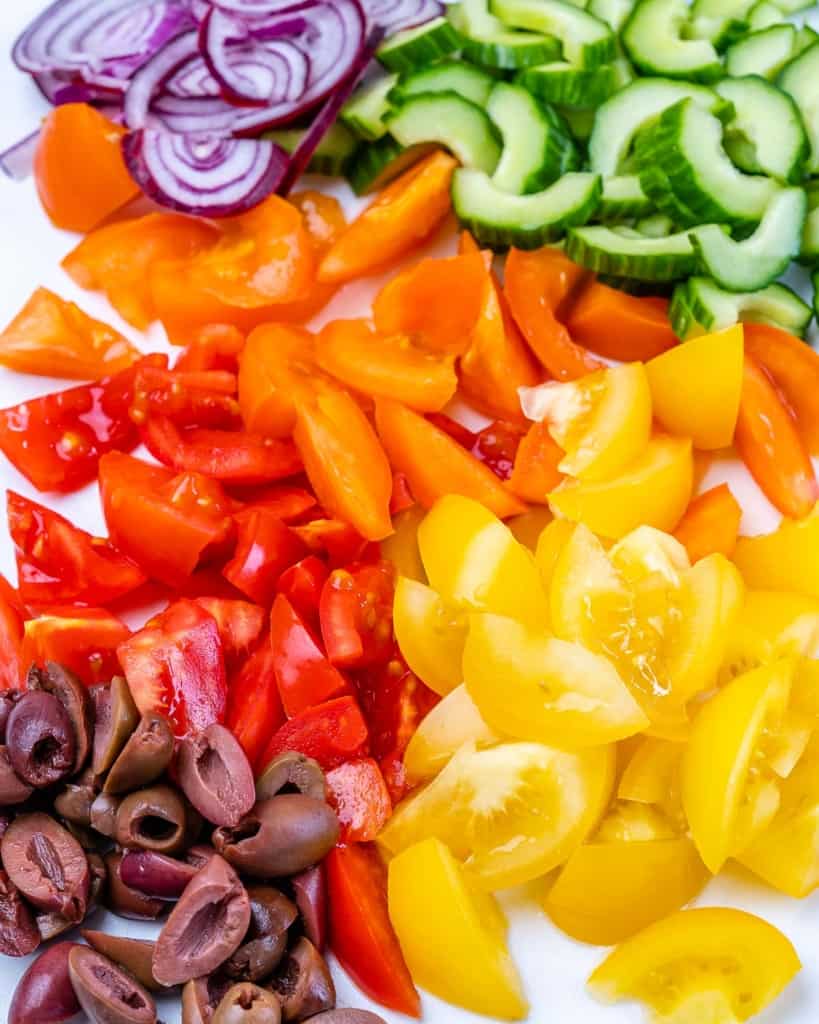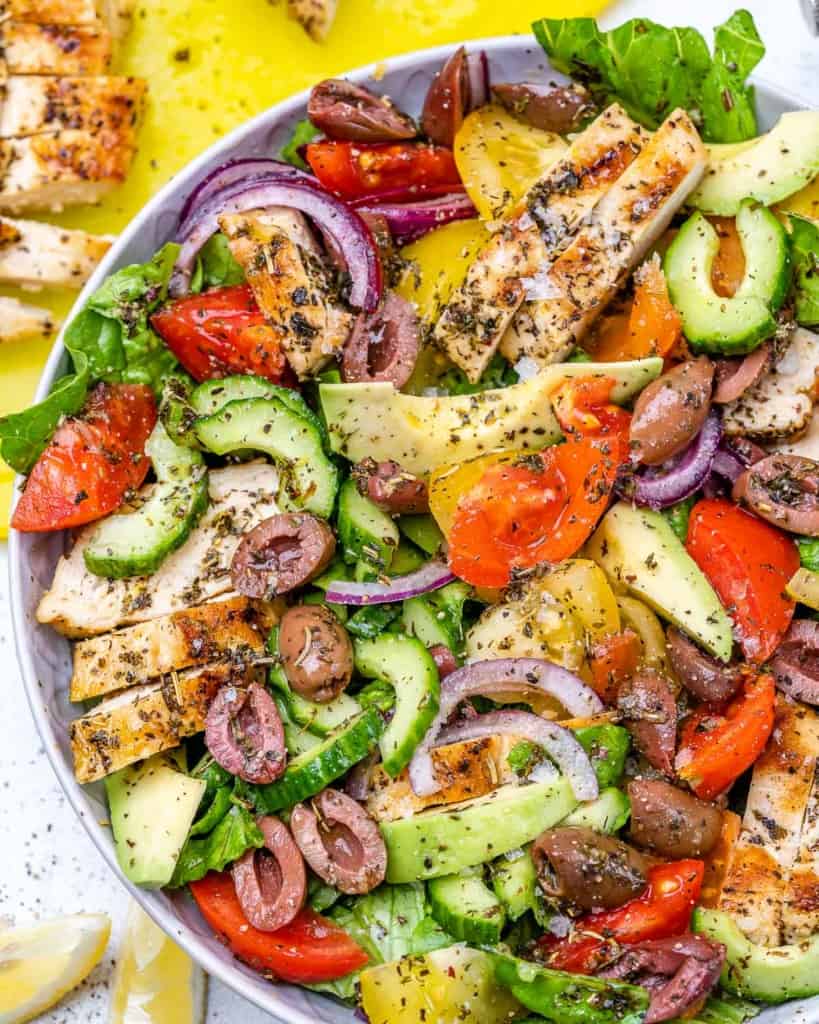 Recipe notes and tips
Use only fresh vegetables to make this grilled chicken salad
You may use any other cucumber
We prefer that you use kalamata olives for the best possible flavor
Instead of chicken breast, you can use boneless chicken thighs
Use avocado or olive oil
Romaine lettuce is preferred but you may use any of your favorite greens
If you plan on making this ahead, prep and cut the veggies and set them aside. Do not mix the salad with the dressing. Mix and store the dressing separately and only use it when ready to serve.
Be sure to use fresh garlic instead of garlic powder.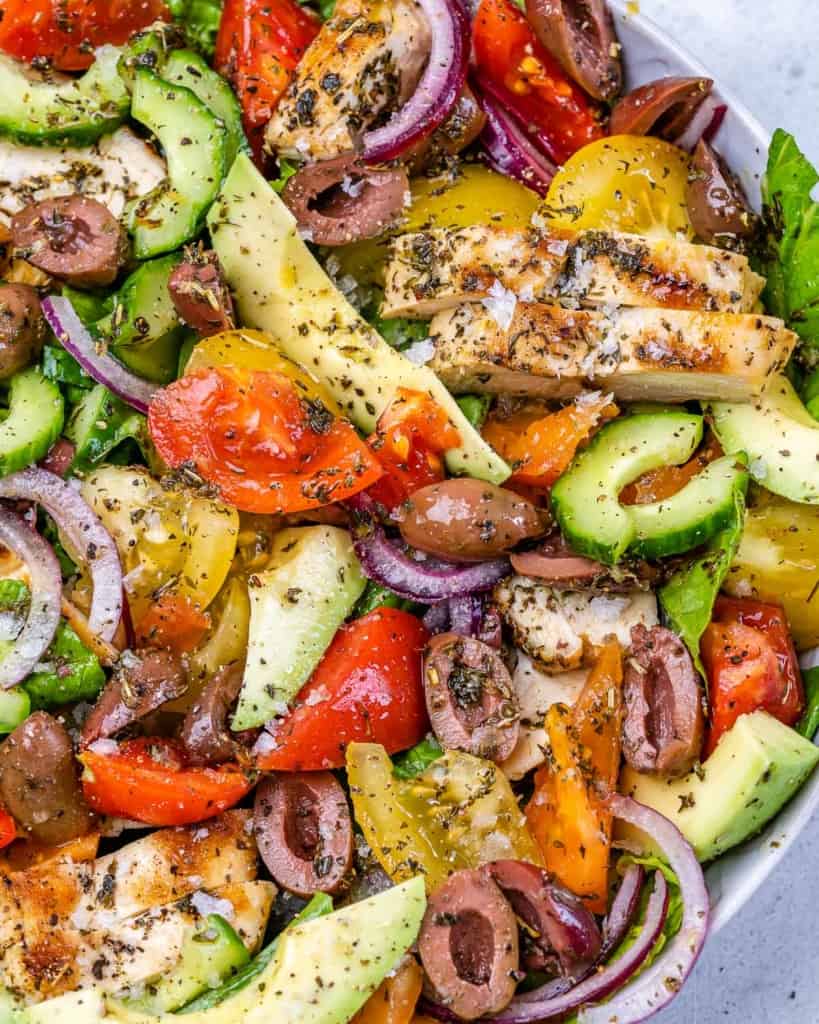 frequently asked questions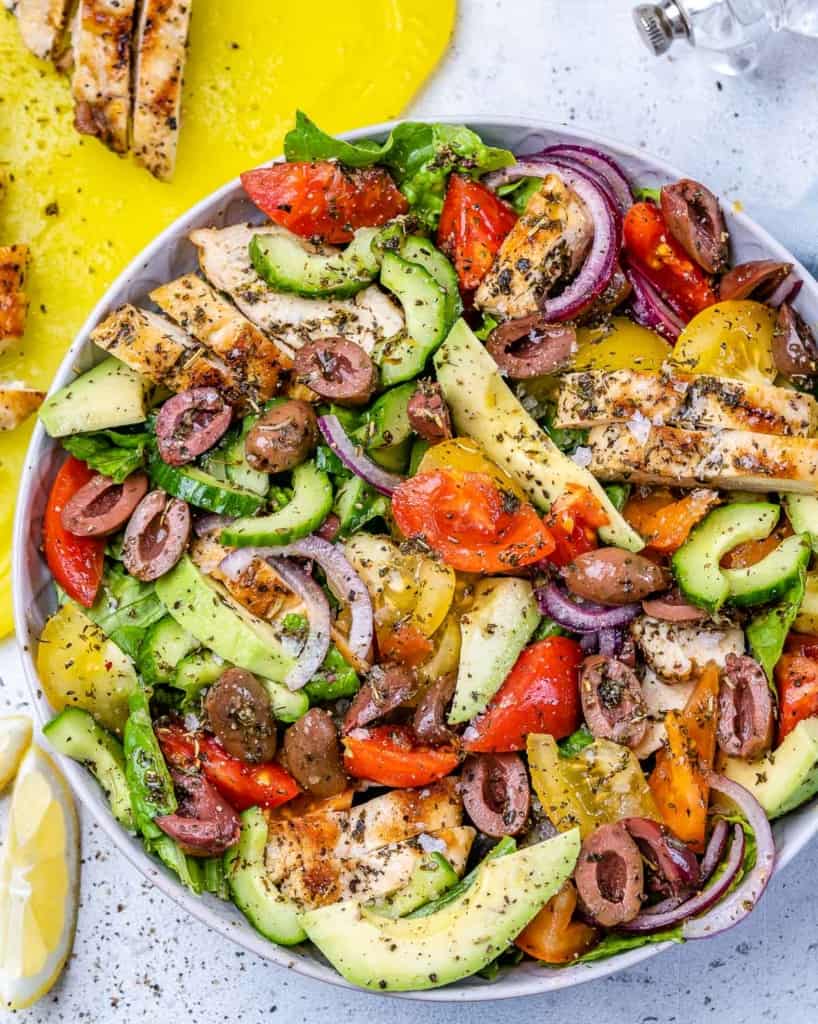 More salad recipes
Checkout these simple healthy recipes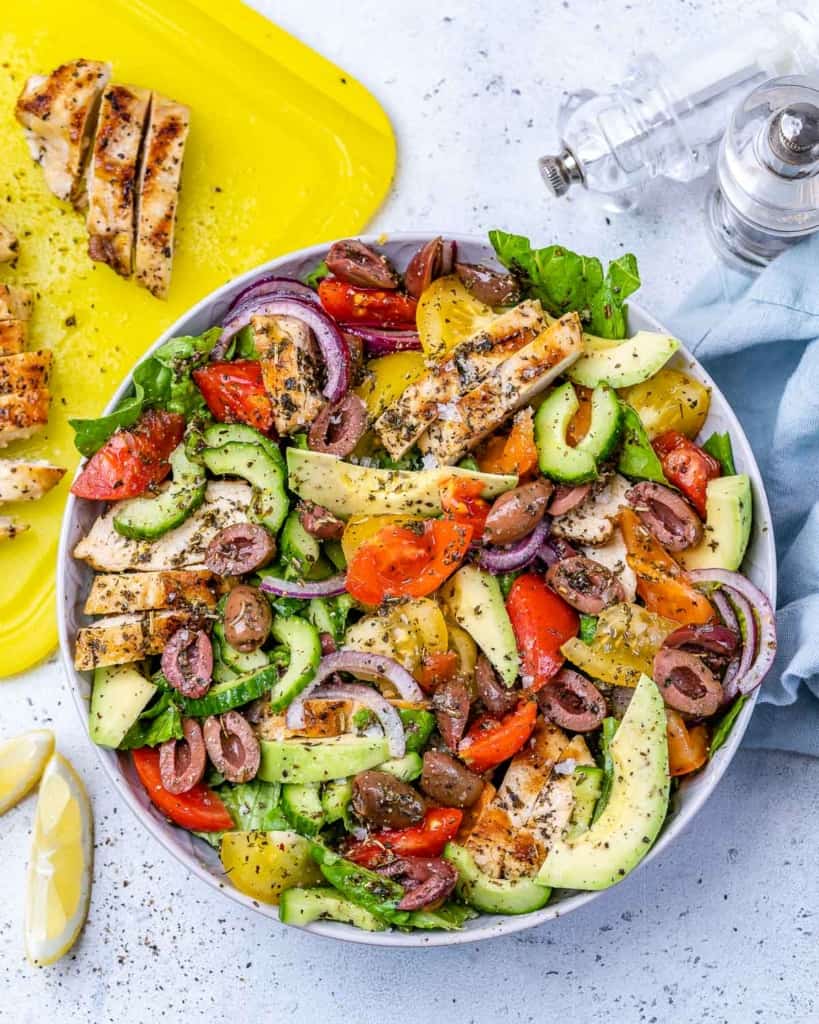 If you try a recipe and you like it, leave us some feedback in the comment section below, and don't forget to rate it! We would love it if you shared it with friends and family.
Finally, please use our hashtag #healthyfitnessmeals on INSTAGRAM for a chance to be featured! FOLLOW Healthy Fitness Meals on FACEBOOK | INSTAGRAM | PINTEREST | TWITTER for all of our latest blog posts and recipes.