With a handful of ingredients and minimal prep, this Creamy Coconut Lime Chicken Skillet will become a weeknight go-to dinner! The sweet and tangy sauce is sure to please everyone!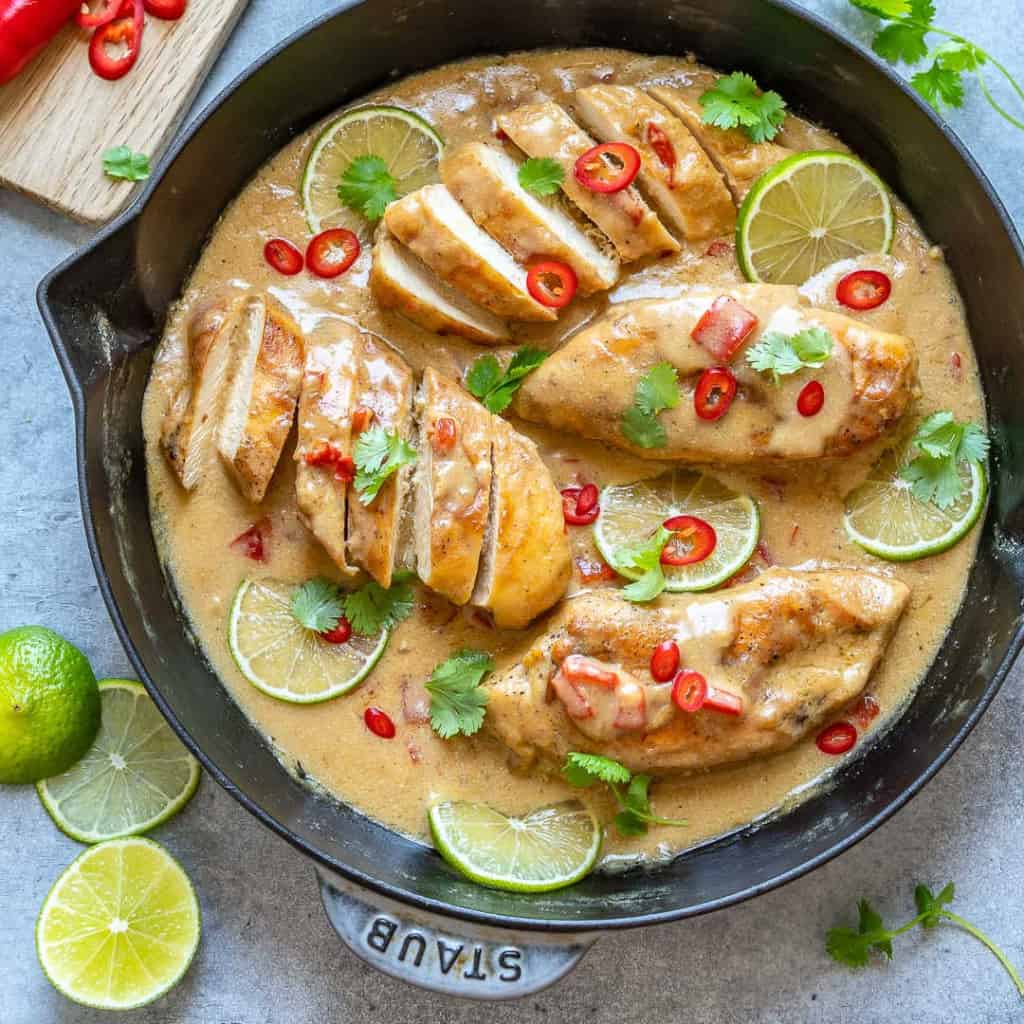 Whenever you feel like you never have enough time to slow down and cook, skillet dinners should be your go-to meals to make. They're usually quick and easy and won't need hours of prep time and cooking. This Creamy Coconut Chicken recipe is one of our new favorites! It's creamy and feels a bit indulgent while still being a healthy and balanced meal. Tender and juicy chicken with each bite, this healthy chicken recipe is low in carbs and keto-friendly.
The coconut lime flavor is so light and refreshing, different from many of the more savory or spicy skillet dinners we often go for. It has a bit of a Caribbean flair which we love. Skillet dinners often tend to make great leftovers and this creamy garlic chicken is no exception.
Why You'll Love This Creamy Coconut Chicken
Easy 30-minute meal. This one is perfect for busy weeknights as it comes together in no time!
Short ingredient list. There's only a handful of ingredients plus spices needed for this creamy garlic chicken!
Skillet meal = little clean-up. You'll be dirtying very little dishes to make this creamy coconut chicken so clean-up is a breeze!
SO much flavor! For only having a few ingredients, this coconut lime chicken is loaded with a light and refreshing flavor!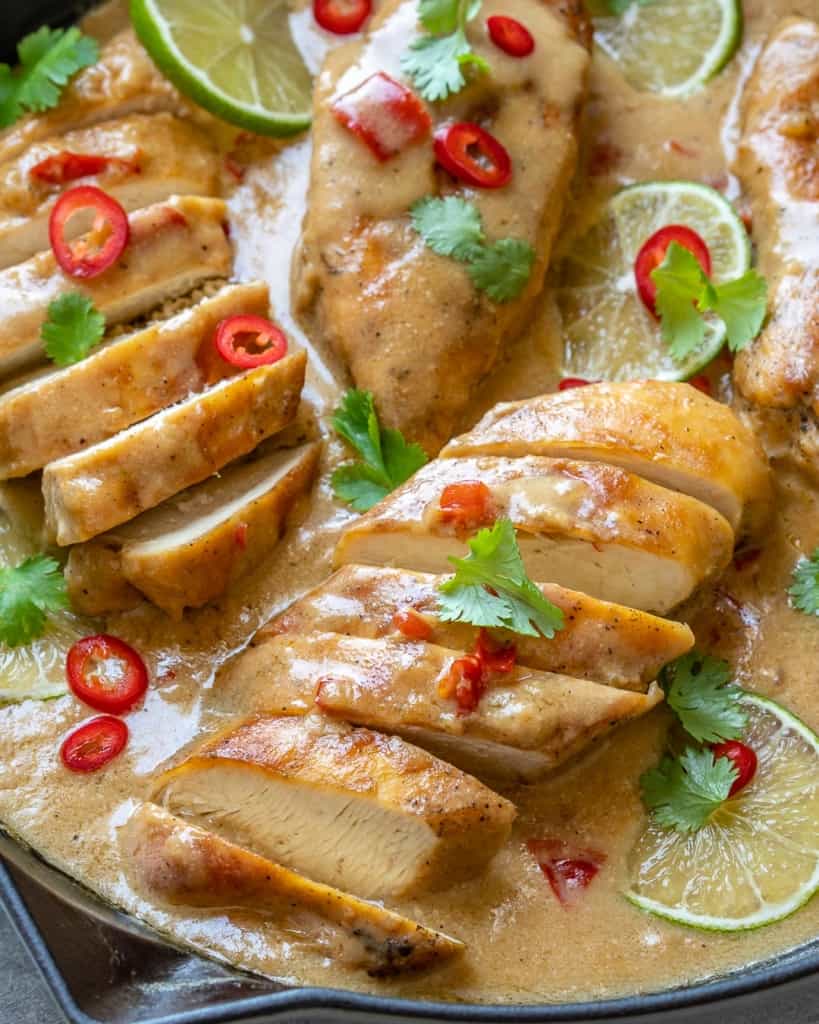 Ingredients You Will Need
To make this creamy coconut chicken breast, you will need the following ingredients. The full measurements are listed further down below.
Boneless, skinless chicken breasts – or you may use boneless chicken thighs
Salt and pepper
Olive or coconut oil
Yellow onion
Red bell pepper
Fresh Garlic
Chili – optional for a less spicy option
Coconut milk – or any milk * see notes
Chicken stock
Cornstarch – or flour * see notes
Lime
Fresh cilantro – chopped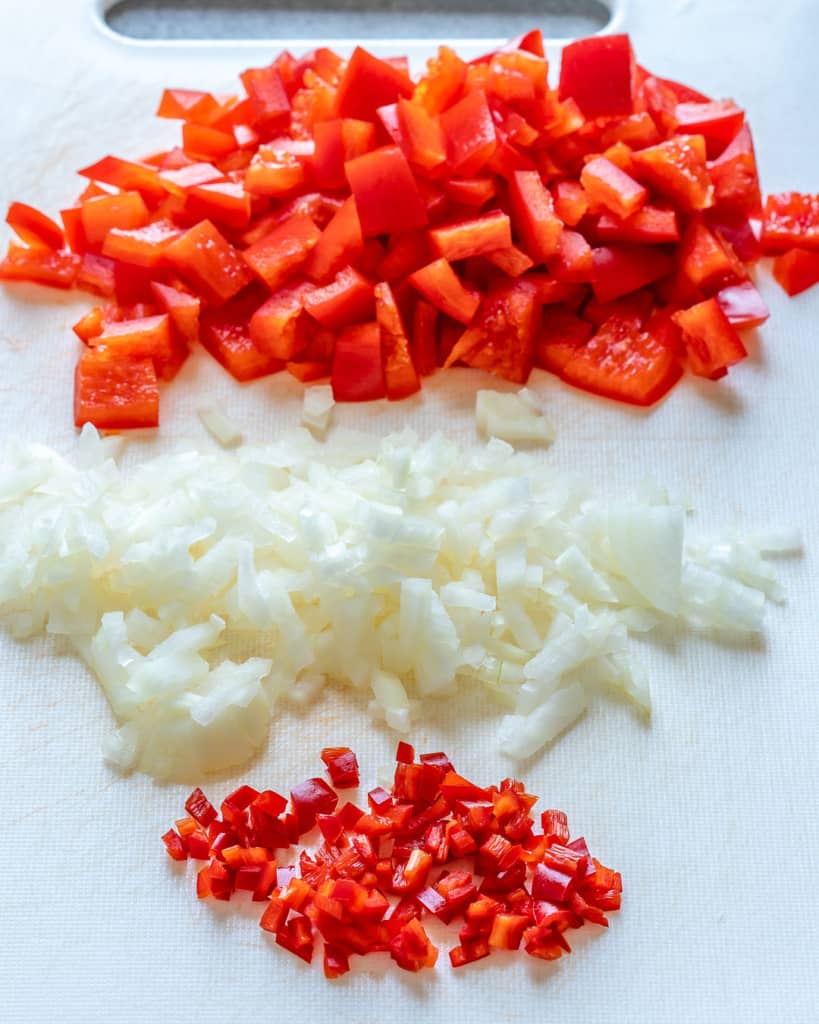 How to Make this Creamy Coconut Chicken recipe
Dice the onion and bell pepper.
Whisk chicken stock and cornstarch into a bowl.
Season the chicken breast with some kosher salt and ground pepper on both sides.
Heat oil in a skillet over medium-high heat.
Add chicken to the hot oil and sear each side until nicely golden brown and cooked through, about 5 to 8 minutes per side, depending on its thickness. Transfer the cooked chicken to a plate and allow it to sit for a few minutes, then slice it.
To the same skillet, add onion, bell pepper, garlic, and red chili; cook for a few minutes until veggies are softened.
Pour in the stock-cornstarch mixture and the coconut milk.
Whisk well to combine; the sauce will start to thicken quite fast. Stir in the lime juice & zest. Allow it to simmer for about 5 minutes.
Return the sliced chicken to the pan, and spoon over the hot sauce.
Garnish with fresh cilantro leaves and serve warm.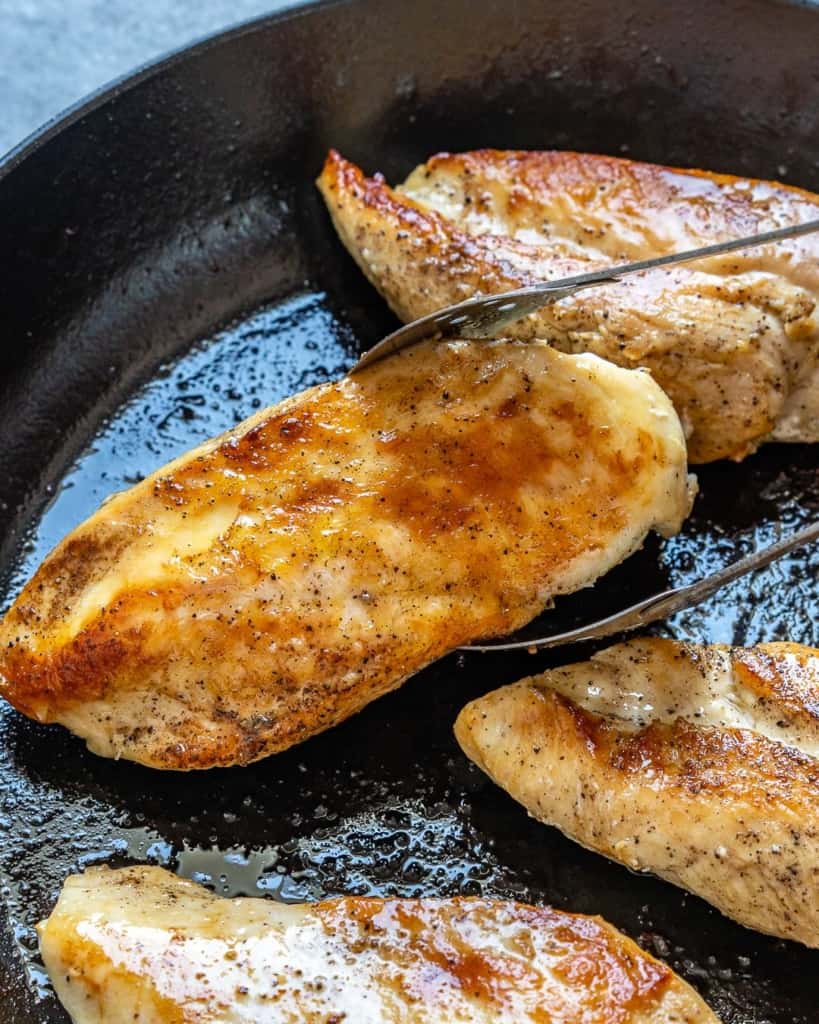 Recipe Tips & Notes
If you have large chicken breasts, you can cut them in half for quicker cooking and to serve more people.
You can substitute bone broth for the chicken broth if you prefer, or use vegetable broth.
Make sure you use coconut milk and not coconut cream.
You may switch out the chicken with shrimp. If you would like to use boneless chicken thighs you may but it's higher in fat and not as lean as chicken breast.
Coconut milk: This is used as a healthier option in place of heavy or whipping creamy. You may use 2% milk but the consistency of the sauce won't be as thick.
Any flour can be used in place of cornstarch but again the consistency of the sauce will vary slightly.
Use fresh garlic cloves for a more robust flavor, but they can be replaced with 1 tablespoon of garlic powder.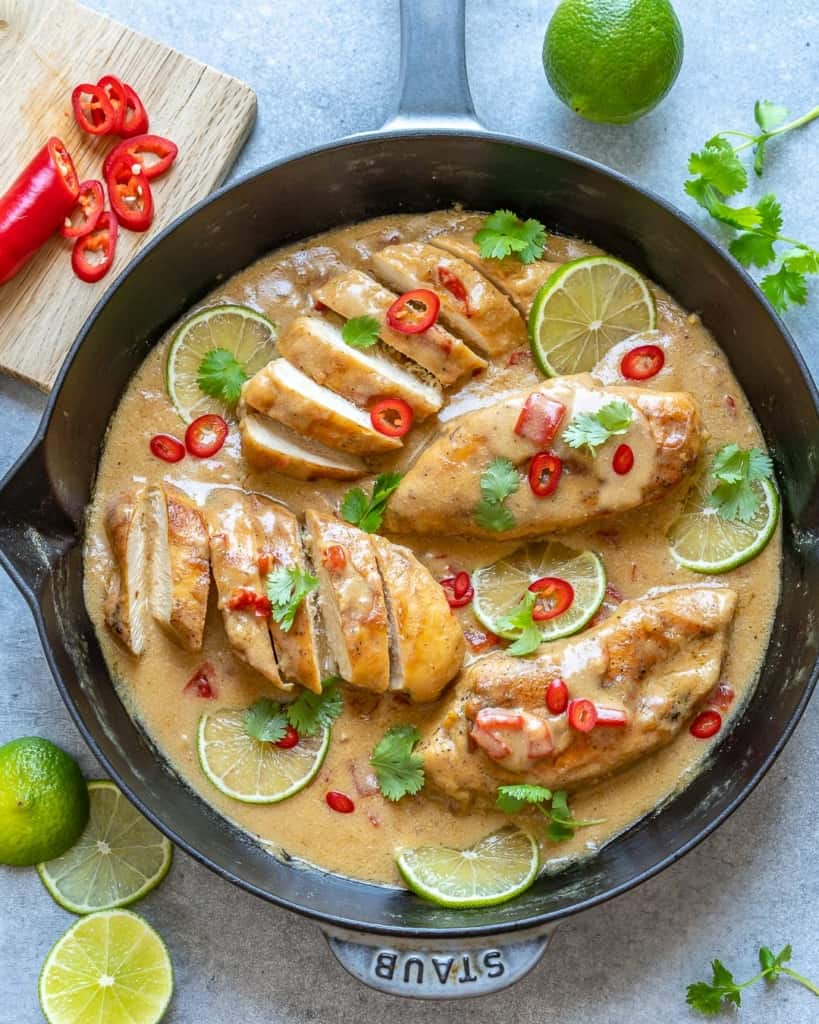 Frequently Asked Questions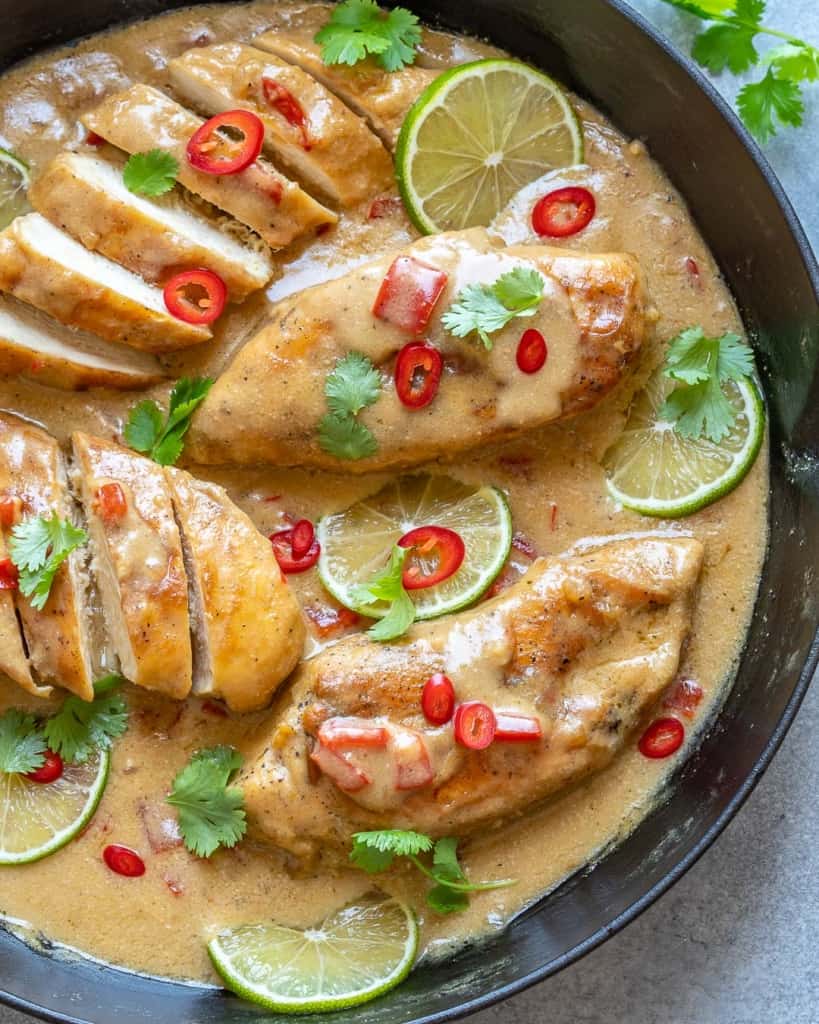 More Easy Skillet Recipes: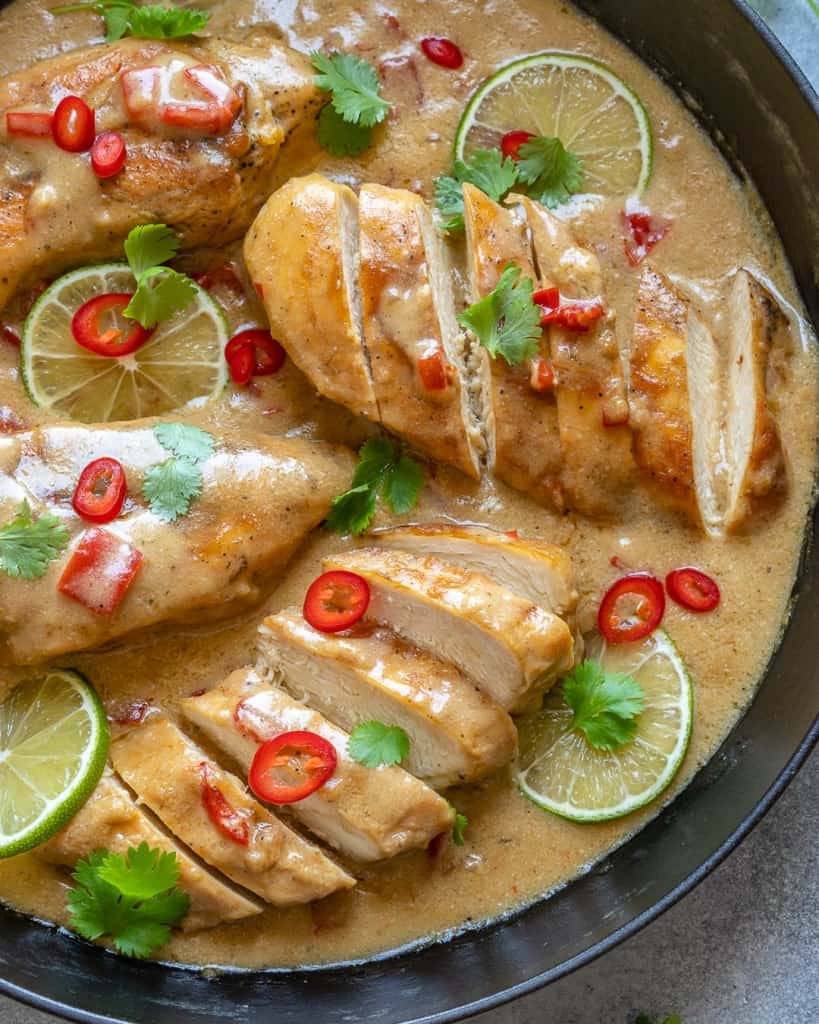 If you try a recipe and you like it, leave us some feedback in the comment section below, and don't forget to rate it! We would love it if you shared it with friends and family.
Finally, please use our hashtag #healthyfitnessmeals on INSTAGRAM for a chance to be featured! FOLLOW Healthy Fitness Meals on FACEBOOK | INSTAGRAM | PINTEREST | TWITTER for all of our latest blog posts and recipes.