Low carb and bursting with flavor, these Buffalo Chicken Stuffed Peppers are an easy dinner to throw together! Made with only 5 ingredients, they're spicy and super cheesy. Try this simple keto-friendly stuffed pepper recipe for meal prep!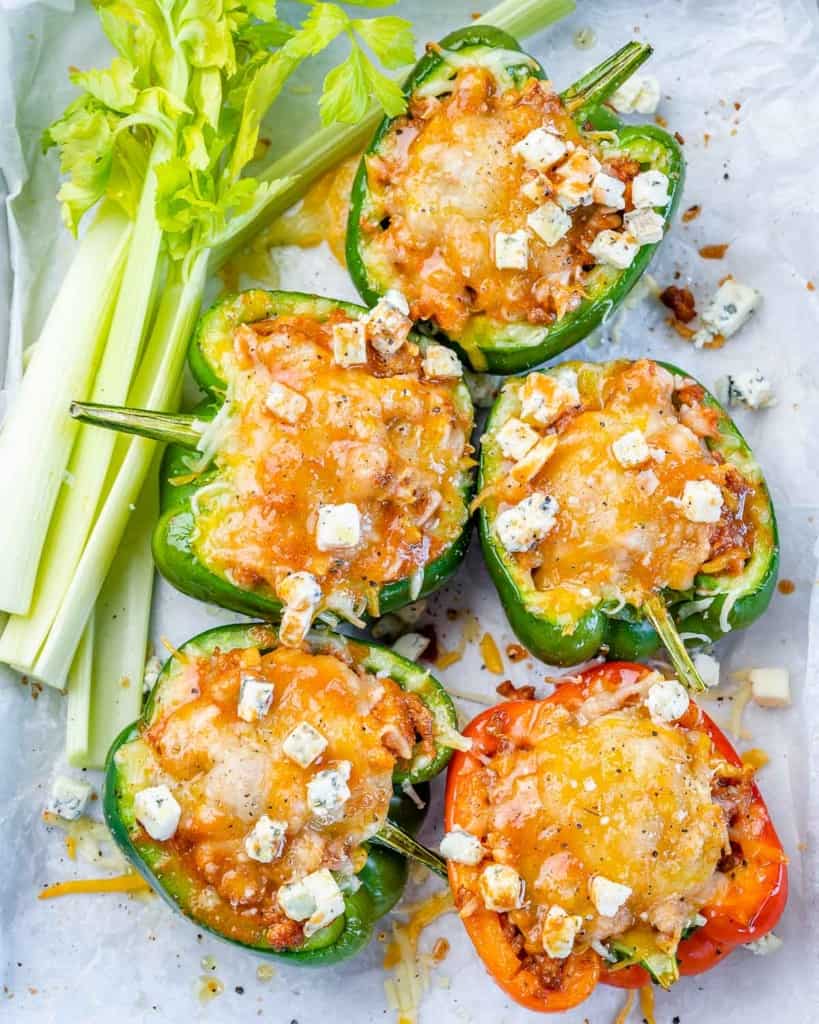 These Buffalo Chicken Stuffed Peppers are super simple, with only 5 ingredients and minimal prep. It is such an easy recipe, perfect for when I'm too tired to whip up a more elaborate meal at the end of the day.
What's more, these Buffalo Chicken Stuffed Peppers taste even better the next day! Allowing the leftovers to sit in the fridge overnight really lets the flavors develop. The chicken takes on the spiciness of the buffalo sauce beautifully! They're so simple to reheat as well. I like to pop one or two in the oven for lunch and serve them with some crunchy celery sticks on the side, and a drizzle of my homemade ranch dressing.
why you will love this low carb recipe
Quick & Easy: This recipe has only 5 ingredients, plus seasoning and any garnish you like (I highly recommend ranch and blue cheese!). It comes together in just minutes making it perfect for busy families!
Keto-friendly: As there are no high-carb ingredients in this recipe, it is perfect for the keto diet. To make it even more keto-friendly, stick to green bell peppers, grate your own cheese (shredded cheese has added carbs!), and double-check the net carbs in any sauce you drizzle over the Buffalo Chicken Stuffed Peppers.
Meal prep: This recipe is perfect to save for later! Store it in an airtight container and have the leftovers for lunch the next day. This makes sticking to your goals so much easier if you're on the keto diet!
Adaptable: You can use any color of bell peppers, any ground meat you have on hand (chicken, beef, or turkey for example), and hard cheese like cheddar, Monterey Jack, or Mexican blend. If you like it spicier, drizzle extra buffalo sauce over the stuffed peppers at the end!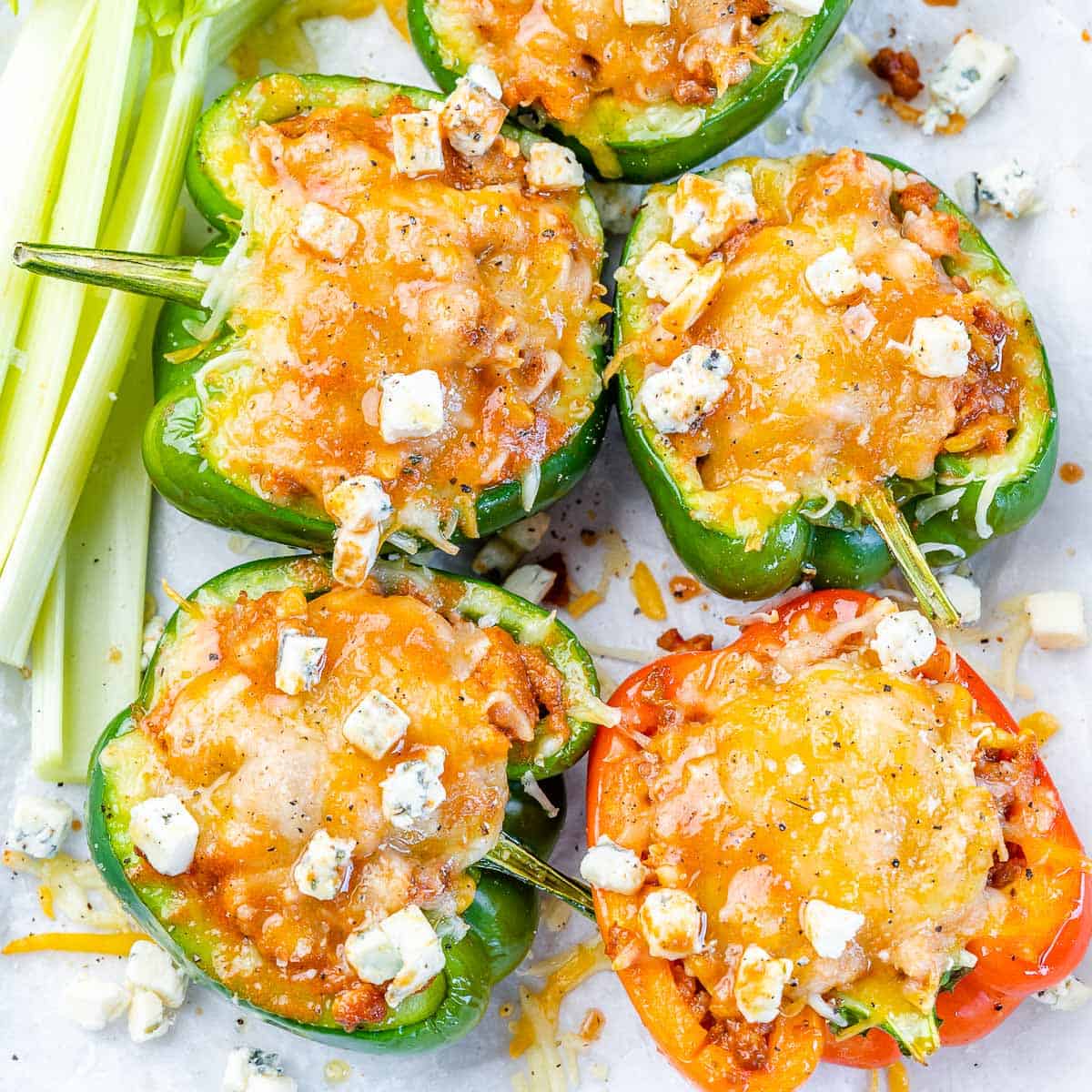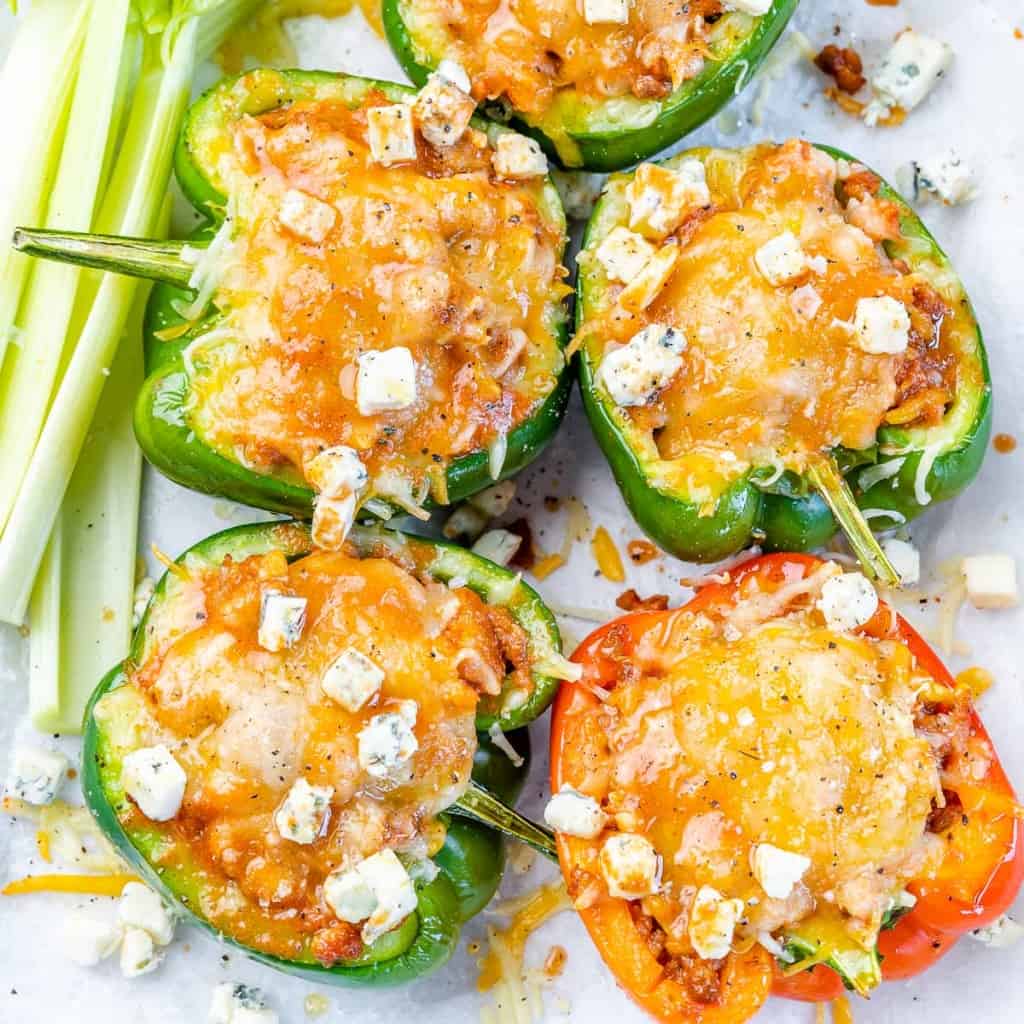 Ingredients for Buffalo Chicken Stuffed Peppers
Oil: A healthy, neutral oil like olive oil or avocado oil is perfect for browning the chicken.
Chicken: I chose ground chicken as it's nice and lean. Other ground meats like lean beef or turkey would also taste delicious.
Salt and pepper: Just a little seasoning for the ground chicken. Adjust it to your own taste!
Buffalo sauce: Frank's Red Hot Buffalo sauce is my buffalo sauce of choice! It's easy to find in the condiments section of your grocery store, and it is great for the keto diet.
Bell peppers: You can use any color you like! I know some of my picky eaters aren't fans of green peppers so I always make sure there are a few orange, red, or yellow peppers as well.
Cheese: I like shredded Monterrey Jack or a Mexican cheese blend, shredded cheddar would also be delicious.
Optional: I love adding a garnish or two at the end to really make these flavors sing! My go-to's for Buffalo Chicken Stuffed Peppers are cubed or crumbled blue cheese, celery sticks, and a drizzle of creamy ranch.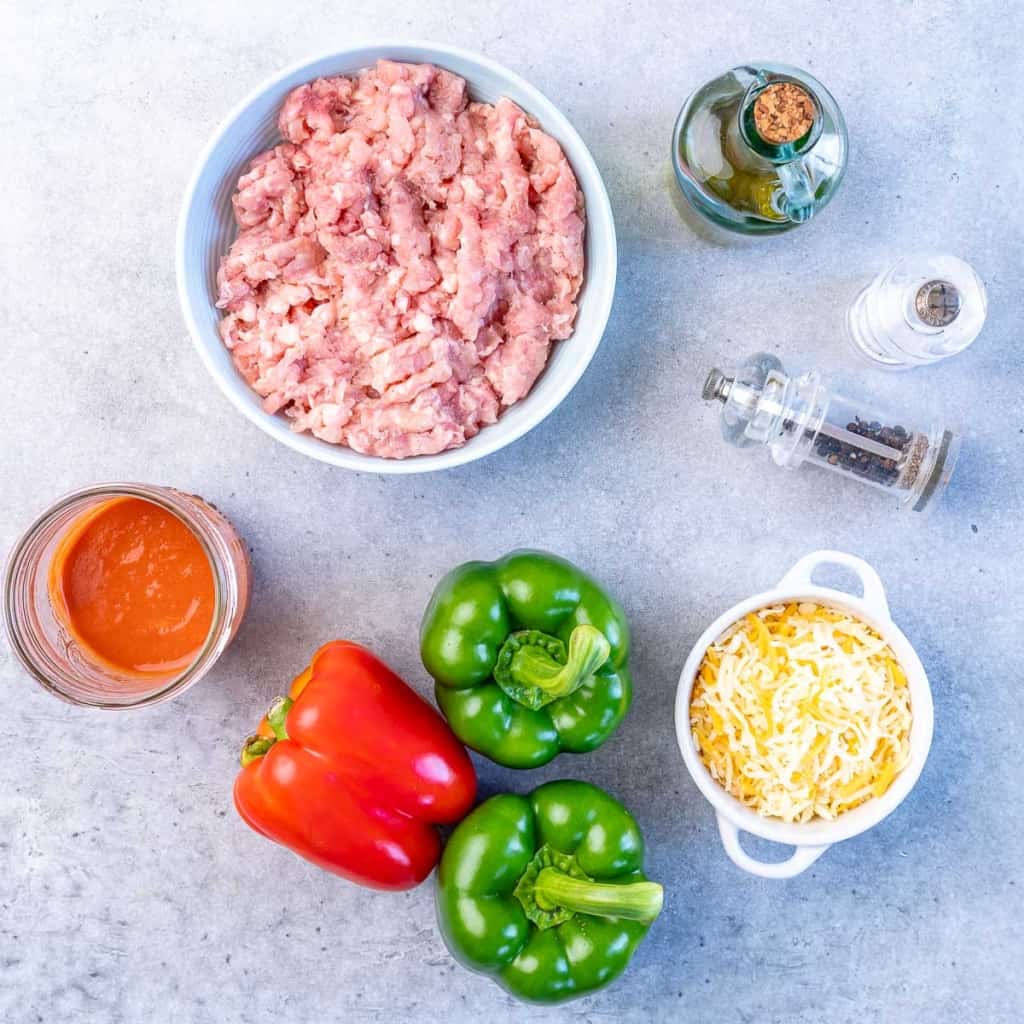 How to make Buffalo Chicken Stuffed Peppers
Heat the oil in a large skillet over medium-high heat.
Add the chicken and season with salt and pepper. Cook, breaking the meat with a wooden spoon until it has browned and is no longer pink. Stir in the buffalo sauce and continue to cook until the chicken is cooked through, around 5-7 minutes more.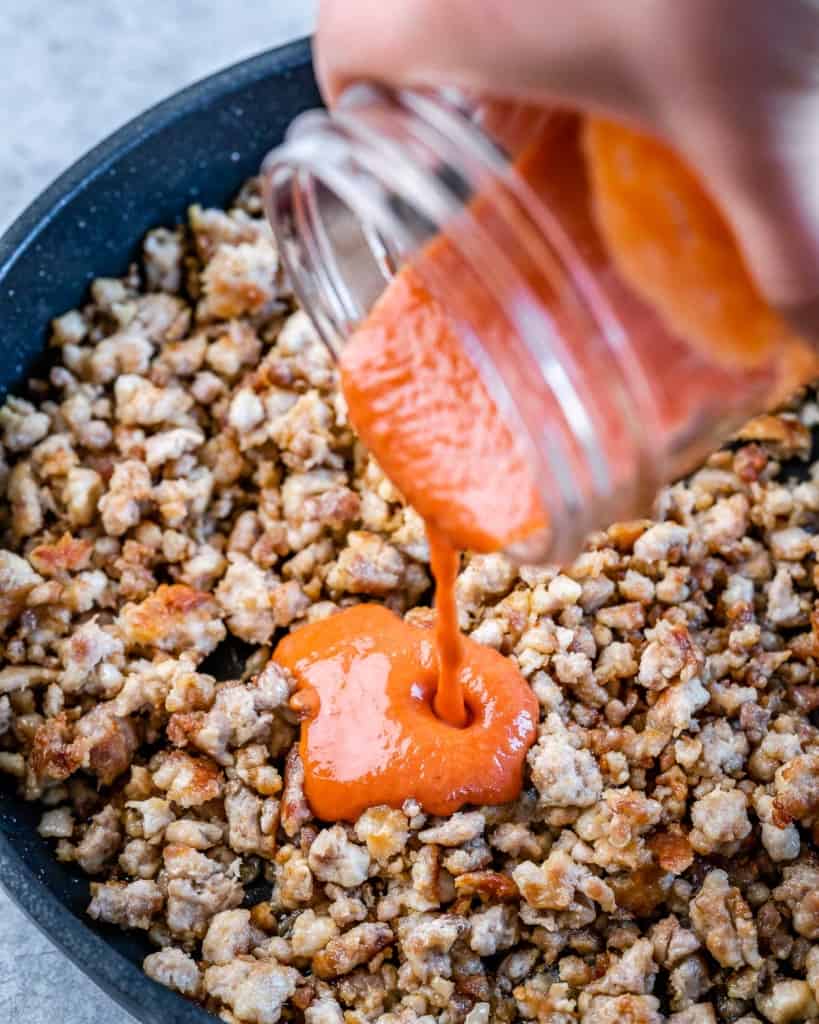 3. Meanwhile, preheat the oven to 375°F and line a sheet pan with parchment paper, for easy cleanup.
4. Add the prepared pepper halves, cut side facing up. Spray with cooking spray and season to taste.
5. Roast in the preheated oven for 10-12 minutes.
6. Once the chicken is done, divide it among your pepper halves.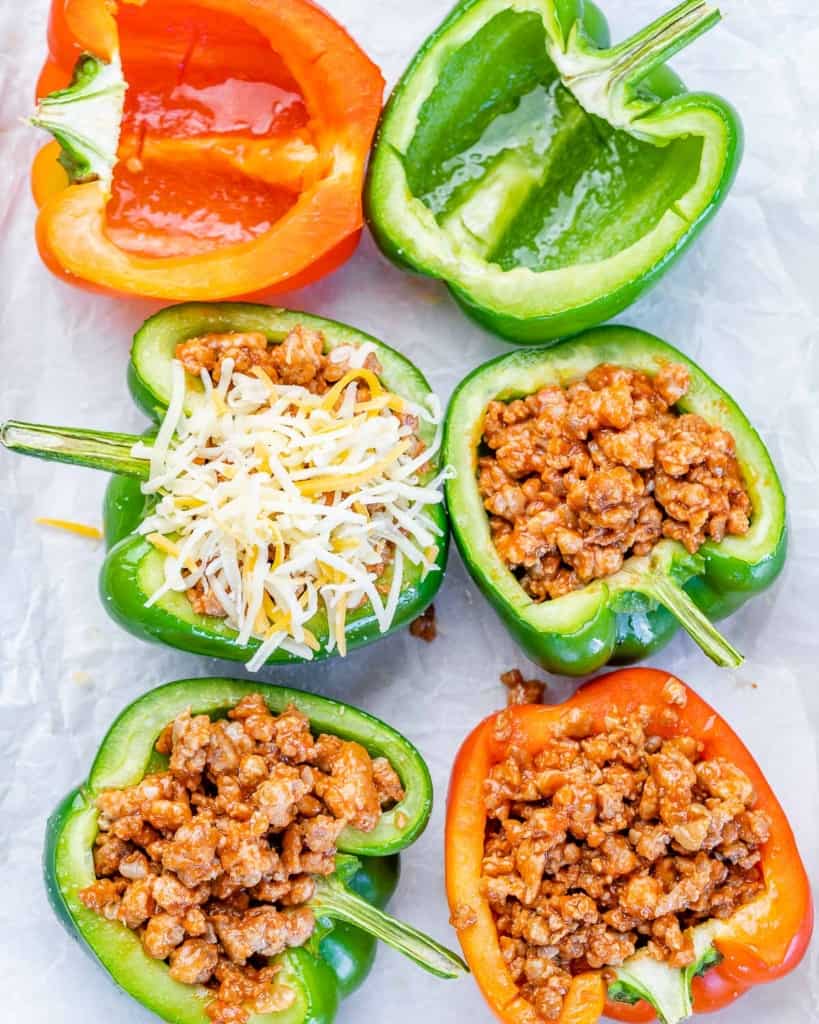 7. Sprinkle with shredded cheese and return to the oven. Bake for 12-15 minutes, or until the cheese is melted.
8. Serve with ranch sauce, crumbled blue cheese, and celery if desired.
Tips for success
Try different meat: Ground beef, turkey, or a vegetarian ground meat alternative would all work well in this recipe.
Add some more spice! Drizzle some extra buffalo sauce over the Buffalo Chicken Stuffed Peppers when they are finished, along with ranch of course!
Store them for later. These stuffed peppers keep well in an airtight container in the fridge for up to 4 days. Reheat them in the microwave or oven until they're heated through.
Love to freeze meals? Great idea! Freeze these stuffed peppers in an airtight container for up to 3 months. Thaw completely before reheating them in the oven or microwave.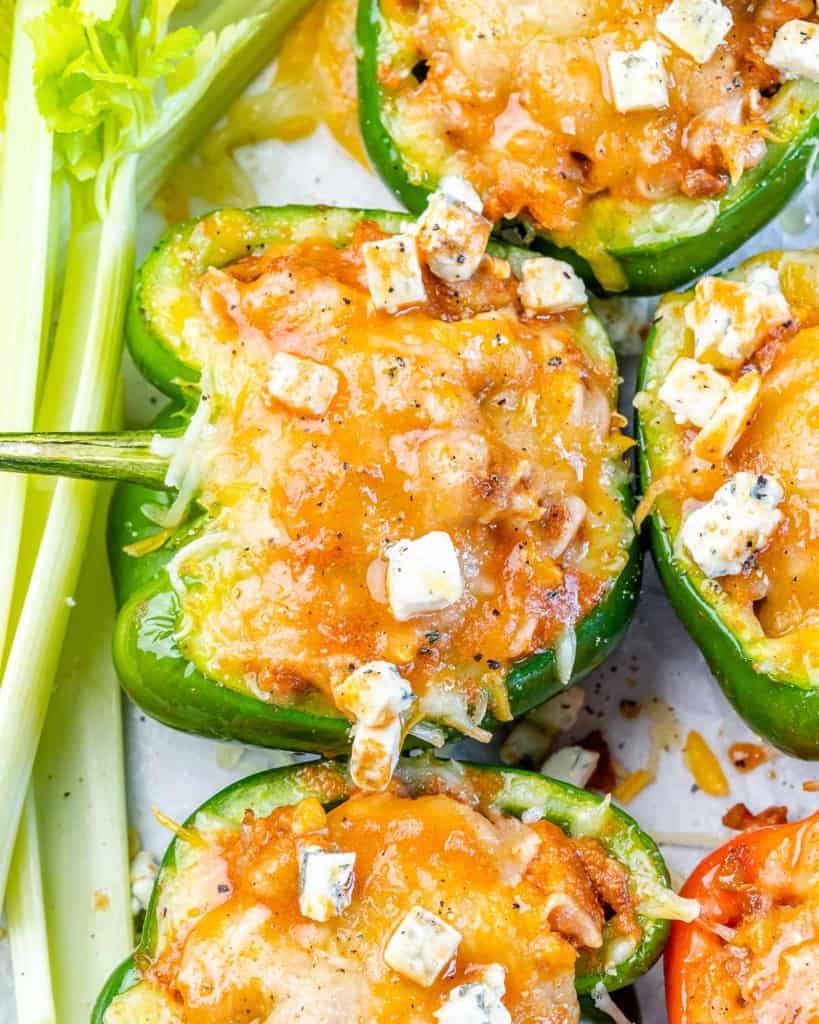 Frequently asked questions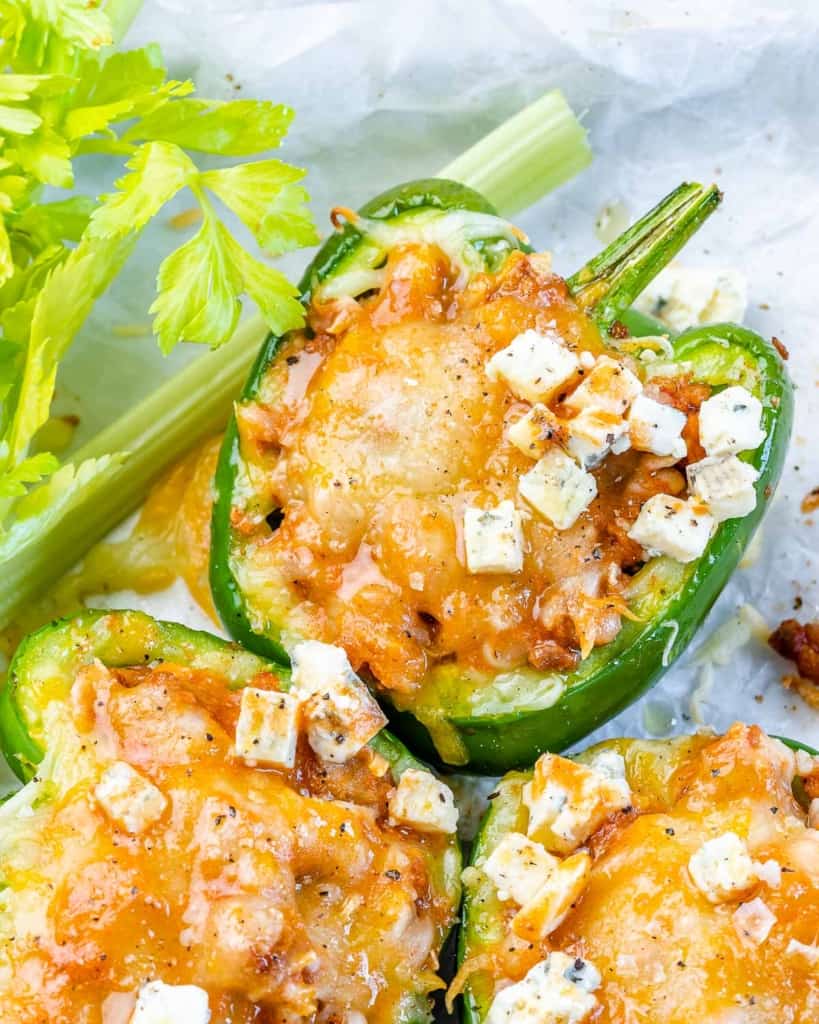 What goes with Buffalo Chicken Stuffed Peppers?
Other than blue cheese crumbles, a drizzle of ranch, and celery sticks, here is what I like to serve with this Buffalo Chicken Stuffed Peppers Recipe: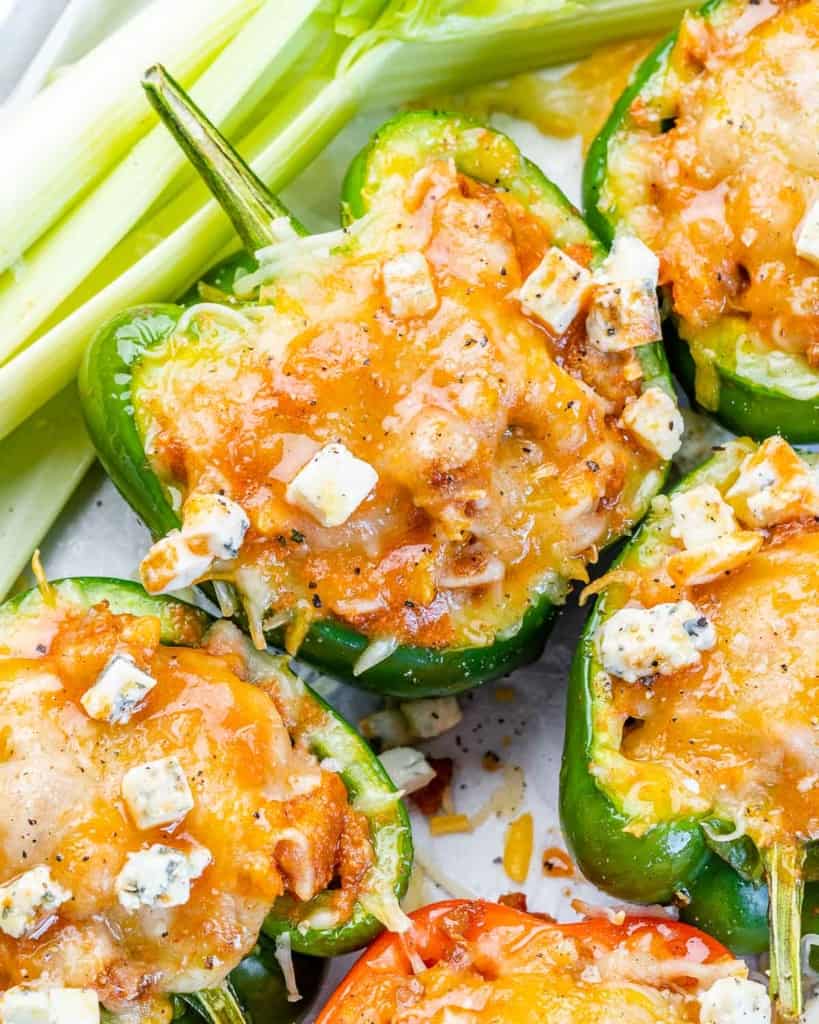 More Stuffed Pepper Recipes you will love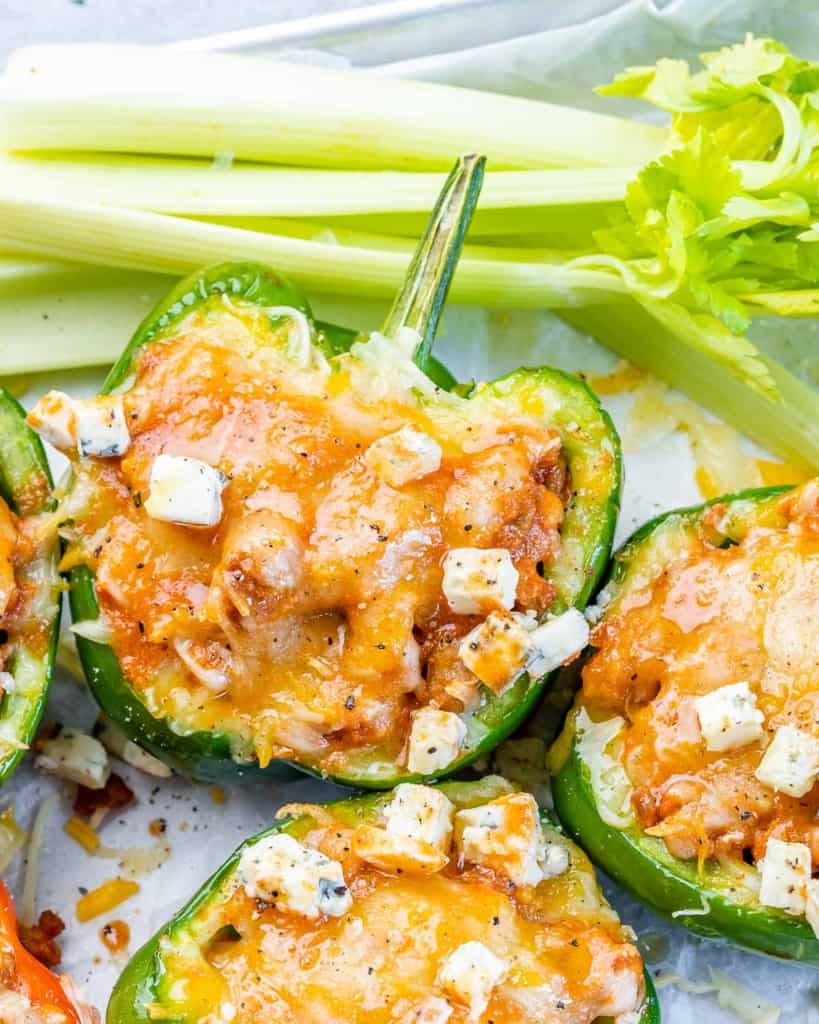 If you try a recipe and you like it, leave us some feedback in the comment section below, and don't forget to rate it! We would love it if you shared it with friends and family.
Finally, please use our hashtag #healthyfitnessmeals on INSTAGRAM for a chance to be featured! FOLLOW Healthy Fitness Meals on FACEBOOK | INSTAGRAM | PINTEREST | TWITTER for all of our latest blog posts and recipes.