Love lasagna? This Vegan Lasagna made with Zucchini is not only meatless and dairy-free, but it is also crazy delicious! Layers of pasta, tofu-cashew filling, spinach, zucchini, and marinara make for a super flavorful alternative to traditional lasagna. It's healthy, easy to prepare, and so tasty.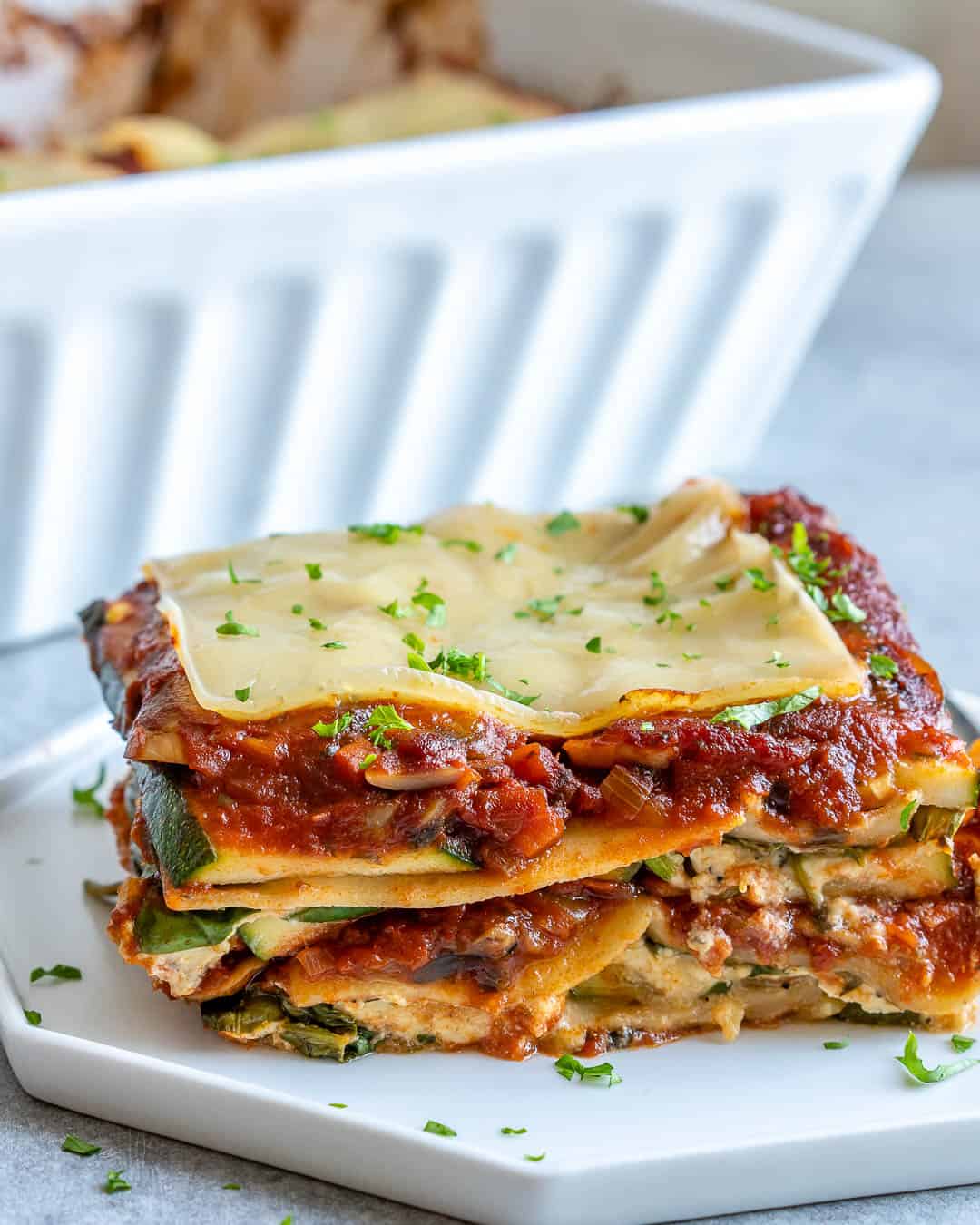 If you've been looking for a dairy-free alternative to traditional lasagna, this recipe is perfect for you. Vegan Lasagna with Zucchini and Tofu is simple to make and packed with flavor from the mushrooms, spinach, and tofu-cashew filling. We love that this dish is still very filling, perfect for a Meatless Monday dinner or hungry kids. 
Want to make it a meal? Serve your Vegan Lasagna with our Crispy Baked Zucchini Fries or our Cucumber and Tomato Salad.
Why You'll Love This Vegan Lasagna with Tofu
So satisfying. This is the most comforting vegan lasagna recipe. It's creamy, flavorful, and filling. 
Packed with nutrients. Vegan lasagna is packed with fiber, calcium, protein, and lots of vitamins. But it doesn't skimp on flavor.  
Completely vegan friendly. This dish is dairy-free, meatless, and can even be made gluten-free.
Ingredients You'll Need
These are just a list of ingredients you will need to make this vegan lasagna recipe. Full measurements are listed further down below.
Olive oil
Button mushrooms
Shallots
Jars marinara sauce or make homemade marinara sauce
Raw cashews
Firm tofu
Nutritional yeast
Lemon juice
Salt
Dried basil
Oregano
Garlic powder
Baby spinach
Zucchini
Lasagna sheets (whole grain or gluten-free, if needed)
Vegan mozzarella slices
Parsley (optional)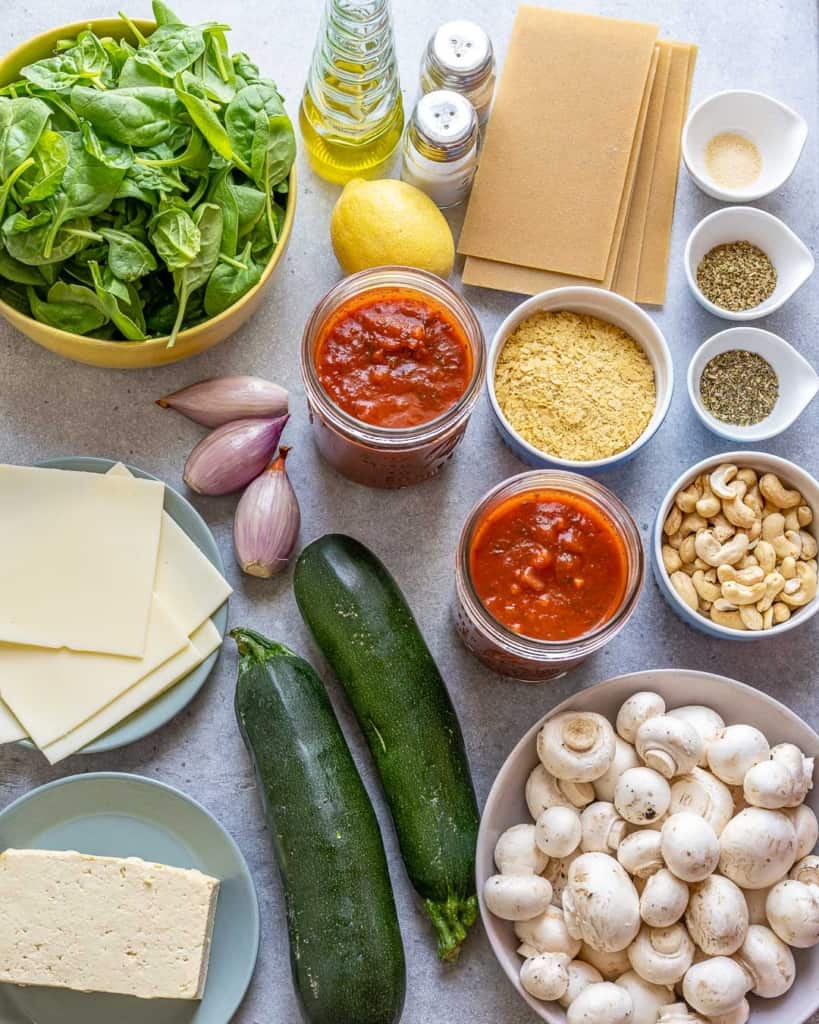 How to Make Vegan Lasagna with Zucchini
Preheat the oven to 350°F. Then grease a 9×13 inch casserole dish with some oil.
Prep ingredients. First, pat the tofu dry with a paper towel and set aside. Then cut dice the shallots, chop the mushrooms, and slice the zucchini lengthwise into very thin slices.
Make the tofu-cashew filling. Place the cashews into a food processor and process into a fine meal. Now add in the tofu, nutritional yeast, lemon juice, basil, oregano, garlic powder, and salt. Process again scraping down the sides as necessary. Add 2-4 tablespoons of water to reach the desired consistency. It should look like the photo.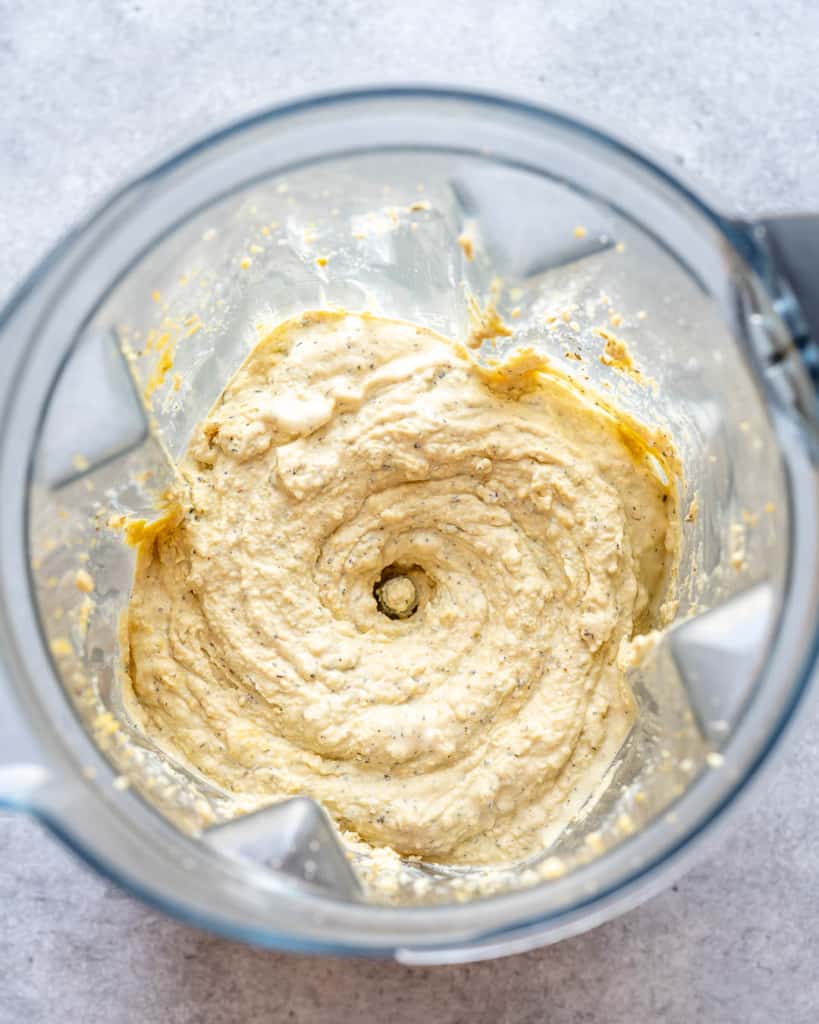 Make the sauce. Heat oil in a large skillet over medium heat. Then add the mushrooms and shallots. Season with some salt and cook stirring occasionally until brown. Stir in the marinara sauce and cook for 2 minutes until the sauce starts to bubble.
Assemble the lasagna. Start with a layer of marinara sauce mixture. Then lay 3 lasagne sheets on top of the sauce. Next add a layer of the cashew-tofu mixture, followed by a layer of spinach. Last, add sliced zucchini and top with 3 slices of vegan mozzarella cheese.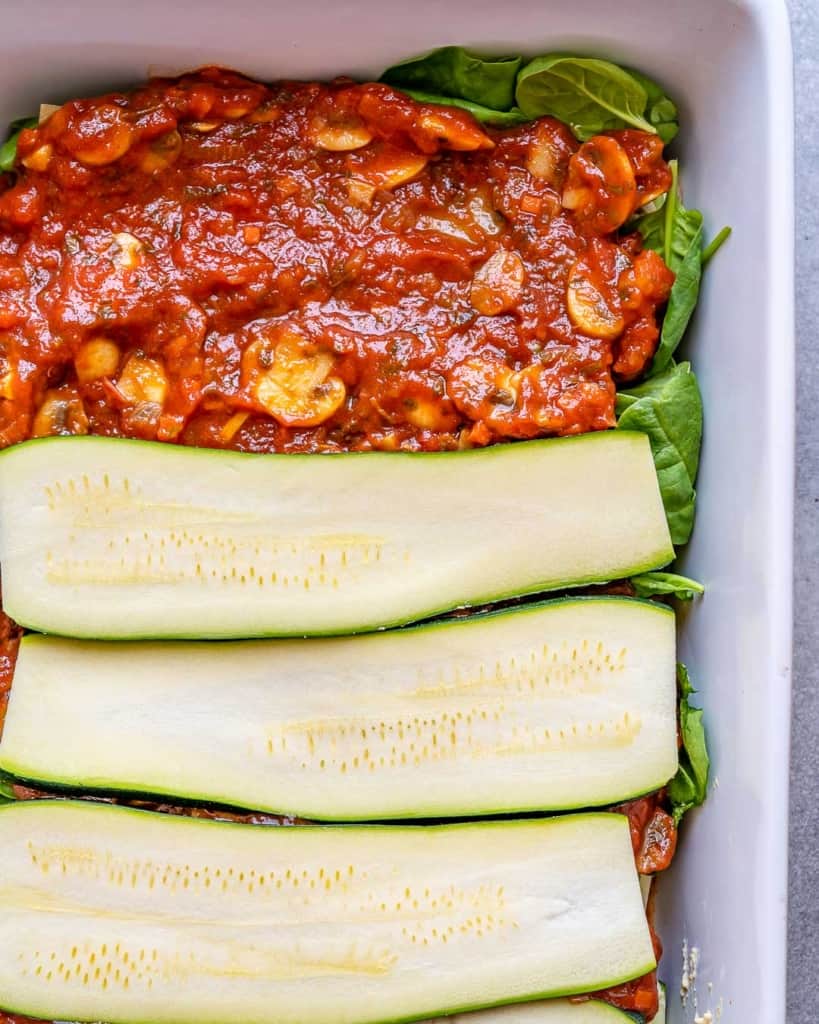 Repeat the layers one more time.
Bake. Cover the dish with foil and place in the preheated oven. Bake for 50 minutes, then uncover the dish and broil for 10 minutes until the top is golden and the cheese is bubbly.
Cool slightly and serve. Once done, remove from the oven and let cool at room temperature for about 15 minutes. Slice and serve warm.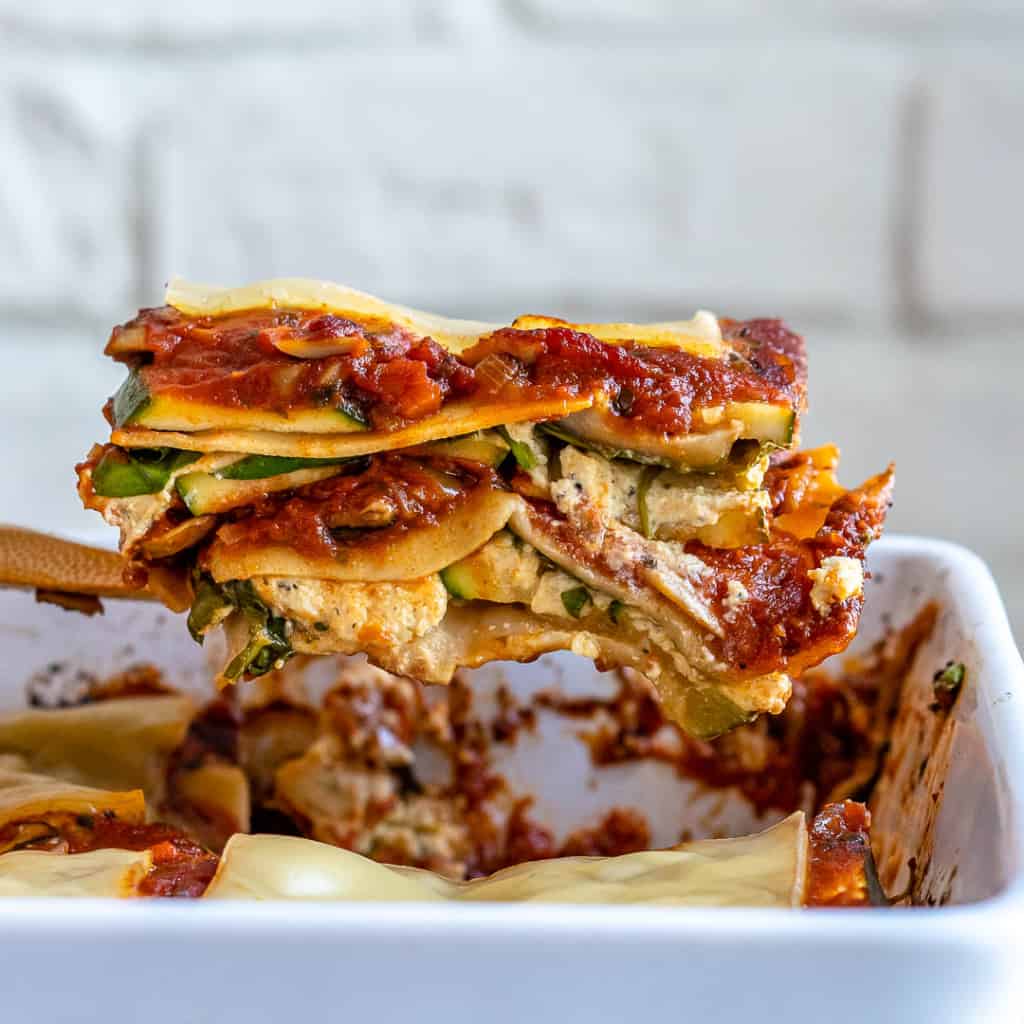 Tips and Substitutions
Shallots: You can also substitute with onions if needed. 
Marinara sauce: Use jars from the store or make homemade marinara sauce
Tofu: Use firm tofu for the best texture, since extra-firm will have less moisture. 
Nutritional yeast: This adds extra nutrients to make this a well-balanced vegan meal. 
Lasagna sheets: Use regular, whole-grain, or gluten-free. For a low-carb or keto version, use only zucchini or add thin slices of eggplant. 
Make sure to bake the dish covered at first, but broil it for a few minutes in the end for that signature golden, bubbly top.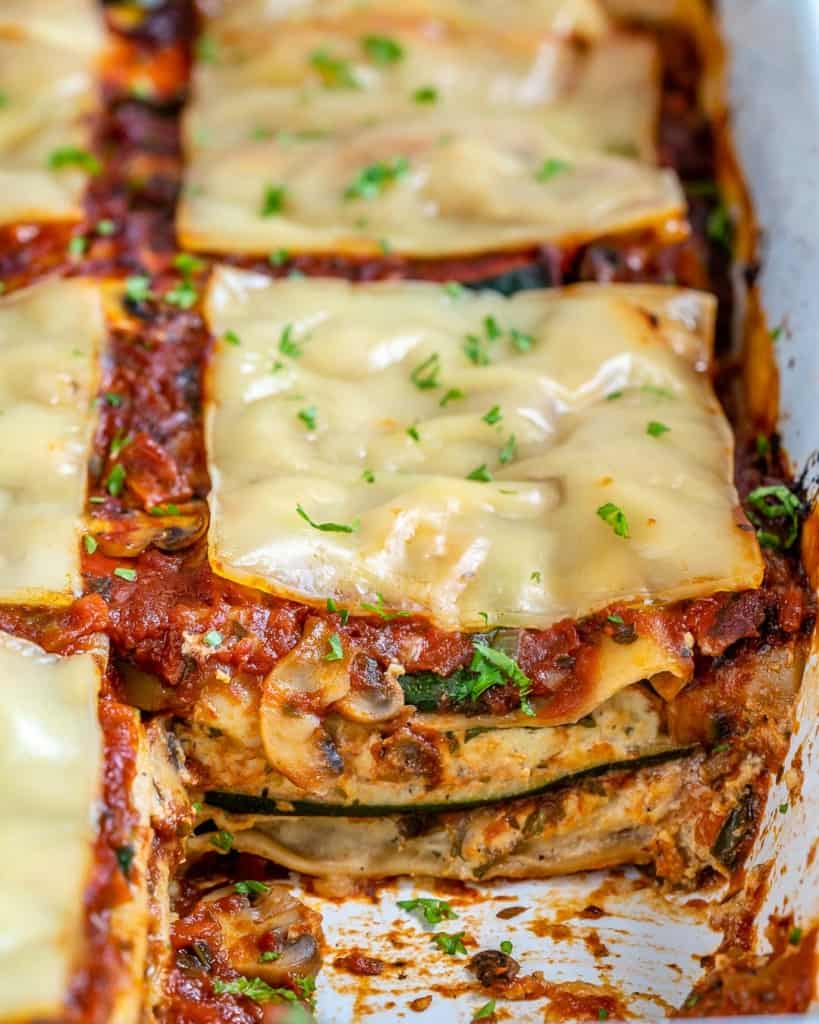 faq's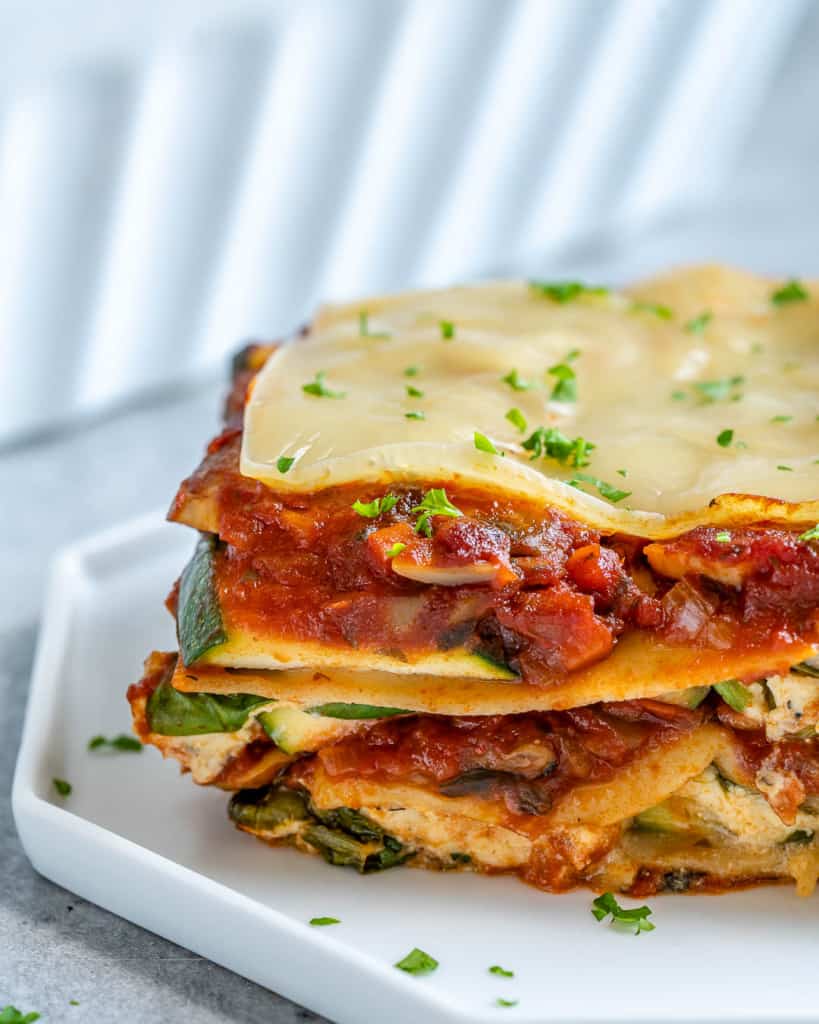 More Healthy Dinner Recipes
If you try a recipe and you like it, leave us some feedback in the comment section below, and don't forget to rate it! We would love it if you shared it with friends and family.
Finally, please use our hashtag #healthyfitnessmeals on INSTAGRAM for a chance to be featured! FOLLOW Healthy Fitness Meals on FACEBOOK | INSTAGRAM | PINTEREST | TWITTER for all of our latest blog posts and recipes.