This Grilled Avocado Chicken Salad with lime and cilantro is the perfect option for any warm day. Healthy, full of protein, and easy to make. This quick Salad is filled with nutrition and yummy flavors!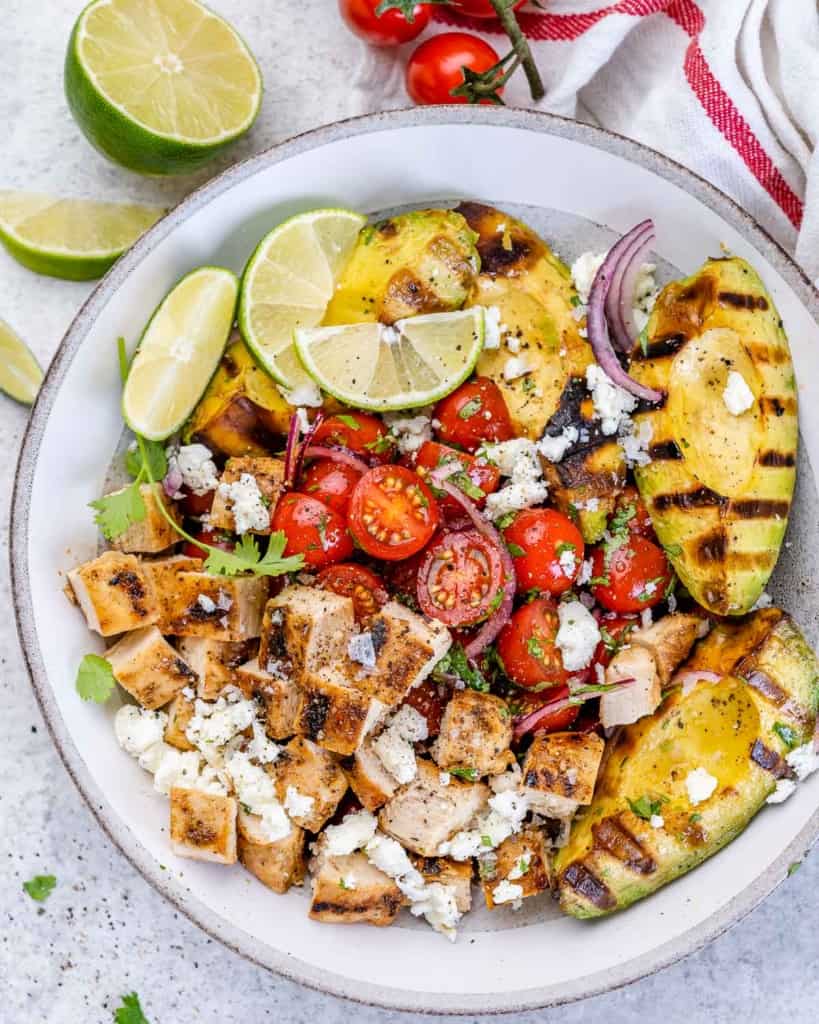 This grilled chicken salad is the ultimate option for an easy lunch or dinner! Made with ripe avocados, tender grilled chicken, juicy tomatoes, and feta cheese– you will love this easy chicken breast recipe!
High in fiber with satisfying flavors, this avocado salad with chicken is the perfect keto option for those who are looking for a delicious meal they can feel good about. Low in carbs, but high in nutrients, this recipe is filling and great for anyone who wants to try a new recipe on the grill.
Why You Will Love This Chicken Breast Recipe
Easy: This grilled avocado chicken salad recipe is incredibly simple to make with just a handful of steps! In under 30 minutes you will have a healthy and satisfying meal ready for the family and your guests.
Delicious: The bright citrus flavors and feta cheese pair well with the grilled tender chicken and creamy avocado. Red onion and tomatoes create scrumptiously fresh flavors to this chicken salad that will leave you begging for more.
Great for Summer: This recipe is great for whenever you're craving something refreshing, light, and heaty on a warm day. You can even enjoy this salad after it has chilled in the refrigerator!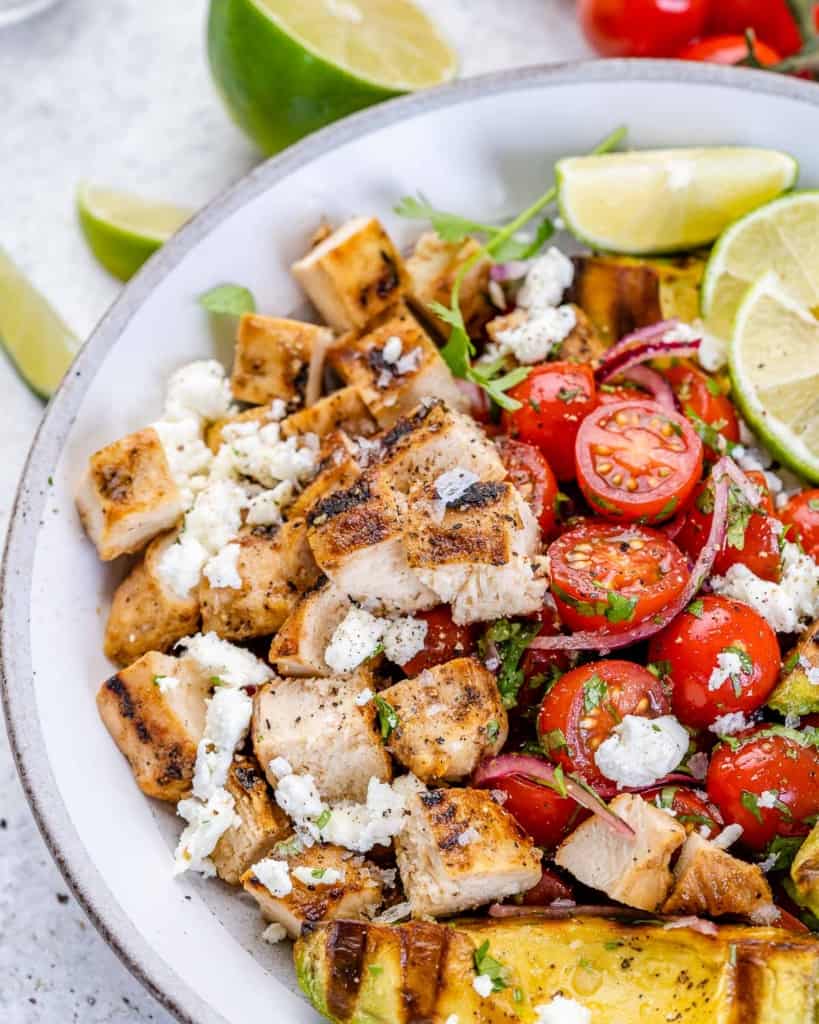 Ingredients Needed to Make This Grilled Chicken Salad
This is just a list of ingredients you will need to make this Grilled Avocado Chicken Salad. The full measurements are listed below.
avocados, ripe, but firm
lime juice, freshly squeezed or bottled
oil, olive, or any neutral oil
seasoning, salt, pepper, garlic powder, and onion powder
chicken breasts
tomatoes, cherry or Roma
red onion
feta cheese, crumbled
cilantro, freshly chopped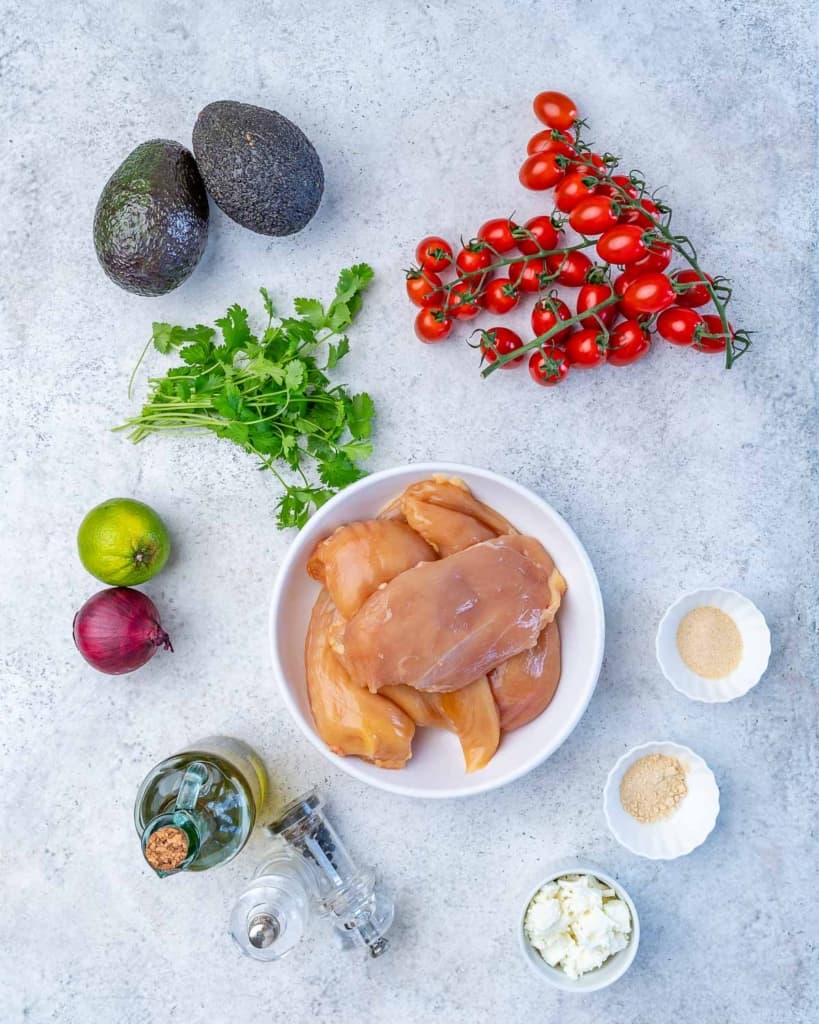 How to Make This Chicken Salad with Avocado
Cut the avocados: First, cut the avocados into wedges and gently rub them with lime juice, oil, salt, and pepper.
Heat the grill: Heat a grill pan or outside grill over medium-high heat
Grill avocados: Grill the avocado wedges for two to four minutes per side. Set aside.
Season and cook chicken: Meanwhile, drizzle the chicken with oil and sprinkle with salt, pepper, garlic powder, and onion powder. Add the chicken to the grill and cook for six to eight minutes per side.
Assemble salad and serve: In a large bowl, add the chopped tomatoes, onion, and avocado. Top with the grilled chicken and drizzle with olive oil, lime juice, and season with salt and pepper. Garnish the salad with feta cheese and cilantro.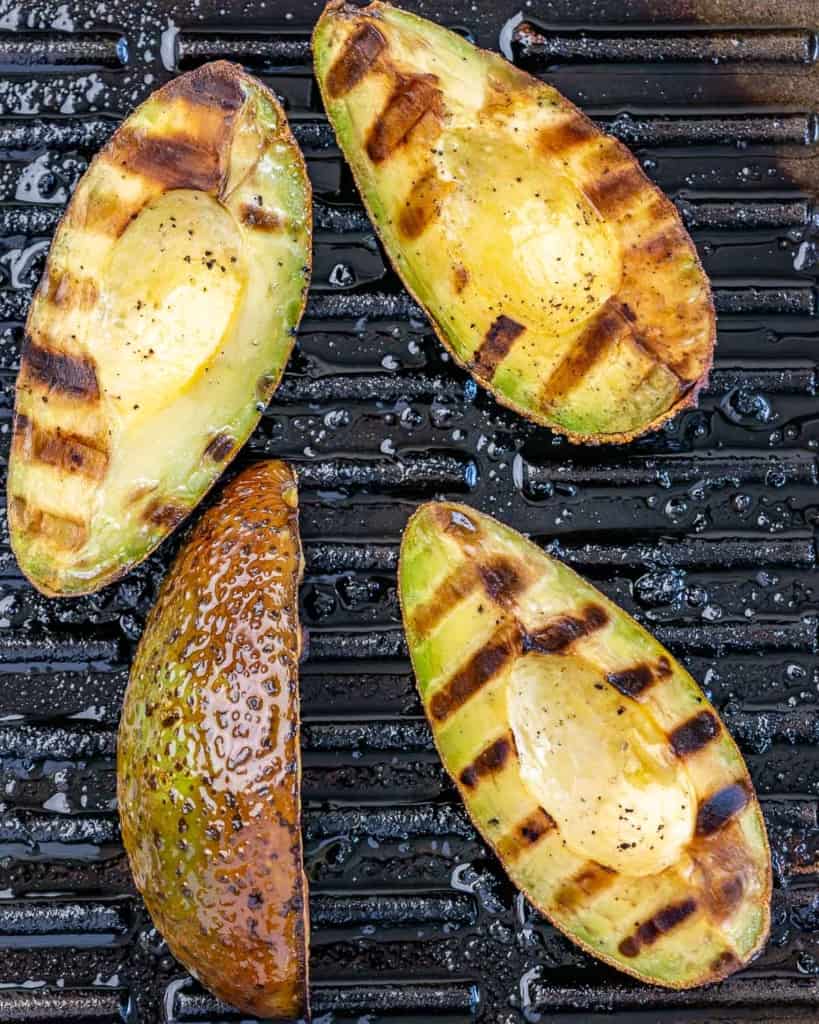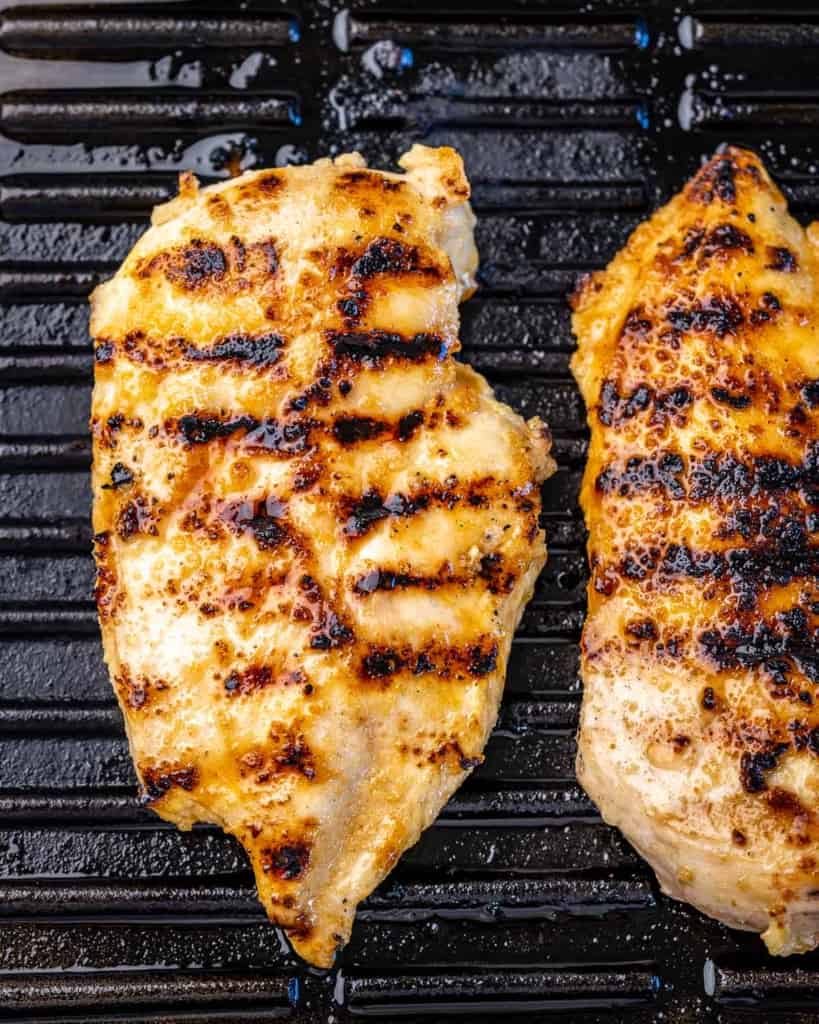 Recipe Notes and Tips
Be sure to cook the chicken to at least 165 degrees Fahrenheit.
Do not overcook the chicken so they don't come our dry and rubbery.
Store the leftovers in an airtight container in the refrigerator for up to four days.
Swap the chicken breast with boneless chicken thighs if you would like. Nutritional values will vary.
Serve this avocado chicken salad as a sandwich with bread or in lettuce wraps.
Enjoy this salad with cauliflower lime rice.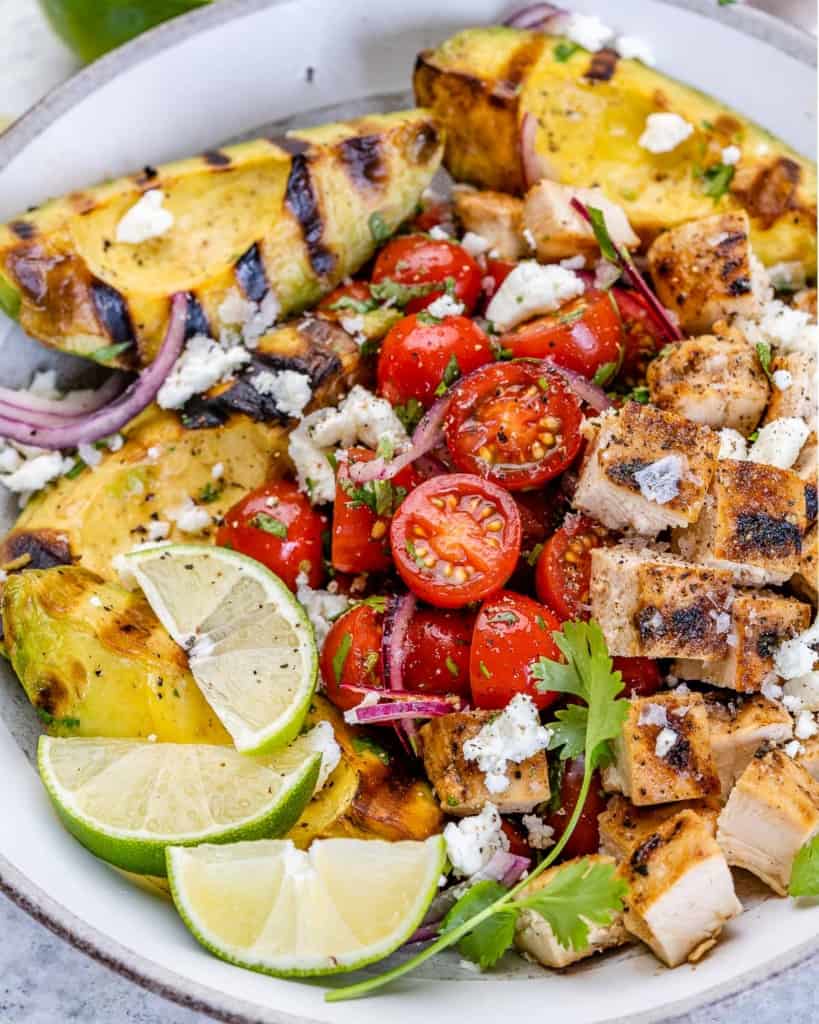 Frequently Asked Questions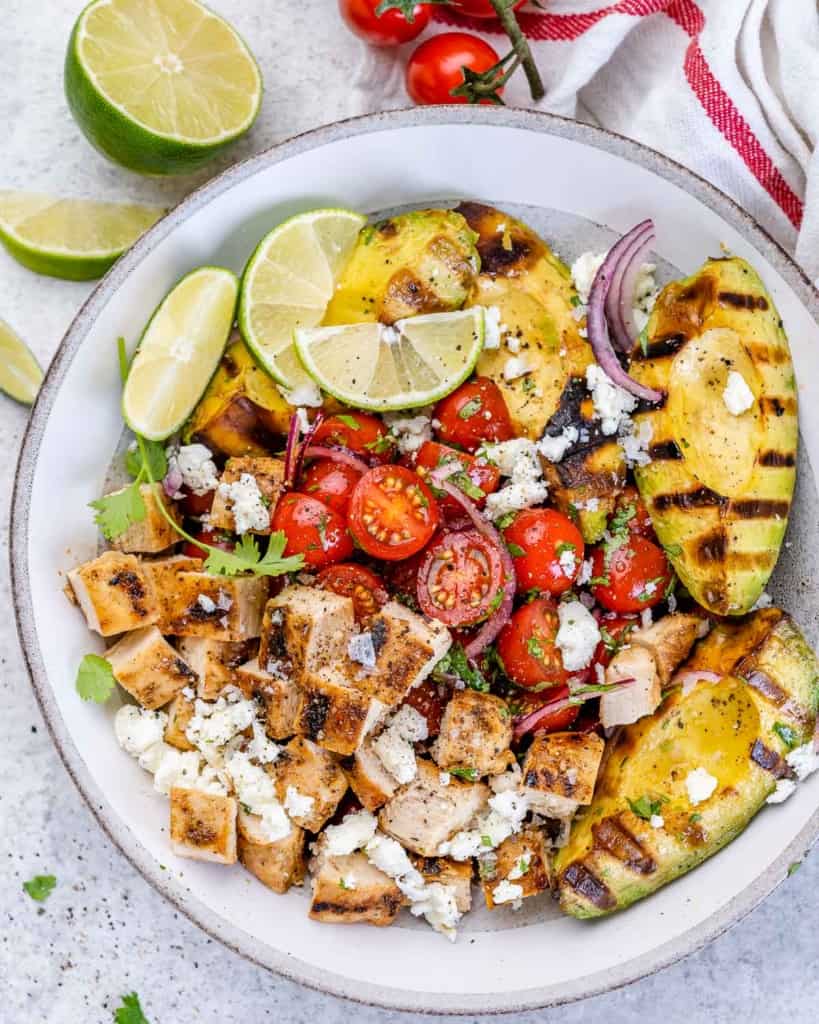 Other Recipes You'll Enjoy
Easy Mexican Street Corn Salad